December, 8, 2013
12/08/13
9:00
AM ET
1. I don't know what this means, but it's certainly an observation: The Redskins seemed as loose last week as they've been all season, whether when we could watch practice or during the open locker room sessions (especially Friday, a typically lively day). I don't know if that's good or bad -- though the answer will be revealed Sunday. I do know when they were 3-6 a year ago they also were rather loose and it probably helped.
2.
Pierre Garcon
has had an impressive season and his 84 receptions are the most in franchise history after 12 games. Next highest: Art Monk with 71 catches and Gary Clark with 66. Garcon has done a terrific job, but the problem here is the total yards. Despite having 13 and 18 more catches, respectively, than the Monk and Clark, Garcon does not have more receiving yards than at the same point. He has 980 yards compared to Monk (1,007) and Clark (1,126).
3. Garcon's yards after the catch (491) rank fourth in the NFL, but that stems in part from how many screen passes and smoke routes he's run -- plays designed for yards after the catch. He has not been a big threat downfield. It's why he's averaging just 11.7 yards per catch, tying his career low (for the five seasons in which he's been a regular).
[+] Enlarge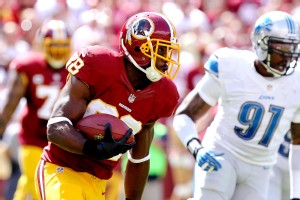 Geoff Burke/USA TODAY SportsWide receiver Pierre Garcon has been a bright spot for Washington's offense this season.
4. That's not to say he's not having a good season; he clearly is -- he's consistent and productive. But it does illustrate some of what's been wrong in the passing game -- the inability to get the ball downfield. Of the top 10 receivers in the NFL in terms of catches, the only two who average less per reception are slot receivers
Julian Edelman
(10.2) and
Wes Welker
(10.5).
5. In fact, no Redskin with at least 10 catches is averaging more than 12.5 yards per catch, which is a major problem. Every other team in the NFL has at least one player averaging more yards per catch than 12.5. Last season, the Redskin had four players who finished with at least 20 catches who averaged at least 13.5 yards per reception. This also speaks to the lack of explosiveness at this position.
Aldrick Robinson
has speed, but I wouldn't consider him explosive (though on his six catches he averages 25.3 yards. The problem? Six catches. He's just not that good).
Leonard Hankerson
(obviously now hurt) runs good routes, but after the catch doesn't make anyone miss. All of this is a function of how teams are defending the Redskins, the line not giving quarterback
Robert Griffin III
enough time to always throw deep, Griffin's accuracy being off and receivers who don't get open. That about sums it up.
6. This is the time of the year when the media starts voting on its Good Guy award winner, the player who helps the media best do its job. Despite a 3-9 record, the Redskins have players who routinely do this. It's not easy getting asked all the time about bad performances or about whether or not a coach should be fired (it's a bit rare when players publicly say yes) or about what might happen to them. They all know if there's a regime change it puts them on notice, too. One player who has been largely absent during the week? Second-year back
Alfred Morris
. Not quite sure why; the press he gets is almost always good. But he does talk after games. He was terrific to talk to last season and even early in the year. He still seems jovial when seen around the facility.
7. Oh, yeah, the game. The Redskins' defense will be challenged by Kansas City running back
Jamaal Charles
. He's averaging 4.6 yards per carry and has scored nine touchdowns. Charles is a big-time threat in the pass game, too, with a team-best 55 receptions. Charles hits holes fast, but he's not going to lower his shoulder and drive through defenders. It's not his running style.
8. Another thing: He and fellow back
Dexter McCluster
are used on a lot of screens. The Chiefs will use both players on the field at the same time and will get them the ball on a variety of routes. They'll even have them run crossing routes underneath, trying to get them the ball in space in one-on-one situations. McCluster has 42 receptions.
9. The Chiefs haven't applied a lot of pressure in recent games, but consider that two of their last three games have come against Denver and that's a bit understandable. Few if any quarterbacks get rid of the ball faster than Denver's
Peyton Manning
. With leading sacker
Justin Houston
(11 sacks) out Sunday, the Chiefs' rush will take a hit. Outside linebacker
Tamba Hali
has nine sacks. While he's fast, it's his always-active hands that create issues. But they will try to manufacture pressure with a variety of looks. They had one blitz, for example, against New York earlier this season in which they stunted the end and the tackle on the nose on the left side with the inside linebackers executing the same move right behind them. Yes, it led to major pressure. That also came with a blitz. "They have a ton of stuff like that," Redskins tight end
Logan Paulsen
said. "Usually we have a meeting on Thursday and go over the blitz and what they like to do and it's a short meeting. But this one was like 15 minutes because they do a lot of stuff we're not used to."
10. The key? Running the ball well, especially on early downs. Kansas City allows a hefty 4.6 yards per rush and any pass rush is negated by a team able to put itself in third-and-shorts. But going inside the numbers, I'm not sure the Chiefs are that bad. Some backs have had strong games (Buffalo's
C.J. Spiller
, Philadelphia's
LeSean McCoy
, Denver's
Montee Ball
). But, for the most part, they've done well against a team's top back. One reason: nose tackle
Dontari Poe
, who is strong and quick and occupies double teams. He'll be a handful Sunday.
September, 18, 2013
9/18/13
1:30
PM ET
A weekly analysis of the Eagles' quarterback play.
Vick
Rewind:
Michael Vick
had a truly stellar game against the
San Diego Chargers
: 23-for-36, 428 yards, two touchdowns, zero interceptions. The scary thing is how much better it could have been. Vick had one touchdown pass dropped and another called back because of a penalty. He narrowly missed
DeSean Jackson
on several deep throws that would have padded his stats considerably.
Fast-forward:
In the
Kansas City Chiefs
, Vick faces two obstacles. The Chiefs defense was able to stop the
Dallas Cowboys
Sunday, especially once coordinator Bob Sutton adjusted his approach to
Dez Bryant
. Beginning with nose tackle
Dontari Poe
, who can produce the inside pressure that disrupts a quarterback's timing, the Chiefs have a lot of talent on defense.
The other twist is the presence of Andy Reid, who coached Vick for four up-and-down seasons. Reid may not have special insight into Chip Kelly's offensive scheme, but he knows all too well what sort of blitzes and coverages created problems for Vick. Should be an interesting chess match.
Going deep:
Vick's longest completion of the season was a 70-yard pickup by
LeSean McCoy
that traveled about 10 yards in the air. It was all McCoy for the rest. But Sunday's game did mark the return of Jackson as a deep threat. That should help loosen up defenses, but only if Vick and Jackson can get their timing down a bit better. Vick missed Jackson on four deep routes before hitting on a 61-yard touchdown.
Prediction:
With Vick, every great performance brings you closer to the (perceived) inevitable clunker. He has avoided sacks and turnovers superbly this season. Reid's insight and the Chiefs' talent create the perfect formula for a choppy Vick performance.
September, 13, 2013
9/13/13
11:00
AM ET
IRVING, Texas – One of the biggest reasons the
Dallas Cowboys
drafted
Travis Frederick
in the first round was his intelligence.
Frederick
Frederick, the rookie center, will be tested Sunday at Kansas City. The Chiefs run a 3-4 scheme similar to the one the
New York Jets
use, one that is designed to confuse with the multiple looks.
"Each particular front throws its own problems at you, but I think the big issue is there's so many of them," Frederick said. "They're going to throw a lot of different fronts at us and a lot of different pressures."
Frederick had five months to study up on the Cowboys' first opponent of the season, the
New York Giants
. But he has just a week to get ready for the Chiefs.
"I think it's interesting to watch [
Dontari Poe
], their nose tackle," offensive coordinator/offensive-line coach Bill Callahan said. "He's got the traits that you look for out of the run stoppers, the two-gappers that can control the point of attack. [Frederick] has got his work cut out for him and I would say that it's good he got some experience in the preseason, blocking against a zero-technique-type nose tackle, [Paul] Soliai from Miami. He's just got that exposure that helps him with his technique. I think it's going to be a really good matchup that'll be really interesting to see. He's obviously challenged."
April, 26, 2012
4/26/12
9:14
PM ET
NEW YORK -- We began the day thinking the
Philadelphia Eagles
would have to trade up very high in the first round, perhaps into the top six or seven, if they wanted to draft Mississippi State defensive tackle
Fletcher Cox
. But the Eagles stayed patient amid a flurry of top-seven trades, and when Cox lasted until the 12th pick, they made their move. The Eagles traded the 15th overall pick, a fourth-round pick (No. 114 overall) and a sixth-round pick (No. 172) to the
Seattle Seahawks
for the No. 12 pick, with which they drafted Cox.

Cox
He's exactly the right pick for the Eagles. They needed to beef up their run defense with a big, mean defensive tackle, and Cox certainly does that. But the Eagles' defense is also based on the ability to rush the passer with their front four, and Cox is an excellent pass-rusher from the interior of the defensive line. He was higher on many draft boards than Memphis defensive tackle
Dontari Poe
, who went one pick earlier to Kansas City, and he's a better fit for what the Eagles do on defense than Poe would have been. Here's the Scouts, Inc. scouting report:
Scouts Inc. pros: Fires out of stance and is strong enough to hold ground in most one-on-one situations when he keeps pad level. Has a powerful upper body and quick, strong hands. Is quick enough to shoot gaps and make plays in the backfield. Relentless might be an overstatement, but overall motor is very good. Doesn't give up when he fails to win with first move.

Scouts Inc. cons: Needs to play with more consistent leverage versus the run. He's not big enough to anchor against double-teams when he doesn't stay low. Gets washed down the line of scrimmage by angle blocks a little too much. Just average lateral mobility and isn't going to get many offensive linemen off balance with side-to-side moves
The Eagles came into the draft with 10 picks, so they could spare the late-round picks they gave up to move up three spots. They still have two second-round picks and a third-rounder tomorrow night to continue building depth in the secondary, the linebacking corps or on the offensive line. But this was the guy they needed to get in the first round, and they got him at a somewhat minimal cost.
April, 23, 2012
4/23/12
3:21
PM ET
Just wrapped up our live
ESPN.com blogger mock draft
, in which I and the other seven division bloggers made the picks for each of the teams in our respective divisions. It was a blast, and largely because trades were allowed. I am proud to say that I was involved in the very first one, with the
Philadelphia Eagles
.

I based my decision on the idea that the Eagles had identified Mississippi State defensive tackle
Fletcher Cox
as the player they wanted. There had been some recent talk of him going to the
St. Louis Rams
at No. 6, and I was convinced that he would not get past the
Carolina Panthers
at No. 9. So, after Mike Sando selected
Justin Blackmon
for the Rams at 6 and Paul Kuharsky let it be known that the Jaguars were looking to trade down out of No. 7, I offered Kuharsky the Eagles' first-round pick (No. 15 overall) and their third-round pick (No. 88) for the Jags' first-rounder.
Kukarsky countered by offering the No. 7 overall pick and the No. 176 overall pick (sixth round) for the 15, the 88 and the 153. So I'd be getting the No. 7 overall (and with it Cox, the player I wanted) and a high sixth-round pick for a third and a middle-fifth. I believe, if Cox is indeed their guy, that this is a trade to which the Eagles would eagerly say yes. Get their man without giving up either of their two second-round picks. No-brainer. So we did the deal, and I picked Cox at No. 7 for the Eagles.
Cox is a great fit for the Eagles. He can shore up the middle of the defensive line against the run, and he also helps the pass rush from an interior line spot. He's a more polished prospect than fellow first-round defensive tackle
Dontari Poe
, and the Eagles are in win-now mode. I also could have taken Boston College linebacker
Luke Kuechly
at the No. 7 spot. (That's who Pat Yasinskas ended up giving to the Panthers at No. 9, after assuring me that he would indeed have taken Cox if he'd still been on the board.) But following the
DeMeco Ryans
trade, Kuechly didn't seem as important a target. If I'd stayed at 15 and he'd lasted that long, sure. But I wasn't trading up for a linebacker.
So let me hear it, Eagles fans. What do you think of my performance in the role of Howie Roseman? Good deal? Worthwhile pick? Or what?
April, 12, 2012
4/12/12
4:49
PM ET
All right, fair is fair, and there's been so much Giants stuff on here the past two days it feels like the first week of February again. So here's a little something on the
Philadelphia Eagles
' portion of
Todd McShay's latest mock draft

-- the one that puts forth a number of different scenarios for each team rather than just assigning one player. Todd has four scenarios for the Eagles, who have the No. 15 pick in the first round. So without further ado ...
The first scenario is Iowa tackle
Riley Reiff
, should he fall that far, but Todd believes he will not, and has him gone to Buffalo at No. 10. If he were there at 15, he'd probably represent too much value for the Eagles to pass up, given the unsettled nature of their offensive line with
Jason Peters
injured and newly signed
Demetress Bell
a question mark.
Scenario No. 2 is Alabama safety
Mark Barron
, since as Todd puts it, "the Eagles have lacked a do-everything, physical presence at safety since
Brian Dawkins
left town." You can't go wrong in Philly invoking the name of B-Dawk.
Scenario No. 3 is "find a way to get a defensive tackle," but that's complex at this point, since he has
Fletcher Cox
and
Dontari Poe
already off the board in his projections. Should one of them be available, getting a defensive tackle would be as simple as picking one of the top two. But if
Michael Brockers
is the best remaining DT on the board, Todd says the Eagles are better off addressing another need or trading back and taking someone like
Jerel Worthy
later in the round.
And finally, the fourth scenario Todd lays out is the Eagles taking Boston College linebacker
Luke Kuechly
if he falls to No. 15. This is still the best possible scenario for the Eagles, I think, though Kuechly looks as though he'll go much earlier. Jeff Chadiha has
a story on Kuechly
, if you're interested in reading about him just in case.
That's it for Todd's scenario mock. I'm not doing one of these for the Redskins. Everybody knows their scenarios.
April, 11, 2012
4/11/12
6:14
PM ET
Todd McShay's latest mock draft is what he calls "
scenario-based

," which is his effort to present a number of different possibilities for each team in the first round, rather than a best guess of one particular player. It's a good way to go, especially the further down the round you go. The
Washington Redskins
, for example, have only two scenarios, and everyone knows what they are.
But I thought I'd take a look at the
Dallas Cowboys
' portion of Todd's scenario-based first round. The main reason I picked the Cowboys is that we haven't had a Cowboys post yet today, and I don't want my Cowboys fans to think I've forgotten about them. Perhaps we'll look at the Eagles' and Giants' scenarios Thursday. But we've had lots of Giants today and some Eagles as well, and this thing is Insider anyway, so let's keep it focused on Big D for now, mmmkay?
Todd's first scenario for the Cowboys at No. 14 is Memphis defensive tackle
Dontari Poe
, and we've already discussed why a big nose tackle makes sense for the Cowboys even if they aren't ready to move
Jay Ratliff
to defensive end full-time. Rob Ryan likes to vary his fronts, and Poe's versatility would help. Mississippi State's
Fletcher Cox
would help in the same ways, but Todd has him gone at No. 9 to Carolina.
Scenario No. 2 is Alabama safety
Mark Barron
, because "The Cowboys have been searching for some time for a versatile, do-it-all safety who can be a quarterback in the secondary." We've raised Barron here as well, and it would be a sensible pick. As I've said many times, I think the right thing for the Cowboys to do in the first round (and possibly in each of the first three or four rounds) is to take the best defensive player still on their board.
Scenario No. 3 is Notre Dame wide receiver
Michael Floyd
, who seems like a fast mover these days. Todd actually has him going one pick earlier, as Arizona'a top scenario. But if he's there at 14, he'd be the kind of pick that would remind you of Cowboys drafts past. That might make
Tony Romo
happy, but it's not necessarily what they
should
do, given their needs on defense.
Scenario No. 4 is LSU defensive tackle
Michael Brockers
, who "is a better overall player than Poe but who might not be the best fit in the middle in a 3-4." Again, though, versatility on the line and help for the pass rush, even if he has to play 3-4 defensive end in Dallas.
And finally, scenario No. 5 has the Cowboys taking South Carolina cornerback
Stephon Gilmore
. As is the case with safety, the Cowboys could stand to add depth at corner, and I don't think they could go wrong taking their highest-rated defensive back at this point.
Notice that not one of these scenarios includes an offensive lineman. I think Todd's on the money here. The work the Cowboys did in last year's draft and this year's free agency is going to have to suffice on the offensive line. I think they could get better at center, but an interior lineman likely doesn't represent good value in the middle of the first round.
April, 11, 2012
4/11/12
1:35
PM ET
The weekly "Blogger Blitz" videos are up, and mine this week discusses the extent to which the
Philadelphia Eagles
have focused their offseason efforts on solidifying the middle of their defense. In spite of several moves they've already made at defensive tackle and the move to acquire a middle linebacker, the Eagles still could take a big defensive tackle in the first round of the draft two weeks from Thursday night.
April, 11, 2012
4/11/12
8:00
AM ET
Sitting here, looking out my window on a Wednesday morning, wondering how it is that April is colder than March was, and chewing on some links.
Dallas Cowboys
If the Cowboys don't take safety Mark Barron in the first round but still want to use the draft to add depth at that position, Oklahoma State's Markelle Martin is a
possible option
in the second round or the third. Here's Bryan Broaddus' analysis of Martin's prospects at ESPNDallas.com
As for that first round, Nick Eatman thinks drafting a nose tackle such as Memphis' Dontari Poe would offer the advantage of effectively upgrading
two positions at once
. We talked about this earlier in the week with regard to Mississippi State's Fletcher Cox -- a guy who could start at defensive end but also spell or eventually replace Jay Ratliff at nose tackle. Someone with the versatility to help at multiple positions on the line and allow Rob Ryan to mix and match fronts. Makes some sense.
New York Giants
Jonathan Goff, who's attempting to come back from the ACL tear that cost him the 2011 season, could be the next member of the Giants to leave for another team via free agency. He was in Miami on Tuesday to
visit with the Dolphins
, and also has visited the Browns. If Goff leaves, the Giants' middle linebacker spot could go to one of last year's rookies. It's also been suggested that they might move Michael Boley inside to that spot.
Brandon Jacobs' contract with the 49ers isn't for much more money than the Giants were offering him, but as Mike Garafolo points out, the
timing wasn't right
for a deal between Jacobs and the Giants.
Philadelphia Eagles
Eagles cornerback Nnamdi Asomugha spends part of his offseason taking high school students on
college tours
in different parts of the country.
Jonathan Tamari has
five questions
facing the Eagles in advance of the draft, which is 15 days from now. Included is a question about how much pressure Andy Reid is really under and whether that will affect decisions made during this year's draft.
Washington Redskins
Robert Griffin III was in Washington to
meet with the Redskins
on Tuesday, and Andrew Luck is there today for the same reason. I was thinking about a blog post on this Tuesday, but not sure how much there really is to say. I imagine that every team, if they could, would have pre-draft visits with every single player they know they might possibly draft in the first round. By hosting Griffin and Luck, that's what the Redskins are doing.
Shortly after the news broke that they'd agreed to terms with free-agent safety Madieu Williams, the Redskins announce that they'd also signed cornerback Leigh Torrence, a former Redskin who
adds depth
at the position and makes me think they're about done making additions to the secondary. In fact, once they get London Fletcher locked up, it looks as though the remainder of their offseason and their draft can be spent focused on offense -- the line in particular.
April, 5, 2012
4/05/12
2:58
PM ET

Today's lesson: When you're trying to keep a pre-draft visit secret, don't have it on the day you hold a news conference to introduce your new left tackle. While at the NovaCare Complex to cover the Demetress Bell newser,
Philadelphia Eagles
beat writers
ran into
defensive line coach Jim Washburn and Memphis defensive tackle
Dontari Poe
in the hall. Per Jeff McLane of the Philadelphia Inquirer:
The Memphis product was spotted walking the NovaCare Complex corridors with Jim Washburn. The defensive line coach started to turn away when he saw a group of reporters, but ended up walking by the group and introducing Poe.

"Y'all know Fletcher Cox," Washburn joked.
Poe and Cox are among the best interior defensive line prospects in this year's draft, and both are realistic possibilities for the Eagles, who hold the 15th selection in the first round of this year's NFL draft. Now, the fact that Poe was in Philly today visiting the Eagles doesn't mean he'll be the pick. Teams can (and generally do) host up to 30 prospects for pre-draft visits, and Poe is a prospect worth the Eagles' time to investigate, whether they take him or not. Just interesting that he's there, is all.
April, 3, 2012
4/03/12
8:00
AM ET
As we roll into another Tuesday here on the NFC East blog, I think it's important that we all remember one thing: It's a party on the left arm, all business with the right. Anybody who watched Robert Griffin III's appearance Monday night on Gruden's quarterback camp knows what I'm talking about. The rest of you will have to make do with links.
Dallas Cowboys
Clarence Hill muses on
the list of players
scheduled to visit the Dallas Cowboys in advance of the draft and wonders about the buzz surrounding Dontari Poe as the team's potential first-round pick. Unlike some others, Clarence wisely avoids making any assertions about what the team will do. He's smart. Because remember, almost nothing you hear about teams' plans in advance of the draft is ever true.
Jerry Jones thinks the Cowboys did too much finagling with the offensive line last year and likes having some "
established guys
" in the mix for the line positions this offseason.
New York Giants
The Giants continue to
add pieces
to their secondary, as well as players who can help on special teams. They have signed former Colts safety Stevie Brown and had former Patriots cornerback Antwaun Molden in for a visit. Just grinding along, the way the Giants like to grind away the offseason, making their moves and trusting their current coaches and players to put it all together.
Former Giants receiver Amani Toomer thinks the team will
struggle to replace
wide receiver Mario Manningham, who bolted as a free agent for the 49ers.
Philadelphia Eagles
Yeah, the Eagles are
taking a look
at Ryan Tannehill. No, I don't think they will or should trade up high enough (No. 3 or 4 at this point) to take him. I think the Eagles prize the quarterback position well above all others and strive to learn as much as they can about every quarterback they have the opportunity to see and talk to. I think they'll take one at some point in this draft, looking to the future with Michael Vick 32 years old. But I'd be stunned if it were Tannehill.
Paul Domowitch writes that the Eagles
won't find their left tackle answer
in the draft. I don't think it's that simple. I agree that they won't find it in the first round of the draft, and I think they're most likely to find it in free agency. But I'm not convinced they can't find someone in the later rounds who comes out of training camp as a viable starting tackle.
Washington Redskins
The Redskins are
cutting down capacity
at FedEx Field again, in the name of an expanding party deck and some more luxury suites. Hard to get too worked up, if they were having trouble selling the seats anyway. I just always wonder how all of this jives with everything we hear about that Redskins season ticket wait list.
Mike Shanahan says wide receiver Leonard Hankerson's hip surgery was delayed
on the advice of his doctors
, and that he expects Hankerson to be ready by June 1. The Redskins believe Hankerson is capable of big things if he can come back healthy.
March, 7, 2012
3/07/12
2:03
PM ET
Sure, the attention of the NFL world is on Indianapolis today. But I'm a heck of a lot closer to Radio City Music Hall, and I'm thinking about the draft. That may be because
Mel Kiper Jr.

and
Todd McShay

have unveiled their latest mock drafts today. They're Insider, but I'm allowed to tell you who they have for your favorite teams as long as I whisper and you promise not to tell anyone else. We do these rundowns in draft order.
6. Washington Redskins:
Mel and Todd both leave open the strong possibility that the Redskins trade up, get the No. 2 overall pick from St. Louis and draft
Robert Griffin III
. But since that hasn't happened yet, they have to mock it as though the Redskins are still at No. 6. So Mel has them taking LSU cornerback
Morris Claiborne
and Todd has them taking Iowa tackle
Riley Reiff
. Todd's reasoning is that, if they don't get Griffin, they'll have secured a veteran quarterback in free agency and will want to protect him. Mel mentions the same possibility in his recap, but I agree with him that Claiborne would be a nice pick, especially if the Redskins have addressed offense sufficiently in free agency. What's interesting to me is that Mel has Texas A&M quarterback
Ryan Tannehill
going 12th and Todd has him going 8th, and if he can go that high, what's stopping him from moving all the way up to No. 6 in the next eight weeks?
14. Dallas Cowboys:
Everybody agrees that the Cowboys need secondary help above all else. Mel's sticking with Alabama safety
Mark Barron
as the Cowboys' pick here, while Todd gives them North Alabama cornerback
Janoris Jenkins.
This is a personal preference deal. The Cowboys can't go wrong if they pick the best available defensive back at No. 14, even if they've already signed one or two in free agency. They have room for several. I am interested to see, however, if they go for a pass-rusher like Alabama's
Courtney Upshaw
if he's still available, as he is on Mel's mock but not on Todd's.
15. Philadelphia Eagles:
Both mocks have Boston College linebacker
Luke Kuechly
long gone by this spot, so Mel gives the Eagles LSU defensive tackle
Michael Brockers
and Todd gives them Memphis defensive tackle
Dontari Poe.
The reasoning is that the Eagles were soft up the middle in 2011, and they were. And if there's not a good-value linebacker available, the odds would favor Andy Reid taking a defensive lineman here. He's set at end and needs beef in the middle. Possible wild cards: If
DeSean Jackson
is traded, they could go wide receiver here. And it's not ridiculous to imagine them taking a quarterback if Tannehill's still on the board.
32. New York Giants:
Agreement here, as Mel and Todd both give the Giants Stanford tight end
Coby Fleener
after also agreeing that he's become the top tight end on the board. That'd be both a need and a value pick for the Giants, who lost two tight ends to serious knee injuries in the Super Bowl. But if there's a player the Giants had ranked much higher than 32 and he's still sitting there when it's their turn to pick, bet on them taking that player, regardless of position.