January, 8, 2013
1/08/13
8:00
AM ET
There are other things going on in our division besides this
Robert Griffin III
knee injury, right? Let's see if we can't find a few for the links.
Washington Redskins
Wide receiver
Pierre Garcon
has a phobia about surgery and
does not want to have it
on his foot this offseason, though it sounds as though he may have to bite the proverbial bullet if he wants his foot to feel better.
Mike Shanahan appeared to suggest that the Redskins still believe they can
get some satisfaction
in their dispute with the league about the salary-cap money they were docked last spring. And I guess he'd know. But Shanahan is literally the only person involved in this situation to whom I've spoken over the past six months who has said anything to indicate this isn't a settled issue. I'm just saying, I wouldn't get my hopes up on this.
New York Giants
Ohm's looking this week at "Five Giant Issues," and
his most recent
examines what went wrong with the pass rush in 2012. Certainly, one of the most surprising aspects of this 2012 season was the failure of the Giants' pass rush to show any life.
The new coach of the
Buffalo Bills
has a connection with Giants coach Tom Coughlin, a Syracuse guy who
has been a mentor
to Doug Marrone.
Dallas Cowboys
Scapegoat season has begun, and the Cowboys
have fired
running backs coach Skip Peete. Yes, it's hard to blame the running backs coach for the problems the Cowboys had in the run game this year, but that's how it goes when you're the running backs coach. When changes start coming, those are the kinds of guys who are looking over their shoulders.
Dez Bryant
is
having surgery today
to repair that broken finger. A clear bright spot in 2012, Bryant will enter 2013 with lofty expectations to continue his rise.
Philadelphia Eagles
With Chip Kelly staying put in Oregon, the Eagles are
soldiering on
in their effort to find someone to coach their team in 2013. Jay Gruden, Gus Bradley and Bruce Arians are among the now-familiar names who are getting interviewed for it this week.
After watching Bradley coach the Seahawks' defense to victory in Washington on Sunday, Reuben Frank
thinks he'd be a good choice
for the Eagles.
January, 6, 2013
1/06/13
1:39
AM ET
The reports at this point are fairly uniform. The
Philadelphia Eagles
met with University of Oregon coach Chip Kelly all day and night Saturday in Phoenix, one day after it was reported that Kelly was on the verge of a deal to become the
Cleveland Browns
' coach. That Kelly still took eight or nine hours to meet with Eagles decision-makers Saturday likely indicates that the Eagles remained a legitimate suitor for his services as they look for a head coach. It unquestionably indicates that they have a high level of interest in hiring him to do that job.
[+] Enlarge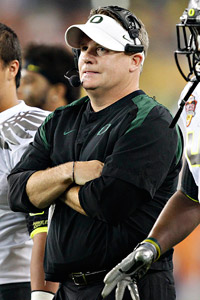 AP Photo/Matt YorkWhere Chip Kelly stands on his coaching future might be unclear even to Chip Kelly at this hour.
Now,
as CSNPhilly.com reports here
, the Eagles still retain plans to meet Sunday with Syracuse coach Doug Marrone and
Denver Broncos
offensive coordinator Mike McCoy. If you choose, you can read into that the idea that they don't like their chances with Kelly and are moving on to other options. In reality, no one really knows, possibly even Kelly, who could still spurn both the Browns and Eagles and go back to Oregon, which is a
pretty well-funded outfit
it its own right and likely doesn't want him to leave.
There are certainly people on Kelly's side who would like to see their man benefit from the appearance of serious interest from multiple teams, and if he's negotiating with the Browns, for example, and trying to get the best possible deal from them, a nine-hour meeting with the Eagles could be just the thing to trigger that. If he really wanted the Eagles all along, getting the word out Friday that he was closing in on a Browns deal likely improved whatever proposal the Eagles were already planning to make him Saturday.
There are also, undoubtedly, people on the Eagles' side of this who, if the team is seriously negotiating with Kelly, know the team's bargaining position would benefit from his finding out that they're still looking at other candidates.
Point is, there are a lot of agendas at work here. I believe that Kelly is going to leave Oregon for the NFL. I believe the Eagles have some level of interest in making him their coach, and that he has at some point in this process had some level of interest in doing just that. But I hesitate to jump to any conclusions as long as so many competing reports are coming in from so many different places.
The folks who cover the Eagles in the Philadelphia media are doing a good job trying not to blow with the wind on this and instead give you the information they have without simply serving as mouthpieces for one side or the other. My advice to you Eagles fans who are reading this is to be patient, and as careful and judicious with your consumption of the information as the trustworthy Eagles news outlets are being with their dissemination of it.
I know it's difficult. I know it's no fun. I know you want answers now, and that you want to parse every scrap of information for meaning and portent. But the fact is, these things almost always take more time than fans want them to take. There are a number of reasons for that, not the least of which is that, even after decisions are made, these remain complex, multi-year, multi-million-dollar deals that take time and care to fully complete. Someone's going to coach the Eagles next year. It could be Chip Kelly. But after two days' worth of breathless updates that seemed to be pointing to a conclusion, we're all still left to wait to find out the final answer. Might not come that soon, either, sorry to say.