January, 9, 2014
1/09/14
8:00
AM ET
PHILADELPHIA -- The good news for
Philadelphia Eagles
coach Chip Kelly is he doesn't have to spend the next couple months traveling to high school kids' homes and recruiting them.
The bad news?
"It's a different league," Kelly said. "This isn't recruiting where you can go out and offer and try to get them to come. There's a selection in the draft process and we're not going to pick until the 22nd [spot in the first round]. There's 21 other guys that we may covet, but we don't have an opportunity to get them."
If a team drafted 22d every year and did well, it could be awfully good. Based on the last 10 years, drafting only players taken between No. 22 and No. 32 (the end of the first round), a team could have
Aaron Rodgers
at quarterback, wide receivers
Dez Bryant
and
Santonio Holmes
, running backs
Steven Jackson
and
Chris Johnson
, linebackers
Clay Matthews
and
Nick Perry
, safety
Brandon Meriweather
and defensive linemen
Cameron Jordan
and
Sharrif Floyd
.
You could do worse. Plenty of teams did do worse. Cleveland took two quarterbacks,
Brady Quinn
and
Brandon Weeden
, at No. 22.
Later we'll look at some possible players the Eagles could consider at No. 22 in this year's draft. For now, here's a quick look at the 22nd pick in each of the past 10 NFL drafts, along with a few players that were on the board at the time (I didn't go beyond the end of the first round out of fairness; just looking at first-round graded players):
2013: Cornerback
Desmond Trufant
from Washington, selected by Atlanta.
On the board: Defensive tackle Sharrif Floyd, WR/Returner
Cordarrelle Patterson
, defensive end
Datone Jones
.
2012: Quarterback Brandon Weeden from Oklahoma State, selected by Cleveland.
On the board: Linebackers
Dont'a Hightower
and Nick Perry, running back
Doug Martin
.
2011: Offensive tackle
Anthony Castonzo
from Boston College, selected by Indianapolis.
On the board: Offensive lineman
Danny Watkins
, defensive end Cameron Jordan, running back
Mark Ingram
.
2010: Wide receiver
Demaryius Thomas
from Georgia Tech, selected by Denver.
On the board: Wide receiver Dez Bryant, quarterback
Tim Tebow
, cornerback
Devin McCourty
.
2009: Wide receiver
Percy Harvin
from Florida, selected by Minnesota.
On the board: Offensive tackle
Michael Oher
, cornerback
Vontae Davis
, linebacker Clay Matthews.
2008: RB
Felix Jones
from Arkansas, selected by Dallas.
On the board: Running backs
Rashard Mendenhall
and Chris Johnson, cornerback
Mike Jenkins
.
2007: Quarterback Brady Quinn from Notre Dame, selected by Cleveland.
On the board: Wide receiver
Dwayne Bowe
, safety Brandon Meriweather, linebackers
Jon Beason
and
Anthony Spencer
, offensive tackle
Joe Staley
.
2006: Linebacker
Manny Lawson
from N.C. State, selected by San Francisco.
On the board: Offensive lineman
Davin Joseph
, wide receiver Santonio Holmes, running back
DeAngelo Williams
, defensive end
Mathias Kiwanuka
.
2005: Wide receiver
Mark Clayton
from Oklahoma, selected by Baltimore.
On the board: Cornerback
Fabian Washington
, quarterback Aaron Rodgers, wide receiver
Roddy White
.
2004: Quarterback
J.P. Losman
from Tulane, selected by Buffalo.
On the board: Defensive tackle
Marcus Tubbs
, running back Steven Jackson, defensive end
Jason Babin
.
November, 7, 2013
11/07/13
12:00
PM ET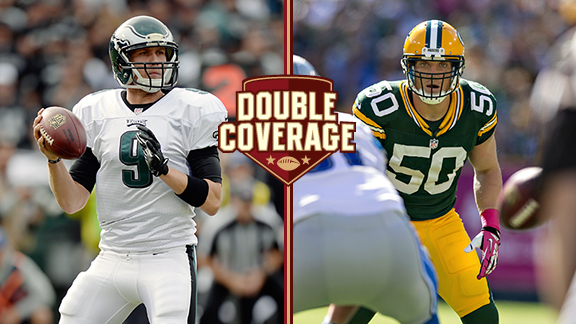 Getty ImagesNick Foles and A.J. Hawk meet Sunday in Green Bay in a game that's turned in the Eagles' favor.
If you expected the
Philadelphia Eagles
to have the edge at quarterback for their Week 10 meeting against the
Green Bay Packers
at Lambeau Field, go to the head of the class.
The teams play Sunday, a week after their quarterbacks made headline news. The Pack's
Aaron Rodgers
broke his collarbone in Monday night's loss to the
Chicago Bears
, a day after the Eagles'
Nick Foles
tied the NFL record with seven touchdown passes against the
Oakland Raiders
.
A game that looked to be safely in the Packers' column is suddenly wide open. NFC North aficionado and all-around NFL expert Kevin Seifert breaks down the game with ESPN.com Eagles reporter Phil Sheridan.
Phil Sheridan:
I'll start with the obvious one: Can the Packers win without Rodgers? Did they take his durability for granted in not having a better backup in place?
Kevin Seifert:
On a local level, the backup quarterback has been an annual source of controversy for the Packers throughout Rodgers' career as a starter. Nationally, most people didn't find out about it until Monday night.
Seneca Wallace
is the backup only because he was available when they realized none of the players they took to training camp was up to the job. He is 6-15 in his career as a starter, and his career seemed over in August 2012 when the
Cleveland Browns
released him.
The Packers' entire scheme is built around Rodgers doing things that only Rodgers can do. Think of what happened when the
Indianapolis Colts
played without
Peyton Manning
in 2011. The Packers will need to make fundamental changes to their offense -- and expect substantial elevation in other areas of their team -- to make it through this wilderness.
I have to imagine the Eagles can't believe their luck to be facing Wallace instead of Rodgers, huh?
Sheridan:
They are saying all the right things about wanting to face the best and never wanting to see anyone get hurt, but they aren't oblivious. This game looked like a double-digit loss the day the schedule came out, and it still looked like an easy Packers home win until Rodgers' collarbone broke Monday night. So it not only becomes a winnable game for the Eagles, it comes when a win, combined with a Dallas loss (the Boys are in New Orleans), would move them even with the Cowboys at 5-5.
And it's not like the Eagles owe anybody an apology when it comes to luck. They haven't had a quarterback start and finish two games in a row since September, and they've been down to
Matt Barkley
twice.
They may not have a starter as good as Rodgers, but their backup isn't half bad. Foles threw for seven touchdowns Sunday against an Oakland defense that didn't blitz or, at times, even cover receivers. Given Dom Capers' background, how would you expect him to respond to a challenge like this?
Seifert:
Capers is known for major scheme changes from week to week, depending on matchups. But as usual, the Packers are dealing with injuries that will limit his options. They are down four linebackers at the moment, although the Packers are hopeful that
Clay Matthews
can return soon -- if not Sunday -- and play with a club to protect his broken thumb.
In short, I'm not sure how many options Capers will have. He does have a group of talented cornerbacks --
Tramon Williams
,
Sam Shields
,
Casey Hayward
and
Davon House
. Capers will have to hope that they can stick with the Eagles' group of perennial All-Pros and future Hall of Famers better than the Raiders did.
Are the Eagles' receivers really that good?
Sheridan:
If they are, they have managed to keep that greatness a secret until Sunday in Oakland.
DeSean Jackson
is a dynamic player, no question about that, but he has been taken out of games in the past when cornerbacks get physical with him. The Raiders did not, and Jackson went off.
As for
Riley Cooper
and
Jason Avant
, they have not made up for the loss of
Jeremy Maclin
to a torn ACL during training camp. Cooper had great numbers Sunday -- five catches, three touchdowns, 139 yards -- but he has been neutralized more often than not during the season.
Tight ends
Brent Celek
and
Zach Ertz
had big numbers at Oakland too. So either the Eagles offense really turned a corner or the Raiders just didn't have anyone playing corner. Maybe a bit of both.
The Packers have added a more robust running game to their offense this season. Now that Rodgers is hurt, can
Eddie Lacy
& Co. carry the team until the quarterback is back? Is that even possible in this pass-happy league?
Seifert:
I tend to doubt it. Up until Monday night's game against the Bears, much of the Packers' success in the run game came against light boxes (six men or fewer) designed to focus first on the pass, according to the charting we get from ESPN Stats & Information. The Bears brought a safety into the box Monday night and the Packers still rushed for 199 yards, but we should note that the Bears have the NFL's fourth-worst rush defense this year.
And even when you run successfully, it usually takes longer to score and thus your total points can drive down. The Packers were averaging 30 points per game before scoring 20 Monday night against the Bears.
How do you think the Eagles will approach it? Eight men in the box? Nine? How about 11?
Sheridan:
This sets up a bit like the Tampa Bay game, I guess.
Mike Glennon
was making his second start, and the Bucs' passing game was not expected to be a big threat. The Eagles focused on shutting down
Doug Martin
, and they did, holding him to 67 yards on 16 carries. It helps, of course, to get a lead and force the opponent to throw the ball more.
All season, the Eagles' focus has been to stop the run while limiting big pass plays downfield. That made them vulnerable to intermediate passing and runs after the catch. Tampa Bay's
Vincent Jackson
, for instance, had nine catches for 114 yards and two touchdowns while the Eagles were focused on Martin.
That has to be the Packers' blueprint for success. If Wallace can get the ball out quickly and catch
Jordy Nelson
and
Andrew Quarless
in stride, the Packers can move the ball. The Eagles are better at tackling and covering underneath than they were, but there's opportunity there.
June, 25, 2013
6/25/13
11:15
AM ET
[+] Enlarge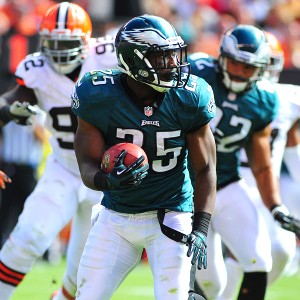 David Dermer/Diamond Images/ Getty ImagesEven at 24, LeSean McCoy could become one of the league's best backs for years to come.
So yeah, I'm reading this Insider post from Matt Williamson forecasting the
top 10 NFL running backs for the 2016 season,

and I was a little startled to see the name of the
Philadelphia Eagles
'
LeSean McCoy
at No. 2, behind only
Cleveland Browns
monster
Trent Richardson
. McCoy, after all, has played four full NFL seasons already at running back, and you wouldn't imagine a veteran with that kind of resume would be a candidate for a list like this based three years in the future. Everyone else in Matt's top seven is either a rookie or a second-year back. The only back in Matt's top 10 with more NFL service time than McCoy is Kansas City's
Jamaal Charles
at No. 10.
This served to remind me of a fact that startles me every time I encounter it:
LeSean McCoy is not yet 25 years old
. His 25th birthday is July 12. He's only six months older than Tampa Bay's
Doug Martin
, who's No. 3 on this list and was a rookie last year. He's almost a full year younger than Buffalo's
C.J. Spiller
, and he's a year and a half younger than Charles.
None of this is to say McCoy is a sure bet to outlast any of these guys. Charles and Spiller haven't been full-time starters for their entire careers. Running back is a position that wears you down, and McCoy has been a bell-cow guy, averaging 14.4 carries per game for his career (16.19 since his rookie season) as compared to Charles' 12.06 or Spiller's 8.43. Martin averaged 19.94 in 2012, but again... only one year in the league.
No, the point is that as brilliant as McCoy has been, it's incredible to imagine what's still possible for him, considering he's still only 24 as I write this. When we watch McCoy run, we see him do things other backs can't do in terms of vision and speed and shiftiness. Add to the fact that players his age aren't generally as good as they will eventually be, and you can start forecasting levels of brilliance for McCoy that boggle the mind. He missed time last year due to injury, and the popular perception of him has been bogged down somewhat in the argument about the extent to which Andy Reid did or did not use him. But with Chip Kelly now coaching in Philadelphia, I believe the offense is going to be heavily based on the run game. And with a weapon like McCoy, with as much as he likely still has left in the tank at this point in his career, why wouldn't it be?
April, 1, 2013
4/01/13
10:00
AM ET
I do not know why I have been so late to this particular party, but the "Madden NFL 25" cover vote is taking place on this very website, and you can
go here and cast your vote
for the football player you think should be on this year's cover. It's down to the final 16 -- eight current players and eight from the past -- and the only current one from our division is, unsurprisingly,
Washington Redskins
quarterback
Robert Griffin III
. Having trounced
Ryan Tannehill
and
Doug Martin
in the first two rounds, RG III faces off against Baltimore running back
Ray Rice
in his Sweet 16 matchup. Griffin is a 1-seed, Rice a 5, and it's hard to see how even the Ravens' Super Bowl title offers him much of a chance here.
The other side of the bracket still features former
New York Giants
defensive end
Michael Strahan
(a 5-seed whose current matchup is against top-seeded
Jerry Rice
) and former
Dallas Cowboys
quarterback
Troy Aikman
, a 3-seed who's got a fascinating third-round matchup against 2-seed
Deion Sanders
. I wonder if this one may come down to which guy is better liked as a TV analyst?
The
Philadelphia Eagles
had representation, but former Eagles quarterback
Randall Cunningham
lost his first-round matchup to
LaDainian Tomlinson
and current Eagles running back
LeSean McCoy
lost in the second round to
Adrian Peterson
. Cowboys receiver
Dez Bryant
lost his second-round matchup to Ray Rice. Former Redskins running back
Clinton Portis
lost in the first round to
Marshall Faulk
on the "Old School" side of the bracket.
Anyway, go vote.
February, 7, 2013
2/07/13
12:30
PM ET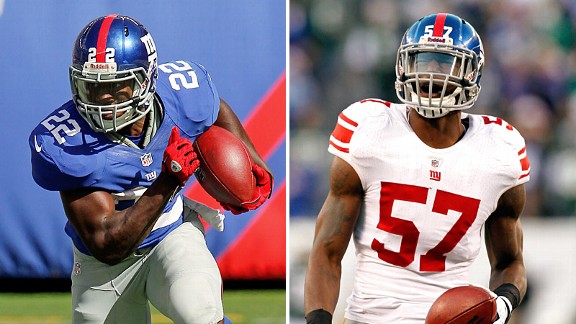 USA TODAY SportsThe Giants hope players like David Wilson, left, and Jacquian Williams are ready for starting roles.
New York Giants
general manager Jerry Reese has a reputation as a shrewd handler of the NFL draft. We are about to find out whether he deserves it.
Reese himself would tell you that the Giants look at the draft in a very specific way. They do not view it as an annual opportunity to make big-splash, instant-impact additions to the following season's team. The Giants use the draft as a means of crafting and maintaining a deep roster that can regenerate itself with players who have spent time developing in their system.
The cuts this week of championship mainstays
Ahmad Bradshaw
,
Michael Boley
and
Chris Canty
signal a time of such regeneration. The Giants make these moves -- and likely more cuts to come -- with the hope that the replacements for these players are already in their locker room. The extent to which that turns out to be the case will help determine just how good Reese's past few drafts have been.
The likely replacements for Bradshaw are
David Wilson
(first round, 2012) and
Andre Brown
(fourth round, 2009). Assuming they re-sign Brown coming off his broken leg, they'll find out whether that tandem can effect a smooth transition from the Bradshaw/
Brandon Jacobs
era at running back. Brown is a guy to whom they kept giving chances until he blossomed as a power runner in 2012. Wilson is the guy they said was at the top of their running back board in last year's draft. Were they telling the truth? Or did Tampa Bay outfox them by trading up to steal
Doug Martin
one pick earlier? It appears as though Wilson will get a good chance in 2013 to show whether he was indeed the right man for the Giants job.
Canty is a tough loss in the middle of the defensive line. And while
Linval Joseph
(second round, 2010) has already proved himself a reliable starter at defensive tackle, the Giants will hope this is the year that
Marvin Austin
(second round, 2011) blossoms into the interior pass-rusher they envisioned when they drafted him off his suspension season at North Carolina. That Austin pick has a chance to look really good if the young man rebounds from the two years in which he didn't see the field, but if he doesn't, the Giants will need to find more depth at that position.
Boley's most likely replacement at outside linebacker is
Jacquian Williams
(sixth round, 2011), who was a big help during the the most recent Super Bowl run and now likely gets a chance to show what he can do as an NFL starter. The Giants don't place a very high priority on the linebacker position, and if Williams blossoms as a starter out of the sixth round, he'll make that particular part of their strategy look pretty good.
There are other spots at which change is or could be coming. The Giants are almost certain to bid farewell, for instance, to defensive end
Osi Umenyiora
. And while
Jason Pierre-Paul
(first round, 2010) might already have taken Umenyiora's starting job, the Giants are eager to learn whether Pierre-Paul can be the relentless quarterback predator he was in 2011 and anchor their pass rush for years to come, or whether his more pedestrian 2012 season is what they should expect.
If they cut cornerback
Corey Webster
, is
Prince Amukamara
(first round, 2011) ready to cover the other team's No. 1 wide receiver on a regular basis? And is
Jayron Hosley
(third round, 2012) good enough to be a starter, or is he just a nickel corner? Can
Rueben Randle
(second round, 2012) and/or
Jerrel Jernigan
(third round, 2011) emerge as a playmaker and help make their wide receiver decisions on
Hakeem Nicks
and
Victor Cruz
less pressure-packed? Is tackle
James Brewer
(fourth round, 2011) ready to take his role as part of the offensive line rebuild?
Lots of questions with many potential answers for the Giants as they begin what appears to be an offseason makeover of some significance. This is the way they like to operate -- stocking their roster with talented young players they like, and working to help them be ready when opportunity arrives. It's why they believe in continuity on the coaching staff, and why they believe they can spend to the cap each year without having to pound the free-agent market too hard.
It is possible that the answers to the Giants' roster questions lie in the early and middle rounds of these past few drafts, and if they do, Reese's reputation as a master of the draft will be fortified by on-field results. If they do not, the Giants might find themselves in the uncomfortable position of having to alter their strategy and find some quick fixes for their holes next offseason. Reese and the Giants generally received high marks for the drafts they had in recent years. But with all of these veterans headed out of town, now's the time when we find out just how good those drafts really were.
November, 13, 2012
11/13/12
10:30
AM ET
The
Tampa Bay Buccaneers
jumped ahead of the
New York Giants
in the draft to take running back
Doug Martin
, who ran for 251 yards two weeks ago against the
Oakland Raiders
. The Giants then picked running back
David Wilson
, who has rushed for 89 yards all season. The Giants said they had Wilson rated higher anyway, and whether that's actually true is immaterial. They have Wilson, the Bucs have Martin and the Giants are struggling to run the ball as their offense muddles through a midseason slump.
[+] Enlarge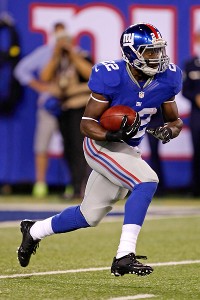 AP Photo/Scott BoehmThe Giants are concentrating on their long-term plan for rookie running back David Wilson.
So what's the deal, people sometimes ask me. Is the kid Wilson a bust? Did the Giants mess up? Should they have moved up to take Martin?
The answer to each of those questions may turn out to be "yes," but it's way too insanely early to know for sure, and an examination of the question requires an understanding of the way the Giants view the draft. They consider it a means of building and maintaining a deep roster, and they trust their coaching staff and their veterans to help shepherd and develop younger players. They don't necessarily care about the pace of that development. Some players, like 2010 first-rounder
Jason Pierre-Paul
, come very quickly. Others, like 2009 second-rounder
Will Beatty
, take a bit longer to make their impact as starters. But the Giants aren't generally looking for instantaneous help in the draft -- even in the first round. They look at the big picture, and take players whose talent they believe in.
Jenny Vrentas looks specifically at the case of Wilson in
this story for The Star-Ledger
. In it, the Giants' coaches explain that Wilson still has much work to do on blocking, blitz pickup, catching the ball, etc. These were things Wilson was not asked to do in Virginia Tech's offense, where someone like Martin comes out of a pro-style offense at Boise State and may be more NFL-ready right away:
"Yes, he's explosive, but at what cost is explosive?" running backs coach Jerald Ingram said. "Is he explosive at the cost of not being able to play well, not being able to know his job well enough and being a pro? That all has to develop."

Ingram compared Wilson's trajectory to that of Brandon Jacobs and Ahmad Bradshaw as rookies in 2005 and 2007, respectively. Both were held to limited roles, but contributed -- Jacobs had seven touchdowns his rookie year and Bradshaw was a contributor in the Giants' Super Bowl run.

"When his opportunity comes, he's got to make do with it and he knows that so it's making him hungrier," Ingram said. "Just like it made Ahmad hungrier during that playoff stretch and then when we had that third guy come into the game, we had Earth, Wind and Fire, and all of sudden we started wearing people down and all of sudden the speed transition guy came in, it was a difference maker. When Ahmad was a rookie, for him to come out there especially in the second half of the season, you got a fresh guy.

"So we're still there. There's a lot of football left."
So there may yet be a plan for using Wilson more and more effectively than the Giants have to this point -- even this season. And in the meantime, he's clearly making a contribution as a kick returner. So questions about whether he was the right pick are quite premature.
I think it's also worth comparing Wilson's situation to that of 2011 first-rounder
Prince Amukamara
, who struggled (mainly with health) during his rookie season and was prompting the same kinds of "Is he a bust?" questions from Giants fans last November and December. Amukamara has been the best defensive back on the field for the Giants over the past month, and it appears all he needed to do was get healthy and pile up some experience.
Fans don't always understand the patience part of this, but the people who run the Giants do. That's why it's safe to assume there's still a plan, and likely a bright future, for Wilson in New York. Even if he hasn't shown many glimpses of it yet.
September, 16, 2012
9/16/12
11:15
AM ET
As the
New York Giants
get set to take on the
Tampa Bay Buccaneers
at 1 p.m. ET today in East Rutherford, N.J., here's one reason for Giants fans to feel good and one cause for concern.


Feeling good:
The Giants' defensive front four, which was unable to get as much pressure on Cowboys quarterback
Tony Romo
as it wanted to in the opener, has had 10 days to stew about that game and should be fired up to get after the shaky Buccaneers offensive line. Bucs quarterback
Josh Freeman
is mobile, but he's not as adept as Romo is at avoiding the rush, keeping his eyes downfield and making plays when the line breaks down in front of him.
Jason Pierre-Paul
,
Justin Tuck
and
Osi Umenyiora
should be able to feast today, and they'll be looking forward to the chance to do so.
Cause for concern:
Tampa Bay wants to run the ball, and rookie running back
Doug Martin
looked good in the opener. The Giants' run defense is not the strength of their team, so there's a chance the Bucs could control the game if they're able to have success running the ball on early downs. The Giants' offense is much more quick-strike, so the game sets up for Tampa Bay to control the time of possession if they're able to bang away at the middle of the Giants' defensive front with Martin and
LeGarrette Blount
.
September, 14, 2012
9/14/12
1:30
PM ET
»
NFC Final Word
:
East
|
West
|
North
|
South
»
AFC
:
East
|
West
|
North
|
South
Five nuggets of knowledge about Week 2:
Pivotal odds week.
Three of the NFC East's four teams won in Week 1, which means the
Dallas Cowboys
,
Washington Redskins
and
Philadelphia Eagles
each have a chance to start the season 2-0. Teams that have started the season 2-0 since 1990 have reached the postseason 63.7 percent of the time. Teams that have started the season 1-1 over that time have reached the postseason only 41 percent of the time. A 1-1 record is the best for which the defending Super Bowl champion
New York Giants
can hope, and they certainly don't want to start 0-2. Since 1990, teams starting the season 0-2 have reached the playoffs only 12 percent of the time. And of the 46 Super Bowl champions, only three have started their seasons 0-2. Of course, the last Super Bowl champ to do so was the 2007-08 Giants, several of whom remain on the current team. So it's not as though you could count them out.
[+] Enlarge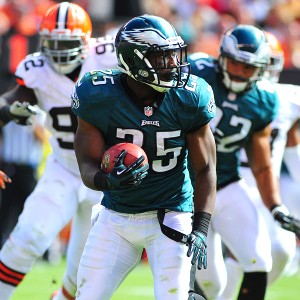 David Dermer/Diamond Images/ Getty ImagesLeSean McCoy gained 76 rush yards before first contact last Sunday but faces a stiff test against the Ravens.
Two different backs.
According to ESPN Stats & Information's "Next Level" stats, Baltimore's
Ray Rice
and Philadelphia's
LeSean McCoy
are ranked second and third in rushing yardage in the NFL since the start of the 2011 season. However, Rice has collected 80 percent of his yards and all of his touchdowns in formations that include a fullback, while McCoy has picked up 88 percent of his yards and 10 of his 17 touchdowns out of single-back sets. The Eagles rely on aggressive blocking by their offensive line to clear room for McCoy. His 76 rushing yards before first contact were the most of any running back in the NFL in Week 1.
Giants must wrap up.
Sticking with that theme (and those Next Level numbers), the Giants allowed 66 rushing yards after contact to the Cowboys in Week 1, the fourth-highest total in the league, though 49 of the 66 came on one
DeMarco Murray
run. Tampa Bay rookie
Doug Martin
, whom the Buccaneers traded up to select one pick before the Giants took
David Wilson
at the end of the first round, was fourth in the league in Week 1 with 55 rushing yards after contact.
The new Redskins' offense.
Mike Shanahan said he would change his offensive scheme to fit rookie quarterback
Robert Griffin III
, and in Week 1 he was true to his word. Griffin used play-action on 16 drop-backs last Sunday in New Orleans, which is the second-highest total of play-action pass plays since Shanahan became the Redskins' coach. Griffin was 11-of-14 for 237 of his 320 yards on play-action passes. Washington also operated out of a shotgun or "pistol" formation on 54.9 percent of their offensive plays Sunday, which is the second-highest such percentage during Shanahan's time as their coach and just the second time they've been over 50 percent under Shanahan. In his first two years in Washington, the Redskins operated out of shotgun or shotgun-variation sets just 28.2 percent of the time.
Keep up the blitz.
The Cowboys had a lot of success when they sent five or more pass-rushers at
Eli Manning
in Week 1. The Giants' quarterback was only 3-of-7 in those situations, a far cry from the way he abused the Cowboys when they blitzed him last year. As they continue to rely on the improved coverage by their defensive backs, the Cowboys could blitz more going forward, and Sunday's game in Seattle might be a good time to try it. Seahawks rookie quarterback
Russell Wilson
was 6-of-18 and took three sacks last week when the Cardinals sent five or more pass-rushers at him.
April, 29, 2012
4/29/12
11:07
AM ET
With the required disclaimer about not being able to grade a draft based on performance the day after it ends, ESPN's Mel Kiper Jr. has issued his immediate
post-draft grades
based on how well teams addressed their needs. His NFC East grades:
Philadelphia Eagles: A
Dallas Cowboys: C+
New York Giants: C+
Washington Redskins: C+
Yeah, other than the Eagles, whom he put at the very top of his list, Mel didn't think much of the NFC East's draft. The other three teams all rank in the bottom 11 of Mel's list.
I agree on the Eagles, who seemed to have one of those drafts in which everything fell their way. They didn't even need to pay too heavy a price in their first-round trade up for
Fletcher Cox
, as the Cowboys and Redskins did in their first-round trades. Mel calls this "One of the best drafts in terms of lining up needs and getting guys at spots where I didn't think they'd still be around."
Mel's Cowboys grade, along with everyone else's Cowboys grade, is inflated by the fact that they secured the best defensive player in the draft in
Morris Claiborne
with their first-round move up. But the Cowboys entered this draft with a lot of needs, and they really didn't fill any in ways that are likely to help them in 2012: "Really thought Dallas would get a player along the offensive line and improve the run game. I also don't see any immediate help for the pass rush. But the Cowboys can feel pretty good about landing Claiborne."
I liked the Giants' draft better than Mel did, but he seems to think they reached for
David Wilson
at No. 32 after their top choice,
Doug Martin
, went one pick earlier, and he may have a point. All in all, Mel says the Giants got "some helpful pieces, but Wilson needs to provide impact," and there is some question about whether he will.
The Redskins' draft will forever be the
Robert Griffin III
draft, for good or for ill. Mel's grade is kept down, he says, but the extraordinary price the team paid to move up to draft their new quarterback: "I think RG3 will be a very good player, and I think he can be pretty good right out of the gate, but he's this draft for Washington, and he came at the cost of (likely) three future starters."