February, 10, 2014
Feb 10
4:55
PM ET
Michael Sam is a potential 3-4 outside linebacker who happens to be gay, and potentially the first openly gay player in the NFL.
But come draft time the Redskins need to ask themselves one question: Can he help them?
He's a potential 3-4 outside linebacker who would need time to develop based on the descriptions of his play. Sam posted big numbers at Missouri this past season as a defensive end: 11.5 sacks; SEC Defensive Player of the Year; first-team All-American. Clearly he has talent.
What the Redskins need are good, young pass rushers. Do they have enough? He would be a project, like any player who must make the transition from college left end to 3-4 outside linebacker. That means being able to play in space and drop into coverage. He's listed at 6-foot-2 and 260 pounds. By comparison,
Ryan Kerrigan
and
Brian Orakpo
, the Redskins' starting outside linebackers both are 6-foot-4 (as is top reserve
Rob Jackson
) and weigh around 260 pounds as well.
Sam most likely is a mid-round draft choice at best, based on scouting reviews before his recent news.
Sam's play at the Senior Bowl received mixed reviews. But Falcons linebackers coach Bryan Cox said to reporters during the week about Sam that he had "Good athleticism. You know what he was in college in terms of big plays that he made for Missouri. And you look at the [Cotton] bowl game when he had the big strip at the end of the game to win it for the team. So you know that he has some pass-rush ability
"You're looking for his versatility; kind of showcase his ability to play linebacker as well as playing the defensive front. He's just trying to showcase who he is. He's a very talented guy."
Would the organization want to draft an openly gay player? Consider the history: A former Redskin, Dave Kopay, was the first ex-NFL player to reveal his sexual orientation.
General manager Bruce Allen's father, George, coached former Redskin Jerry Smith. George Allen later sent a letter to Smith after he learned he had contracted AIDS.
In A Football Life: Jerry Smith, Bruce Allen read parts of the letter, "You not only were the very best tight end the Redskins ever had, you also were the toughest. Like we always said, no matter how many setbacks you have had keep fighting. I want you ready for my next team. That one will be called the Over the Hill Gang."
And the Redskins alumni invited Smith's sister and her son to a recent homecoming game.
Allen also said on the show, "He's in our ring of honor and has been there for a number of years. His contributions to the
Washington Redskins
on the field and off the field will never be forgotten."
Not that this has anything to do with the team now.
Doug Williams was just hired Monday as a Redskins personnel executive. So it's not as if he speaks for the entire organization. But I'd be surprised if others differed with what he said.
"We have to take our hats off to the young guy," Williams said. "He did something that takes a lot of courage. I'm sure he thinks it could hurt his draft status. It could help. But the locker room is what it is. For five years this guy has been in a locker room and [his teammates] put their arms around him and had a heck of a season, which means it wasn't a big deal to them. At the NFL level the bottom line is where does he rate as a player.
Russell Wilson
won the Super Bowl and nobody talked about him being black. Eventually we have to get to that point when we talk about people's sexuality.
"We all understand there will be some knuckleheads out there. That won't ever change. But you have to understand society has changed enough over the last 10 to 15 years and you have to accept people for what they are."
January, 23, 2014
Jan 23
9:20
AM ET
Orakpo

The three Redskins in Hawaii won't be split up for Sunday's Pro Bowl game. Running back Alfred Morris, left tackle Trent Williams, and linebacker Brian Orakpo all were drafted by Team Prime, coached by Deion Sanders. Can't say I'm a big fan of this format; what would happen if Orakpo had a chance to level Morris? Would he really do that to a teammate? It might have been fun to watch Williams and Orakpo go one-on-one; it's the matchup we get to see daily in training camp. But this game hasn't been fun to watch in a while.
It makes sense if former Redskins quarterback Doug Williams joins Washington's front office. This was actually first mentioned a few years ago when general manager Bruce Allen joined the organization. Several months later Williams was out of a job and said he had talked to the Redskins, but that the timing was off. It's no longer off. He soon became the general manager of the Virginia Destroyers in the United Football League.
Keep in mind that Williams worked in Tampa Bay with both Allen and new head coach Jay Gruden as a personnel executive. After both were fired by the Bucs, Williams became the coordinator of pro scouting for two years.
I would expect a decision on who will coach the running backs Thursday or Friday, based on a conversation I had with a team source early in the week. Yes, Earnest Byner remains in the running, but last week two team sources said they had planned to interview more candidates.
For those who missed it, Sean McVay said he will coach the quarterbacks.

Hall

Defensive coordinator Jim Haslett spoke with reporters at the Senior Bowl and had a couple of interesting comments. He called re-signing linebackers Orakpo and Perry Riley priorities, and also mentioned lineman Chris Baker and corner DeAngelo Hall as players they would like back.
Haslett also told reporters about Jay Gruden: "H

e's going to spend his time with the offense, and I think he'll trust the guys we have on defense to do what we have to do. Obviously, we'll play as a team, from defense to special teams. I think we've got to get back to playing. I think we're closer to the 10-win season than the three-win season that we had. We're much closer to the 10-win season as a football team than the three-win season."

That word trust will be said a lot. Obviously, Mike Shanahan was involved quite a bit in the defense. One player said having another strong voice involved in the defense sometimes led to confusion in assignments and over who was really calling the shots. How much did it hurt? Tough to say. But it couldn't have helped.
Haslett also said, "We played much better, I thought, that last 13 games. We played extremely well from the standpoint that we didn't give up a ton of points, we didn't give up a ton of yards. We played Peyton Manning about as good as you can get. And, I think that's something to build off of. We played good after those first four games. Can we get better? Yeah. We were middle of the pack. But we were fourth in the league on third-down efficiency. So, all that stuff is something you can build on."
According to ESPN Stats & Information, the Redskins ranked ninth in total yards from weeks 4-17, allowing 323.2 yards per game; they were last in the NFL for the first three games, allowing 488.0 total yards per game. They allowed 32.7 points per game in the first three weeks (31st in the NFL) and 29.2 thereafter (29th).
The Redskins ranked 18th in the NFL by allowing 88 points off turnovers. Considering how many they had (34), that's not a bad number. The league average was 82 points allowed. There were eight teams that had at least 30 turnovers; the Redskins, with 34, were tied for second most. But they were second best in the points allowed per turnover.
So let's say the Redskins had repeated 2012 when they were fourth in this area at 51 points allowed. And let's say they only allowed three returns for a touchdown (on special teams and offense) instead of seven. That would deduct 65 points from their total, leaving them with 413 allowed for the season. And that would have left them 24th in the NFL at 25.81 points per game allowed.
Only two teams in the bottom 15 of points allowed finished with a winning record. One happened to be Denver (24.9 ppg); Green Bay (26.8) was the other. So the Redskins' performance in this area was unacceptable, and I don't think Haslett would disagree. But his overall point was finding positives upon which to build.
June, 3, 2013
6/03/13
12:00
PM ET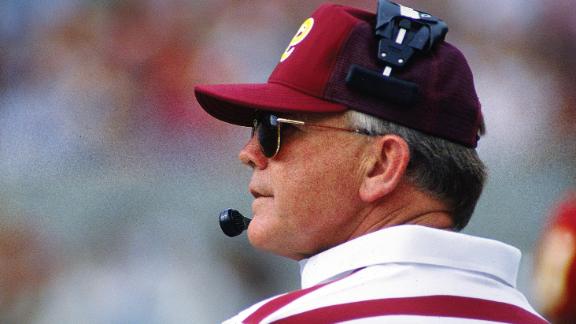 Our countdown of the top 20 NFL coaches of all time reaches
No. 9 today
, and that's where we find Washington Redskins coaching legend Joe Gibbs, winner of three Super Bowls with three different quarterbacks. One of those quarterbacks was Doug Williams, who told Ashley Fox the story of how Gibbs was going to trade him to the Raiders prior to the 1987 season but told him he'd changed his mind:
I said, "Coach, you can't change your mind." That's the first time I'd ever seen Joe get mad. He told me, "I don't work for the Raiders. I work for the Washington Redskins. I can change my mind." And then he calmed down a little bit, and he looked at me and said, "I've got a gut feeling somewhere during the season you're going to come in here, and we're going to win this thing."

Joe Gibbs told me that before the season. In the last game of the regular season, I wasn't the starting quarterback. After the last game of the season, Joe Gibbs makes the decision, "I'm going to start Doug Williams." That's a heck of a decision. If there had been a vote in the locker room, I would've won the election from the start.

As a coach, you have to know the heartbeat of your football team, and he felt that was what everybody else was thinking. If you watch the highlight film after the Super Bowl, at the end of the film, Joe and I hug. And he tells me in my ear, "I told you so." Well, you know, all along I felt pretty good before he told me that, because of what we'd done. But for him to tell me that, it just resonated what kind of coach he was, what kind of man he was and the spiritual belief he had. For him to tell me that before the season in 1987 and then it happened, in a way it's scary, but at the same time I think it had a lot to do with his coaching ability.
The whole win-Super-Bowls-with-three-different-quarterbacks thing looks even more impressive from our present-day vantage point, with the franchise quarterback established as the essential ingredient without which championships can't be won. But it's still something no one has ever done, and it bolsters Gibbs' credentials as the type of coach who could have been great in any era -- one who clearly understood that great coaching means figuring out how to get the very best out of the people you have, not assembling a team out of the kinds of guys you want. He's an all-time Redskins legend, one of the most beloved figures in franchise history and certainly a worthy member of any list of the top 10 coaches in NFL history.
January, 31, 2013
1/31/13
6:10
PM ET
On Super Bowl Sunday, one of the features to air on ESPN's "NFL Countdown" show will be a look back at the Super Bowl victory by Doug Williams and the Washington Redskins 25 years ago. Our Greg Garber covered that game and recently wrote
this story
in which Williams recalls the victory and the fuss that was made over his being the first black quarterback to start a Super Bowl. But the seven-minute feature that will run Sunday morning is narrated not by Garber but by current Redskins quarterback
Robert Griffin
III:
"Originally, we thought it would be cool to get a voice like Denzel Washington, Sam Jackson or James Earl Jones, but we eventually realized that RG III was the perfect guy," Garber said.
You can read more about the production of the feature and see a clip of it
here
. And of course the full feature will run on ESPN on Sunday. We've talked a lot here about Griffin's awareness of his place in history and society and the respect he has for those who came before him, and the fact that they were able to get him to narrate this story shows how seriously he takes it. Griffin was not yet born when Williams won that Super Bowl with the Redskins, but he has a great deal of respect for what happened that day and the way it helped change some perceptions about the quarterback position.
June, 22, 2010
6/22/10
11:30
AM ET
By
Matt Mosley
| ESPN.com
Notable players
: QB
Mark Rypien
, RB
Earnest Byner
, WR
Gary Clark
, G
Mark Schlereth
, DE
Charles Mann
, CB
Darrell Green
, K
Chip Lohmiller
[+] Enlarge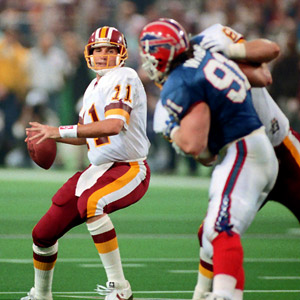 US PresswireMark Rypien threw for 3,564 yards and 28 touchdowns during the 1991 season.
Analysis
: Maybe I should've leaned toward the Riggo-Theismann teams, but in my mind, the '91 team was too stacked to ignore. Clark was such an unbelievable competitor and he still drops by practice from time to time and inspires the current players. Green was the primary reason opposing teams only managed 6 yards per passing attempt that season. His battles with
Michael Irvin
were priceless.
The '91 offensive line was dominant to a ridiculous degree. Redskins quarterbacks were only sacked nine times that season, which is a decent half for the current unit. Rypien had 14 touchdown passes of 25 yards or more to lead the league. Washington could beat you with the pass or run and then its defense knew how to protect leads.
Most impressive win
: The Redskins breezed through the regular season with a 14-2 record and then pounded the Lions and Falcons in playoff games. But the 37-24 Super Bowl win over the Bills stands out to me. The Bills were in the middle of a remarkable run and they had an immensely talented offense. The Redskins didn't care about any of that. We remember the Cowboys being the dominant team of the '90s, but the Redskins set the table in '91 with a memorable season.
Best player
: Green was brilliant at cornerback, but Rypien was the MVP of the league. For that one season, he put up numbers (3,564 yards passing, 28 TDs) that would make any quarterback envious. And the man threw an excellent deep ball.
Honorable mention
1987
: I'll never forget Doug Williams' performance in the Super Bowl. He was shaky early in that game, but after the Skins fell behind the Broncos by 10, Williams settled down and started shredding the defense.
1983
: I know the '82 team won a Super Bowl, but that was in a strike-shortened season. Give me the '83 team even though it was pummeled by the Raiders in the Super Bowl.
1972
: The Skins ran into the perfect Dolphins in the Super Bowl, but Billy Kilmer and the gang had a tremendous season. Larry Brown was a monster and the great George Allen had the Cowboys in full paranoid mode. It was a classic time in the rivalry because the Cowboys also had become an elite team.