NFC East:

dre kirkpatrick
September, 2, 2014
Sep 2
7:59
AM ET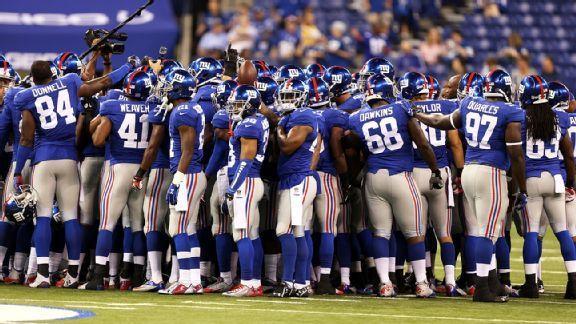 ESPN.com
New York Giants
reporter Dan Graziano makes his game-by-game picks for the 2014 season.
Week 1: at Detroit Lions
The Giants are coming off a mess of a preseason, undermanned and overwhelmed, with the offensive line still a mess and the new offense not clicking at all. No one will pick them to win this game. Except me. Prediction: Win
---
Week 2: Arizona Cardinals
This one's a comedown off the Week 1 surprise, as Arizona's banged-up defense still manages to flummox Eli Manning and collect a few interceptions. It's a bummer of a home opener as reality begins to set in. Prediction: Loss
---
Week 3: Houston Texans
Houston's defense is as liable as Arizona's to make life miserable for Manning and the offensive line. But Houston has bigger questions on offense than even the Giants, and this is a win for the New York defense against Ryan Fitzpatrick. Prediction: Win
---
Week 4: at Washington Redskins
The short week and Washington's stellar crew of offensive weapons prove too much for the Giants to overcome. Will Beatty still sees Brian Orakpo in his nightmares. Prediction: Loss
---
Week 5: Atlanta Falcons
The pattern continues, and the Giants overcome two Osi Umenyiora sacks to outscore the Falcons with a furious Manning comeback in the final minutes. The Giants poke their heads over the .500 mark as they make the turn into the most brutal stretch of their schedule. Prediction: Win
---
Week 6: at Philadelphia Eagles
The Giants don't have Matt Barkley to kick around this time when they visit the City of Brotherly Love. Chip Kelly and the Eagles show them what a truly innovative offense looks like. Prediction: Loss
---
Week 7: at Dallas Cowboys
The season-long debate about what gives when an anemic Giants offense meets a pathetic Cowboys defense tilts in Dallas' favor in the first meeting. Tony Romo & Co. have more than enough weapons to outscore Manning and his bunch, and the Giants hit the bye with a 3-4 record. Prediction: Loss
---
Week 9: Indianapolis Colts
After a long break before the Monday night home game, the Giants get taken apart by Andrew Luck, Hakeem Nicks & Co. at MetLife Stadium for a third straight loss. The offense is starting to run more smoothly, but it still doesn't have enough playmakers to outscore one of the league's better offenses. Prediction: Loss
---
Week 10: at Seattle Seahawks
You're kidding, right? Prediction: Loss
---
Week 11: San Francisco 49ers
The Giants have obviously handled the Niners in recent years and in some high-profile situations. But by this point in the season, San Francisco's defense is back to full strength, and the 49ers can't afford to lose ground to the Seahawks by failing to beat the team Seattle just beat the week before. Prediction: Loss
---
Week 12: Dallas Cowboys
A sixth straight loss is by no means out of the question here, as Romo and his crew still have the potential to outscore anyone in a given week. But from this far out, I'll forecast that something goes wrong for Romo late in this game, and the Giants get a gift. Prediction: Win
---
Week 13: at Jacksonville Jaguars
This is where the schedule starts to soften up, when the Giants start playing teams that insist on not starting their best quarterback. It's unfortunate they're 4-7 at this point and just about out of the playoff hunt, but they will get it going against the bottom-feeders. Prediction: Win
---
Week 14: at Tennessee Titans
I think the Titans are going to be dreadful this year, and by December they won't be very difficult for anyone to beat, even at home. A third straight victory keeps the Giants' hopes alive. Prediction: Win
---
Week 15: Washington Redskins
Have to be honest: The NFC East is so unpredictable that, when doing these predictions, I just decided to give the Giants a 3-3 division record with victories in all three home games and losses in all three road games. It's as fair a way as any to do it, I believe. Prediction: Win
---
Week 16: at St. Louis Rams
After moving back to .500 with four straight wins, the season falls apart at the hands of the St. Louis pass rush. An offensive line that has once again been the Giants' biggest problem all year can't protect Manning in a must-win game. Prediction: Loss
---
Week 17: Philadelphia Eagles
Tom Coughlin's teams can always find a way to play for pride. The Giants' playoff hopes are extinguished, but they still manage to end the season on a high note and with a .500 record. Prediction: Win
---
Predicted Record: 8-8
February, 5, 2014
Feb 5
11:05
AM ET
IRVING, Texas -- The
Dallas Cowboys
will not know until a coin flip at the NFL scouting combine if they or the
Baltimore Ravens
will pick 16th or 17th in the
first round of the May draft
.
The only time the Cowboys used the 16th pick in the draft came in 1961 when they selected E.J. Holub in the second round. They have not taken a player with the 17th overall pick since cornerback Kevin Smith in 1992. Before that? In 1990 they took Emmitt Smith, who is now the NFL's all-time leading rusher.
What type of player has been available at Nos. 16 and 17? Here's a look at the past 10 years.
2013 –
EJ Manuel
, Buffalo;
Jarvis Jones
, Pittsburgh
2012 –
Quinton Coples
,
New York Jets
;
Dre Kirkpatrick
, Cincinnati
2011 –
Ryan Kerrigan
, Washington;
Nate Solder
, New England
2010 –
Derrick Morgan
, Tennessee;
Mike Iupati
, San Francisco
2009 –
Larry English
, San Diego;
Josh Freeman
, Tampa Bay
2008 –
Dominique Rodgers-Cromartie
, Arizona;
Gosder Cherilus
, Detroit
2007 –
Justin Harrell
, Green Bay;
Jarvis Moss
, Denver
2006 –
Jason Allen
, Miami;
Chad Greenway
, Minnesota
2005 –
Travis Johnson
, Houston;
David Pollack
, Cincinnati
2004 –
Shawn Andrews
, Philadelphia;
D.J. Williams
, Denver
2003 –
Troy Polamalu
, Pittsburgh;
Bryant Johnson
, Arizona.
Polamalu is by far the best player selected in either spot. He will be in the Hall of Fame. There are quality players in there like Williams, Greenway, Rodgers-Cromartie, Iupati, Solder and Kerrigan. Andrews had a pretty good short run as well. Kerrigan is solid and has done some good things versus the Cowboys. Coples has showed some pass rush his first two seasons. I expected more from Kirkpatrick, who was on the Cowboys' radar in 2012.
The Cowboys held the No. 18 pick in 2013 and traded down to No. 31 with the Niners where they took
Travis Frederick
. They felt they were in a position to trade down and still pick up a quality player. When they saw
Eric Reid
,
Justin Pugh
,
Kyle Long
and
Tyler Eifert
go off the board in the next four picks they were left sweating it out until they got Frederick.
March, 28, 2012
3/28/12
5:45
PM ET
PALM BEACH, Fla. -- Last year,
Dallas Cowboys
coach Jason Garrett attended one pre-draft pro day -- the one at USC -- and the Cowboys ended up drafting USC tackle Tyron Smith in the first round. Well, we do love clues, and so enjoy this one: Garrett is going to one pre-draft pro day this year, and it's
Alabama's on Thursday
. Per Calvin Watkins:
"As of now, it's the only one of scheduled to go to," Garrett said. "Alabama had a pro day earlier in the month and a number of their players were not able to work out cause of injury. We felt it was worthwhile. Logistically it made sense. I am here. I'm going back to Texas. We are going to fly right over Tuscaloosa. It made sense for me to stop there and go to this workout tomorrow. So that is one of the reasons. We have had reps from the Cowboys at a lot of different pro days."
Side note: Maybe I'm punchy at the end of a couple of long days, but "We are going to fly right over Tuscaloosa" really made me laugh. Is he going to parachute out of the plane?
Anyway, there are three draft-eligible members of Alabama's national championship defense who could make good sense for the Cowboys at No. 14 in the first round. They are linebacker
Courtney Upshaw
, safety
Mark Barron
and cornerback
Dre Kirkpatrick
. All of them could be there for the Cowboys to choose from when their turn comes around. Upshaw would help the pass rush, Barron and Kirkpatrick the secondary, and the Cowboys need help and depth in both of those areas.
So, while Garrett's attendance in Tuscaloosa on Thursday doesn't guarantee that the Cowboys take a Crimson Tide defensive player in the first round, it could be offering us some indication of the direction in which they're leaning.
March, 23, 2012
3/23/12
10:23
AM ET
I love where the
Dallas Cowboys
and
Philadelphia Eagles
are picking -- 14th and 15th, respectively, in the first round in next month's NFL draft. Those spots lend themselves to endless speculation and a myriad of possibilities. We know who the Redskins are taking at No. 2 (or at least we know it's one of two possible quarterbacks). And with the Giants picking No. 32, speculation is almost pointless. No way to know who'll be there, and the Giants always pick the best player available anyway.
But the Cowboys and the Eagles, right there in the middle of the first round, that's where the fun is when it comes to speculation. And I know you Cowboys fans are enjoying it, so here's some more.
Calvin Watkins reports
that the Cowboys plan to bring in Alabama cornerback
Dre Kirkpatrick
for a visit in early April. The team can host up to 30 players, so a Kirkpatrick visit doesn't mean he's the pick. But with the Cowboys still needing to add depth in the secondary and on defense in general, he's a very interesting guy. Mel Kiper Jr.'s latest mock draft had Kirkpatrick going No. 17 overall, so it's possible he'll be there for the Cowboys at 14 if they want him.
We've talked about this a lot, and we'll continue to do so for the next five weeks. Some people like Stanford guard
David DeCastro
at that No. 14 spot. I personally think the Cowboys need to be thinking defense, and as bad as their secondary was last year taking the best available defensive back at 14 makes a ton of sense to me. That could be Kirkpatrick. Could be
Janoris Jenkins
. Could be a safety, if Kirkpatrick's national champion teammate
Mark Barron
is there.
But anyway, Kirkpatrick's going to Valley Ranch the week after next, and I figured you guys could have some fun with that information.
February, 22, 2012
2/22/12
2:30
PM ET
With the NFL scouting combine kicking off, let's take a look at some of the story lines involving NFC East teams in Indianapolis this week. We'll do them in draft-pick order:
Washington Redskins

Biggest need:
Well, it's quarterback, as everyone within 500 miles of the beltway knows. But the Redskins will also be talking to wide receivers, defensive backs and offensive linemen at this year's combine. They have a number of needs, and a number of different things they can do with the No. 6 overall pick. The key question is whether they'll stay at No. 6. A big part of the combine is the after-hours interaction between team executives, agents, etc. By the end of this week, if they don't already, the Redskins might have some idea about what it would cost them to trade up to No. 2 overall and ensure they could draft Baylor quarterback and Heisman Trophy winner
Robert Griffin III
. Once they have some idea of that price, they can decide whether Griffin is their answer at quarterback or whether they need to find one in free agency and use the No. 6 pick on a receiver or a defensive back.
Interview targets:
The Redskins will surely want to talk to Griffin, along with other, lower-ranked quarterback prospects such as
Ryan Tannehill
,
Brock Osweiler
and
Brandon Weeden
. At other positions, it makes sense for them to be keeping an eye on wide receiver
Justin Blackmon
, cornerback
Morris Claiborne
and maybe an offensive tackle such as
Riley Reiff
.
Later-round sleepers:
Boise State safety
George Iloka
is a second-day type of player on whom the Redskins could have their eye if the chips fall correctly.
LaRon Landry
looks like he may be a goner in Washington, and they could use some help at safety. And there's some buzz right now about Midwestern State tackle
Amini Silatolu
, who projects as a guard in the NFL and might look nice on the left side of the line next to
Trent Williams
.
Dallas Cowboys

Biggest need:
They have several, but none so glaring as cornerback. When one of your starters gets hurdled by two fullbacks in the division title game, you know you have a problem at the position. The Cowboys pick 14th in the first round, and if they've addressed cornerback in free agency they could use the pick on a pass rusher, a safety or even an interior offensive lineman like Stanford's
David DeCastro
. But even if they pick up a big-name free-agent corner, it's not out of the question they could draft another in the first round. Their need at the position is that desperate.
Interview targets:
With Claiborne almost certain to be gone by 14, the two corners on which the Cowboys have their eye are
Janoris Jenkins
and
Dre Kirkpatrick
. But they'll surely check in on DeCastro as well as pass rushers such as
Melvin Ingram
and
Courtney Upshaw
. Mel Kiper had the Cowboys taking Alabama safety
Mark Barron
in his most recent mock draft, and with
Abram Elam
's 2012 status in doubt, it wouldn't be a huge shock to see them take the top available safety at 14.
Later-round sleepers:
Todd McShay's recent post on
possible combine sleepers
mentions Montana cornerback
Trumaine Johnson
and McNeese State safety
Janzen Jackson
as guys who could be there for the Cowboys at need positions after the first round.
Philadelphia Eagles

Biggest need:
The Eagles need linebackers — at least two of them. The issue is whether there is value at that position in the first round. If Boston College's
Luke Kuechly
is still there at No. 15, it would make a ton of sense for the Eagles to take him. But Andy Reid's draft history doesn't indicate that he likes taking linebackers that high. In spite of their disappointing 2011 season, the Eagles don't look, on paper, like a team with a lot of obvious needs. If they don't take a linebacker at 15, I'd expect them to either move down or pick a big defensive tackle such as
Fletcher Cox
,
Devon Still
or
Dontari Poe
. And if
DeSean Jackson
is traded or leaves via free agency, they could target a wide receiver such as
Michael Floyd
or
Kendall Wright
.
Interview targets:
All of those names above, but I'm going to throw the two cornerbacks in here as well — Kirkpatrick and Jenkins. The Eagles obviously love to stock up on cornerbacks, and if they trade
Asante Samuel
for salary/overcrowding reasons, it's not crazy to imagine them deciding one of those corners has too much value to pass up. As for their troubled pasts... hey, this is Andy Reid we're talking about here.
Later-round sleepers:
Michael Vick
's not going to be around forever, so don't be surprised to see the Eagles spend an early-round or mid-round pick on a quarterback such as Osweiler or
Nick Foles
. But those guys aren't really sleepers, because you've heard of them. Nebraska's
Lavonte David
is a well-regarded, if undersized, linebacker prospect. At wide receiver, remember the name Tim Benford from Tennessee Tech.
New York Giants

Biggest need:
Offensive line. The champs patched it together in January with a line that wasn't very good in the first half of the season but played big when it needed to. But
Kareem McKenzie
looks set to leave as a free agent,
David Diehl
won't play forever and the Giants need to be thinking about what their offensive line will look like in the future. They haven't taken an offensive lineman in the first round since
Luke Petitgout
in 1999, but at No. 32, their pick is barely in the first round, and they'll take the best player available, as they always do. Don't be surprised if that player is a tight end such as Clemson's
Dwayne Allen
. The Giants did lose two tight ends to knee injuries in the Super Bowl. Oh, and if they lose both
Aaron Ross
and
Terrell Thomas
in free agency, they may need a cornerback.
Interview targets:
Allen and Stanford's
Coby Fleener
at tight end.
Mike Adams
and
Bobby Massie
at tackle. I also wouldn't be surprised to see them look at a versatile rush linebacker like Marshall's
Vinny Curry
. I always think the Giants need help at linebacker, though they never seem to agree.
Later-round sleepers:
Louisiana-Lafayette tight end
Ladarius Green
could fill a need for them in the middle rounds if his knees check out this week. And the Giants like to take late-round running backs, so keep an eye on Senior Bowl star
Doug Martin
from Boise State.
February, 15, 2012
2/15/12
2:25
PM ET
By now, all of you draft-crazy maniacs must know that Mel Kiper Jr. has released his second mock draft. It's Insider

(and no, we're not just doing Insider stuff today — it's a coincidence, and for goodness' sake, it's a mock draft!), but I asked Mel and he said it'd be OK if I told you guys who he has the four NFC East teams taking. Just this once.
6. Washington Redskins:
Morris Claiborne
, CB, LSU. Mel believes the Redskins could move out of this slot***, in particular if they make a play to move up and take quarterback
Robert Griffin III
. But Mel's mocks don't deal in potential trades, and he believes Claiborne represents the best value for Washington at No. 6, even given the team's obvious needs on offense. Mel says Claiborne "is actually a better pure cover corner than
Patrick Peterson
, the No. 5 overall pick from last year." No question, that would help.
14. Dallas Cowboys:
Mark Barron
, S, Alabama. Yes, a big percentage of this year's first round will be players who played in the BCS National Championship Game. Mel thinks Dallas' biggest need is defensive back, and he thinks the safety Barron represents better value at 14 than the next-best cornerback he has still available (Barron's teammate,
Dre Kirkpatrick
). As ever, the caveat is what happens in free agency. If they get a bunch of defensive backs in free agency, I believe they'll be looking for a pass rusher here. The next pass rusher off Mel's board is Illinois'
Whitney Mercilus
, whom he has going to Tennessee at No. 20.
15. Philadelphia Eagles:
Fletcher Cox
, DT Mississippi State. Mel has
Luke Kuechly
gone already, and while linebacker is the Eagles' greater need, he doesn't see value for them at that position in this spot. I kind of agree, though if they don't get a linebacker here I think they need to make sure and get one in Round 2 or 3. Cox would help shore up the middle of Jim Washburn's defensive line rotation.
32. New York Giants:
Dwayne Allen
, TE, Clemson. The champs lost two tight ends in the Super Bowl, and if Allen's still on the board at 32, he makes as much sense as anyone. If not, my guess is they pick an offensive lineman here.
***NOTE:
This isn't, per se, an NFC East point, but it does affect the Redskins, at least tangentially. Mel has the Rams taking Oklahoma State wide receiver
Justin Blackmon
with the No. 2 pick, and it made me think about the Rams' leverage in these negotiations with the teams that will want the pick to ensure they get Griffin. Even if, say, the Redskins become the only team willing to trade for the pick, the Rams still have plenty of leverage. Someone like Blackmon or USC tackle
Matt Kalil
would fill a major need for them, and if no team wants to give them the multiple-first-round-picks package they'll surely be seeking in exchange, they can very easily stay right where they are and get a potentially great player who can help them for years to come. It's not as though the Rams
need
to be out of No. 2. They'll only do it if they get blown away. Worth keeping in mind.
January, 18, 2012
1/18/12
12:30
PM ET
Aw, yeah, fans of teams that aren't still playing this week. Do we have some fresh meat for you. Our NFL draft expert, Mel Kiper, has posted his first mock draft of 2012, and
here it is
in all its glory. Looks like it's an Insider piece, so you have to pay to read the whole thing. But in the interest of keeping the blog fed, the masses happy and reasons for people to pay for Insider access obvious, I'll let you know what he's got for our four teams. The comments here are mine, not Mel's.

6. Washington Redskins: Morris Claiborne, CB, LSU.
This came up in this morning's breakfast links, with John Keim of the Washington Examiner suggesting cornerback at a spot where most people have been hoping or assuming the Redskins would take a quarterback or wide receiver. But Mel's got
Andrew Luck
gone to Indy at No. 1,
Robert Griffin III
gone to Cleveland at No. 4 and Oklahoma State receiver
Justin Blackmon
gone to St. Louis at No. 2, and he doesn't forecast trades. He also doesn't have another quarterback going in the first round, so second-tier options like
Ryan Tannehill
could still be available there if this were to come true. I'm curious to see whether Notre Dame wide receiver
Michael Floyd
could get this high, though he said this week that he's dropping out of the Senior Bowl, where Mike Shanahan and the Redskins will be one of the coaching staffs.

14. Dallas Cowboys: David DeCastro, G, Stanford.
Seems high for a guard, and it would seem odd for the Cowboys to spend top-15 picks on offensive line two years in a row. But other than cornerback, interior offensive line is the Cowboys' biggest need position, and Mel has Claiborne and Alabama's
Dre Kirkpatrick
gone in the top 10. I wonder if the Cowboys would maneuver to grab a pass-rushing outside linebacker such as Alabama's
Courtney Upshaw
or South Carolina's
Melvin Ingram
, who are gone at No. 10 and 12, respectively, in Mel's mock.

15. Philadelphia Eagles: Luke Kuechly, LB, Boston College.
No question linebacker is the Eagles' biggest need, but will Andy Reid really go far enough out of character to take one in the middle of the first round? Everybody loves Kuechly for his instincts and tackling, and those are two aspects of their linebacking corps the Eagles desperately need to improve. I could see, as Mel says he could also, the Eagles taking a safety here. (Mel has Alabama's
Mark Barron
going next, to the Jets.) And if they part ways with DeSean Jackson, the Eagles could certainly look for a wide receiver in the first round. But Kuechly seems like a big pile of exactly what Philadelphia needs.

29*. New York Giants: Zebrie Sanders, OT, Florida State.
The Giants will pick in this spot if they lose Sunday, 31st if they win Sunday and lose the Super Bowl and a very happy 32nd if they win the Super Bowl. Tackle's not a bad way to go, since they have some question marks there. Right tackle Kareem McKenzie is a free agent and Will Beatty didn't look like the answer at left tackle before eye surgery ended his season. David Diehl has played well there since, but he's 31, and it can't hurt to add young depth at a spot like this. The Giants could use help at linebacker and maybe in the secondary depending what happens with Terrell Thomas, but clearly, since they're still playing this week, their needs appear to be relatively few.