NFC East:

dream team of tomorrow
July, 21, 2011
7/21/11
1:00
PM ET
»
NFC
:
East
|
West
|
North
|
South
»
AFC
:
East
|
West
|
North
|
South
Our divisional bloggers discuss one thing they'd change as commissioner for a day:
If I were NFL commissioner for a day, they wouldn't like me very much in Indianapolis or New Jersey. Because as much as I like both of those places, neither is the right place for a Super Bowl.
[+] Enlarge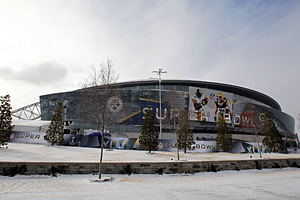 Ronald Martinez/Getty ImagesAn ice storm in the Dallas area made things challenging for Super Bowl organizers this year.
The Super Bowl should be in Miami or New Orleans or San Diego or even Phoenix -- places where February weather isn't going to have a chance to play havoc with the weeklong festivities that make it the most critical event of the year for the league. We saw what happened this year in Arlington, Texas, for goodness' sake, where the first-time host city botched every single aspect of its hosting responsibilities amid an ice storm for which it wasn't prepared. It shouldn't have had to be, and nobody in the NFL should be having to worry about similar weather in Indy next year or New Jersey in 2014.
It just doesn't make sense. This is the NFL's signature event. You fly in your biggest sponsors. You court big-name celebrities. You get a week's worth of international attention before the game even starts. Why would you want to hold all of that in a place where people might not want to go in February? Let alone a place they might not even be able to get to if they wanted to go?
And in the case of the New York/New Jersey Super Bowl, you're messing with game day itself. I live 20 minutes from the Meadowlands. The weather is awful here in February. Plain awful. Why, if you're the NFL, would you want even a 1 percent chance that a snowstorm or an ice storm or some miserable combination of both could mess up Super Bowl Sunday?
The whole idea is a byproduct of the inane notion that every NFL city should have a chance at hosting the Super Bowl. Hogwash. Was it that important to have one in Jacksonville? Places like Miami and New Orleans know what they're doing. There are good reasons it's been in those places so many times. Weather is a big one. The NFL has a winning formula in place for its biggest event of the year. It makes no sense to me why they insist on messing with it.
July, 20, 2011
7/20/11
11:25
AM ET
Obviously, as we discussed earlier, the post from Tuesday on my pick for the dominant team in the NFC East from 2014-16 drew
a fair bit of interest
. Our bloggers from the other seven divisions each weighed in as well, as this post was all part of the "Dream Team of Tomorrow" project. But they also asked us to vote on which team, league-wide,
we expect to dominate
over this future three-year span. And the NFC East didn't do well in that league-wide voting.
We had 25 people vote. The leading vote-getter was the Packers, with six votes. The Buccaneers got five, the Falcons four and the Steelers and Rams each got three. Four other teams got one vote each: The Bills, Lions, Patriots and Eagles.
So the Eagles were the only NFC East team to get even one vote in this poll. It came courtesy of fantasy sports guru Matthew Berry. And while, as I wrote Tuesday, I like the Eagles' young core, my vote went to the Lions, banking on the health of
Matthew Stafford
improving over the next few years. And it's right there that I believe we find the reason the NFC East didn't do better in this voting.
If you look ahead three to six years in the NFC East, you have to wonder about all four quarterback situations.
Eli Manning
will be 33 years old at the start of the 2014 season.
Tony Romo
and
Michael Vick
each will be 34. And who knows what the Redskins will be doing at quarterback at that point? With Manning, Romo and Vick, sure. Any or all still could be going strong from ages 33-36, but there's no way to know whether or how well any or all of them will hold up into their mid-30s. Plus, no way to know if any or all of them will still be on those teams. You could argue that the Redskins are going to draft somebody in next year's first round who'll be better during 2014-16 than any of the other three teams' quarterbacks.
And when you're trying to predict success in this NFL, you just have to look at quarterback. Look at the teams that did well in this voting. Their quarterbacks are
Aaron Rodgers
(who'll be 30 at the start of the 2014 season),
Josh Freeman
(26),
Matt Ryan
(29),
Ben Roethlisberger
(32) and
Sam Bradford
(26). All of them are in good, stable current situations with age on their side. Yes, of course there are other issues to consider. But it's very hard, if not impossible, to succeed in this league (let alone dominate) without having quarterback figured out. So the successes and/or failures of the teams in the NFC East over the next half-decade or so could depend on the staying power of the current quarterbacks or the ability of their teams to find their replacements.
July, 15, 2011
7/15/11
1:00
PM ET
Projecting the best 30-and-over player in the division at the start of the 2014 season.
Of the NFC East players who will turn 30 before the start of the 2014 season, I predict the one that will still be going the strongest is
Eli Manning
of the
New York Giants
.

It was no easy call, considering that the current quarterbacks of the
Dallas Cowboys
and
Philadelphia Eagles
are only one year older than Manning is. And there were, of course, other players and positions to consider. But the rules of today's NFL help quarterbacks first. Manning, like big brother Peyton, doesn't take a lot of sacks. The Giants have surrounded him with good receivers and a good running game and, I assume, will make sure to fix the offensive line before it gets too brittle. I also think Manning has shown steady improvement every year. (And yes, I know about last season's 25 interceptions. I think there's a decent chance that number was an aberration.) He was brought into his starting role the old-fashioned way, learning behind
Kurt Warner
as a rookie. He won a Super Bowl title as a young man and knows how to handle the pressure of big games and the New York market. He's got the temperament to succeed well into his 30s as long as he stays healthy, and I believe he's in a good position to do so.
Fun exercise. FYI, I also considered the following players (listed with their September 2014 ages):
Miles Austin
(30),
Justin Tuck
(31),
DeMarcus Ware
(32),
Chris Cooley
(32),
Trent Cole
(32),
Tony Romo
(34) and
Michael Vick
(34).
July, 11, 2011
7/11/11
8:34
PM ET
So we have this kinda cool project going on here at ESPN.com this week, and it's called the "
Dream Team of Tomorrow
." Basically, we're trying to predict which players will be dominating the NFL scene from 2014-16, and we'd like your help. You can
go here and vote
for the players you think will be the best in the league for the three-year period that begins, well, three years from now.
The key, of course, is to remember people's ages. You're not able to vote, for instance, for
Eli Manning
, who will be 33 when the 2014 season begins. Or
Tony Romo
or
Michael Vick
, who will be 34. That's not to say those guys won't still be good in 2014, or even in 2015 or 2016. It's just that we're looking for guys who will be in their prime years, and thus in a position to be stars in the league for that period.
So the NFC East tackles on the list of candidates are
Tyron Smith
and
Trent Williams
. The guards are
Chris Snee
and
Danny Watkins
. The receivers are
Dez Bryant
,
DeSean Jackson
,
Jeremy Maclin
and
Hakeem Nicks
. The running backs are
LeSean McCoy
and... well, nobody. And the quarterbacks are... well, nobody.
Prince Amukamara
shows up on the defensive player ballot, as do
Trent Cole
,
Justin Tuck
,
Nate Allen
,
Brian Orakpo
and, of course
DeMarcus Ware
, who will have just turned 32 at the start of that 2014 season. So you have plenty of your own guys from which to choose if you do decide to go that route.
We will be doing posts throughout the week on this, so keep an eye out for those. But in the meantime, have fun with it. Nobody knows, of course, how the next three years will go for any of these guys -- let alone the three years after that. But it's fun to imagine sometimes, and there's a lot of young talent in the league whose prime years remain ours to anticipate.