January, 2, 2011
1/02/11
3:04
PM ET
By
Matt Mosley
| ESPN.com
December, 21, 2010
12/21/10
1:00
PM ET
By
Matt Mosley
| ESPN.com
»
NFC Decisive Moments
:
East
|
West
|
North
|
South
»
AFC
:
East
|
West
|
North
|
South
It's difficult not to choose
DeSean Jackson
's 65-yard walk-off punt return for a touchdown to end the game against the Giants, but we'll give it a try. That play doesn't happen without a perfectly executed onside kick by the
Philadelphia Eagles
with 7:28 left in the fourth quarter.

Giants coach Tom Coughlin insists that his players were warned about an onside kick, but you couldn't tell by looking at them. Veteran kicker
David Akers
approached the ball just like he was planning to kick it deep, but then induced a perfect lob wedge that rookie wide receiver
Riley Cooper
fielded without any problem.
Replays showed that Giants reserve receiver
Duke Calhoun
already had begun his retreat as Akers made contact with the ball. Apparently the warning didn't get through to the return unit. Once
Michael Vick
jogged onto the field with his team trailing 31-17, the Giants were in big trouble. He led two quick scoring drives, which set up Jackson's dramatic return.
Eagles special teams coach Bobby April has received a lot of (deserved) criticism for the way his units have played, but the kickoff coverage group completely duped the Giants at a critical time in the game. And that's why the onside kick is our decisive moment of the week. And depending on where the Eagles go from here, it may end up being one of the most decisive moments of the season.
December, 19, 2010
12/19/10
8:08
PM ET
By
Matt Mosley
| ESPN.com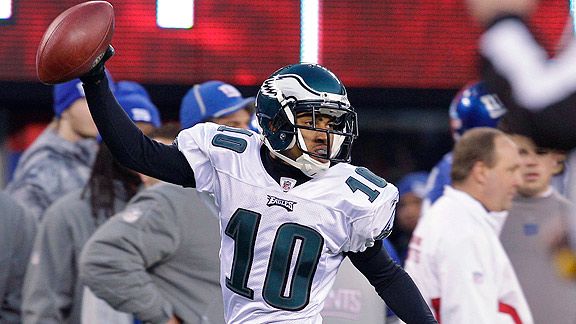 AP Photo/Kathy WillensDeSean Jackson celebrates on his way to the winning touchdown against the Giants.
EAST RUTHERFORD, N.J. -- The
New York Giants
spent the better part of three quarters making Eagles quarterback
Michael Vick
look pedestrian. They battered him with a variety of blitzes as the Giants took what appeared to be a commanding 31-10 lead in the fourth quarter.
What happened next will be talked about by Eagles fans for years to come. And no matter how hard they try, the Giants won't be able to purge a stunning
38-31
loss from their memories. Anyone who says they saw this coming should be labeled a liar because nothing in Vick's game Sunday suggested he was about to slip on his cape midway through the fourth quarter.
The Eagles (10-4) now have sole possession of first place in the NFC East and the Giants (9-5) will have to rally to make the playoffs. All hope is not lost, but now's not a good time to convince Giants fans of that. When quarterback
Eli Manning
threw an 8-yard touchdown pass to tight end
Kevin Boss
with 8:17 left in the fourth quarter, the Giants held a 31-10 lead. New York defensive coordinator Perry Fewell had put together a brilliant game plan to confuse and frustrate Vick, but one play provided the Eagles a shred of hope.
Vick found tight end
Brent Celek
racing down the seam and delivered a perfect pass over the outstretched arms of Giants defensive end
Justin Tuck
, who had dropped back in coverage. Celek seemed so surprised to be in the open field that he frantically changed directions several times for no apparent reason.
What happened next probably will be left out of the Tom Coughlin biography, if he chooses a generous author.
The Giants' coach said his players were warned about a potential onside kick, but apparently it wasn't enough of a concern to send out the hands team. And when the ageless
David Akers
induced a perfect hop, rookie wide receiver
Riley Cooper
caught the ball with no Giants player in sight. Replays showed that Giants reserve wide receiver
Duke Calhoun
didn't seem overly interested in making a play on the ball. The Eagles' sideline erupted and you could sense that something remarkable might happen.
"[Special teams coach] Bobby [April] did a great job with that," said Eagles coach Andy Reid, who was drenched in Gatorade by center
Mike McGlynn
during his postgame address to the players. "That was a surprise onside. In other words, we didn't have our hands people in there, you know our onside kick people in there."
Down the hall, Coughlin was defending his decision to stay with the normal personnel.
"There were still seven and a half minutes to go and they were down two scores, so we didn't think it was necessary to do that at the time," Coughlin said. "There was no reason for us not to make a better play on the ball. We didn't have anybody even around the ball."
Coughlin further explained that having the normal personnel in the game gave the Giants a chance for a better return. And if someone could remind me of the last time the Giants had a big kickoff return, perhaps that explanation would hold water.
Given new life, Vick simply took over the football game. On the second play after the onside kick, Vick scrambled up the middle for 35 yards to the Giants' 9-yard line. And on third-and-goal from the 4, Vick raced around the right side for a touchdown. Everyone in the stadium knew he was going to run the ball, but it didn't matter. Doubt had come to visit the Giants' sideline and a false start penalty helped kill what could've been a game-sealing drive.
The Eagles got the ball back on their 12-yard line with three minutes and no timeouts left, which was not an issue for Vick. On third-and-10, he scrambled to the left and then raced for 33 yards. I'm not sure if the Eagles were sending in passing plays at that point, because it was obvious he was destroying the Giants with his legs. Vick ran for 94 of his 130 yards in the fourth quarter, and he finally let one of his teammates get involved when he found
Jeremy Maclin
for a game-tying 13-yard touchdown pass.
Things were going so poorly for the Giants at that point that it would've been wise to cut their losses and head to overtime. Instead, they were forced to punt with 14 seconds showing on the clock. Coughlin said rookie
Matt Dodge
had been instructed to punt the ball out of bounds, but he instead sent a line drive toward
DeSean Jackson
, who had time to muff the ball before making the play of the season.
Jackson darted right and then benefited from a crushing block by wide receiver
Jason Avant
. Once Jackson slipped past Dodge, it was obvious that the game was over. As Jackson tends to do, he made an abrupt stop at the goal line and raced to his left in order to milk the clock. By that time, there was pandemonium on the Eagles' sideline.
"Get your butt in the end zone," is what Eagles safety
Quintin Mikell
remembers saying as Jackson put one last dagger in the Giants. Mikell, one of the veterans on this team, said he'd never seen his head coach this emotional after a game.
Asked if he can recall being so emotional after a win, Reid said, "You know, I can't name another one of these. This is a special one. I mean, this is exciting. This was exciting for you guys; it's a great day to be a Philadelphia writer."
Reid admitted that he "goofed" when he didn't challenge a Jackson fumble early in the fourth quarter. At the time, it looked like the play would end any hope of an Eagles comeback. But on a day when the Eagles scored 28 points to win a game in the fourth quarter, Reid's gaffe is only a footnote. Vick can erase a lot of mistakes.
"He just had this determined look on his face," said left guard
Todd Herremans
. "It's like he's saying, 'I'm about to win this game. If you want to help, you're more than welcome.'"
So the Eagles went along for the ride.
November, 27, 2010
11/27/10
3:52
PM ET
By
Matt Mosley
| ESPN.com
Hope you guys had a wonderful Thanksgiving. I'm preparing to board a flight bound for Chicago's O'Hare Airport because I hear it's a neat place to visit during the holidays. The Beast blog will be attending Sunday's Bears-Eagles game, but I'll also be observing the Redskins and Giants. Now, let's see if we have any leftovers in this week's special holiday Mailbag:
Drew in Chicago, what's on your mind?
Love the blog and honestly, you are the reason I come to ESPN.com. We have seen
Peyton Manning
time and time again make average receivers into major contributors in the Colts' offense. If Eli is able to do the same with Manningham, Calhoun, Hagan and Clayton in the coming weeks, do you think he silences the naysayers that still consider him to be a slightly above average QB? Or will he never be able to shed this stereotype simply because of the greatness of his brother?
Mosley:
Drew, thanks for the kind words. I think Eli will always carry the "overrated" tag, in part, because of his older brother's greatness. But I do think that putting this team on his back for a couple weeks with
Steve Smith
and
Hakeem Nicks
out with injuries could earn him a little more respect. It's not like Peyton had to go through long stretches without
Marvin Harrison
or
Reggie Wayne
over the years, so I'm not sure it's fair to say he's done it with "average" receivers. The Colts do a nice job identifying young receivers who fit their system.
Austin Collie
might not be a star for the
New York Giants
, but I'm not sure that makes him "average." Peyton's already done enough to be a first-ballot Hall of Famer in my opinion. I don't think Eli's anywhere close to that right now, but I do know they have the same amount of Super Bowl rings.
---
Jason from Bryn Mawr, Pa., has a question about how we perceive this 3-8 Cowboys team:
Ok, I know that this loss looked and felt different than losses earlier in season, but if we examine more closely, how much different is it really from the early season losses to Washington, Chicago, etc.? It obviously showed great character for the team to fight back after going down 17-0 early, but ill-timed penalties and another fluke turnover cost this team another game (just like Chicago and Washington).
Mosley:
The Cowboys lost those games you referenced when we still thought they were playoff contenders. That obviously changed when the players quit on Wade Phillips and themselves en route to a 1-7 record. Even though Jason Garrett led the Cowboys to consecutive wins, I don't think a lot of folks felt great about their chances of beating one of the NFC's best teams Thursday. I think being able to fight back from a 17-0 deficit and eventually take the lead will serve this team well in the future. Garrett's raised everyone's expectations again in only three weeks as the interim head coach, and that's why he has to be considered the leading candidate for the job right now. I realize there were some mistakes in this game by the Cowboys, but none of them had to do with poor effort. That was the biggest indictment of these players before the man from Princeton took over.
---
Tom in Seattle has a question about Kevin Kolb's trade value:
Just finished reading your thoughts on Kevin Kolb's
off-season trade value
and was a bit surprised by the relatively low value (2nd rounder) you think he has around the league. We're talking about a high second-round draft choice with four seasons of pro training in a complicated offense, along with a proven ability to excel (two NFC player of the week awards in six NFL starts). If you're a team in need of a starting quarterback, why use a first-rounder on an unproven commodity who will be paid franchise quarterback money?
Mosley:
Tom, it's a fair question. I just know that the Eagles were reportedly seeking two first-rounders for Kolb at one point last season, and that seems a bit steep. There are a few general managers out there who love Kolb (Tom Heckert in Cleveland, for example), but that team already appears to have a fine young quarterback in
Colt McCoy
. I think Kolb's a sure-fire starter in the league, but the Eagles need to have someone reliable behind Vick because he takes more punishment than a lot of quarterbacks. As ESPN's Adam Schefter suggested recently, it's likely the Eagles will be content to retain both quarterbacks in 2011. They'll slap the franchise tag on Vick (roughly $15 million) and then keep Kolb as his backup. That is, unless a team such as the Bills or Vikings decide they can't live without him.
---
Andrew from New York has an issue with Chris Canty:
Just to make sure, Chris Canty plays for the Giants defense, which has bragged about how many quarterbacks it has managed to injure this year, correct? The same one that had a stated goal of trying to knock
Michael Vick
out of the game? The first [Todd] Herremans play was certainly worthy of a call, but let's not blow this out of proportion -- or pretend that the Giants have clean hands.
Mosley:
Canty doesn't say a lot to reporters, but he chose to call out Herremans last week for what he perceived to be "dirty" play. Herremans was able to respond and everyone moved on with their lives. I think every team wants to get some shots on the quarterback, and most of them don't feel bad when the quarterback is forced out of a game. I've never thought the Giants were a particularly dirty team, but I understand where you're coming from. I haven't really noticed New York's defenders doing anything out of the ordinary when they've knocked quarterbacks out of the game. In the game against the Bears, they simply pounded
Jay Cutler
into submission with repeated sacks and hits. Linebacker
Michael Boley
broke
Tony Romo
's collarbone, but it didn't happen on a particularly violent play. He drove Romo to the turf on a legal hit.
---
Stephen in Philadelphia has a question about Cowboys wide receiver Kevin Ogletree:
Last year near the end of the season, Kevin Ogletree was starting to steal snaps from Roy Williams and actually made a few plays in those back to back games with Philly. I thought we had a future No. 2 WR on our hands. What happened with this guy?
Mosley:
I think Ogletree simply fell out of favor with Jason Garrett. The Cowboys needed him to be a contributor on special teams, but he wasn't getting it done. And he didn't have the type of training camp that everyone was expecting. Ogletree appears to have a lot of talent, but he loses focus at times and will drop easy balls. If you're doing that during preseason games, you're probably not going to see the field in the regular-season. If he doesn't make a major move this offseason, he won't be on the roster in 2011.
---
John from Niwot, Colo., has a Washington question:
The Redskins are an incredible 4-2 against teams with the same or better records than them this year, including a very close loss to the Colts. But they are 1-3 against teams with a worse record. In fact, the team the Redskins lost to have a combined 23-27 record while the teams they have beaten have a combined 29-21 record. What's up with that?
Mosley:
John, you've done entirely too much research on this issue. The Redskins are trying to make the transition to a 3-4 defense on the fly and adjust to a new quarterback. They dominated the Eagles at the line of scrimmage in their first matchup and then were overwhelmed in Game 2 at FedEx. (And Vick was knocked out before halftime.) I think some of this is to be expected. This is a hard team to get a read on because they just don't have any consistency. They went to Tennessee and won an important game. But I could totally see them getting embarrassed at home against the Vikings on Sunday. This is about a .500 team -- and that's quite an improvement over last season.
November, 17, 2010
11/17/10
9:59
AM ET
By
Matt Mosley
| ESPN.com
With
New York Giants
wide receiver
Ramses Barden
being placed on injured reserve with ligament damage and a fractured ankle,
Derek Hagan
was
signed to the 53-man roster
. It's not like Barden had been an impact player during his two years with the team, but he was about to get his chance prior to the injury.
Hagan's not going to be a huge factor in the passing game, but he knows the offense and can help on special teams. I'm anxious to see what
Duke Calhoun
can do as the third receiver.
November, 11, 2010
11/11/10
3:27
PM ET
By
Matt Mosley
| ESPN.com
New York Giants
wide receiver
Steve Smith
will undergo tests
after being injured
while extending to make a catch in practice Thursday.
"Steve Smith went for a ball today and strained -- what they are calling right now -- is a strained pec," said head coach Tom Coughlin. "He had trouble driving his arm after the injury so he couldn't continue. I don't have anything to tell you about him until they do all of the tests."
If Smith's unable to go against the Cowboys,
Mario Manningham
would take his place in the starting lineup.
Duke Calhoun
would also receive more reps at wide receiver.
We'll keep you posted if there are any updates on Smith's injury. Smith has emerged as one of the most reliable receivers in the division, and the Giants' offense would be seriously compromised if he has to miss more than a game or two.
August, 2, 2010
8/02/10
2:54
PM ET
By
Matt Mosley
| ESPN.com
ALBANY, N.Y. -- The Beast just wrapped up one-on-one sessions with Tom Coughlin,
Eli Manning
,
Justin Tuck
and
Antrel Rolle
, so we'll be rolling out some items throughout the afternoon. And remember to check out our Giants Camp Confidential feature Tuesday afternoon.
On Monday morning, Coughlin turned up the tempo in practice and wanted to see his players hustling between drills. He was not thrilled when a certain rookie defensive tackle (
Linval Joseph
) didn't know he was supposed to rotate into team drills. It was clear from the beginning of Monday's session that this coaching staff isn't going to wait for the young guys to catch up to the veterans. Either you keep up or you'll end up at the house. Here's what stood out to me during this morning's session:
[+] Enlarge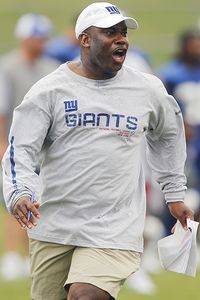 AP Photo/Mike GrollPerry Fewell's intensity hasn't gone unnoticed in the early stages of training camp.
It's remarkable how much of a presence new defensive coordinator Perry Fewell has in practice. You can hear him from anywhere on the University at Albany campus. When Mario Manningham caught a pass across the middle, Fewell shouted, "That's [expletive!]" to no one in particular. And when cornerback Corey Webster snagged a one-handed interception, Fewell raced up the left sideline and threatened to throw a block on an unsuspecting tight end. From talking to Tuck and other players, you can tell the Giants truly missed Steve Spagnuolo's dynamic presence in practice last season. Fewell brings that same type of energy. Of course, none of that will matter if the Giants give up a ton of huge plays. But at this point, Fewell has been the story of camp. Coughlin hired Fewell years ago and then admired him from afar as he blossomed into a highly regarded coordinator. I think the fact that Fewell held the Bills together during difficult circumstances was also a big factor in him being hired by the Giants.

For those of you who have been asking, Ahmad Bradshaw looks completely healthy to me. He had to bounce a run outside Monday because linebacker Clint Sintim came knifing through the line of scrimmage and he showed that same quickness that I remember from a couple years ago. The Giants will be very cautious with Bradshaw in camp, but he doesn't have any limitations at this point.

Staying with running back, I can see why general manager Jerry Reese and Coughlin still have a lot of hope for Andre Brown. He ran a nice little wheel route in Monday's practice and then just exploded down the sideline. The Giants beat writers tried to identify a running back who's made it all the way back from a ruptured Achilles' tendon. They came up empty. Perhaps Brown can make some history.

One of the few encouraging things from last season was Manning's ability to connect on some deep balls. On Monday, he put the ball in a perfect spot for Steve Smith, but the receiver had it glance off his hands. Safety Deon Grant was responsible for helping Webster on the play and he made the mistake of letting Smith get behind him.

Rolle just has a swagger that you didn't see in the Giants secondary last season. I think he's excited about playing on a bigger stage and he acts like he's been around forever. It really has been a seamless transition and I think he'll make a ton of plays for Fewell.

The Ramses Barden Show continued Monday morning with the wide receiver making nice catches in traffic. Manning has a lot more confidence in Barden at this point, but the second-year player still has to take it to the field. Coughlin and Reese seem convinced that Barden's on the verge of being something special. He was a big story in last year's camp, but in the two practices I've watched, I like how he's catching the ball on the run. There's none of that hesitation that some young receivers have.

Rough day at the office for Madison Hedgecock. He dropped both of the passes that Manning sent his way. And it's not just a case of having hands of stone. For whatever reason, he doesn't look the ball into his hands.

Duke Calhoun is a free-agent rookie out of Memphis who is displaying excellent hands early in camp. He's made a couple of catches in traffic and I could tell that Coughlin was watching him closely today.

Catch of the day goes to second-year tight end Bear Pascoe out of Fresno State. He was racing down the seam and then he went into a full dive to haul in a Rhett Bomar pass. And speaking of Bomar, he was on the money in team drills. He's gained a lot more confidence and he gets the ball out quickly. At this rate, he may push Jim Sorgi for the backup spot. We pretty much know what Sorgi's going to be at this point. Bomar has a live arm and he's not afraid to zing it into traffic. Safeties coach Dave Merritt was frustrated a couple of times because his players couldn't get their hands on Bomar's passes. But it's not like he's floating anything out there.

No one ever talks about defensive end Dave Tollefson, but he's a steady player. He looked solid against the run Monday morning and it looks like he's quicker off the ball than I've seen him in the past. Defensive end Mathias Kiwanuka made an outstanding play in team drills to force Bradshaw to reverse field.

Travis Beckum will receive a ton of playing time in the preseason. He's a big, speedy target for Manning. But when Bomar fired a nice pass across the middle, Beckum couldn't bring it in. With Kevin Boss only practicing once a day, Beckum's going to get treated like a starter. He has to make that play. A tight end out of Ohio State named Jake Ballard also had a bad drop on a pass from Bomar.

I took a long look at rookie defensive end Jason Pierre-Paul today. He's extremely gifted, but he's having a tough time getting off blocks at this point. Second-year offensive tackle Jacob Bender didn't have any problems with Pierre-Paul when I was watching today. The good news is that Pierre-Paul seems to have an excellent attitude. He and Joseph are hanging out with the veteran players asking questions all the time.

Center Shaun O'Hara (ankle) will sit out both practices today, but Osi Umenyiora (hip), Hakeem Nicks (toe) and Boss (knee) will all return. It also looks like the Giants are going to be cautious with Keith Bulluck's knee. He stayed on the sideline today while Jonathan Goff continued to run with the first team. I'm going to focus on Phillip Dillard for a little bit in practice this afternoon and see how he's coming along.
April, 26, 2010
4/26/10
2:33
PM ET
By
Matt Mosley
| ESPN.com
A lot of teams bring in a handful of "tryout" players to compete in their first rookie minicamp. But the Giants will take it to another level during this weekend's minicamp. They just released a list of 54 players who will attend the minicamp. In terms of comparison, the Cowboys generally have about 24 players on hand for their rookie minicamp, which also takes place this weekend. You'll see 11 players from the current 80-man roster who are eligible to attend based on credited seasons in the league. Here are those 11 names:
Quarterback
Rhett Bomar
, fullback
Jerome Johnson
, tight end
Carson Butler
, guard
Rueben Riley
, defensive end
Tommie Hill
, defensive tackle
Dwayne Hendricks
, linebacker
Kenny Ingram
, cornerback
Vince Anderson
, safety
Sha'reff Rashad
, punter
Jy Bond
and kicker
Sam Swank
.
The seven players the Giants selected in the draft will attend: defensive end
Jason Pierre-Paul
of South Florida, defensive tackle
Linval Joseph
of East Carolina, safety
Chad Jones
of LSU, linebacker
Phillip Dillard
of Nebraska, guard
Mitch Petrus
of Arkansas , linebacker
Adrian Tracy
of William & Mary and punter
Matt Dodge
of East Carolina. Dodge and Bond will begin their competition to replace Jeff Feagles, who will likely announce his retirement soon.
The Giants have signed 13 players to rookie free-agent contracts. They will also attend this weekend's camp: quarterback
Dominic Randolph
of Holy Cross, tight end Jake Ballard of Ohio State, wide receivers
Tim Brown
of Rutgers, Duke Calhoun of Memphis and
Victor Cruz
of Massachusetts, offensive lineman
Dennis Landolt
of Penn State, center
Jim Cordle
of Ohio State, defensive end Ayanga Okpokowuruk of Duke, defensive tackle
Nate Collins
of Virginia, linebacker
Lee Campbell
of Minnesota, cornerbacks
Seth Williams
of Richmond and
Leon Wright
of Duke and safety Michael Greco of Central Florida.
Here are the 23 players scheduled to attend the camp on a tryout basis: Quarterback
Riley Skinner
of Wake Forest, running backs Deshawn Wynn of Florida, Tony Hunt of Penn State and
Andre Dixon
of Connecticut (Baylor fans remember this guy), running back/fullback Brian Toal of Boston College, fullback Anthony Cotrone of Maine, tight end Mitch Ryan of San Diego, tight end/long-snapper Jon Loyte of Boston College, wide receivers Lance Leggett of Miami and D.J. McAuley of William & Mary, centers Robby Felix of UTEP and Nick Richmond of Delaware State, tackles Kyle Webber of Gardner-Webb and Ben Benshoof of Wingate, guard Chris Poole of Holy Cross, defensive end
Brandon Crawford
of Ball State, defensive tackles
Abe Koroma
of Western Illinois and Santonio Thomas of Miami, linebacker
Micah Johnson
of Kentucky, cornerbacks
Wondy Pierre-Louis
of Florida and Ben Hannula of San Diego, safety John Busing of Miami (Ohio) and long-snapper Ryan Neill of Rutgers.