February, 5, 2014
Feb 5
11:05
AM ET
IRVING, Texas -- The
Dallas Cowboys
will not know until a coin flip at the NFL scouting combine if they or the
Baltimore Ravens
will pick 16th or 17th in the
first round of the May draft
.
The only time the Cowboys used the 16th pick in the draft came in 1961 when they selected E.J. Holub in the second round. They have not taken a player with the 17th overall pick since cornerback Kevin Smith in 1992. Before that? In 1990 they took Emmitt Smith, who is now the NFL's all-time leading rusher.
What type of player has been available at Nos. 16 and 17? Here's a look at the past 10 years.
2013 –
EJ Manuel
, Buffalo;
Jarvis Jones
, Pittsburgh
2012 –
Quinton Coples
,
New York Jets
;
Dre Kirkpatrick
, Cincinnati
2011 –
Ryan Kerrigan
, Washington;
Nate Solder
, New England
2010 –
Derrick Morgan
, Tennessee;
Mike Iupati
, San Francisco
2009 –
Larry English
, San Diego;
Josh Freeman
, Tampa Bay
2008 –
Dominique Rodgers-Cromartie
, Arizona;
Gosder Cherilus
, Detroit
2007 –
Justin Harrell
, Green Bay;
Jarvis Moss
, Denver
2006 –
Jason Allen
, Miami;
Chad Greenway
, Minnesota
2005 –
Travis Johnson
, Houston;
David Pollack
, Cincinnati
2004 –
Shawn Andrews
, Philadelphia;
D.J. Williams
, Denver
2003 –
Troy Polamalu
, Pittsburgh;
Bryant Johnson
, Arizona.
Polamalu is by far the best player selected in either spot. He will be in the Hall of Fame. There are quality players in there like Williams, Greenway, Rodgers-Cromartie, Iupati, Solder and Kerrigan. Andrews had a pretty good short run as well. Kerrigan is solid and has done some good things versus the Cowboys. Coples has showed some pass rush his first two seasons. I expected more from Kirkpatrick, who was on the Cowboys' radar in 2012.
The Cowboys held the No. 18 pick in 2013 and traded down to No. 31 with the Niners where they took
Travis Frederick
. They felt they were in a position to trade down and still pick up a quality player. When they saw
Eric Reid
,
Justin Pugh
,
Kyle Long
and
Tyler Eifert
go off the board in the next four picks they were left sweating it out until they got Frederick.
January, 13, 2014
Jan 13
5:00
PM ET
PHILADELPHIA -- The
Michael Vick
situation provides a conundrum for the
Philadelphia Eagles
, bringing a couple of coach Chip Kelly's priorities into conflict.
All season, Kelly talked about the importance of having two quarterbacks capable of winning NFL games on the roster. The Eagles were living proof of the value of having Vick and
Nick Foles
. The
Green Bay Packers
, meanwhile, were an object lesson in what happens when your depth chart drops from
Aaron Rodgers
to
Seneca Wallace
.
Vick
"I think you can never have enough quarterbacks," Kelly said. "I've said that no matter where I was. In this league, we were fortunate that we had two this year, and that was a huge benefit to us that we had two, and we'll continue to always look at quarterbacks, and I think anybody that's any good in this league always does that."
Vick will be a free agent on March 11 and says he wants to go somewhere he can be a starter. And while he has said he would be willing to return to the Eagles as a backup "if all else fails," there is a very real possibility the Eagles won't be interested.
That's because, for all the praise Kelly heaped on Vick for handling his in-season demotion, the coach also had good things to say about rookie
Matt Barkley
.
"Matt was awesome," Kelly said. "I'm excited to get a full offseason with Matt in here to really get a chance to work with him, because I think he's got a skill set that's exciting when you see him, how the ball comes out of his hands, the decisions that he makes, and that's part of this whole deal."
Barkley
Kelly wanted Barkley enough for the Eagles to trade up a couple spots in the fourth round of the 2013 draft. Quarterbacks coach Bill Lazor spent hours of extra time working with Barkley. He saw action in three games, but was thrown into some pretty unfortunate situations.
The guess here is that Barkley is tagged to be the No. 2 quarterback behind Foles. His style is closer to Foles' than Vick's is, which theoretically makes for a smoother transition if he has to play. It also wouldn't shock me if the Eagles draft a quarterback again this year, maybe even higher than they took Barkley.
As for Vick, he is probably the best of a mediocre batch of free-agent quarterbacks this year. He will be 34, but still has a couple years left in him.
Some possible fits:
• Oakland, where coach Dennis Allen is going to be feeling some heat. Vick could be a good option to
Terrelle Pryor
as the younger quarterback gets up to speed.
• The
New York Jets
, where there will be intense pressure on head coach Rex Ryan in 2014, and where the offensive coordinator is former Eagles assistant Marty Mornhinweg. If the Jets stick with the combination of
Geno Smith
and
Mark Sanchez
for another year, chances are they'll be looking for a new head coach in 2015.
• Jacksonville, where the Jaguars slid from the No. 1 overall pick to No. 3 by winning a few late-season games. If they aren't in love with the quarterbacks available, or if they need a veteran to serve as a bridge to the rookie, Vick could be a fit.
• Cleveland is interesting. It's hard to say whether the presence of former Eagles president Joe Banner would be good or bad for Vick in Cleveland.
• Tampa Bay, which has a lot to like in
Mike Glennon
. But new coach Lovie Smith may want real competition for the starting job in training camp, and Vick just proved himself a solid locker room citizen through one of those.
• Buffalo is similar to Tampa Bay.
E.J. Manuel
is going to get every chance to be the quarterback, but coach Doug Marrone may want a veteran to compete, and Kevin Kolb's status may force the Bills to bring someone in.
• Kansas City. OK, OK, Andy Reid just had a very good year with
Alex Smith
. But Reid has fallen hard for Vick and scuttled his quarterback plans before. A long shot, yes, but there's a sliver of a chance.
November, 21, 2013
11/21/13
8:00
AM ET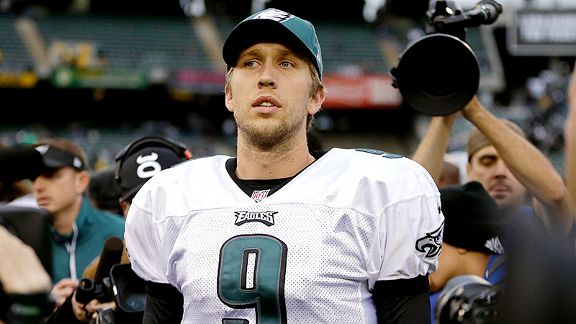 AP Photo/Ben MargotThe Eagles didn't pick him as one and don't pay him like one, but Nick Foles is playing like an elite QB.
PHILADELPHIA – Try this exercise. Imagine the
Philadelphia Eagles
took quarterback
Nick Foles
near the top of the 2013 NFL draft. Imagine he came to town with the expectation that he would be an elite franchise quarterback.
Now look at what Foles has accomplished this season. He has started five games. He has won four. He threw seven touchdown passes in a game, tying the NFL record. Overall, he has thrown 16 touchdowns and zero interceptions. His passer rating is 128.0, best in the NFL.
If he were
Andrew Luck
or
Robert Griffin III
, his team's fans would be over the moon with that kind of production. If he were
Sam Bradford
or
Brandon Weeden
or
Ryan Tannehill
, there would be full-fledged cults devoted to him.
In Philadelphia? There is a fascinating wait-and-see reaction to Foles' phenomenal 2013 season. Hours of talk radio are filled with discussion about whether Foles can be the Eagles' quarterback – for the season, for 2014, for the long haul.
There are good reasons for this, starting with the way coach Chip Kelly has handled the Eagles' quarterback situation. Veteran
Michael Vick
was Kelly's chosen quarterback after a training-camp competition. Since Vick was injured, even as Foles has put up the crazy numbers outlined above, Kelly has simply declined to say who his No. 1 quarterback is.
"I honestly really haven't thought about it," Foles said. "I don't know. Whatever he decides, wherever he goes, I'm in it 100 percent. I'll support whatever Chip says. I don't know how the talk will go or when it will be, but I'm all in for this team. Whatever's best for this team will always be the most important thing to me."
But it goes beyond Kelly's management of a tricky situation with the veteran Vick. Eagles fans have been down this road before:
Ty Detmer
,
Bobby Hoying
,
A.J. Feeley
and
Kevin Kolb
have raised hopes, only to disappoint and frustrate.
Kolb is the freshest wound. A second-round pick, Kolb started two games in place of the injured
Donovan McNabb
in 2009. He completed 55 of 85 passes for 718 yards and four touchdowns, with three interceptions. Kolb was the first quarterback in the history of the league to throw for more than 300 yards in each of his first two career starts.
Kolb did not become the Eagles' franchise quarterback. Neither did Feeley or Hoying or Detmer. Eagles fans are naturally skeptical of flash-in-the-pan quarterbacks. And when Foles delivered a truly terrible performance against Dallas in his second start of the season, that skepticism flared up.
Foles has played brilliantly since then, but he hasn't quite erased the memory of his Dallas dud. But there is one more compelling reason fans here haven't fully jumped on the Foles bandwagon. And it comes back to Kelly.
When Eagles owner Jeff Lurie and general manager Howie Roseman landed the Wizard of Oregon, the excitement was palpable. Kelly was going to bring his futuristic offense to Philadelphia. Surely there would be a dynamic quarterback sprinting all over the field and firing passes from the rocket launcher on his shoulder.
[+] Enlarge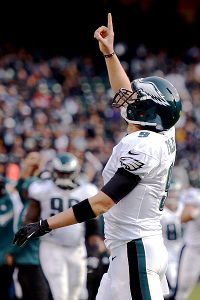 Kirby Lee/USA TODAY SportsDespite Nick Foles' great play, Eagles fans are at best cautious. They've been here before.
Foles was an afterthought. It isn't easy going from afterthought to hero. But the truth is, Kelly has said from the start that he could run his offense with Foles as his quarterback.
"It's always about the individual, so it doesn't matter what plays are called or what scheme is run," Kelly said. "They still have to be executed. I think he is executing them and all the credit goes to him. He spends a lot of time. He works extremely hard at it. He's got a really good grasp on what we're doing, extremely accurate in his throws. I think he's a really good decision-maker. It's exciting to see him grow here."
Kelly has praised Foles but, with Vick to consider, he hasn't really embraced him. Teammates who respect Vick as one of the great athletes ever to play the game are beginning to talk about Foles as a guy who just wins. Fans who keep waiting for the next Dallas dud are cautiously beginning to believe Foles just might be the guy.
For now, if not forever.
All of this puts the Eagles in a pretty good position. They didn't have to commit to Foles the way other franchises had to commit to Bradford or Tannehill or
Christian Ponder
or
EJ Manuel
. They wouldn't trade their situation with Foles for San Diego's with
Philip Rivers
, Dallas' with
Tony Romo
or Chicago's with
Jay Cutler
.
If Foles continues to play at an elite level, the Eagles will have filled the most important position in the game without taking a big risk. And if he goes the way of Kolb and Hoying and the rest, they won't be hamstrung by a huge contract and a wasted first-round pick.
Meanwhile, they have a quarterback who has gotten them into the playoff picture, earned a display in Canton for his seven-touchdown game and has no sense of entitlement.
"I never think that way," Foles said. "When you start thinking that way, you start getting complacent. Just because you do a lot of great things the week before doesn't mean you're going to go out there and do it again."
That's what the great ones do. Foles may not become one of them, but he at least has the chance.
April, 24, 2013
4/24/13
3:10
PM ET
As you are well aware, with less than 30 hours left until the start of the NFL draft, Mel Kiper Jr. and Todd McShay are working their tails off. Their latest "
Hot Button
" debate topic is which team is the best fit for quarterback
Geno Smith
, regardless of draft slot. Mel thinks it's the
Philadelphia Eagles
. So does Todd, though he offers other options such as Cleveland and Jacksonville. The point, though, is the perception that Smith is a good fit for the kind of offense everyone expects new Eagles coach Chip Kelly to run. Here's Mel:
Smith is a passer first -- his running stats bear that as much as his passing numbers -- a guy with some outstanding skills as a passer but also weaknesses that need to be ironed out. A year on the bench, digesting the nuances of Kelly's offense, is a perfect transition for him. If Smith lands on a team that's set on having him start right away, he could be in trouble. But if he lands in a place where the organization has patience and the coach is content to mold Smith's talents, he could be a good one. Philly could be that place, but that doesn't need to be with the No. 4 pick.
Yeah, I mean, if Smith doesn't go in the first round and he's there for the Eagles at No. 35, that becomes a pretty sweet value pick -- especially given Mel's point that they wouldn't need to start him right away.
E.J. Manuel
is also hanging around as an option that seems to fit the Kelly profile if Smith isn't there by 35, and Kelly's set on taking that type of quarterback.
My only word of caution on all of this is, once again, that we shouldn't all be assuming we know what Kelly's offense is going to look like and what kind of quarterback he'll seek to run it. I think the point of the Eagles hiring Kelly was not that they liked the system he ran but that they viewed him as an intelligent, nimble football mind who can think up a variety of ways to win with a variety of different players. If I'm wrong, and Kelly's just another college coach trying to shoehorn his types of players into his types of schemes, then I predict his tenure will be a short one. But if I'm right, it's a mistake to assume the only quarterbacks in this draft who make sense for the Eagles are the speedy, super-athletic ones.
April, 23, 2013
4/23/13
2:58
PM ET
Picking fourth for the
Philadelphia Eagles
in this year's blogger mock draft, I had my eye on tackle
Eric Fisher
from Central Michigan. After the Chiefs took
Luke Joeckel
with the first pick and the Jaguars took pass-rusher
Dion Jordan
with the second, I felt good about the chances that Fisher would slip past the Raiders and fall to the Eagles. They could start him at right tackle and move
Todd Herremans
to right guard with the idea that Fisher would eventually replace
Jason Peters
at left tackle.
Alas, James Walker and the
Miami Dolphins
moved up and traded almost all of their remaining picks to Bill Williamson and Oakland to get that No. 3 pick and draft Fisher. That left the Eagles with a choice, I felt, between offensive tackle
Lane Johnson
and defensive lineman
Star Lotulelei
.
I went with Lotulelei, in part because I felt No. 4 was too high for Johnson, but mainly because the buzzword since Chip Kelly took over has seemed to be "versatility," and I think Lotulelei's appeal is just that. He can play defensive end or even nose tackle in 3-4 sets, and I think he can play on the line even when they use 4-3 looks. That's why I figure he'd appeal to Kelly, and since we're all just guessing what Kelly will do anyway, why not? I think he's a better fit for the Eagles than
Sharrif Floyd
, who was still on the board, and I think the way this mock played out proved that this was way too early to take quarterback
Geno Smith
.
Speaking of Smith, though, since the Eagles have the third pick in the second round, I stayed around after making my picks to keep an eye on things late in the first. Once we got past Pick 24, with Smith still on the board and no obvious destination for him among the remaining first-round teams, I figured it was worth finding out if I could make a good value deal and trade back into the first round to get him. Jacksonville, which holds the first pick in the second round, was the only team I figured I needed to jump, so I made the same conditional offer to each of the eight teams picking in the final eight spots of the first. The condition was that Smith still be on the board at that time, and the offer was the 35th pick and the Eagles' fifth-round pick (No. 136).
A couple of teams -- the Vikings at 25, the Texans at 27, the Broncos at 28, the Patriots at 29 and the Ravens at 32 -- countered by offering their pick for the Eagles' second-rounder and fourth-rounder (No. 101). But I just felt that was too much considering the Eagles might be able to get Smith anyway at 35 and that
EJ Manuel
felt like a decent backup plan there.
In the end, no one took my offer and no deal got done. And since we stopped after one round, there's no way for me to know if Smith would have been there at 35. But it was worth a shot if I could have got a steal, I thought. Smith wouldn't have to start right away in 2013 for the Eagles and could develop into something special there down the road.
So that was my Eagles mock. How do you guys think I did?
April, 22, 2013
4/22/13
8:00
AM ET
Oh, yeah. It's coming. The NFL draft is the day after the day after tomorrow, and we are all kinds of fired up around these here parts. On Tuesday, we will be doing our blogger mock draft, in which I and each of the other seven ESPN.com division bloggers make the picks for the teams in our division. (It's a first-round-only mock, so Mike Sando and I only have to worry about three teams.) We did this one last year and it was fun, because we're allowed to make trades. So look for that and a bunch of other draft-related goodies here in the days leading up to the NFL's Christmas-in-April spectacular Thursday night at Radio City.
Meantime, links.
Dallas Cowboys
Another look
at the Cowboys' schedule has Calvin Watkins thinking the team could start hot with a big September and wondering why the Raiders, of all teams, are the Thanksgiving Day opponent.
Needing depth at the safety position and appreciative of what he offers them on special teams, the
Cowboys have re-signed
restricted free agent Danny McCray for the 2013 season.
New York Giants
Ohm Youngmisuk writes that the passing of Friday's deadline for teams to sign restricted free agents to offer sheets
increases
the already strong likelihood that Victor Cruz will play for the Giants in 2013. What remains to be seen is whether Cruz will hold out in protest of the state of his contract negotiations. I still don't think so, but he has recently changed agents, so it's possible he's getting different advice than he was before.
Some Giants players did an awfully nice thing at the end of last week, heading up to Newtown, Conn., to put on a
football clinic
for schoolchildren in the area in which the deadly elementary school shooting took place in December. It has nothing to do with the draft or the team's chances in 2013, but it's worth at least a link to tip our caps to pro athletes doing meaningful work in the communities in which they live.
Philadelphia Eagles
It's hard to predict which way Chip Kelly and the Eagles will go with the No. 4 pick in the draft Thursday, but pass-rusher Dion Jordan, who played for Kelly at Oregon, is an
awfully sensible pick
if you're stuck having to make a prediction.
Quarterback EJ Manuel, a potential second-round selection, has been writing a
draft diary
for Birds 24/7, and he says he'd love for the Eagles to draft him. He and we will all know soon enough.
Washington Redskins
We discussed this a bit on Friday, but Mark Maske believes the Redskins
could benefit
by spending one of the later-round draft picks on wide receiver. It's not an obvious position of need, but there's enough fragility and uncertainty about the receivers on the roster that adding depth there isn't a crazy idea.
Grant Paulsen reported
Sunday that veteran cornerback Quentin Jammer was meeting with the Redskins as they continue to hunt for a versatile veteran defensive back who'll work cheap.
March, 29, 2013
3/29/13
8:00
AM ET
Friday links, in order of most recent division title:
Washington Redskins
Where does Robert Griffin III rank among the young stars on the Washington sports scene in terms of likelihood to
spend his entire career
in Washington?
This offseason is going to be
a lot different
for Kirk Cousins, as Griffin's continued recovery from knee surgery makes Cousins the starter once camp opens.
New York Giants
Osi Umenyiora said he understood the reasons but didn't like the fact that his playing time was cut in his final few seasons with the Giants. He also said the Falcons are the
most talented team
he's ever been on. I think the Falcons are loaded, but I can understand if you want to get outraged about him saying that when he's played on two teams that won the Super Bowl. This is a rare occasion on which I will sanction a moderate amount of outrage, if that's something you feel you need to do. Nothing past lunch, though, please.
The crew at giants.com thinks the Giants' 2013 starting right tackle is
currently on the roster
. I think they're probably right. Couldn't tell you which one it is, but I believe they have exactly the guys they want at the other four line spots and are content to fiddle at right tackle.
Philadelphia Eagles
Eagles quarterbacks coach Bill Lazor was
in Tallahassee, Fla.
on Thursday to check out Florida State quarterback EJ Manuel, whom Todd McShay projects to the Eagles in the second round of his most recent
mock draft

.
The voluntary portion of the Eagles' offseason program
begins Monday
. Because they have a new head coach, the Eagles get to start two weeks before other teams do. The division's other three teams will begin their offseason programs on April 15.
Dallas Cowboys
It was not the worst year to have to wait out the first few weeks of the free-agent market. And while that may not have been the Cowboys' preference, Todd Archer writes that they ended up signing
two potential starters
for very good prices in Justin Durant and Will Allen.
We all knew at the time that the Cowboys had a rotten 2009 draft, and the four seasons that have transpired since did nothing to alter that conclusion. The signing of Victor Butler by the Saints on Thursday means there are
no more players
left on the Cowboys from that stupendously bad 12-man draft class.