NFC East:

Eagles cut DeSean Jackson
March, 29, 2014
Mar 29
7:20
PM ET
Former Philadelphia receiver
DeSean Jackson
will visit the Redskins on Monday, an NFL source confirmed Saturday night. NBC4 in Washington first reported the news.
The Eagles cut Jackson Friday after seven seasons and reports have stated that as many as nine teams have expressed interest.
[+] Enlarge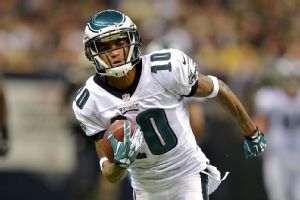 Drew Hallowell/Philadelphia Eagles/Getty ImagesDeSean Jackson has averaged over 17 yards per catch in his six-year NFL career.
Philadelphia has not publicly said why they released Jackson, who had signed a lucrative five-year deal two years ago. The Eagles had plenty of salary-cap space still available – more than $16 million. But there were multiple reports about his attitude and demeanor in the locker room. And, on Friday, a story on NJ.com
discussed possible gang affiliations.
Jackson was released shortly after that story appeared on the website. But
here's good insight
from Philly.com reporter Jeff McLane on why he thought they released Jackson.
The Los Angeles Police Department dismissed that concern, with Det. Chris Barling
telling the Philadelphia Daily News
: "It's kind of like 'Six Degrees of Kevin Bacon.' When people grow up in neighborhoods where you have gang involvement, you don't have to look too far before you find a connection to a connection. Now, how sinister that connection is, our position is that's for others to judge."
One NFL executive said there would be only a few teams that would have the cap room and also the ability to handle Jackson's character issues. And even in the Redskins organization there is mixed opinion on him. But no one has doubted Jackson's ability.
The Redskins have $7.2 million in salary-cap space. Kansas City, which also reportedly is interested, has $4.8 million. Oakland -- Jackson played at nearby Cal and grew up in Southern California -- has $15.1 million of cap space.
From a talent perspective, Jackson makes a lot of sense for Washington. He's a dynamic playmaker and would give the Redskins a dangerous pair along with
Pierre Garcon
. They also signed
Andre Roberts
in free agency and have tight end
Jordan Reed
. Jackson has played with quarterbacks who make off-schedule plays, so he would not have much problem adjusting to
Robert Griffin
III.
It also would give Washington the ability to attack quite often downfield as all the aforementioned targets have good speed.
Indeed, Jackson comes with questions about his character, issues that have been known for a while – by those in Washington and elsewhere. But the Redskins also have shown interest in another troubled wideout,
Kenny Britt
, who has been arrested nine times (eight more than Jackson). Britt hasn't been nearly as productive as Jackson, either.
Jackson is coming off an 82-catch, 1,339-yard season in which he scored nine touchdowns. In his six-year career, Jackson has averaged 17.2 yards per catch on 356 receptions and has caught 32 touchdown passes.
March, 28, 2014
Mar 28
5:55
PM ET
He only needs one play to change a game -- and you never know when it will come. In 2010, it came on the first play of the game, with then-Redskins safety
LaRon Landry
probably still in full yapping mode.
And
DeSean Jackson
's 88-yard touchdown catch ignited one of the most explosive nights by an offense you'll ever see. By the way, Jackson had just one catch after that touchdown. But no matter; he had done what the Eagles needed. Jackson did this quite often, and it's why he's a fantastic talent.
Now he's free. So now comes the question: Should the
Washington Redskins
pursue?
[+] Enlarge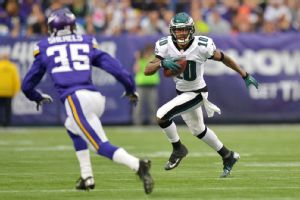 Drew Hallowell/Philadelphia Eagles/Getty ImagesDeSean Jackson is among the most explosive receivers in the NFL, but might fit best with a coach who has worked with him before.
No. The best place for Jackson to land is with a coach who has a history with him: Andy Reid, Marty Mornhinweg. Both their teams -- the Chiefs and the Jets -- are interested. And that's telling. To best deal with Jackson, you had better really know Jackson. You can't just sign him thinking he'd be a great fit because he has a lot of talent. You must know him, have a history with him. That is, if you want the best chance to make the investment work. This isn't just about alleged gang ties, it's about having the infrastructure to handle Jackson. The Redskins have not yet shown they can handle a talented but, perhaps, difficult player -- especially one they don't really know.
It would be a tough job for a first-year head coach.
Besides, if I'm his agent, I'd steer him to a coach who knows him well.
In the past 10 days, I had a brief conversation with one person in the Redskins' organization about Jackson. The question wasn't whether the Skins would have interest, but rather why the Eagles would consider releasing such a talent. It was a casual conversation, so I'm not going to repeat what he said, but I can safely say that one person in the Skins' organization would not be interested. Does that mean others would not be, or that they wouldn't at least inquire? Can't say that.
Nobody doubts Jackson's ability, but can you trust him going forward? If multiple teams have called about him, as has been reported, then the price will be out of the Redskins' range anyway.
We don't know if Jackson indeed had gang ties, as has been alleged. He says he doesn't. But if nothing else, the image he presents in certain pictures would likely scare some teams.
Then again, the Redskins are interested in
Kenny Britt
, who has been arrested at least nine times to Jackson's one. Alas, Britt did not match Jackson's on-field production. I wouldn't want Britt because of his knee and off-field issues. But the Redskins still would take him.
And that leads me back to: What do the Eagles really know? It's the same question I've wanted to know since news of Jackson's availability first surfaced. They clearly knew a lot about him before he signed his big contract, and still kept him around. But it took only one year for the coach who knew him best to end Jackson's time in Philly.
March, 28, 2014
Mar 28
3:45
PM ET
As owner Woody Johnson told the world this past Sunday, the
New York Jets
have interest in wide receiver
DeSean Jackson
, who was released Friday by the
Philadelphia Eagles
. How much interest remains unclear, but they figure to be involved.
A look at some of the key factors that the Jets must weigh:
Positional need
: The Jets gave
Eric Decker
a five-year, $36.25 million contract, but they don't have a legitimate No. 1-type receiver -- a game-breaker. Jackson, coming off an 82-catch, 1,332-yard season, has that kind of talent. The upcoming draft is rich with receiver talent, but Jackson is a proven commodity.
[+] Enlarge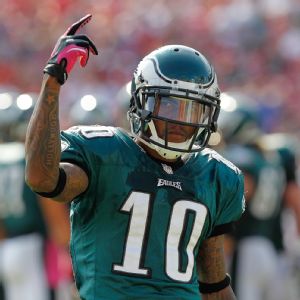 Kim Klement/USA TODAY SportsDeSean Jackson could be the playmaker the Jets are missing on their roster.
Economics
: The Jets have tremendous flexibility. According to ESPN Stats & Information, they're about $30.4 million under the salary cap. Only one other team, the
Cleveland Browns
, has more cap space. General manager John Idzik, speaking earlier this week at the NFL owners meetings, said he wouldn't be opposed to having two big-money players at wide receiver. He said it would depend on future cap costs, age, etc.
Baggage:
This would be a controversial signing. In his years with the Eagles, Jackson was known as a moody player who complained about his contract, missed meetings and chafed coaches with his me-first attitude. Why else would Chip Kelly unload a 27-year-old Pro-Bowl talent? On Friday, Jackson's reputation took another hit, with NJ.com reporting that the Eagles were concerned about his alleged connections to street gangs in Los Angeles. Jackson, in a statement, claimed he has no gang associations.
Philosophy
: Clearly, Idzik is building for the long term, avoiding quick-fix solutions -- especially expensive ones. That's one of the reasons they took a pass on
Darrelle Revis
; they didn't want to get involved in a one-year arrangement. The Jets would come off as hypocrites if they take a short-term flier on Jackson, whose value has declined to the point where he might have to accept a one-year prove-it contract. The obvious question: Why wouldn't they do the same for Revis, a solid citizen with good football character?
The X factor:
Former Eagles quarterback
Michael Vick
is a close friend of Jackson's, so he'd obviously be an asset for the Jets in any type of recruiting battle. But the Vick-Jackson relationship could be a double-edged sword. League insiders suggested that Jackson's loyalty to Vick could backfire in a potentially volatile quarterback competition between Vick and
Geno Smith
.
The Big X factor
: Johnson is smitten with Jackson's playing ability and is not afraid to pull rank, as he did last year when he instructed Idzik to trade Revis. It's not clear whether the gang-related allegations would cause Johnson to change his opinion. The Jets are taking some heat because of Vick's past; they'd be subject to additional criticism if they picked up Jackson. But Johnson made it clear he's in a win-now mode, so he might be willing to take the risk.
Familiarity
: The Jets will rely heavily on offensive coordinator Marty Mornhinweg, who coached Jackson in Philadelphia. They trust Mornhinweg, who was instrumental in the Vick acquisition. Mornhinweg knows that Jackson can be a diva, but he's also a coach who recognizes the need for a playmaker.
March, 28, 2014
Mar 28
2:52
PM ET
The sad part of the
DeSean Jackson
mess is this: He was, and still is, a terrific talent. A Chip Kelly offense with Jackson ... and
LeSean McCoy
... and a healthy
Jeremy Maclin
... and
Darren Sproles
? That would have entertained one set of fans and scared the heck out of another.
Perhaps defensive coordinators can sleep a little better the night before facing Philadelphia
now that the Eagles released Jackson
. That is, unless the Eagles prove that life without Jackson is still a difficult one for defenses.
There's no way to sugarcoat the release of a talent such as Jackson. There's no need to get into the off-field aspects of the decision, other than to say it's a shame it came to this. And before the latest story broke on the receiver, prompting his release, some teams already considered him to be a walking red flag.
Still, my focus deals with his on-field performance and what it means for the Eagles. He was a dynamic receiver who helped make this offense dangerous. I don't care what system you run, or who's calling the plays, it's playmakers such as Jackson who can make any playcaller look good.
But the Eagles knew trouble was coming, which is why they were still able to construct an offense that should remain strong. Just as scary? It's hard to take out a guy such as Jackson and think it will just be the same. Quarterback
Nick Foles
targeted Jackson more than any other receiver last season (70 times) and completed 71.4 percent of those passes to him, according to ESPN Stats & Information. Nobody had more touchdown catches of 30-plus yards since 2008 (
Mike Wallace
shared the lead with 21).
Jackson was a guy who could open up the rest of the offense with his presence. One play by him could change a game, even if he didn't do a whole lot the rest of the way. The problem for defenses: They never knew which play it would be. Will the Eagles have anyone like that next season? Then again, given the depth of talent, do they need to?
Of course, the Eagles also were dangerous at times last season without Maclin (or Sproles, for that matter). If Maclin returns to form, he can be a dynamic threat. Two years ago he led the Eagles with 69 catches for 857 yards and seven touchdowns, but he's also never had a 1,000-yard season. However, he did have 46 more catches and five more touchdown receptions than Jackson in their time together with the Eagles.
And remember last summer? When Maclin was excited to be part of Kelly's offense because, he said, the previous one only wanted to feature Jackson's position -- and, therefore, Jackson?
"When Marty [Mornhinweg] was here, we tailored it around the flanker position," Maclin told CSN Philly in July. "That's just how it was ... The fact that I was able to personally accomplish what I accomplished, I think as far as the position I was playing, I think that's above what that guy normally does."
But, he said, there was no tailoring to one position in Kelly's offense. Indeed, part of what made their scheme dangerous is the multiple options to defend on a play. Run, by the quarterback or the running back, or pass. Bubble screen or hitting the tight end down the seam. Defenses had to worry about the multiple options available to Foles. Overplay one way and they could hit you the other. So the scheme works well when it has the right talent. And they should still have the right talent with not only Maclin but McCoy, Sproles, receiver
Riley Cooper
, and tight ends
Brent Celek
and
Zach Ertz
.
The Eagles will survive cutting Jackson. Maybe if Sproles remains a threat, as I think he will, and Maclin is healthy and close to the same, then they can continue to flourish. But there's no way to say losing a guy such as Jackson will result in anything but questions. But the Eagles will move on -- and they will still move down the field. That could be wishful thinking on the Eagles' part, but for now, they have the parts to make them believe it will be a reality.
March, 28, 2014
Mar 28
1:50
PM ET
The Eagles on Friday released star wide receiver
DeSean Jackson
, who's responsible for one of the most heartbreaking moments in
New York Giants
history.
Prince Amukamara
told me last year that he once brought up Jackson's Dec. 19, 2010, game-winning punt-return touchdown around teammates, and was told they don't talk about that in the Giants' locker room.
Still stings.
So even though there aren't more than a half-dozen players still on the Giants who played in that game, the idea of Jackson as a Giant has to seem weird, right? I got this Friday on Twitter from @troybonj:
Are Giants fans really tweeting at @DanGrazianoESPN saying desean would be a fit for us? I'd rather lose 16 games than root for him

— Troy Bonjavanni (@troybonj) March 28, 2014
Pretty strong stuff. And to be fair, he could be talking about the serious issues that surround Jackson off the field, some of which are detailed in
this story that came out Friday on NJ.com
about Jackson's connections to L.A. gang members. Or he could be talking about the total package: a former division rival responsible for Giants heartbreak who also brings with him some downright scary off-field baggage. I could see why some Giants fans would want to stay away.
I can also see why some Giants fans would welcome Jackson with open arms. He'd likely be a fit in a Ben McAdoo offense that looks to get the ball in the hands of playmakers quickly and allow them to operate after the catch. And he's a viable deep threat too for when they need that. The Giants are thin and unproven at receiver after
Victor Cruz
, and Jackson the player would obviously make them better, as he would any team in the league. He's still only 27 years old, which means he's the same age as pretty much everyone else the Giants have signed this offseason.
But it's pretty hard to imagine the Giants signing Jackson. He's going to cost big money, first of all, and they've already spent their big free-agent dollars. Not that they couldn't fit him into the $4 million or so they have under the cap, but they couldn't really do anything else if they did, and they have more to do. Add to that the baggage that comes with the guy, and this looks like a situation from which the Giants would stay away.
Yes, they brought in
John Jerry
last week, and yes, the Wells Report paints Jerry as a rotten guy based on his role in the
Richie Incognito
/
Jonathan Martin
Dolphins bullying scandal. But the stuff that's swirling around Jackson is far darker and scarier than anything that went down in Miami last year. It was enough to convince the Eagles to release a player who's in his prime and coming off a career season in their offense. It will be enough to scare a lot of teams away from signing him. You never know for sure, but I would expect the Giants to be one of those teams.