April, 8, 2014
4/08/14
10:15
AM ET
IRVING, Texas -- Two veteran wide receivers went off the market Monday when
Nate Burleson
and
Jason Avant
signed with the
Cleveland Browns
and
Carolina Panthers
, respectively.
Both were linked to the
Dallas Cowboys
by the media (hello, that's me), but sources indicated the Cowboys had some interest in Burleson, who played for their new passing game coordinator, Scott Linehan, with the
Detroit Lions
. The Cowboys just were not willing to pull the trigger on a deal now, continuing their patient approach in free agency.
Could it mean the Cowboys are as content at wide receiver as owner and general manager Jerry Jones has said?
[+] Enlarge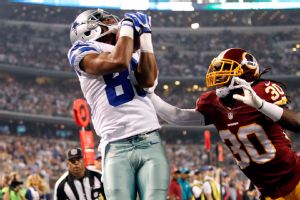 Tim Heitman/USA TODAY SportsTerrance Williams, a 2013 pick, started as the No. 3 receiver and also showed he could handle the No. 2 role. Is Dallas hoping for a repeat in the 2014 draft?
With
Dez Bryant
and
Terrance Williams
, the Cowboys are set at the top two spots.
Dwayne Harris
and
Cole Beasley
would settle in as the No. 3 receiver, splitting the job depending on role. Harris has more big-play ability. Beasley is better in the quick-game routes.
I've long said the Cowboys do not need a true No. 3 receiver over the years because they have tight end
Jason Witten
, and the running backs have always figured prominently in the passing game.
The best performance by a No. 3 receiver for the Cowboys in the past five years has been
Laurent Robinson
, who caught 54 passes for 858 yards and 11 touchdowns in 2011. But mostly the Cowboys need their third receiver to catch anywhere from 30 to 40 passes a season.
Kevin Ogletree
did that in 2012 with 32. Technically Roy Williams might not have been the No. 3 receiver in 2010, but he caught 37 passes. In 2009, Patrick Crayton caught 37 passes for 622 yards and 5 touchdowns.
So you're looking for a No. 3 receiver to catch two or three passes a game when you look at the options available in how the Cowboys have constructed their offense.
But what if Bryant or Williams gets hurt? And there will be injuries. Can Harris be a No. 2 receiver and excel outside? Maybe for a few games. Beasley is just a slot receiver because of his size. That is why I thought Avant or Burleson would have been good fits. Other options remain, such as
Earl Bennett
and even
Miles Austin
, but that would be a long shot.
However, if the Cowboys were not willing to make a play for a free agent Monday, they're not going to get into the market Tuesday.
Last week, I wondered whether
Gavin Escobar
could
be an option as the third receiver.
The Cowboys like his athleticism and saw in glimpses his ability to make plays. His touchdown against the
Philadelphia Eagles
in the season finale was an eye-opener. With the way the tight ends are used these days, Escobar has more receiver skills to him than tight end skills. He needs to get bigger and stronger to be an on-the-line tight end, but that part of his game will never be his strength. His strength will be working the seams and his ability to go get the ball.
But here is a thought: This is considered one of the deeper drafts in memory for wide receivers. Could the Cowboys be looking for their No. 3 receiver, who could be the No. 2 receiver, in the early to middle rounds of the draft?
Williams, a third-rounder last year, caught 44 passes for 736 yards and 5 touchdowns and showed he could handle the No. 2 role when Austin missed games with a hamstring injury. Williams' development played a part in the release of Austin.
If a
Mike Evans
fell, or if a
Marqise Lee
is there in the first round, could they be targets? It sure seems as if the draft is the Cowboys' preferred method to find their No. 3 receiver.
December, 19, 2013
12/19/13
1:45
PM ET
PHILADELPHIA -- The
Philadelphia Eagles
' blurry secondary picture is beginning to come into focus.
Nickel cornerback
Brandon Boykin
cleared the NFL's concussion protocol and was back at practice Thursday afternoon. Boykin was injured while returning a kickoff Sunday in Minnesota.
Rookie safety
Earl Wolff
said Wednesday his right knee feels the best it has felt since he injured it in Green Bay on Nov. 10. Wolff is almost certain to play, but likely to rotate with veteran
Patrick Chung
until he's reacclimated.
Safeties
Kurt Coleman
(hamstring) and
Colt Anderson
(knee) did not practice. There's a good chance
Keelan Johnson
, who was signed off the practice squad Tuesday, will be active for Sunday night's game against the
Chicago Bears
.
The 5-foot-11, 212-pound Johnson could serve as a backup to Wolff, Chung and
Nate Allen
. But his main contribution is likely to be on special teams, where Coleman and Anderson are key players.
"I'm actually on a couple of special teams," Johnson said. "I think that's where I'm likely to start out at during this game on Sunday and then work my way into the safety rotation. I just have to keep showing coach [Bill] Davis and my position coach I'm on top of the calls, I'm on top of my checks, things like that."
Johnson was undrafted despite a solid senior season at Arizona State. He signed with the
Miami Dolphins
and was released at the end of training camp. He has been on the Eagles' practice squad all season.
"I always felt like I was good enough to play," Johnson said. "I feel like I could have been a drafted player. I feel like I had a good season and all that stuff. It was just frustrating sitting on the sideline, watching these guys playing the sport I love, and I'm not out there with them."
Johnson might be forced into action if injuries strike as they did last week. But the return of Boykin and Wolff will help restore some normalcy to a secondary that was badly burned by the Vikings. That is a major development for a team preparing for a Bears offense that features
Brandon Marshall
and
Alshon Jeffery
.
"Don't sleep on
Earl Bennett
, either," Chung said. "He's really good, too."
Boykin has done an excellent job playing in the slot, leading the Eagles with four interceptions. Without him, Chung or
Roc Carmichael
would have to play the slot, which would lead to a domino effect. If Chung were to play the slot, that's one less safety available to Davis.
December, 19, 2013
12/19/13
10:00
AM ET
The
Philadelphia Eagles
have found themselves in the middle of the NFC North race as much as the NFC East race over the past month. Sunday night's game against the
Chicago Bears
is their third game in a row against an opponent from the North.
Two weeks ago, the Eagles and Bears helped each other out. Chicago defeated the
Dallas Cowboys
, pushing the Eagles into first place in the East. The Eagles beat the
Detroit Lions
, opening the door for the Bears in the North.
They won't be helping each other this week. ESPN.com Bears reporter Michael C. Wright and Eagles reporter Phil Sheridan discuss some of the issues facing both teams.
Sheridan:
Like the Eagles, the Bears survived this season when a backup quarterback took over and played unexpectedly well. Unlike the Eagles, who stayed with
Nick Foles
, Chicago went back to
Jay Cutler
and sent
Josh McCown
to the sideline. So, Michael, how is that scenario playing out in the locker room, on the field and among the fans?
Wright:
The reaction is quite a bit different between the fans and the players, obviously. In the immediate aftermath of Cutler's ankle injury on Nov. 10 against Detroit, Bears coach Marc Trestman told the team and the media that Cutler would be the starter again as soon as he was medically cleared to play. The coach never wavered on that declaration, and that was apparent even among the players during McCown's incredible four-game run. In answering questions about McCown during that stretch, Trestman and the players seemed to temper the compliments regarding the backup, making it a point to state that Cutler was still the starter once he would be able to return to action. So within the locker room, the message was always that Cutler would return, but among the fan base, as McCown flourished, the call to make him the permanent starter grew louder regardless of what Trestman and the players said on the record. Cutler certainly helped himself by bouncing back from a bad start at Cleveland to throw for three touchdowns in a win, but there's certainly a segment of the Chicago fan base still calling for McCown to be the man under center.
Phil, Chicago's defense simply can't stop the run, so
LeSean McCoy
is poised to have a pretty big game if the Eagles decide to feature him. What was the deal with McCoy running the ball just eight times against the
Vikings
?
Sheridan:
That was one of the head-scratching strategies Chip Kelly deployed Sunday. It was like stepping into a time machine and watching an Andy Reid-coached game. Kelly's explanation was simple enough: The Vikings were missing four cornerbacks and the Eagles thought they could exploit the inexperienced backups. Then, he said, the Eagles fell behind and had to throw, but McCoy had run for 217 yards the week before, mostly in the second half as the Eagles staged a comeback win. Ultimately, there is no explanation or excuse for eliminating a weapon as dangerous as McCoy from your offense. That's supposed to be the defense's job.
The Eagles did a better job against
Larry Fitzgerald
and
Calvin Johnson
in recent weeks than against the Vikings' deeper, less star-studded receiving corps. How much more dangerous are the Bears now that
Alshon Jeffery
has emerged alongside
Brandon Marshall
? Is Jeffery even better at this point?
Wright:
In the past, teams focused most of their game plan on shutting down Marshall. That involved double-teams and shading coverage over to his side. Teams are now finding they can't do that anymore because if you double Marshall, you put Jeffery in one-on-one matchups that he's going to win the majority of the time. The Bears say teams are now starting to mix it up against those receivers, which makes it important for Cutler to be able to quickly recognize the coverage and distribute the ball accordingly. I wouldn't say Jeffery is the better receiver overall at this point, but I will say that he tracks the ball in the air better than anybody else on Chicago's roster, which has allowed him to make some unbelievable grabs in contested situations. I'd say one player to watch is No. 3 receiver
Earl Bennett
. With all the focus on Marshall and Jeffery, the Bears have made it a point in recent weeks to involve Bennett more in the offense. Remember, Bennett played college football with Cutler at Vanderbilt, so there's chemistry. Bennett has hauled in a touchdown in each of the past two games.
How will Philadelphia's secondary look on Sunday? I know the Eagles are banged up, causing something of a musical-chairs effect in the secondary. At this point, do you know which guys the Eagles will have available to face Marshall, Jeffery and tight end
Martellus Bennett
?
Sheridan:
We don't know yet, Michael. The larger problem is that, even when everyone is healthy, the Eagles' secondary isn't equipped to handle a receiving corps as deep and talented as the Bears' is. The Eagles have the 31st-ranked pass defense for a reason. During their five-game winning streak, they were able to give yards but minimize points allowed by forcing turnovers and playing well in the red zone. That formula fell apart in Minnesota. As for the injuries, the biggest loss would be nickel corner
Brandon Boykin
, who leads the team in interceptions and is a very good cover guy. It looks like rookie safety
Earl Wolff
will be back after missing four games with a knee injury, but it remains to be seen how effective he'll be after missing that much time. If the Bears go three or four wide, the Eagles will be hard-pressed to match up with all those weapons. Their best hope would be to pressure Cutler, but they have struggled against guys who get the ball out as quickly as he does.
There's a chance linebacker
Lance Briggs
returns Sunday night. What impact would that have on Chicago's defense? Can the Bears clamp down on the Eagles or is this thing destined to be a shootout like their win over Dallas two weeks back?
Wright:
I see this one being a shootout. I think Briggs will have an impact on the defense in terms of making sure the calls get in quickly and the defense is lined up correctly. Briggs should also be an upgrade over rookie
Khaseem Greene
, who has filled in on the weak side over the past seven games. But Briggs has been on the shelf for a month and a half, and there's no way he's in football shape yet. So you have to wonder how much he will actually be able to contribute from a physical standpoint. If Briggs plays like the Briggs we all know, then Chicago will have a much better shot at controlling Philadelphia's rushing attack, but I'm not sure he'll return as that guy. So let's count on a shootout. The team with the defense that gets that one or two key stops down the stretch will be the team that comes out on top.
Early in the season, Philadelphia's frenetic pace seemed to be the next new thing, the revolution. Now that the Eagles have basically an entire season under their belts, how have teams adjusted to their pace on offense? Is it still as big an advantage as it seemed to be early in the season?
Sheridan:
It has been an effective tactic at times. The up-tempo approach is one of the reasons Foles replaced
Michael Vick
as the No. 1 quarterback. Vick is obviously a bigger threat in the read-option, but Foles is more comfortable with the pace Kelly likes. Hard to blame Vick, who had a career's worth of offensive football to unlearn. But the pace can hurt the Eagles, too. When they have a couple of three-and-outs in a row, as they did against the Vikings, their defense is back on the field way too quickly. And when a team moves the ball as well as the Vikings did, the defense wears down. It was useless by the fourth quarter. The Eagles defense has been on the field for more plays than any team in the NFL. That is partly a side effect of Kelly's up-tempo offense.
August, 9, 2011
8/09/11
1:49
PM ET
When I encountered new
Chicago Bears
receiver
Roy Williams
after practice Sunday night, he was calm. His voice projected at normal volumes. He wasn't trying to make anyone laugh or find his way into the headlines or otherwise be the life of the party.
It's too easy and would be cliché to suggest Williams was humbled by three unproductive seasons with the
Dallas Cowboys
. But I do think he fully understands how fortunate he is to have landed with the Bears, a team that doesn't need him to be the star of its offense but which offers a scheme that coaxed his best two seasons in the NFL.
[+] Enlarge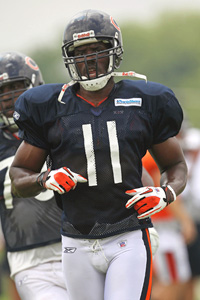 Jonathan Daniel/Getty ImagesNew Bears receiver Roy Williams had his two most productive NFL seasons under Mike Martz while they were in Detroit.
"This is the best scheme in the country for me," Williams said. "It's the best scheme, hands down."
In two seasons under offensive coordinator Mike Martz, when both were with the
Detroit Lions
, Williams caught 146 passes for 2,148 yards and 12 touchdowns. In the other six seasons of his career, Williams has totaled 210 receptions for 3,060 yards and 30 scores.
For that reason, the Bears wasted no time inserting Williams into their first-team offense during training camp drills this week. The move displaced their top-yardage man from last season,
Johnny Knox
, and in the end it demonstrated how much the Bears valued a different-sized body among their receivers.
"I know Jay [Cutler] was begging for a big guy," Williams said. "I know I fit the mold of a big guy. I'm not a
Brandon Marshall
, who is nine-feet tall. But I'm a big guy who can go across the middle, make the catch and try to keep the chains moving."
Williams' classic 6-foot-3 frame suggests his performance should transcend scheme, but it obviously hasn't during his eight-year career. Why did Williams perform so well for Martz in Detroit? Part of it, to be sure, was Martz's pass-happy play-calling at the time. Someone had to get the yards. But I also think that despite his frame, Williams' athleticism and footwork get him to the precise point Martz demands of his receivers in a way normally reserved for much smaller men.
Williams referred to the Bears' receiving group as "The Smurfs" because Knox,
Earl Bennett
and
Devin Hester
are all under six-feet tall. But normally, receivers built closer to the ground are quicker in and out of their cuts than longer, loping wideouts.
For whatever reason, Williams had no problem executing in Martz's scheme with the Lions. During the Bears practices I watched this week, his long arms and reach were an important contrast to those of his teammates. Cutler now has his go-up-and-get-it receiver.
Knox, on the other hand, was particularly upset about the quick demotion. But with all due respect, it wouldn't make sense to have three receivers of the same size on the field when there is a viable alternative, and it was unlikely that Cutler favorite Earl Bennett was going to get pushed down the depth chart.
"[Knox] is upset," Williams said. "Everybody is a competitor in this league. You have to be a competitor, but at the same time you have to know what's going on. I would be upset if a guy just came in and got in front of me. That's the nature of this business. There is nothing wrong with what he did. Nothing wrong with what he did. He had an exceptional season last year. If anything is to happen to me, or I go down, he's a great guy to come back in."
In truth, I would consider 2011 an enormous success for Williams if he finishes with the same kind of production -- 51 receptions for 960 yards and five touchdowns -- that Knox did last season. Williams boasts two years of experience in this system, and his arrival will give Knox an opportunity to be a package-focused playmaker as opposed to one expected to make tough catches on third-and-6.
Which brings us to the larger question: Can Williams be trusted with a starting role? I can tell you this much: He couldn't have landed in a better spot to answer that question.
"I know how this thing works," he said. "I know how it works."