December, 17, 2013
12/17/13
1:10
PM ET
IRVING, Texas -- Of the nine defensive linemen on the
Dallas Cowboys
roster, only three were with the team when training camp began and
Nick Hayden
was far from a lock to make the cut.
[+] Enlarge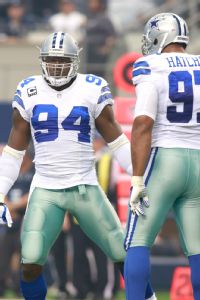 Tim Heitman/USA TODAY SportsThe Cowboys defense stands a better chance with DeMarcus Ware and Jason Hatcher on the field at the same time.
DeMarcus Ware
and
Jason Hatcher
are the two mainstays left and both have been banged up. Ware missed three games with a quadriceps injury. Hatcher missed one with a stinger that has been problematic for two months.
If the defense is to have a chance to succeed, the Cowboys need Ware and Hatcher. But here's a question: Why are they not in the game more?
Jason Garrett said the Cowboys, "believe in the rotational system that Rod [Marinelli] uses."
It's fine to rotate players. You want players to remain fresh through the course of a game. But do they need to come off the field together?
Of the 69 defensive snaps in Sunday's loss to the
Green Bay Packers
, Ware and Hatcher were on the field together for 44 of them. There were 13 snaps where one or the other was on the field. There were 12 snaps in which neither was on the field, including goal-line snaps in the fourth quarter before
Andrew Quarless
' touchdown. Hatcher was not on the field for
James Jones
' 3-yard touchdown catch and
Eddie Lacy
's game-winning score.
At different times the Cowboys' defensive line featured
Everette Brown
,
Drake Nevis
, Corey Irvin and
George Selvie
. At one point they had Ware and
Edgar Jones
at defensive end with
Jarius Wynn
and Irvin at tackle.
"It's real important to keep that group fresh up front," Garrett said. "If you're looking for guys to put pressure on the quarterback, being fresh is a big part of that. The best defenses line I've been around rotated guys. So we'll continue to do that. It's not exclusive. They don't always come out together. They don't always play together. But occasionally they do, sometimes they're on the sideline together and you have to battle through that. The other guys have an opportunity to step up and make an impact on the game. George Selvie did a fantastic job in yesterday's game. He made a lot of plays, tackle for losses, sacks and impacted the game in a positive way. Everett Brown did as well. We have to get that across the board."
But there is a time and place for everything. In the most crucial snaps -- like on the goal line -- Ware and Hatcher must be on the field.
December, 12, 2013
12/12/13
10:00
AM ET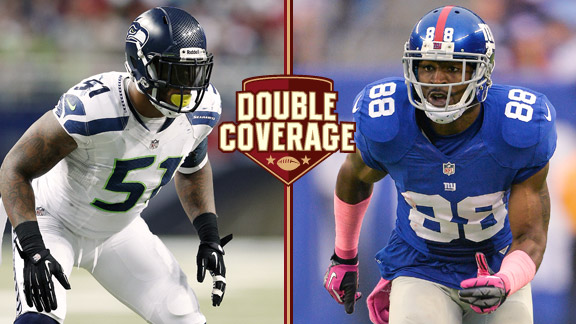 AP PhotoBruce Irvin and the Seahawks are beatable on the road. Can Hakeem Nicks and the Giants win?
The 11-2
Seattle Seahawks
have had their playoff spot wrapped up for a couple of weeks already and have their eyes on the top seed in the NFC. The 5-8
New York Giants
were eliminated from playoff contention Sunday and openly admit that they're playing for pride from this point forward. These two teams meet Sunday at MetLife Stadium -- a place the Seahawks hope to return to in early February for the Super Bowl.
ESPN.com Seahawks reporter Terry Blount and Giants reporter Dan Graziano break down the matchup between the league's best team and one of its most disappointing teams.
Graziano:
Terry, let's start with Seattle's exciting young quarterback. The Giants this year have seen
Terrelle Pryor
,
Cam Newton
and
Robert Griffin III
, who are the only quarterbacks with more rushing yards than
Russell Wilson
has. From your standpoint, what sets Wilson apart from those other mobile quarterbacks?
Blount:
Dan, there are so many intangibles about him that defy description. Some obvious ones are his character, his attention to every detail in his preparation and his underrated skills as a passer. But more than anything else, Wilson has the unusual ability to perform at his best when things appear to be at their worst. I've never seen him rattled, and he rarely makes a careless mistake. He has led the team to nine game-winning drives in his short career, and he almost did it again Sunday at San Francisco. As for his mobility, one thing that clearly sets him apart is his ability to make accurate throws downfield while he's running in either direction.
Speaking of quarterbacks,
Eli Manning
got off to a really rough start this season. What happened, and where is he now compared with seasons past when he was playing at a Pro Bowl level?
Graziano:
Manning's biggest problem at the start of the season was his protection. The offensive line, never great to begin with, was hit with injuries to key starters and never got the kind of blocking help it received in past years from supplemental positions like running back and tight end. Manning has already taken more sacks (33) than he has ever taken in a full season, and there are three games to go. He also had no running game whatsoever for the first half of the season until
Andre Brown
got healthy. And top wide receiver
Hakeem Nicks
has had an awful season in the final year of his contract. Manning obviously could play better, and he'd admit he has missed his share of throws. But I think he's a quarterback who really needs to be comfortable with his surroundings, and this year that hasn't been possible for him.
The Seahawks are so dominant at home, but while they've been good on the road they are clearly not
as
good. We know about the home crowd and the advantage it gives them, but are there on-field things they don't do as well on the road?
Blount:
One noticeable difference in the past three road games is that Wilson hasn't run much because defenses are trying to keep him in the pocket. Wilson had one carry for 2 yards last week at San Francisco, and only 38 yards on seven carries in the past three road games combined. They won two of those three games, however. Still, after Wilson ran for 102 yards at Indianapolis in Week 5 (ironically, one of Seattle's two road losses) teams have focused on not allowing him to beat them with his feet. He's running well at home (he rushed for 47 yards against New Orleans two weeks ago) but not so much on the road.
If the Giants pull off the upset Sunday, they'd send a message that despite a disappointing season, they still have the ability to get it done against the best of the best. Do you get the sense that they'll have a little added fire against a team that many people believe is Super Bowl-bound?
Graziano:
I do. A few of the Giants have already talked about that in the wake of the loss Sunday that eliminated them from postseason contention. There's a lot of talk around East Rutherford about "playing for pride," and that's not hollow with this group. They held together after the 0-6 start and have been professional in their play and their preparation since. This isn't a team that has or will quit on its season. It's just a team that's not very good. I don't think they have the personnel to hang with the Seahawks on Sunday, but if they lose it won't be for a lack of effort.
They do have a tendency to seek and drum up external motivation, and Seattle's excellent record will provide some of that. Tom Coughlin said Monday that they looked forward to measuring themselves against a team like this. The only dissenter so far is wide receiver
Victor Cruz
, who said he'd be "even more disappointed" if the Giants won this game, since it would tell him they had the capability to play with top teams all year and just didn't.
San Francisco had a strong game on the ground Sunday, and the Giants' run game has been considerably better in the second half. Is it possible to run on the Seahawks, or was that a one-game fluke by
Frank Gore
?
Blount:
Some Seattle fans might say it was a one-play fluke, the 51-yard run by Gore on the final drive that set up the game-wining field goal. Take that off the table and the Seahawks did OK against the 49ers' rushing game. However, one stat is a little scary. Of San Francisco's 163 yards on the ground, 137 were before contact, including Gore's big run. The Seahawks have been up and down on this all season. They held
Adrian Peterson
to 65 yards and allowed only 30 yards rushing at Arizona, but also had back-to-back games in which they allowed 200 yards rushing. Now they have to get it done without linebacker
K.J. Wright
, who had 80 tackles this season. He's out with a broken foot. It's hard to predict, but the Seahawks are so focused on the pass rush that they can get burned sometimes on the ground.
The Giants have struggled to stop the run, and
Marshawn Lynch
is one of the best backs in the league. I'm guessing the Seahawks are going to give him the ball early and often, especially if the weather is bad. Will the Giants load the box to try to stop Lynch?
Graziano:
Actually, stopping the run is one of the few things the Giants have done well. They've held down some top backs, such as Peterson,
LeSean McCoy
,
Alfred Morris
and
Eddie Lacy
. Until the Chargers got 144 yards on 40 carries against them Sunday, this had been a fairly consistent strength. So they'll be keyed on Lynch for sure.
Before the Packers game a few weeks ago, I asked
Justin Tuck
if Lacy reminded him of anyone. He said, "a bigger Marshawn Lynch," and then complained that they had to deal with Lynch again a few weeks later. They stacked the box against Lacy that day, but they weren't scared of
Scott Tolzien
's ability to beat them downfield even if they used single coverage on his receivers. Wilson is likely to make them think twice about committing as much to the run as they did that day, and they'll likely rely on the guys in their strong defensive-tackle rotation to get off of blocks better than they did in San Diego.
November, 17, 2013
11/17/13
10:05
PM ET
EAST RUTHERFORD, N.J. -- To put as much pressure on Packers' quarterback
Scott Tolzien
, who made his first career start Sunday, the Giants knew they needed to shut down running back
Eddie Lacy
.
"It's like basic football. As long as you take care of the run, they're going to be forced to pass to get more extra yardage," Giants defensive tackle
Mike Patterson
said. "We were looking forward to that."
[+] Enlarge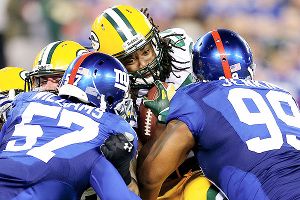 Elsa/Getty ImagesPackers RB Eddie Lacy had little room to run against the Giants' much-improved defensive front.
The Giants continued their stretch of being stout against top running backs as they held the rookie phenom to just 27 yards on 14 carries in their 27-13 win on Sunday at MetLife Stadium. The Giants held Lacy to his fewest rushing attempts in a game in which he wasn't injured.
"We did a great job against (their rushing attack), which we have done all year against the run, against a very good back, and a very good offensive line as well," Giants coach Tom Coughlin said.
Lacy has been one of the league's best rookies this season as his physical, downhill running style has made him a nightmare for opposing defenses. With Packers quarterback
Aaron Rodgers
sidelined, Green Bay hasn't shied away from feeding the youngster and hoping he can help carry their offense.
The Packers tried establishing Lacy early Sunday, giving him the ball on first and second down on both of the first two Packers' drives. But the Giants filled the holes and didn't let him get to the second level of their defense. Lacy was usually swarmed by a group of defenders as soon as he broke the line of scrimmage, and didn't have much room to work with all game. His longest run was just five yards.
Lacy did have an impressive run in the fourth quarter, when he carried defensive tackle Cullen Jenkins into the end zone for a four-yard score that sliced the Giants' lead to 20-13 with 12:43 remaining. Lacy had 48 total yards and he also caught two passes for 21 yards. The 48 combined yards are at least 25 less than his rushing yards in each of his past six games.
"I think everyone played pretty well up front physical-wise. They have some big offensive lineman, can't count them down, those boys out there playing real well," Patterson said. "Up front everyone did well staying low, using our hands, playing the keys, and everything kind of came out our way."
When the Giants prepared to face the Vikings on Oct. 21, they entered that weekend's game ranked 26th in the league against the run. Over the past month, as they've shut down top running backs like Lacy,
LeSean McCoy
and
Adrian Peterson
, the Giants improved to 11th entering Sunday's game.
Linebacker
Jon Beason
complimented the defensive line for its work in the trenches Sunday.
"You get those guys lined up collectively, they're as good as anyone, and I really believe that," Beason said. "It's like having windshield wipers out there. If they're going to make all the plays, that's fine with me. I'll stand in the second level, watch and enjoy the popcorn."
November, 16, 2013
11/16/13
2:00
PM ET
The
New York Giants
have won three games in a row following an 0-6 start and marching their way back toward .500 as they take on the
Green Bay Packers
on Sunday at 4:25 pm ET at MetLife Stadium. This game was originally scheduled for 8:30 pm ET, but has been moved up four hours as part of the league's flex scheduling rules. So if you're going to the game, or if you have plans to watch it, bear in mind the start time isn't the same as the one on the magnetic schedule you got at the beginning of the year.


Here are a few things besides that to watch in Sunday's Giants-Packers game:
An Andre Brown encore?
After rushing for 115 yards on 30 carries in his season debut Sunday against the Raiders, Brown is back and hoping for a big follow-up now that he's clearly the No. 1 man in the Giants' backfield. Green Bay counters with some big, mean monsters in the middle of their defensive line, and
B.J. Raji
& Co. will be tougher for the Giants' interior offensive linemen to push around than the Raiders were. Brown looked good keeping his legs moving and gaining yards after contact, but it's possible the contact could come a lot sooner this week between the tackles.
Wary of Packers' run game, too:
On Thursday after Giants practice I asked
Justin Tuck
if there was anyone of whom Packers rookie running back
Eddie Lacy
reminded him when he watched Lacy on tape. Without hesitating, Tuck said, "A bigger
Marshawn Lynch
." Pretty high praise there. We looked it up, and Lacy does actually list at 230 pounds to Lynch's 215, but Tuck said he didn't know the numbers. "All I see is a lot of broken tackles," he said. The Giants aren't spending time thinking they got a break because
Aaron Rodgers
is injured and out for this game. They're locked in on Lacy and the best rushing attack the Packers have had in years.
Who is Scott Tolzien?
On the Packers' practice squad two weeks ago, Tolzien has been elevated to the starting quarterback's role due to injuries to Rodgers and backup
Seneca Wallace
. The Giants admit they don't know much about Tolzien and haven't seen much tape on him, but what little they have seen shows them he's not afraid to throw deep and take chances downfield. A Giants secondary that feels very good about itself right now sees that as a potential opportunity to create turnovers and tilt the field position and the game in their favor.
Could Eli air it out?
Giants quarterback
Eli Manning
leads the league with 16 interceptions, 15 of which came in the first six games. Manning has appeared more cautious over the past three games, perhaps making a more conscious effort not to turn the ball over. But that's not really who he is. This week could offer him a chance to take more chances. The Packers' defense has only intercepted three passes this year -- the lowest team total in the league.
November, 15, 2013
11/15/13
10:00
AM ET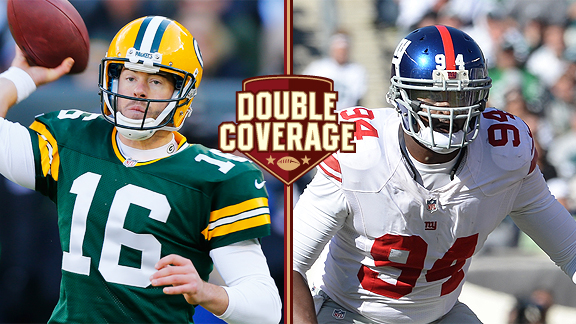 Gregory Shamus/Getty ImagesNew Packers quarterback Scott Tolzien will face Mathias Kiwanuka and an improved Giants pass rush.
The
New York Giants
will be looking for their fourth win in a row following an 0-6 start. The
Green Bay Packers
will be trying to snap their first two-game losing streak since 2010. The two teams square off Sunday at MetLife Stadium in East Rutherford, N.J.
ESPN.com Giants reporter Dan Graziano and ESPN NFL Insider Matt Williamson (filling in for Packers reporter Rob Demovsky) break down the matchup for you.
Dan Graziano:
Hey, Matt. Thanks for filling in while Rob's on the inactive list this week. The big question the Giants have this week is: Who is
Scott Tolzien
and what can we expect to see from him? So let's start with that one.
Matt Williamson:
Well, Dan, that's a good question! I don't think we really know the answer, but he did move the team well in relief of an injured
Seneca Wallace
and was generally a smart distributor of the football. And we know Green Bay has weapons to get the ball to. We don't have a lot of tape to evaluate, but I think the Packers are better off with Tolzien over Wallace while
Aaron Rodgers
recovers from a broken collarbone.
While we are talking quarterbacks, what on Earth is going on with
Eli Manning
? Despite this winning streak, he really has not played well.
Graziano:
Matt, my theory on Eli is that the protection issues at the beginning of the season were so egregious that he just fell into this zone of discomfort from which he's been unable to extricate himself. He just doesn't look right back there, and while the protection issues have improved some, they're still present. The Giants have had no blocking help from the tight-end position at all. They're vulnerable in the middle of the line, and I'm not sold on either tackle, to be honest. They haven't had reliable blitz pickup help from the running backs.
Downfield,
Hakeem Nicks
isn't playing wide receiver the way he used to play it. A lot has gone on around Manning to make him far less comfortable with his surroundings, and I'm not sure what it's going to take before he starts playing with that old Eli confidence again. Great quarterbacks make the best of bad situations, and Manning has not done that this year. As the Giants' situation improves, they will need him to play much better if they're really going to make this miracle run they still believe they can make.
They get another break this week with Rodgers out and Tolzien in, but they are already talking about that improved Packers running game. What do you see from
Eddie Lacy
& Co. and how do you think they'll attack the Giants, who have generally been pretty good against opposing running backs this season?
Williamson:
This Packers' running game is terrific and should continue to excel even with less of a passing threat. The left side of the offensive line is playing great, but isn't healthy on the right side and has had to do a lot of shuffling of personnel there. Still, the rushing attack isn't easy to prepare for, as the Packers can run a wide variety of plays out of a wide variety of personnel groupings and formations. Lacy is quick to get downhill and is a punishing runner who can wear a defense down, and he also excels at reading his blocks and showing patience with the ball in his hands -- rare traits for a rookie running back. The Packers' ability to run the ball will probably be the most crucial component of this game.
Along those lines, I feel like the Giants might actually have a respectable rushing attack of their own now with
Andre Brown
carrying the rock. Do you agree?
Graziano:
Yeah, the 30 carries and 115 yards for Brown on Sunday in his first game back off a twice-broken leg were eye-opening. I think the workload they gave him showed that the Giants knew just how much they were missing this season at running back.
David Wilson
never got going and then got hurt, and they patched it together with
Brandon Jacobs
and
Peyton Hillis
. But watching Brown run with vision and power and gain yards after contact Sunday, it was obvious that he's the Giants' best option going forward and the best they've had all season.
The injury risk has to be considered, given Brown's history, but at this point the Giants need to win pretty much every game, and they're going to have to lean hard on Brown to do it. Even if he can't be as productive every week as he was against the Raiders, the legitimate threat he poses on film should open up the play-action passing game as a way for Manning to combat those protection issues.
So the Giants feel they can offer a balanced offensive attack against a Packers defense that couldn't get the ball back from the Eagles in the final 9:32 of Sunday's game. Was that a
LeSean McCoy
issue, or are the Packers really struggling on defense right now?
Williamson:
The Packers are struggling on defense and allowing too many big plays. I expected last week's return from injury by
Clay Matthews
to pay off much more than it did. However, we know Matthews is a great player, and maybe he just needed a week to get back into the swing of things. I still expect Matthews to torment the Giants' tackles this week.
On the inside of their defensive line, the Packers have a lot of sheer mass and power with guys like
B.J. Raji
,
Johnny Jolly
and
Ryan Pickett
. I also expect the Giants' interior offensive line to have a difficult time moving this group in the running game. This could be a bounce-back week for Green Bay on this side of the ball.
The Packers' run defense had a difficult time when the Eagles stacked both of their offensive tackles on the same side of the formation. While I expect the Giants could use some personnel groupings with six offensive linemen, I don't see them duplicating what Philadelphia did to make room for McCoy.
Watching the Giants game from last week, I noticed they had a difficult time getting the Raiders'
Pat Sims
blocked. Sims is a big-bodied and powerful defensive tackle in much the same mold as the Packers' group. I think that bodes well for Green Bay this week.
And expect the Giants to have a difficult time blocking little-known
Mike Daniels
in the passing game. Daniels has taken over the
Cullen Jenkins
role -- a spot Green Bay drafted
Datone Jones
for in the first round -- as an interior pass-rusher, and he has excelled.
The Giants' defense is based entirely on great defensive line play. This is a deep group with a ton of important resources tied up in it, but it hasn't been an elite group. It is improving, however. Where do you see this unit right now and this week against the Packers?
Graziano:
Well, the sack numbers have come up. The Giants had only six sacks in their first seven games, but then got eight in their past two games. So they've moved from last in the league in sacks, where they spent most of the season, to a tie for 30th in that category. Odd thing is, of the eight sacks in their past two games, only four have come from defensive linemen. Safety
Antrel Rolle
has as many sacks (two) in the Giants' past two games as defensive end
Jason Pierre-Paul
has in their past 16.
The line has been very good, as I mentioned, against the run this year. But over the first seven games of the season, opposing quarterbacks did a good job of unloading the ball before the Giants' pass-rushers could stop them from doing so. Not sure they get the full test this week against Tolzien, but at some point we're going to find out whether the front four really has improved, or whether it has just been feasting on lesser competition.
Thanks again, Matt. Catch you online in one of our game chats soon, I'm sure.
November, 13, 2013
11/13/13
8:00
AM ET
PHILADELPHIA -- John Goode spent two easily overlooked seasons in the NFL, one in St. Louis and one with the
Philadelphia Eagles
.
His son,
Najee Goode
, is a young linebacker preparing to make his first NFL start. That he is doing it in Philadelphia, the city where his father spent a season, is both coincidental and instructional.
Goode
"He told me to embrace everything in the city," Najee Goode said Tuesday. "The fans take the game to a different altitude. People may say they boo and this and that, but they support the team. That's why it's a great place to play. I can already tell, the fans are up and at it. You see them on Twitter, you see them on Facebook, all the social media. It's great."
Goode replaced
Mychal Kendricks
Sunday in Green Bay after the second-year, star-in-the-making went out with a knee injury. Goode acquitted himself well. He blitzed effectively and played well in the run game.
"Right after I got in," Goode said, "it was like the third or fourth play, I was able to slash in and hit
Eddie Lacy
in the backfield. It was kind of a statement play: I was going to be here all game."
Goode is likely to start against Washington Sunday. Kendricks was the defensive player most likely to be assigned to spying quarterback
Robert Griffin
III, just as he did against Oakland's
Terrelle Pryor
. It's a big challenge.
"You're starting, now what can you do with it," Goode said.
His most memorable play in Green Bay was a near miss. Goode stepped in front of a
Scott Tolzien
pass with nothing but the end zone in front of him. He dropped the interception.
That was catnip to his father, the former tight end. Turns out the two Goodes maintain a competitive aspect to their relationship.
"I must have had Vaseline on my hands," Goode said. "I'll get it next time."
The play was Najee's comeuppance, in a sense. He recovered an errant snap for a touchdown against the Giants. That gave him one more touchdown than his father managed in his own brief NFL career.
"As soon as I got back to the house," Najee Goode said, "I called him and told him I had him, 1-0. We got drafted in the same round, he just got drafted three picks before I did. So he always talked crap about that. My dad always kept a healthy competition going between me and him."
If the touchdown gave Najee the advantage, that dropped pick-six brought the karmic wheel all the way around.
"I used to play offense in high school and everything," Goode said. "After that, my dad told me never to try to play offense again."
He laughed. His father's career is in the books. Najee's is just beginning. He may have the last laugh yet.
November, 7, 2013
11/07/13
12:00
PM ET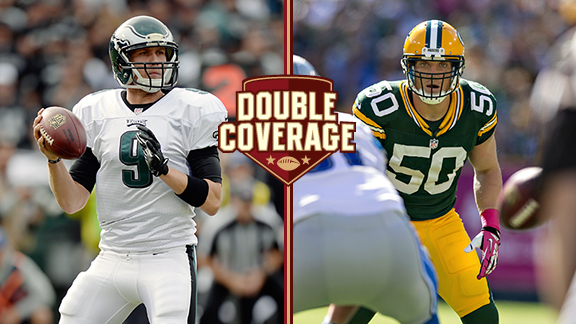 Getty ImagesNick Foles and A.J. Hawk meet Sunday in Green Bay in a game that's turned in the Eagles' favor.
If you expected the
Philadelphia Eagles
to have the edge at quarterback for their Week 10 meeting against the
Green Bay Packers
at Lambeau Field, go to the head of the class.
The teams play Sunday, a week after their quarterbacks made headline news. The Pack's
Aaron Rodgers
broke his collarbone in Monday night's loss to the
Chicago Bears
, a day after the Eagles'
Nick Foles
tied the NFL record with seven touchdown passes against the
Oakland Raiders
.
A game that looked to be safely in the Packers' column is suddenly wide open. NFC North aficionado and all-around NFL expert Kevin Seifert breaks down the game with ESPN.com Eagles reporter Phil Sheridan.
Phil Sheridan:
I'll start with the obvious one: Can the Packers win without Rodgers? Did they take his durability for granted in not having a better backup in place?
Kevin Seifert:
On a local level, the backup quarterback has been an annual source of controversy for the Packers throughout Rodgers' career as a starter. Nationally, most people didn't find out about it until Monday night.
Seneca Wallace
is the backup only because he was available when they realized none of the players they took to training camp was up to the job. He is 6-15 in his career as a starter, and his career seemed over in August 2012 when the
Cleveland Browns
released him.
The Packers' entire scheme is built around Rodgers doing things that only Rodgers can do. Think of what happened when the
Indianapolis Colts
played without
Peyton Manning
in 2011. The Packers will need to make fundamental changes to their offense -- and expect substantial elevation in other areas of their team -- to make it through this wilderness.
I have to imagine the Eagles can't believe their luck to be facing Wallace instead of Rodgers, huh?
Sheridan:
They are saying all the right things about wanting to face the best and never wanting to see anyone get hurt, but they aren't oblivious. This game looked like a double-digit loss the day the schedule came out, and it still looked like an easy Packers home win until Rodgers' collarbone broke Monday night. So it not only becomes a winnable game for the Eagles, it comes when a win, combined with a Dallas loss (the Boys are in New Orleans), would move them even with the Cowboys at 5-5.
And it's not like the Eagles owe anybody an apology when it comes to luck. They haven't had a quarterback start and finish two games in a row since September, and they've been down to
Matt Barkley
twice.
They may not have a starter as good as Rodgers, but their backup isn't half bad. Foles threw for seven touchdowns Sunday against an Oakland defense that didn't blitz or, at times, even cover receivers. Given Dom Capers' background, how would you expect him to respond to a challenge like this?
Seifert:
Capers is known for major scheme changes from week to week, depending on matchups. But as usual, the Packers are dealing with injuries that will limit his options. They are down four linebackers at the moment, although the Packers are hopeful that
Clay Matthews
can return soon -- if not Sunday -- and play with a club to protect his broken thumb.
In short, I'm not sure how many options Capers will have. He does have a group of talented cornerbacks --
Tramon Williams
,
Sam Shields
,
Casey Hayward
and
Davon House
. Capers will have to hope that they can stick with the Eagles' group of perennial All-Pros and future Hall of Famers better than the Raiders did.
Are the Eagles' receivers really that good?
Sheridan:
If they are, they have managed to keep that greatness a secret until Sunday in Oakland.
DeSean Jackson
is a dynamic player, no question about that, but he has been taken out of games in the past when cornerbacks get physical with him. The Raiders did not, and Jackson went off.
As for
Riley Cooper
and
Jason Avant
, they have not made up for the loss of
Jeremy Maclin
to a torn ACL during training camp. Cooper had great numbers Sunday -- five catches, three touchdowns, 139 yards -- but he has been neutralized more often than not during the season.
Tight ends
Brent Celek
and
Zach Ertz
had big numbers at Oakland too. So either the Eagles offense really turned a corner or the Raiders just didn't have anyone playing corner. Maybe a bit of both.
The Packers have added a more robust running game to their offense this season. Now that Rodgers is hurt, can
Eddie Lacy
& Co. carry the team until the quarterback is back? Is that even possible in this pass-happy league?
Seifert:
I tend to doubt it. Up until Monday night's game against the Bears, much of the Packers' success in the run game came against light boxes (six men or fewer) designed to focus first on the pass, according to the charting we get from ESPN Stats & Information. The Bears brought a safety into the box Monday night and the Packers still rushed for 199 yards, but we should note that the Bears have the NFL's fourth-worst rush defense this year.
And even when you run successfully, it usually takes longer to score and thus your total points can drive down. The Packers were averaging 30 points per game before scoring 20 Monday night against the Bears.
How do you think the Eagles will approach it? Eight men in the box? Nine? How about 11?
Sheridan:
This sets up a bit like the Tampa Bay game, I guess.
Mike Glennon
was making his second start, and the Bucs' passing game was not expected to be a big threat. The Eagles focused on shutting down
Doug Martin
, and they did, holding him to 67 yards on 16 carries. It helps, of course, to get a lead and force the opponent to throw the ball more.
All season, the Eagles' focus has been to stop the run while limiting big pass plays downfield. That made them vulnerable to intermediate passing and runs after the catch. Tampa Bay's
Vincent Jackson
, for instance, had nine catches for 114 yards and two touchdowns while the Eagles were focused on Martin.
That has to be the Packers' blueprint for success. If Wallace can get the ball out quickly and catch
Jordy Nelson
and
Andrew Quarless
in stride, the Packers can move the ball. The Eagles are better at tackling and covering underneath than they were, but there's opportunity there.
November, 7, 2013
11/07/13
8:00
AM ET
PHILADELPHIA – The questions for
Philadelphia Eagles
running back
LeSean McCoy
are the same. The tone after a 49-20 blowout win is very different from the tone after two consecutive games without an offensive touchdown.
McCoy rushed for only 44 yards Sunday in Oakland, fewer than he did in ugly losses to the Cowboys (55 yards) and Giants (48).
"The biggest thing is winning," McCoy said Wednesday. "I still lead the NFL in rushing, so I can't be that pissed."
McCoy
It's true. In the Eagles' first three games, McCoy put up two of the three biggest yardage totals of the season – 184 at Washington, 158 against Kansas City. He got far enough ahead of the pack that, even after a relatively quiet few weeks, no one has caught up to McCoy and his 777 rushing yards.
The pack is getting close. Seattle's
Marshawn Lynch
is at 726 yards. Kansas City's
Jamaal Charles
is one yard back at 725.
Adrian Peterson
has 711.
As for the Pack, Green Bay rookie
Eddie Lacy
is eighth overall with 596 yards. But while McCoy jumped out to a big lead and has slowed down, Lacy has the most rushing yards in the NFL over the past month.
The Eagles really haven't followed the NFL formula, using the passing game to get out to a lead and the running game to kill time. In Oakland, they got a big lead and just kept throwing.
"We scored almost every chance we had," McCoy said. "We were making plays up and down the field."
"When you're throwing the ball like that, you're probably not going to run the ball as much," center
Jason Kelce
said. "I think Chip [Kelly] and the offensive staff are really good at taking what the defense gives you. That's kind of what this whole offense is predicated on."
Nick Foles
' record-tying passing splurge was made possible, at least in part, by the Raiders' focus on McCoy. Oakland seldom blitzed, allowing Foles time to find open receivers romping through the secondary.
"They tried to stop the run so much, they left things open," McCoy said.
Against Dallas and the Giants, the Eagles were unable to exploit those opportunities in the passing game. Foles had a terrible performance against the Cowboys.
Michael Vick
struggled early, then was forced to leave the Giants game.
It won't always look as easy as it did against the Raiders' gravity-challenged secondary, but that was how the offense is designed to respond to teams stacking up against the run. And that, in turn, could get McCoy rolling again.
"I feel comfortable going into this week that we can run the ball a little more," McCoy said. "We threw the ball so well last game, a team will have to play us honest. When they try to stop the run, guys are making plays [in the pass game]. From now on, we'll probably see more honest defensive looks."
September, 13, 2013
9/13/13
12:00
PM ET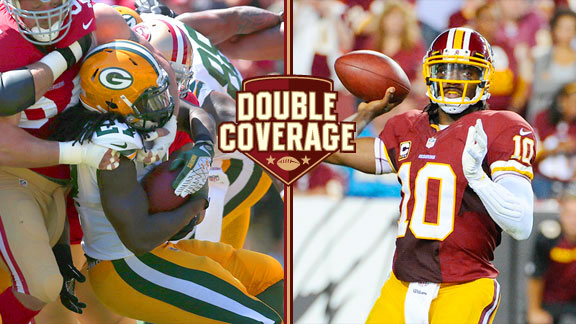 AP Photo, Getty ImagesEddie Lacy, left, and Robert Griffin III are among the keys to Sunday's Packers-Redskins matchup.
The
Green Bay Packers
and
Washington Redskins
, NFC division winners last season and playoff hopefuls this season, both lost in Week 1.
That means, barring a tie, when they meet Sunday at Lambeau Field, one of these teams will be in an 0-2 hole to start this season.
"It's not about, does it make or break your season," Redskins quarterback
Robert Griffin III
said this week.
ESPN Packers reporter Rob Demovsky and ESPN Redskins reporter John Keim break down the key elements to this matchup.
Demovsky:
John, let's get right to perhaps the most closely watched knee rehabilitation in recent NFL history. You've watched Griffin's every move in his comeback from the knee injury. You have chronicled practically every step he has made since, and by now, you've dissected the film of Monday night's loss to the
Philadelphia Eagles
. What limitations, if any, did he play with?
Keim:
Griffin did not look the same and showed the effects of not playing in a game in the preseason -- and of recovering from major knee surgery in January. Was his knee 100 percent? Everyone says it is, including the doctors. But his game was not 100 percent, as should be expected. Jon Gruden pointed it out a few times on Monday night, showing how Griffin wasn't always transferring his weight onto his front leg when he threw. In some cases, the line was getting shoved back and provided him no chance to step into a throw. But it was evident early, even when he had that room. It seemed like his reactions in the pocket, especially early, were not where he would want them to be. He also made the worst passing decision of his career, throwing an interception into triple coverage to a receiver who never even appeared open. He finished strong, though most of the passes he completed during this stretch were short throws. Still, he showed a better rhythm. It's going to take him a few games.
The Packers just played a mobile quarterback; how did they take away
Colin Kaepernick
's legs -- and how did it leave them vulnerable to the pass?
Demovsky:
The Packers did a good job limiting Kaepernick's running opportunities by playing a lot of zone coverage. That kept the defenders' eyes on the quarterback, and they rarely had their backs turned to him. However, that meant they couldn't play as much press coverage as they normally would, and the result was that they gave up massive amounts of yardage to receiver
Anquan Boldin
, who caught 13 passes for 208 yards, and allowed Kaepernick to throw for 412 yards. Now, it should be noted that the Packers were missing two key players in the secondary, safety
Morgan Burnett
and cornerback
Casey Hayward
, who both missed the game because of hamstring injuries.
How much, if anything, do you think Redskins can learn from watching the way Kaepernick and the 49ers attacked the Packers?
Keim:
I'm sure there is a lot to learn, but I wouldn't be surprised if they anticipate different looks in the secondary because of who might be back for Green Bay and because Griffin needs to prove himself as a dynamic threat again. Until he does, I wouldn't be surprised to see teams play him more aggressively, or at least without as much fear. I'm not sure how long that will last; until he makes them pay, I suppose. But I also think what Washington needs to do more than learning from Green Bay's game is learn from its own. The Redskins killed themselves with penalties and poor decision-making. That meant their bread-and-butter run game could never get going, and their offense sputtered until it was 33-7.
Are Burnett and Hayward expected to play Sunday? If so, how big a difference will that make for the Packers?
Demovsky:
Hayward won't play. He already has been ruled out and is likely to miss at least another game or two. This is the second time he pulled the same hamstring. The first time, he missed a month. He reinjured it Aug. 23, and if it's as severe, he could be out for a while. Last season, his six interceptions were huge for the defense. Burnett's injury didn't seem as bad, and it was somewhat surprising that he missed the 49ers' game. The Packers hope he can play, because their safety play with
M.D. Jennings
and
Jerron McMillian
was subpar at San Francisco.
Speaking of the secondary, the Redskins were 30th in the NFL last season in passing yards allowed. Are there any signs that will improve this season? I would think
Aaron Rodgers
would be licking his chops to play against this defense.
Keim:
It's debatable how much they've improved. Long term? I think they'll be helped because two rookies -- starting free safety
Bacarri Rambo
and cornerback
David Amerson
-- are playing key roles. Rambo's big issue is tackling, mostly in the open field. His coverage has mostly been fine, but I don't think he's been challenged in a way that Rodgers could on Sunday. I like Amerson's future, if he remains disciplined with his technique. He's a better tackler than anticipated. But Washington has issues at strong safety because of
Brandon Meriweather
's constant injury issues (missed Monday with a groin injury). The Redskins used a cornerback who had never played safety before in his place (
E.J. Biggers
), and he struggled. Their corners,
DeAngelo Hall
and
Josh Wilson
, do some good things but are not top-line starters. What this group needs more than anything is a better pass rush.
Speaking of the rush, how is the Green Bay offensive line holding up without
Bryan Bulaga
, and where is it susceptible?
Demovsky:
Perhaps surprisingly, Green Bay's young tackles, rookie
David Bakhtiari
on the left side and second-year man
Don Barclay
on the right, held up well against the 49ers.
Aldon Smith
beat Bakhtiari a couple of times for sacks, but Smith does that to a lot of tackles. It's why he had 19.5 sacks last season. But other than those two plays, Bakhtiari's first start went fine. Barclay is much improved over last season, when he filled in for Bulaga the final six games. As a unit, the run blocking needs to get much better.
Eddie Lacy
didn't have much running room, and when he did, there were penalties -- three of them on left guard
Josh Sitton
, who is normally pretty clean -- that wiped away the Packers' longest rushes of the game.
Looking at the big picture, one of these teams is going to be 0-2 after this game (barring a tie). If that's the Redskins, how devastating would that be for them? I know they finished strong last season, but I'm sure they don't want to put themselves in a hole again.
Keim:
It's a hole they could dig out of with games against the
Detroit Lions
at home and on the road against the
Oakland Raiders
in the following two weeks before their bye. But I don't think any team wants to start off 0-2, especially one that has designs on accomplishing grand things in the postseason, which, if healthy, the Redskins should have. I also think it would depend on how they look against Green Bay. If they play well and lose a close game, it still suggests they're on a certain path (no moral victories, but more about being headed in the right direction). If it's an ugly game like it was for nearly three quarters Monday? Then it suggests other issues. That would be difficult for them to swallow. But the one thing I've seen with this group, last season and in the previous few, is that they are resilient. Their mindset is a good one for a 16-game season.
I would think if there's any formula for stopping the Green Bay offense, everyone would use it. But is there a theme to when teams are able to slow this attack?
Demovsky:
For about the past year and a half, teams have played the Packers predominantly one way -- keep both safeties back and dare them to run the ball. That's why they drafted Lacy in the second round. The hope is that teams will start respecting the Packers' running game and bring a safety in the box to stop it. That would give Rodgers more open space to throw in the secondary. Lacy did not get off to a strong start against the 49ers, but he did have one impressive series late in the game in which he gained 26 yards on five carries. Problem was, he couldn't get much else done the rest of the game.
April, 26, 2013
4/26/13
9:45
AM ET
The second and third rounds of the NFL draft are set for tonight back at Radio City Music Hall, and the second will begin at 6:30 p.m. ET. After a first round that saw nine offensive linemen, one quarterback and no running backs taken Thursday, it's possible tonight will have more star power than the first night did. Scouts, Inc. has done a
second-round mock draft

, and this is what they've come up with for the NFC East's teams.

3 (35). Philadelphia Eagles:
John Cyprien
, S, Florida International
In this scenario, West Virginia quarterback
Geno Smith
is off the board, taken by Jacksonville with the night's first pick, and the Eagles end up with the best remaining safety to fill a position of perennial need. Other possibilities I could imagine for the Eagles here include a defensive lineman with a 3-4 background, Stanford tight end
Zach Ertz
or Smith if he's available. I doubt they'll trade up for Smith (because they could have done so last night), and if he's gone I'm guessing they wait a few rounds for someone like Arizona quarterback
Matt Scott
.

15 (47). Dallas Cowboys:
Kawann Short
, DT, Purdue
After getting the interior offensive line help they so badly needed in the first round, this mock has the Cowboys turning to the interior of the defensive line, where
Jay Ratliff
always seems banged-up and
Jason Hatcher
is entering the final year of his contract. Short is a big talent whose question marks are about motivation and inconsistent college production. He could be a developmental guy for them -- help some in a rotation in the first year but more as a down-the-road replacement for one of the starters. I'd also have no issue with the Cowboys addressing safety here with someone like Cyprien or
D.J. Swearinger
. Could see them looking at a running back like
Eddie Lacy
or
Montee Ball
. And no, I absolutely do not think it would be a mistake for them to take another offensive lineman such as
Menelik Watson
or
Larry Warford
here.

17 (49). New York Giants:
Kevin Minter
, ILB, LSU
Linebacker is a need for the Giants. But as we've discussed, it's not one on which they tend to spend valuable resources. This is still a relatively high pick, and while Minter makes sense, I could easily see them spending this on a safety like the ones we've mentioned, a cornerback like
Johnthan Banks
or
Jamar Taylor
, a defensive end like
Tank Carradine
or even one of those running backs. They do like to have depth there.

19 (51). Washington Redskins:
Johnthan Banks, CB, Mississippi State
Finally, the Redskins make their first pick of this year's draft, and it's at a position where they need immediate help and long-term depth. This draft is deep in defensive backs, and the Redskins should be able to take advantage of that with a good cornerback or safety at this spot.
Tyrann Mathieu
is still on the board in this mock, but I'd be surprised if Washington went that way, especially with so many less questionable options available. Cyprien, Swearinger or
Shamarko Thomas
make sense if they want to go safety. Banks, Taylor,
Blidi Wreh-Wilson
or Banks' teammate,
Darius Slay
, are among the good options at corner. If they don't take a defensive back here, maybe it's because a tackle like Watson or
Terron Armstead
fell to them. And you can't rule out wide receiver as a possibility here either.