August, 31, 2010
8/31/10
6:50
PM ET
By
Matt Mosley
| ESPN.com
May, 14, 2010
5/14/10
11:46
AM ET
By
Matt Mosley
| ESPN.com
Let's take a quick look around the division this morning:

Cowboys
Eagles
Giants
Redskins

April, 6, 2010
4/06/10
11:40
AM ET
By
Matt Mosley
| ESPN.com
»
NFC Big Question
:
East
|
West
|
North
|
South
»
AFC
:
East
|
West
|
North
|
South
Does the arrival of Donovan McNabb automatically make the Redskins a playoff contender?
[+] Enlarge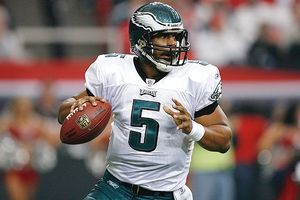 Kevin C. Cox/Getty ImagesDonovan McNabb is an upgrade at quarterback, but the Redskins still have plenty of holes to fill.
In some precincts, such as our Web site, there have been suggestions that Donovan McNabb's presence alone puts the Redskins in the conversation for an NFC East title. I've attempted to
temper some of that enthusiasm
for the trade, but some folks are convinced the Redskins leapfrogged the Eagles and Giants with Sunday's blockbuster move.
For the record, I do think that McNabb makes the Redskins a more formidable team. His leadership qualities and the fact that he's been in a ton of playoff games gives him instant credibility in Washington. And he's about to feel the warmest embrace since he was playing at Syracuse. All the angst that those of us outside of Philly really don't have a handle on will vanish in the loving arms of playoff-starved Redskins fans.
That said, it's hard for me to imagine McNabb making a seven-win difference. And it would take seven more wins to put the Redskins, who were 4-12 last season, in the conversation for a division title. When
Brett Favre
joined a 10-win Vikings team, they had the best running back in the league and a talented, if raw, group of wide receivers. He also inherited an offensive line with a lot more stability than what McNabb will encounter in Washington.
The Redskins have some talent at wide receiver with
Santana Moss
,
Malcolm Kelly
and
Devin Thomas
, so it's not a stretch to think McNabb could elevate that group. He won a lot of games with the likes of
Freddie Mitchell
and
Greg Lewis
at wideout. Over the past couple of seasons, McNabb has benefited from the rise of tight end
Brent Celek
. And the Redskins are actually deeper at that position with
Chris Cooley
and
Fred Davis
.
The other positive for McNabb is that he'll be playing for a head coach, Mike Shanahan, who truly commits to the running game. Andy Reid's offense was all about the passing game, which put constant pressure on McNabb. If the combination of fading stars
Clinton Portis
,
Larry Johnson
and
Willie Parker
somehow works for the Skins, McNabb could be even more effective in the passing game.
But as I keep saying, the biggest question is whether the Redskins can overhaul one of the worst offensive lines of the modern era. Quarterback
Jason Campbell
would look across the huddle and see complete strangers last season. Does anyone know what
Edwin Williams
looks like? McNabb can still move in the pocket, but he's no longer the escape artist that we remember from four or five seasons ago. If he had lined up behind last season's unit, I'm pretty sure the Redskins still would've had a losing season.
The Redskins should be pretty solid on defense, although they need to create a lot more turnovers. But the season will hinge on whether McNabb can elevate a lot of young players who haven't sniffed the playoffs. To answer my own question, I still don't see them as a contender to win the division.
January, 1, 2010
1/01/10
4:20
PM ET
By
Matt Mosley
| ESPN.com
»
NFC Final Word
:
East
|
West
|
North
|
South
»
AFC
:
East
|
West
|
North
|
South
Five nuggets of knowledge about Week 17
:
[+] Enlarge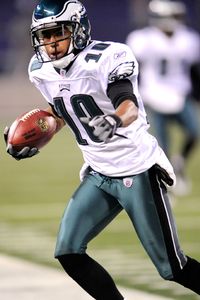 AP Photo/Bill KostrounThe Cowboys will have a difficult time covering Philadelphia's DeSean Jackson.
I thought we had looked at every conceivable angle of Eagles-Cowboys this week, but let's go even deeper.
I'm interested to see how the Cowboys attempt to defend wide receiver
DeSean Jackson
. He wasn't effective in a 20-16 loss at the Linc and the Cowboys did a really nice job of keeping someone behind him at all times. Since that game, cornerback
Mike Jenkins
has been playing at a Pro Bowl level. You'll see him try to get a good jam on Jackson and then you'll see safeties
Ken Hamlin
and
Gerald Sensabaugh
helping over the top. One of the underrated matchups will be
Jason Avant
against cornerback
Orlando Scandrick
. That will be an important contest because Avant is capable of making big plays.
I'm curious to see how much pride the Giants display after a disgraceful performance against the Panthers.
Will the defense stand up and play for embattled defensive coordinator Bill Sheridan? The host Vikings are a team that desperately needs a win heading into the playoffs after a December collapse.
This is the type of game we'll find out about some of the Giants' young players. They need players such as
Jonathan Goff
and
Bruce Johnson
to make plays. And after being gashed by
Jonathan Stewart
, let's see how the defense reacts against another elite runner in
Adrian Peterson
.
The Redskins appear to have little if any chance of winning this game at the Chargers.
But let's take a look at how right guard
Edwin Williams
and safety
Kareem Moore
play.
These are young guys being asked to play well in starting roles. And you could even see
Lendy Holmes
starting at safety now that
LaRon Landry
's been ruled out.
This has to be coach Jim Zorn's last game, although he's in full denial mode. Will his players put it on the line for him one more time or fold like they did against the Giants? We're about to find out.
I'm anxious to see how the Eagles use their linebackers.
Akeem Jordan
saw the majority of the snaps at middle linebacker last week. He can't cover
Jason Witten
in the middle of the field. Defensive coordinator Sean McDermoot could go with
Will Witherspoon
and Jordan as the only linebackers if he wants to try to nickel cornerback
Joselio Hanson
on Witten.
Jeremiah Trotter
can help blow up the running game at middle linebacker but he would get abused by Witten. McDermott has some interesting decisions to make.
I could see Eli Manning getting in a shootout with Brett Favre.
And this could be
Hakeem Nicks
' game of the season. He's shown the ability to make plays after contact. If the offensive line can give Manning time, I think he'll light up this Vikings' secondary.
I'm also very interested to see how
Ahmad Bradshaw
performs as the feature back. The Vikings have an excellent defensive line but there will be some cutback lanes available. If he has a big day, Giants fans will spend the offseason calling for him to be the starter in 2010.
I think these teams will combine for at least 68 points. Just call it a hunch.
December, 31, 2009
12/31/09
5:01
PM ET
By
Matt Mosley
| ESPN.com
For the second consecutive day, Redskins safety
LaRon Landry
was
held out of practice
for a minor concussion. Coach Jim Zorn indicated that he'll likely hold Landry out of the Chargers game. It would be the first missed game of Landry's career.
Devin Thomas
(ankle) and
Albert Haynesworth
(ankle) also missed Thursday's practice, and
Rocky McIntosh
was limited because of a back injury. Zorn said he hasn't made a decision on who will replace
Mike Williams
at right guard. The immortal
Paul Fanaika
spent some time working with the first-team offense Thursday but
Edwin Williams
will also be in the mix.
Quarterback
Jason Campbell
, who has too many injuries to list, will continue to run for his life this week.
December, 21, 2009
12/21/09
7:40
PM ET
By
Matt Mosley
| ESPN.com
LANDOVER, Md. -- Giants cornerback
Aaron Ross
is out for tonight's game against the Redskins. We knew starting cornerback
Corey Webster
(knee) wasn't going to play but the Giants were holding out hope Ross (hamstring) would be able to go.
With Webster out, either
Bruce Johnson
or
Kevin Dockery
will start at cornerback opposite
Terrell Thomas
.
Michael Johnson
and
Aaron Rouse
will be the starting safeties. Here are the Giants' other inactives:
Ramses Barden
, D.J. Ware,
Adam Koets
,
Kareem McKenzie
,
Sinorice Moss
and
Darcy Johnson
.
The biggest surprise for the Skins is that defensive tackle
Cornelius Griffin
is inactive. That makes room for offensive tackle
William Robinson
to be active. Here are the rest of the Redskins' inactives: Emergency QB
Richard Bartel
,
Kevin Barnes
,
Edwin Williams
,
Alvin Bowen
,
Curtis Gatewood
,
Paul Fanaika
and
Marko Mitchell
.
October, 13, 2009
10/13/09
7:28
PM ET
By
Matt Mosley
| ESPN.com

Posted by ESPN.com's Matt Mosley
Giants
Redskins
September, 13, 2009
9/13/09
3:27
PM ET
By
Matt Mosley
| ESPN.com

Posted by ESPN.com's Matt Mosley
EAST RUTHERFORD, N.J. -- The
New York Giants
will be thin at cornerback and heavy on wide receivers. I just secured a copy of the inactives and it appears that
Terrell Thomas
,
Corey Webster
and undrafted rookie
Bruce Johnson
will be the only cornerbacks in uniform Sunday.
In a surprise move, the Giants will take six receivers into today's game. Rookie
Ramses Barden
is the only receiver on the 53-man roster who's not active. Here's the complete list of Giants inactives:
WR Ramses Barden, CB
Aaron Ross
, T
Adam Koets
, T
Tutan Reyes
, T
Guy Whimper
, DL
Leger Douzable
, LB
Clint Sintim
The
Washington Redskins
put reserve running back
Marcus Mason
on the inactive list. He's had an excellent preseason, but Jim Zorn decided he couldn't take more than three running backs to the game. Here are the other inactives for the Redskins:
RB Marcus Mason, CB
Kevin Barnes
, C/G
Edwin Williams
, LB
Robert Henson
, G
Chad Rinehart
, T/G
D'Anthony Batiste
, DT
Anthony Montgomery
,
Renaldo Wynn
.
July, 2, 2009
7/02/09
9:59
AM ET
By
Matt Mosley
| ESPN.com
Posted by ESPN.com's Matt Mosley
The Washington Post's newest Redskins Insider, Paul Tenorio, has a story this morning on the depth along the Redskins' offensive line. We obviously know that the starting right tackle spot is a concern (I have Stephon Heyer as the starter), but you should be even more concerned about some of the backup spots. If something happens to some of the interior linemen, the backup options are pretty green.
The good news is that longtime offensive line coach Joe Bugel has changed his tune on Chad Rinehart. He reportedly questioned the player's future after the '08 season, but now he sounds much more optimistic. Tenorio asked Bugel what the difference was in Rinehart from last season to now.
"Night and day," Bugel said. "Difference between yesterday and today. He's going to be a real good football player for us."
Other candidates for backup spots are Mike Williams, Jeremy Bridges, Devin Clark, Will Montgomery and Edwin Williams. So what do you guys think about the offensive line? Is it the weakest link for the Skins? We'd love to hear from you.