April, 18, 2014
Apr 18
3:10
PM ET
The
Washington Redskins
' defense is optimistic about where it's headed, thanks to the addition of
Jason Hatcher
and a tweaked philosophy regarding the pass rush. Whether their play matches that optimism always remains the biggest hurdle. What's not in doubt: They will have two players among the most expensive at their positions when it comes to the salary cap. The fact both are in their front seven isn't a coincidence as the Redskins' offseason goal has been to improve the pass rush. So, after breaking down where the
Redskins' top cap hits at each position offensively stood in comparison to their NFL counterparts
earlier this week, it's time to take a look at the defense.
Safety
NFL's top five cap hits
Eric Berry
,
Kansas City Chiefs
$11,619,700
Eric Weddle
,
San Diego Chargers
, $10,100,000
Antrel Rolle
,
New York Giants
, $9,250,000
Dashon Goldson
,
Tampa Bay Buccaneers
, $9,000,000
Michael Griffin
,
Tennessee Titans
, $8,000,000
Meriweather
Redskins' top cap hit
Brandon Meriweather
(59th), $1,000,000
Summing it up:
Notice who's not in the top five?
Jairus Byrd
, after his new deal with New Orleans. But don't worry: He's set to take up the most cap room in 2015 at $10.3 million. I like Byrd, but not at that figure (I'd have paid
Sean Taylor
that sort of cash). But Byrd was never really a legitimate option for the Redskins.
Mike Mitchell
was and he'll count $2.2 million this season and $4.95 million in 2015. But the overriding point is Washington views the best way to help this position is by bolstering the pass rush. Starters Meriweather and
Ryan Clark
both are on one-year contracts, so this position is still a question mark beyond this season (and still will be one entering the year).
Corner
NFL's top five cap hits
Brandon Carr
, Dallas, $12,217,000
Johnathan Joseph
, Houston, $11,250,000
Lardarius Webb
, Baltimore, $10,500,000
Brandon Flowers
, Kansas City, $10,500,000
Tramon Williams
, Green Bay, $9,500,000
Porter
Redskins' top cap hit
Tracy Porter
(43rd), $2,800,000
Summing it up:
Next season,
Darrelle Revis
' cap hit jumps to $25 million. Which means he's playing on a one-year deal. Is it a good thing the Redskins' biggest cap hit here belongs to Porter, who has battled injury issues along with consistency during his career? Of course, it's not like he occupies a lot of space.
DeAngelo Hall
's cap hit is $2,062,500 but that jumps to $4,812,500 in 2015. By then the Redskins need young corner
David Amerson
to have fully emerged -- can he become their best corner? If not, then they'll have to start looking for a No. 1 corner. By the way, the top five on the list for 2014? They've combined for four Pro Bowl appearances and one All-Pro spot (Joseph). But Carr did do a good job vs. Washington last year (and in at least one game against then-Eagles receiver
DeSean Jackson
).
Linebacker
NFL's top five cap hits
Lawrence Timmons
, $11,816,250
Tamba Hali
, Kansas City, $11,464,706
Brian Orakpo
, Washington, $11,455,000
Clay Matthews
, Green Bay, $10,943,750
James Laurinaitis
, St. Louis, $10,400,000
Orakpo
Redskins' top cap hit
Orakpo
Summing it up:
That's quite a list for Orakpo to be part of, but to stay on there after this season -- at least in Washington -- he'll have to be a little more productive. But even if he has another season like last year, Orakpo will still be in the $10-million range. When Hali got paid, he responded with sack totals of 12, nine and 11 in the next three seasons (with nine forced fumbles and one interception). I don't think anyone says Hali's overpaid (well, at least not many). In Orakpo's last three full seasons, he has a combined 27.5 sacks, but only four forced fumbles. More game-changing plays and he'll get the contract he desires. Another interesting part on this is that two of the five are inside linebackers, though Timmons plays in a 3-4 and Laurinaitis in a 4-3.
Defensive tackle
NFL's top five cap hits
Ndamukong Suh
, Detroit, $22,412,000
Haloti Ngata
, Baltimore, $16,000,000
Gerald McCoy
, Tampa Bay, $15,627,253
Geno Atkins
, Cincinnati, $9,000,000
Barry Cofield
, Washington, $7,667,500
Cofield
Redskins' top cap hit
Cofield
Summing it up:
Cofield's base salary jumped from $840,000 last season to $4.55 million (the lower figure was the result of a restructuring last spring in which $3.5 million in base salary was converted to a signing bonus). This is as high as Cofield's cap number will be and in two years it falls to $6,877,500. I know the coaches felt he would become the NFL's top nose tackle by this time. That's not the case, but Cofield does have his strengths and has done a nice job with Washington. For a short stretch last season he was playing as well as anyone on the team defensively, and he always plays hard. He'll be helped by having Hatcher in the pass rush, perhaps giving Cofield more one-on-one matchups. If that happens, then perhaps Cofield will have the sort of season in all phases that coaches have hoped for.
Defensive end
NFL's top five cap hits
Mario Williams
, Buffalo, $18,800,000
Charles Johnson
, Carolina, $16,420,000
Chris Long
, St. Louis, $14,900,000
Greg Hardy
, Carolina, $13,116,000
Calais Campbell
, Arizona, $11,250,000

Bowen
Redskins' top cap hit
Stephen Bowen
(15th), $7,020,000
Summing it up:
All of the top five on this list play in a 4-3, where ends can excel as playmakers and, therefore, command big bucks. The 3-4 ends, typically, are not -- with some exceptions. Bowen has not been a playmaker, though for a while he was an effective player both against the run and as a rusher. However, he has just one sack since the 2011 season (26 games). And after microfracture surgery and being 30, I wonder about the level at which he'll be able to play. Multiple Redskins sources said they still expect him to be in the Redskins' plans, but will it be at this cap figure? That's a big hit for someone in his situation. If Bowen returns healthy and plays well, the Redskins will greatly benefit. If not? That's a lot of cap room to occupy. One more note: Johnson and Hardy combine for approximately 23 percent of Carolina's cap.
December, 6, 2013
12/06/13
10:00
AM ET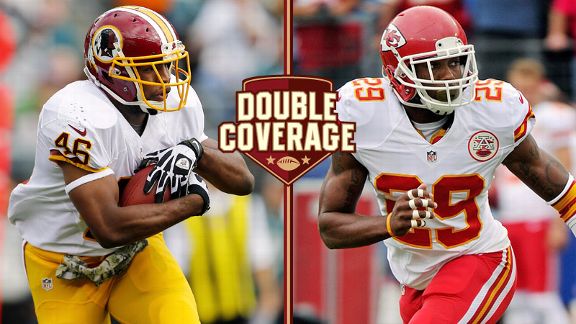 Getty ImagesWashington's Alfred Morris, left, and KC's Eric Berry lead teams trying to end losing streaks.
Fortunes have turned this season for the
Washington Redskins
and
Kansas City Chiefs
. The Redskins, who won the NFC East championship last season, are 3-9. After winning just two games last season, the Chiefs are 9-3 and can clinch a playoff spot Sunday if they beat the Redskins and either the
Baltimore Ravens
or the
Miami Dolphins
lose. But the Chiefs have lost three straight, and their chances for winning the AFC West are virtually gone after being swept in their two games against the
Denver Broncos
.
ESPN.com's Chiefs reporter Adam Teicher and Redskins reporter John Keim discuss Sunday's game:
Teicher:
This is a complicated question, but what's happened this season with
Robert Griffin III
? Still bothered by the knee? Feeling the effects of missing offseason practice?
Keim:
Yeah, it's complicated because there are a lot of issues that have added up to him having an inconsistent sophomore season. The knee played a factor early in that he wasn't going to run a lot and wanted to be more of a dropback passer (partly because he was fooled by last season's success). The knee brace restricts him a little, but he just hasn't regained his explosiveness. He's still fast, but that first-step burst isn't the same, and that hurts on some of the read-option or escaping trouble. Defenses are playing them different -- teams with good fronts can sit back and take away their play-action. They've seen coverages they didn't see a lot of last season, and a greater variety of stunts and blitzes (knowing Griffin might not hurt them as badly). Missing the offseason really hurt Griffin's ability to develop as a passer, and that has been a big issue. There are games when he looks solid, like against the Giants, but he also has had a couple of games that are as bad as any since he entered the NFL. Because he came from a much less complex passing system at Baylor, he needs a full offseason of work.
Adam, who would have thought
Alex Smith
would be the quarterback with the better team in this game? What sort of difference has he made for the Chiefs?
Teicher:
His stats haven't been great until the past couple of games, but he's actually had a pretty good season. He's been burned to some extent by dropped passes or his statistics would actually look a lot better. Through the nine-game winning streak to start the season, Smith played well enough not to mess up a good thing. He wasn't committing turnovers, and, although he wasn't making many big plays in the passing game, he was bailing the Chiefs out of some tough situations, whether scrambling or on the option or on a called play. Lately, they have needed more points and big plays, and he has delivered.
Kansas City has given up some yards via the running game this season. Give us a little scouting report on how Washington uses
Alfred Morris
and
Roy Helu
, and what there is to choose from between those guys. Also, do most of RG III's rushing yards come on the option, called runs or scrambles?
Keim:
The Redskins love to use a lot of stretch-zone and outside zone runs with Morris and Helu. Both can run inside. They will use some boot action off the stretch-zone, as well. Morris does a much better job than Helu of setting up defenders by pressing the hole and cutting. He gets linebackers to overflow, then cuts back. Morris is more patient than Helu, who hits holes as fast as he can run, and that often means he doesn't set up defenders and therefore doesn't create lanes for himself. He's a bigger threat in the open field as a receiver. Helu is used more as a third-down back, but he is capable of running and does have the speed to break a long run. But, again, just not patient enough, and therefore gets a lot of 2-yard runs. As for Griffin, he's averaging 5.46 yards per carry off zone-read runs (compared with 8.0 last season). His longer runs have come off scrambles -- but that also depends on whether a team plays a lot of man coverage. He's just not as explosive off the zone-read runs, but teams have adjusted to it -- they are more disciplined against it, and safeties are more aggressive coming up to defend.
Looking at the Chiefs' defense, how would you assess them at this point after such a dominant start?
Teicher:
Not very good. The Chiefs have allowed more than 400 yards in each of their past four games. They are going to give up some yards, given the style they play (pressure on the quarterback, cornerbacks frequently in one-on-one coverage). Kansas City gave up some yards and big plays early in the season. But now, the Chiefs are not getting to the quarterback often, are rarely forcing him into mistakes, and are not getting the turnovers and favorable field position that made them so successful early in the season. That is why I think Washington could move the ball and score some points against Kansas City. The Chiefs played against a series of journeymen, backups or inexperienced players at quarterback over several weeks and feasted against those guys. The past three weeks, though, they have faced
Peyton Manning
twice and
Philip Rivers
and haven't fared very well. Given Griffin's dual-threat abilities and Washington's running game, Kansas City has some things to worry about.
The Redskins have given up a ton of points. The run defense looks as if it has been decent, but Washington has been horrible against the pass. Pinpoint the problems areas in that regard for the Redskins.
Keim:
The Redskins have not generated enough pressure from their four-man rushes, although there are times when they get what they would consider good rushes but it's not making enough of an impact. I don't sense that quarterbacks are uncomfortable in the pocket. Sometimes it is because the coverage behind them is too soft, especially when they play zone. Washington has a lot of holes in its zone coverages, and quarterbacks can quickly find them. Makes it tough to then pressure. Cornerback
DeAngelo Hall
has been solid and made some big plays; he's much better now in tight man coverage. But the safeties as a group have struggled, sometimes because of injury, and other times because of performance. The Redskins have to upgrade here.
Brandon Meriweather
is OK, but he's one bad hit from a longer suspension. They have had to mix and match a lot at safety to try to make it work. But it's not just here; the inside linebackers have not had a strong season. Cornerback
Josh Wilson
plays the run well out of the slot but can be picked on. He's up and down. Rookie cornerback
David Amerson
can make big plays but also can surrender them (although some of that has subsided). It is an inconsistent group, and it is why defensive coordinator Jim Haslett is under fire. It is not all his fault, as there are times the calls aren't his, but that is life in the NFL.
How big a difference has coach Andy Reid made --- and are the Chiefs a legitimate contender?
Teicher:
He has made a huge difference. He has given direction to an organization that before had a lot of guys pulling in a lot of different directions. Reid came through the door for the first time with an impressive résumé, and players -- tired of the losing and the way things had been -- were more than willing to listen. He has been able to get a lot of guys to put aside personal goals for the greater good. But I don't see the Chiefs as being legitimate contenders, not this season. Even during their nine-game winning streak, there were some red flags everyone knew were going to be problems down the road. The two games against the Broncos, particularly last week's, showed a wide gap between the Chiefs and one of the league's premier teams.
.
November, 4, 2013
11/04/13
6:45
PM ET
PHILADELPHIA -- Everybody is talking about
Nick Foles
and the number 7. Hardly anyone is talking about the Eagles' quarterback and the number 0.
That's how many interceptions Foles threw during his record-tying seven-touchdown game Sunday in Oakland. That continues Foles' season-long perfection when it comes to avoiding picks. Foles has set an Eagles' record with 13 touchdowns and zero interceptions to start a season.
"Turnovers kill you," Eagles coach Chip Kelly said. "We've talked as a staff since we got here and with our players, it's our ability to not turn the ball over on the offensive side of the ball. We control that. I think obviously our numbers are down compared to what they were here before"
That's an understatement. The Eagles turned the ball over 37 times last year. They had just 13 takeaways.
"Whenever you're on the plus side of the turnover category, usually you're going to have a successful day," Kelly said. "I think by and large we've done a decent job of that during the season. The Chiefs game was obviously the one game we were minus-five, and we obviously lose the game by 10."
Michael Vick
was the quarterback in the Eagles' 26-16 loss to the Chiefs. He threw two interceptions, including one that
Eric Berry
returned 38 yards for a touchdown. But Vick, with just one other interception this season, also has done a good job of protecting the ball.
Foles' knack for avoiding interceptions begins before he gets the ball, Kelly said.
"I think it's pre-snap knowledge, kind of getting an understanding of where (defenders are) going," Kelly said. "I don't think he's getting surprised by what he's getting. He kind of understands what the presentation is pre-snap. Can he confirm it on his first step post-snap, kind of see where he is."
September, 20, 2013
9/20/13
2:45
AM ET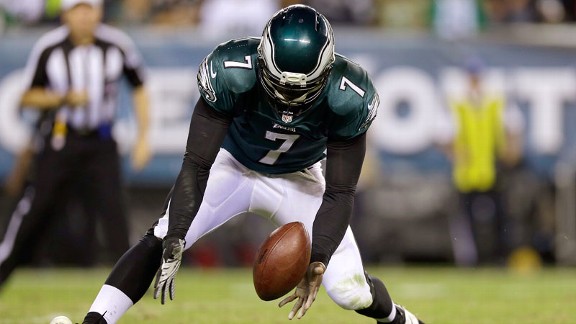 AP Photo/Matt RourkeMichael Vick threw two interceptions, lost a fumble and was sacked five times by Kansas City.
PHILADELPHIA -- Now Chip Kelly knows.
Since January, when he was hired to replace Andy Reid as head coach of the
Philadelphia Eagles
, Kelly has dismissed the video record of quarterback
Michael Vick
's habit of throwing footballs to the other team.
Kelly didn't know Vick's reads on the 24 interceptions he threw in his previous 23 games. He didn't know whether a receiver ran the wrong route or an offensive lineman missed an assignment. So how could he know whether all those turnovers were Vick's fault?
Now Kelly knows. On Thursday night, he got a sideline view of the Vick Slam: He threw two interceptions, lost a fumble, took five sacks and limped off the field after having his ankles rolled up during a
26-16 loss
to the
Kansas City Chiefs
.
It would be unfair to blame all of it on Vick. The Eagles' offensive line was confused and physically overwhelmed by the Chiefs. Vick's receivers couldn't get open and the offense looked out of sync from the beginning.
"I don't think Michael was out of sorts," Kelly said. "I thought Michael did some nice things. We have to do a better job of protecting Mike and giving him an opportunity to set his feet and throw the football."
In explaining away Vick's performance, Kelly sounded an awful lot like Reid, his predecessor -- and on this night, his opponent. He didn't sound at all like the cocky coach who has said, many times, that every sack is ultimately the quarterback's fault. Both interceptions were clearly Vick's fault.
The first came early. Vick threw to his right, toward tight end
Brent Celek
. Linebacker
Derrick Johnson
tipped the pass toward safety
Eric Berry
, who hauled it in and returned it 38 yards for a touchdown.
"We've got to get it out a little bit quicker, I think," Kelly said. "You know, you can't do that against a good football team like that."
"What hurt so much about that play was that I knew exactly what I needed to do," Vick said. "I had press coverage on one side and I just tried to take the easy way out. If I just throw the fade on the other side, it never happens. I made a poor decision and it was a bad ball."
The second pick wasn't much better. Vick tried to force a ball to
Riley Cooper
. Safety
Sean Smith
stepped in front of Cooper for the easy interception. That one led to a Chiefs field goal.
"Just a missed read," Vick said. "I missed him, and those are plays that you can't have against a good defense like this. I solely take responsibility for what happened tonight."
Bad games happen to everyone. The problem here is Vick's history -- the stuff Kelly watched on videotape and shrugged off.
Remember in 2010, when Vick had that brilliant Monday night performance in Washington? He completed 20 of 28 passes for 333 yards and four touchdowns, and the consensus was that he had mastered football. Within six weeks, the
Minnesota Vikings
were flustering him with blitzes and the joy ride was over.
Vick opened the 2011 season with a 31-13 win at St. Louis. The Eagles lost their next four games. In the fourth, Vick threw four interceptions.
Last year, you know all about. Vick was rusty early and injured late. The Eagles went 4-12, Reid was fired and it looked very much as if Vick would be gone, too.
But Kelly watched all that game tape and saw Vick's mobility and his strong arm and believed he could eliminate the mistakes. He is not the first coach to be lured by the siren song of Vick's talent. He is very likely to be the last.
That could be because Vick succeeds, in which case he isn't going anywhere. Or it could be because Vick repeats history this season and nobody else is willing to entrust him with a football team.
Or it could be because Vick gets hurt again. He has played a full 16-game season exactly once in his career. That was seven years ago. He has come up limping at least once in all three of the Eagles' games this season.
Vick ran out of bounds at the end of his career-long 61-yard run. But he took some big hits in the pocket. Johnson drilled him as he threw a touchdown pass to
Jason Avant
in the first quarter.
Justin Houston
fell across both his ankles on the Eagles' final offensive play. Vick was hurt and lost a fumble on the play.
The end result was the kind of frustrating loss that became habitual in Reid's two final seasons. Vick was an enormous part of that. He embraced Kelly and his offensive scheme, saying the new coach had helped "fall in love" with football all over again.
Vick won the starting job over
Nick Foles
during training camp and two nearly flawless preseason games. He went back to Washington, scene of his 2010 display, and convinced the world that he had mastered football again. He put up astounding numbers and was turnover-free in Sunday's 33-30 loss to San Diego.
After two weeks, Vick's 119.0 passer rating was third in the NFL behind only
Peyton Manning
and
Aaron Rodgers
. Kelly's offense was unstoppable.
And then came Thursday night. Turnovers. Sacks. Passes batted down at the line of scrimmage. Another injury.
"To say that we didn't do our jobs correctly is probably the only way that I can put it," Vick said. "We have to go back to the drawing board."
Somehow you get the feeling they'll find some very familiar answers when they do.
September, 19, 2013
9/19/13
11:42
PM ET
PHILADELPHIA -- A few thoughts on the
Philadelphia Eagles
'
26-16 loss
to the
Kansas City Chiefs
:

What it means:
Chip Kelly's offense can be stopped, and
Michael Vick
is still prone to the kind of mistakes and injuries that helped create a job opening for Kelly in the first place. Vick threw two interceptions, including one returned 38 yards for a touchdown by Chiefs safety
Eric Berry
. Vick was also sacked five times as Kansas City's defense disrupted Kelly's read-option offense. On his last play of the game, Vick fumbled the ball away after being sacked by
Justin Houston
, then limped off the field with an apparent ankle injury. The Eagles are 1-2 and, with a road game in Denver next on their schedule, staring 1-3 right in the face.
Stock watch:
Falling: Chip Kelly. With so much attention on the return of Andy Reid, Kelly's predecessor, the first-year coach could have made a bold statement about the Eagles' new world order. Instead, Kelly has lost his first two home games and seen his offense solved by an NFL defensive coordinator. Four days after admitting he didn't manage the clock properly in the final minutes of a 33-30 loss to San Diego, Kelly has even more profound questions about the long-term effectiveness of his scheme.
Reid and react:
The big topic of conversation in Philadelphia all week was how fans would, and should, respond to Reid in his first game here as a visiting head coach. There was similar debate about
Donovan McNabb
, the franchise quarterback of the 2000s, whose No. 5 was retired in a halftime ceremony. Both men were cheered enthusiastically. The Eagles flashed a thank you message to Reid as he walked onto the field, triggering a standing ovation, and McNabb was cheered as fireworks exploded over the stadium.
Shady, scary:
LeSean McCoy
, the NFL's leading rusher, grabbed his lower leg and howled in pain after being tackled late in the first half. McCoy left the field to chants of his nickname, "Shady, Shady," and received X-rays. He returned with the team after halftime, but backup
Bryce Brown
began the third quarter in the backfield. McCoy returned with a vengeance, however. He broke a 30-yard run on his first touch after missing a series. In the fourth quarter, his 41-yard touchdown run got the Eagles within striking distance of the Chiefs at 23-16. McCoy finished with 158 yards on 20 carries.
What's next:
After playing three games in 11 days, the Eagles get 10 days to recover, regroup and prepare for their next game. There is much to do. The pass defense was better Thursday than it was against San Diego on Sunday, but still looks like a smorgasbord for
Peyton Manning
. And Kelly has to find a way to tune up his offense and get Vick back to where he was in his first two, relatively mistake-free starts.
April, 23, 2010
4/23/10
6:42
PM ET
By
Matt Mosley
| ESPN.com
Some of you remember a pretty solid defensive back for the
Philadelphia Eagles
named
Eric Allen
. Now, the Eagles have used their "
Donovan McNabb
" pick, No. 37 overall, to select South Florida safety Nate Allen. That's the name we had been talking about the past 24 hours. I'm told that defensive coordinator
Sean McDermott
was a huge fan of Allen.
Marlin Jackson
will certainly be in the mix, but I would expect for Allen to eventually take over as the starter. If you've watched any South Florida football the past three years, you know how many plays Allen makes. He's not as special as Earl Thomas and Eric Berry, but he's a huge upgrade over what the Eagles had last season.
The Eagles now match up with
Jason Witten
a lot better. And don't think that wasn't on Andy Reid's mind when he made the pick.
April, 23, 2010
4/23/10
11:16
AM ET
By
Matt Mosley
| ESPN.com
From several conversations I've had today, it became clear that a couple of NFC East teams were thrilled the Eagles decided to take Michigan defensive end
Brandon Graham
instead of Texas safety
Earl Thomas
after trading up 11 spots in the first round of Thursday's draft. The Cowboys liked Thomas so much that they considered trying to move from No. 27 to 12 or 13.
That may have required them giving up a first-round pick in 2011 in addition to their second-rounder, which was too steep. When the Cowboys saw the Eagles move to No. 13, they just knew the pick would be Thomas. And there was some relief in the room when Graham's name was called instead.
Tennessee's
Eric Berry
and Thomas were both considered "special" players. But Eagles coach Andy Reid and general manager Howie Roseman coveted Graham's pass-rushing ability. And I believe an elite pass-rusher has more effect on a game than a top-flight safety.
So what do the Eagles do this evening? They have the
Donovan McNabb
pick, which is the fifth pick of the second round. Paul Domowitch of the Daily News takes a look at all of the candidates at safety and cornerback. There was a big run on corners late in the first round. That's why it wouldn't surprise me if the Eagles selected South Florida safety
Nate Allen
. He's not in the Berry/Thomas category, but Allen makes plays on the ball and he has excellent range. He's a much better fit for Sean McDermott's defense than USC's
Taylor Mays
, who is still available.
Obviously, the story of the night in the league will be the quarterbacks. When will
Jimmy Clausen
and
Colt McCoy
go off the board? But the Eagles have a couple of premium picks in the second round. It's still too early to draft based solely on need, but don't be surprised if Allen's the guy. I also know the Cowboys like Allen, but not enough to move all the way from No. 59.
April, 23, 2010
4/23/10
9:00
AM ET
By
Matt Mosley
| ESPN.com
Redskins coach Mike Shanahan kept bringing up Broncos offensive tackle
Ryan Clady
's name while discussing his new left tackle,
Trent Williams
. Shanahan took Clady early in the first round and he's emerged as one of the best offensive linemen in the league.

Williams
The Redskins believed that Williams was a better fit for their zone-blocking scheme than Oklahoma State's
Russell Okung
. And the fact that Williams can play pretty much any position on the line didn't hurt, either. His former Oklahoma teammate
Sam Bradford
talked about Williams' willingness to move to center for a game last season. Shanahan is obviously hoping Williams can start at left tackle immediately, but if he's not quite ready, it sounds like there will be an opening for him at right tackle. The Redskins' new coach said that Oklahoma coach Bob Stoops influenced his decision.
"I wanted to get a little reinforcement from him," said Shanahan of Stoops. "He's been around a lot of good football players throughout his career. There are not many athletes that are 315 pounds and can run in that 4.8 range and show the type of athleticism that we look for. We do run that zone-blocking scheme. A very agile offensive tackle is something we look for. Sometimes it is hard to find unless you do pick in the first round or early in the first round and we think we found a guy that can really help us."
Here's what Shanahan said when asked where Williams would line up in 201o:
"Well I think the left tackle is the hardest position to play. So we would like him to come in and compete at the left tackle position. But he has a lot of experience at the right tackle position. He has played the center position. I think he's got the ability to play the guard position as well, very effectively. We will pencil him in at left tackle and hopefully he will help us there."
I know the Redskins were intrigued by the playmaking skills of
Eric Berry
, but Williams was the right pick. You can't send
Donovan McNabb
into a season without a decent left tackle. I've actually heard arguments lately about how left tackles are overrated. Well, try telling that to
Jason Campbell
. By the way, I'll visit with Campbell on Friday and see if he's heard anything on the trade front.
We'll also keep our ear to the ground on a potential
Albert Haynesworth
trade. That could certainly happen during the second round.
April, 22, 2010
4/22/10
8:15
PM ET
By
Matt Mosley
| ESPN.com
We spent the day chasing all kinds of Redskins rumors, but Mike Shanahan and Bruce Allen stayed at home and selected a player who could fill the left tackle spot for the next 10 years or so. It was fitting that his predecessor,
Chris Samuels
, was there to turn in the pick.
Oklahoma's Trent Williams was a better fit for the Redskins than Oklahoma State's left tackle Russell Okung. Williams is an excellent athlete with an huge upside. He's also capable of moving all over the line. Here's what the folks from Scouts Inc. had to say on the positive side:
"One of the toughest offensive linemen we evaluated in this year's class. Lacks elite power but is strong and tough enough to matchup effectively in the phone booth with any defender. Clearly plays with a mean streak. Fights to finish and wants to finish his block by burying the defender. Does a great job of getting helping inside initially and then picking up the oncoming wide defender in slide protection. Works hard to finish and isn't satisfied until he has planted his assigned defender in the turf."
I had the pleasure of flying back from the combine with Williams and Cowboys All-Pro
DeMarcus Ware
. Williams had no clue who he was sitting next to until Ware finally introduced himself. Now the two will be squaring off for the next five or six years. Sam Bradford will tell you how great Williams was for the Sooners. Just a nasty player who also has outstanding character.
I'm sure a few Redskins fans wanted Eric Berry, but you had to go with the left tackle there.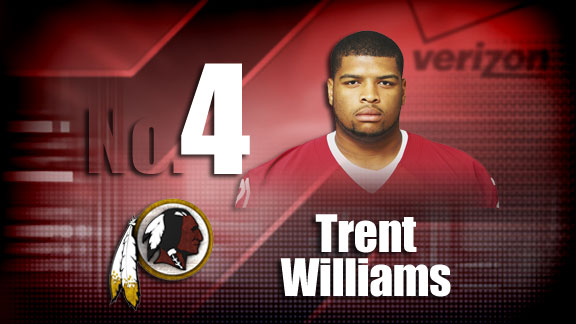 April, 22, 2010
4/22/10
7:18
PM ET
By
Matt Mosley
| ESPN.com
OK, we're about 45 minutes away from the first pick of the NFL Draft. I'll make a few observations and predictions involving the Beast:
I think all the talk about the Washington Redskins being on the phone with the St. Louis Rams about the No. 1 pick was a smokescreen. But there may be something to this Eric Berry talk. Redskins defensive coordinator Jim Haslett covets Berry's playmaking ability and his biggest emphasis is to increase the Skins' takeaways in 2010. But as of right now, I still think Oklahoma left tackle Trent Williams is the pick. If you talk to any scouts they'll tell you the draft begins with the No. 4 pick. We'll be writing about it in an hour or so.
Some folks think the New York Giants will trade up to No. 11 to select Alabama linebacker Rolando McClain. That doesn't sound like Giants general manager Jerry Reese to me at all. If Rich Seubert.
I'm about to listen to Vinny Cerrato analyze the Redskins' first pick on ESPN Radio. This should be priceless. He's on with John Clayton and Freddie Coleman as we speak. Clayton just said that Cleveland made one last run at the Rams' No. 1 pick this afternoon. Interesting.
OK, I'm hearing a ton of things on the Dallas Cowboys. A lot of folks have them doing whatever it takes to trade up for Dez Bryant. Well, they're not willing to do whatever it takes from what I'm hearing. If Bryant falls all the way to No. 27, Jerry Jones will be there to take him. Anything short of that, I don't think the Cowboys make a move. If Bryant makes it to No. 25, the Ravens will take him. I feel pretty strongly about that. If the Cowboys stay at No. 27, look for them to take Penn State defensive tackle Jared Odrick. He can play nose tackle and defensive end in Wade Phillips' 3-4 scheme. But it's more likely the Cowboys bail out on the pick and try to take South Florida safety Nate Allen early in the second. Also keep your eye on defensive end Tyson Alualu. The Cowboys love him, but they won't take him at No. 27. I think Rutgers cornerback Devin McCourty is also a good name at No. 27.
Our guy John Clayton just said on ESPN Radio that the Redskins could trade Albert Haynesworth "in the next 10 minutes." I think he just meant that it could happen in a hurry. Cerrato thinks the first trade could occur when Jacksonville tries to trade out of the No. 10 spot.
ESPN's Sal Paolantonio has told us that Philadelphia Eagles general manager Howie Roseman has been wanting to move into the top 15. And while I'm sure Roseman's made a lot of calls, I don't see Andy Reid wanting to move that far to take someone like Earl Thomas out of Texas. I've seen Thomas play a lot in person. Great player, but he's not special enough to move up 10 or 11 spots. If Florida guard/center Maurkice Pouncey slips to No. 24, the Eagles would have to think about taking him. I also think Boise State cornerback Kyle Wilson's a name to keep in mind. If Haden goes early, though, Wilson will be long gone before the Eagles pick.
April, 22, 2010
4/22/10
3:00
PM ET
By
Matt Mosley
| ESPN.com
As we mentioned earlier, Redskins coach Mike Shanahan and general manager Bruce Allen have done a superb job of keeping everyone in the dark about the No. 4 pick. For weeks, everyone assumed Oklahoma State left tackle
Russell Okung
would be the Skins' choice. But in recent days, Oklahoma left tackle
Trent Williams
has become the favorite of mock draft specialists.
Now, former Tennessee safety
Eric Berry
, believed to be headed to the Chiefs at No. 5, is starting to get some burn in Washington. Jason Reid of The Washington Post said he thinks
there's a "60 percent" chance
the Skins will take Berry. But he sort of hedges his bet by saying the Redskins have too many other holes to fill. I think Shanahan and Allen have thoroughly confused everyone, which was probably their intention.
And I love the irony of Vinny Cerrato suggesting the Redskins should select an offensive lineman with the No. 4 pick. I can hear Skins fans yelling a collective, "Then why didn't you do it, Vinny?"
Check out our man
Cerrato's podcast
about what goes into preparing for a draft.
April, 16, 2010
4/16/10
3:00
PM ET
By
Matt Mosley
| ESPN.com
Thanks for your prolific letter-writing campaign over the past few weeks. I've read your thoughtful e-mails/threats and I'm prepared to respond in a meaningful way. Let's start on this important journey together:
One of our Canadian readers, Anton, has a question regarding the Cowboys' defensive line:
Hey Matt, I just had a thought about the Cowboys: Since they have at least four quality defensive ends (Olshansky, Spears, Hatcher and Bowen) but have little depth behind
Jay Ratliff
at nose tackle, why don't they move one of those players to defensive tackle?
Mosley:
Anton, it takes a unique player to fill the nose tackle spot in the Wade Phillips 3-4. Jay Ratliff has such a high motor that he rarely comes off the field. In some of the sub-packages, Bowen and Hatcher can move inside. But I agree that the Cowboys could use more depth at the position. Be interesting to see what happens if Penn State defensive tackle
Jared Odrick
makes it to No. 27 in the first round. Pretty versatile player and the Cowboys certainly like him.
---
Hunter in Anchorage has a Skins trade proposal:
I'm surprised that the Redskins haven't talked to the Bills about a trade scenario that includes
Jason Campbell
for
Marshawn Lynch
. Wouldn't he be a lot better option for RB than the Skins most recent pickups of
Larry Johnson
and
Willie Parker
?
Mosley:
Lynch is younger and more talented than Johnson and Parker, but he also carries some baggage. I think Mike Shanahan really has to watch who he brings into this locker room. I still wonder if bringing the petulant Johnson into the fold was the right move. If a trade's completed with the Bills for Campbell, I think it will involve a draft pick. Watch what happens at No. 9 for the Bills. If they take
Jimmy Clausen
, we'll have our answer. That would eliminate a potential landing spot for Campbell. I still think the Panthers would be wise to trade for Campbell, but apparently they're going to ride this out with
Matt Moore
.
---
Constantine from London wonders if the Giants might be interested in Albert Haynesworth:
Big BIG fan of the blog, read it EVERYDAY! Huge Giants fan from the UK and would like your opinion on something. Reportedly the Redskins want a second-round pick for Haynesworth now that they've paid his bonus. With the Giants being interested in him during free agency last year, would they spend a second on him? I think they should. We'll cover our most pressing need (MLB) in the first round, and since getting Rolle and Grant in free agency, we need a big defensive tackle -- especially as
Jay Alford
is coming off a torn ACL. Your thoughts?
Mosley:
First of all, love your use of the CAPS button. Second, I'm afraid the
Donovan McNabb
trade has skewed the way we look at everything in the Beast. Now it seems possible that a team might trade a former All-Pro defensive tackle to a division rival for a second-round pick. And by the way, I have not seen a report with anything as specific as what you're suggesting. I've written that I think the Redskins might settle for a second-rounder for Haynesworth, but that's more of a gut feeling. And despite Mike Shanahan's apparent disgust with Haynesworth, I don't think he wants him playing for the Giants. I think he would immediately make the Giants better on the defensive line. If you're Giants general manager Jerry Reese, you make that deal in a heartbeat.
---
Robert in Austin has the final word on our "owners gone wild" segment:
Really, the owner of an NFL team seen mocking a former NFL head coaching legend? As a child, the Cowboys were seen as one of the classiest organizations in the NFL. Great ownership (Clint Murchison), management (Tex Schramm) and coaching (Tom Landry). Oh no more, as Jerry Jones in his short stint as owner has made the Cowboys a laughingstock from an ownership and management standpoint. The tone at the top for the Cowboys is horrible. An owner who drove out one coach because he could find "500 coaches to coach this team to a Super Bowl," and now mocking one of the great NFL coaches in the league who resurrected the football team? This incident makes me envious of the Steelers, a truly class organization.
Mosley:
Hmm... It's an interesting time for a Cowboys fan to be envious of the Steelers. I didn't get the feeling that Art Rooney II felt particularly proud while delivering that public rebuke of
Ben Roethlisberger
on Thursday. And by the way, Jones has owned the Cowboys for 22 years now. That's not exactly a "short stint." I've been highly critical of him over the years, but I don't see this whole video incident as that big a deal. Jones likes Bill Parcells and I didn't hear anything in that video to make me think otherwise. He's made some awful moves over the past two decades (Roy Williams,
Joey Galloway
come to mind), but to say he's turned the organization into a "laughingstock" seems a bit harsh. OK, I'm getting tired of defending the man. Let's put this story to bed.
---
Patrick from Arkansas has an Eagles question:
Hey, with the draft picks the Eagles have gotten in recent trades, do you think it's possible that they trade up to get someone like
Eric Berry
? They have already worked him out. Your thoughts?
Mosley:
Berry's a rare talent at safety. The Eagles would have to sacrifice much of their draft to move up that far. In fact, I'm not sure the No. 24 and No. 37 would get you close enough to Berry. (I'm scrambling for my trade chart as we speak.) It's much more likely the Eagles stay right there at No. 24 and select a cornerback such as Boise State's
Kyle Wilson
. I also think USC's
Taylor Mays
will be available, but there are a lot of concerns about his ability to make plays on the ball. OK, let's do this again soon. You guys have been on fire lately.
February, 23, 2010
2/23/10
2:40
PM ET
By
Matt Mosley
| ESPN.com
For those of you who were unable to plan your lunch around our weekly Tuesday chat,
here's the entire transcript
. And here's a glimpse of some of the dialogue that took place:
Phillip in Dallas: Aside from what all the Beast teams are gonna be doing, which players are YOU excited about seeing at the combine, and where do you think they will go in the draft? Thanks Mosley!

Mosley: I'm looking forward to Colt McCoy's throwing session -- especially when you consider how his season ended. Anxious to see how [Taylor] Mays and [Nate] Allen look at safety. And I'm told [Eric] Berry is a physical freak, so that will be enjoyable to watch. I'll also be looking for some of the under-the-radar guys. I've always enjoyed getting to know the Donnie Avery's of the world at the combine. No one thought that much of the University of Houston product a couple years ago, but then he was the first wide receiver taken in the draft. Pretty cool. I really like the combine. You'll hear other reporters grumbling about the cattle call, but I think it's an excellent opportunity to gather information for the offseason.
Programming note:
The Beast chat begins "promptly" at noon ET every Tuesday -- unless I'm on vacation. And one more note: I just finished watching some '07 highlights of
Nate Allen
against West Virginia. I'd take him based on that one game alone. And now you know why I'm not an NFL scout.