February, 21, 2014
Feb 21
8:00
AM ET
PHILADELPHIA -- In his combine press briefing Thursday, Eagles general manager Howie Roseman sounded very much like a man willing to shuffle the team's deck at wide receiver.
Of course, that's exactly how you would want to sound if you were a GM with two receivers about to test the free-agent market.
Cooper
Maclin
"We're trying to figure out the whole dynamics of it," Roseman said Thursday. "You can only put a limited amount of resources at a particular position before it starts taking out from other places. And then you've got to factor in the quality and the depth in the draft. ... We set prices for guys and try to stick to those and have walkaways numbers. The market is going to determine a lot of those things. It's hard to figure out the market until you're in it."
Because it's the most interesting situation for the Eagles this offseason, we saved our look at the wide receiver situation for last.
Jeremy Maclin
, a former first-round draft pick who missed 2013 with a torn ACL, and
Riley Cooper
, who started all season in Maclin's place, are about to become unrestricted free agents.
This isn't like the safety situation, where the Eagles simply need to upgrade from the guys who are about to become free agents. Maclin was a good player who hadn't gotten close to his ceiling before the injury. Cooper was a spare part who became a favorite target of
Nick Foles
, catching 47 passes for 835 yards and eight touchdowns.
It really seems as simple as this: If the market provides Maclin and Cooper opportunities that pay more than the Eagles think they are worth, they will be gone. If they like what the Eagles offer, in money and familiarity and the chance to win, either or both could be back.
And then there's the X factor that will help determine what Roseman called the "walkaway number" for each player. Does Kelly believe his offense would work as well or better with other wide receivers? He spoke highly of Cooper, both as a blocker and a pass-catcher. But if Kelly thinks a faster or more athletic receiver would put up even better numbers, Roseman will negotiate accordingly.
The only certainty at the position is that
DeSean Jackson
will be back. He is still a game-breaking deep threat who dictates the way defenses approach the Eagles offense. Jackson caught 82 passes for 1,332 yards and nine touchdowns.
Jason Avant
, the eight-year veteran who won Kelly over with his unselfish attitude, could be a victim of his $2 million salary. Avant was a starter who saw his playing time decrease as the season went on.
The rest of the wide receiver corps was unremarkable.
Damaris Johnson
vanished when he failed to spark the return game.
Brad Smith
took over kickoff returns and was the focus of some of Kelly's more unfortunate trickery.
Jeff Maehl
played special teams and saw scant playing time on offense.
Arrelious Benn
, who also missed the season with a torn ACL, has another year on his contract.
Compared to the imposing collections of receivers the Eagles defense faced almost weekly, this was not exactly a fearsome group. And yet the Eagles receivers were good enough for Foles to have a breakout season.
Did that say more about Cooper and Jackson and Avant or about Kelly's imaginative offense? How the Eagles answer that question internally will go a long way toward determining their strategy.
There are some free agents who could add different dimensions to the passing game --
Eric Decker
of Denver,
Emmanuel Sanders
of Pittsburgh,
Golden Tate
of Seattle -- but mostly there is the draft. We'll be taking a look at some of the wide receivers available in a post later.
January, 15, 2014
Jan 15
1:15
PM ET
In
Tuesday's post
on the potential cost of re-signing free-agent defensive tackle
Linval Joseph
, we addressed the manner in which the
New York Giants
traditionally have and have not used the franchise player designation. In summary, they don't tend to use it to freeze a player in place on a one-year deal because they're not ready to make a long-term commitment to him. They prefer to use it for its originally designed purpose -- to keep a player off the market while they finish the final details of a longer-term deal with him.
[+] Enlarge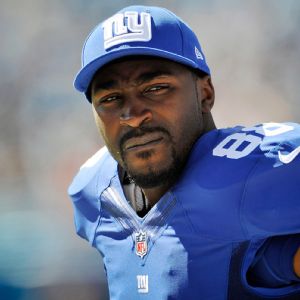 Ronald C. Modra/Sports Imagery/Getty ImagesHakeem Nicks had 56 catches for 896 yards but no touchdowns during the 2013 season.
However, I wonder if wide receiver
Hakeem Nicks
could challenge that philosophy this year. Nicks is an unrestricted free agent who's coming off his most disappointing healthy season, having played 15 of 16 games and failed to catch a touchdown pass. He was a source of obvious frustration to the coaching staff as the year went along, and multiple people within the organization have publicly cited substandard play by the team's outside receivers as a key reason the offense couldn't get on track. Add in Tuesday's hire of West Coast offense disciple Ben McAdoo as offensive coordinator, and you wonder if the outside receiver will remain a high-priority position, especially with a significant amount of money already committed to slot receiver
Victor Cruz
.
But Nicks is also a former first-round pick of the Giants and a player who helped them win a Super Bowl just two seasons ago. He has shown an ability to thrive as a No. 1 receiver in the NFL. The Giants have seen the best of Nicks as well as the worst, and if they believe that he's capable of returning to top form (he just turned 26 on Tuesday), they could decide they want him back.
If they do, it's unlikely they'll be willing to offer Nicks a long-term deal after the season he just had. Which means he'll want to test the market and trade on his name and past success to score as large a deal as possible. If he makes it to the open market, the Giants aren't likely to compete with other teams to sign him. But if they decide they want him back and they believe 2013 was an aberration, they could certainly franchise him and keep him from ever hitting the market.
There are problems with this strategy, not the least of which is that it could result in an unhappy player who causes the same problems in his 2014 contract year as he did in his 2013 contract year. The Giants have seen what Nicks is like with free agency hanging over his head, and it wasn't pretty. Franchising him and not extending him beyond 2014 could conceivably bring about a repeat of his performance from this past season. Another problem is cost, as the franchise number for wide receivers is likely to exceed $11 million this year. Nicks isn't worth that money based on his 2013 performance, and while the Giants do have cap room they also have many other needs on which to spend it.
Some will suggest that the Giants franchise Nicks and then try to trade him, perhaps for a second-round or third-round pick to a team that gets shut out of the
Eric Decker
market, needs a big-time threat at wide receiver and still views Nicks as one. But such deals are rare and difficult to pull off, and if the Giants franchised Nicks with that plan in mind and were unable to deal him, they'd be stuck with a player they don't necessarily want at a cost that makes it difficult for them to make their budget.
If they don't tag Nicks and let him sign elsewhere, it's possible the Giants would get a compensatory draft pick for him in 2015, but that depends on who else they lose and who they sign in free agency this year.
In the end, franchising Nicks makes sense for the Giants only if they believe he will play better in 2014 than he did in 2013, which means he'd have to somehow convince them that the contract issue wasn't part of his problem. Since he hinted strongly at every possible opportunity that it was, it would be hard to believe him. You never know how these things will work out, and it's possible that the Giants will be more desperate than we expect and give Nicks a longer-term deal. It's possible the deal Nicks seeks won't be out there for him and he'll agree to stay for a smaller or shorter-term deal. But the most likely scenario to me is that a team other than the Giants decides they like him and are willing to bring him in based on his reputation, age, physical talent and past achievements. And if that happens, the Giants will wish him well and look somewhere else for wide receiver help, if they haven't already.
November, 6, 2013
11/06/13
2:00
PM ET
1.
David Amerson
loves to play aggressive. That's what enabled the
Washington Redskins
' rookie cornerback to intercept San Diego quarterback
Philip Rivers
in the fourth quarter Sunday. He played for the inside break by receiver
Keenan Allen
, was right behind him and ran through his upfield shoulder to grab the ball. A pretty interception.
2. He still gets greedy, a knock on him from his North Carolina State days. Playmakers tend to be greedy; it's how they make plays. But it also leads to big plays allowed, too. And it makes such players easy to set up as the Chargers did in the fourth quarter. Allen had been running inside breaking routes all game, until he took one outside after Amerson's interception. It resulted in an easy 16-yard touchdown catch. Amerson played for a slant route and lost.
[+] Enlarge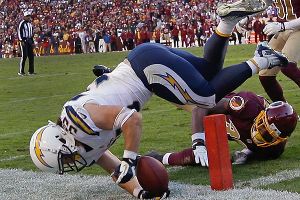 AP Photo/Alex BrandonThis tackle by Redskins cornerback David Amerson against Chargers running back Danny Woodhead was a pivotal play in Washington's win.
"He gave that to me all game, so I anticipated it. I was extra aggressive. It was a great counter move," Amerson said. "The best way to defend a double move is keeping your eyes on the receiver, not in the backfield. I was getting a little greedy."
It's tough to know where that line is between greed and aggressiveness. And the coaches say they like his mindset, but that fatigue led to his late-game mistakes. But Amerson has been set up in other games and will continue to be tested in this manner; teams often save that double move for late in the game as the Chargers did.
"Just being smart and knowing when to and when not to," Amerson said. "That's what really separates some of the great corners. That comes along with experience. ... There are some things you just have to live with, and you're out there on the edge. All your mistakes are highlighted or touchdowns. It's unfortunate, but as a corner it's something you have to deal with."
3. He made two excellent plays near the goal-line in the fourth quarter. The first was the diving tackle of
Danny Woodhead
, who was inches from touching the pylon with the ball. A knock on Amerson before the draft was his lack of physical play and his competitiveness. But on this play he was physical and competitive.
"I never thought I wasn't a physical guy," Amerson said. "People can say what they want, but you've just got to go out and compete and let your play speak for itself. A play like that will help me prove my case."
Then, on third and goal from the 1, he defended Allen, who ran inside and then cut back to the outside.
"When I see him going in," Amerson said, "out of the corner of my eye I see Philip scrambling and automatically I'm thinking this doesn't look right, so I knew he was going to try to sit down and come back out."
4. But Amerson was reminded of another valuable lesson when Allen caught a 12-yard pass off a Rivers scramble in the second quarter on a third-and-10. Allen ran another inside route, but when Rivers broke the pocket to his right, Allen cut back outside and was wide open.
"You can turn back to him and play better, but some things you've got to live with," Amerson said.
5. One week earlier, Amerson did a nice job on Denver's
Eric Decker
. The Broncos tested him on two passes downfield in the same series; neither were complete. Decker wasn't open.
"I was just trying to pressure him with outside leverage, and he kept releasing to my leverage," Amerson said. "It allowed me to get my hands on him, and that killed most of everything."
6. He's feeling more comfortable in press coverage, something he did not play last year. He still gets out of position in this coverage occasionally, but has improved.
"The main thing is experience, knowing how a guy releases and studying your guy," he said. "It's just staying patient. That's the biggest thing, and using my advantages and my length. Guys give you all this stuff and try to throw you off-balance, and all of a sudden you're running side by side with them or they're in front of you. You have to really study your guy."
October, 4, 2013
10/04/13
4:00
PM ET
PHILADELPHIA -- The sign posted near the players' exit was unintentionally funny. Read one way, it was a simple reminder of a seminar scheduled for Friday: "Mandatory Rookie Success," it read.
Read another way: Ah, if only it were that easy.
The
Philadelphia Eagles
have six rookies dressing for games (most weeks), but this is really only about two of them. That's because, frankly, not all positions are created equal when it comes to learning on the job in the NFL.
Defenses will cover rookie tight end
Zach Ertz
because he's on the field and he's eligible to catch the ball. Offenses will block nose tackle
Bennie Logan
when he's in because he's lined up over the center. Linebacker
Jake Knott
and cornerback
Jordan Poyer
are playing mostly on special teams.
But being a rookie means being a target for right tackle
Lane Johnson
and safety
Earl Wolff
. That's because of who they are and who they are not.
If you're a defensive coordinator, you can line up your best outside pass-rusher across from Pro Bowler
Jason Peters
, the left tackle, or across from Johnson, who has played four NFL games. It isn't a tough choice.
"They do flip (defensive ends and linebackers)," Johnson said. "It's just kind of the process for rookies. It's like if a quarterback sees a rookie cornerback. He might attack him."
Same for a rookie safety like Wolff. Quarterbacks can go after veteran cornerbacks
Cary Williams
and
Bradley Fletcher
or freeze Wolff with their eyes and then throw where he's supposed to be. Wolff made his first start against
Peyton Manning
and could make his second Sunday against
Eli Manning
. Even if veteran
Patrick Chung
(questionable, shoulder) plays, Wolff will see considerable action.
"I feel like I'll be more prepared and more ready, just knowing what happened last week," Wolff said. "Everything I did wrong -- small things like getting leveraged on a couple plays, not being deep enough in coverage -- I've been working on all that this week."
Wolff was supposed to be deeper on Peyton Manning's 52-yard pass to
Eric Decker
on Sunday. Considering deep threats
Victor Cruz
and
Hakeem Nicks
, that is an important area to shore up against the Giants.
"I see improvement in Earl," coach Chip Kelly said. "But you're not, in the short amount of time since he's been here, able to put him through every single route combination, sets, recognition, all those things that a guy who has been in the league for two or three years can recognize."
Likewise, Johnson said he has gotten better at studying film of the players he's likely to face. But there's still dealing with that player's quickness and strength in the flesh, and then there's the twists and stunts defenses do to confuse young blockers.
"I think Lane knows exactly what to do," Kelly said, "but at times, the game has to happen just a little bit quicker for him."
Every rookie has to go through that process. It's just that, at certain positions, opponents will apply extra pressure on rookies until they prove they can deal with it.
"You have no choice," Johnson said. "You just have to go through it."
September, 15, 2013
9/15/13
6:14
PM ET
EAST RUTHERFORD, N.J. -- I've been trying my best, but I can't come up with one single thing the first half of this
New York Giants
-
Denver Broncos
game has shown us that might help us predict who's going to win it.


Battle of the Brothers? Fizzle. Broncos quarterback
Peyton Manning
has 200 yards on 18-for-29 passing. And the Giants'
Eli Manning
is 11-for-21 for 180. But no one can cash anything in. Denver's impressive opening drive should have been a touchdown, but rookie running back
Montee Ball
fumbled going across the goal line. The Giants' best chance to get into the end zone flamed out when tight end
Brandon Myers
tripped over his own feet in the open field. Denver receiver
Wes Welker
and
Demaryius Thomas
have had a few weird drops. Giants receiver
Hakeem Nicks
had a terrible wide-open drop on which he dislocated a finger. (He came back into the game.)
The run games? Meh. Denver's touchdown came on a well-blocked 20-yard touchdown run by
Knowshon Moreno
, but the Broncos only have 14 yards on their other 10 carries. The Giants have 19 total rushing yards on 10 carries. A huge third-down catch by Nicks and a pass interference penalty got Eli Manning and the Giants in position to score in the final minute, and but Eli threw an interception in the end zone with nine seconds left on the clock.
You get the point, right? Some good stuff, a lot of bad stuff and no real rhythm to the game. No one seems in sync. The interception looked like a case of miscommunication between Nicks and Eli Manning, and I'm sure everybody has a lot to talk to each other about at the half. The Giants will get the ball back to start the second half down 10-9.
Some more specific thoughts:
Second straight impressive game for Giants cornerback
Terrell Thomas
, who missed the past two seasons due to reconstructive knee surgeries and is playing the slot cornerback position. Thomas is tackling very well, as he did last Sunday when matched up against
Miles Austin
in the slot, and he's a big part of the reason Peyton Manning hasn't been able to operate over the middle as well as he'd like to. The Giants also are limiting Broncos tight end
Julius Thomas
, with the help of linebacker
Jacquian Williams
.
Running back
David Wilson
, who was pulled after two fumbles Sunday night and assigned to a remedial ball-carrying class all week in practice, has been working as the kick returner, as he did last year. He's got 17 yards on six carries in the run game, and it appears as though the Giants have decided they need to continue to give him the ball.
Brandon Jacobs
wasn't picking up yards when they were handing him the ball early in the game, and Wilson is doing better work inside, looking a couple of times as though he might be about to break a big one.
Myers was Eli Manning's most targeted receiver last week, and he is so far Sunday as well, with seven targets in the first half to Nicks' five and Cruz's four. No other Giant has been targeted more than once.
The Giants are 1-for-7 so far on third downs. That's... you know... not good.
July, 6, 2013
7/06/13
11:14
AM ET