June, 20, 2013
6/20/13
8:00
AM ET
"You know my feelings. Every day's a gift. It's just... Does it have to be a pair of socks?" -- Tony Soprano
Washington Redskins
The Redskins still somehow have about
$1.4 million in salary-cap space
entering the summer break, so if they wanted to sign a veteran defensive back or someone like that, they theoretically could. Rich Campbell wonders about tackle Eric Winston, whom they liked once upon a time.
World-famous baseball writer Bill James is on the side of the people who think it's
a silly idea
to change the Redskins' team name. Who'd have imagined James would even care? And be capable of such backward thinking?
Dallas Cowboys
Roger Staubach thinks Tony Romo is a
championship quarterback
. This doesn't mean that Staubach mistakenly thinks the Cowboys have won a championship with Romo, only that he believes Romo capable of leading them to a championship. You'd like to think that support from someone as iconic as Staubach would help Romo with his Cowboy-fan critics, but I doubt it. People don't like to change the way they think, generally.
On a related matter,
this somehow won't go away
.
New York Giants
Former Giants GM Ernie Accorsi says Eli Manning is to the Giants what
Derek Jeter is to the Yankees
. Ernie must have finally got around to reading
this column
I wrote a year and a half ago.
Dave Jennings, a popular former Giants punter and broadcaster, has
lost his fight
with Parkinson's disease. I never met the man, but a lot of people I like a lot seem to have liked him a lot. RIP.
Philadelphia Eagles
Having a hard time trying to figure out Chip Kelly? Mark Saltveit has taken a whack at it. Having studied Kelly's time at Oregon extensively, Saltveit has
written the book
on Kelly. Literally.
In preparation for the training camp they'll hold there starting next month, the Eagles have
renovated the practice fields
at their NovaCare complex.
April, 23, 2013
4/23/13
5:52
PM ET
Alec Ogletree
was sitting there at No. 19 when it came time to make the pick for the
New York Giants
in this year's ESPN.com
blogger mock draft
. And man, could the Giants use him. Heck, if I were running the Giants, that's probably the pick I'd make if the draft fell just that way. But I don't run the Giants. Jerry Reese does, and he apprenticed under Ernie Accorsi, and that's the way deep-rooted organizational principles live through the decades. The last linebacker the Giants took in the first round was Carl Banks in 1984. That's not a coincidence. That's 29 years' worth of evidence that they just don't assign first-round value to players who play that position.

Trufant
So linebacker was out, and since we were rolling with trends and history anyway, I figured why not pick the position to which the Giants consistently assign first-round value -- defensive back. There were some good ones available at this point. Only one cornerback (
Dee Milliner
) and one safety (
Kenny Vaccaro
) had been taken. I went with Washington's
Desmond Trufant
, mainly because he was the highest-rated corner after Milliner on the Scouts, Inc. draft board. It's entirely possible that, should they find themselves in this situation Thursday night, the Giants will have
D.J. Hayden
or
Xavier Rhodes
or
Jamar Taylor
rated ahead of Trufant and pick one of those guys. I do not know how they have the defensive backs ranked on their board. I just know that they've used their first pick on a defensive back in four of the past eight drafts, so it made sense to me to take one there this time around.
I thought about
Bjoern Werner
, the Florida State pass-rusher. I thought about
Sylvester Williams
, the North Carolina defensive tackle. Defensive line is another position on which the Giants like to use first-round picks, and either would have made sense there. My point was that, in predicting the Giants' first-round pick, it's important to understand the way they think. Yes, they believe it's important to take the best player still available on their board. But when they craft their board, the Giants tend to assign less value to some positions than to others. So while someone like Ogletree might look like the best player available at 19 to you or me, he likely doesn't look that way to the Giants, who believe they can find good value at linebacker in later rounds.
March, 27, 2013
3/27/13
4:13
PM ET
The most recent edition of the Todd McShay/Mel Kiper Jr. "
First Draft

" podcast discusses picks 16 through 20 in the first round of next month's NFL draft. And you devoted readers of the NFC East blog know that the
Dallas Cowboys
and the
New York Giants
are picking 18th and 19th, respectively. If you'd like, you can skip to the 11:28 mark to hear them discuss the Cowboys' pick and to the 12:58 mark to hear them discuss the Giants' pick.

I found the Giants discussion interesting, because Mel cites a long-held organizational philosophy established by former GM Ernie Accorsi to support his belief that the Giants will not draft an offensive lineman in the first round. They don't believe in it, he says, unless it's for a "super-elite left tackle." They believe they can develop offensive line talent. Their recent long-term signing of former second-round pick
Will Beatty
as their left tackle supports this, as does the fact that they haven't drafted an offensive lineman in the first round since 1999.
But this leaves Mel and Todd (who says, "I think offensive line makes a lot of sense," which it does for the Giants) to speculate about the Giants taking an inside linebacker with this pick, and they haven't drafted a linebacker in the first round since 1984. So if passing on offensive lineman in the first round is an organizational philosophy, passing on linebackers in the first round feels more like a religious belief. Todd mentions that they could still use cornerback depth even after using high picks on corners in recent drafts, and their history shows that to be a far greater likelihood than either offensive line or linebacker.
If linebacker
Alec Ogletree
is on the board at 19, Todd says the Giants should "run up to the podium." We will see whether that happens. Color me skeptical.
As for the Cowboys, Mel and Todd seem to think one of the top guards,
Chance Warmack
or
Jonathan Cooper
, will be available at 18 and would make way too much sense for the Cowboys to pass up there. I agree on both counts. Talking about safety, Mel thinks "there are going to be safeties as good as
Kenny Vaccaro
that go in the second round," so the Cowboys should wait on that position and running back, which are both needs, while using the first round to address the offensive line. Smart guy, that Kiper. Smart, smart guy.
April, 2, 2012
4/02/12
1:00
PM ET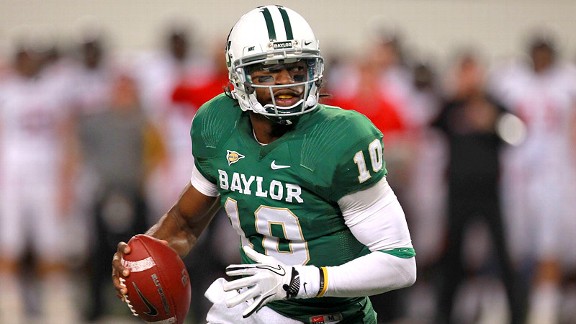 Ronald Martinez/Getty ImagesSome scouts apparently feel that Robert Griffin III is a bit overhyped as the NFL draft nears.
The deed done weeks ago, the
Washington Redskins
and their fans have had little to do but wait. They know they're going to get a quarterback with the No. 2 pick in the draft later this month. Whether that quarterback is
Andrew Luck
or, more likely,
Robert Griffin III
, they believe he has the stuff to be a franchise quarterback -- to provide stability and excellence at the game's most important position for years to come. The Redskins paid a significant price for this -- three first-round picks and a second-round pick -- and since it happened there has been nothing to do about it but wait and anticipate.
What goes on during the anticipation phase? Buyer's remorse would be natural, of course. A feeling of concern. Did we pay too much? What if this doesn't work out? Have we doomed the franchise to two more decades of misery?
Natural questions, to be sure, and in their quiet moments Mike Shanahan & Co. have surely entertained some form of them. But the advice from someone who has been there before tells them not to dwell on what-ifs.
"What you're thinking at the time when it gets done is, 'That's our guy. We were able to accomplish it. Here he comes. Let's go,'" Giants coach Tom Coughlin said last week at the NFL owners meetings. "You've got to have great conviction. You've got to believe in your system. And once the deal is accomplished, there's no looking back."
In 2004, Coughlin's first year as their head coach, the Giants made a similar move up in the draft for a franchise quarterback. After the
San Diego Chargers
took
Eli Manning
with the No. 1 pick, the Giants drafted
Philip Rivers
at No. 4 and traded Rivers, their third-round pick in 2004 and their first-round and fifth-round picks in 2005 to get Manning. Not as steep a price as the Redskins paid the Rams last month, but it was a lot, and at the time (and in the years that followed) there was much debate as to whether it was worth it.
[+] Enlarge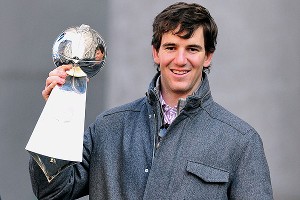 James Devaney/WireImageIt's safe to say that the price the Giants paid to nab Eli Manning in the 2004 draft was worth it.
But to hear Coughlin tell it, that debate never happened within the walls of the Giants' team headquarters. All of that debate happened before GM Ernie Accorsi made the deal, and once the deal was made it simply could not continue.
"You make that kind of investment, you'd better have done the research," Coughlin said. "You'd better have made the decision on how he's going to impact your team. And you'd better be prepared, because that young man has got to go through what every other young guy did. This league is tough. People make it very, very hard on that position when you have a young guy taking the snaps. There are things he's going to see that he's never seen in his life -- never even imagined seeing."
Which makes it scary, this business of dealing away big parts of the future in exchange for a kid who has never played an NFL down. It has worked out well for the Giants, obviously, as Manning has led them to two Super Bowl titles in the past five years. If the Giants ever had any doubts early in his career, or in the immediate aftermath of the trade, Manning has erased them all and confined the debate over the worthiness of the trade to ancient history.
What happens with the Redskins and their new quarterback remains to be seen. But it sounds as though Shanahan is already living Coughlin's advice. Asked last week whether it mattered to him which quarterback fell to him at No. 2, Shanahan said no, of course not. They wouldn't have given up what they gave up to get to No. 2 if they weren't convinced that Luck or Griffin could both be what they need. And they wouldn't have made the move if they hadn't already erased all of their doubts about whether it was too much to pay. Franchise quarterback is too important, and the Redskins saw a chance to get one.
"The Super Bowls that I've been involved with, with Steve Young, with the John Elways, both were franchise quarterbacks," Shanahan said. "They can make plays when everything breaks down. And if somebody can do that, then you've got an opportunity, once you get to the playoffs, to do something special. Now, can you still win without one? Sure you can. But you'd better be pretty special."
The teams that don't have franchise quarterbacks spend their existences wandering in search of one. It can consume them, as it has the Redskins for so long. That's why, when it comes down to it, there's really no such thing as overpaying for a chance to get one. Besides, if it doesn't work out, everybody who was in on the decision is going to be working elsewhere anyway. Right, Tom Coughlin?
"You don't ever go down that road, either," Coughlin said. "It's going to work."
That's the mindset the Giants had in 2004, and it's the mindset the Redskins have right now. When you're dealing with stakes and prices this high, there's really no other way to be.
July, 8, 2011
7/08/11
8:00
AM ET
Kerry Collins announced his retirement Thursday after 16 NFL seasons, and that matters to the NFC East blog because of the somewhat significant place he occupies in the history of the New York Giants.
No,
as Mike Garafolo points out
, he's not Phil Simms or Eli Manning, each of whom became a bigger star in the league's biggest market and delivered a Super Bowl title. But Collins did throw for 16,875 yards and 81 touchdowns in five years as the Giants' quarterback, and he did lead them to a Super Bowl, even though they lost it to the Baltimore Ravens. Mike's story paints the picture of Collins as a guy who rescued the Giants' quarterback position after a run that featured such luminaries as Dave Brown, Kent Graham, Tommy Maddox and Danny Kanell.
"We don't get to the Super Bowl without him," former Giants GM Ernie Accorsi told The Star-Ledger. "He raised the level of quarterback for us."
Collins isn't going to the Hall of Fame, but he had a better than respectable NFL career and gave Giants fans some unforgettable moments along the way. Hopefully his retirement announcement offered a chance to look back on those fondly.
More Giants
The Giants still don't know if the lockout will be settled in time for them to hold their training camp at the University of Albany as they always do. But if not,
things are fixing to get ugly
in the state capital.
Dallas Cowboys
Everson Walls had
some pretty harsh words
about Tony Romo, basically questioning whether Romo was the right quarterback for the Cowboys because he used to date Jessica Simpson or something like that. I love when these old guys just randomly spout inane stuff they would have killed somebody for saying about them when they played. People grow up, Everson. They mature and they learn their lessons. Holding stuff from 2007 against Romo is ... well, it's the kind of thing angry fans do. Somebody who played the game should be a little more forgiving and understanding.
Oh, and it looks as if Roy Williams
got his ring back
. I know you guys were all very concerned.
Philadelphia Eagles
Plaxico Burress was
tweeting about the Eagles
, and his apparent eagerness to sign with them. JasonB from Bleeding Green Nation suggests that Burress was joking, but I don't think he was. I think there's a real good chance the reports about Eagles' interest in Burress came from Burress' camp. I think Philadelphia would be a perfect spot for him to land for a variety of reasons. And I think he's probably really, really, really hoping they call. Whether the interest is mutual remains the question.
Les Bowen has a story about
the guy who'll be in charge of organizing everything
and rapidly setting up Eagles training camp if and when the lockout ends.
Washington Redskins
Tim McManus says the Eagles probably aren't going to be able to get Albert Haynesworth because
the Redskins aren't going to give him his wish and cut him
. I agree. I believe the Redskins think they can get something for Haynesworth in a trade. I believe they are correct and will succeed. And I believe that, no matter what the Eagles can offer, there's no chance in this world the Redskins would trade him to Philadelphia, reunite him with former Titans defensive line coach Jim Washburn and allow themselves to be knocked around by him twice a year.
And Mike Jones of the Washington Post wonders if more guys than just one will have trouble handling the shuttle runs and
passing the conditioning test
when training camp finally does start this season.
It's Friday, people, so let's have some fun out there.