NFC East:

ESPN Texas: Road to Super Bowl XLV
February, 7, 2011
2/07/11
12:45
AM ET
By
Matt Mosley
| ESPN.com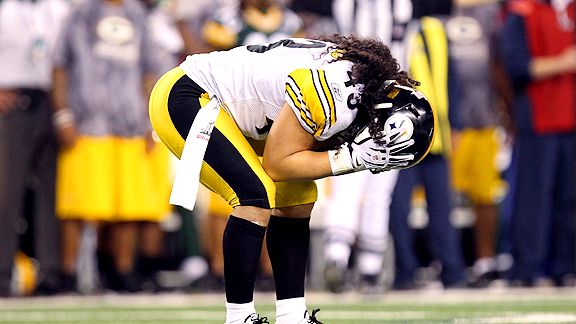 Ronald Martinez/Getty ImagesTroy Polamalu didn't record a tackle until the beginning of the fourth quarter.
ARLINGTON, Texas -- The
Green Bay Packers
spent the past two weeks trying to figure out how to neutralize the 2010 defensive player of the year. They accomplished that task by pretty much turning Steelers safety
Troy Polamalu
into a non-factor.
Packers quarterback
Aaron Rodgers
vowed to know where Polamalu was on every play. And his ability to whistle passes through tight windows actually made Polamalu look slow for much of the evening. The man who had seven interceptions this season tried to force the issue and started guessing in a frantic effort to make plays. It may have been one of the worst games of his career, and it couldn't have happened on a bigger stage in a
31-25
loss to the Packers in Super Bowl XLV.
Reporters offered the soft-spoken Polamalu a lifeline by bringing up the Achilles tendon injury that's plagued him throughout the season. He headed that off quickly, saying he simply ran into a quarterback who's on fire.
"It was the healthiest I've been," Polamalu said, "the best I've felt probably since the middle of the season."
Packers wide receiver
Greg Jennings
caught both of his touchdowns against Polamalu. Jennings said that on the first score the Steelers were in a Cover 2 scheme and Polamalu was forced to choose between covering two receivers running similar routes.
"He chose wrong," said Jennings, whose 21-yard touchdown gave the Packers a 21-3 lead in the second quarter.
The Packers didn't show much interest in the running game (11 attempts), in part because they didn't want Polamalu near the line of scrimmage. Because Green Bay constantly spread the field with four wide receivers, Polamalu rarely played close to the line.
"We wanted to keep him out in space," said Jennings. "If you can contain him in some ways and keep him on a guy that he's uncomfortable with, you have a lot better chance."
Polamalu was even more pensive than usual following the game. He took blame for both touchdown passes to Jennings and indicated that he put his cornerbacks in bad situations by trying to get too "creative." Rodgers connected with
Jordy Nelson
for a 38-yard pass early in the fourth quarter that set up the Packers to take a 28-17 lead. Polamalu also took the blame for the pass to Nelson and the subsequent 8-yard touchdown pass to Jennings.
He guessed that Jennings was going to run a post because he'd seen him do it so many times on film, but the wide receiver ran a corner route and scored easily.
"That was completely my fault," said Polamalu. "Earlier in the game, they ran Jennings down the middle and I was anticipating that same pass play and I guessed wrong."
Polamalu's given the freedom to freelance in this defense because he's such an instinctive player, but perhaps a more conventional approach would have served him better against Rodgers. The Packers made him uncomfortable throughout the game. Polamalu has told reporters in the past that he constantly fears getting beat despite his brilliant play. But on Sunday night, his fears were realized against a quarterback who can pretty much do anything he wants right now.
This isn't the first time this season the Steelers' secondary has looked vulnerable, but Polamalu often made up for its errors. In this game, he was the one making a lot of the mistakes. The Packers took the Steelers' most unique player and made him a liability.
Steelers coach Mike Tomlin was asked repeatedly about Polamalu's performance after the game. When someone asked whether he thought Polamalu made an impact in the game, Tomlin replied, "I'll let you be the judge."
It was one of those rare evenings when having one of the most versatile defensive players in the game didn't help the Steelers. Now, they have a lot of time to think about what went wrong. I guess Polamalu can be flattered the Packers were so worried about him.
But that won't bring much solace on this evening.
February, 6, 2011
2/06/11
5:25
PM ET
By
Matt Mosley
| ESPN.com
ARLINGTON, Texas -- The North Texas Super Bowl has another P.R. problem, and this one has nothing to do with the weather. A limited number of sections in temporary seating areas had not been completed by today,
according to the league
. Oh, and kickoff's about an hour away.
Fortunately, the NFL apparently had a Plan B: Sending the fans outdoors to enjoy the game from the Party Plazas.
"Fans who are not accommodated with seats inside the stadium will each receive a refund of triple of cost of the face value of the ticket," the statement said. "We regret the situation."
I bet Jerry Jones will
deeply
regret the situation. He finally got the weather to cooperate, and now fans are being told they can't watch the game in person. Jones needs to pray that this is one of the best games in Super Bowl history. If it's a dud, this ticket story will be front and center.
February, 3, 2011
2/03/11
4:00
PM ET
By
Matt Mosley
| ESPN.com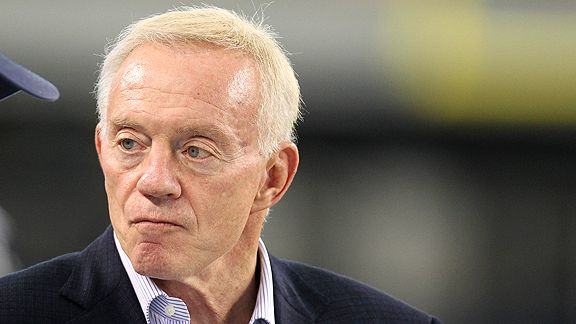 Matthew Emmons/US PresswireJerry Jones had hoped his team would be playing in Cowboys Stadium for the Super Bowl XLV title.
ARLINGTON, Texas --
Pittsburgh Steelers
backup center
Doug Legursky
had a difficult time making eye contact with reporters during the NFL carnival known as Super Bowl media day on Tuesday. It's not that he was being disrespectful, but like a kid seeing snow for the first time (or ice in North Texas), Legursky was awestruck by a JumboTron that hovered over 60 yards of the field like a spaceship in search of a docking station.
No matter what you think of
Dallas Cowboys
owner Jerry Jones -- and Forbes Magazine indicates you really, really dislike him -- the man's a marketing genius. He has somehow kept the Cowboys national brand strong despite all the losing over the past 15 years. The man presides over the most relevant 6-10 team in the NFL. And I'm already hearing the national media talk about the Cowboys as a bounce-back team in 2011.
Much like the New York Yankees, there's always going to be interest in the Cowboys. Given the option of flexing out of a nationally televised matchup involving a 5-8 Cowboys team, I don't think any network would pull the trigger. Jones began a news conference Tuesday at the Super Bowl media center by saying he didn't want to take anything away from the Steelers and Packers. Then he spent the next 42 minutes doing just that.
Over the past 15 years, Jones has become the league's leading illusionist. He has somehow been able to keep the Cowboys in the conversation despite producing only two playoff wins in that span. The
Oakland Raiders
may be the laughingstock of the league, but they've at least been to a Super Bowl since the Cowboys' dynasty ended in the mid-1990s. Meanwhile, the Steelers are in the midst of putting together a dynasty that could rival Chuck Noll's run in the 1970s. They've now been to three Super Bowls in six seasons. And against all odds, the Rooney family has done it without switching head coaches every couple of years -- or ever.
Steelers president Art Rooney II could take a seat on radio row, which I wouldn't advise, and not be recognized by 75 percent of the talk-show hosts. If Jones showed up, they'd treat him like Brooklyn Decker in a two piece. I'm pretty sure I saw Rooney standing off in the distance during media day, surrounded by a handful of reporters. Not far away, reporters breathlessly asked defensive end
Brett Keisel
about his beard grooming. (One male reporter asked and was granted permission to run his fingers through Keisel's beard, which somehow seemed appropriate on that day.)
The Rooneys almost seem amused that folks find their belief in continuity so revolutionary. Steelers coach Mike Tomlin would have to do something like naming his offensive line coach defensive coordinator to even get them to raise their eyebrows. Oh wait, that's another Pennsylvania team.
I'm sure Rooney didn't think he was saying anything profound Tuesday, but something on the 67 quote sheets I received via BlackBerry really got my attention. The Steelers' president was asked why his organization rarely made splashy moves, say, signing
Terrell Owens
or
Albert Haynesworth
.
"Panic doesn't seem to work," he said. "Let's put it that way. There are enough people that seem to have gone through that mode and our feeling is that you pick good people and you try to stick with them if you have good people. There are ups and downs in any sport, but if you have the right people in place, you'll always have a chance to be successful and that's what we do. Every year, we have a single goal, and that's to try and put a championship team on the field and everybody in the organization understands that is the goal. We don't try and make it too complicated."
What I love is that some of my friends try to constantly separate Jerry Jones the owner from the Cowboys' general manager. There's a belief, which doesn't make sense to me, that Jones is a great owner, but a terrible general manager. I certainly think he's an excellent stadium-builder and salesman, but I always thought that part of owning a successful company was hiring the right people -- and letting them do their jobs.
[+] Enlarge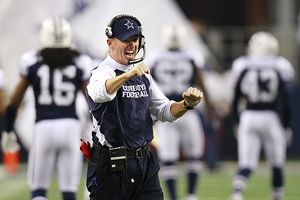 AP Photo/Mike FuentesJason Garrett has been charged with turning the team around on the field.
Jones has constantly undermined his head coaches over the past 15 years because players know that he's ultimately pulling the strings. Yes, I know that he hired a strong head coach in Bill Parcells in 2003, but he has admitted (to a hidden camera in a seafood restaurant) that Parcells was here to help him convince taxpayers to contribute to his crown jewel, Cowboys Stadium.
New head coach Jason Garrett, God bless him, stood up at his introductory news conference last month and talked about doing things the "Cowboy way." But no one really knows what the hell that means anymore. I guess it's a reference to the Jimmy Johnson years, but that's ancient history by NFL standards.
My colleague
Mike Sando wrote a column Thursday
about how the once-proud 49ers organization has been in the wilderness for years. But the Cowboys are in a much different situation. At least 49ers fans realize how awful their team has become. Mark my words that by August or whenever the lockout ends, fans and media will convince themselves that the Cowboys are ready to challenge for a Super Bowl. These are the Sultans of September -- except for this past season of course.
At least Jones has attempted to own up to his team's failure during his public appearances, which are numerous.
"I've done my worst work when I thought I had a pretty good hand," he said. "We certainly didn't play, didn't coach, didn't general manage, didn't own up to expectations."
But within moments, Jones was talking about how the Cowboys could make like the Packers and return to the Super Bowl next season. He did surprise everyone with his recent pronouncement that Garrett would have "final say" when it comes to hiring and firing coaches. But I'm pretty sure Jones has retained the right to fire Garrett.
I spent some time this week talking to Cowboys legends such as Tony Dorsett and Lee Roy Jordan about what the Cowboys have become. They both like Jones on a personal level, but remain somewhat skeptical that things will change.
"The first time [Jones] overrides Jason with one of the players, then Jason will have lost credibility or any discipline," Jordan said. "Every time he overrides the coach from then on, it will steamroll. I hope for everyone involved that Jerry has learned his lesson."
And for Cowboys fans, it never hurts to dream.
February, 2, 2011
2/02/11
1:08
PM ET
By
Matt Mosley
| ESPN.com
ARLINGTON, Texas -- The
Pittsburgh Steelers
win on such a consistent basis that they rarely have draft picks in the top half of the first round. On Tuesday, I talked to several members of the organization about what they look for in players via the draft or free agency. I'm writing a column Thursday about why the Cowboys have fallen off the map in terms of playoff success over the past 15 years, and I thought the Steelers (and the Packers) might provide a good point of reference.

Jenkins
Steelers secondary coach Ray Horton, who once won a Super Bowl as a safety for the
Dallas Cowboys
, brought up
Ryan Clark
as an example. The former Redskins safety gets lost in
Troy Polamalu
's shadow a lot of the time, but he's invaluable to the Steelers' success on defense. Clark's started 44 games for the Steelers over the past three seasons.
"When he's on the field, you don't notice him," Horton told me Tuesday. "But when he was out earlier this season, we're saying, 'What's going on out there?' He's not flashy, but everything runs smoothly when he's on the field. You have to have those types of players to be successful."
Horton told me that when he's preparing for the draft, he's constantly asking himself the question, 'Would I want my job depending on that guy?'
Since Horton still keeps up with the Cowboys from afar and was actually mentioned as a candidate at defensive coordinator, I asked what he thought of Dallas cornerback
Mike Jenkins
when he was coming out of South Florida three years ago.
"I didn't want him at the time because he wouldn't tackle," said Horton. "If you're going to play for us, you have to be able to tackle. Or you need to be picking off a lot of balls."
Jenkins appeared to put it all together in '09 as he made his first Pro Bowl team. But he regressed in 2010, and as Horton predicted, tackling is not one of Jenkins' strengths. In fact, there are two painful reminders for Cowboys fans ('08 and '10) of Jenkins going out of his way to avoid contact with ballcarriers.
I think the Cowboys' secondary was undermined by an inconsistent pass-rush this past season. But Jenkins still had a poor season. Perhaps having the Steelers and Packers in town for a week will help Jerry Jones have a first-hand look at how successful teams are built.
Or he could just keep doing it his way.
February, 1, 2011
2/01/11
4:49
PM ET
By
Matt Mosley
| ESPN.com
ARLINGTON, Texas -- I expected Packers and Steelers assistants to play it pretty close to the vest regarding the defensive coordinator vacancy with the
Philadelphia Eagles
. And I was wrong.
I had a 20-minute visit with Steelers secondary coach Ray Horton, a former Cowboys safety. He wouldn't say whether the Eagles had contacted his representative, but it's pretty clear the prospect of switching to a 4-3 defense with the Eagles doesn't bother him at all. In fact, he played on a Cowboys Super Bowl team (XXVII) that used the 4-3. Horton's not a fan of the NFL's policy that assistant coaches from the Super Bowl teams have to wait until after the game to interview for vacancies.
"It punishes you for having more success," he told me. "The system actually rewards the coaches who don't make the playoffs or get knocked out early."
Horton hopes one of the three teams that haven't hired a defensive coordinator gives him a shot. He has a great deal of admiration for the late Jim Johnson, and he talked at length about how coaches around the league still use a lot of Johnson's concepts.
I also talked to Packers defensive line coach Mike Trgovac about the Eagles' opening. He'd been quoted saying he planned to return to the Packers next season, but he told me that he wanted to leave the door open to a coordinator position. Trgovac said he'd promised his high school-aged daughter that he would remain with the Packers for at least three years if possible, so that's something that's also on his mind.
The Inquirer's Jeff McLane spent a lot of time talking to Packers inside linebackers/assistant head coach Winston Moss on Tuesday. Moss wasn't shy about his admiration for the Eagles.
"The Eagles have some established talent there right now," Moss said. "It would be fun to work with that group. They work extremely hard. They play on a fanatical level. They have some playmakers on that defense. In carefully looking at them and then competing against them twice [this season], that would be a fantastic opportunity."
He said he likes the mindset of the Eagles organization.
"It's a very tough culture there," he said. "It's a very aggressive culture there. It's a very fearless culture. You can tell how Andy Reid attacks people from his offensive scheme that that's what he wants. And I believe that I have that same passion. I have that same relentless, fearless desire to get a defense to want to be able to compete at that same level."
And we haven't even mentioned Darren Perry.
January, 31, 2011
1/31/11
6:03
PM ET
By
Matt Mosley
| ESPN.com
FORT WORTH, Texas -- I just bumped into
Dallas Cowboys
Hall of Fame running back Tony Dorsett on the ESPN 103.3 stage in Sundance Square. Dorsett played his college football at Pittsburgh and remains a Steelers fan despite knowing how much that frustrates Cowboys fans.
I asked Dorsett for his take on the way the Rooney family runs the Steelers as opposed to how Jerry Jones runs the Cowboys:
"The Rooneys are very classy," said Dorsett. "They're very deliberate with their decision-making. Once you're part of that family, Steeler nation, they treat you with respect. You don't have a lot of rambunctious players running around."
When I asked Dorsett about
Ben Roethlisberger
's issues, he was quick to respond:
"They will not allow a player to smear the organization," he said. "They wanted to let that situation run its course. But I promise you he is very lucky to still be on that team."
When he was coming out of college, Dorsett actually begged the Rooneys to draft him. But he didn't want to end his career with Pittsburgh.
"I would've only played for them if I had plenty of gas left in the tank," said Dorsett. "I wouldn't have done that to that team."
I also just talked to Cowboys legend Lee Roy Jordan. More on that later.
January, 28, 2011
1/28/11
10:43
AM ET
By
Matt Mosley
| ESPN.com
The Arlington police SWAT team was near Cowboys Stadium on Friday morning investigating a suspicious package,
according to Dallas-Fort Worth's Fox 4
. A member of the police bomb squad was looking into a manhole in a traffic island in the middle of the street, according to the TV station.
Police have closed part of the street, but apparently folks inside the stadium continue to make preparations for next Sunday's game. We'll keep you posted.
Update:
Local TV stations are now reporting that the suspicious package
was just some sort of trash
.
January, 27, 2011
1/27/11
3:50
PM ET
By
Matt Mosley
| ESPN.com
Dallas Cowboys
owner Jerry Jones had the good sense to reach out to Hall of Famer Roger Staubach when he started daydreaming about bringing a Super Bowl to North Texas. Staubach would become the chairman of the North Texas Super Bowl XLV Host Committee, and it made sense that a man known for his clutch performances would make the final pitch to the owners.
ESPNDallas.com's Todd Archer
caught up with Staubach this week
and talked about his storied playing career as well as his success in the business world. Current Cowboys players such as
Jason Witten
have benefited from getting to spend time with Staubach, one of the most unassuming icons you'll ever meet.
"When you play this game long enough, you realize that you probably made somebody angry along the way," Witten told Archer. "I don't know how he did it, but there doesn't seem to be one person saying a negative thing about him still to this day. That's the kind of image we all want to have as a player when you come here. You know you will never reach it, but what he represents both on and off the field with his image, who he is and how he carries himself as a player and a person exemplifies what it's all about."
There are only two topics that I'm aware of that can still anger the hyper-competitive Staubach: those Super Bowl losses to the Steelers in the '70s and the fact that a backup quarterback named Clint Longley once sucker-punched him from behind in training camp.
It will be interesting to watch him interact with some of the Steelers greats next week. He'll be courteous, but don't expect him to see him at dinner with any of those players. Under oath, Staubach might testify that a few of those Steelers don't belong in the Hall of Fame. But that's a topic for another day.
January, 27, 2011
1/27/11
2:35
PM ET
By
Matt Mosley
| ESPN.com
In case you missed it, NFL officials expect 105,000 fans
to attend Super Bowl XLV at Cowboys Stadium
. And some of them will be inside the building.
Leave it to Jerry Jones to sell 5,000 tickets to fans who are willing to shell out $200 a pop to stand outside Cowboys Stadium and watch the game on giant HD projection screens. Those fans had to purchase their tickets in blocks of four, which comes out to a cool $800. I'm hoping folks who made the curious decision to stand outside a live event in a Party Plaza will leave a comment explaining their rationale at the bottom of this entry.
And don't you feel a little sorry for the organizers of Super Bowl XIV who managed to cram 103,985 fans inside the Rose Bowl on Jan. 20, 1980? I wonder if they could apply for a retroactive Party Plaza plan in order to maintain the NFL record for Super Bowl attendance.
For those of you unwilling to cough up $800 to stand outside Cowboys Stadium, I'm pretty sure you can see those HD screens from the Wal-Mart across the street. And if you get hungry, the Pit Grill on South Collins is only a short walk.
At a time when our benevolent NFL commissioner has self-negotiated a $1 salary in case of a work stoppage, it's nice to know Jones can still find another revenue stream.
NFC EAST SCOREBOARD
Thursday, 11/27
Sunday, 11/30