December, 27, 2011
12/27/11
8:00
AM ET
T-minus five days until Giants-Cowboys for all of the NFC East marbles. How will we get there? We'll follow the links.
New York Giants
Giants coach Tom Coughlin was in a
downright giddy mood
as he addressed reporters Monday. He limped to the podium as a result of whatever leg injury he sustained when Giants running back D.J. Ware ran into him on the sideline Saturday, but he joked a lot about the injury -- even cracking that he'd had to cut Ware from the team for injuring him and said he doesn't plan for it to limit him in any way as he prepares for Sunday.
The Giants are hopeful they could get
a trio of injured players
-- defensive end Osi Umenyiora, wide receiver Mario Manningham and tight end Jake Ballard -- back in time for the division title game. But Monday was too early in the week to know for sure, and nothing more will be known on any of them until Wednesday's practice. Umenyiora did some sort of light work at the field house with a trainer Monday morning, but I can't vouch for the extent of it. Coughlin didn't sound real hopeful when asked about Umenyiora in his news conference.
Dallas Cowboys
Everything becomes an issue in Dallas, and so the fact that Jerry Jones showed up on the sideline during the first quarter Saturday obviously led some to conclude this had something to do with his opinion of Jason Garrett's coaching.
Garrett says that's not the case
, and the fact is there's no real reason not to believe him. Jones is a big believer in continuity at the head coaching spot. He's shown patience with every coach he's ever had but one, and he never misses a chance to talk about how much he regrets that one. Garrett's job is in no danger whatsoever, and frankly I can't understand why people keep insisting on talking as though it is.
Dez Bryant has a
new agent
, having switched from Eugene Parker, who shepherded him through the draft process and negotiated his rookie contract, to Drew Rosenhaus. Fans get panicky about what this means, when a player switches to Rosenhaus. But Bryant's not going anywhere for at least two more years anyway, and my guess is the only real impact this has is that Bryant will be extremely wealthy as long as he stays healthy and productive. But I guess you could have assumed that anyway.
Philadelphia Eagles
Bob Grotz
strongly disagrees
with Andy Reid's announced decision to play all of his starters in Sunday's season finale against the Redskins. In particular, Bob believes LeSean McCoy's injured ankle should keep him on the sideline. Bob feels so strongly about this that he thinks, if Reid won't sit McCoy down, team president Joe Banner should step in and order him to do it. If that were to happen, I believe it would portend bad things in the long term for the relationship between Reid and the team. Maybe even in the short term, honestly.
And Bob Ford thinks the Eagles are
kidding themselves
if they consider this season anything other than a failure, no matter how strongly they're finishing it. I mean, he's right, but what are they supposed to do? If they were hanging their heads and not trying, they'd be getting ripped for that. It's not ridiculous to think there might be some 2012 value in finishing 2011 with a stretch of games that allows these guys to feel like good football players again.
Washington Redskins
Mike Shanahan said Monday that the Redskins turned out to have less depth on the roster than he thought they had when he took over as coach in 2010. But one position at which he feels very deep is
running back
. With rookies Roy Helu and Evan Royster having impressed in the second half of this season and starter Tim Hightower due back from injury in time for next season, the Redskins should have a lot of options at running back going forward, which is a very good thing.
John Keim addresses the less-depth-than-Shanahan-thought thing and also
the quarterback question
in his notes. He thinks that Kyle Shanahan's recent talk about the importance of limiting turnovers sends a clear signal that the Redskins don't think Rex Grossman can be their starting quarterback again next year.
July, 22, 2010
7/22/10
7:27
PM ET
By
Matt Mosley
| ESPN.com
I definitely didn't think we'd be writing this today: The
Dallas Cowboys
have agreed to terms on a five-year contract with first-round pick
Dez Bryant
,
according to ESPNDallas.com
. The club announced the news late Thursday afternoon. Calvin Watkins of ESPNDallas.com is reporting that Bryant will receive $8.3 million in guaranteed money, which is in line with what Vikings receiver
Percy Harvin
agreed to as the No. 22 pick overall last year.
In recent days, both the Cowboys and Bryant's agent, Eugene Parker, have been optimistic that they'd quickly agree to a contract. But a lot of us thought the fact the Cowboys were opening camp earlier than usual would hinder the negotiation. I'm sure Jerry and Stephen Jones' longtime friendship with Parker played a role in this thing happening so quickly.
"This was very important to me to be able to get this done in time for the first practice," Bryant said in a released statement. "I want to help this team. I want to compete. I can't wait to start playing football again."
There was some thought that Bryant would want top-10 money since he was widely regarded as the best receiver in the draft, but the $8.3 million is not in that neighborhood. Bryant has said he wanted to be in camp on time, and that's what happened. He had a reputation for showing up late to events at Oklahoma State and it plagued him during the buildup to the draft, but Thursday's news could help change the narrative.
His teammates and coaches will be excited to see the first-rounder show up for the first practice. I'll be there for Jerry Jones' and Wade Phillips' opening news conference in San Antonio on Friday, and something tells me they'll be even more excited than usual. If Bryant wants to win a starting job heading into the regular-season, he's off to a good start.
The Cowboys have a history of signing their first-round picks on the second or third day of camp. It's a big surprise the two sides agreed to terms while the majority of first and second-rounders around the league still haven't signed.
Honestly, the $8.3 million in guaranteed money is a little lower than I expected for Bryant. But if he's as good as the Cowboys think he is, this contract will get torn up two or three years down the road. I'll be back later this evening to let you know what Stephen Jones says about the agreement.
Update:
Here's what Cowboys vice president Stephen Jones told reporters at Valley Ranch on Thursday evening: "You can make things difficult, but I think at the end of the day, the best thing that can happen to a rookie player is to get on the field right away. That certainly helps his long-term career, which ultimately helps his viability as he moves forward as far as future contracts are concerned. You get those contracts based on how you perform in your first one."
The Beast will provide reports from San Antonio beginning Friday afternoon and then we'll attend the Cowboys' first practice Saturday. Please stay close to your laptop or mobile device.
July, 20, 2010
7/20/10
9:58
AM ET
By
Matt Mosley
| ESPN.com
For the most part, signing first-round picks had become a pretty straightforward process -- unless
Michael Crabtree
was involved. Teams simply waited for the draft picks around them to get signed and then it was relatively easy to arrive at a dollar figure.
But because the Cowboys are playing in the Hall of Fame Game on Aug. 8, they're beginning training camp about four or five days earlier than usual. That means the club might not have any first-round contracts to work with while attempting to sign wide receiver
Dez Bryant
, the 24th overall pick.
Calvin Watkins of ESPNDallas.com thinks the Cowboys
might work off
Percy Harvin
's contract with the Vikings from last season. Harvin, the No. 22 overall pick, received $8.4 million guaranteed. But Watkins also indicates that Bryant is probably expecting top-10 money, which seems like a farce.
If the Cowboys wanted to pay Bryant top-10 money, perhaps they would've moved up the board and selected him in the top 10. Instead, they waited for him to fall into the 20s before moving up three spots. I'm not sensing that we have another Crabtree holdout on our hands, even though Eugene Parker represents both Crabtree and Bryant.
But it wouldn't surprise me all that much if Bryant missed the first four or five days of training camp in San Antonio. By that time, the Cowboys will have more contracts to work with. But if anyone in Bryant's camp truly thinks he's getting top-10 money, this could be a long, painful process.
The good news for Cowboys fans is that Jerry and Stephen Jones have an excellent relationship with Parker. But this is something that bears watching. Hopefully Bryant will at least show up for the Southern California portion of training camp.
April, 20, 2010
4/20/10
1:00
PM ET
By
Matt Mosley
| ESPN.com
»
NFC Big Question
:
East
|
West
|
North
|
South
»
AFC
:
East
|
West
|
North
|
South
Could a free-falling Dez Bryant be too much for Cowboys owner Jerry Jones to resist?
[+] Enlarge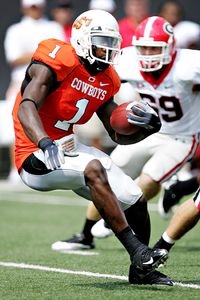 Paul Jasienski/US PresswireIf Dez Bryant is available later in the first round, the Cowboys could be one team to make a play for him.
In talking to scouts around the league and perusing dozens of mock drafts, it's pretty clear that Oklahoma State's Dez Bryant is the top wide receiver in this draft. But for a variety of reasons, a lot of folks have him falling into the 20s in Thursday's first round. Most scouts I've visited with agree that Bryant is essentially a "good kid."
It's annoying to hear folks talk about "character" issues and then not back it up with anything of substance. We all know about Bryant's harsh punishment for not being truthful with the NCAA about a meeting with Deion Sanders. But I don't think that's what is causing his stock to drop. He's represented by the same agent, Eugene Parker, as 49ers wide receiver
Michael Crabtree
. And you'll recall that Crabtree didn't exactly have a smooth entry into the league. Crabtree's uncle, David Wells, was very involved in that process. Wells is now advising Bryant. After watching what happened with Crabtree last season, you can see why teams might be leery of Bryant early in the draft.
That said, Cowboys owner Jerry Jones has met with Bryant and he's very familiar with both Parker and Wells. If Bryant slips into the 20s -- as many mock drafts are now suggesting -- Jones could make a play for him. Some draft gurus (Rick Gosselin of The Dallas Morning News for one) even have Bryant slipping all the way to the Cowboys at No. 27. If that happens, I'm almost certain the Cowboys would select him. But also keep in mind that the Ravens are sitting at No. 25. Something tells me they'll want to see what the Cowboys are willing to give up for Bryant.
I think Bryant might be the most compelling player in the first round. Don't be surprised if the Cowboys take the story to the next level.
May, 26, 2009
5/26/09
5:36
PM ET
By
Matt Mosley
| ESPN.com
Posted by ESPN.com's Matt Mosley
Don't expect the ubiquitous Drew Rosenhaus to receive a lot of sympathy cards/Tweets after being dumped by Cardinals wide receiver Anquan Boldin on Friday. NFC West blogger Mike Sando has a really logical take on the story right here.
Rosenhaus has swooped in and signed players away from agents for years. And it always seems to be right before a big payday. For once, he's seeing what it feels like to be on the other end. Now it will be interesting to see which direction Boldin goes. I wouldn't be surprised at all to see him go to CAA, where Tom Condon (name a starting quarterback in the league), Ben Dogra (Jason Smith) and Ken Kremer (Tony Romo) reside. They've pretty much owned the first days of the draft the last couple of years, and Condon takes a much different approach than Rosenhaus.
I also think Eugene Parker (Larry Fitzgerald) is a good name, although I think Boldin would like to get out of Fitzgerald's shadow. So what does all this mean to the NFC East?
Maybe not a lot, but there's always a chance that a fresh approach could work. Rosenhaus has more ties to the Giants than any team in the division, but it's not like general manager Jerry Reese is in love with any of these guys. In theory, the Eagles have the best shot of landing Boldin in a trade because of their cap room. But at this point, I think the Eagles and Giants are both serious about relying on their younger players at the receiver position.
But all it takes is one injury in a minicamp or training camp to create some movement (see Jason Taylor '08). I still think Boldin would be an excellent fit for the Eagles because he'd give them a big, physical receiver to go along with speedsters Jeremy Maclin and DeSean Jackson.
So where will Boldin be in '09? I still think there's a 90 percent chance he's with the Cardinals -- without the big money he's looking for.