September, 2, 2014
Sep 2
7:59
AM ET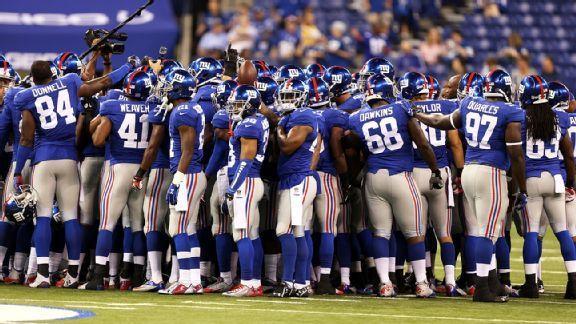 ESPN.com
New York Giants
reporter Dan Graziano makes his game-by-game picks for the 2014 season.
Week 1: at Detroit Lions
The Giants are coming off a mess of a preseason, undermanned and overwhelmed, with the offensive line still a mess and the new offense not clicking at all. No one will pick them to win this game. Except me. Prediction: Win
---
Week 2: Arizona Cardinals
This one's a comedown off the Week 1 surprise, as Arizona's banged-up defense still manages to flummox Eli Manning and collect a few interceptions. It's a bummer of a home opener as reality begins to set in. Prediction: Loss
---
Week 3: Houston Texans
Houston's defense is as liable as Arizona's to make life miserable for Manning and the offensive line. But Houston has bigger questions on offense than even the Giants, and this is a win for the New York defense against Ryan Fitzpatrick. Prediction: Win
---
Week 4: at Washington Redskins
The short week and Washington's stellar crew of offensive weapons prove too much for the Giants to overcome. Will Beatty still sees Brian Orakpo in his nightmares. Prediction: Loss
---
Week 5: Atlanta Falcons
The pattern continues, and the Giants overcome two Osi Umenyiora sacks to outscore the Falcons with a furious Manning comeback in the final minutes. The Giants poke their heads over the .500 mark as they make the turn into the most brutal stretch of their schedule. Prediction: Win
---
Week 6: at Philadelphia Eagles
The Giants don't have Matt Barkley to kick around this time when they visit the City of Brotherly Love. Chip Kelly and the Eagles show them what a truly innovative offense looks like. Prediction: Loss
---
Week 7: at Dallas Cowboys
The season-long debate about what gives when an anemic Giants offense meets a pathetic Cowboys defense tilts in Dallas' favor in the first meeting. Tony Romo & Co. have more than enough weapons to outscore Manning and his bunch, and the Giants hit the bye with a 3-4 record. Prediction: Loss
---
Week 9: Indianapolis Colts
After a long break before the Monday night home game, the Giants get taken apart by Andrew Luck, Hakeem Nicks & Co. at MetLife Stadium for a third straight loss. The offense is starting to run more smoothly, but it still doesn't have enough playmakers to outscore one of the league's better offenses. Prediction: Loss
---
Week 10: at Seattle Seahawks
You're kidding, right? Prediction: Loss
---
Week 11: San Francisco 49ers
The Giants have obviously handled the Niners in recent years and in some high-profile situations. But by this point in the season, San Francisco's defense is back to full strength, and the 49ers can't afford to lose ground to the Seahawks by failing to beat the team Seattle just beat the week before. Prediction: Loss
---
Week 12: Dallas Cowboys
A sixth straight loss is by no means out of the question here, as Romo and his crew still have the potential to outscore anyone in a given week. But from this far out, I'll forecast that something goes wrong for Romo late in this game, and the Giants get a gift. Prediction: Win
---
Week 13: at Jacksonville Jaguars
This is where the schedule starts to soften up, when the Giants start playing teams that insist on not starting their best quarterback. It's unfortunate they're 4-7 at this point and just about out of the playoff hunt, but they will get it going against the bottom-feeders. Prediction: Win
---
Week 14: at Tennessee Titans
I think the Titans are going to be dreadful this year, and by December they won't be very difficult for anyone to beat, even at home. A third straight victory keeps the Giants' hopes alive. Prediction: Win
---
Week 15: Washington Redskins
Have to be honest: The NFC East is so unpredictable that, when doing these predictions, I just decided to give the Giants a 3-3 division record with victories in all three home games and losses in all three road games. It's as fair a way as any to do it, I believe. Prediction: Win
---
Week 16: at St. Louis Rams
After moving back to .500 with four straight wins, the season falls apart at the hands of the St. Louis pass rush. An offensive line that has once again been the Giants' biggest problem all year can't protect Manning in a must-win game. Prediction: Loss
---
Week 17: Philadelphia Eagles
Tom Coughlin's teams can always find a way to play for pride. The Giants' playoff hopes are extinguished, but they still manage to end the season on a high note and with a .500 record. Prediction: Win
---
Predicted Record: 8-8
August, 7, 2012
8/07/12
6:19
PM ET
With
Tim Hightower
still out as he continues to recover from last year's serious knee injury, second-year man
Evan Royster
will
start at running back
in the
Washington Redskins
' preseason opener Thursday night in Buffalo, coach Mike Shanahan told reporters Tuesday.
Royster
I don't see this as a surprise. Royster looked like the best back in camp when I was there last week, and the conversations I had with Redskins people while there led me to believe they think Royster has a higher ceiling than fellow second-year back
Roy Helu
does assuming both players are fully healthy. I know they also like rookie
Alfred Morris
, and that he's not out of this mix, and the chief concern they have with both Royster and Helu is health.
So the fact Royster gets the first start doesn't automatically mean he's the favorite to open the regular season as the starter. For one thing, Hightower's recovery is proceeding, and if he can get healthy he's the starting running back. Also, since the chief worry about both Helu and Royster is health, we have to see not only how they look in the preseason but also how they hold up.
Shanahan's history leads me to expect Royster to play the majority of the game Thursday, rather than share time equally with Helu and/or Morris. Shanahan likes to give his running backs "whole games," or something close to it, in the preseason to simulate the kind of work they'd be asked to do if pressed into a starter's role during the season. So it wouldn't surprise me to see Royster play the bulk of Thursday's game and then see either Helu or Morris start and play most of the Aug. 18 preseason game in Chicago.
Also, I'm curious to see how much the evaluation of the running backs is affected by the injury issues with which the Redskins are dealing. Fullback
Darrel Young
is out for this game, as are starting right tackle
Jammal Brown
and left guard
Kory Lichtensteiger
, and right guard
Chris Chester
is a question mark due to a sprained ankle. It's tough for a running back to look his absolute best when he's missing his fullback and three-fifths of his offensive line.
To sum up: Consider this Royster start an interesting clue, but remember there's a lot more to sort and figure out about the Redskins' running back situation.
June, 27, 2012
6/27/12
5:49
PM ET
Jeez, with everything going on today, I almost forgot it was fantasy week! But it is fantasy week, and so I owe you a fantasy post. I promise there will be more than one tomorrow, but for today this will be it, as in addition to fantasy week it is also poker night.
Here is how our fantasy experts have
ranked the running backs
in the NFC East heading into this season. Each guy is listed next to his overall ranking, not his ranking in the division:
[+] Enlarge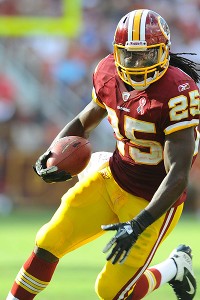 James Lang/US PresswireDon't be surprised if the Redskins use Tim Hightower and their other backs to run up the middle often.
3.
LeSean McCoy
,
Philadelphia Eagles
9.
DeMarco Murray
,
Dallas Cowboys
18.
Roy Helu
,
Washington Redskins
20.
Ahmad Bradshaw
,
New York Giants
40.
David Wilson
, Giants
42.
Felix Jones
, Cowboys
57.
Evan Royster
, Redskins
59.
Dion Lewis
, Eagles
70.
Tim Hightower
, Redskins
80.
Chris Polk
, Eagles
86.
D.J. Ware
, Giants
99.
Da'Rel Scott
, Giants
101.
Bryce Brown
, Eagles
105.
Phillip Tanner
, Cowboys
— Interesting that Murray is the only starter in the division with a clear-cut handcuff. If he's out, Jones will start. I'd watch Tanner because (a) Jones gets hurt too and (b) I think Tanner is good. But as of now, he's a clear No. 3 on the depth chart. Not so in New York, where Wilson is ranked the highest because they just took him in the first round and none of those other guys has shown much during his career so far, or in Philadelphia, where Lewis will get a challenge from the undrafted (but well regarded) Polk and seventh-rounder Brown. This is a situation to watch in training camp, and if you have McCoy, you will want to get whoever they pick to back him up. I think if you own Murray, you want Jones, but if you own Bradshaw, you're better off backing him up with non-Giants options than guessing how the carries would break down if Bradshaw did.
— As long as Hightower is still recovering from his ACL injury, this ranking is understandable. But if he's full-go come training camp, he should be the highest-ranked Redskins back. He is the starter, in the eyes of the coaches. And as much as everyone wants to make Helu happen, a healthy Hightower would be used just as a healthy Hightower was used in the first month of the 2011 season. Helu and Royster would continue to be used in key spots and develop in backup roles. The general rule in fantasy is to stay away from Mike Shanahan running backs anyway, so that's the first bit of advice on that situation. But if Hightower's healthy, he'll be the one getting the carries and the catches in September. And if you have him, you want Helu and probably Royster, too. But I don't know what kind of league you have to be in to have three roster spots to use on Redskins running backs. Me, I'd draft Helu and trade him after his first good game.
— I think Bradshaw's ranking is low, though I understand it. If he's healthy, I'd rank him probably around No. 11 or 12. I think you can survive with a healthy Bradshaw as your No. 1 back if you really load up at quarterback and wide receiver. So if you get him as the 20th back off the board, I'd say you've done well. But you need to back him up, or trade him early before the foot injuries come back.
— The two guys ahead of McCoy are Houston's
Arian Foster
and Baltimore's
Ray Rice
, in that order. That's for those of you who were too lazy to click the link. I feel ya. Real nice weather the last couple of days, who wants to spend any more time than they have to in front of the computer? Personally, I'd have no issues with ranking those three guys in any order as long as they're the top three.