NFC East:

Faces of lockout NFC
June, 1, 2011
6/01/11
11:00
AM ET
The NFL lockout has put players and owners in limbo. The ripple effects are also felt by people whose lives or businesses touch their teams. Here are their stories:
IRVING, Texas -- When
Shaun Chapas
was picked by the Cowboys in the seventh round of the 2011 draft, he had certain visions of what the NFL life would be like.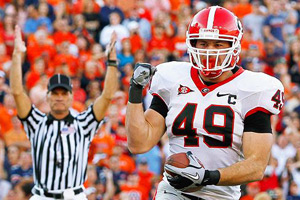 Kevin C. Cox/Getty ImagesWith no team-led camps, Cowboys seventh-rounder Shaun Chapas has bounced from high school to high school to keep working out.
Roughly a month after the Georgia fullback was selected, he is still waiting for that life to begin, thanks to the NFL lockout.
"I don't know any better because I haven't done it before," Chapas said. "It's kind of a different year. I'm looking forward to it getting going."
For the last three weeks, Chapas has been working out four days a week at The Factory in Atlanta with about a dozen other players either already in the NFL or in the same state of limbo as him. Seattle quarterback
Charlie Whitehurst
has taken Chapas and some wide receivers and tight ends, like
Ben Hartsock
of the
New York Jets
, to area high schools for on-field workouts.
They are already on their third high school in as many weeks.
"We've become nomads," Chapas said, "just having to beg high schools to let us work out."
Chapas exchanged email with
Tony Romo
about attending the Cowboys' player-run workouts in May, but said "the logistics of it made it difficult. We're going to wait a little on that."
As the 220th overall pick, Chapas is not guaranteed of making the 53-man roster, although
Chris Gronkowski
is currently the Cowboys' only other fullback. In a normal offseason, Chapas would have had a rookie minicamp and at least two weeks of organized team activities by now to get him up to speed on the offense.
Because of the lockout, though, Chapas does not have a playbook and has relied mostly on what he learned during his visit with the Cowboys at the NFL scouting combine and the quick conversation he had with head coach Jason Garrett and running backs coach Skip Peete after he was picked.
His best hope of seeing the Cowboys' offense is to catch a re-run of a game on NFL Network.
"If I catch one, I'm definitely going to watch it," Chapas said.
He has already been to Cowboys Stadium for a game. His roommate at Georgia was Detroit quarterback
Matthew Stafford
. The Cowboys won, 35-19, on Nov. 21 but Stafford did not play because of a shoulder injury.
"I was with some of his buddies from high school and his parents asked me, 'Wouldn't it be great if you could play here?'" Chapas said. "I was thinking that would be awesome, but I wasn't really thinking about being a Cowboy at the time. But it sure crossed my mind."
Now that chance is tantalizingly close, but also so far away. For now, Chapas shows up for workouts at The Factory and hopes a high school will allow them to throw some passes.
"I'll talk to friends and they'll ask the same basic question: When are you going to Dallas?" Chapas said. "I have to tell them I really don't know because we're just waiting. I think it will get worked out, right?"
June, 1, 2011
6/01/11
11:00
AM ET
The NFL lockout has put players and owners in limbo. The ripple effects are also felt by people whose lives or businesses touch their teams. Here are their stories:
It's not the interminable waiting or the verbal sparring between owners and players that eats away at
Barry Cofield
during this seemingly never-ending lockout.
[+] Enlarge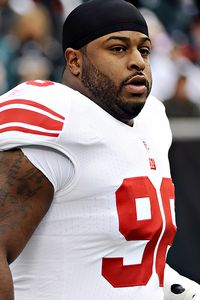 Howard Smith/US PresswireGiants defensive tackle Barry Cofield is among the players with an uncertain contract status because of the lockout.
The most difficult part to swallow for the
New York Giants
' defensive tackle is the uncertainty. While the future of the NFL hangs in the balance this summer, the earning potential of fifth-year players like Cofield will be determined as well.
After producing the best season of his career with 54 tackles and four sacks while playing on a one-year restricted free agent tender in 2010, Cofield is finally ready to cash in on his first big contract. But the lockout has left his status up in the air. Like some other fifth-year players, Cofield could become an unrestricted free agent. Or, depending on how it all plays out, the 27-year-old could be a restricted free agent again.
"It is rough," Cofield recently said. "Being restricted last year, it wasn't as frustrating. I don't know. Just to have it happen one year, I took it in stride. I was looking forward to the next season. But now with all the labor strife, and the prospect of being restricted again, it is starting to weigh on me."
Cofield has made more than $4 million during his career and understands he is better off than some other young players. But he has been an absolute bargain for the Giants, and his free agent status could become a casualty of the lockout if the sides opt to go by something similar to last year's rules.
"That is going to make a lot of people unhappy," Cofield said. "There would be a small class of unrestricted [free agents] and the rest of us would be stuck [in restricted free agency]."
Just in case, the Giants placed a second-round restricted free agent tender on Cofield and others in his situation, such as defensive end
Mathias Kiwanuka
.
"To do it again, to roll the dice with injuries and all the things that can happen in this league, it is something I am not willing to do," Cofield said. "Not having that peace of mind of a contract ... I don't know if I can be happy coming to work knowing that I should have been a free agent twice. Besides the money, just the sense of security ... I have a family, I want to know where I am going to live next year."
Cofield's first option and dream scenario is to remain a Giant and sign a lucrative contract. Cofield has repeatedly praised the Giants organization for handling these types of situations with class and he hopes to work things out with general manager Jerry Reese. If he can't stay for a multi-year deal, Cofield would like to be able to pursue the best possible deal elsewhere, or a trade.
Last year, the Giants nearly traded Cofield to the Saints in a draft-day deal that stalled when the defensive tackle and the Saints could not come to an agreement.
Last month the Giants drafted North Carolina defensive tackle
Marvin Austin
in the second round. He joins a crowd that already includes
Chris Canty
,
Rocky Bernard
and last year's second-round pick,
Linval Joseph
.
"It definitely does make you think that maybe they are preparing for life without me," Cofield said. "It gave me kind of a sense of closure ... a sense that maybe it is time for me to move on."
Unfortunately for Cofield, all he has right now is time as he continues to wait, his fate in the hands of the owners, the former Players Association and lawyers.
"I would love to be back with the Giants," Cofield said. "Hopefully we can work out a long-term deal. That would definitely be my first choice, but you don't always get to script it."
June, 1, 2011
6/01/11
11:00
AM ET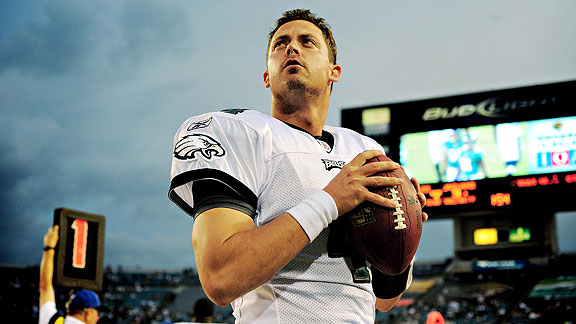 Doug Benc/Getty ImagesKevin Kolb has no idea if he's going to remain in Philadelphia or be traded.
The NFL lockout has put players and owners in limbo. The ripple effects are also felt by people whose lives or businesses touch their teams. Here are their stories:
Kevin Kolb
does not want to be a problem, and he surely never sought to become a face of the NFL lockout. But while most NFL players are just waiting to be told when to go back to work at their respective teams' facilities, Kolb finds himself in a more complex and uncertain situation. He wants to know where he's going to work. He wants to know where he's going to live. And he wants to know how much he's going to get to play.
"You could keep going down the questions. There's a list of questions," Kolb told reporters when he
showed up for a workout
last week with other Eagles players in South Jersey. "Nobody knows the answers."
A year ago, Kolb was the talk of Philadelphia. With
Donovan McNabb
traded out of town, he was the heir apparent and the starting quarterback. But he got hurt in the first game,
Michael Vick
replaced him and the rest is electrified Eagles history. By the end of the season, Vick was the man and Kolb let it be known that he would appreciate it if the Eagles would trade him somewhere so he could get a shot at being a starter again.
Instead of telling him "no," the Eagles decided to test the Kolb market. They found that teams were interested. So at this point, Kolb has reason to believe that he might get his wish. He even told of a text message he got from head coach Andy Reid during a break in the lockout that said, "I'll do what's best for you."
But while that text may have made him hopeful, it didn't answer any questions. Kolb still doesn't know where he'll be playing, where he'll be living or whether he's going to be a starter or a backup in 2011. And there's no way for him to know until the lockout is over.
"Does anybody know right now? It's kind of radio silence, it seems like," Kolb said. "I just don't want to get my mind set on one thing or one team or one place to live, and then something different happens."
Word is, as you've surely heard, Arizona is interested. But that's no done deal, and the longer the lockout goes, the more the Cardinals and other potential Kolb suitors may have to scale back and make other plans. Kolb could end up staying in Philly -- a possibility he's considered.
"I want my opportunity. If the situation can't be avoided, I'm not going to sit there and be a turd," he said. "That's not my style. I think that I've voiced my opinion, and there's nothing more I can do. Just like always, whatever situation arises, I'll just have to roll with the punches."
Right now, all he wants to know is which way to roll.