NFC East:

Final Word 2010 Week 8
September, 2, 2014
Sep 2
7:59
AM ET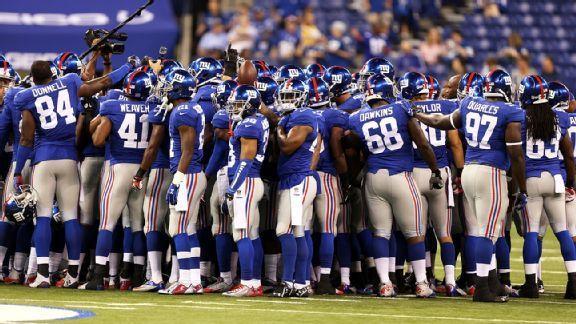 ESPN.com
New York Giants
reporter Dan Graziano makes his game-by-game picks for the 2014 season.
Week 1: at Detroit Lions
The Giants are coming off a mess of a preseason, undermanned and overwhelmed, with the offensive line still a mess and the new offense not clicking at all. No one will pick them to win this game. Except me. Prediction: Win
---
Week 2: Arizona Cardinals
This one's a comedown off the Week 1 surprise, as Arizona's banged-up defense still manages to flummox Eli Manning and collect a few interceptions. It's a bummer of a home opener as reality begins to set in. Prediction: Loss
---
Week 3: Houston Texans
Houston's defense is as liable as Arizona's to make life miserable for Manning and the offensive line. But Houston has bigger questions on offense than even the Giants, and this is a win for the New York defense against Ryan Fitzpatrick. Prediction: Win
---
Week 4: at Washington Redskins
The short week and Washington's stellar crew of offensive weapons prove too much for the Giants to overcome. Will Beatty still sees Brian Orakpo in his nightmares. Prediction: Loss
---
Week 5: Atlanta Falcons
The pattern continues, and the Giants overcome two Osi Umenyiora sacks to outscore the Falcons with a furious Manning comeback in the final minutes. The Giants poke their heads over the .500 mark as they make the turn into the most brutal stretch of their schedule. Prediction: Win
---
Week 6: at Philadelphia Eagles
The Giants don't have Matt Barkley to kick around this time when they visit the City of Brotherly Love. Chip Kelly and the Eagles show them what a truly innovative offense looks like. Prediction: Loss
---
Week 7: at Dallas Cowboys
The season-long debate about what gives when an anemic Giants offense meets a pathetic Cowboys defense tilts in Dallas' favor in the first meeting. Tony Romo & Co. have more than enough weapons to outscore Manning and his bunch, and the Giants hit the bye with a 3-4 record. Prediction: Loss
---
Week 9: Indianapolis Colts
After a long break before the Monday night home game, the Giants get taken apart by Andrew Luck, Hakeem Nicks & Co. at MetLife Stadium for a third straight loss. The offense is starting to run more smoothly, but it still doesn't have enough playmakers to outscore one of the league's better offenses. Prediction: Loss
---
Week 10: at Seattle Seahawks
You're kidding, right? Prediction: Loss
---
Week 11: San Francisco 49ers
The Giants have obviously handled the Niners in recent years and in some high-profile situations. But by this point in the season, San Francisco's defense is back to full strength, and the 49ers can't afford to lose ground to the Seahawks by failing to beat the team Seattle just beat the week before. Prediction: Loss
---
Week 12: Dallas Cowboys
A sixth straight loss is by no means out of the question here, as Romo and his crew still have the potential to outscore anyone in a given week. But from this far out, I'll forecast that something goes wrong for Romo late in this game, and the Giants get a gift. Prediction: Win
---
Week 13: at Jacksonville Jaguars
This is where the schedule starts to soften up, when the Giants start playing teams that insist on not starting their best quarterback. It's unfortunate they're 4-7 at this point and just about out of the playoff hunt, but they will get it going against the bottom-feeders. Prediction: Win
---
Week 14: at Tennessee Titans
I think the Titans are going to be dreadful this year, and by December they won't be very difficult for anyone to beat, even at home. A third straight victory keeps the Giants' hopes alive. Prediction: Win
---
Week 15: Washington Redskins
Have to be honest: The NFC East is so unpredictable that, when doing these predictions, I just decided to give the Giants a 3-3 division record with victories in all three home games and losses in all three road games. It's as fair a way as any to do it, I believe. Prediction: Win
---
Week 16: at St. Louis Rams
After moving back to .500 with four straight wins, the season falls apart at the hands of the St. Louis pass rush. An offensive line that has once again been the Giants' biggest problem all year can't protect Manning in a must-win game. Prediction: Loss
---
Week 17: Philadelphia Eagles
Tom Coughlin's teams can always find a way to play for pride. The Giants' playoff hopes are extinguished, but they still manage to end the season on a high note and with a .500 record. Prediction: Win
---
Predicted Record: 8-8
October, 29, 2010
10/29/10
4:00
PM ET
By
Matt Mosley
| ESPN.com
»
NFC Final Word
:
East
|
West
|
North
|
South
»
AFC
:
East
|
West
|
North
|
South
Five nuggets of knowledge about the Week 8 games.
[+] Enlarge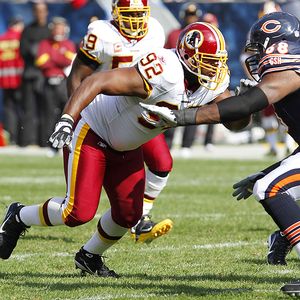 Icon SMIAlbert Haynesworth will face his former defensive coordinator, Jim Schwartz.
Can the Washington Redskins avenge last season's embarrassing 19-14 loss to the Detroit Lions?
Redskins Pro Bowl outside linebacker
Brian Orakpo
told the NFC East blog on Thursday that Washington's loss to the Lions, which ended a 19-game losing streak, has been on his mind every day since. There's no way Mike Shanahan will let his team take the Lions lightly. Early in this game, the Skins' front seven must do a good job on Lions rookie running back
Jahvid Best
, who is capable of home run plays on the ground and in the passing game. Linebacker
Rocky McIntosh
is playing at a high level and that must continue. I'm eager to see if defensive tackle
Albert Haynesworth
is able to put back-to-back solid performances together. He's facing his old defensive coordinator from Tennessee in Jim Schwartz, so you may see him bring a little something extra.
The Redskins will attempt to hold down Megatron on this game.
Calvin Johnson
is one of the best two or three receivers in the league, and we all remember what
Andre Johnson
did to the Skins. But this is
DeAngelo Hall
's defense, as he has pointed out, and he should be able to pad his interception count against the Lions. I'm ready to see if Jim Haslett does anything special against Johnson. My gut tells me that he won't.
It's time to unleash Jon Kitna on the NFL again.
I really think Kitna will play well against the Jaguars.
Aaron Kampman
's really the only Jags pass-rusher who can get home against the Cowboys, so Kitna should have plenty of time. He told me recently that he fought through elbow tendinitis in his throwing arm for a five-year stretch (2003-08), so I'm eager to see how he holds up with a lot more attempts than he's used to. The Jags' best cover man is
Rashean Mathis
, so look for
Jason Garrett
to stay away from his side when possible.
Let's see if Wade Phillips' defense can actually contribute to a win.
With the Cowboys leading the Giants 20-7, the defense pulled a disappearing act. Phillips had the gall to blame it on Kitna's three-and-out-based offense, but we all know the score. The Jaguars allegedly have inferior talent to the Cowboys, so this is a game
DeMarcus Ware
and
Anthony Spencer
should resemble Pro Bowlers again. If
David Garrard
's not under siege in this game, something's gone horribly wrong.
It's time to show the world that Dez Bryant will someday be an elite wide receiver in this league.
And that day is coming soon. I don't think the Jags have enough firepower to keep up with
Miles Austin
,
Roy Williams
and Bryant. It will be interesting to see if Bryant's given a bigger role in the offense this week. If he is, it will be a sign that he's showing more dedication in the classroom at Valley Ranch. Have a wonderful bye weekend, Eagles and Giants fans. I'm sure you'll be backing your NFC East cohorts. Oh wait ...