NFC East:

Franchise players
March, 4, 2013
3/04/13
2:29
PM ET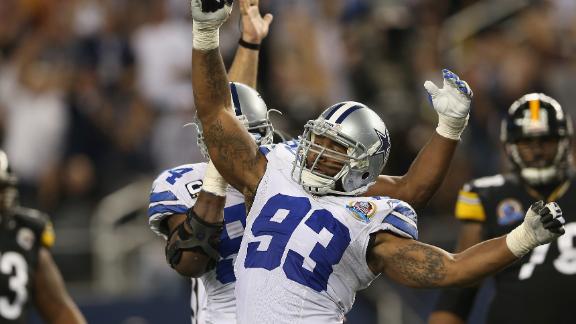 So if you happen to be going back through earlier posts and you stumble on
this one from this morning
, I'd ask that you just read the very first line and not the rest of it. Because even though it appeared to make no sense for the
Dallas Cowboys
to designate
Anthony Spencer
as their franchise player for the second year in a row, the Dallas Cowboys have decided to do just that. Spencer's agent, Jordan Woy,
tweeted the news
about two hours before the 4 p.m. ET franchise-tag deadline and wrote also, "We will work on a long-term deal."
Now, because of the franchise-tag rules in the new CBA, the Cowboys must pay Spencer at least 120 percent of his 2012 salary if he plays the 2013 as their franchise player. Since last year's tag was $8.865 million, that means Spencer's franchise tag number for this year is $10.638 million, which is a ton of money to spend on one player given the Cowboys' cap problems. (If they tagged him again next year, they'd have to pay him 144 percent of his 2013, so at least $15.319 million.) Here are some of my thoughts on this odd reversal by the Cowboys:
1. They must like their chances of getting a long-term deal done this offseason with Spencer.
It had been assumed he wanted to hit the market and cash in on his career season, but the decision to franchise him indicates to me the Cowboys and Woy must have had some encouraging discussions. If they didn't think it was possible to sign Spencer long-term, the Cowboys with this move would just be putting off a problem and making it worse. And while that wouldn't necessarily be out of character for them, the cap crunch is too obvious for even the most stubborn of owner/GMs to ignore. I would not be surprised if a deal got done to reduce Spencer's cap number for 2013.
2. They must be getting close to a contract extension for quarterback Tony Romo.
After all of the restructuring work they did last week to get under the cap, tagging Spencer puts the Cowboys right back at or over it again. While there's other restructuring they can do, the best way for them to get significant 2013 cap relief is still to extend Romo and reduce his 2013 cap number in the process. Since they seemed last week as though they'd decided not to franchise Spencer and then they reversed course today, I have to believe they have some sense now of what Romo's 2013 cap number is going to be. That likely means they've made progress on Romo's extension, which I believe has been a foregone conclusion for some time.
[+] Enlarge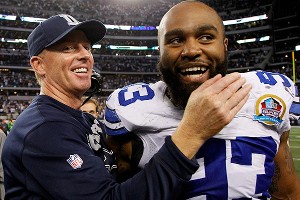 Tom Pennington/Getty ImagesCowboys LB Anthony Spencer has been tagged as the franchise player for the second straight year.
3. They're prioritizing the defensive front.
Spencer will move from outside linebacker to defensive end in the Cowboys' 4-3 defensive alignment under new coordinator Monte Kiffin, rushing the passer from the opposite side of the line from
DeMarcus Ware
and keeping
Jason Hatcher
and
Jay Ratliff
inside as defensive tackles. That looks like a very good pass-rushing line, as long as Ware and Ratliff can hold up physically and Spencer rushes the passer the way he did in 2012. Those are big "ifs," but the Cowboys appear to have decided they'd rather go cheap on the back end than the front. Which brings us to...
4. They need to address safety. Big time.
The move that immediately preceded the Spencer news was the release of safety
Gerald Sensabaugh
-- a move that saves $1.4 million in cap room and leaves an opening at the back of the defense. The Sensabaugh cut, to me, says that they like
Barry Church
as the safety who can play the single-high position when Kiffin's scheme calls for it and that they still have plans for 2012 fourth-round pick
Matt Johnson
. The problems there are that Church is recovering from an Achilles injury and hadn't proven himself as a starter for very long before that happened, and that Johnson was an overdraft at pick 135 last year and missed his rookie season with a hamstring injury. That sounds like two pretty big question marks to me for a defensive scheme that asks a lot of its safeties. Now, the draft is very deep at safety this year, and there are good options on the free-agent market, so it's reasonable to argue that they'll have an easier time replacing Sensabaugh than they would have had finding a 4-3 defensive end to replace Spencer. But there's little doubt now where the Cowboys' biggest defensive need lies.
All in all, I can't say I like the move. It smacks of Jerry Jones' and the Cowboys' persistent inability to let go before it's too late. I feel the same way about Jones' stubborn refusal to part ways with Ratliff, as a matter of fact. But this is all easy for me to say, since I'm not the one who'd have to put together a new defensive line if I made those moves. In the end, it appears as though the Cowboys decided they didn't want to try to do that this offseason.
August, 18, 2008
8/18/08
1:04
PM ET
By
Matt Mosley
| ESPN.com
Posted by ESPN.com's Matt Mosley
| | |
| --- | --- |
| | |
| | Ken Levine/Getty Images |
| | Lawrence Taylor redefined the linebacker position during his career. |
Readers' pick: Lawrence Taylor, LB
This is the biggest no-brainer in the division. Taylor redefined his position and he was a nightmare for offensive coordinators. From the time he retired, every scouting director has been in search of the next Lawrence Taylor. And there's a good chance that will never happen.
The recently retired Michael Strahan checks in at No. 2, and quarterback Phil Simms is third. I'm proud to see that Giants fans haven't completely forgotten about the great Andy Robustelli, who went to seven Pro Bowls as a defensive end in the 50s and 60s. He missed one game during his 14-year career.
That said, I'm somewhat startled to see that Hall of Famers Sam Huff and Harry Carson finished behind Tiki Barber.
Maybe I still have a bad taste in my mouth about Barber's less-than-gracious exit, but I think Huff and Carson deserve more credit.
One more thing: Any particular reason the great Rosie Brown was left off the list? Last time I checked, he was in the Pro Football Hall of Fame.
August, 18, 2008
8/18/08
1:03
PM ET
By
Matt Mosley
| ESPN.com
Posted by ESPN.com's Matt Mosley
| | |
| --- | --- |
| | |
| | Mike Powell/Getty Images |
| | Reggie White was a dominant pass-rusher during his career. |
Readers' pick: Reggie White, Defensive end
It's impossible to argue with the top pick, and that's why White ended up with nearly 49 percent of the vote. When you talk about great pass rushers in the modern era, White is the gold standard.
The last of the two-way stars, Chuck Bednarik, checks in at No. 2. Every organization has an iconic player who is emblematic of the fan base. And that's why thousands of Eagles fans own that black-and-white picture of Bednarik standing over a lifeless Frank Gifford.
I'm not surprised that Randall Cunningham finished ahead of Donovan McNabb, although I think McNabb is the better quarterback. This city fell in love with Cunningham, and old habits die hard. I did think that Ron Jaworski would finish higher than seventh place.
I get the fact that Brian Dawkins embodies the city's passion, but I'm surprised that he and Brian Westbrook finished ahead of Jaworski, who led to the team to a Super Bowl. Other players who should've been considered were "Super Bill" Bradley, Eric Allen and Bob Brown.
One major gripe: The late, great Jerome Brown has to be on this list.
Now, I'm anxious to hear from you guys.
August, 18, 2008
8/18/08
1:01
PM ET
By
Matt Mosley
| ESPN.com
Posted by ESPN.com's Matt Mosley
| | |
| --- | --- |
| | |
| | US Presswire |
| | Fresh off his induction into the Hall of Fame, Darrell Green was voted the greatest Washington Redskin of all time. |
Readers' pick: Darrell Green, CB
Not that he didn't deserve top honors, but you have to think Darrell Green's timing was pretty good for being voted No. 1. Green and Art Monk grabbed the top two spots a couple of weeks after being inducted into the Pro Football Hall of Fame.
Running back John Riggins may be the most iconic player in franchise history and that's why I was surprised to see him check in at No. 4 on the list, one spot behind quarterback Sammy Baugh. In some franchises, the old-timers got the shaft in SportsNation voting, but Redskins fans showed off their knowledge by taking care of some of the past greats.
Quarterback Joe Theismann finished one spot ahead of Hall of Famer Sonny Jurgensen, but that's not a big surprise. He led the team to a couple of Super Bowls, and still spends time around the organization.
Anyone who watched Ken Houston play safety knows that he's too far down on the list. Dexter Manley was a tremendous player, but to put him ahead of Houston and wide receiver Charley Taylor doesn't seem right.
And is it too much to get one of the Hogs on the list? Russ Grimm, Joe Jacoby, I'll vote for both of those guys. Only one more major problem with this list: If I'm going to get called "Mark" my entire life because of a Redskins kicker, Mark Moseley has to be on the list.
August, 18, 2008
8/18/08
1:00
PM ET
By
Matt Mosley
| ESPN.com
Posted by ESPN.com's Matt Mosley
| | |
| --- | --- |
| | |
| | Ronald Martinez/Getty Images |
| | Emmitt Smith was voted the greatest player in Cowboys history. |
Readers' pick: Emmitt Smith, RB
I'm not surprised that our SportsNation friends selected Smith as the greatest player in Cowboys history. But the fact that it was such a landslide caught me off-guard. Smith won with more than half of the votes, and Roger Staubach was a distant second. Staubach is the most iconic member of the organization, so I thought it would be a lot closer.
It's also surprising that Troy Aikman only finished with a small percentage of the vote. I watched pretty much every game during the Super Bowl years of the early '90s and you always had the feeling that the Triplets (Aikman, Smith and Michael Irvin) were all about equal in terms of their importance to the team.
My biggest gripe about the fan voting is that defensive tackle Bob Lilly finished sixth, behind offensive lineman Larry Allen. This tells me that we didn't have a lot of the 50-and-over crowd rockin' the vote. I'm not old enough to have watched Lilly in his prime, but they call him "Mr. Cowboy" for a reason.
Putting him sixth on a list of all-time Cowboys is way low. On my list, he would be fighting for the top spot. Allen was a great player, but I have a hard time putting him ahead of Randy White, Rayfield Wright, Michael Irvin and Mel Renfro. Honestly, I'd have a hard time putting him ahead of Lee Roy Jordan and Cliff Harris, but I'll save those arguments for another day.