NFC East:

Freddie Mitchell
March, 7, 2012
3/07/12
8:00
AM ET
Mornin'. Nice day here in the East. Want to start off with some links?
New York Giants
Plaxico Burress is at it again, giving interviews in which he says he'd be happy to
go back to the Giants
. My first reaction was, "Come on. Not this again?" But the more I thought about it, the more I figured the one thing Burress has going for him here is that neither Tom Coughlin (whom Burress has ripped at nearly every turn since his release from prison) nor Jerry Reese (whom Burress blatantly used for leverage in contract negotiations with the Jets last summer) is the sort of man who holds a grudge. And they're going to need a receiver to replace Mario Manningham. The main thing Burress has going against him is that he doesn't appear to be very good anymore.
Victor Cruz, the guy who blew up like a firework after the Giants failed to sign Burress last summer,
has a book deal
and is
buying his mother a house
.
Philadelphia Eagles
Jonathan Tamari has an Eagles
free-agency primer
, which starts with linebacker and does in fact throw the name of London Fletcher into the mix. The kind of thing that ought to scare the Redskins into making sure Fletcher doesn't hit the market next Tuesday, I think.
Former Eagle Freddie Mitchell is apparently facing
federal tax fraud charges
for a scheme in which he allegedly recruited pro athletes to get false tax returns. I find these stories sad.
Dallas Cowboys
There's an issue now about maybe Keith Brooking returning to the Cowboys next year, which didn't seem likely a few weeks ago but may make some degree of sense considering their lack of depth and experience at the inside linebacker position. Jason Garrett talked about it to ESPNDallas.com but
said nothing of substance
. If I had to guess I'd say Brooking's on a list of possible veteran options at the position as they hedge against the chances that Bruce Carter is ready to start.
Garrett also said there is
no bounty program
on the Cowboys and that he expects a lot of teams to be hearing from the league in the coming days and weeks to ensure that they take steps to make sure there won't be.
Washington Redskins
Mike Jones reports that the franchise tag given to Fred Davis was of the
non-exclusive variety
, which is common and means another team could technically get him in exchange for two first-round picks. But the likelihood of that happening is ridiculously small, and given the low cost of the tight end franchise tag this year and the good use to which the Redskins could put two first-round draft picks make it a risk well worth taking. Davis will be a Redskin next season, and I doubt he'll get a long-term deal in the meantime, given the drug suspension thing. He's got to stay on the straight and narrow for a year to convince them.
The Redskins' team site looks at three top
wide receiver candidates
and the connections they have to the team and/or the D.C. area, as the Redskins prepare to hunt for wide receiver help on the free-agent market.
August, 10, 2010
8/10/10
12:33
PM ET
By
Matt Mosley
| ESPN.com
ESPN.com NFL Power Ranking
(pre-camp): 20
ASHBURN, Va. -- It's 7:15 on a Friday evening at Redskins Park and coach Mike Shanahan has taken a short break from watching film of the morning's practice. The man who always appears to be five minutes removed from a tanning session is discussing a philosophy that's served him well over the years, but came into question when he was fired in Denver after 14 seasons and two Super Bowl titles.
Now Shanahan and his hand-picked quarterback,
Donovan McNabb
, want to prove that both of their previous employers made a mistake. We're talking about two of the most prideful men in the league, and in two separate conversations with the NFC East blog last Friday, they essentially said the same thing.
"Yeah, both of us are here to win a Super Bowl," Shanahan said. "If you're not in it to win a Super Bowl, then you need to find something else to do. I'm not ever going to comment on how things were done here before, but we had a philosophy that worked in Denver, and that's what we're going to follow."
It's worth noting that two years ago, players were hailing the unorthodox approach of Jim Zorn. He played music during practice and delivered lectures on designer jeans. He was sort of the lovable hippie -- right up until the team started losing. In '09, the Redskins became the most dysfunctional organization in professional sports. Zorn couldn't be shamed into resigning, so the Redskins simply stripped him of his dignity (and play-calling duties).
Dan Snyder hired Bruce Allen and Shanahan because he has lost so much credibility with Skins fans. Allen and Shanahan immediately began changing the culture at Redskins Park. This was a team crying out for some form of discipline, and Shanahan has delivered in spades. If a player doesn't hustle between drills in practice, Shanahan will call their names after practice and tell them to run extra sprints. He also makes sure that every player keeps his shirttail in during those sessions. Shanahan can get away with this because of those two rings.
With one hire, the Redskins are once again relevant in the NFC East. Now, let's take a closer look at their chances of making the playoffs:
THREE HOT ISSUES
[+] Enlarge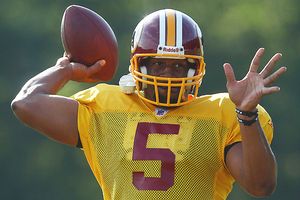 Win McNamee/Getty ImagesQuarterback Donovan McNabb is working on building a rapport with his new group of receivers.
1.
Can Donovan McNabb elevate this pedestrian group of receivers to new heights?
There's a reason that
Santana Moss
seems to have a perpetual smile on his face these days. He didn't even have time to complete routes last season because of the Redskins' woeful offensive line. Now, coaches are showing him film of the Texans'
Andre Johnson
and saying he could do similar things. McNabb invited Moss and the rest of the receivers to work out with him in Phoenix early last month, and you can already see the benefits on the playing field.
"I told them to bring their wives and girlfriends because I wanted it to be a family affair," McNabb told me. "When you're around the facility, you always feel like you're being watched. I thought it was a great opportunity for us to bond away from everyone else and start developing some chemistry."
But Moss is the only thing close to a sure thing. We're still waiting for former second-round draft picks
Devin Thomas
and
Malcolm Kelly
to show some consistency. For now, they're listed on Shanahan's depth chart as third-stringers. McNabb may have to rely on the 38-year-old
Joey Galloway
to play a significant role in the offense. The good news for Skins fans is that McNabb once took receivers such as
Freddie Mitchell
and
Todd Pinkston
to NFC title games on a regular basis.
2. When will Albert Haynesworth crack the starting lineup?
Shanahan bristled when I asked him if Haynesworth was causing a "circus," but the coach must realize that the defensive lineman has dominated the headlines. I think the players were watching closely to see how Shanahan dealt with the brooding star. Now that he's finally passed the infamous conditioning test, Haynesworth will work as a backup defensive tackle. He'll eventually start at right defensive end, but it's not going to happen overnight.
Haynesworth could be a huge part of Jim Haslett's defense if he buys into what the coach is doing. I am eager to see whether this knee issue goes away in the preseason. Haynesworth needs more game repetitions than usual because of all the time he missed. If the knee prevents him from getting on the field, it will become another distraction.
[+] Enlarge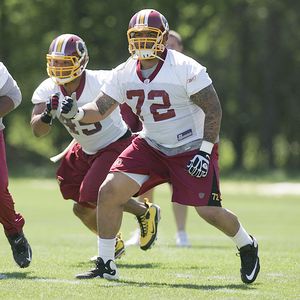 Jeff Fishbein/Icon SMIRookie tackle Trent Williams has drawn rave reviews from coaches and teammates.
3. Have the Redskins solved their issues on the offensive line?
I think a lot of this season hinges on whether three new additions to the line play well.
Jammal Brown
was a Pro Bowl player for the Saints at one point, but he hasn't played since '08. He'll have to knock off some rust while learning how to play right tackle. Rookie
Trent Williams
has a ton of ability, but he's working with a much thicker playbook now. There were questions about his work ethic at the University of Oklahoma. So far, he's said and done all the right things in Washington.
And we'll see how
Artis Hicks
performs at right guard. I always thought he was a better option than
Mike Williams
(out for the year), but this unit needs a lot of work in the preseason. McNabb will bring a lot to this team, but he can't win a lot of games if he's constantly on his back. Ask
Jason Campbell
about that.
BIGGEST SURPRISE
I was thoroughly impressed with free safety
Kareem Moore
. He was a sixth-round pick in '08 who didn't make much of an impact in his first two seasons. Now, it looks like he'll lock down a starting spot. He's had an excellent camp. He plays with a lot of confidence and he'll allow
LaRon Landry
to play closer to the line of scrimmage.
BIGGEST DISAPPOINTMENT
You knew that one of the veteran running backs would probably be out of the mix, but I didn't expect it to happen so early in the proceedings.
Willie Parker
is officially listed at the Skins' fourth-string running back. Hard to imagine him making the final roster unless there are injuries.
[+] Enlarge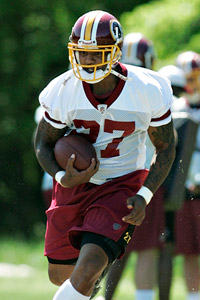 Jeff Fishbein/Icon SMIAfter recording 581 yards last season, Larry Johnson is turning in a solid camp in Washington.
OBSERVATION DECK
April, 27, 2010
4/27/10
1:00
PM ET
By
Matt Mosley
| ESPN.com
»
NFC Big Question
:
East
|
West
|
North
|
South
»
AFC
:
East
|
West
|
North
|
South
Did the Philadelphia Eagles wheel and deal themselves out of a quality cornerback?
[+] Enlarge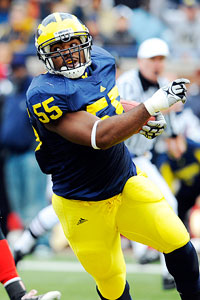 Eric Bronson/Icon SMIThe Eagles filled a void by drafting Michigan defensive end Brandon Graham, but they still have questions at cornerback.
If nothing else, new Eagles general manager Howie Roseman was entertaining while running his first draft alongside coach Andy Reid. Even the stoic Reid admitted to being impressed with the way Roseman moved up and down the draft board.
I've talked to some scouts who thought the Eagles "reached" a bit in moving up 11 spots to land Michigan defensive end
Brandon Graham
. But Roseman and Reid obviously decided that Graham was the best fit scheme-wise as a pass-rusher and they didn't want to take the chance of losing him. The fact they gave up two third-rounders to move from No. 24 to No. 13 was almost forgotten as Roseman basically tried to commandeer the fourth round. The Eagles once again extended a helping hand to a division foe in flipping picks with the Cowboys in the second round. The Cowboys took Penn State linebacker
Sean Lee
, who's expected to eventually take over for
Keith Brooking
at inside linebacker.
I think Graham and South Florida safety
Nate Allen
were both solid choices for the Eagles, but it concerns me they couldn't find a potential starter at cornerback. Veteran
Marlin Jackson
, signed in free agency, has experience at cornerback, but he's probably more comfortable at safety after tearing the ACL in each knee the past two years.
Asante Samuel
's a perennial Pro Bowler, but he's one of the least willing tacklers in the league.
The projected starter on the other side,
Ellis Hobbs
, is returning from a neck injury. I thought the Eagles needed more depth at cornerback in this draft, but they only came up with fourth-rounder
Trevard Lindley
out of Kentucky. Had Lindley come out after the '08 season, he probably would have gone in the second round. But the cornerback suffered a high ankle sprain last year and had a challenging senior season.
"He got banged-up this year,'' Reid said Saturday. "He had a high ankle sprain and that can kind of put a damper on a college season, and that's what happened. It happened early and he never really got over it, but he didn't want to stop playing, which showed me something."
Good to know, but it doesn't really address the issue that
Miles Austin
and
Jason Witten
ran roughshod over this secondary at the end of the '09 season. Even
Roy Williams
stumbled into daylight a couple times against this unit. Reid seems to think that players such as
Macho Harris
and
Joselio Hanson
can help patch together a decent group of cornerbacks. But that's a scary proposition when you know that the Giants and Cowboys both have big-time weapons on the outside. And the Redskins happened to acquire a quarterback who has been successful with inferior talent at wide receiver before. (I'd give
Santana Moss
the edge over Freddie Mitchell.)
I think the Eagles certainly improved their roster this past weekend, but cornerback is still a position of need. If you want to poke holes in Roseman's first draft, I'd start with that position.
October, 22, 2009
10/22/09
4:30
PM ET
By
Matt Mosley
| ESPN.com
Posted by ESPN.com's Matt Mosley
It's hard to believe that it's already been a year since the Cowboys traded their '09 draft for Lions wide receiver
Roy Williams
. It's much too early to call the trade a bust, but things are certainly trending in that direction, what with his 30 catches and two touchdowns through 14 games.
Williams spoke to reporters Thursday about his first year in Dallas. Here's what he had to say
per Brandon George of the Dallas Morning News
:
"When I first got here, Tony [Romo] was used to T.O. and [Jason] Witten, and I come in with a different speed, a different body language and he has no clue how I am, so he had to learn that and it was hard for him and it was hard for me," Williams said. "It was hard for me to get 19 balls in a year. It's hard for me right now to have 11 balls in a year. That's why it's just OK.
"It's frustrating, but at the same time I'm satisfied because I know what I'm doing out on the football field. I know that I'm doing things I'm supposed to do. I know when you cut the film on Monday, No. 11 is showing up to play."
Cowboys owner Jerry Jones had similar things to say Wednesday when he was asked about Williams' production since the trade. He warned reporters not to rush to judgment:
"I'm pleased with the trade, and the reason I'm pleased is because he's everything that you want him to be work-ethic wise, and what he's doing as a teammate and what he's doing as far as coachability. The thing that we all know is that he has really top talent, and I think we'll get the benefit of that. We can certainly enhance it if Miles Austin can continue to be a threat speed-wise on the other side."
That's right, folks. If Austin can continue to crank out 250 yards per game, there's a chance Williams will be open at some point this season. The one thing I'll say for Williams is that he's extremely accessible in the locker room and an entertaining quote. But receivers are never quite as entertaining when they're not catching touchdowns.
Just ask Eagles fans about
Freddie Mitchell
.
May, 11, 2009
5/11/09
1:31
PM ET
By
Matt Mosley
| ESPN.com
Posted by ESPN.com's Matt Mosley
Here are some of the top stories in the Beast coming out of the weekend. Thanks for your continued interest:
Cowboys

Eagles

Giants

Redskins
March, 15, 2009
3/15/09
5:35
PM ET
By
Matt Mosley
| ESPN.com
Posted by ESPN.com's Matt Mosley
The folks at Real Clear Sports blog put together a top 10 list of the "most damaging egos in sports." Some of you might be surprised to see three current or former members of the Dallas Cowboys organization on the list.
Cowboys owner Jerry Jones and former wide receivers Terrell Owens and Keyshawn Johnson were all included. It's not shocking to see T.O. and Jones on the list, but making Johnson a top-five choice is ridiculous. If his ego was so damaging when he was with the Jets, I'm not sure why Bill Parcells was so eager to sign him in 2004. What happened in Tampa was simply a stare-down contest between Johnson and Jon Gruden.
You'd be hard-pressed to find any of Johnson's ex-teammates who would accuse him of having a "damaging ego." Is there anyone else who should've been included on the list from the NFC East? Does LaVar Arrington deserve honorable mention? Jeremy Shockey? Freddie Mitchell? Hollywood Henderson? Duane Thomas?
Let me hear from you. Hat tip to the JJT blog.
February, 12, 2009
2/12/09
4:44
PM ET
By
Matt Mosley
| ESPN.com
Posted by ESPN.com's Matt Mosley
Former Eagles wide receiver Freddie Mitchell was minding his own business when a FedEx package containing 7 pounds of marijuana arrived at his BBQ restaurant in Florida. Apparently the package went to his 90-year-old grandmother's house before she redirected it.