October, 25, 2013
10/25/13
1:45
PM ET
PHILADELPHIA – Eagles quarterback
Michael Vick
is officially listed as probable for Sunday's game against the
New York Giants
.
Vick
In NFL parlance, that means there is a 75 percent chance Vick will play. In reality, it means Vick will start unless he reinjures his left hamstring before kickoff.
"I want to be out there with my teammates," Vick said Thursday. "That's why I'm giving it everything I've got. I miss football, I can tell you that."
Vick said he was "very optimistic" about playing and would feel like a "failure" if a setback kept him from playing Sunday.
The Eagles allow no media access on Fridays for what is considered their lightest practice session of the week. Vick said Thursday he would run hard before practice, pushing the hamstring at full speed for the first time since his Oct. 6 injury.
Vick was a full participant in the ensuing practice. Assuming he followed through, he met his own criteria for starting against the Giants.
Nick Foles
, who left last week's game with a concussion, was formally listed as out for Sunday's game. Foles did not practice all week as he followed the NFL's concussion protocol.
With Vick starting, rookie
Matt Barkley
will be the No. 2 quarterback once again. To dress a third quarterback, the Eagles would have to make a roster move to add G.J. Kinne from the practice squad. In the absence of that, tight end
James Casey
would serve as emergency quarterback.
The Eagles listed two defensive starters, safety
Patrick Chung
(shoulder) and defensive end
Cedric Thornton
(knee), as probable. That status was a bit surprising for Thornton, who coach Chip Kelly named as the team's best defensive lineman so far this season. The coach made no mention of Thornton's injury being a concern all week.
Cornerback
Bradley Fletcher
, who missed some practice time after hyperextending his knee last week, was listed as probable. So was running back
Chris Polk
, who was inactive last week with a shoulder injury.
October, 24, 2013
10/24/13
3:00
PM ET
PHILADELPHIA -- All summer,
Philadelphia Eagles
head coach Chip Kelly talked about the luxury -- and the importance -- of having two quarterbacks capable of making quality starts in the NFL.
At practice two weeks ago, Kelly suddenly faced the prospect of having none.
Nick Foles
, preparing to start at Tampa Bay in place of the injured
Michael Vick
, felt a pop in his groin muscle.
Kelly's reaction?
"It's basically, 'Holy crap, what do we do now?' " Kelly said. "Thank goodness it wasn't a real serious deal. It didn't affect him. He went out and played really well in the Tampa Bay game."
[+] Enlarge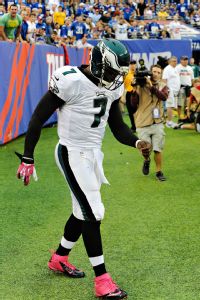 AP Photo/Bill KostrounCoach Chip Kelly is hopeful that he can get a full game from injured QB Michael Vick as the Eagles prepare to face the Giants.
With Vick's hamstring still an issue, Foles was knocked out of the next Sunday's game against Dallas with a concussion. Rookie
Matt Barkley
played the fourth quarter and would have been the starter against the
New York Giants
this week if Vick hadn't returned to practice. The Eagles signed G.J. Kinne to their practice squad, making him No. 3 in the line of succession.
If Vick were to experience that same popping sensation in his hamstring late in the week, Kelly could be looking at an NFC East game with Barkley and Kinne as his only available quarterbacks.
One of the more compelling questions about Kelly's offensive scheme was whether his quarterbacks could last a full season running it. The current situation, however, says more about the vagaries of the position than about Kelly's read-option attack.
Foles' concussion came on a standard pass play. He had time in the pocket, couldn't find a receiver and started sliding to his left. When the Giants defenders started to pursue, he ran all the way across the field to the right sideline. He took a massive hit from
George Selvie
because he failed to throw the ball away.
Foles was dinged earlier in the game. On one of his few designed read-option runs, he was kicked in the knee by a defender. He was limping noticeably after that. It wasn't a serious injury, but it was the only one of the three quarterback injuries that could be traced specifically to Kelly's system.
Vick wasn't injured on one of the designed runs Kelly dialed up for him. He was flushed from the pocket and, as he has a thousand times before, he took off. He pulled the hamstring as he smartly avoided contact and raced to the sideline.
That could be seen as a comfort, going forward. Or it could be seen as cause for even more anxiety: Vick is 33 and missing multiple starts even when no one hits him now. After vowing to play all 16 games this season, he appears even more prone to injury.
"It's a muscle pull," Kelly said. "That's all he's had since I've been around him. As we move forward, we try to identify the problem and then try to fix the problem. I don't know what I can go on. I'm not going to say, 'Mike, I don't think you should go today because you got hurt three years ago.'"
The injury history was a factor in deciding to bring Vick back in the first place. Kelly decided it didn't outweigh the potential he saw in Vick's mobility and arm strength.
So here he is, one pop away from Matt Barkley and two pops away from G.J. Kinne.
March, 1, 2013
3/01/13
12:00
PM ET
»
NFC Eight in the Box
:
East
|
West
|
North
|
South
»
AFC
:
East
|
West
|
North
|
South
Welcome to Eight in the Box, an NFL Nation feature that will appear each Friday during the offseason. This week's topic: How each NFC East team needs to address the quarterback position.

Dallas Cowboys:
The Cowboys would like to sign starting quarterback
Tony Romo
to a long-term contract extension. Romo's deal expires at the end of 2013, and the Cowboys know there won't be any quarterbacks on next offseason's market who are as good as Romo is. They also would benefit from reducing his 2013 salary-cap number (about $16.8 million), and an extension beyond this year would allow them to do that by spreading signing bonus money out over future seasons. Romo will be 33 in April, and the backup quarterback is
Kyle Orton
, who's not a long-term solution. So there is a chance the Cowboys could try to find a quarterback in the middle rounds of the draft and start grooming him.

New York Giants:
The Giants have one of the most stable quarterback situations in the entire league, as
Eli Manning
has not missed a game since becoming the starter during his 2004 rookie season. The Giants' plan for each season is founded in large part on Manning's durability and reliability. If he were to get hurt, they'd be more or less lost. Their preferred backup,
David Carr
, is an unrestricted free agent, and right now the only other quarterback on the roster is
Curtis Painter
(who coincidentally used to back up Manning's brother in Indianapolis). The Giants could stand to improve their backup quarterback situation, but unlike the Cowboys, they don't like to spend to do so.

Philadelphia Eagles:
On the other end of the spectrum, once they add Arena Leaguer G.J. Kinne to the mix as they're reported to be doing, the Eagles will have five quarterbacks on their roster. The favorite to start is
Michael Vick
, though second-year man
Nick Foles
and career backup
Dennis Dixon
could factor into a training-camp competition. (
Trent Edwards
is likely the odd man out.) If Vick is to be the starter, the backup quarterback position becomes very important, as Vick obviously has a history of injuries. So the Eagles must figure out whether Foles or Dixon (or I guess Kinne) is the best option. The Eagles also could draft a quarterback with the No. 4 pick in April if they fall in love with someone like
Geno Smith
or
Matt Barkley
. New coach Chip Kelly is keeping his options open, which is a smart way to go in a market that presents him with few outstanding options.

Washington Redskins:
All of the focus in Washington is on the recovery of starter
Robert Griffin III
from reconstructive knee surgery. In spite of his new adidas ad campaign that proclaims him "All in for Week 1," there is no way to project whether Griffin will be ready for the start of the season. If he's not, the starter's role will fall to
Kirk Cousins
, last year's fourth-round pick, who relieved Griffin three times and started one game for the Redskins in 2012. Look for Mike Shanahan to add a quarterback or two to the bench mix before training camp and the preseason arrive, as the Redskins will need depth while Griffin heals. Veteran
Rex Grossman
is someone the Redskins like having around and could factor into that depth mix if he doesn't find work somewhere else.
NFC EAST SCOREBOARD
Sunday, 10/26
Monday, 10/27