June, 29, 2011
6/29/11
2:57
PM ET
ESPN's famed NFL draft guru, Mel Kiper, is running a series of division-by-division "summer audits" that address each team's remaining needs post-draft and pre-free agency.
Today's entry is on the NFC East
, which is of course why I bring it up. It's an Insider piece, so I'm not going to give it all away (because we want you to pay for the Insider access, of course). But I'll offer a taste of what Mel had to say on each of our four teams.
Dallas Cowboys
Mel was fine with
Tyron Smith
as the first-round pick, though he thinks you can't take a tackle that high and not play him on the left side. Overall, no surprise, he says defensive line, safety and cornerback remain as serious issues the Cowboys still must resolve: "The big question is whether the Cowboys can get help on the defensive line, particularly at defensive end. This was the league's 23rd-ranked defense, and I think it started up front."
New York Giants
Mel thinks the Giants would have gone for an outside linebacker in the first round if
Prince Amukamara
hadn't fallen into their laps. That linebacker spot remains an issue, and Mel (a wise, wise man) thinks (as I do) that New York still could stand to address the offensive line: "How long will this aging offensive line hold together? We saw them struggle last year, so expect the G-men to do some scouring for starting help in free agency, or at least adding some depth. Same situation at linebacker, where the team was frankly terrible in 2010."
Philadelphia Eagles
It doesn't seem like anyone knows what to make of a decision to pick a guard in the first round even if starting guard was one of your main needs. Mel was surprised the Eagles didn't take Wisconsin tackle
Gabe Carimi
over
Danny Watkins
, though he does like Watkins' potential. And he likes that the Eagles addressed the secondary, though he's not sold on the ability of either
Jaiquawn Jarrett
or
Curtis Marsh
to help right away. "This team may need to look for some free agent help there and at defensive tackle to shore up the defense. Remember, too, the big question involves what they can get for
Kevin Kolb
. Can they add some help, or will it only be picks?"
Washington Redskins
Mel is fine with the Redskins' decision not to draft a quarterback if they didn't see their long-term answer in this draft. He's not a big
Jarvis Jenkins
fan, but he likes the picks of
Leonard Hankerson
and
Roy Helu
as guys who can help on offense immediately. "For whoever is taking the snaps, the offensive line will need to continue to progress, and Hankerson will need to quickly add an element in the passing game. Obviously, the biggest questions all start on the offensive side of the ball, where you have to hope Shanahan can get the running game he made famous untracked with some new talent."
April, 30, 2011
4/30/11
7:30
PM ET
»
NFC draft analysis
:
East
|
West
|
North
|
South
»
AFC
:
East
|
West
|
North
|
South
To survive in the NFC East, you usually must have the "go-for-it'' mentality.
Redskins owner Dan Snyder usually goes for it in free agency or trades. Cowboys owner Jerry Jones is always willing to go for the home run. The Eagles are consistently aggressive. The Giants have a great flair for personnel.
But NFC East teams were safer, maybe smarter, in the 2011 draft. The Cowboys and Eagles took offensive linemen in the first round. Both were safe, solid picks. The Eagles, in fact, passed up the chance to gamble on Colorado cornerback
Jimmy Smith
, who has off-the-field issues, for the safe selection of Baylor guard
Danny Watkins
. The Giants drafted to the ratings on their board instead of reaching for players at need positions.
If that wasn't enough, the Redskins kept trading down and acquiring picks. The NFL may be struggling through the "Year of Living Dangerously" on the labor front, but the NFC East played it safe for three days.
BEST MOVES
The NFC East was starting to become Jurassic Park for offensive linemen. The Redskins and Cowboys let their offensive lines get too old and paid the price. The Giants are on the verge of doing the same. The
Cowboys
made the best moves, taking
Tyron Smith
, the 6-5, 307-pound offensive tackle from Southern Cal in the first round, and Missouri State guard
David Arkin
in the fourth. Smith's selection was the best. Outsiders thought the Cowboys would jump at the chance to fix last year's problems at cornerback, but Jones rightfully looked at 2010 as off seasons for talented cornerbacks
Terence Newman
,
Mike Jenkins
and
Orlando Scandrick
. Whether Dallas plays Smith at left tackle or right is irrelevant. The Cowboys are younger at tackle with
Doug Free
, their top priority for re-signing, and Smith. It also helps that offensive line coach Hudson Houck comes from USC and knows how to take young, talented blockers and turn them into stars. Kudos to Jones for not being cute and trading down for more picks.
RISKIEST MOVE
[+] Enlarge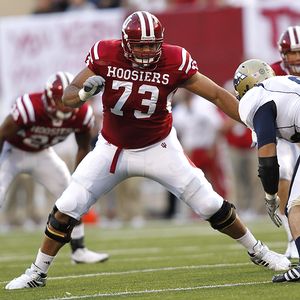 AJ Mast/Icon SMIDid the Giants wait too long to take an offensive tackle by drafting James Brewer in the fourth round?
The
New York Giants'
decision to wait until the fourth round to take their first offensive line prospect, tackle
James Brewer
from Indiana, is a big risk. Brewer isn't a sure bet. He'll take time. There is no faulting the decision to take cornerback
Prince Amukamara
in the first round. The Giants, according to sources, liked Colorado offensive tackle
Nate Solder
, who went two spots before their pick in the first round. They didn't have grades on offensive tackles
Anthony Castonzo
and
Gabe Carimi
that matched the 19th pick. Amukamara was considered a top-11 prospect. In the second round, they got defensive tackle
Marvin Austin
, who had a low first-round grade. Teams shouldn't go against their draft boards, but at some point, the Giants need to get an offensive lineman who will start as a rookie. We've seen this too often in the NFC East, and now the Giants might have to scramble in the free-agent market for help, and that will be tricky.
MOST SURPRISING MOVE
The Redskins skipped the chance to draft a quarterback even though they are going to move
Donovan McNabb
and don't have
Rex Grossman
signed to a contract. Here's why:
John Beck
might be their quarterback in 2011 unless something opens up in free agency or a trade. That's right, John Beck, the former second-round pick of the Miami Dolphins who is 0-4 as a starter in the NFL. When Beck came into the league in 2007, he was considered a
Kurt Warner
-type quarterback, but like Warner, he's already well-traveled. (He's with his third team.) There is a belief in Redskins Park that they don't need to rush into a quarterback as they did last year in making the McNabb trade. Knowing they weren't drafting a quarterback, the Redskins worked on getting bigger players to fit their 3-4 defense.
FILE IT AWAY
The Redskins made five draft trades that enabled them to increase their number of draft choices from eight to 12, an unusual strategy for a franchise that loves to go for splash and flash. So file away the names of the players acquired and watch whether they become valuable role players or potential starters down the line.
Ryan Kerrigan
(left outside linebacker) and
Jarvis Jenkins
(defensive end) could be starters in the 3-4 defense, and third-rounder
Leonard Hankerson
is an interesting receiving prospect. The key name to file away is halfback
Roy Helu
from Nebraska, a fourth-round pick whom the Redskins actually traded up to get. The other names to file away are safety
Dejon Gomes
, wide receiver
Niles Paul
, running back
Evan Royster
, wide receiver
Aldrick Robinson
, cornerback
Brandyn Thompson
, guard
Maurice Hurt
, defensive end
Markus White
and defensive tackle
Christopher Neild
April, 21, 2011
4/21/11
12:00
PM ET
»
NFC Draft Watch
:
East
|
West
|
North
|
South
»
AFC
:
East
|
West
|
North
|
South
Each Thursday leading up to the NFL draft (April 28-30), the ESPN.com blog network will take a division-by-division look at key aspects of the draft. Today's topic: Dream scenario/Plan B.
Dallas Cowboys

Dream scenario:
If the Cowboys play things the conventional way and sit tight at No. 9, they'll probably be looking at either defensive end
J.J. Watt
or offensive tackle
Tyron Smith
. Either one would provide good value or fill a big need, and the Cowboys would improve. But Dallas owner Jerry Jones doesn't always do things the conventional way. Although trading up to the top five might be difficult, Jones' imagination could heat up if LSU cornerback
Patrick Peterson
makes it past the first five picks. The entire Dallas secondary had a horrible year last season, and Peterson would provide an instant upgrade. Jones might not be able to sit still if he's within striking distance of Peterson.
Plan B:
If there's no chance at Peterson and the Cowboys aren't excited enough about Watt or Smith, they could reach slightly and take Nebraska cornerback
Prince Amukamara
. He's the second-best cornerback in this draft, and most mocks have him going somewhere in the teens. If the Cowboys like the player enough, it wouldn't be much of a reach to just take him. If another team is looking to move up for another player, the Cowboys could drop down a few spots and still have a shot at Amukamara.
Washington Redskins

Dream scenario:
The Redskins, who need a quarterback perhaps more than any other team on the planet, would love nothing more than for something bizarre to suddenly cause
Cam Newton
or
Blaine Gabbert
to start falling. It's not out of the realm of possibility. Carolina's leaning toward Newton but hasn't made a final decision. Even if the Panthers go with Newton, Buffalo could go with linebacker
Von Miller
at No. 3, and the word out of Arizona is the Cardinals probably are looking more for a pass-rusher than a quarterback. That would put the Redskins within striking distance on Gabbert, and general manager Bruce Allen and owner Daniel Snyder could try to move up to grab him. Or they could just take a chance that he'll be available at No. 10.
Plan B:
If Newton and Gabbert are gone, there's no quarterback worthy of the No. 10 pick. Defensive tackle also is a major need, but the Redskins could fill that in free agency. Snyder enjoys making a splash, and if he can't do it with a quarterback, he might do the next-best thing and take a guy who would catch passes from whoever ends up throwing them. With
Santana Moss
as a free agent and not much else in the receiving corps, Alabama's
Julio Jones
could be a very nice consolation prize.
New York Giants

Dream scenario:
The desperate need is at outside linebacker, but the only player who is really a sure thing is Miller, and he almost certainly will be a top-five pick. So the dream ends there and reality sets in, and the other reality is the Giants have big needs on the offensive line, where everyone but guard
Chris Snee
is starting to get old. Florida center/guard
Mike Pouncey
could really solidify the interior of the line, where the need is greatest. Tackles
Gabe Carimi
and
Anthony Castonzo
also could be possibilities as the Giants could consider moving tackle
David Diehl
to guard.
Plan B:
This may sound a bit off the wall because the Giants have decent running backs in
Ahmad Bradshaw
and
Brandon Jacobs
. But what if Alabama's
Mark Ingram
happens to be available? The Giants might have to consider him. He might be better than Bradshaw and Jacobs. Also, along the same lines, don't rule out the possibility of a defensive tackle like Temple's
Muhammad Wilkerson
if he's available. The Giants appear to be in good shape in the middle of the defensive line, but general manager
Jerry Reese
places a high value on having lots of depth, especially in the middle of the defensive line.
Philadelphia Eagles

Dream scenario:
In a perfect world, the Eagles would package their first pick (No. 23 overall) with quarterback
Kevin Kolb
and trade their way into the top five, where they would aim for cornerback Peterson. The Eagles have a desperate need for a cornerback to play opposite
Asante Samuel
, and Peterson is the only sure thing in this draft. But this is not a perfect world. Unless the lockout somehow ends between now and the start of the draft, they're not allowed to trade Kolb. If they stay put, the Eagles have to hope Amukamara somehow falls to them, or they might have to take a chance on Colorado's
Jimmy Smith
, who comes with some background questions.
Plan B:
The right side of the offensive line needs to be upgraded. Most teams stay clear of guards in the first round. But tackles Castonzo,
Nate Solder
and Carimi all could be available when the Eagles pick. Any one of them could step right into the lineup and start.
April, 6, 2011
4/06/11
11:22
AM ET
By
ESPN.com staff
| ESPN.com
March, 16, 2011
3/16/11
12:00
PM ET
By
Matt Williamson, Scouts Inc.
| ESPN.com
Scouts Inc.'s Matt Williamson examines the biggest weakness of each NFC East team and offers some potential solutions.
Outside of the ball-hawking
Asante Samuel
, the Eagles are extremely light at corner. The Eagles gave up a whopping 31 touchdown passes last season.
Ellis Hobbs
will retire, but the Eagles are set with their nickelback in
Joselio Hanson
.
[+] Enlarge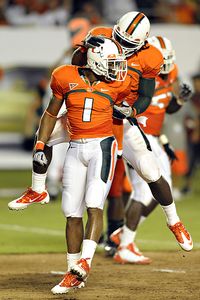 Steve Mitchell/US PresswireThe Hurricanes' Brandon Harris could be a good fit in Philadelphia.
They really need to a find a starter. Depth here isn't bad.
Trevard Lindley
could step up as he matures, and
Dimitri Patterson
has starting experience. But when Patterson is on the field, the offense targets him.
Obviously, the free-agent corner everyone is thinking about is
Nnamdi Asomugha
. Hey, I can't argue with adding a truly elite cover man like Asomugha. But wow, is he going to be expensive. It is easy for me to spend the owner's money -- and who knows what is going to happen with the salary cap. Asomugha will turn 30 in July; Samuel will turn 30 during the 2011 season.
The next best option would be the Bengals'
Johnathan Joseph
, who would be a big upgrade opposite Samuel. Joseph still has upside. He is very gifted but needs to stay healthy. Pittsburgh's
Ike Taylor
and the Jets'
Antonio Cromartie
are well-known players, but Taylor could be starting to decline slightly and is older than Samuel while Cromartie doesn't like to tackle. Still, either player would help immediately.
Baltimore has two corners who played well last year --
Chris Carr
and
Josh Wilson
. The Eagles probably wouldn't have to break the bank on either, and Wilson in particular is quite intriguing.
Although I have a hunch that Andy Reid will use the 23rd selection in the first round on an offensive lineman like Florida's
Mike Pouncey
or Wisconsin's
Gabe Carimi
, there are three corners worth considering with that pick. Colorado's
Jimmy Smith
is the most physically gifted, and
Aaron Williams
from Texas has excellent size. However, the player I would target is Miami's
Brandon Harris
. In fact, Harris is such a good fit that I would consider moving up to assure that he became the Eagles' property.
Scouts Inc. watches games, breaks down film and studies football from all angles for ESPN.com.
March, 10, 2011
3/10/11
12:00
PM ET
By
Matt Williamson, Scouts Inc.
| ESPN.com
»
NFC Draft Watch
:
East
|
West
|
North
|
South
»
AFC
:
East
|
West
|
North
|
South
Each Thursday leading up to the NFL draft (April 28-30), the ESPN.com NFL blog network will take a division-by-division look at key aspects of the draft. Today's topic: biggest team needs.
Dallas Cowboys

While its 2010 record did not show it, Dallas has an excellent roster. I see only two major areas to attack this offseason: the secondary and the offensive line. On the back end of the defense, the Cowboys have to add one more cornerback to the mix -- preferably one with the talent to challenge for a starting spot before long. But I see free safety as the bigger need in Dallas' secondary. A rangy, ball-hawking center fielder type could make a lot of secondary problems go away. Locking up defensive end
Stephen Bowen
also would be the smart move, but adding another end to the mix even if he does stay also makes sense.
On the offensive line,
Doug Free
and
Kyle Kosier
are up for free agency. The Cowboys must bring back Free. Dallas also needs to acquire a starting right tackle, because that position was a major liability last season. Adding youth to the interior should be a priority. Adding a big-time prospect like Nebraska cornerback
Prince Amukamara
or USC tackle
Tyron Smith
or even Cal's defensive end
Cameron Jordan
with the ninth pick overall could be exactly what the doctor ordered.
New York Giants

The running back position is somewhat unsettled, and if
Ahmad Bradshaw
were to depart, replacing him would be priority No. 1. But overall, I see the Giants' offensive needs up front on the offensive line. There was just too much shuffling with this unit in 2010 -- mostly because of injuries. But if the Giants could add an infusion of youth -- specifically at left tackle -- this line might quickly get back to the extremely high level it played at in previous seasons.
Kevin Boss
is a free agent, which would open up a hole for a starting tight end should he leave.
On defense, the Giants are loaded up front and at safety. But linebacker help would be a huge boost to an already solid defensive nucleus. Adding a cornerback to compete for playing time also would make sense. But I see an every-down, versatile outside linebacker as the position New York would most like to add on the defensive side of the ball right now.
Philadelphia Eagles

The biggest need I see for the Eagles is at cornerback. If they could find a legit starter opposite
Asante Samuel
, this defense could be poised to jump into the elite category. Maybe they get involved with
Nnamdi Asomugha
? Depth at the position is also a problem, so adding two bodies at corner could be a wise move. The rest of the defense could use some tweaking, maybe by adding another linebacker or two because there could be change at that position. Another possibility would be adding a defensive end, but those needs pale in comparison next to cornerback. However, if
Quintin Mikell
were to depart in free agency, a massive hole would emerge at safety. Philly cannot afford to let Mikell walk.
On offense, Andy Reid has never been shy about fortifying his offensive line, and I fully expect him to go that direction again this offseason. Right tackle was a big problem last season, and adding a guard to the mix might make some sense as well. Wisconsin's
Gabe Carimi
would be a great fit in the first round. Overall, the Eagles don't have a ton of pressing needs, but if
Jerome Harrison
leaves, then a backup to
LeSean McCoy
will be required as well.
Washington Redskins

I hate to say it, but I believe the Redskins need everything. On offense, they need help in all areas except tight end. On defense, they need help in all areas except safety. That sounds extreme -- and it is. But for the Redskins to catch up with the other teams in the division, a lot of work needs to be done.
On offense, they could use a right tackle if
Jammal Brown
leaves via free agency. They also probably need interior offensive line help no matter what. The running backs are pedestrian. The wideout group needs an influx of talent, and would be decimated if
Santana Moss
departed. At quarterback, few teams are in as bad of shape as the Redskins right now.
The defensive side looks better, but really, how many building block players are in place? I like the safeties. Among other things, nose tackle is a massive need if the team is to properly run the 3-4.
Brian Orakpo
is a great young player, but they need a pass-rusher opposite him. They don't have many good fits overall for the 3-4. And -- by the way -- their kicking specialists might need to be replaced.
Scouts Inc. watches games, breaks down film and studies football from all angles for ESPN.com.
March, 7, 2011
3/07/11
10:38
AM ET
By
ESPN.com staff
| ESPN.com
Dallas Cowboys
Where does Jerry Jones rank as an NFL general manager? Bob Sturm
has some thoughts
.
Tim MacMahon has three reasons the Cowboys
can't afford a lockout
.
New York Giants
Toni Monkovic says there was some bad timing involved in the
Giants' ticket announcement
last week.
Continuing its look back at the 2010 season, Giants.com has video of Ahmad Bradshaw's
top 5 moments
.
Philadelphia Eagles
Michael Vick says there hasn't been any talk of a
long-term contract
with the Eagles.
Bo Wulf has a roundup of the
latest mock drafts
and Wisconsin tackle Gabe Carimi seems to be a popular pick for the Eagles at No. 23.
Washington Redskins
Quarterback is one position
on the Redskins' radar
heading in to the NFL draft.
February, 16, 2011
2/16/11
1:00
PM ET
By
Matt Mosley
| ESPN.com
February, 10, 2011
2/10/11
1:38
PM ET
By
Matt Mosley
| ESPN.com
My cousin Todd McShay has released his third mock draft to much fanfare today at ESPN.com. Only ESPN Insiders are allowed
to peruse his entire first round
, but I'm risking everything to let you know his NFC East choices. Please do not tell anyone that you saw this on the Beast today:
9. Dallas Cowboys:
J.J. Watt
, DE Wisconsin
10. Washington Redskins:
Cam Newton
, QB Auburn
19. New York Giants:
Tyron Smith
, OT USC
23. Philadelphia Eagles:
Gabe Carimi
, OT Wisconsin
I don't want to give away everything for free, but here's what McShay said about Watt: The team's most pressing need is for a 5-technique (defensive end) in its 3-4 scheme. The Cowboys are also aging along the offensive line and need some depth/future starters at inside linebacker and safety. Dallas would have a tough call in this scenario, but Watt will continue to fly up boards because of his versatility and nonstop motor. Watt is capable of making an immediate impact on all three downs as a rookie. Finding a player like Watt to generate inside pressure would be a great complement to OLB DeMarcus Ware's edge-rushing ability.
Mosley's take:
I think the Cowboys are praying that one of those cornerbacks slips to No. 9, but Watt would be a solid choice. The only problem is that I don't believe that DE is as big a need as offensive line, cornerback and safety. I think you could wait and still find a capable defensive end in the second round.
January, 26, 2011
1/26/11
10:46
AM ET
By
Matt Mosley
| ESPN.com
NFL scouts treasure Senior Bowl practices because they can see prospects in a variety of different situations. You see a lot of college offensive tackles moved inside to guard during these sessions. And there's an offensive tackle from Wisconsin named
Gabe Carimi
who keeps ending up with the
Philadelphia Eagles
in a lot of early mock drafts.
Les Bowen from the Daily News reports that Carimi's been
talking to the Eagles' scouts and coaches
during Senior Bowl week. And NFL Network draft analyst Mike Mayock told Bowen that Carimi reminded him of a former Eagles right tackle.
"The first two [offensive tackles
Nate Solder
and
Anthony Castonzo
] move a little bit better than Carimi; Carimi's more of a thug, which I mean in a positive sense," Mayock said. "He doesn't have the footwork of the other two. ... He could play left, but he's probably more of a right tackle. He's a little bit like a Jon Runyan; he's got a little bit of nasty to him. A little bit better run blocker than the other two. But if you put the Iowa tape on, he did a great job against [Adrian] Clayborn, without help. He did really well against one of the premier pass-rushers in college football."
Carimi is working at guard during the Senior Bowl, and he's receiving good reviews.
"This was my first time playing guard, out here, [and] I've been doing really well, stoning people in one-on-ones, and I'm not doing too bad in team periods, either," said Carimi. "I'd never pulled, before today, out of a guard position, but it was a learning experience."
It's not a sure thing the Eagles will select an offensive lineman in the first round, although it's a definite need.