NFC East:

Gartrell Johnson
August, 1, 2010
8/01/10
7:10
PM ET
By
Matt Mosley
| ESPN.com
ALBANY, N.Y. -- It only took about 10 minutes to realize that the 2010
New York Giants
training camp will have a completely different feel. New defensive coordinator Perry Fewell has been hailed for his enthusiasm, and he quickly lived up to his billing by leading his unit in a spirited game of "hot potato" with the football.
The single-elimination tournament forced players to launch the ball back and forth at each other, and the last two standing were safety
Sha'reff Rashad
and defensive end
Mathias Kiwanuka
. Fewell declared Rashad the winner because Kiwanuka threw the ball over his head. But the main thing was that every defender was shouting and laughing, which didn't bring back memories of the regrettable Bill Sheridan era.
[+] Enlarge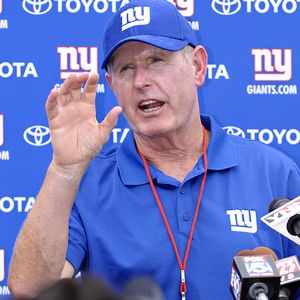 AP Photo/Hans PenninkCan Tom Coughlin right the ship before the it's too late?
"I hear that screeching," Coach Tom Coughlin said of Fewell's voice. "He's got good energy, great personality. Lively persona, energy in the classroom, energy on the field. The players had the spring with him, so they had an opportunity to get to know a little bit about how he coaches and how he approaches things. His enthusiasm is a good thing."
It appears Fewell will bring a lot more energy to the table, but general manager Jerry Reese said after practice that the players would ultimately have to be the ones to deliver.
"Bill Sheridan gets thrown under the bus," said Reese, who was sipping on Pedialyte to battle a stomach virus. "I don't care if Vince Lombardi's calling the plays, you have to go out and execute the plays."
The "hot potato" drill was the high point of the afternoon, because the rest of practice was pretty much a jog-through. But I still jotted down some observations for those of you who are still reading this entry:
I'm sure Coughlin loved watching cornerback Aaron Ross make some nice adjustments to the ball in interception drills. Ross spent most of last season's training camp nursing a hamstring injury, but he was one of the quickest players on the field in Sunday's practice. When he did drop an interception, he picked up the ball and spiked it into the ground. He just looked more intense then some of his teammates, and I think that has something to do with him missing so much time last season. And maybe the fact that he wants to play cornerback, not safety.
Defensive tackle Chris Canty appears to be in excellent condition and that's why he was singled out by Coughlin after practice. Coughlin used a different phrase to describe running back Gartrell Johnson's conditioning: "Rigor mortis." Needless to say, he was not impressed with how Johnson performed on his conditioning test.
Reese doesn't think rookies Jason Pierre-Paul and Linval Joseph need to be babied early in camp. He told us that both players will be thrown into the defensive line rotation from the start, and that he expects immediate results. I'll keep a close eye on those guys during Monday's sessions. They were mostly involved with the scout team Sunday.
[+] Enlarge

AP Photo/Hans PenninkGiants general manager Jerry Reese expects immediate results from first-round pick Jason Pierre-Paul, right.

I'm hesitant to tell you that Ramses Barden is once again off to a quick start. I sort of went overboard on Barden after watching him in camp last year, and then he couldn't get on the field during the season. He's now catching everything with his hands instead of his body and everything seems smooth. Reese said Barden can be a "difference maker" this season.
For a man who had ACL surgery about seven months ago, I thought 33-year-old Keith Bulluck looked pretty quick in drills. The Giants will bring him along slowly, but I do think middle linebacker is his job to lose. It had to be strange for him to start a training camp with another team after a decade with the Titans. When the horn blew to go to the next drill, you could tell that Bulluck was a little unsure what to do. But he's a highly intelligent player who will catch on quickly.
Some of my beat-writing buddies were so busy tweeting about how poorly rookie punter Matt Dodge was hitting the ball that they might have missed two consecutive 55-yard bombs with excellent hangtime.
Hakeem Nicks is so far down the road compared to last year at this time that it's silly. He does a nice job of staying low when he comes out of his breaks. Sort of reminds me of Terry Glenn in his younger days. Glenn was an excellent route runner when he first got to the Cowboys in 2003. Tony Romo used to marvel at how Glenn consistently got open against some of the top cornerbacks in the league. Nicks looks like he's run about 800 of those quick hooks this offseason.
Eli Manning hit Derek Hagan on a fly pattern down the right sideline. Manning actually threw a duck, but the ball reached its intended target. Manning's also on the Barden bandwagon: "Well he had a really good spring. Last year he didn't get a whole lot of playing time, when he did get in he made some things happen," Manning said before Sunday's practice. "But he had a really good spring, he's a smart guy, he understands the offense and what's going on, especially for a guy who hasn't had much playing experience. So it'll be good to get him in the preseason games and other games and see how he does. But he's a big target with big hands and he's excited about what he can do and how he can help improve our offense."
I think tight end Travis Beckum will be one of the breakout players from this camp. Reese and Coughlin have both bragged on him, and he's already displaying a lot more confidence. He's a big target with some speed. If Beckum can take the next step, he and Boss could be an effective duo.
Mario Manningham had his ups and downs last season, but on Sunday, he caught everything thrown his way. I like how all the Giants receivers are snatching the ball out of the air instead of letting it get into their bodies.
Cornerback Terrell Thomas might emerge as one of the better cover guys in the division. He had a solid season in '09 and he appeared to be closing fast on everything thrown in his direction Sunday. After Mike Jenkins and perhaps Asante Samuel, I think you have to think about putting Thomas in there. He has so much confidence right now.
For the Giants, this camp is going to be about reclaiming their identity as a physical football team. I heard that from almost everyone Sunday. And a lot of that starts with the running game. New York had to lean heavily on the passing game in '09 because the run wasn't working. The Giants made some changes in the offseason, but a lot of these guys were around for the embarrassment of '09. They're not going to dwell on that .500 season, but it's a decent point of reference. I also like the fact that none of the players and coaches are trying to pin everything on injuries in '09. Some of it had to do with the Giants flat-out stinking, and that's being acknowledged.
Some of you guys want to know how the offensive linemen look. I'll take a long look at those guys tomorrow. Let's hope Coughlin lets them bang around a little bit in the morning. Not much meat on the bone in Sunday's practice.
June, 24, 2010
6/24/10
1:00
PM ET
By
Matt Mosley
| ESPN.com
»
NFC On the Radar
:
East
|
West
|
North
|
South
»
AFC
:
East
|
West
|
North
|
South
A player, coach or issue that should be on your radar as training camp approaches.
The NFC East teams have an embarrassment of riches at certain positions. The Eagles, Cowboys and Giants are remarkably deep at wide receiver and some of the league's elite pass-rushers reside here. But running back is sort of a mixed bag, so let's compare the different rotations in the Beast in this week's edition of "On the radar," which is now syndicated in more than 37 countries and East Texas.
[+] Enlarge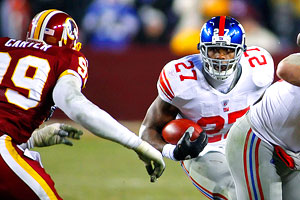 Geoff Burke/US PresswireThe Giants are hoping Brandon Jacobs can return to his form from 2008.
In Washington, Mike Shanahan must be hoping for a magic time machine, preferably one that returns his backs to the '06 season.
Clinton Portis
,
Larry Johnson
and
Willie Parker
were at the top of their games four seasons ago, but they've been in steady decline since. Actually, Portis had an excellent first half of the season in '08 before trailing off because of injuries. I think the Redskins have the weakest group of the four teams. There's not a home-run threat in that bunch, which makes life easier on opponents.
I think the Cowboys will have the best unit if
Marion Barber
and his leaner frame can stave off injuries. He's looked a lot quicker in practice sessions this offseason and there's a chance he regains his '07 form, which led to a lucrative contract extension.
Felix Jones
is the biggest home-run threat in the division because of his speed and quickness. Offensive linemen don't have to hold their blocks as long when Jones is in the backfield. And with
Tashard Choice
as the third back, the Cowboys could have something similar to what the Giants featured during their Super Bowl season ('07).
I have the Giants and Eagles neck and neck at running back.
Ahmad Bradshaw
's going to be the X factor because he has the potential to be a dominant back. But there are questions about his durability after watching him hobble around in protective boots last season. If Bradshaw's truly 100 percent, he's capable of being the best running back in the division. Seriously. I think some of us have forgotten those carries during the Giants' playoff run.
Brandon Jacobs
will have a hard time holding on to his starting spot, but he's a proud enough player that he might find a way. He was too tentative last season. He gave the Giants their offensive identity in '07 and '08. Like Barber, he needs to somehow regain that form. I think
Gartrell Johnson
has a good shot to be the third running back. It just seems like
Andre Brown
has fallen too far behind in his developmental process following a ruptured Achilles tendon in last year's training camp. You don't hear about a lot of backs making full recoveries from that particular injury.
With the Eagles, I'm anxious to see how
LeSean McCoy
handles the feature role. He's obviously started games in the league, but he had
Brian Westbrook
around to point him in the right direction. McCoy needs to become more consistent catching the ball. If he's able to do that, he has the potential to be a Westbrook-type player. I watched
Mike Bell
a couple of weeks ago and he's a little quicker than I remembered. I think he could be one of the most underrated pickups of the offseason. And we all know what
Leonard Weaver
can do from the fullback spot.
With a new quarterback in place, the running game will be more important than ever for the Eagles. Now we'll see if Andy Reid changes his approach. I have my doubts.
June, 15, 2010
6/15/10
9:37
AM ET
By
ESPN.com staff
| ESPN.com
September, 15, 2009
9/15/09
6:46
PM ET
By
Matt Mosley
| ESPN.com

Posted by ESPN.com's Matt Mosley
Giants linebacker
Michael Boley
has
been reinstated
and he'll be ready to play against the Cowboys on Sunday night. Will he start? Well,
Chase Blackburn
played really, really well against the Redskins last Sunday. But Boley's the big money guy, so I think he'll be starting sooner than later.
In other news, the Giants signed running back
Gartrell Johnson
, who was released by the
San Diego Chargers
. Johnson was a fourth-round pick out of Colorado State and I'm sure the Chargers were hoping to sneak him onto their practice squad. He'll become the third running back in the absense of
Danny Ware
(dislocated elbow).
The Giants also released defensive tackle
Leger Douzable
and offensive lineman
Tutan Reyes
. They also made several moves on the practice squad. More on that later.