December, 8, 2013
12/08/13
9:00
AM ET
1. I don't know what this means, but it's certainly an observation: The Redskins seemed as loose last week as they've been all season, whether when we could watch practice or during the open locker room sessions (especially Friday, a typically lively day). I don't know if that's good or bad -- though the answer will be revealed Sunday. I do know when they were 3-6 a year ago they also were rather loose and it probably helped.
2.
Pierre Garcon
has had an impressive season and his 84 receptions are the most in franchise history after 12 games. Next highest: Art Monk with 71 catches and Gary Clark with 66. Garcon has done a terrific job, but the problem here is the total yards. Despite having 13 and 18 more catches, respectively, than the Monk and Clark, Garcon does not have more receiving yards than at the same point. He has 980 yards compared to Monk (1,007) and Clark (1,126).
3. Garcon's yards after the catch (491) rank fourth in the NFL, but that stems in part from how many screen passes and smoke routes he's run -- plays designed for yards after the catch. He has not been a big threat downfield. It's why he's averaging just 11.7 yards per catch, tying his career low (for the five seasons in which he's been a regular).
[+] Enlarge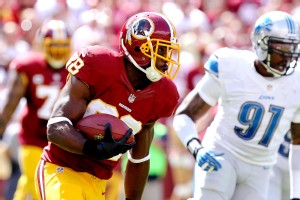 Geoff Burke/USA TODAY SportsWide receiver Pierre Garcon has been a bright spot for Washington's offense this season.
4. That's not to say he's not having a good season; he clearly is -- he's consistent and productive. But it does illustrate some of what's been wrong in the passing game -- the inability to get the ball downfield. Of the top 10 receivers in the NFL in terms of catches, the only two who average less per reception are slot receivers
Julian Edelman
(10.2) and
Wes Welker
(10.5).
5. In fact, no Redskin with at least 10 catches is averaging more than 12.5 yards per catch, which is a major problem. Every other team in the NFL has at least one player averaging more yards per catch than 12.5. Last season, the Redskin had four players who finished with at least 20 catches who averaged at least 13.5 yards per reception. This also speaks to the lack of explosiveness at this position.
Aldrick Robinson
has speed, but I wouldn't consider him explosive (though on his six catches he averages 25.3 yards. The problem? Six catches. He's just not that good).
Leonard Hankerson
(obviously now hurt) runs good routes, but after the catch doesn't make anyone miss. All of this is a function of how teams are defending the Redskins, the line not giving quarterback
Robert Griffin III
enough time to always throw deep, Griffin's accuracy being off and receivers who don't get open. That about sums it up.
6. This is the time of the year when the media starts voting on its Good Guy award winner, the player who helps the media best do its job. Despite a 3-9 record, the Redskins have players who routinely do this. It's not easy getting asked all the time about bad performances or about whether or not a coach should be fired (it's a bit rare when players publicly say yes) or about what might happen to them. They all know if there's a regime change it puts them on notice, too. One player who has been largely absent during the week? Second-year back
Alfred Morris
. Not quite sure why; the press he gets is almost always good. But he does talk after games. He was terrific to talk to last season and even early in the year. He still seems jovial when seen around the facility.
7. Oh, yeah, the game. The Redskins' defense will be challenged by Kansas City running back
Jamaal Charles
. He's averaging 4.6 yards per carry and has scored nine touchdowns. Charles is a big-time threat in the pass game, too, with a team-best 55 receptions. Charles hits holes fast, but he's not going to lower his shoulder and drive through defenders. It's not his running style.
8. Another thing: He and fellow back
Dexter McCluster
are used on a lot of screens. The Chiefs will use both players on the field at the same time and will get them the ball on a variety of routes. They'll even have them run crossing routes underneath, trying to get them the ball in space in one-on-one situations. McCluster has 42 receptions.
9. The Chiefs haven't applied a lot of pressure in recent games, but consider that two of their last three games have come against Denver and that's a bit understandable. Few if any quarterbacks get rid of the ball faster than Denver's
Peyton Manning
. With leading sacker
Justin Houston
(11 sacks) out Sunday, the Chiefs' rush will take a hit. Outside linebacker
Tamba Hali
has nine sacks. While he's fast, it's his always-active hands that create issues. But they will try to manufacture pressure with a variety of looks. They had one blitz, for example, against New York earlier this season in which they stunted the end and the tackle on the nose on the left side with the inside linebackers executing the same move right behind them. Yes, it led to major pressure. That also came with a blitz. "They have a ton of stuff like that," Redskins tight end
Logan Paulsen
said. "Usually we have a meeting on Thursday and go over the blitz and what they like to do and it's a short meeting. But this one was like 15 minutes because they do a lot of stuff we're not used to."
10. The key? Running the ball well, especially on early downs. Kansas City allows a hefty 4.6 yards per rush and any pass rush is negated by a team able to put itself in third-and-shorts. But going inside the numbers, I'm not sure the Chiefs are that bad. Some backs have had strong games (Buffalo's
C.J. Spiller
, Philadelphia's
LeSean McCoy
, Denver's
Montee Ball
). But, for the most part, they've done well against a team's top back. One reason: nose tackle
Dontari Poe
, who is strong and quick and occupies double teams. He'll be a handful Sunday.
September, 27, 2013
9/27/13
8:00
AM ET
ASHBURN, Va. --
Washington Redskins
receiver
Santana Moss
needs just five more catches to tie Gary Clark for third on the franchise's all-time list with 549 (in second: Charley Taylor at 649). It's safe to say the 2005 trade that brought Moss to Washington from the Jets in exchange for
Laveranues Coles
has worked out. Quite well in fact. At 34, Moss remains a key target for quarterback
Robert Griffin III
.
Does being five catches from tying Gary Clark for third on the Redskins' all-time list mean anything?
[+] Enlarge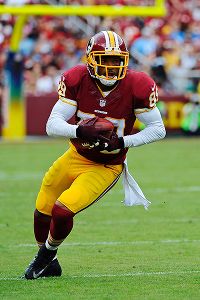 Brad Mills/USA TODAY SportsSantana Moss is just 113 yards from reaching 10,000 receiving yards in his career.
Santana Moss
: It probably will down the road. Right now my main focus is to continue to get better and grow as a receiver. You probably think it's hard for a 13-year vet to continue to get better and continue to learn. I learn every day. Having a whole new position gives you a new outlook. How much can you grow at that position? Yeah, this is late in my career but as far as learning, how much more I can be the guy being on the inside and the more things I can do with this God-given talent. All that stuff will come when I can sit back and reflect. Right now my goal is to just get better.
Are there things you're still learning about playing the slot?
Moss
: I mean, I'm learning in a total not just one area. I just feel like I've been confined to one area all over again, not the area I was used to. I played the slot before. I know a lot of things about it. I just find different ways from a leverage situation, from a guy playing you heads-up inside with so much field on your left and right. Instead of being outside, now you have more inside to worry about. That's what I'm saying. I'm learning how to beat guys and take advantage of the leverage these guys give me.
What did you have to do to adjust?
Moss
: Just studying. We're all blessed to do a lot of things. One of my things I'm blessed with is my quickness alone. I use my advantages and study on guys' weaknesses or things I know I can get them on quickly because everything happens inside faster that it does outside.
Do you have to get to your moves quicker?
Moss
: Not necessarily, but I've always been a quick person when I run a route. But the quicker I can get on a guy the faster I can beat them. I like to beat you now. A lot of guys you see they lull you and they beat you. How can I get on him quick?
Do you study other slot receivers?
Moss
: I watch everybody. It doesn't matter if you're good, bad or poor. Whoever I'm facing I'll watch how they cover the receiver. It could be a no-name guy but if he can beat him a certain way I'll take it. I'll take something they did and I'll say I know I can get this guy with that and I can put my own twist on that.
Does changing roles like this keep you on your toes?
Moss
: I just get up knowing there are younger guys coming in. Different things motivate me. I'm self-motivated but when you see younger guys coming in and know the potential they have and you know sometimes those younger guys take your time it makes a person like myself who has been around long enough to appreciate where I've come and to take it more serious. Those young guys don't know. There's not always tomorrow. With me knowing there's not a tomorrow and I'm still here today I try to appreciate my day a little more because of those young guys. I remember being a young guy and the young guys with me. They're going about their life like I'm going about mine, but tomorrow didn't come for them. That's why I get a kick out of knowing these days are always numbered. You have to appreciate it and go out there and enjoy it.
July, 8, 2010
7/08/10
12:00
PM ET
By
Matt Mosley
| ESPN.com
A weeklong look at current or former players or coaches with Hall of Fame potential in the division.
Cowboys
: Cliff Harris, free safety
[+] Enlarge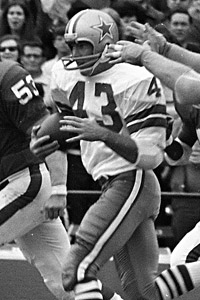 AP PhotoCliff Harris was the safety by which others were measured for years after he retired.
Claim to fame
: Member of the 1970s all-decade team. Wasn't drafted out of Ouachita Baptist University in Arkansas, but immediately won the free safety role. Nicknamed "Captain Crash," he was one of the most feared defenders in the game.
Case for enshrinement
: He was a finalist in 2004 and certainly deserves to be in the Hall. For years, safeties entering the league were compared to Cliff Harris. He was the rare player who was excellent against the pass but could also blow up running plays. He took Tom Landry's complicated flex defense and added his own spin. Harris, a highly intelligent player, finally made it into the club's hallowed Ring of Honor in 2004.
Harris studied opponents for hours at a time and he punished wide receivers who ventured over the middle. Cardinals great Larry Wilson, who's in the Hall of Fame, has said that Harris was the best safety he'd ever watched. Harris went to six Pro Bowls and he and Ken Houston were considered the best safeties from the '70s.
Case against enshrinement
: It's tough to build a case against Harris. But the fact that he had only 29 career interceptions probably works against him. Wilson had 52 and Houston finished with 49. Harris walked away from the game after the '79 season when he was still going to Pro Bowls (age 31). I'm sure he could have collected 10 to 15 more interceptions.
And those Super Bowl losses to the Steelers in the '70s didn't help matters. If the Cowboys win one of those games, they probably would have two or three more players in the Hall than they have. I think Harris would've been one of those players.
Bottom line:
In a lot of ways, Harris redefined how the safety position was played, and that should be rewarded by the selection committee.
Best player who will never make it:
For my money, it's Drew Pearson. His stats don't hold up in this era, but he played a huge role in Roger Staubach's success. And though he had only a couple of 1,000-yard seasons, he made clutch catches seemingly all the time. Ask Redskins fans from the '70s if they think Pearson belongs in the Hall of Fame.
Eagles:
Donovan McNabb
, quarterback
Claim to fame:
Took over as the full-time starter in 2000 and took the Eagles to five NFC title games and one Super Bowl in that decade. Has been selected to six Pro Bowls and has the fourth lowest interception percentage of all time. Became the first NFL quarterback to throw 30 touchdowns and fewer than 10 interceptions in 2004. The best quarterback in the history of the Eagles.
Case for enshrinement:
His numbers compare favorably to Hall of Famer
Jim Kelly
, who never won a Super Bowl. And McNabb put up monster numbers with average to subpar wide receivers (except for
Terrell Owens
).
DeSean Jackson
was a rookie when McNabb led the Eagles to the NFC title game in '08. Other than the Patriots, the Eagles were the most dominant team of the past decade and McNabb played a huge role in their success. McNabb also compares favorably to Hall of Famer
Steve Young
, although he's missing one very important piece of jewelry. McNabb's one of only six quarterbacks to pass for 25,000 yards and rush for 3,000. And his lower-body strength still makes him one of the most difficult quarterbacks in the league to sack. McNabb's lost some of his athleticism, but he still has a cannon for an arm.
Case against enshrinement:
Those five NFC title games we discussed? Well, the Eagles lost four of them. And it's not as if McNabb strung together excellent performances in those games. He'll also be remembered for throwing three interceptions against the Patriots in the Super Bowl following the '04 season. It was the beginning of the end of the McNabb-T.O. relationship.
I think McNabb will always be appreciated more by the national media more than the folks in Philly. Every game has been dissected, so Eagles fans simply got to know him a little too well. His career has honestly been more consistent than
Kurt Warner
's. But Warner has the ring and he finished strong with the Cardinals.
Bottom line:
Another trip to the Super Bowl would help his cause immensely, but he's already in the Canton conversation.
Best player who will never make it:
Wide receiver Harold Carmichael's numbers might not look special compared to
Randy Moss
and Owens, but he was an elite receiver from his era. His numbers completely trump Hall of Famer Lynn Swann's. Carmichael finished with 254 more receptions and 28 more touchdowns than Swann. Of course, Swann has the four rings and that's the biggest reason he's in Canton.
Giants:
Tiki Barber
, running back
[+] Enlarge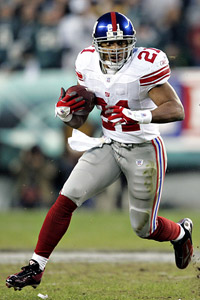 James Lang/US PresswireTiki Barber finished his career with five consecutive seasons of at least 1,200 yards rushing.
Claim to fame:
For the record, I'd originally chosen former defensive end
Michael Strahan
, but his "no-brainer" status for the Hall doesn't lend itself to a good argument. Barber may have left a sour taste with his early retirement, but he put up some impressive numbers. As Daily News columnist Gary Myers once pointed out, Barber may have left 3,000 yards on the table. He's the greatest running back for one of the most storied franchises in the league. Doesn't that count for something?
Case for enshrinement:
He finished strong with five consecutive seasons of at least 1,200 yards rushing. And his 15,632 yards from scrimmage (rushing and receiving) ranked him 10th on the league's all-time list upon his retirement following the '06 season. In 154 regular-season games, Barber averaged 101.5 yards from scrimmage per game. That puts him in an elite group with the likes of Walter Payton and
Barry Sanders
.
Barber led the franchise in all-time receptions with 586 at the time of his retirement. And he was still on top of his game when he walked away after '06 -- as evidenced by a 200-yard performance against the Redskins. He was the Giants' leading rusher in 80 consecutive games from 2002 until 2006, which speaks to his consistency.
Case against enshrinement:
Super Bowl rings talk, and Barber retired a season before the Giants broke through in '07. And he certainly left a lot of yards on the table when he walked away at age 31. There's a chance that he could've had at least two more highly productive seasons. Like
Emmitt Smith
, he had the ability to avoid the big hits that knock running backs out of games. Barber was one of the best backs in the league over his final five seasons, but I suspect that won't be enough. And it doesn't help that
Ricky Watters
is ahead of him on the all-time rushing list. Watters isn't getting in the Hall -- and Barber probably will meet the same fate. By the way, can any of you make a case against Strahan? I'd be interested to see what that looks like. I guess you could point out the fact that
Kevin Greene
has nearly 20 more career sacks. But that's about as far as I got.
Bottom line:
Barber's early retirement probably cost him a shot at the Hall.
Best player who will never make it:
I realize that
Phil Simms
has said he wouldn't elect himself, but I think he deserves honorable mention. He took a beating his first few years in the league and then had to deal with Bill Parcells, a man who chews up quarterbacks. What Simms did in Super Bowl XXI was remarkable. His 22-of-25 performance earned him the Super Bowl MVP. Simms was a huge part of Parcells' success with the Giants, so I'd have no problem with him being in the Hall of Fame.
Redskins:
Gary Clark
, wide receiver
[+] Enlarge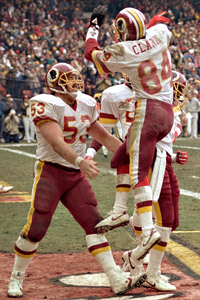 AP Photo/Scott StewartGary Clark caught 65 touchdowns during 11 NFL seasons.
Claim to fame:
He didn't have the longevity of
Art Monk
, but he was brilliant during his eight seasons with the Redskins. In the late '80s and early '90s, I thought he overtook Monk as the best receiver on the team. He could stretch the field with his speed, but he was also willing to go across the middle -- as evidenced by his annual appearances on the All-Madden team.
Case for enshrinement:
The thing that always jumps out at me is that Clark had 65 touchdowns in only 167 games. Art Monk's in the Hall of Fame with 68 touchdowns in 224 games. But I don't want to turn this into an anti-Monk argument. I think they probably both deserve to be in the Hall.
The fact that Clark was the top receiver on what I thought was the best Redskins team ever ('91) holds a lot of weight with me. He caught 70 passes for 1,340 yards and 10 touchdowns that season. Clark also had seven catches for 114 yards and a touchdown in the Super Bowl win over the Bills.
Clark was a player who inspired all of his teammates. And as of a couple of years ago, he was still inspiring the Redskins.
Santana Moss
told me about a time when Clark showed up to practice and told him to kick it into gear. Moss went on to finish the season strong after that talk in '07. Of all those great players from the Gibbs I era, Clark's the guy who always stands out to me. Perhaps he's hurt by the fact that Monk and
Ricky Sanders
were both so good.
Case against enshrinement:
He simply didn't do it for long enough. And one of his Super Bowl rings came in a strike-shortened season. If he'd played 16 games in the strike-shortened '87 season, I believe Clark would have had another 1,300-yard season. Those were pretty rare in those days, but he made it look easy.
Clark got a late start because he spent a couple of seasons in the USFL. Those are two years he could've put up big numbers for the Redskins in the mid-'80s. But to nearly reach 11,000 yards in a relatively short career (compared to Monk's) is pretty remarkable.
Bottom line:
Despite his brilliance, he just doesn't have the numbers to get in.
Best player who will never make it:
I hope I'm wrong about this one, but it's unlikely left tackle
Joe Jacoby
will enter the Hall. The Hogs finally have a representative with Russ Grimm. I think those dominant teams of the '80s that blew open holes for John Riggins deserve more, but it probably won't happen. Jacoby was a trailblazer of sorts because he didn't get in a three-point stance on obvious passing situations. He was one of the first players to do that, and it soon caught on around the league. I think it's pretty much a wash when you put Grimm and Jacoby next to each other, but that's just me. I'm also a big fan of defensive end
Charles Mann
's work in the '80s and early '90s.
Now, let's hear some of your arguments.
June, 22, 2010
6/22/10
11:30
AM ET
By
Matt Mosley
| ESPN.com
Notable players
: QB
Mark Rypien
, RB
Earnest Byner
, WR
Gary Clark
, G
Mark Schlereth
, DE
Charles Mann
, CB
Darrell Green
, K
Chip Lohmiller
[+] Enlarge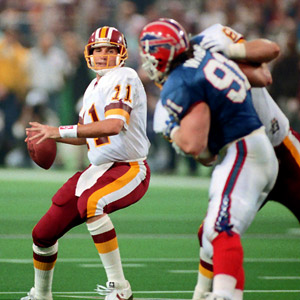 US PresswireMark Rypien threw for 3,564 yards and 28 touchdowns during the 1991 season.
Analysis
: Maybe I should've leaned toward the Riggo-Theismann teams, but in my mind, the '91 team was too stacked to ignore. Clark was such an unbelievable competitor and he still drops by practice from time to time and inspires the current players. Green was the primary reason opposing teams only managed 6 yards per passing attempt that season. His battles with
Michael Irvin
were priceless.
The '91 offensive line was dominant to a ridiculous degree. Redskins quarterbacks were only sacked nine times that season, which is a decent half for the current unit. Rypien had 14 touchdown passes of 25 yards or more to lead the league. Washington could beat you with the pass or run and then its defense knew how to protect leads.
Most impressive win
: The Redskins breezed through the regular season with a 14-2 record and then pounded the Lions and Falcons in playoff games. But the 37-24 Super Bowl win over the Bills stands out to me. The Bills were in the middle of a remarkable run and they had an immensely talented offense. The Redskins didn't care about any of that. We remember the Cowboys being the dominant team of the '90s, but the Redskins set the table in '91 with a memorable season.
Best player
: Green was brilliant at cornerback, but Rypien was the MVP of the league. For that one season, he put up numbers (3,564 yards passing, 28 TDs) that would make any quarterback envious. And the man threw an excellent deep ball.
Honorable mention
1987
: I'll never forget Doug Williams' performance in the Super Bowl. He was shaky early in that game, but after the Skins fell behind the Broncos by 10, Williams settled down and started shredding the defense.
1983
: I know the '82 team won a Super Bowl, but that was in a strike-shortened season. Give me the '83 team even though it was pummeled by the Raiders in the Super Bowl.
1972
: The Skins ran into the perfect Dolphins in the Super Bowl, but Billy Kilmer and the gang had a tremendous season. Larry Brown was a monster and the great George Allen had the Cowboys in full paranoid mode. It was a classic time in the rivalry because the Cowboys also had become an elite team.
NFC EAST SCOREBOARD
Saturday, 12/20
Sunday, 12/21