November, 5, 2013
11/05/13
9:00
AM ET
IRVING, Texas -- There is no life out of football for coaches during the season. There is barely a life for them when it is not football season.

Garrett
The recent health scares involving
Denver Broncos
coach John Fox and
Houston Texans
coach Gary Kubiak has brought examination of just how long a day coaches put in on a daily and weekly basis.
Fox underwent heart surgery on Monday and will miss multiple weeks to recover with the Broncos naming ex-Cowboy Jack Del Rio their interim head coach. Kubiak collapsed at halftime of the Texans' Sunday night game against the
Indianapolis Colts
. According to ESPN's Adam Schefter, Kubiak was treated with medicine designed to break up clots consistent with people who suffer strokes.
Cowboys coach Jason Garrett wished his contemporaries well but acknowledged time is not always a coach's friend. The days are long, but he attempts to break them up with workouts or other activities away from the game.
"Coaches work hard," Garrett said. "That's well-documented. We work long hours and there's a lot of commitment that goes into the jobs that we have, but nobody would trade these jobs for anything. We're fortunate to do what we do, and certainly you have to try to have balance in your life and try to maintain a healthy lifestyle given some of the circumstances that we find ourselves in, but that's what we signed up for, and again, we wish Gary and Fox nothing but the best in coming back. They'll be back as good as new in no time."
November, 4, 2013
11/04/13
3:30
PM ET
EAST RUTHERFORD, N.J. -- The New York Giants' Tom Coughlin is, as everyone knows well, the oldest coach in the NFL at 67 years old. But this weekend's news that Denver coach John Fox was undergoing heart surgery and the collapse of Texans coach Gary Kubiak on the sideline of Sunday night's game in Houston didn't send Coughlin's thoughts toward himself or to the pressures of the profession he chose.

"My thoughts go right to two personal friends that I have that are obviously in need of our prayers and our best wishes," Coughlin said after Giants practice Monday. "I don't know much about Gary's situation, but I did text John back and forth a little bit to tell him we would pray for him. I think he'll come back stronger than ever."

Pressed on the issue, Coughlin did say he's aware of the stresses and pressures of the job of an NFL coach, as they pertain to him and to the coaches who work for him.

"I worry about it, sure, but when you sign up for it, that kind of goes along with it," Coughlin said. "It's all about the grinding away inside, the competitive part of this thing. That's all part of it. It's what the individuals are made of that are at this level."
July, 6, 2012
7/06/12
11:38
AM ET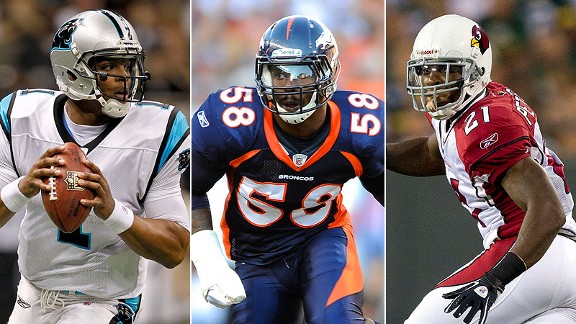 US PresswireCam Newton, Von Miller and Patrick Peterson all contributed right away during their rookie seasons.
There were doubts, this time last year, about
Cam Newton
as the No. 1 pick, about Newton as an NFL-ready starting quarterback, but they were all external. In the offices of the
Carolina Panthers
, who had taken Newton with the first pick in the draft, any and all doubts were outlawed. Newton was their guy, and they were all-in on him. After a rookie season in which he threw for 4,051 yards, ran for 706 and totaled 35 touchdowns, they have no regrets.
"He brings so much to you -- his accurate passing, his mobility, his leadership, his desire to win, his approach to the game, his enthusiasm for the game and his desire to be the best," Carolina general manager Marty Hurney said in March at the NFL owners meetings. "That all combines into an excellent young quarterback with a future that has tremendous upside."
Upside is one thing, but Newton is pretty good right now. If you don't think that's important in today's NFL, look around. We asked 20 coaches and general managers at the owners meetings which player 25 years old or younger they'd like to have on their team, and we got 13 different answers.
Newton got the most votes in this incredibly informal and unscientific poll, with four. Denver linebacker
Von Miller
, who went second in last year's draft, got three. 2011 rookies
Patrick Peterson
of Arizona and
Torrey Smith
of Baltimore were each named twice.
But the more interesting names are those of the players whose draft slot isn't fresh in everyone's mind. One general manager named
New York Giants
wide receiver
Hakeem Nicks
, who is only 24 yet has established himself as one of the best and most reliable receivers in the league.
Philadelphia Eagles
running back
LeSean McCoy
, named by one coach, turns 24 next week. Lions quarterback
Matthew Stafford
, who surpassed 5,000 yards passing in 2011, is only 24. And when one coach picked
Baltimore Ravens
running back
Ray Rice
, it was startling to realize he is only 25. Some of these guys seem as though they've been dominating the league for years, and it's no accident.
"I think the game is getting younger," said Texans coach Gary Kubiak, who picked his 2011 first-rounder,
J.J. Watt
. "These kids that are drafted nowadays, they're playing right away and contributing right away. They just seem to be a little more mature and caught up and ready to go now than maybe back a few years ago. Nowadays, with the cap and the way teams change, when you get a guy in the first round or early in the second round, he's going straight on the field."
The 32 players picked in the first round of the 2011 draft played an average of 13 games in the 2011 season. That counts those who missed time because of injury, such as
Prince Amukamara
, and project quarterback
Jake Locker
, who played sparingly in only five games. Half of those 32 players started at least 14 games as rookies, and 10 started all 16.
What this tells you is that when you evaluate a player you're considering taking in the first round, you're asking yourself all of the normal questions about whether he can play, learn, behave and lead, and you're also asking whether he can do it
right away
.
"I think the way the system is, or the way the system has been, you have to play your young players," Chiefs coach Romeo Crennel said. "We have the salary cap, and with the rookie contracts, if you don't play a guy, then you end up losing a guy when he becomes a free agent. And then you just trained him for somebody else. So you might as well get some value for him while you've got him, and that's why I think a lot of the young guys have been put into the fire sooner."
What it has done is put a premium on figuring out if that young, talented college stud you're considering has what it takes, mentally and physically, to handle what the NFL throws at him while he is still young. That's why pre-draft interviews have become such a major part of the process. No longer are teams willing to use those first-round picks on raw talent they think they can develop. There's no time to develop them. A first-round pick has to be the whole package. Like Newton in Carolina. Or Miller in Denver, who was (no surprise) the pick of Broncos coach John Fox.
"First of all, he's got a lot of God-given ability," Fox said of Miller. "He's very explosive, strong for his size, got good flexibility. That combination of explosiveness and flexibility makes him pretty dynamic as a pass-rusher. And the fact that he's a good young man and he's not afraid to work hard. He wants to do it."
So in other words, NFL teams don't want much out of their young players these days -- just everything.
"It's a young man's game," Fox said. "There's no question that you need any influx of young players. You see it with every team, and the teams that are doing well are the teams that are getting production from that 25-and-under group -- young guys, but already kind of established. And I don't think that's going to change any time soon."
March, 27, 2012
3/27/12
11:15
AM ET
PALM BEACH, Fla. -- The
Philadelphia Eagles
needed help at linebacker -- needed a starter-quality, sure-tackling veteran to man the middle of their defense. No one who watched them last year could doubt that, and it was their top offseason position priority.
But
DeMeco Ryans
, for whom they traded a fourth-round pick to the
Houston Texans
last week, brings more than that. Ryans is a leader, on the field and in the locker room. Whether the Eagles admit it or not, that's something that was lacking in their locker room when times got tough. And whether they were part of the motivation for the deal or not, Ryans' intangibles will matter a great deal to the 2012 Eagles.
[+] Enlarge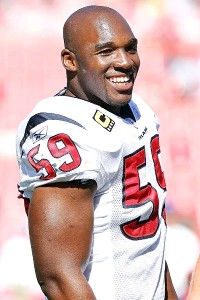 Kim Klement/US PresswireLinebacker DeMeco Ryans is just the sort of leader the Eagles can use on and off the field.
"In my six years in Houston, DeMeco's been undoubtedly the leader of our football team," Texans coach Gary Kubiak said Tuesday morning at the NFL owners meetings. "He's been a fine player, a great person, a great kid in the community. He's the guy, off the field, that all our players really go to."
Kubiak talked of the regular Thursday night dinners Ryans would organize and host for his teammates, how he "raised" fellow Texans linebacker
Brian Cushing
, how he calmed everybody down on defense by reassuring them he knew what the play was, reminding them of their responsibilities.
"All you've got to do is turn the film on and watch him," Kubiak said. "He runs the show. I mean, everybody goes to him. They trust him so much and when he's doing. Whether it was on the field in a drill or whether it was off the field or working through tough times, DeMeco was always the guy that they went to."
The 2011 Eagles needed someone like this. When they were losing games early in the season, doubting each other, doubting the coaches, questioning their fits in the new schemes, there was very little glue to keep them together. So many players were new, so many coaches were new or in new spots. There had been very little time for trust to build up in the locker room, and there were few if any voices speaking up about the need for pride and trust and togetherness.
Cullen Jenkins
, one of the 2011 newcomers, would speak after games about the need for accountability. But he was a rare case. For most of the season, the Eagles were adrift, losing games without understanding why and with few if any on-field leaders to help them steady things before they tipped over.
Adding a player like that, and adding him at a position like middle linebacker, is a perfect salve for those problems. If Ryans really is the magnetic leader his Houston coaches and teammates say he was, he'll fill more than one of the Eagles' crying needs. He'll be a guy who can make sure the young linebacker or safety to his left or his right is in the right place, or who can reassure that young player that things are under control if he's feeling uncomfortable in a new spot.
"He's tough as nails," Kubiak said. "He's all man. He stands for all the right stuff."
The natural question, of course, is why then did the Texans trade him for a fourth-round pick. Kubiak's answer is the Texans' defense changed last year when they brought in coordinator Wade Phillips and switched to a 3-4. Ryan's natural position of 4-3 middle linebacker was eliminated, and Cushing was the only inside linebacker they kept on the field even when they switched to nickel and dime defenses.
"I think DeMeco can still be a three-down player," Kubiak said. "I told him that when he left. I think in the right scheme, he could still stay on the field for three downs. It's just that, when we went to nickel, Wade does things a little bit different with how he replaces the linebackers inside, and Brian was really the only guy that stayed on the field for us in nickel."
And they were paying Ryans about $6 million a year, and that's a lot for a guy who only plays 58 percent of your defensive plays. So they bid him farewell, though it was difficult and they believe he'll play well for his new team. Since his new team is the Eagles, he should be able to do even more than that.
"As hard as it is, we feel like it's a great opportunity for him," Kubiak said. "And obviously we have to move on and have a tough job to replace him. The Eagles are getting a great kid. You're going to love this kid. He's really special."
December, 31, 2010
12/31/10
2:11
PM ET
By
Matt Mosley
| ESPN.com
Despite a 5-10 record, the
Houston Texans
will bring back head coach Gary Kubiak for a sixth season and hire former
Dallas Cowboys
coach Wade Phillips as defensive coordinator,
according to the Houston Chronicle's John McClain
.
I can't believe that owner Bob McNair is patient enough to stick with Kubiak after another disappointing season, but apparently he thinks bringing back the son of Bum might finally spark this defense. Phillips has a good track record as a defensive coordinator and his family is beloved in Houston. It actually sounds like a good fit.
McClain also mentions the possibility of Phillips hiring University of Houston defensive coordinator Brian Stewart as his secondary coach. Stewart was Phillips' defensive coordinator with the Cowboys in '07 and '08 before being fired. Stewart coached the Eagles' secondary in '09 before joining Kevin Sumlin's staff at Houston this past season.
If Phillips can do for the Texans what he once did for the
San Diego Chargers
, there's reason for hope in Houston. But fans should also note that this is the same man who had a group of players in Dallas quit on him this season before finally getting him fired after eight games.
September, 27, 2010
9/27/10
2:18
PM ET
By
Matt Mosley
| ESPN.com
Now that I've safely returned to Dallas from New York, let's take a peek at what folks are saying about the Cowboys' 27-13 win over the Houston Texans:
September, 19, 2010
9/19/10
8:44
PM ET
By
Matt Mosley
| ESPN.com


What it means:
It's
a really tough loss
for a team that appeared to be in control at halftime. The Redskins know the Texans' offensive personnel as well as anyone but they couldn't do anything to slow down
Matt Schaub
in the passing game. A 2-0 start would have put the Redskins in a great position -- especially with the Cowboys at 0-2. Washington has to quickly put this one behind them, but it's a loss that could haunt the Skins late in the season. Quarterback
Donovan McNabb
had a huge day with 426 yards passing and a touchdown. The Redskins' offense really missed rookie left tackle
Trent Williams
when he was injured late in the game.
Tomorrow's talker:
Everyone will be talking about the timeout Gary Kubiak took just as Redskins kicker
Graham Gano
attempted a 52-yard field goal. He nailed the field goal, but Kubiak had already been awarded the timeout. When Gano lined up again, he missed the field goal to the right. Icing a kicker at the last second can obviously backfire if he misses the kick, but it paid off for Kubiak. The fact that he did it to his mentor and close friend, Mike Shanahan, only added to the intrigue.
Goat:
Safety
Chris Horton
jumping offsides in overtime was an absolute killer. The Texans were able to extend the game-winning drive. A lot of Redskins deserve blame for all those passing yards, but Horton made the mistake that folks will remember.
What I didn't like:
At a crucial point late in the fourth quarter, why would the Redskins have
Phillip Buchanon
attempting to cover
Andre Johnson
? He had already burned them for double-digit catches. You have to put your best cornerback on him. Buchanon had help over the top with
Reed Doughty
but he was not able to break up the touchdown. That's how the Texans forced overtime.
What's next:
The Redskins will travel to St. Louis, where they can't afford to have a letdown. If they can get to 2-1, that Eagles game in Philly is going to be huge -- for so many reasons.
September, 17, 2010
9/17/10
3:37
PM ET
By
Matt Mosley
| ESPN.com
»
NFC Final Word
:
East
|
West
|
North
|
South
»
AFC
:
East
|
West
|
North
|
South
Five nuggets of knowledge about Week 2.
[+] Enlarge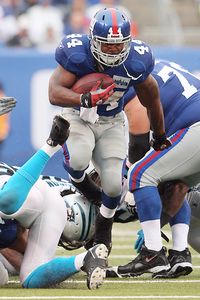 Alan Maglaque/US PresswireThe Giants will try to establish the running game with Ahmad Bradshaw against the Colts.
I know one of these notes should be about the Manning brothers
, but I'm sort of worn out with that angle. I'm eager to see whether the
Indianapolis Colts
can slow
New York Giants
running back
Ahmad Bradshaw
in this game after allowing Texans running back
Arian Foster
to thrill fantasy players across the country with 231 yards and three touchdowns. Matt Williamson of Scouts Inc. thinks the loss of
Bob Sanders
derailed the Colts' defensive game plan last Sunday, so we'll see if they do a better job against the Giants. New York center
Shaun O'Hara
continues to fight through an ankle injury and there's no guarantee he's even active for the game. The Colts are known for their speed on defense, so I'd look for them to run blitz more than last week and try to play some games at the line of scrimmage to fool the Giants.
The Dallas Cowboys will have to know where Bears defensive end Julius Peppers is at all times.
Chicago likes to move him away from where the tight end lines up, according to ESPNDallas.com's Bryan Broaddus, a former NFL scout who has studied the Bears quite a bit this week. Cowboys right tackle
Marc Colombo
will have his hands full because Peppers does an excellent job of keeping his pads low and pursuing from the backside. Quarterback
Tony Romo
must have tight end
Jason Witten
running routes, but offensive coordinator
Jason Garrett
will have to pick his spots because Colomobo will likely need some assistance. I think left tackle
Doug Free
will do fine against Peppers, who doesn't have as much power as Redskins defensive end
Brian Orakpo
. Free didn't play poorly last week, but he wasn't as sharp as some folks predicted. Also keep an eye on the Bears' other starting defensive end,
Mark Anderson
. He's a really quick player who could give the Cowboys problems in space.
Mike Shanahan vs. Gary Kubiak will be the best chess match in the division.
The Texans' head coach studied under Shanahan for years with the Broncos before finally getting his opportunity as a head coach. Kubiak turned his offense over to Kyle Shanahan and saw some huge benefits in '09. Now, Kyle is the Redskins' offensive coordinator and he knows what the Texans will be trying to accomplish. I'm eager to see how Redskins defensive coordinator Jim Haslett defends one of the best receivers in the league,
Andre Johnson
. I think he'll let
Carlos Rogers
jam Johnson near the line of scrimmage and then try to offer some help over the top. But the first order of business will be slowing Arian Foster. If the Texans' running game's working early, look for them to try to burn the Redskins with a double move off the play-action. That was something the Redskins struggled with last season because they didn't show much discipline on the back end.
After Sunday night's game, we'll know a lot more about Perry Fewell's Giants defense.
Giants general manager
Jerry Reese
and coach Tom Coughlin were determined to never repeat their mistake of entering a season too thin at safety. The arrival of
Antrel Rolle
and
Deon Grant
to go along with a healthy
Kenny Phillips
has made that a position of strength. But Colts quarterback
Peyton Manning
has victimized a lot of excellent defensive backs over the years. The Giants have spent part of the week preparing to substitute against a hurry-up offense. It will be fascinating to see how second-year linebacker
Jonathan Goff
holds up against a savvy veteran such as Peyton Manning.
We can't have a Final Word without discussing the Cowboys' offensive line situation.
I think
Kyle Kosier
and Marc Colombo will give the Cowboys a big lift against the Bears.
Montrae Holland
didn't play poorly at left guard against the Redskins, but Kosier's better on the move than him. I think you'll see
Felix Jones
get a lot more involved in the running game in Sunday's game at Cowboys Stadium. Offensive coordinator Jason Garrett took a lot of heat this week for his bone-headed decision to run a play at the end of the first half last Sunday, which resulted in a Redskins touchdown. He must have a nice bounce-back effort to help the Cowboys forget about that opening loss. The Cowboys must continue integrating
Dez Bryant
into the offense, but they can't let that process disrupt their rhythm. If you're constantly having to tell him where to line up, it just puts one more thing on Tony Romo's shoulders. We'll be watching that situation closely. The Bears have some issues in their secondary. I think Romo will have a big game.
January, 20, 2010
1/20/10
7:14
PM ET
By
Matt Mosley
| ESPN.com
We've known for a couple weeks that Kyle Shanahan would be offensive coordinator for the Redskins because that's what his father told us during his opening news conference.
But the Redskins made it official
when they sent out a press release Wednesday.
The club also announced that Jon Embree would coach tight ends and Matt LeFleur would be the quarterbacks coach. Mike Shanahan praised LeFleur for the work he did with
Matt Schaub
and
Andre Johnson
. I remember Embree playing for Colorado in the early 90s. He played a couple of seasons with the Rams and he eventually ended up coaching tight ends in Kansas City. Embree worked with one of the greatest tight ends in league history in
Tony Gonzalez
. He was with the Chiefs for three seasons.
Mike Shanahan still has some hires to make, but he's formed a pretty solid nucleus of coaches. So who will call the plays? My guess is that the Shanahans will team up in that effort. Kyle has worked for two offensive-minded head coaches in Gary Kubiak and Jon Gruden, so it shouldn't be a huge adjustment.
I'm sure Kyle will have a huge say in game planning, but I'd be surprised if his dad wasn't the one making the calls in the game. I'm not sure what Shanahan's policy will be with assistant coaches. I'll try to track down a couple of these guys tomorrow or Friday.
December, 27, 2009
12/27/09
1:08
PM ET
By
Matt Mosley
| ESPN.com
PHILADELPHIA -- I'm about to head over to the Linc, but wanted to mention that Giants left guard
Rich Seubert
(knee), right tackle
Kareem McKenzie
(knee), cornerback
Corey Webster
(knee) and safety cornerback
Aaron Ross
(hamstring) are all inactive for today's game against the Panthers at Giants Stadium.
The Panthers will not have Pro Bowl running back
DeAngelo Williams
(ankle) and he'll be replaced by
Jonathan Stewart
. Once I make it over to the Linc, I'll hop
on NFL Nation Live
to provide some commentary.
In other news, ESPN's Adam Schefter reported this morning that Mike Shanahan is not interested in replacing either Gary Kubiak in Houston or Lovie Smith in Chicago. ESPNChicago.com had previously reported that Shanahan had an interest in the Bears job -- if in fact Smith lost his job. Schefter's news will have Redskins fans breathing a little easier this afternoon. Schefter and Chris Mortensen are also reporting that Bill Cowher is ready to coach again and they've mentioned Tampa Bay and Carolina as possible destinations.
December, 30, 2008
12/30/08
6:42
PM ET
By
Matt Mosley
| ESPN.com
Posted by ESPN.com's Matt Mosley
You have to love the fact that Andy Reid keeps telling everyone he wasn't paying attention to the other games Sunday. He acknowledged that he heard some loud cheers while sitting in his office about 30 minutes prior to kickoff, but said he couldn't bring himself to watch any of the action.
But he still used those games as a motivating factor before the afternoon game against the Cowboys. The Eagles were about four or five minutes late running out of the tunnel Sunday because Reid wanted to wait until both the Bears-Texans and Bucs-Raiders games had been completed. Once the clock hit zero in the Raiders' improbable comeback win, Reid gave his team the signal to take the field.
Jerry Jones told me late Sunday night that he didn't think it was a case of the Cowboys not matching the Eagles' intensity early in the game, but he's absolutely wrong. That game Sunday was decided 10 minutes before kickoff. The Cowboys were looking for a reason to lay down one last time, and a remarkable turn of events provided that opportunity. The Cowboys weren't able to muster any fight until left tackle Flozell Adams and fullback Deon Anderson squared off on the flight home. Then linebacker Bradie James confronted a Cowboys fan/heckler wearing a sandwich board the following day.
Anyway, if the Eagles somehow make a deep playoff run, their fans will never forget those two early games Dec. 28th. I'm wondering if Reid's sent thank you cards or texts to Tom Cable and Gary Kubiak yet. If he hasn't, he should sit down and do that right now.