NFC East:

Gay Culverhouse
November, 17, 2009
11/17/09
7:42
PM ET
By
Matt Mosley
| ESPN.com
Eagles running back
Brian Westbrook
will be in Pittsburgh on Wednesday
visiting with two specialists
to determine whether he can play again this season after suffering two concussions in three weeks. One of the specialists had already been involved in advising Westbrook and the Eagles, but this is Westbrook's first opportunity to see him in person.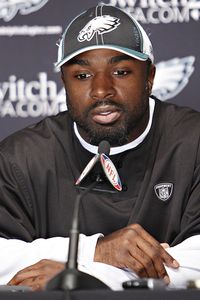 AP Photo/Matt RourkeEagles running back Brian Westbrook has some serious decisions to make about his future.
This seems like a case of incredibly bad luck for Westbrook, who had apparently never suffered a concussion before an Oct. 26 game against the Redskins. The fact that he had the concussions so close together is obviously a scary thing. No matter what the specialists say Wednesday, I think there's a good chance the Eagles will shut Westbrook down for the rest of the season.
I don't think the Eagles rushed Westbrook back too soon against the Chargers, but now that he's suffered a second concussion, they need to be extremely cautious. Westbrook's a fierce competitor, and that may require the Eagles to make a tough decision for him. Here's a statement from the Eagles athletic trainer Rick Burkholder:
The Eagles have confirmed a report that RB Brian Westbrook will visit two concussion specialists on Wednesday, November 18 in Pittsburgh. The Eagles will first have Westbrook consult with neuropsychologist Mark R. Lovell, PhD. Following that visit, Westbrook and Lovell will consult with neurosurgeon Joseph Maroon, MD. Dr. Lovell has been consulting with the Eagles' medical staff on Westbrook's recovery from the first concussion during the past three weeks.
I've been around players who've just suffered a concussion. Some of them have sort of a glazed look in their eyes, but Westbrook didn't look like that at all Sunday evening. He just looked angry about his situation as he dressed next to rookie
LeSean McCoy
and quietly slipped out of the locker room. I think he recognized the fact that his season was likely over.
He was already fighting through a series of injuries before the concussion against the Redskins. But you always knew he would try to play through the ankle and knee injuries that have caused him to miss games throughout out his career. With a brain injury, though, it's not a question of whether or not a player can tough it out. At age 30, it's not like Westbrook has spent a ton of time thinking about his post-NFL career. In training camp, it seemed like the presence of a young running like McCoy had energized Westbrook. They roomed together and McCoy hung on his every word.
Now, there's at least a chance that Westbrook's career could be in jeopardy. Years ago, players would shake off these type injuries and play the following week. But now we're finding out more and more about the long-term effects that can occur from repeated concussions.
Here's a frightening article on NFL brain injuries
that was written by noted author Malcolm Gladwell in The New Yorker. Former NFL offensive tackle
Kyle Turley
makes some stunning statements in the story.
And former
Tampa Bay Buccaneers
president Gay Culverhouse
has also lent support
to former NFL players who've suffered head injuries. The more I read about concussions, the more I think it's a long shot that we see Westbrook on the field again this season.
October, 28, 2009
10/28/09
3:52
PM ET
By
Matt Mosley
| ESPN.com
Posted by ESPN.com's Matt Mosley
Eagles coach Andy Reid and head athletic trainer Rick Burkholder both discussed
Brian Westbrook
's head injury Wednesday, indicating that it would likely be a
game-time decision
as to whether the running back plays Sunday against Giants.
Burkholder said Westbrook is currently experiencing headaches and that he won't be cleared to exercise until those go away. The Eagles' trainer told reporters that Westbrook had brief retrograde amnesia, which is why he doesn't remember anything that happened between the time a running play was called and when he regained consciousness.
"We're not too worried about his loss of consciousness. ... It's really based on the symptoms," Burkholder said.
I've been fascinated by some of the research on brain trauma and its dramatic effect on former players. Malcolm Gladwell had
a recent story in The New Yorker
that will blow you away. Former NFL offensive lineman Kyle Turley talks about what happens when you come back too quickly from a head injury.
Also a pretty remarkable story in The New York Times today about how former Buccaneers president Gay Culverhouse is speaking up for former players -- even as she's dying of blood cancer and renal failure. Alan Schwarz of the Times has done
some important work on this topic recently
.
I get the fact that most folks are simply concerned about whether Westbrook can play Sunday, but every now and then it seems like we should discuss the risks involved.