February, 10, 2014
Feb 10
4:55
PM ET
Michael Sam is a potential 3-4 outside linebacker who happens to be gay, and potentially the first openly gay player in the NFL.
But come draft time the Redskins need to ask themselves one question: Can he help them?
He's a potential 3-4 outside linebacker who would need time to develop based on the descriptions of his play. Sam posted big numbers at Missouri this past season as a defensive end: 11.5 sacks; SEC Defensive Player of the Year; first-team All-American. Clearly he has talent.
What the Redskins need are good, young pass rushers. Do they have enough? He would be a project, like any player who must make the transition from college left end to 3-4 outside linebacker. That means being able to play in space and drop into coverage. He's listed at 6-foot-2 and 260 pounds. By comparison,
Ryan Kerrigan
and
Brian Orakpo
, the Redskins' starting outside linebackers both are 6-foot-4 (as is top reserve
Rob Jackson
) and weigh around 260 pounds as well.
Sam most likely is a mid-round draft choice at best, based on scouting reviews before his recent news.
Sam's play at the Senior Bowl received mixed reviews. But Falcons linebackers coach Bryan Cox said to reporters during the week about Sam that he had "Good athleticism. You know what he was in college in terms of big plays that he made for Missouri. And you look at the [Cotton] bowl game when he had the big strip at the end of the game to win it for the team. So you know that he has some pass-rush ability
"You're looking for his versatility; kind of showcase his ability to play linebacker as well as playing the defensive front. He's just trying to showcase who he is. He's a very talented guy."
Would the organization want to draft an openly gay player? Consider the history: A former Redskin, Dave Kopay, was the first ex-NFL player to reveal his sexual orientation.
General manager Bruce Allen's father, George, coached former Redskin Jerry Smith. George Allen later sent a letter to Smith after he learned he had contracted AIDS.
In A Football Life: Jerry Smith, Bruce Allen read parts of the letter, "You not only were the very best tight end the Redskins ever had, you also were the toughest. Like we always said, no matter how many setbacks you have had keep fighting. I want you ready for my next team. That one will be called the Over the Hill Gang."
And the Redskins alumni invited Smith's sister and her son to a recent homecoming game.
Allen also said on the show, "He's in our ring of honor and has been there for a number of years. His contributions to the
Washington Redskins
on the field and off the field will never be forgotten."
Not that this has anything to do with the team now.
Doug Williams was just hired Monday as a Redskins personnel executive. So it's not as if he speaks for the entire organization. But I'd be surprised if others differed with what he said.
"We have to take our hats off to the young guy," Williams said. "He did something that takes a lot of courage. I'm sure he thinks it could hurt his draft status. It could help. But the locker room is what it is. For five years this guy has been in a locker room and [his teammates] put their arms around him and had a heck of a season, which means it wasn't a big deal to them. At the NFL level the bottom line is where does he rate as a player.
Russell Wilson
won the Super Bowl and nobody talked about him being black. Eventually we have to get to that point when we talk about people's sexuality.
"We all understand there will be some knuckleheads out there. That won't ever change. But you have to understand society has changed enough over the last 10 to 15 years and you have to accept people for what they are."
January, 31, 2014
Jan 31
10:00
AM ET
And now for Part 2 of your memories from the Redskins Super Bowl days, the last of which occurred 22 years ago. Yes, it's probably hard for many to remember because so many seasons have passed since their third Super Bowl triumph. But there are people who remember that, yes, the Redskins once were good. Very good. And, yes, they won three Super Bowls and played in four from the 1982 season through 1991.
That's a slightly different stretch of football that the Redskins are on right now. Then: eight double-digit win seasons in 10 years (one of which was a nine-game strike-shortened season). Now: Seven double-digit loss seasons since 2003. Sorry to remind you.
Anyway, here's your memories, sent via Twitter, of the Redskins Super Bowl seasons (though no one said anything about their first appearance under George Allen after the 1972 season).
May, 22, 2013
5/22/13
9:48
AM ET
As part of our project on the all-time greatest NFL coaches, Rick Reilly offers us a look at
his top-20 ballot
. This is an NFC East post because he ranked former
Washington Redskins
coach Joe Gibbs as the No. 2 greatest coach of all time, behind only Vince Lombardi. Rick's reasoning has to do with the well-established fact that Gibbs won "three Super Bowls with three different quarterbacks, none of whom are in the Hall of Fame. That's like crossing the Pacific in a Little Mermaid floatie."
I haven't seen the final list, and we're going to reveal the overall top 20, one per day, starting tomorrow on the site. We'll obviously post as the NFC East-relevant ones come up. But while I appreciate Rick's case for Gibbs, it's hard for me to believe he'll end up ranked ahead of guys like Paul Brown, Bill Belichick, Bill Walsh, Tom Landry and Don Shula. Maybe. We'll see.
The rest of the NFC East-relevant coaches on Rick's list are Landry at No. 6, Jimmy Johnson at No. 14, George Allen at No. 15, Tom Coughlin at No. 18 and Ray Flaherty at No. 19. (Dan Reeves is No. 20, but not because of anything he did with the Giants.)
Rick's list does not include former Giants and Cowboys coach Bill Parcells:
Lot of people are going to file a grievance over that. Fine coach, fun guy, but his regular-season coaching record was only .570, which ranks below most of the coaches in my top 20. Plus, Parcells' stature was blown up because he did his best work in New York, which is the scuba mask of the world. Everything you do in New York looks one-third bigger than it really is.
Nor does it include current Redskins coach
Mike Shanahan
:
Like Parcells, Shanahan is a wizard, but both his Super Bowls came with one quarterback, Elway. He has won one playoff game in the 13 years since. Needs to prove it.
One man's opinion, and one of the sweet parts about this project is that you can
go here and make your own top 20
. It's not as easy as it looks!
February, 15, 2013
2/15/13
8:00
AM ET
Washington Redskins
What kind of recovery can Redskins fans expect from linebacker Brian Orakpo? And assuming recovery from a second straight season-ending pectoral injury, what kind of production can the Redskins expect from their former first-round pick?
Mike Jones takes a look
at these questions whose answers will be a huge part of the Redskins' 2013 defense.
Redskins GM Bruce Allen says it's "
ludicrous
" to think that the team is is trying to upset people with its nickname. But the problem with that remark by Allen is that no one thinks that. No one on this side of the argument thinks the current GM or coaches or players on the Redskins are doing anything with the intent to offend. Allen is in the wrong discussion, and saying what he said indicates that the team doesn't want to have the right one. That's the disappointing thing. On Twitter on Thursday, RedskinsST21 wrote to me, "This conversation is so frustrating as a fan. Feels like we did something wrong." It shouldn't. This is just an opportunity to do something right. It would hurt absolutely no one to change the name of this or any other professional sports team. In the grand scheme of things, the name of a professional sports team is incredibly insignificant. If changing it allows us to take a step toward greater respect for fellow human beings, it's simply a no-brainer. And it's disappointing that the team doesn't see that side of it.
New York Giants
Ohm's
looking today at special teams
, where the main question right now seems to be whether the Giants are moving on from free-agent kicker Lawrence Tynes. The return game seems in good hands, especially with David Wilson on kickoffs.
Carolina linebacker Thomas Davis has been
providing inspiration
for Giants defensive back Terrell Thomas as the latter attempts to come back from a third ACL surgery.
Dallas Cowboys
Bill Callahan, who may be given offensive play-calling duties if those are taken away from head coach Jason Garrett, thinks
too big a deal
is being made of this particular issue. And he may well have a point, but surely someone of Callahan's experience understands the extent to which offensive play calling as an issue fires up football fans.
The Cowboys believe DeMarco Murray can be an "
elite runner
," especially if they can find ways to keep him healthy. I think they're right. Murray has shown a lot when he's been on the field the past two years, especially considering the way the offensive line has played in front of him. But they need to find a way to keep him healthy, that is beyond doubt.
Philadelphia Eagles
Running backs coach Duce Staley wants the Eagles' running backs to improve in
blitz pickup
. This has been a hole in LeSean McCoy's game, to be sure, and with the questions the Eagles face at quarterback and trying to get their banged-up offensive line healthy, it's likely to take on even more importance in 2013.
Continuing a position-by-position look at the Eagles' offseason, Zach Berman takes up the question of
safety
, which has been a thorny one in Philadelphia now for quite some time.
May, 10, 2011
5/10/11
1:00
PM ET
What key event significantly changed the fortunes of the Redskins --for better or worse? Give us your take and we'll give you our definitive moment on May 27.

The Redskins have been so dysfunctional for most of the past decade that it's easy to forget why their fans have been so frustrated. Remember, this used to be one of the most reliable franchises in all of pro football. The Redskins were defined by shrewd personnel decisions, such as the deal that brought quarterback Sonny Jurgensen to town in 1964. They were blessed with one legendary coach who was known for his vibrant, infectious nature (George Allen) and another so cerebral that he looked like he was teaching a calculus course from the sideline on game days (Joe Gibbs).

Then Daniel Snyder bought the team in 1999 and everything changed. This isn't to say that Snyder doesn't want to win as much as his predecessors. It's just that he hasn't quite discovered what it took to create the history that his fan base fondly remembers.

What those people know all too well is that there was a time when it didn't matter who wore the uniform; the team just won year in and year out. There was an undeniable style to the Redskins, a certain business-like approach that set them apart from everybody else and resulted in memorable championship runs. This is still a team that won three Super Bowls under Gibbs with three different quarterbacks, and that accomplishment says plenty about this organization's consistency. That dependability helped make Washington one of the most valued franchises in all of professional sports. It's also the biggest reason that supporters still expect so much from it.

What is your Redskins defining moment? If you vote Other, give us your suggestion in the comments area below.
May, 26, 2010
5/26/10
12:30
PM ET
By
Matt Mosley
| ESPN.com
In the little time I've spent with
Washington Redskins
general manager Bruce Allen, it's obvious that he has an affinity for the club's glorious past. But it doesn't seem like he's trying to rely solely on his famous father to give him credibility in Washington.
[+] Enlarge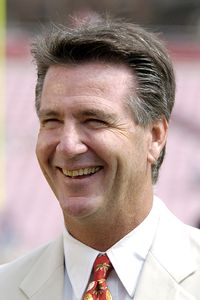 Al Messerschmidt/Getty ImagesRedskins GM Bruce Allen's efforts to reach out to the team's alumni may already be paying off.
He simply appreciates the great Redskins of the past, in part, because he grew up next to a lot of them. And that gives him a unique perspective as he attempts to bridge the gap between former players and the current regime. Mike Wise of the Post
talked to a couple of the more outspoken former Redskins
about Allen's efforts in a column Tuesday. It appears that Allen's initial efforts are already paying dividends. Brian Mitchell, who has been highly critical of his former team over the years, said he received an invitation to an alumni gathering at Redskins Park recently.
"[Allen] made it clear he wanted to reunite the burgundy-and-gold family, which has been fragmented," Mitchell told Wise. "Hell, I've seen it fragment. They used to reach out to a certain group of guys that told them what they wanted to hear. I can't say that right now. This feels like a sincere attempt to reconnect with their past in a good way."
If you've ever listened to Mitchell on the radio, you know that he doesn't often take a conciliatory tone. I'm sure Allen's lineage gives him a home-field advantage in his efforts, but he still has work to do. Owner Dan Snyder has done some notable things from a charitable standpoint, but he's never endeared himself to fans. In fact, his aloof persona has always overshadowed the fact that he's a passionate fan of the organization. I didn't agree with Hall of Famer John Riggins when he said Snyder had a "dark heart" during a television interview, but it speaks to how disenfranchised some former Redskins feel. Allen aims to help repair some of those relationships.
"Our job, as current employees, is to respect the history," said Allen in Wise's column. "The reason we have fans is the great performances of the players and coaches and the fans before. We didn't create this magic last year or the year before, or this year. It's everyone who came before us.

"So I do believe we owe more than a debt of gratitude to the players that came before us."
So should we expect to see
LaVar Arrington
and Snyder to share a hug in the coming months? Well, I wouldn't hold my breath for that reunion. But I do think Allen's gone a long way in repairing some of the damage. And you'd be amazed what 10 wins could do for the relationship with fans.
I'm wondering if it's important for you guys to see Allen reaching out to some of the former greats? Would that give you more pride as a Redskins fan? Please show your work in the comments section.
December, 26, 2009
12/26/09
5:13
PM ET
By
Matt Mosley
| ESPN.com
Hope that you guys are enjoying the holidays. Now it's time for our weekly predictions in the NFC East. The Beast has been on a roll lately, but we didn't see the Cowboys' upset of the Saints coming. Here's a look at
the predictions from our esteemed panel in Bristol
.
Panthers at Giants:
All eight panelists picked the Giants, which is a bit surprising. The Panthers are coming off a big upset win over the Vikings and
Matt Moore
is doing a nice job at quarterback. I don't think it's a given that the Giants win this game, but I'm picking them anyway.
Beast pick:
Giants 27, Panthers 21. This is not going to be a blowout. The Panthers will keep it close by running on the Giants. In the end,
Justin Tuck
's two sacks and a
Bruce Johnson
interception will help preserve a win. There will be some extra emotion with New York playing in Giants Stadium for the final time.
Cowboys at Redskins:
The panelists weren't having any fun this week. All eight of them picked the Cowboys to win in Washington. Apparently they watched that woeful Skins performance on "Monday Night Football."
Beast pick:
Cowboys 31, Redskins 13. I'm afraid the Redskins have finally given up this season. They'll play hard at the start of the game, but an early touchdown by
Miles Austin
will cause them to go into shutdown mode. Not even the son of George Allen can prevent this tail-kicking.
Jason Campbell
will put up good numbers in this game, but he'll be undermined by some baffling play calls in the red zone.
Broncos at Eagles:
We finally had someone break from the pack. Adam Schefter has picked the Broncos over the Eagles. The other seven panelists went with the Eagles -- and so will I.
Beast pick:
Eagles 28, Broncos 17. After an outpouring of emotion for former Eagles safety
Brian Dawkins
, Philly will go out and hang at least 300 yards passing on the Broncos. I think the return of Dawkins will actually serve to keep the Eagles from overlooking a fading Broncos team that is coming off a loss to the Raiders. This team's asking to be buried and I think the Eagles will accommodate the Broncos.
December, 19, 2009
12/19/09
8:14
PM ET
By
Matt Mosley
| ESPN.com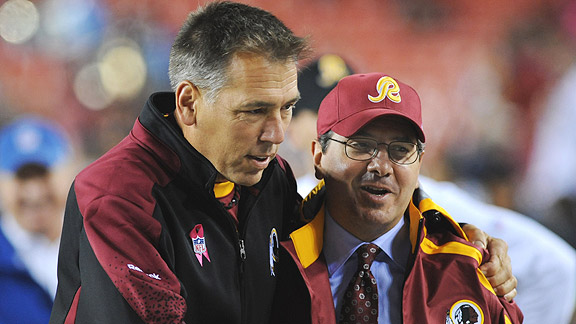 Al Messerschmidt/Getty ImagesRedskins coach Jim Zorn, left, has remained gracious despite the changes Daniel Snyder has made.
Surely Redskins owner Dan Snyder wouldn't make a stunning move on the Thursday before the Giants come to FedEx to provide "Monday Night Football" with a compelling storyline. Oh wait, you think he would?
It's pretty obvious that Snyder didn't simply wake up Thursday morning and decide to can his longtime pal Vinny Cerrato. But the timing of Cerrato's "resignation" followed closely by
the hiring of Bruce Allen as general manager
certainly gives Monday's game a little more pop.
Hard as it is to believe, the Giants (7-6) still have a decent shot at a wild-card playoff spot and several Redskins players now have a three-week audition to try to grab Allen's attention before he overhauls this roster. Make no mistake, that's what it will take to make the Redskins competitive again. Cerrato made the humorous statement a few weeks ago that he handed coach Jim Zorn the keys to a playoff team this season, but we all know that's not true.
Even before season-ending injuries to starting offensive linemen
Randy Thomas
and
Chris Samuels
, this wasn't a roster that was built to compete for an NFC East title. It was dotted with big names, some of whom (
Santana Moss
,
Clinton Portis
) appear to be on the downside of their careers. Some Redskins fans had given up on
the Snyder-Cerrato partnership
ever ending. But behind closed doors, the seemingly happy relationship had cooled. Yes, they still made the rounds on the field before games, but Cerrato finally started to lose Snyder's ear.
Now, a new era begins in Washington with a general manager tied to the Redskins' past. Allen's father, George, coached the Redskins from 1971-77 and was one of the most beloved figures in the history of the franchise. But Bruce has forged his own reputation during stops in Oakland and Tampa Bay. His love of the franchise is a quaint sidebar but it doesn't shed any light on whether or not he'll succeed with the Redskins. The only way this works is if Snyder actually sticks to the business side and allows Allen and whichever head coach (
possibly Mike Shanahan
) to take care of the football operation. Like his mentor and friend, Jerry Jones, Snyder is enamored with the splashy move. He doesn't sweat the small stuff, such as drafting and developing players along the offensive and defensive lines.
Why make a commitment via the draft when you can set the market in free agency? If this latest plan is to work, the organization needs to move past the embarrassing pre-draft trips during which Snyder lands in a college town for one last look at the hottest prospect. For all his business acumen, you still get the feeling that Snyder is playing dress-up when it comes to football decisions. Maybe Snyder is doing what Jones did in 2003 when he hired Bill Parcells to coach his team and make most of the personnel decisions. That move didn't pay off with a playoff win but Parcells rebuilt the team and put it in position to win 13 games in 2007.
I don't know how closely Allen has watched the Redskins this season but my guess is that he has had an eye on them for the past few weeks. He's publicly said that he plans to evaluate Zorn over the final three games, but we all know the score. Zorn was effectively fired the day his play-calling duties were stripped by Cerrato, but the Skins weren't able to coax him into quitting, which would have saved them some cash. In what has been an embarrassing situation all the way around, Zorn has somehow managed to remain gracious -- and his team keeps showing up and competing against superior opponents. He was asked Friday about reports that the Redskins are already in talks with Shanahan to replace him as head coach.
"I'm not aware of that, and I wouldn't even try to go there," said Zorn. "Because I'm not looking towards what is going to happen this offseason or next season yet. We're right in the middle of it. For us, I'm kind of excited about where we're heading."
The Redskins are likely headed for an offseason of upheaval, but first, they get a crack at the Giants, a team that has owned them lately. I think this will be the most competitive game between the two teams since the 2007 season, in part, because the Redskins excel in an area where the Giants have been awful. The Giants actually have a decent overall defense but they're one of the worst units in the league in the red zone.
And with the rise of second-year tight end
Fred Davis
, the Redskins are actually solid in that area. Since
Chris Cooley
suffered
a season-ending injury
against the Eagles on Oct. 26, Davis has five touchdowns in seven games. He's a big target for Campbell and he's elusive enough to catch the ball inside the 10 and then find the end zone.
The Giants will try to cover Davis with middle linebacker
Jonathan Goff
at times and safeties
Aaron Rouse
and
Michael Johnson
will also get their turns. Those are matchups the Redskins invite.
On offense, the Giants have immense respect for Redskins defensive tackle
Albert Haynesworth
. Left guard
Rich Seubert
actually had a nice game against Haynesworth in the season-opener but Giants offensive coordinator Kevin Gilbride is not taking any chances.
"The guy is a freak of nature," Gilbride told reporters Thursday. "He is a huge man who has some explosiveness to him. We tried to slide and help. We tried to keep a guy inside or a guy outside and help. More often than not, he was on his own and Richie just hung in there. The guy is incredible. He plays with such heart and determination. It really is inspiring to watch him. I don't know how he does it with some of the injuries he is battling through, but he does."
The Giants obviously have something on the line in this game. And with recent developments in Washington, there's also a renewed sense of urgency from the Redskins. On Thursday, this became a much more attractive matchup.
December, 17, 2009
12/17/09
10:41
AM ET
By
Matt Mosley
| ESPN.com
So obviously the Redskins had a plan in place before Vinny Cerrato's resignation. Former Buccaneers general manager Bruce Allen will replace Cerrato,
according to ESPN's Adam Schefter
. Allen is the son of former Redskins head coach George Allen, and he's been an executive with both the Raiders and Buccaneers organizations over the years.
Allen obviously grew up as a Redskins fan and his family is revered by the organization. He worked with Jon Gruden at both of his previous stops, so you can imagine where all the speculation is headed. Gruden
recently signed a multiyear extension with ESPN
in his role as an analyst on "Monday Night Football."
I thought the Redskins would take a run at former Broncos coach Mike Shanahan, but now it seems like Gruden would be the most likely candidate. Allen's star obviously faded toward the end of his time in Tampa, but he's respected by scouts across the league and I think most people would view this is a pretty obvious upgrade over Cerrato. Here's what Allen said in a statement released by the Redskins:
"This is an extraordinary opportunity with one of the world's most successful sports franchises. I love everything about this assignment; I know what it means to be dedicated to the Redskins. I can't wait to get to work."
The real question is whether Redskins owner Dan Snyder will give Allen the breathing room he needs to run this organization's football side. If Snyder's willing to do that, I think this thing has a chance to work.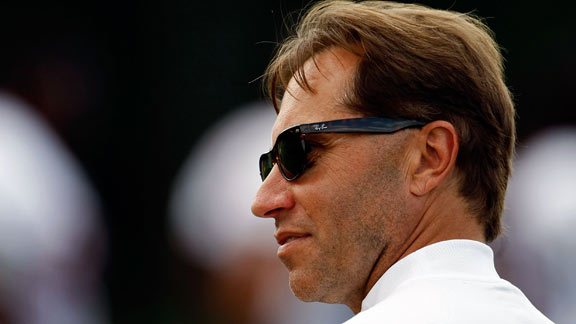 April, 15, 2009
4/15/09
5:03
PM ET
By
Matt Mosley
| ESPN.com
Posted by ESPN.com's Matt Mosley
The Cowboys and Eagles will finish the '09 season with 10 wins apiece. We've already guaranteed that after two glances at the schedule. Now it's time to examine how the Men of Zorn will finish. Will the addition of Albert Haynesworth bring playoff glory to the Redskins? You're about to find out.
Sept. 13 at New York Giants -- I'm sure Jim Zorn's wondering what he did to offend the NFL schedule makers. The Redskins served as the Giants' Super Bowl homecoming opponent in '08. And here we go again. 'Skins fall to 0-1.
Sept. 20 St. Louis -- Things didn't work out so well the last time the Rams came to FedEx. Now they have the Giants' former defensive coordinator as head coach. I think the Redskins will take care of business, though, and improve to 1-1.
Sept. 27 at Detroit -- Why does this schedule feel so familiar? Oh, maybe it's because they're basically playing the '08 season all over again. But they'll catch the Lions at the right time, which is to say anytime. (I'm a big Jim Schwartz fan, but it will take him a bit.) 2-1
Oct. 4. Tampa Bay -- The Redskins are on a little roll here. I think they come home and take care of business against a weak quarterback. Folks, your Redskins are 3-1.
Oct. 11 at Carolina -- Let's see what Big Al Haynesworth can do against the run. The Panthers have one of the best backfields in the league, but the Redskins do a pretty nice job against the run. But I just don't see them winning in Charlotte. 3-2
Oct. 18 Kansas City -- Todd Haley may have this team headed in the right direction, but the Redskins will take care of business at home. The Chiefs don't have a pass rush. Jason Campbell will have a huge day and Zorn will lead a triple Hooray! chant in the post-game locker room. 4-2
Oct. 26 Philadelphia -- The Redskins marched into the Linc last year and pushed the Eagles around. I want to pick Washington here but can't bring myself to do it. I think Brian Westbrook puts up huge numbers in this prime time affair. Redskins are 4-3.
Bye -- Not a bad place for a bye at all. In fact, maybe this is the optimum time for a little refreshment. Zorn tells his team to leave the facility for at least five days -- and not to call him at home.
Nov. 8 at Atlanta -- I think the Falcons could back up a little bit this season. I've changed my mind on this game several times, but in the end, I decided that Haynesworth would torment Matt Ryan for four quarters and the Redskins get a huge road win. 5-3
Nov. 15 Denver -- Everyone welcome Kyle Orton to town. I think the Broncos will begin their late-season slide about right now. Redskins improve to 6-3 and there's much rejoicing in the land.
Nov. 22 at Dallas -- This game road trip hurts. In fact, it's almost diabolical. Redskins beat the Cowboys at Texas Stadium in '08. Won't happen this time around. Redskins fall to 6-4.
Nov. 29 at Eagles -- I've seen the Redskins pull off wins in the Linc two years running, but it won't happen this time. Eagles load up to slow down Clinton Portis and avenge the '08 regular-season loss. Zorn's post-game media sessions become even more bizarre as he tries to relate the two losses to the sagging automobile industry. Redskins are 6-5.
Dec. 6 New Orleans -- I like the Redskins to bounce back in this game. Drew Brees goes off, but Campbell responds -- and we get to meet Malcolm Kelly in the end zone for the first time. Also smell a huge game from tight end Chris Cooley. He races home to post photos of the game on his blog. Redskins are 7-5 and back in the playoffs.
Dec. 13 at Oakland -- The Tom Cable-Al Davis honeymoon will have been over for two months. Campbell shows the Redskins why they should sign him to a long-term contract with a 300-yard, three-touchdown performance. Redskins talking playoffs with an 8-5 record.
Dec. 21 New York Giants -- Huge back-to-back against Beast opponents. This actually sets up pretty well for the Redskins, but I don't think the Giants falter down the stretch this season. Redskins lose and fall to 8-6.
Dec. 27 Dallas Cowboys -- Both teams have a lot to play for -- and the Redskins take care of business. The Cowboys are haunted by Decembers past, and that will rear its ugly head again. Campbell drives home his point that the Redskins should sign him to a long-term deal. Zorn skips off the field in some of the late George Allen's Sansabelt pants. 9-6
Jan. 3 at San Diego -- Because the Chargers dug themselves a hole early in the season (as always), they have to have this one. We could have the greatness of a three-way tie in the Beast at 10-6, but sadly, it doesn't happen. Filling in for the injured LaDainian Tomlinson, Darren Sproles has a huge game. Redskins stay home with a 9-7 record.
September, 12, 2008
9/12/08
9:00
AM ET
By
Matt Mosley
| ESPN.com
Posted by ESPN.com's Matt Mosley
It's with great pleasure and raw energy that I roll out another mailbag column, which is now read in more than 72 different languages, including English. You've once again outdone yourself with probing questions and charges of Cowboys bias. In this session, you'll read about the four teams in the NFC East and at least one team from the Big 12. Please proceed with caution.
Waxhaw from parts unknown writes: Who do you feel is the safest pick this week besides the New York Giants?
Mosley: Waxhaw, don't sleep on the Rams. If seven or eight plays went the other way, they would've been right in the thick of things against Philly. OK, I'm kidding. Load up on the Giants -- if you're into that sort of thing. I don't see a lot of safe picks this week, but I do think seven points is a lot for the Eagles to be getting at Texas Stadium, a place where they've played well in recent years. Give me the Eagles and the points, but take the Cowboys to win straight up.
---
Paul in New York City would like to make the following point: I think Eagles-Cowboys or Redskins-Giants are better rivalries than Cowboys-Redskins. When was the last time a Cowboys-Redskins game meant something? Compare that with how many meaningful games the Giants and Redskins played from 1984-1993. Or how many meaningful games the Giants and Cowboys have played from 1993 through today. I actually think Redskins-Cowboys is one of the weakest rivalries among the four teams.
Mosley: Paul, the Eagles and Cowboys have gone through fairly long stretches where only one of the teams is dominant. The Eagles were great (1960) when the Cowboys first started, but there were some lean years before Vermeil arrived on the scene. And I agree that the Parcells Giants and the Gibbs Redskins had some great battles, but nothing compared to what was going on with George Allen and Tom Landry in the 70s. The two teams hated each other, and honestly, those were always the two most important games of the regular season. A rivalry like that transcends some of the tough stretches. The Eagles might like to think they're the Cowboys' biggest rival, but it's simply not true. Don't be a stranger, Paul.
September, 11, 2008
9/11/08
12:00
PM ET
By
Matt Mosley
| ESPN.com
Posted by ESPN.com's Matt Mosley
Partly because the NFC East has been together so long (forget the Cardinals), it has the best rivalries in the league. If you ask this question in Philly, you'll automatically hear Eagles-Cowboys, but the Redskins-Cowboys rivalry has deeper roots.


Cowboys coach Tom Landry and Redskins coach George Allen helped make this such a special game that the rivalry remained even when both teams went through rough periods. Former Cowboys quarterback Roger Staubach will still tell you that he hates the Redskins, and at the center of it all, was Allen. The Cowboys once rented out an entire floor of a hotel because it was next to their practice facility. Landry and GM Tex Schramm were convinced that Allen had placed spies in the building.
Former Cowboys Cliff Harris and Charlie Waters once told me that Landry asked players to stop practicing any time he saw helicopters flying above. Allen loved causing the paranoia. At one point, he claimed that he had seen a Cowboys scout hiding in a tree during practice.
On the field, the two teams played some unforgettable games. Perhaps the most famous was when a rookie named Clint Longley replaced an injured Roger Staubach on Thanksgiving Day 1974 and threw two touchdowns in the second half, the last with less than a minute left, to beat the Redskins, 24-23. It was less than two weeks after the Redskins had beaten the Cowboys, 28-21, at RFK and it only added to the rivalry's lore.
Now, I'm anxious to hear what you consider the biggest rivalry in the division. Do the Giants, Eagles and Redskins all view the Cowboys as their biggest rivals? Let me hear from you.
Intensity Index: 2 (It's not as heated as it was in the 1970s and 80s, but it still packs a punch).