September, 8, 2014
9/08/14
10:07
PM ET
DETROIT -- A few thoughts on the
New York Giants
'
35-14 loss
to the
Detroit Lions
at Ford Field.
What it means:
As we told you going into the season, the Giants' offense is not a finished product. Not even close. But the problems go well beyond whether they're picking up offensive coordinator Ben McAdoo's new schemes. The Giants' problems are about personnel. The offensive line isn't good enough. They don't have enough at wide receiver, as
Victor Cruz
is easily erased from the game and
Jerrel Jernigan
and
Rueben Randle
aren't reliable. They have no dynamic tight end. And they didn't run the ball especially well Monday, either.
Eli Manning
's interceptions were bad, especially the second one, but the quality of the group around him needs to improve.
Stock Watch:
The new Giants' secondary, DOWN. Yes, I know
Calvin Johnson
makes everybody look bad, but the breakdowns in the zones were terrible, and
Dominique Rodgers-Cromartie
made way too many mistakes, letting Johnson go into empty space on the first touchdown and letting
Golden Tate
get past him for a critical 44-yard catch on third down in the second half. The Giants aren't good enough on offense to allow for a leaky secondary. This is supposed to be the strength of the team, but it was a weakness Monday.
Line must improve:
Pass protection was Manning's biggest problem last year, was a major issue in the preseason and was terrible again Monday night. Left tackle
Will Beatty
looks lost, and he and the rest of the offensive line need to figure out some things in a hurry if the Giants are to avoid a repeat of last year's offensive crater.
Game ball:
Defensive tackle
Cullen Jenkins
. The one bright spot, I thought, was the Giants' run defense, led by the play of the beefy defensive tackles on the inside. Especially with only three of them active for the game, Jenkins,
Johnathan Hankins
and
Mike Patterson
had to handle a lot of the load and held up well, limiting a talented Detroit running game to 76 yards on 30 carries. Jenkins made the plays that stood out most to me, so I pick him.
What's next:
The Giants host the
Arizona Cardinals
at 1 p.m. ET on Sunday at MetLife Stadium.
March, 31, 2014
3/31/14
9:15
AM ET
Nearly a third of the league inquired about receiver
DeSean Jackson
, but not all the teams are known. Two of those teams reportedly have fallen out of the race for Jackson -- and both have coaches who previously worked with him (Andy Reid in Kansas City and Marty Mornhinweg with the
New York Jets
). The assumption is that this sends up red flags about Jackson; that's not necessarily the case.
And it's hard to get a good feel on who is really interested. Oakland and Washington definitely are, though to what extent remains to be seen. Jackson arrives in Washington Monday and will visit Tuesday. Thus far, it's his only reported visit.
San Francisco's name came up when Jackson was on the trade block and the 49ers had expressed interest in free-agent wide receiver
Golden Tate
, among others, before he signed with Detroit. So it would make sense that they'd at least inquire about Jackson. Tampa Bay has said they'd take a look, though it was a
rather tepid endorsement
.
Here's a little handicap of some teams that have expressed interest or reportedly want to get in the race:

Washington Redskins
Cap space:
Approximately $7 million
Why he'd consider:
It's a premier market in a premier conference. Oh, and they get to play the Eagles twice a year. The Redskins would have a lot of speed offensively with Jackson,
Pierre Garcon
,
Andre Roberts
and
Jordan Reed
and would be a major threat down the field. Add to it an athletic quarterback who can extend plays and the off-schedule explosions would increase.
Robert Griffin III
's deep-ball ability will be important -- and his ability to extend plays. Jackson's agent, Joel Segal, has definitely taken quarterback play into consideration in the past with his receivers. If Jackson is forced to take a one-year, prove-it deal, this especially would be a factor.
Why he wouldn't:
Because other teams can offer more. Washington can't compete if Jackson's strong desire is to return to the West Coast and play for the team he grew up rooting for (Oakland). If they want a more proven coach, San Francisco and Tampa Bay have to be a consideration (if the Bucs are strongly interested, which is debatable). And if San Francisco truly is interested, then the 49ers clearly would offer him a better chance for team success. The Redskins still have other needs to address so they can only spend so much, and it's hard to gauge how aggressive they'll be. But the fact that they have the first visit says something.

Buffalo Bills
Cap space:
Approximately $13 million
Why he'd consider:
They have more cap room than most teams, so they could offer the sort of contract that could get it done now -- if they wanted to go that high. They need what Jackson provides (though many teams do).
Why he wouldn't:
The Bills aren't a marquee team and their quarterback situation is questionable.
EJ Manuel
started 10 games as a rookie and showed flashes, but remains unproven. That has to be a strong consideration. None of their receivers had more than 597 yards last season, so how secure could you be? They have a good young talent in
Robert Woods
, a solid receiver in
Stevie Johnson
(nagging injuries, however) and a fast young guy in
Marquise Goodwin
. But that's not exactly a Hall of Fame trio. The draft has to be an attractive option, so that could limit what the Bills would be willing to offer.

Oakland Raiders
Cap space:
Approximately $15 million
Why he'd consider:
Because the Raiders were his favorite team growing up and he played college ball at nearby Cal. Jackson is a West Coast kid, and if his desire to return there is strong, then it will be hard to top. The Raiders need help at receiver so Jackson would fill a big hole. Also, the Raiders have more money than the other teams reportedly interested thus far.
Why he wouldn't:
The Raiders have a wait-and-see approach going on and, while they'd like him, they won't overspend. So if another team is more aggressive, then Jackson could end up elsewhere. Also, other than going back to California, the Raiders aren't exactly an attractive franchise. Their coach, Dennis Allen, will enter the season on the hot seat and their quarterback,
Matt Schaub
, is not known for throwing deep all that often. At this point, it's uncertain if he remains a quality starting quarterback.

Tampa Bay Buccaneers
Cap space:
Approximately $12 million
Why he'd consider:
They have a potentially strong structure with new coach Lovie Smith. He's a proven coach in the first year of his regime so he'll be around several years at least. The Bucs have another explosive receiver to pair with Jackson in
Vincent Jackson
. Both are dangerous down the field. Oh, yeah, and they have the cap room to absorb a bigger contract.
Why he wouldn't:
Smith's history suggests building around the run game and the defense. Also, they have a journeyman starting quarterback in
Josh McCown
and a second-year guy in
Mike Glennon
, whom the new coach did not draft (and replaced right away). So there are questions at this spot. Their interest is said to be lukewarm, so it's hard to imagine them overspending for Jackson.

San Francisco 49ers
Cap space:
Approximately $4 million
Why he'd consider:
It's the best team, it's near where he played college ball and it puts him back on the West Coast. They need a receiver who can stretch the field to pair with
Anquan Boldin
,
Michael Crabtree
and tight end
Vernon Davis
. Jackson would provide that and then some. They also have a big-armed quarterback in
Colin Kaepernick
who can let Jackson run under the ball and remind everyone of his explosiveness. Unlike Washington, the 49ers also have a defense that plays at a championship level, so if Jackson wants to produce and win, this could be the stop.
Why he wouldn't:
The 49ers were reportedly interested in pursuing a trade, according to Pro Football Talk. But their cap number isn't high and they already have talent at receiver. They could opt for the draft, which is deep at this position and has a few players with Jackson-like qualities (though no one can match his acceleration on deep balls). Hard to know what the reported friction with the 49ers between general manager Trent Baalke and coach Jim Harbaugh means for the future of either person and, subsequently, a guy like Jackson.
March, 3, 2014
3/03/14
12:00
PM ET
With free agency set to begin, I'm going to examine some of the Redskins' needs once the offseason really gets underway, with free agency starting March 11 and the draft two months later.
Why receiver is a need:
The Redskins could use a consistent No. 2 target opposite
Pierre Garcon
. They signed
Josh Morgan
to be that guy two years ago, but after 68 catches in two years it's apparent that he is not a strong second option. If they paired Garcon and tight end
Jordan Reed
with another solid receiver, the Redskins could have a strong passing attack. The Redskins also lack depth (and size) at receiver, not to mention players capable of being solid special-teams contributors.
In-house options:
The Redskins have
Leonard Hankerson
and
Aldrick Robinson
, both of whom have flashed – Hankerson more than Robinson. But Hankerson tore his ACL and might not be ready until mid-August, while Robinson is too inconsistent. He made positive strides late in the year and the coaches like that he can play multiple spots (like Hankerson). But they need consistency. They could re-sign Morgan, but I don't know why they would expect a third year to be any different than the first two. They can re-sign slot receiver
Santana Moss
to a small deal -- they still like him and feel he can play -- but that will not solve their pressing issue.
Free-agent options:
If the Redskins want someone who can contribute immediately, then they'll have to spend a little bit. Receiver is one of the toughest positions for rookies, so a first-year guy might not give them what they need – and provide them what they already have in terms of flashing one week and being invisible the next. They have enough players who fit that description. Seattle's
Golden Tate
would be an attractive option because he can return punts as well.
Hakeem Nicks
is a possibility, though his lack of touchdown productivity in recent years (three touchdowns in his last 109 catches) and inability to get separation last season is concerning. But he also wouldn't cost as much so he could be one to watch; his wide catch radius is helpful. He's also had four games with at least 100 yards receiving in the past two seasons. No thanks to
Kenny Britt
; the Redskins need productivity not another player who can't play to his ability.
The draft:
Because the Redskins will have to fill other needs in free agency, especially on defense, the draft is a good, and less expensive, option. They might only land a lesser wideout in free agency, but they'll still need to add depth at this position. Aside from Garcon, it's not a position of strength, so they might have to add via free agency and the draft. With Hankerson having had two major injuries in his first three years, the Redskins could use another talented young wideout. There are a few in Rounds 2 and 3 who fit that description: Penn State's
Allen Robinson
and Clemson's
Martavis Bryant
, among others. LSU's Odell Beckham and Oregon State's
Brandin Cooks
are good choices, but all the reports lately place them in the first round.
February, 21, 2014
2/21/14
8:00
AM ET
PHILADELPHIA -- In his combine press briefing Thursday, Eagles general manager Howie Roseman sounded very much like a man willing to shuffle the team's deck at wide receiver.
Of course, that's exactly how you would want to sound if you were a GM with two receivers about to test the free-agent market.
Cooper
Maclin
"We're trying to figure out the whole dynamics of it," Roseman said Thursday. "You can only put a limited amount of resources at a particular position before it starts taking out from other places. And then you've got to factor in the quality and the depth in the draft. ... We set prices for guys and try to stick to those and have walkaways numbers. The market is going to determine a lot of those things. It's hard to figure out the market until you're in it."
Because it's the most interesting situation for the Eagles this offseason, we saved our look at the wide receiver situation for last.
Jeremy Maclin
, a former first-round draft pick who missed 2013 with a torn ACL, and
Riley Cooper
, who started all season in Maclin's place, are about to become unrestricted free agents.
This isn't like the safety situation, where the Eagles simply need to upgrade from the guys who are about to become free agents. Maclin was a good player who hadn't gotten close to his ceiling before the injury. Cooper was a spare part who became a favorite target of
Nick Foles
, catching 47 passes for 835 yards and eight touchdowns.
It really seems as simple as this: If the market provides Maclin and Cooper opportunities that pay more than the Eagles think they are worth, they will be gone. If they like what the Eagles offer, in money and familiarity and the chance to win, either or both could be back.
And then there's the X factor that will help determine what Roseman called the "walkaway number" for each player. Does Kelly believe his offense would work as well or better with other wide receivers? He spoke highly of Cooper, both as a blocker and a pass-catcher. But if Kelly thinks a faster or more athletic receiver would put up even better numbers, Roseman will negotiate accordingly.
The only certainty at the position is that
DeSean Jackson
will be back. He is still a game-breaking deep threat who dictates the way defenses approach the Eagles offense. Jackson caught 82 passes for 1,332 yards and nine touchdowns.
Jason Avant
, the eight-year veteran who won Kelly over with his unselfish attitude, could be a victim of his $2 million salary. Avant was a starter who saw his playing time decrease as the season went on.
The rest of the wide receiver corps was unremarkable.
Damaris Johnson
vanished when he failed to spark the return game.
Brad Smith
took over kickoff returns and was the focus of some of Kelly's more unfortunate trickery.
Jeff Maehl
played special teams and saw scant playing time on offense.
Arrelious Benn
, who also missed the season with a torn ACL, has another year on his contract.
Compared to the imposing collections of receivers the Eagles defense faced almost weekly, this was not exactly a fearsome group. And yet the Eagles receivers were good enough for Foles to have a breakout season.
Did that say more about Cooper and Jackson and Avant or about Kelly's imaginative offense? How the Eagles answer that question internally will go a long way toward determining their strategy.
There are some free agents who could add different dimensions to the passing game --
Eric Decker
of Denver,
Emmanuel Sanders
of Pittsburgh,
Golden Tate
of Seattle -- but mostly there is the draft. We'll be taking a look at some of the wide receivers available in a post later.
December, 14, 2013
12/14/13
2:00
PM ET
The 5-8
New York Giants
host the 11-2
Seattle Seahawks
on Sunday at MetLife Stadium in a 1 p.m. ET game. Here are four things to watch for in the game between a Giants team that has no playoff hopes and a Seahawks team that looks like a favorite to be back at MetLife Stadium for the Super Bowl in early February.


Rough week for Eli?
The Seahawks have the No. 1 pass defense in the league, allowing just 175.6 passing yards per game.
Eli Manning
and the Giants' passing game have struggled through a rough season, averaging just 234 pass yards per game. Led by 6-foot-3 cornerback
Richard Sherman
and 6-3 safety
Kam Chancellor
, the Seattle secondary is big and physical and should beat up the Giants' receivers all game. The ability of
Hakeem Nicks
,
Rueben Randle
and
Victor Cruz
to withstand that beating will determine whether Manning can find success downfield. It would qualify as one of the week's larger upsets.
Look out for Lynch:
Seattle has the No. 3 rushing offense in the league, mainly because of monster running back
Marshawn Lynch
. Giants defensive linemen spoke in relative awe this week of Lynch as a running back it takes a whole team to tackle. "It takes more than one person to bring him down,"
Cullen Jenkins
said. "You've got to get 11 guys to the ball. You can't just leave one person hanging out to dry to try to bring him down himself, because he's a tough back, strong, fast, quick. He'll make you miss." After allowing 144 yards on 40 carries to the Chargers last week, the Giants have been paying extra attention to the run fits for their linebackers and safeties this week. It'll be more important than ever. One thing to note: Of the top 12 rushers in the league so far this year, Lynch will be the 10th the Giants have faced. (And next week,
Reggie Bush
will be the 11th. The only one they won't face this year is San Francisco's
Frank Gore
.) The Giants are 11th in the league in run defense, allowing 105.4 rush yards per game.
Road worriers:
If you've seen the Seahawks on TV this year, chances are it's been a prime-time home game, and they've looked fantastic. The Seahawks' average scoring margin in their home games, of which they have won all six, is 18.7. But in their seven road games (in which they are 5-2), it's just 5.7. So they don't always look unbeatable on the road, where they've lost in Indianapolis and San Francisco and won by less than a touchdown in Carolina, Houston and St. Louis.
Wide receiver matchups:
Seattle's
Percy Harvin
is still injured and will miss this game, so the big wide receiver weapons with whom the Giants' defensive backs will have to contend are
Doug Baldwin
and
Golden Tate
. Keep an eye on Tate, the fourth-year wide receiver out of Notre Dame. He's eligible for free agency after this season, and the Giants could be looking for help at that position, especially if Nicks leaves as expected.
January, 6, 2013
1/06/13
9:00
AM ET
WASHINGTON, D.C. -- Good morning. Lovely weekend here in our nation's capital. There's a great deal of excitement about the
Washington Redskins
' first home playoff game since 1999. The Redskins will take on the
Seattle Seahawks
at 4:30 p.m. ET at FedEx Field. Here are a few matchup-related notes I have left over from the time I spent with the Redskins earlier in the week:
[+] Enlarge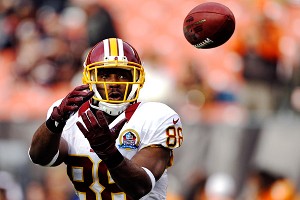 AP Photo/Mark DuncanPierre Garcon and the Redskins receivers will be challenged by a big, physical Seahawks secondary.
1. Redskins WRs versus Seahawks DBs:
The Redskins' wide receivers are big and physical and love to block, but Seattle's secondary has unusual size. Of the six defensive backs 6-foot-3 or taller who started at least 10 games in the NFL this season, three --
Richard Sherman
,
Brandon Browner
and
Kam Chancellor
-- play for the Seahawks. I heard lots of talk this week in Ashburn about how physical those defensive backs are. "They try to beat you up all the way down the field," Redskins offensive coordinator Kyle Shanahan said.
"We just have to keep their hands off of us and make sure we're allowed to run our routes," Redskins wide receiver
Pierre Garcon
said. "Just have to get into their shoulder pads and block them like you would anybody else. They can try to jam us; that's part of the game. We have to be physical. We've shown a lot of physicality this year."
One thing to look for is tighter splits, with the wide receivers playing closer to the line and further from the sideline than normal. Washington showed this in last season's game against Seattle (with less physical wideouts), and there are a couple of potential benefits. It allows the receivers more space in which to operate -- forcing the defensive back to guess which direction they're going as opposed to when they're wide and the sideline limits their range. And it might give a safety at least some hesitation, wondering if the play is a run or a pass and whether those receivers are in tight to run-block. If the Seahawks hesitate in coverage,
Robert Griffin III
has shown he has the ability to make them pay with his downfield accuracy.
2. Redskins' interior offensive line versus Seahawks DT Brandon Mebane:
Watch Mebane's ability to generate pressure up the middle, especially to the "play side," where the run play appears as though it will go. The Redskins' best way of countering the speed of the Seattle defense is likely with cutback runs by
Alfred Morris
(as well as play-action passing, but that goes without saying). If Mebane can penetrate and get to Morris before he cuts back, the Redskins could find their run game limited and their play-action game negatively affected as a result.
The left guard situation is particularly worrisome for Washington. Either starter
Kory Lichtensteiger
is going to be playing hurt or backup
Josh LeRibeus
will be starting in his place. If LeRibeus plays, the Redskins must worry about the timing of the blocks on the cutbacks. Washington started the same five offensive linemen in 15 of its 16 regular-season games, and the ability of that line to work together with comfort and familiarity had a lot to do with the success of the Redskins' top-ranked run game. If LeRibeus isn't in sync with the guys who have been there all season, that could create problems.
3. Redskins DBs versus Seahawks WRs:
Seattle doesn't have a top-flight, game-breaking wide receiver, though
Sidney Rice
and
Golden Tate
have been more than serviceable for rookie quarterback
Russell Wilson
. Last week against the Cowboys, Washington used an unusual number of "zero" blitzes that left cornerbacks on wide receivers one-on-one. The ability of
DeAngelo Hall
to handle
Dez Bryant
in solo man coverage was one of the more surprising aspects of that game, and Redskins coaches say they spent the week challenging Hall to step up his game because of how hot Bryant was. Will Hall be able to muster that same kind of intensity to play Rice or Tate? Will the return of
Cedric Griffin
from his drug suspension change the Redskins' coverages and reduce the need for Hall to play man all game? Wilson runs around outside the pocket like
Ben Roethlisberger
, keeping plays alive for a long time with his legs. The coverage by the Redskins' secondary needs not only to be tight but also persistent. The cornerbacks have to stay with the receivers longer than they're used to due to Wilson's ability to extend plays. This is a new challenge for a defense that has been able to overcome a lot of issues in recent weeks.
December, 30, 2012
12/30/12
11:28
PM ET
Five things to know about next Sunday's Seattle Seahawks-Washington Redskins playoff game at FedEx Field:


1. Tough to contain.
This playoff game features two of the NFL's three sensational rookie quarterbacks in Washington's
Robert Griffin
III and Seattle's
Russell Wilson
. Redskins fans who haven't seen Wilson should know that he is just getting started when he is flushed out of the pocket. Wilson was 8-for-9 for 173 yards on throws outside the pocket in Sunday's victory over the
St. Louis Rams
, according to ESPN Stats & information. For the season, Wilson led the NFL with 57 completions when throwing from outside the pocket, and his five touchdown passes from outside the pocket ranked second in the league.
2. Good memory.
The Redskins did not play the Seahawks this season, but they beat them 23-17 in Seattle in Week 12 of 2011. That was a somewhat shocking game in which the Redskins trailed 17-7 with 10 minutes to go but managed to score 16 unanswered points with
Rex Grossman
at quarterback and
Roy Helu
rushing for 108 yards on 23 carries in the game against what was then one of the toughest run defenses in the league. Different personnel, to be sure, in key spots, but the Redskins who played in that game might be able to draw some confidence from the memory of beating the Seahawks in Seattle not that long ago.
3. Stingy Seahawks.
Seattle allowed just 245 points this season, an average of 15.3 points per game and the lowest total in the NFL. They have not allowed more than 17 points in a game since Week 12, and they only allowed more than 20 once in the second half of the regular season.
4.
Home cooking.
One of the perks of being a division champion is getting a first-round home game, and that's especially helpful when the opponent is the Seahawks. Seattle is 8-0 at home this year and wins by an average score of 30-12 in home games. The Seahawks are just 3-5 on the road. They did win their last two road games -- 23-17 in overtime at Chicago in Week 13 and 50-17 at Buffalo in Week 15. But road losses in places like Arizona, Miami, St. Louis and Detroit bolster the case that it's much better to get the Seahawks in your own place than it is to try and beat them in their rowdy, raucous home stadium.
5. Win downfield.
One area in which the Seahawks are not strong is at wide receiver, where they don't have the kinds of playmakers who dominate matchups even against suspect secondaries such as Washington's. If the Redskins were able to handle
Dez Bryant
on Sunday night, they should be okay against
Sidney Rice
and
Golden Tate
. Seattle's best big-play threat is running back
Marshawn Lynch
, but the Redskins have looked good in recent weeks against power run games.
September, 17, 2012
9/17/12
8:00
AM ET
Good Monday morning to you. Little bit of a "market correction Sunday," unfortunately for the fans of two of our teams and fortunately for the fans of one. I think the Cowboys' and Redskins' losses were bad losses and the Giants' and Eagles' wins were tough, if ugly, wins. We knew the Giants were tough. We had plenty of reason, after last year, to think the Eagles weren't. They have shown in their first two games that, in spite of quite a number of other flaws, they're at least tougher this year than they were in 2011. And that's something on which they can build.
In case you're new, when we're in season we do the breakfast links in order of division standings. With a three-way tie for second, I'm using division record as the tiebreaker. The Redskins haven't played a division game. The Cowboys beat the Giants in the only division game so far this year. That explains the order. Now, links.
Philadelphia Eagles (2-0)
Bad things happen in life, some of them our fault and some out of our control. All any of us can do after the bad things happen is handle them the best we can. This is what Phil Sheridan believes Michael Vick has shown in his first two games, recovering from a mess of turnovers to
lead a pair of game-winning drives
. Vick is obviously not playing well, but he's 2-0. And I have to believe Eagles fans would rather that be the case than the opposite.
The Eagles' defense has been absolutely stellar in both games. A lot has to do with the veteran leadership (and excellent play) of new middle linebacker DeMeco Ryans. But they've also been getting big-time contributions from rookies Mychal Kendricks and Brandon Boykin, as
Geoff Mosher writes
.
Dallas Cowboys (1-1)
If you brought home a report card like the one
Tim MacMahon handed the Cowboys
after Sunday's loss in Seattle, your folks wouldn't let you out of the house for a month. The D-minus for the passing offense qualifies as the lone "bright spot." I do find it interesting that they didn't blitz the rookie quarterback Russell Wilson after blitzing Eli Manning more last week than they did last year. In general, it seems the Cowboys prefer not to blitz, but I thought the point was that this year they'd do it more because of all that improved coverage in the secondary.
The Golden Tate hit on Sean Lee was out of line, and the Cowboys
expect that Tate will be fined
for it. Good for Lee for playing it down. Guy's a professional. Also, he's a linebacker who got walloped by a wide receiver. Can't imagine he was too fired up to discuss that, whether it was legal or not.
Washington Redskins
The Redskins' defensive front seven is a critical element to their team, and likely its biggest strength.
As Jason Reid writes
, key injuries to Brian Orakpo and Adam Carriker altered a lot about the way the Redskins were able to attack the Rams' offense Sunday. We await word on the severity of the injuries, but extended missed time for either or both would be difficult for the Redskins to overcome. Mike Jones writes that
it doesn't sound good
for either guy.
If the front seven isn't dominant, the secondary is exposed, and
my goodness
did the Rams' Danny Amendola expose it.
New York Giants
What we wrote about Vick up in the Eagles links is certainly something that applies to Eli Manning's Sunday as well. Manning had a rough start but ended up with (gulp) 510 passing yards and three touchdowns. All summer, the Giants said they didn't want to ask Manning to have to come back and win games with his arm over and over again this year. But they sure do
love knowing that he can
.
The Giants' offensive line had to shuffle some things when right tackle David Diehl went out with a knee injury. Will Beatty was
happy for the chance
to get some snaps, though not happy about the reason he got them. We await word on the severity of the Diehl injury and the way the Giants plan to use their tackles in the coming weeks. Remember, they have the Thursday night game this week.