August, 30, 2012
8/30/12
9:00
AM ET
I don't know why
New York Giants
coach Tom Coughlin played his starting offense for four series in Wednesday night's
6-3 preseason victory
over the
New England Patriots
. It's kind of accepted that you're not supposed to play your veteran starters in the final preseason game, and it does seem silly to risk injury to them with a week left before the first game that actually counts. But Coughlin knows what he's doing, and he tends to do it his way. And hey, maybe
Eli Manning
really is indestructible -- and while we just joke about it, Coughlin knows for sure.


Anyway, everybody came out of it fine, including star wide receiver
Hakeem Nicks
, who only played the first two series as he got his first game action of the preseason. Nicks didn't show any effects from the foot fracture he suffered in the spring, and he should be good to go next Wednesday night against the Cowboys.
As for this game, in the four series he played, Manning didn't look in sync with his receivers, the offensive line looked awful in run-blocking and (likely as a result) the running backs didn't show much. No, not even
David Wilson
. What's it all mean? Absolutely nothing, of course. There's no way the Giants game-planned for this game and no way they were going to put anything on tape Wednesday night that might have been potentially helpful to the Cowboys next week. Manning and his gang will be ready, of that there should be no fear. Not now that they've made it through the preseason games healthy.
What else did we see in this fiasco of a non-game?
August, 25, 2012
8/25/12
8:00
AM ET
As great as the
New York Giants
' starters looked, on both sides of the ball, in Friday's
20-17 preseason loss
to the
Chicago Bears
, the news of the night was injury news. Cornerback
Prince Amukamara
, who was already having a rough week after a video of him being dunked into a cold tub made it onto YouTube, suffered a high ankle sprain and had to leave the game. It's unclear how much time Amukamara will miss, but high ankle sprains can take several weeks to heal, so his availability for the regular-season opener 11 days from now has to be called into question.


With
Terrell Thomas
still recovering from his knee injury, that leaves a big hole at starting cornerback opposite
Corey Webster
. Rookie
Jayron Hosley
has looked very good, but he's out with turf toe. He's hoping to play in next week's preseason finale, and he was already getting a long look as the nickel corner. Either Hosley,
Michael Coe
,
Bruce Johnson
or
Justin Tyron
would be in line to fill in for Amukamara if he has to miss a lot of time.
The good news is that this is much better than last year, when Thomas blew out his knee in a preseason game and had to miss the season. The bad news is that, whatever you may have thought of
Aaron Ross
, there's no one that established among the replacements on this year's roster. The Giants let Ross leave via free agency because they believed they'd get Thomas and Amukamara back healthy. So they kind of need to hurry back.
That's the bad part of what happened Friday night. As I mentioned, though, most of the night was very good for the Giants. Here's what else I saw:
Rookie running back David Wilson got the start and looked very impressive, running for 49 yards on five carries and gaining 26 more yards on two receptions. Wilson showed a good burst, good speed and an ability to keep running after first contact. They used him on a variety of plays, as if they were trying some sort of running back sampler platter to see how much he could handle. He looked especially good on that one where he took the handoff, faked left and ran around to the right with the defense fooled. And when the play wasn't designed for him, I thought he did a good job staying in the backfield and making sure he didn't have a blitzer to pick up before heading out into the flat where Eli Manning found him. Still didn't see much to indicate how he did picking up blitzers when they did come, and Wilson's playing time will be tied at least in part to his blocking ability in the passing game. But he's clearly got playmaking ability, and the Giants should be able to find spots in which to use him.
Ramses Barden was the star of the wide receiver corps with three catches for 46 yards and a touchdown. His catches were tough ones, too. Barden's size gives him something that Jerrel Jernigan and Domenik Hixon don't offer in the receiving game. And if Barden is impressing the coaches as much in practice as he did in the game, you start to wonder about Jernigan's roster spot. Especially since David Douglas looked good returning punts.
The false start call on Manning for his hand-fake in the shotgun caught me off guard, but my Twitter followers alerted me to the fact that that's a point of officiating emphasis this year. Quarterbacks aren't going to be allowed to make those exaggerated gestures with their hands and legs to try and draw defenses offsides. They got David Carr for the same thing in the fourth quarter. Will be interesting to watch, league-wide.
Pick a defensive star. Mathias Kiwanuka has been playing great, and he says the groin injury that knocked him out of the game won't prevent him from playing Sept. 5. Keith Rivers may still be a backup linebacker, but the way he's playing sideline-to-sideline, he's making it less important that Michael Boley hurry back from his hamstring injury. Linval Joseph continues to be a beast at defensive tackle. Adewale Ojomo had a sack. As good as Manning and the first-team offense looked, the Giants' defense played very well in this game and looks to be ready for the season, other than that healthy-cornerback problem.
Safety Kenny Phillips deserves a separate mention for his work in run support. He was in the backfield for a tackle on the first play and was in there a little bit later with Osi Umenyiora to make a stop on Matt Forte. Phillips had one shaky moment when he failed to come over to help after Brandon Marshall smoked Amukamara replacement Bruce Johnson for a touchdown, but it's clear he's a huge all-around asset for the defense who doesn't get talked about very much.
Da'Rel Scott is the forgotten man in that backup running back derby, but he blocked a punt and had a nice 15-yard run. He's speedy.
I also noticed linebacker Greg Jones twice -- when he scooped up the punt Scott blocked, and when he made a good open-field tackle in the third quarter. The Giants' depth at linebacker is very impressive now.
I might take Victor Cruz pretty high in those fantasy leagues that award a point per reception.
And finally not a Giants note, but I've watched him two weeks in a row now and I'd take Brandon Marshall in any league.
June, 27, 2012
6/27/12
10:00
AM ET
Examining a position group that could exceed its preseason expectations:

A year ago, an honest assessment of the
New York Giants
' linebacker position would have labeled it as one of the weak links of the team. The Giants appeared thin at the position, and they didn't appear to have top-line starters there, either. Linebacker was an apparent need position the Giants seemed to consistently overlook in the draft while they focused on building their defense behind a strong pass rush and secondary. A year later, though, the Giants have so much depth at linebacker that newly acquired veteran
Keith Rivers
doesn't look as though he can crack the starting lineup.
Many things went into the surprising and rapid transformation. The Giants moved
Mathias Kiwanuka
to linebacker on early downs last year in training camp and he took to the change.
Michael Boley
re-established himself as a very good player with his 2011 performance.
Chase Blackburn
came off the scrap heap in November and became a Super Bowl hero. A quartet of rookies gained various levels of experience as the coaches found intelligent ways to deploy them throughout the season. And then the Giants traded for Rivers. The result is a deep, varied group that allows defensive coordinator Perry Fewell a number of interesting options.
Boley, Blackburn and Kiwanuka project as the starters, but the team will look for ways to use Rivers. He's one of the candidates, along with second-year guys
Mark Herzlich
and
Greg Jones
, to eventually wrest the middle linebacker spot away from Blackburn if Blackburn tails off.
Jacquian Williams
was enough of an asset in coverage last season that the Giants may not have to use as many three-safety looks as they have in recent years. This is a group that could make Fewell's job fun. And while the emphasis in New York remains and always will remain on the front line and the back end, the Giants' defense has more options in the middle of the field than we've come to expect.
June, 1, 2012
6/01/12
4:45
PM ET
Our position-by-position assessment of each team in the NFC East takes a look at the
New York Giants
' linebacker situation.
Projected starters:
OLB
Michael Boley
, OLB
Mathias Kiwanuka
, MLB
Chase Blackburn
Reserves:
Keith Rivers
,
Mark Herzlich
,
Greg Jones
,
Jacquian Williams
,
Clint Sintim
,
Spencer Paysinger
,
Adrian Tracy
Potential strength:
Kiwanuka is a converted defensive end who still plays up front on passing downs, but seemed to take to his new role as a first- and second-down linebacker in 2011. He has the speed and athleticism to play all over the field, and as he got more comfortable in his hybrid position, he seemed to play better as the season went along. His second year in that role should see continued to development and allow the Giants to do even more with Kiwanuka, who still loves to get after the passer when that's his assignment, but seems to have enjoyed playing linebacker more than he might have expected to.
[+] Enlarge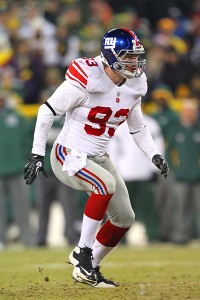 Matthew Emmons/US PresswireThe Giants' Chase Blackburn is part of a linebacking unit that features depth and versatility.
Potential weakness:
The middle, where they really still don't seem to have an established starter. There's been talk of playing Boley there, but they don't seem to want to do that. Blackburn played it fine in December and January, but the team isn't convinced he's a permanent solution. Herzlich and Jones were rookies last year who showed some ability, but likely aren't ready to take over the middle linebacker role full-time. It's certainly possible that one of those second-year guys supplants Blackburn, either before or soon after the start of the regular season. For now the job appears to be Blackburn's by default, and in part as a reward for the way he played in the latter part of 2011, the playoffs and, of course, the Super Bowl.
Keep an eye on:
Variety. The Giants traded for Rivers in spite of not having an open spot for him. He's not really a middle linebacker, and they're set on the outside with Boley and Kiwanuka. So the plan appears to be to move a lot of people around to a lot of different spots depending on the situation. Williams, for example, was an asset in coverage last season and could get on the field in situations in which they need that. They still haven't re-signed veteran safety
Deon Grant
or anyone to replace him, so it's possible they could be planning to use fewer three-safety looks and go with more linebackers on the field in passing downs. My sense is that the key to finding playing time as a Giants linebacker this year will be versatility. If the Giants' defensive coaches see guys who can fill multiple roles, those guys are likely to find the field more. If Rivers can play some in the middle, for example, or if Williams shows more in run support. Otherwise you're going to see a lot of situation-specific substitutions at linebacker, and a lot of different arrangements of the position group within the course of games.
February, 6, 2012
2/06/12
2:06
PM ET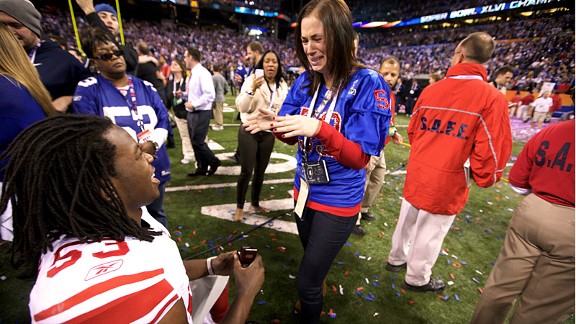 John Korpics/ESPN
Greg Jones proposes to his girlfriend, Mandy Piechowski, right after the Giants won the Super Bowl.
INDIANAPOLIS
–- Linebacker
Greg Jones
did more than just celebrate the New York Giants' Super Bowl XLVI win over the New England Patriots on Sunday night.
Shortly after the Giants beat the Patriots, 21-17, Jones proposed to his girlfriend,
Mandy Piechowski
, on the confetti-covered Lucas Oil Stadium field as the celebration was under way.
Click here
to view a photo gallery of the proposal.
An emotionally overwhelmed Piechowski said yes.
"She was bawling," Jones said Monday morning before hopping on the team bus to head to the airport. "Just everything we have been through together ... she has been there since day one."
Jones, a rookie drafted in the sixth round out of Michigan State, has known Piechowski for three years. She played basketball at Michigan State, and the two became friends first but did not start dating until a year and a half ago. He purchased the engagement ring -- a brilliant round cut diamond ring with several smaller diamonds on the band -- recently and had been waiting for the right moment to pop the question.
When Piechowski ran onto the field looking for Jones to celebrate the Giants' win, she was already emotional. She began crying as soon as she found him and embraced him.
"But then he put me down pretty fast and I was like, 'Oh, OK,'" she said. "And then he is digging in his pants and I am like, 'What are you doing?'"
Piechowski had no idea what was coming.
"He pulls out a box and I am still not comprehending what he was about to do," she said. "First thing I thought of was their ring and that doesn't make sense. Then he opens it.
"We had talked about wanting to get married next year possibly but in terms of this happening last night, no not at all. I didn't know he had a ring."
Jones got down on one knee on the field and said, "Amanda Piechowski, will you spend the rest of your life with me?"
Despite a chaotic celebration going on all around them, Piechowski heard Jones as if they were the only two on the field.
"It honestly felt quiet for a second," she said. "I didn't even know what they were doing with the trophy [celebration]."
What a night it was for Jones, who decided to make the best night of his football career the best night of his life. He had tight end
Christian Hopkins
, who is on the Giants' practice squad, hold onto the ring until he proposed.
Jones said he didn't have a speech prepared for his proposal.
"She already knows how I feel," Jones said. "A speech wasn't needed."
January, 12, 2012
1/12/12
9:58
AM ET
The New York Giants you see before you -- a team that has made it to the divisional round of the NFC playoffs -- are not the same New York Giants we watched for most of this season. Their enthusiasm and effectiveness bear little, if any, resemblance to that of the team that lost five of six games from mid-November to mid-December. What's the difference? Well, there are many. And each day this week, leading up to the playoff game Sunday in Green Bay, we'll take a look at a player or players who have helped turn these Giants from a mid-pack pretender to a Final Eight contender.
Today: LB Chase Blackburn
Blackburn
The Giants decided not to bring back Blackburn last offseason opting instead to go with a rookie corps at linebacker even once
Jonathan Goff
and
Clint Sintim
went down with preseason injuries. But the November injuries to
Michael Boley
and
Mark Herzlich
were too much, and so the Giants called their old friend and brought him back Nov. 29. He started the very next game -- the one against the Packers on Dec. 4 -- and came up with an interception of
Aaron Rodgers
. He wasn't even on the flip card yet, and he wasn't wearing his old uniform number. A week earlier, he was working out the details of a substitute math teaching gig in Ohio. It's possible his was the most surprising interception Rodgers threw all season.
"I think he'll know who No. 93 is this time," Blackburn said earlier this week.
Blackburn's return has brought stability to the Giants' middle linebacker position, which never attained that following the Goff injury. Rookies
Greg Jones
,
Jacquian Williams
and Herzlich all took their turns in the middle, but things remained unsettled, as they often do with rookies, and the Giants suffered for it. Had Herzlich not injured his ankle, they might have continued to roll with the rookies. They take the middle linebacker off the field on passing downs anyway, and they don't view it as the most essential position in their defensive scheme.
But having Blackburn back and manning the middle has helped in ways the Giants didn't foresee. The most important element he brings is familiarity. He's played here before. He knows the scheme, the system, the terminology.
"Think about it," Boley said. "You bring in a guy in Week 13 and he's never been here before, he has to spend a lot of time just learning what things are called. He's catching up. But with Chase, there was no catching up. The stuff we do is exactly the same as it was when he was here before. So he just slid right in."
The Giants' defense still runs off the big guys up front -- the four-man pass rush. And the play of the secondary is likely to matter more and get more attention this week in the playoff game in Green Bay. But Blackburn's contribution since he arrived Week 13 has been quietly significant, if for no other reason that it's allowed the Giants to stop moving pieces around as much as they were before he returned. He's made plays. He's fit in. He's been everything the Giants needed when they went out looking for a substitute linebacker in late November. And more, almost certainly, than they expected.
November, 19, 2011
11/19/11
10:46
AM ET
The
New York Giants
may have to play Sunday night's game against the Eagles in Philadelphia without linebacker
Michael Boley
, who's been a vital veteran playmaker on their defense all year. Boley has a hamstring injury, has not been able to practice this week and is officially listed as doubtful for the game. Should he miss the game, the Giants will look to someone -- possibly everyone -- from their group of four rookie linebackers to fill in for him.
Ohm Youngmisuk has the story
on ESPNNewYork.com:
The Giants have spent the week prepping their rookie linebackers for more playing time, which they say will help. Fewell also says he will have a veteran wear the helmet with a headset to relay plays into the huddle so that the rookies won't be overloaded.
Boley has had the headset in his helmet all year as he's been charged with relaying the defensive calls in place of injured middle linebacker
Jonathan Goff
. The only remaining veteran in the linebacking corps is
Mathias Kiwanuka
, who plays defensive end on passing downs and likely has enough about which to worry. So I wonder if the veteran who gets the headset might be a safety. The Giants have been successfully mixing and matching since the early part of training camp and believe they can figure it out.
But someone still has to play, and while rookies
Greg Jones
,
Spencer Paysinger
and
Jacquian Williams
have seen some playing time this year, the Giants are cognizant of not trying to give them too much responsibility too quickly. That's why they're likely to rotate snaps along with fellow rookie
Mark Herzlich
, whose playing time so far this year has come entirely on special teams.
If Herzlich plays at linebacker, it would be another milestone moment in his comeback from Ewing's sarcoma, a rare bone cancer he beat after missing all of the 2009 season at BC. "They are rotating a lot of guys in right now," Herzlich said. "I'm eager. It is all about getting that one shot and seizing it. Whenever that occurs for me -- I'm confident that will occur at some point -- I will be ready."
Herzlich was a dominating college player in 2008 before his illness, and the Giants signed him as an undrafted rookie in the hopes that he might someday be able to flash that ability again once he was back to full strength. It appears that Boley's injury might offer Herzlich a chance to show what he's got sooner rather than later. It's been a next-man-up kind of year for the Giants, and at 6-3 and with a depleted Eagles team coming to town Sunday night, there's no reason for them to think one or more of their rookies can't continue the trend.
November, 15, 2011
11/15/11
11:08
AM ET
New York Giants
linebacker
Michael Boley
has a hamstring injury and it could affect his status for Sunday's game against the Eagles.
Mike Garafolo takes a look
at what this might mean for a Giants defense that has counted heavily on Boley as its lone every-down linebacker this year:
Statistically, Boley has proven vital to the Giants defense, which ranks in the bottom half of the NFL in both total defense (17th) and scoring defense (21st). He is second on the team in tackling with 59 total stops along with three fumble recoveries (one he returned for a touchdown), a forced fumble and a sack. Most importantly, he is the unit's leader and one of only three players listed at linebacker who is not a rookie. The other two are Mathias Kiwanuka, a converted defensive end, and Zak DeOssie, who exclusively serves as the long-snapper.
Mike points out that the 49ers were able to take advantage of Boley's absence on both of their touchdowns Sunday, as rookie
Greg Jones
was an insufficient replacement in coverage. I also think it matters that
Justin Tuck
and other Giants are saying that Boley is the player they can least afford to lose on defense. Much of the Giants' success this year has come from their ability to mentally overcome the obstacles put in front of them by bad breaks and injuries. If it's in their heads that they can't get by without Boley, that could be a problem.
The Giants have been excellent about not letting injuries to key players affect them this season. Players such as
Corey Webster
,
Aaron Ross
and
Brandon Jacobs
have stepped up their games when called upon to replace injured players or assume larger roles because of injuries. Boley is another example, though, of a Giants player who has outperformed expectations in a year in which so many Giants have had to. If they lose him for any period of time, it just makes them that much thinner at a position where his performance was already helping overcome a lack of depth.
September, 19, 2011
9/19/11
12:05
PM ET
It's "Monday Night Football" here in New Jersey tonight, as I'll head down Route 17 to the Meadowlands to see the
New York Giants
take on the
St. Louis Rams
. We will be chatting live during the game right here on ESPN.com, and of course I'll be blogging and columnizing and Rapid Reacting and all of the things we do from games we attend in person. It's going to be a long, late night, so take a nap this afternoon if you need one to make sure you can keep up. I know I will.


You already know I think one of the keys for the Giants is to
commit to the run
more strongly than they did in the opener against the Redskins. But I also think the run game is the key when they're on defense. The Rams were able to run up the middle with some success in their opener against the
Philadelphia Eagles
, and the Giants' defense has a similar weakness in the middle to the Eagles' defense -- i.e., a rookie middle linebacker who's likely to struggle if he has to make a one-on-one play against the running back. The Giants'
Greg Jones
looked better in his debut than the Eagles'
Casey Matthews
has looked in either of his games, but the rookie out of Michican State is still new at this, and even if
Steven Jackson
doesn't play, stopping
Cadillac Williams
and
Jerious Norwood
isn't exactly the same as stopping Indiana's run game. It will fall to defensive tackles
Chris Canty
and
Linval Joseph
to slow the Rams' backs at the line so they don't hit the soft middle of the Giants' defense with a head of steam.
On offense, the Giants should try to create those same mismatches with running backs
Ahmad Bradshaw
and
Brandon Jacobs
against the Rams linebackers, especially if the Rams blitz as much as they did in their opener. It remains to be seen whether Steve Spagnuolo will blitz like that every week or whether that was just a plan to try and rattle (or eliminate)
Michael Vick
.
Eli Manning
gets rid of the ball very quickly, as Spagnuolo knows from his days coaching against him in practice when he was the Giants' defensive coordinator, and it's possible the Rams will choose to rush four and sit in coverage more than they did last week. If they do go blitz-heavy again, the run game is the Giants' best way to take advantage of that.
I think the Giants will win the game tonight, but to do so they must seek to control it, and the best way to do that is to control the ground game on both sides of the ball. If this turns into a shootout, neither quarterback has his full complement of receivers. But I don't think the Giants want to entrust this game to their banged-up secondary.
September, 8, 2011
9/08/11
8:00
AM ET
It's getting to the point where I'm worried I'm going to injure my knee just by writing about these teams. Every day, a new knee injury in this division. Wednesday brought two, both in Dallas. Fact, I'm going to go put a brace on before I finish writing today's links, just in case...
Dallas Cowboys
Cornerback
Mike Jenkins
and rookie right tackle
Tyron Smith
both suffered
hyperextended knees
in practice Wednesday, calling the status of both players into question for Sunday night's season opener against the Jets in New Jersey. Reports earlier in the day indicated that Smith could be out 2-to-4 weeks, but Calvin Watkins is saying now it's possible the injury wasn't as serious as originally thought and that Jenkins and Smith could practice Thursday. That'd be good news for the Cowboys, but it's also the kind of thing a team wouldn't mind having out there publicly if it were very thin at cornerback and offensive line and was trying to bring in some players to help offset fresh injuries to those positions. Just saying.
Mac Engel has
a radical idea
, and he says he's serious: Bench
Tony Romo
for Week 1 because the Jets' defense is so fearsome and the Cowboys are too banged up in too many spots to protect Romo from serious harm. Basically, Mac's saying sacrifice the first game of the season (and maybe
Jon Kitna
's health) to save the final 15. I can see his point. I just don't think things are
that
dire. And what kind of precedent would it set? (Hint: Bad one.)
New York Giants
Rookie
Greg Jones
was
the most popular guy in the Giants' locker room
when it opened for media access Wednesday. Jones appears to be in line to start at middle linebacker in the wake of the injury to
Jonathan Goff
. He says he's ready, his teammates express confidence in him and the Giants insist that, while the knee injuries that have wracked their defense this preseason have shaken them up, they believe they have enough depth on the roster to handle them. We'll see. My thought is that Greg Jones may be very talented and a very good middle linebacker someday, but that taking a rookie who had no offseason program and making him your starting middle linebacker four days before the season starts is a recipe for trouble.
Devin Thomas
said
he's looking forward to playing against the Redskins
and Mike Shanahan on Sunday, but that he harbors no ill will toward Shanahan for cutting him last year. Shanahan and Thomas spoke highly of each other Wednesday, with Shanahan saying he believed Thomas had the talent to be a star and Thomas saying the speech Shanahan gave him while cutting him helped inspire him to work harder.
Philadelphia Eagles
High hopes are one thing, and maybe even justified. But John Smallwood writes that
the Eagles aren't even the favorites
to represent the NFC in the Super Bowl yet. John ranks them behind the two teams playing tonight.
Worried the team may not have enough quarters left in the piggy bank for a
DeSean Jackson
contract? Don't. Word is, the Eagles are still about
$8 million under the salary cap
, even after all of their offseason moves. I don't think that counts the new contract
Joselio Hanson
signed Wednesday, but there's no way he's eating up very much of it. Remarkable work Joe Banner does there in Philly with that cap.
Washington Redskins
Rich Campbell wonders whether this flare-up
LaRon Landry
had with the team's training staff over the hamstring setback that will keep him out of Sunday's opener
represents a trend with the Redskins
. Rich cites a list of ill-timed muscle pulls over the past year and says it's something to keep in mind.
Rick Maese checks in to see how
John Beck
is coping with losing out to
Rex Grossman
for the Redskins' starting quarterback job. Not surprisingly,
Beck is upbeat
, positive, optimistic and eager to talk about it. He's also surely smart enough to know that he's likely to get his chance at some point this year if he shows any kind of improvement week-to-week in practice.
September, 6, 2011
9/06/11
5:06
PM ET
The
New York Giants
' injury situation may have reached the point of absurdity.
Multiple reports have surfaced Tuesday afternoon that
Jonathan Goff
, the Giants' starting middle linebacker, has a torn ACL and
will miss the entire 2011-12 season
. ESPN's Adam Schefter reports via Twitter that the team is planning to sign former Giants linebacker
Kawika Mitchell
to replace him.
[+] Enlarge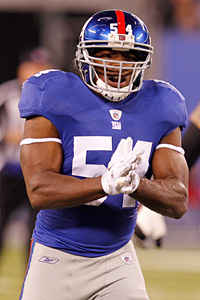 William Perlman/The Star-Ledger via US PresswireThe Giants reportedly lost Jonathan Goff for the season to a torn ACL.
This is really ridiculous now, and you have to wonder how much more of this the Giants can possibly take. They've already lost starting cornerback
Terrell Thomas
and backup linebacker
Clint Sintim
for the year with ACL injuries. Cornerback and first-round draft pick
Prince Amukamara
is out for the first month or so with a broken foot. Defensive tackle and second-round pick
Marvin Austin
is out for the year with a torn pectoral muscle. Defensive end
Osi Umenyiora
is coming off knee surgery and will miss at least the first week and probably more. And that's just the defensive damage report. On offense, they're reasonably healthy but did lose wide receiver
Steve Smith
and tight end
Kevin Boss
to free agency and didn't replace either one.
The Giants have maintained all along that their developmental depth was strong and they would be able to handle injuries, but the fact is their relatively inactive offseason and the injuries that have dogged them since the lockout ended have left them thin at several key spots, none more so now than linebacker. They believed they were set with Goff,
Michael Boley
and
Mathias Kiwanuka
as starters, and the four reserve linebackers they kept when they made their cuts Saturday were all rookies. Now, it looks as though they could bring in Mitchell, who played for the Giants in 2007 and for Giants defensive coordinator Perry Fewell in 2008-09 when both were in Buffalo, to add some veteran presence. But Mitchell isn't a middle linebacker. So if he's there to add depth and not to man the middle, you could see a rookie such as
Greg Jones
or
Mark Herzlich
get some time at that middle spot, or the Giants might look again to the waiver wire for someone like
Keith Bulluck
or
Lofa Tatupu
.
Regardless, five days from the regular-season opener in Washington, the Giants had hoped their rotten injury luck was behind them for this year. There is a lot of talent on their roster, and especially on their defense. But they're reaching the point where you have to wonder if this is too many injuries to overcome. I've never been big on Goff as a starting middle linebacker, but he was their starter. Without him, they will scramble, and likely be worse than they would have been with him. If this was the first of these injuries, it'd be easy to say sure, they can take it. But it's not. Far from it.
September, 3, 2011
9/03/11
7:01
PM ET
Click
here
for a complete list of the
New York Giants
' roster moves.

Biggest surprise:
Four rookie linebackers made the team. And yes, I know some of you were telling me that would happen Friday, but I expected
Adrian Tracy
to make the team and I was wrong. He was one of three 2010 draft picks -- including fellow linebacker
Phillip Dillard
and punter
Matt Dodge
-- among Saturday's cuts. But in part because of the way they played on special teams, rookies
Mark Herzlich
,
Greg Jones
,
Jacquian Williams
and
Spencer Paysinger
made the team. That's the corps of backup linebackers behind starters
Jonathan Goff
,
Mathias Kiwanuka
and
Michael Boley
.
Running backs
D.J. Ware
and
Da'Rel Scott
made the team while 2009 draft pick
Andre Brown
was cut.
Devin Thomas
made the team as a wide receiver over
Michael Clayton
based on a strong preseason showing. And the Giants basically keep three tight ends --
Travis Beckum
,
Jake Ballard
and
Bear Pascoe
-- with rookie
Henry Hynoski
slated to be the starting fullback.
No-brainers:
Dodge had a very good preseason, has a lot of talent and probably will find work somewhere. But once the Giants brought in
Steve Weatherford
, who has been one of the best punters in the league the past two years, Dodge's days were numbered. Weatherford will be the punter, and the bad memories of Dodge and
DeSean Jackson
can begin to fade. Health issues cost
Sage Rosenfels
the backup quarterback job, which goes back to
David Carr
.
What's next:
I think they need to sort through the Eagles' castoffs. In particular, tight end
Donald Lee
and nickel cornerback
Joselio Hanson
make a lot of sense for the Giants, as the former would fill a huge hole and the latter would allow them to keep
Antrel Rolle
at safety. Personally I always think they need linebacker help, but they disagree and they like their rookies, so I guess we'll see.
July, 12, 2011
7/12/11
8:00
AM ET
Excellent morning to you all. Busy Tuesday planned, what with the regular weekly chat scheduled and some work still to do for later in the week on the "
Dream Team of Tomorrow
," so let's get right on with the links:
Dallas Cowboys
The St. Louis Rams on Monday became the latest team to cancel their out-of-town training camp because of how long the lockout has dragged on. Matt Mosley says
the Cowboys could be next
, as they're getting close to the time by which they have to decide on whether to pull the plug on San Antonio. At this point, with the best-case scenario for the end of the lockout looking like sometime late next week, you have to wonder if anybody's going to hold training camp away from home. As you know from reading the blog, I don't think it matters at all. But I guess we'll see.
Blogging the Boys
ponders John Phillips, and whether he can emerge as the kind of do-it-all fullback Daryl Johnston was for the glory years teams. This leads to an interesting question about Martellus Bennett's continued usefulness, though I imagine the fact that Bennett caught a career-high 33 passes last year, as BTB points out, indicates more multiple-tight-end sets (and perhaps less need for a fullback) to come. It is the trend, after all, in a copycat league.
New York Giants
Linebacker talk! Paul Posluszny said in a
recent radio interview
that he prefers to stay with the Buffalo Bills (perhaps a story unto itself), but that he enjoyed the time he spent with Giants defensive coordinator Perry Fewell while Fewell filled that same role (and, for a brief time, that of head coach) in Buffalo and that the Giants are an interesting potential destination for him as he becomes a free agent. Remains to be seen, of course, whether he's on the Giants' wish list. Remains to be seen whether the always-stubborn Giants actually do anything at linebacker this year. But his name's been mentioned more than once in connection with the Giants, and he bears watching.
And Giants.com takes a look at sixth-round pick Greg Jones, the linebacker out of Michigan State.
Michael Eisen writes
that most expect Jones to begin as a special-teamer but that the college overachiever "likely hopes to get a shot to unseat Jonathan Goff as the Giants' starting middle linebacker." Hey, you never know, right?
Philadelphia Eagles
Brandon Graham's knee appears healthier than Tiger Woods' knee, since
he can apparently play golf on it
. But while Graham says the knee is coming along, he's not going to be ready to start the season, which is one of the reasons you keep hearing the Eagles connected with potential free-agent pass-rushers.
DeSean Jackson said in
this radio interview
that he and Plaxico Burress would be "a dangerous combination" if the former Giants wideout were to sign with the Eagles. But Jackson, like all of us, doesn't know how likely that is to happen. The Eagles would be good for Burress, there's no doubt. The question is whether they believe he'd be good for them.
Washington Redskins
Hey, if we can spend a week speculating on who'll make the Pro Bowl in 2014-16, why can't
Redskins.com talk about who'll make it this year
? Looking at potential candidates who've never made it before, they highlight Lorenzo Alexander, Anthony Armstrong, O.J. Atogwe, LaRon Landry and return man Brandon Banks. One quibble: Isn't Alexander about to lose his job to the team's first-round pick?
Mike Jones takes a look at the final six picks the Redskins made in the draft and sizes up
each one's chances of contributing this year
. Of the group, sixth-round receiver Aldrick Robinson and seventh-round guard Maurice Hurt may have the best chances to see playing time in 2011, since those positions are positions of opportunity on the Redskins' roster. Though I did chuckle at Mike's characterization of Hurt as "rather fleshy" during the player-led workouts. Hey, we all let ourselves go a little in the offseason, don't we?
Breakfast time. More later. Be excellent to each other.