April, 27, 2010
4/27/10
1:00
PM ET
By
Matt Mosley
| ESPN.com
»
NFC Big Question
:
East
|
West
|
North
|
South
»
AFC
:
East
|
West
|
North
|
South
Did the Philadelphia Eagles wheel and deal themselves out of a quality cornerback?
[+] Enlarge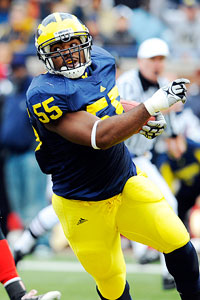 Eric Bronson/Icon SMIThe Eagles filled a void by drafting Michigan defensive end Brandon Graham, but they still have questions at cornerback.
If nothing else, new Eagles general manager Howie Roseman was entertaining while running his first draft alongside coach Andy Reid. Even the stoic Reid admitted to being impressed with the way Roseman moved up and down the draft board.
I've talked to some scouts who thought the Eagles "reached" a bit in moving up 11 spots to land Michigan defensive end
Brandon Graham
. But Roseman and Reid obviously decided that Graham was the best fit scheme-wise as a pass-rusher and they didn't want to take the chance of losing him. The fact they gave up two third-rounders to move from No. 24 to No. 13 was almost forgotten as Roseman basically tried to commandeer the fourth round. The Eagles once again extended a helping hand to a division foe in flipping picks with the Cowboys in the second round. The Cowboys took Penn State linebacker
Sean Lee
, who's expected to eventually take over for
Keith Brooking
at inside linebacker.
I think Graham and South Florida safety
Nate Allen
were both solid choices for the Eagles, but it concerns me they couldn't find a potential starter at cornerback. Veteran
Marlin Jackson
, signed in free agency, has experience at cornerback, but he's probably more comfortable at safety after tearing the ACL in each knee the past two years.
Asante Samuel
's a perennial Pro Bowler, but he's one of the least willing tacklers in the league.
The projected starter on the other side,
Ellis Hobbs
, is returning from a neck injury. I thought the Eagles needed more depth at cornerback in this draft, but they only came up with fourth-rounder
Trevard Lindley
out of Kentucky. Had Lindley come out after the '08 season, he probably would have gone in the second round. But the cornerback suffered a high ankle sprain last year and had a challenging senior season.
"He got banged-up this year,'' Reid said Saturday. "He had a high ankle sprain and that can kind of put a damper on a college season, and that's what happened. It happened early and he never really got over it, but he didn't want to stop playing, which showed me something."
Good to know, but it doesn't really address the issue that
Miles Austin
and
Jason Witten
ran roughshod over this secondary at the end of the '09 season. Even
Roy Williams
stumbled into daylight a couple times against this unit. Reid seems to think that players such as
Macho Harris
and
Joselio Hanson
can help patch together a decent group of cornerbacks. But that's a scary proposition when you know that the Giants and Cowboys both have big-time weapons on the outside. And the Redskins happened to acquire a quarterback who has been successful with inferior talent at wide receiver before. (I'd give
Santana Moss
the edge over Freddie Mitchell.)
I think the Eagles certainly improved their roster this past weekend, but cornerback is still a position of need. If you want to poke holes in Roseman's first draft, I'd start with that position.
March, 10, 2009
3/10/09
6:15
PM ET
By
Matt Mosley
| ESPN.com
Posted by ESPN.com's Matt Mosley
Donovan McNabb has finally updated his blog. Just when I was about to take him out of my "favorites," he decided to release a statement regarding the departures of longtime teammates Brian Dawkins and Tra Thomas.
"I usually don't remark about teammates unless asked but I felt it was necessary to share my thoughts on a couple of teammates that are no longer in Philadelphia," writes McNabb. "I have been a part of the Philadelphia Eagles for 10 years and I have not played a game, attended a practice, sweated in training camp, built a playground or participated in a Carnival, and more importantly dreamed of a championship parade, without Brian Dawkins and Tra Thomas being a part of it. We all had a goal of bringing a championship to this city and while we didn't achieve that goal, we have had a lot of successes during our time together.

"I was always confident that Tra had my blindside. When he was out there it was one less thing to worry about. As for Brian, mere words cannot explain what he has meant to me, our team, and the City of Philadelphia. He and I shared many things besides a locker room. We shared a passion for the game, a desire to make a difference, and dreams for better things.

"There may be other men to come in here and play these positions and hopefully we can share successes. I will always regret not having the chance to win a championship with these guys. It is important to note that I also will miss playing with a few other guys as well. Correll Buckhlater, Lito Sheppard, Greg Lewis, and Sean Considine will all be missed and I do wish them all success."
McNabb will now return to hibernation -- and dream of the weapons that will surround him this fall. Thanks for your continued support.

January, 18, 2009
1/18/09
2:38
PM ET
By
Matt Mosley
| ESPN.com
Posted by ESPN.com's Matt Mosley
Just returned from spending time with Eagles fans on the Great Lawn outside University of Phoenix Stadium. Special thanks to Kevin Seifert for taking care of the Eagles' inactives.
No big surprises on the list, but it is interesting that former starter Reggie Brown will not be on the field today. He'll be replaced in the rotation by veteran Greg Lewis.
But back to the parking lot. I think the Cardinals may have the most immaculate tailgating scene in the history of the league. Instead of everyone grilling next to their cars, the Cardinals invite fans to set up shop on a huge grassy area -- hence the Great Lawn -- that could double as a fairway.
For the most part, Cardinals and Eagles fans seemed to be getting along fine. They were briefly distracted by a Bon Jovi tribute band on the main stage, but the lead singer's inability to hit the high notes in "Livin' on a Prayer" seemed to scare everyone off.
In the middle of the Great Lawn, about 75 Eagles fans were chanting the familiar "E-A-G-L-E-S, Eagles!" refrain. But in the middle of "Fly Eagles Fly," a 6-foot-7 man wearing anEric Swann throwback jersey waded into the middle of the group.
The fans responded with an impromptu chant that focused on a body part. A few feet away, Cardinals fans were beating up a Donovan McNabb mannequin. One father was encouraging his sons to knee the fake McNabb in the groin. And really, it's never too early to start teaching your kids how to hate opposing quarterbacks.
One middle-aged man in a Kurt Warner jersey took off and form tackled McNabb. As LA Times NFL columnist Sam Farmer told me, "Don't you wish you could pull a 'Bewitched' and turn that thing into cement right before that tackle."
OK, it's time to focus on football. You wouldn't believe the game-face that I have on right now. Several Philly-based writers have admitted to being intimidated.
We're 26 minutes away from kickoff.
January, 18, 2009
1/18/09
12:55
PM ET
By
Matt Mosley
| ESPN.com
Posted by ESPN.com's Matt Mosley
It looks like three-fourths of the ESPN.com game day crew has arrived at University of Phoenix Stadium -- also known as Shaq's online alma mater. As we pulled into the media parking lot in NFC West blogger Mike Sando's Chevy Malibu, an attendant shouted an expletive at several Eagles fans.
Who knew that we'd be writing about angry parking attendants in Glendale this time of year? It's a Chamber of Commerce day in the Greater Phoenix area. We're looking at 65 degrees with clear, blue skies. Sort of defeats the purpose of having a retractable roof if you're never going to open it. But as Cardinals offensive coordinator Todd Haley reminded me Friday, this place is much louder with the roof closed.
And one quick programming announcement: NFC North blogger Kevin Seifert has joined us for today's NFC title game. You'll be seeing his name pop up here from time to time. Sando has retreated to the parking lot in an attempt to "get some color."
The Cardinals are holding a pep rally on the "Great Lawn" that will feature general manager Rod Graves and team president Michael Bidwill. I may head down there to see if any Eagles fans try to crash the party. Seifert's handling the inactives.
I don't expect any surprises from the Eagles. Brian Westbrook and Jon Runyan will both be playing. We'll see what Andy Reid decides with wide receiver Greg Lewis. He played against the Vikings -- even after being carted off the field pregame with an ankle injury. He was inactive for last week's game against the Giants.
The Philadelphia Inquirer has arrived, but it appears the Daily News is caught in traffic. We'll keep you updated.
January, 11, 2009
1/11/09
12:33
PM ET
By
Matt Mosley
| ESPN.com
Posted by ESPN.com's Matt Mosley
EAST RUTHERFORD, N.J. -- We're about 30 minutes away from kickoff and Giants running back Brandon Jacobs just called all his teammates over for a spirited discussion in the end zone.
It's in the high 20s, but the players are under bright sunshine. A lot of people were worried about high winds, but right now, it doesn't seem like much of a factor on the field. Sal Paolantonio will be joining me in a moment. We'll see if he has any last-minute information.
Inactives for the Giants today: RB Danny Ware, CB Rashad Barksdale, LB Gerris Wilkinson, T Adam Koets, DE Dave Tollefson, DT Jeremy Clark, DT Leger Douzable, WR Mario Manningham
Eagles: QB A.J. Feeley, CB Dimitri Patterson, RB Lorenzo Booker, LB Joe Mays, DE Bryan Smith, G/T Shawn Andrews, WR Greg Lewis, TE Matt Schobel
No huge surprises there. Lewis was carted off the field before last week's game against the Vikings with an ankle sprain but he returned. Schobel, of TCU fame, was in the lineup last week because of L.J. Smith's absence. We'll see if Smith gets his starting job back. Brent Celek has played really well in his absence.
January, 4, 2009
1/04/09
4:52
PM ET
By
Matt Mosley
| ESPN.com
Posted by ESPN.com's Matt Mosley
MINNEAPOLIS -- Considering the fact that Greg Lewis was the intended target on a deep ball during the Eagles' first drive, I'm thinking he's going to be OK. We just found out he suffered an ankle sprain in pregame warm-ups, but he's obviously playing now.
On the Vikings' first play from scrimmage, Eagles middle linebacker Stewart Bradley absolutely destroyed Adrian Peterson when he tried to pick him up on the blitz. Bradley caused the errant throw from quarterback Tarvaris Jackson.
Well, there's the rare running play for a first down on third-and-11. Chester Taylor continues to be an excellent complement to Peterson, who has two carries for minus-2 yards so far.
January, 4, 2009
1/04/09
4:16
PM ET
By
Matt Mosley
| ESPN.com
Posted by ESPN.com's Matt Mosley
MINNEAPOLIS -- Eagles wide receiver Greg Lewis was carted off the field 20 minutes before kickoff. Several Eagles raced over to encourage him as he was taken off the field. Sort of a bizarre scene. Can't be a good sign for the Eagles.
I'm en route to talk to the Eagles' public relations staff. Back with more details in a moment. Hopefully.
September, 15, 2008
9/15/08
9:30
PM ET
By
Matt Mosley
| ESPN.com
Posted by ESPN.com's Matt Mosley
The Cowboys looked to be in good shape until Tony Romo threw an interception to cornerback Asante Samuel. Offensive coordinator Jason Garrett kept an extra blocker to make sure Romo was comfortable against the blitz on the first couple of drives. On the interception, it looked like both Cowboys tackles were beaten. Romo escaped the blitz, but then overthrew Miles Austin.
Romo bought himself some time, and then rushed the throw for no apparent reason. It didn't take the Eagles long to capitalize, and now we have a 14-13 game. The pass interference on Anthony Henry that set up the touchdown looked pretty straightforward. He didn't find the ball, and he bumped Greg Lewis. On the replay, though, it did look like Lewis had a fistful of jersey.
September, 7, 2008
9/07/08
10:23
PM ET
By
Matt Mosley
| ESPN.com
Posted by ESPN.com's Matt Mosley
Philadelphia 38, St. Louis 3: Since the Redskins and Giants played on Thursday, we're only left with this game. Can't say that I watched the entire game, but I saw enough to be pretty impressed with quarterback Donovan McNabb and his receiving corps.
Playing without starters Reggie Brown and Kevin Curtis, the Eagles torched the hapless Rams through the air. DeSean Jackson, who is being hailed as the savior of the team's passing game against McNabb's wishes, was brilliant in his first game with several tough catches and 106 yards. Greg Lewis and Hank Baskett also had 100-yard efforts and the Eagles rolled.
Are the Rams an awful team? You bet they are. But the Eagles still did what they had to do. Now, we can prepare for a delicious NFC East matchup between the Cowboys and Eagles. As we got closer to the season, more and more people picked the Eagles to win the division. This game won't decide the season, but it could be a great indicator of things to happen. Plus, it's Philly's last trip to Texas Stadium.
I don't know about you guys, but I'm ready to witness a competitive game.
August, 20, 2008
8/20/08
5:03
PM ET
By
Matt Mosley
| ESPN.com
| | |
| --- | --- |
| | |
| | Hunter Martin/Getty Images |
| | Losing Kevin Curtis could have a profound effect on the Eagles' offense. |
Posted by Scouts Inc.'s Jeremy Green
Wide receiver
Kevin Curtis
' sports hernia
surgery
is going to affect the
Philadelphia Eagles
in a big way. Any time a team loses a starting receiver, it is never a good thing, but in the Eagles' case it is even worse because they were trying to upgrade their receiving corps prior to Curtis' injury.
During the offseason they tried to acquire a No. 1 receiver to help take pressure off Curtis and WR Reggie Brown, who are better suited as No. 2 receivers. Their attempts went for naught and now their receiving corps is depleted more than ever before. As a result, Hank Baskett or Greg Lewis must step up.
This is a problem because both of these players are better suited as a No. 3 or No. 4 receiver and they will not be running familiar routes. As a No. 3 or No. 4 receiver, they are likely to run plays that get the ball into their hands quickly and allow them to make a play -- like a hook or a curl route. But a No. 2 receiver runs more outside routes like posts, corner routes and intermediate crossing plays.
Between the two receivers, Baskett has the best chance to take over Curtis' spot. Lewis is quicker, runs better routes and is more experienced, but Baskett has a lot of size (6-foot-4, 220 pounds) and is more physical. Plus, by having Baskett or Lewis step into Curtis' role, rookie WR DeSean Jackson can remain in the slot, where he has produced this preseason.
Defenses are going to play a lot more man coverage rather than zone coverage until the Eagles can show they can stretch the field. They will also stack the line of scrimmage more in an effort to stop RB Brian Westbrook. The Eagles are going to have to be even more creative in order to get Westbrook the ball because defenses will have a linebacker cover him, with possible safety help over the top.
The absence of a deep threat is also going to affect TE L.J. Smith because he is going to go against some combination of a linebacker with safety help over the top because the safety won't have to shade to either side of the field.
Even though the Eagles are most effective in the West Coast offense, they can't shrink the field and they must make the defense at least respect the deep ball, otherwise they will struggle.