September, 2, 2013
9/02/13
11:57
AM ET
It was just a passing comment by
Philadelphia Eagles
general manager Howie Roseman, but it caught my ear. Maybe because it echoes something that I've written about quite a bit over the past few years -- defense is dead in the NFL.

First, the comment. The question was about whether the Eagles have enough talent and depth on defense to win in Chip Kelly's first season.
"It's funny," Roseman said. "I go back and think about how much respect you have for the
San Francisco 49ers
and their defense. Then you look at the playoffs and it's a league where teams are scoring a lot of points."
The Niners had the No. 3 ranked defense based on yardage allowed (294.4) in the regular season last year. They were fourth against the pass (200.2) and fourth against the run (94.2). They allowed just 17.1 points per game, second lowest in the NFL.
In three postseason games, the Niners allowed 29.6 points and 398.7 total yards per game. That's two touchdowns and over 100 more yards.
Roseman wasn't criticizing the 49ers, who are in the mix to return to the Super Bowl this season. He was simply pointing out that the formula for NFL success has changed radically. There's a reason the Eagles hired Oregon's offensive innovator, Chip Kelly, over Seattle's defensive mind, Gus Bradley.
You can't ignore defense entirely, of course. That isn't the point, either. But the Eagles believe Kelly can unleash an offense that will run 75 plays per game, wear opponents down with its fast pace and put up a lot of points. The defense is obviously well behind on the development curve, but in the NFL in 2013, that is much better than the other way around.
What the Eagles do need from their defense is the occasional big play: a defensive touchdown here, a short field thanks to a turnover there. New England gave up almost 400 yards a game in the regular season, but created 41 turnovers. The Giants surrendered 383.4 yards, but forced 35 turnovers.
The Eagles? They intercepted just eight passes and recovered five opponent fumbles.
So there is plenty of room for improvement without reaching the heights of the 1991 Eagles or 2000 Ravens. These Eagles are a long way from that. But if they can just make some progress there, the hope is that the offense can pull the defense along.
January, 16, 2013
1/16/13
2:25
PM ET
Contrary to our best efforts and boldest assertions, none of us can see into the future. Only his eventual win-loss record will decide whether Chip Kelly is a good hire for the
Philadelphia Eagles
. Ultimately, as his predecessor can tell him, the legacy of this move will depend on whether Kelly can win the Super Bowl. Kelly inherits a wide range of questions, from the identity of his quarterback and his defensive coordinator, to his own ability to lead and innovate at the professional level as effectively as he did in college. You're going to hear and see and read a lot of speculation in the coming days on whether Kelly is up to this task and how successful he will be, but it's important to remember that no one actually knows.
But within the confines of the current moment, Kelly is a great hire for the Eagles. Putting aside all we cannot possibly know about how he'll actually do and focusing on right now, it's hard to imagine how they could have done any better. The hiring of Kelly is a triumph of persistence by the organization, and news about which its increasingly disgruntled fan base has good reason to be excited.
Kelly was the Eagles' top choice all along, and they put a serious push on him two weekends ago when they went out to Arizona to interview him in the wake of Oregon's victory in the Fiesta Bowl. The next day, he told them he was staying put at Oregon, and they moved on to a slate of somewhat uninspiring candidates. Sure, you could get yourself fired up about the idea of Seattle defensive coordinator Gus Bradley as an up-and-comer who would make them take defense seriously. But that was about it, and Eagles fans were braced for the possibility that the team would announce someone like Lovie Smith or Ken Whisenhunt -- former NFL head coaches who were solid but not spectacular in their previous stops. This would not have felt bold or visionary. It would have felt safe, and unsatisfying. And that is not what the Eagles wanted to do. So rather than settle, they went back and did what it took to get their guy.
Now, don't get me wrong. I believe this is a football decision by the Eagles first and foremost. I am confident that Jeffrey Lurie and Howie Roseman have selected the man they believe is right to lead their team into the post-Andy Reid future, and that public relations was not the most important thing on their minds when they decided to go back and do whatever they did this week to convince Kelly to change his mind. But if you think PR is no factor at all, then you haven't been paying attention to the Eagles the past couple of years.
There are people around the league who will tell you that Lurie has grown increasingly befuddled in recent years about the way his fan base views the team. A team that has averaged 10 wins a year and made the playoffs in nine of the past 13 seasons has nonetheless engendered strongly negative feelings among its own fan base. Eagles fans grew weary of Reid's aloof public persona and his inability to deliver a championship, as well as what they perceived as complacency by Lurie, because he wouldn't make the change they wanted him to make. Lurie believes he's running one of the best franchises in the league and doesn't like the idea that the fans dislike the team.
So you'd better believe that one of the things on Lurie's mind throughout this process has been the impression the ultimate decision would make among Eagles fans. And in that respect, he's hit a home run. Kelly was the top college candidate on the market. Based on his collegiate record, Kelly represents energy, innovation and excitement. He has head-coaching experience of which to boast, but no NFL failures that public perception can hold against him. Eagles fans can puff out their chests and proclaim that, of the eight teams that fired head coaches at the end of the season, they were the one that got the top candidate on the market. It's a fun day to be an Eagles fan, and it's been a while since that was the case.
What comes of it, no one can say. Whether he
should
have been considered the best available candidate, only the inscrutable future will tell. Kelly could be a flop, a wild success or something in between. But what matters for the Eagles and their fans right now is that they got their man -- a fresh and exciting new face of the franchise and someone who represents bright possibilities for that future. That is what makes today a good day for the Eagles, no matter what tomorrow holds.
January, 16, 2013
1/16/13
12:20
PM ET
A week and a half after telling interested NFL teams that he was staying put at the University of Oregon, Chip Kelly has
reversed course and accepted the job
as head coach of the
Philadelphia Eagles
, according to ESPN's Chris Mortensen.
We will have much more on this here on the NFC East blog as the day goes along, obviously, but some real quick first reactions:
Having looked into other options that included Seattle defensive coordinator Gus Bradley, former Bears coach Lovie Smith and former Cardinals coach Ken Whisenhunt, Eagles brass might have been uninspired and decided to go back and sweeten whatever offer it had made to the guy who was its first choice all along. This is going to be a very large contract -- likely five years for more than $6 million per year -- and I wouldn't be surprised if it was even bigger than that given the way this went down.
After he turned down the Eagles and Browns two weekends ago, it's possible Kelly looked around a bit at his situation in Oregon and decided the time to jump was right after all. Phil Knight's Nike money is one thing, but Kelly knew that would always be there. There has been talk of NCAA sanctions on the horizon at Oregon, and it's possible Kelly got wind that those could be more significant than expected and decided he should get while the getting was good.
Two significant concerns remain even with this resolved: Who's going to play quarterback, and who's going to run the defense?
Again, much more to come on this. But there you go, Eagles fans. They got the guy they wanted all along.
January, 16, 2013
1/16/13
10:41
AM ET
Sorry for the delay in posting this morning. Two-hour delayed school opening, shoveling and an epic snowball battle with two young men whose aggressiveness outpaces their size. Lots going on here, and that doesn't even count monitoring the
travel itinerary
of Mr. Gus Bradley. But I'm here now, and I come bearing fun gifts --
Mel Kiper's first mock draft

of 2013. Here's who Mel has for our teams. Remember, the Redskins don't have a first-round pick.

4. Philadelphia Eagles:
Dee Milliner
, CB, Alabama. Can't fault the Eagles if they take a cornerback here. Can't fault anyone for taking an Alabama kid. I think they should go with Texas A&M tackle
Luke Joeckel
if he's there, but Mel has him going No. 1 to Andy Reid and the Chiefs, so he's not.

18. Dallas Cowboys:
Jonathan Cooper
, G, North Carolina: The Cowboys need to address one of their lines in the first round, and the top guards this year are exceptionally highly rated. So while a tackle might be preferable, there would be nothing wrong with strengthening an area of significant weakness. Of course, you know the Cowboys will trade up for some big-game guy and reduce their inventory of picks again, but assuming common sense prevails this time, a lineman at 18 works fine.

19. New York Giants:
Sam Montgomery
, DE, LSU: I think the Giants need to think offensive line here, too, but they don't, and when you're projecting the draft it's never a bad idea to project a pass rusher to the Giants in the first round. That's where they think the first-round value is, and they have some track record to back it up.
January, 16, 2013
1/16/13
8:00
AM ET
Washington Redskins
The Redskins' interior offensive line situation
looks like a team strength
heading into 2013. The one issue is free-agent left guard
Kory Lichtensteiger
, who may not fit given the salary cap issues, but the Redskins believe they have enough depth to handle it.
The Washington Post
examines the issues
behind the Redskins' controversial nickname and offers a suggestion for how to change it in case the mayor of Washington, D.C. does decide to make an issue of it as he has hinted he would. As you guys know, I'm all for changing it, but I recognize (as this editorial does) that it's not that simple. I also don't think the solution offered here is an especially good one.
New York Giants
Aaron Rodgers
doesn't want to go to the Pro Bowl, so the next alternate on the list is Giants quarterback
Eli Manning
, who is
headed to Hawaii
. Obviously, this wasn't Manning's best year, but the Pro Bowl voting (even for the alternates) is multi-layered.
The latest in Ohm Youngmisuk's "Five Giant Losses" series looks at
the Steelers game
, which I agree was the first time something seemed to be wrong.
Dallas Cowboys
In case you're wondering after reading that Manning thing,
Tony Romo
is
not the next alternate
. If
Matt Ryan
and the Falcons win Sunday and Ryan can't go, the next man up for the NFC at quarterback would be Seattle's
Russell Wilson
.
Troy Aikman says
he's surprised
the Cowboys hired Monte Kiffin to switch them to a 4-3 defense, and the former star Cowboys quarterback seems to think big changes could portend more big changes.
Philadelphia Eagles
By the time people were turning in for the night Tuesday, there had been
no concrete news
on Gus Bradley and his second interview for the Eagles' head coaching job. Adam Schefter reports this morning that Bradley is heading to Jacksonville today to interview for the Jaguars' job.
This is a couple of days old, but Sheil Kapadia's Eagles-related
review
of last weekend's playoff games is (as expected) interesting and insightful.
January, 15, 2013
1/15/13
2:00
PM ET
Jeff McLane has an update on the
Philadelphia Eagles
and Gus Bradley, the Seahawks defensive coordinator who looks to be the leading candidate for Philly's head coaching position. Bradley is flying to Philadelphia today for a second interview, and Jeff is of the belief that the Eagles
may not want the day to end
without Bradley's signature on a new contract:
Bradley is scheduled to land in Philadelphia around 2:30 p.m. this afternoon. He will sit down with owner Jeffrey Lurie, general manager Howie Roseman and team president Don Smolenski. Bradley also interviewed with the Chargers on Thursday, but San Diego came to terms with Broncos offensive coordinator Mike McCoy today.

While the team has one less suitor to compete with if they indeed have set their sights solely on Bradley -- and the scuttlebutt around the NFL is that they have -- he does have another interview scheduled with the Jaguars on Wednesday.
It does get hard to know, in these situation, what's real and what's posturing. If the Eagles want Bradley and Bradley wants them, each side remains interested in getting the best possible deal. So it remains in the Eagles' best interest for reports to reflect that a deal is not imminent even if it is (since it would get the public excited that a resolution is at hand and improve Bradley's leverage in negotiations), and it remains in Bradley's best interest for reports to reflect that he's going to Jacksonville tomorrow (since it would improve the Eagles' bargaining position if they were his only suitor).
Too much smoke here for there not to be any fire, so I still think Bradley is the most likely candidate to become the Eagles' next head coach. But the next eight or nine hours are likely to tell us a lot one way or the other. Stay tuned.
January, 15, 2013
1/15/13
8:00
AM ET
Washington Redskins
Mike Jones
has a look
at the complicated season the Redskins' defense had, the ways in which it worked to overcome its deficiencies and help deliver a division title, and the questions that face it (especially in the secondary) as it heads into the offseason.
Thom Loverro wonders if
Robert Griffin
III actually
shirked his responsibility
as team leader and captain when he successfully argued to keep himself in the team's playoff loss to the Seahawks. It's a point worth pondering. We assume the tough-guy thing is the way football players are supposed to handle these situations. But it was obvious to everyone in the building that Griffin couldn't play, so you have to assume Griffin knew as well. His staying in the game hurt their chances of winning. Still think it's up to the coach to make that call, but again, a perspective at least worth discussing.
New York Giants
This week's salt-in-the-wound series from ESPNNewYork.com is "Five Giant Losses," and the
first edition
takes a look at the loss to the Eagles in Philadelphia, which didn't seem all that ridiculous until the Eagles lost their next eight games.
Here is an
interview from Vibe magazine
with Giants wide receiver
Ramses Barden
. If you're a Barden fan, you learn some things about him off the field here.
Dallas Cowboys
Calvin Watkins writes that middle linebacker
Sean Lee
and pass-rusher
DeMarcus Ware
are the two
most important pieces
for the Cowboys defense as it switches to a 4-3. Other than staying healthy, I can't see how Lee would have any problems. And as is pointed out in Calvin's piece, Ware is the best player on the defense. I have had some people tell me they wonder about Ware's ability to hold up as a full-time 4-3 end, but I wouldn't bet against him.
Jerry Jones says that he and coach Jason Garrett have spent time
discussing coaching staff changes
, which is more likely than the alternative and would be in line with the way things have worked around Valley Ranch the last couple of offseasons. I think it's possible some of the behind-the-scenes stuff gets overblown, though I admit it's possible Jones is raging unreasonably, and I would obviously accept the hiring of an offensive playcaller and/or the firing of Garrett's brother as evidence that I am wrong. I have my opinions, but I'm not obtuse. I will say I think the Cowboys would be better off if Jones took a breath and remembered how good he felt about the team in Week 15. Not that that needs to rule the day, but I think it should be a factor along with how mad he is about the way the final two weeks went.
Philadelphia Eagles
On the day when it was revealed they interviewed former Cardinals coach Ken Whisenhunt, the big news out of Eagles camp was that they are bringing in Seattle defensive coordinator Gus Bradley for
a second interview
. This is a strong indication that Bradley is the leading candidate for the job. And I think that'd be fine. Bradley's 46 and well regarded, and just because he's a defensive coordinator and not an offensive coordinator doesn't mean he should be ignored in the current offense-heavy NFL. If the Eagles see something in Bradley as an up-and-coming leader, good for them for taking a shot. He's the kind of guy who fits this job well, regardless of which side of the ball his background is in.
On the roster side of things, the team's website looks at the situation at
defensive end
, which is a spot at which the defense looks pretty strong heading into 2013. The emergence of
Brandon Graham
was a very positive development for the 2012 Eagles, and I don't think it's reasonable to believe
Trent Cole
is done just because he didn't thrive in this year's mess of a defense.
January, 14, 2013
1/14/13
4:18
PM ET
The
Philadelphia Eagles
announced Monday that they have interviewed former
Arizona Cardinals
coach Ken Whisenhunt for their vacant head-coaching position. Whisenhunt, who coached the Cardinals for six seasons and went to one Super Bowl (famously beating the Eagles in the NFC Championship Game four years ago to get there), is the second former NFL head coach whose name has surfaced in connection with the Eagles in the last two days. CSNPhilly.com reported that they also have interviewed former
Baltimore Ravens
coach Brian Billick.
Combined with the expected interviews of Bengals offensive coordinator Jay Gruden and Colts offensive coordinator Bruce Arians, this brings the number of known interviewed Eagles candidates to 12, including the three college coaches who turned them down and decided to stay at their schools. What's interesting is the variety -- the college coaches, offensive coordinators, defensive coordinators such as Seattle's Gus Bradley and former head coaches in Billick, Whisenhunt and Lovie Smith.
What it says to me is that the Eagles don't have a clear preference among their remaining available candidates and are interviewing as many people as possible to make sure they make the right decision. Some have expressed frustration that the process is taking so long and appears to lack focus, but I don't think either of those is a valid criticism. I think there's no harm in casting a wide net, especially when you don't have a clear top choice (or when your top choice, who in this case I believe was Oregon's Chip Kelly, has already passed). If nothing else, in talking to men who've done the job at the NFL level, the Eagles' decision-makers can get a sense of the different approaches people take to the job and maybe educate themselves about what they like and don't like in a candidate.
Eagles fans haven't been through a coaching search in 14 years, so they can be forgiven for forgetting what it's like. But a lot of times, this is it. And it's only been two weeks since Andy Reid was fired, so really it hasn't taken as long as it may seem. Just because you're hearing different names of different types of candidates doesn't mean anything negative about the search. If anything, it's careful and purposeful, which is good because it's important to get it right.
January, 14, 2013
1/14/13
10:15
AM ET
We have been discussing this
here for some time
. But with the rest of the outside world beginning to catch on (
Read: Peter King, No. 9 in "Ten Things I Think I Think
") and with Twitter followers now asking me for explanations instead of just calling me names, it's worth revisiting the question of why people are turning down the
Philadelphia Eagles
' head-coaching job. Over the weekend, Notre Dame's Brian Kelly became the third high-profile college coach (along with Oregon's Chip Kelly and Penn State's Bill O'Brien) to decide to return to his college job in spite of interest from the Eagles.
Peter muses that it's because the Eagles are "a team trending downward," but I don't think it's that simple. First of all, in the NFL, where at least one team goes from first place to last place every single season, there's sort of no such thing as a team trending downward. Any team is capable of a rapid turnaround given the right coach, quarterback and circumstances, and the NFC East is no longer a division that requires 11 or 12 wins.
And while I have been (unfairly) criticized on Philadelphia sports talk radio in recent days for my (accurate) opinion on this, that opinion has (of course) become distorted and presented to the angry Philadelphia public as "no one wants the Eagles job." That is not what I have written, nor do I believe it is the case. Someone will coach the Eagles in 2013, and there are candidates who would jump at the job this minute if it were offered to them. It's one of only 32 jobs in the world of its kind, and regardless of the flaws it offers the chance for a coach to live out his lifelong dream of running an NFL team on Sundays.
What I do believe is that, for several important reasons, the Eagles' head-coaching job is not as appealing as the Eagles and their fans wish it to be. And I think the fact that these three college coaches, O'Brien and the Kellys, decided after thinking about it that it wasn't the right NFL job for them explains why. They were willing to listen; they just didn't like what they heard.
So again, the three reasons someone who has a great college coaching job with control over the program and fans who adore him for what he's accomplished there might not want to leave to coach an NFL team in Philadelphia:
1. The Eagles have a GM in place.
This is nothing against Howie Roseman personally or professionally. He could turn out to be the greatest GM in NFL history for all any of us knows. But it's the fact that someone holds that position and will continue to hold it that gives a candidate pause. If you're a college coach used to control, you likely have an image in your head of what your dream NFL job looks like, and it likely includes a higher level of control over the draft and personnel matters than the next Eagles coach is going to have. Owner Jeffrey Lurie has made it clear publicly, and undoubtedly in these interviews, that Roseman and the new coach will report directly to him and that the new coach will be expected to work in harmony with Roseman. Whether the candidate likes Roseman or not is irrelevant. Being told up-front that you have limited (if any) say in the construction of your roster isn't an enticement.
2. The Eagles do not have a quarterback in place.
Michael Vick
has nine toes out the door.
Nick Foles
is a 2011 third-round draft pick that the last coach, Andy Reid, liked but who was passed over a couple of times by everyone else. Even if the new coach likes Foles, he'd have to admit he's still a question mark. And if you have a question mark at quarterback in the NFL, you have a problem. Granted, most of the teams with head-coaching vacancies have this same problem (which is a big reason why they have head-coaching vacancies). But it'd be naive to think it's not a significant enough problem to convince a high-profile college coach he's better off staying where he is. The defense needs a rebuild, too, but that's not the same level of issue for coaches as quarterback is right now.
3. Pressure.
There's no market like Philadelphia for pressure. There may be more pressure in other markets, but Philly has the market cornered on bitterness and negativity. The fact that the Eagles have never won a Super Bowl has taken over as the only thing about which Eagles fans care. Correcting it is the only way an Eagles head coach could win them over. And you can sit there and say that a good coach should relish such a challenge, and you may well be right. But not everyone's wired the same way. The pressure and expectations in Philadelphia, as well as the increasingly negative atmosphere around the team, would naturally be a concern of anyone who took the job. Whoever does take it will go in with his eyes open to the nearly impossible expectations he'll immediately carry, and it'll take a special sort of person to handle all of that and succeed there.
So there you have it -- my best, most logical and thorough explanation of why the best and brightest college coaching minds aren't climbing all over each other for the Eagles' head-coaching job. In the end, you may be happy about that. Maybe Gus Bradley is a star on the rise. Maybe Brian Billick is rejuvenated and improved in a second time around. Maybe there's somebody out there you don't even know about yet who's going to be better than all of the candidates we've seen so far. I'd just caution against dreaming too big, that's all. The Eagles are going to have to take a chance on someone and hope he's a hit.
January, 8, 2013
1/08/13
8:00
AM ET
There are other things going on in our division besides this
Robert Griffin III
knee injury, right? Let's see if we can't find a few for the links.
Washington Redskins
Wide receiver
Pierre Garcon
has a phobia about surgery and
does not want to have it
on his foot this offseason, though it sounds as though he may have to bite the proverbial bullet if he wants his foot to feel better.
Mike Shanahan appeared to suggest that the Redskins still believe they can
get some satisfaction
in their dispute with the league about the salary-cap money they were docked last spring. And I guess he'd know. But Shanahan is literally the only person involved in this situation to whom I've spoken over the past six months who has said anything to indicate this isn't a settled issue. I'm just saying, I wouldn't get my hopes up on this.
New York Giants
Ohm's looking this week at "Five Giant Issues," and
his most recent
examines what went wrong with the pass rush in 2012. Certainly, one of the most surprising aspects of this 2012 season was the failure of the Giants' pass rush to show any life.
The new coach of the
Buffalo Bills
has a connection with Giants coach Tom Coughlin, a Syracuse guy who
has been a mentor
to Doug Marrone.
Dallas Cowboys
Scapegoat season has begun, and the Cowboys
have fired
running backs coach Skip Peete. Yes, it's hard to blame the running backs coach for the problems the Cowboys had in the run game this year, but that's how it goes when you're the running backs coach. When changes start coming, those are the kinds of guys who are looking over their shoulders.
Dez Bryant
is
having surgery today
to repair that broken finger. A clear bright spot in 2012, Bryant will enter 2013 with lofty expectations to continue his rise.
Philadelphia Eagles
With Chip Kelly staying put in Oregon, the Eagles are
soldiering on
in their effort to find someone to coach their team in 2013. Jay Gruden, Gus Bradley and Bruce Arians are among the now-familiar names who are getting interviewed for it this week.
After watching Bradley coach the Seahawks' defense to victory in Washington on Sunday, Reuben Frank
thinks he'd be a good choice
for the Eagles.
January, 4, 2013
1/04/13
6:15
PM ET
I believe I mentioned this idea a month or so ago in a Blogger Blitz video about
Indianapolis Colts
offensive coordinator Bruce Arians as the kind of coaching hire that might generate positive vibes among the
Philadelphia Eagles
' fan base. Arians went 9-3 this year as the interim head coach of the Colts while Chuck Pagano was receiving treatment for Leukemia, and that performance has enhanced Arians' status in the eyes of NFL teams looking for head coaches. The Eagles have received permission, they announced, to speak with Arians as well as Seahawks defensive coordinator Gus Bradley. Since the Colts and Seahawks have wild-card-round playoff games this weekend, they are not permitted to interview until next week.
[+] Enlarge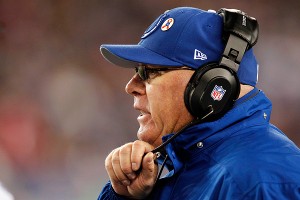 Greg M. Cooper/USA TODAY Sports At age 60, would Bruce Arians be a good fit for the Philadelphia Eagles?
Mike Sando has a nice breakdown of
what might appea
l to the Eagles about Bradley, and he's surely an interesting new name. But the name of Arians, who's 60 years old and has 20 years of NFL assistant coach experience but no head coaching experience until this year, is intriguing in a different sort of way. The feeling around the league is that the Eagles will hire an offensive-minded coach, and Arians is that. And clearly, he's shown an ability to lead men to success even in trying circumstances.
It'd feel weird for the Eagles to hire a 60-year-old coach who said he he planned to retire last year after the Steelers let him go. Arians doesn't fit the profile of the young, up-and-coming innovator Eagles fans may have in mind, and hiring a 60-year-old doesn't scream "long-range planning." But if you think about it, 60 isn't
that
old in NFL coaching circles. We see coaches coach into their 70s, and Arians is still 10 years away from that. Could be he's a guy who should have got a chance a long time ago and is just now getting a look because of the extraordinary circumstances that took place in Indianapolis this year.
Anyway, it seems at least worth checking out. Tapping into some of that good Colts karma isn't a bad idea for an Eagles franchise that feels as though it's under a cloud these days. Philadelphia is casting a wide net in its coaching search, and it's probably a good idea to consider a wide variety of candidates.