August, 18, 2013
8/18/13
2:45
PM ET
Yeah, I'm gonna slip on down to MetLife Stadium and check out the
New York Giants
in tonight's preseason game against
Andrew Luck
and the
Indianapolis Colts
because why not? Beats working. Wait. Actually, in my case, it
is
working. So strike that. I'm gonna slip on down to the Giants' game and do some work, reporting back to you, dear reader, on what I see and learn in case you have something better to do tonight than watch preseason football. Which... well, we'll leave it at that.
Here's what I'll be watching extra closely about the Giants tonight:
The running backs. Mixed reviews in the first game from the coaching staff on David Wilson's pass-blocking, which as we've discussed at length here is the real key to his seizing the starting running back job. Wilson's incredible to watch run -- effortless speed, more power than he gets credit for. And I think he's a willing and sufficiently physical pass-blocker. But in his second pro preseason, he admits he's still getting up to speed with the Giants' blocking schemes. And Tom Coughlin said last week he'd like to see him diversify his blocking repertoire a bit. I'm also taking a look at rookie Michael Cox, who's had a strong camp and is in the mix for kick-return duties if they take those away from Wilson. Cox could also get in the running back mix as a No. 3 behind Wilson and Andre Brown, and the Giants won't be shy about finding ways to get him the ball if they feel he can help them.
Can Rueben Randle get open consistently? Randle's great with the ball his hands -- a long-striding downfield threat who could fill the Mario Manningham role the Giants couldn't fill in their wide receiving corps last season. The key for Randle is his ability to stay in sync with quarterback Eli Manning on the pre-snap read, so that he's (a) open and (b) in the right spot when Manning finds him in his progression. That's where the Giants say they've seen improvement with Randle this summer, and if he keeps it up, the passing game becomes much more diversified. No. 1 receiver Hakeem Nicks is also making his preseason debut tonight, so we'll see how the offense looks with him, Randle and Victor Cruz all on the field at the same time.
The linebackers. We've joked a lot about how nondescript this crew is, and the thinking now seems to be that defensive coordinator Perry Fewell is going to use them in different packages and combinations depending on the game situation. Jacquian Williams, for example, may play more on passing downs because of his ability to cover tight ends. The Giants believe each of their linebackers has something at which he's good, and the challenge will be finding ways to maximize the positives in the group by running them on and off the field at the appropriate times.
Justin Tuck. Also making his 2013 preseason debut tonight is Tuck, who's entering the final year of his contract and says he's eager to make up for two down seasons. Tuck was looking good in practice before his recent back problems, and it'll be worth watching tonight to see whether he gets handled by the Colts' offensive line or whether he looks as rejuvenated as the Giants need him to be in order for their pass rush to return to Super Bowl glory.
Angry fans at the gates. Yeah, if you are going tonight, you really should read this on the NFL's new bag policy for games. The best advice is: Don't bring a bag at all. Seriously, not even a pocketbook. Especially not a pocketbook, actually, unless it's made of clear plastic. Because they're only going to let you bring in a bag if it's "clear plastic, vinyl or PVC, and does not exceed 12 inches by 6 inches by 12 inches." Or if it's it's a "small clutch bag, roughly the size of a hand, with or without a handle or strap." So like I said, best not to bring a bag at all if you can get away with that. But if you try and bring your backpack or pocketbook in and they won't let you, don't come crying to me. Cause I warned you.
I'm sure there's more, but that's what I've got for now. Say hi if you see me.
September, 18, 2011
9/18/11
4:00
PM ET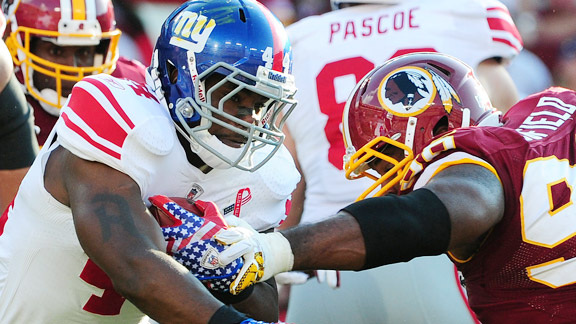 Scott Cunningham/Getty ImagesThe Giants are at their best when they establish the run with Ahmad Bradshaw and Brandon Jacobs.
EAST RUTHERFORD, N.J. -- Of all the questions I had after the
New York Giants
' season-opening loss to the Redskins last week, the one that kept coming back to me was, "Why didn't they run more?" When I went to their practice Friday, I learned that many of the Giants themselves had the same question.
"We're definitely at our best when we're running," left guard
David Diehl
said.
Yet in Week 1, they ran the ball 20 times -- 13 carries for
Ahmad Bradshaw
, six for
Brandon Jacobs
and one for quarterback
Eli Manning
. And sure, they were behind in the second half, but they weren't behind the whole game. The key to running the ball in the NFL is to commit to running it, even when it doesn't seem to be working, and the Giants sometimes seem too willing to stray from that commitment.
"We ran the ball early and established it and then got away from it because the defense saw that we ran the ball early and they were more in tune to stopping the run rather than the pass," Bradshaw said. "We just have to get better running the ball and blocking stuff up and finishing our blocks as well. We have to get better at keeping the seventh or eighth man out of the box and passing a whole lot better."
Maybe, but I don't think it's as simple as teams stacking eight-man fronts to keep the Giants from running. The Giants have a quarterback who's thrown for more than 4,000 yards in each of the past two seasons. They have talented receivers in
Hakeem Nicks
and
Mario Manningham
who can get open quickly enough to burn defenses that are stacked against the run. Although their lack of a reliable slot receiver and tight end might enable teams to lock in on the run more, it's hard to believe the 2011 game plan for stopping the Giants' offense is really going to be "Let Eli Manning chuck it."
The problem the Giants have had on offense for the past couple of years, as Manning and the passing game have emerged, is an inability to establish an identity. They clearly
want
to run. Only six teams in the league had more rush attempts than the Giants did in 2010. But they don't seem to do it with confidence or consistency. They have two great and very different weapons in Bradshaw and Jacobs, yet they don't seem to have consistent, definite ideas about how to employ them. Running the smaller, speedier Bradshaw in third-and-one and fourth-and-one situations in the second half last Sunday rather than the bigger, more powerful Jacobs, raised eyebrows. And the coaching staff didn't have much of an explanation for it.
"The staff and head coach's philosophy is to find the run that gives you the best chance to be successful and attack them accordingly," offensive coordinator Kevin Gilbride said. "That depends on what they are doing and what we are doing and what have you. That particular play, we thought they would load up inside and they did load up inside. We should have had that play easily, but we didn't block it as well as we should have and we didn't get it."
[+] Enlarge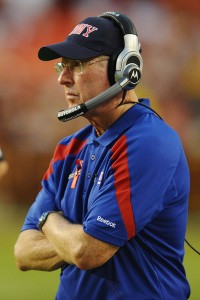 James Lang/US PresswireThe Giants and coach Tom Coughlin have a lot of issues to work through already this season.
The Giants obviously are having a lot of issues right now. Head coach Tom Coughlin pointed earlier in the week to
Victor Cruz
's third-down drop on the first drive of the game, and certainly if that had been a catch, it could have opened up more opportunities to run. They brought in veteran slot receiver
Brandon Stokley
later in the week to help shore things up in the passing game, and they hope he becomes the trustworthy option into which Cruz and
Domenik Hixon
have yet to transform.
Although that would help, the Giants would do better to trust the strengths they already had on offense. Bradshaw and Jacobs are a monster tandem the likes of which very few NFL teams can imitate or defend. The Giants are at their best when they run the ball, and they're equipped to run it a lot and run it effectively. They need to establish a plan for how to run it, and they need to stick to that plan even when it doesn't work right away. The injuries and free-agent losses they've had have thinned out the roster to the point where the Giants need to lock in and lean hard on the more reliable areas of their roster. Right now, Jacobs and Bradshaw represent one of those areas, and the Giants won't be the Giants unless they realize that and start taking advantage of it.