NFC East:

Hall of Fame 080710
August, 7, 2010
8/07/10
11:11
PM ET
By
Pro Football Hall of Fame
| ESPN.com
Thank you to my Lord and savior Jesus Christ for blessing me to play the sport I so dearly love for almost three decades.
It is an honor to have achieved this level of success. Now I need to take a moment to reflect upon the people who have helped shape the foundation of who I am as a man and also a football player.
Whatever achievements I've earned over the course of my life clearly have not been due to (indiscernible), but also due to the belief and dedication of so many, the values and skills taught by my family, friends, teachers, coaches and mentors were fundamental to shaping me into the man I am today.
At the age of 21, I already knew what I needed to do in order to make my mark. I wanted to become the all-time leading rusher. I knew Walter Payton was one of the best to have ever played the game, and I wanted to achieve that level of greatness.
He established an insurmountable record to shoot for. He was the prototype for me as a champion athlete and runningback. He had my size, he was my build. He had a heart that said, I can achieve, I will achieve, I will be successful.
Now here I am standing at the same podium he did, being inducted into the 2010 Hall of Fame. And you know what, I am, I am, I am now the all-time leading rusher (smiling). Wow, what an honor.
A profound thank you to Mr. Jerry Jones and the Jones family for believing in a kid from Pensacola, Florida, who was 5'9" and a half, who people said was not big enough or fast enough action and for giving me opportunities to play for the team that I always wanted to play for, America's Team, the Dallas Cowboys.
This team means more to me than just another professional football team. That's why I always did everything in my power to help make this organization and team the very best it could possibly be. So, Jerry, thank you for believing in me as a football player and knowing that I can get the job done.
But, Jerry, because I am a man of faith, I know our relationship did not happen by accident. I know it was ordained by God. And because of this, He has predestined me to do great things in life. The Dallas Cowboys have given me that platform. That's one of the reasons why I love this organization and the Jones family so much. Because what you have been able to do for my family and me throughout my football career and to this day, thank you so much.
Thank you to my high school coach Dwight Thomas for teaching me how to set goals, become a team player, and to shine the spotlight upon others such as my offensive linemen. Thank you to Jimmy Nichols, my offensive coordinator out of high school. You pushed me and helped make me into the runningback I became. You set the foundation by teaching me I could never carry the football for you or anyone else if I fumbled. You made it very clear to me that the football was the most important thing on the football field. Both Dwight Thomas and Jimmy Nichols pushed me to a level of greatness at an early age. I began to realize what it would take for me to become successful. I also understood that my job and my role as a teammate had to be fulfilled by all the work that we all put in to what we was trying to get accomplished. So thank you, guys. From Escambia High School to this point for being there and helping me get to this point.
Thank you to Norv Turner for bringing a system that allowed Michael, Troy, me and our offense to flourish. Thank you to Jimmy Johnson for bringing discipline, focus, commitment and your expectation to our team. You propelled us to do great things in life. You set the bar very high and not only demanded that we leaped over it, but, Jimmy, you showed us how. You knew your players were capable of achieving the standard you set for us. You knew we could claim our greatness. It's what drove us to become the team we became.
Thank you to all of the fans, especially the Dallas Cowboys fans in Dallas, throughout the United States and around the world. You have always been there supporting us. When things got rough and we needed your energy, you provided it. When we became victorious, it was your energy that lifted us as you celebrated with us. Without a doubt, you are as much a part of America's Team as the players are.
To Michael and Troy, would you both please stand. It has truly, truly, truly been an honor to go into battle with two of the greatest champions I've ever played with. Without you there is no me. That is why we are called the triplets. You cannot have one without the other.
Troy, your leadership, dedication and focus helped me become a better football player because I did not want to let you down.
Michael, your work ethic, your passion, your love for this sport helped me learn to train and prepare myself differently.
Thank you both for the invaluable contributions you have made to my life.
[+] Enlarge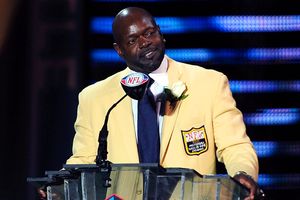 Andrew Weber/US PresswireEmmitt Smith broke down when he addressed former teammate Daryl Johnston. "You took care of me as if you were taking care of your little brother," Smith said.
Daryl Johnston, where are you? Will you please stand? You mean the world to me (tearing up) not just because we shared the same backfield, but because you sacrificed so much for me. People don't understand what it took to be a fullback in our system, the sacrifices you made not simply with your body but your whole spirit. You took care of me as though you were taking care of your little brother. Without you, without you, I know today would not have been possible. I love you from the bottom of my heart.
When I was six years old, I was watching the Dallas Cowboys on television with my father and some of our relatives. I clearly remember turning to my father and saying, One day I'm going to play professional football and I'm going to play for the Dallas Cowboys.
My father turned to me and said, sure, that would be a good goal for you to have, son. But after that night, I began to dream about it. My father's words supported me. His words gave me the permission I needed to live in the dream. I began to feed the dream with my passion and dedication. I loved the sport so much, all I wanted to do was just play it. It didn't matter to me what position I played; I just loved being out there.
From that young age, many factors were already present in contributing to the fulfillment of my dream. For example, I began to play football in the park with my older cousins, Morris, Tim and Jeffrey, Jerome and Edward, across the street from my grandmother's house.
Now, in 1990, I'm on the verge of doing something I always wanted to do as a child: Play professional football. However, the Dallas Cowboys did not have a pick in the top 10. I was projected to go in the top 10. Had I been chosen when I thought I would be, I very likely would have been drafted by Tampa Bay or Seattle: Not the team of my childhood dream.
But pick after pick went by and I fell into the bottom half of the top 20. I was down in Pensacola watching the draft with my family agonizing about why didn't I go in the top 10? Then, finally, words start blowing in the wind, the Dallas Cowboys are trying to move up and make a trade. They had moved up to pick me as the 17th pick in the first round. Here I am thinking, Wow, how awesome this would be, how great it would be to be able to play for the Dallas Cowboys.
Then I got a call from Jimmy Johnson saying, Emmitt, how would you like to wear a star on your helmet? My dreams, my passion, my emotions were running so high. Jerry, I could not believe that this was actually happening to me.
While playing for the Dallas Cowboys, balance was the key to our success. We had a winning strategy and a spiritual purpose as a team. We also had a collective goal, mental toughness and trust. When it came down to the third and fourth quarters, my offensive linemen knew what was about to go down. Right now I would like to thank them. If you're in the audience as I call out your name, would you please stand.
Andre Gurode, Derek Cannard, Flosell Adams, Larry Allen, Frank Cornish, Ron Stone, John Gesek, George Hegman, Eric Williams, Everett McIvar, Kelvin Garmon, Kevin Gogan, Mark Stepnoski, and the late Mark Tuinei who obviously cannot be here. Nate Newton, Ray Donaldson, and Solomon Page. The names I have not mentioned, you know who you are. Thank you for blessing me with the running lanes you created. You were the very best I ever ran behind.
In addition to the acknowledgments I am privileged to make today, this moment creates a unique opportunity, an opportunity to share critical life principles. The first and most important principle is to be of service. The hardest service is for everyone. The second principle is we all need a championship strategy to guide us to help make those dreams come true. The third principle is, claim your inner champion. When you claim your inner champion, you will learn to see, hear and feel differently than others. So what I most want to convey here is, never, never let others define you; you define yourself.
Now let's talk about some specific steps I took that were critical to sustaining my vision. There's a difference between merely having a dream and fulfilling a vision. Most people only dream. I only not had my childhood dream, but I did everything in my power to fulfill it.
For example, I wrote down my goals and how I was going to achieve them because Dwight Thomas used to tell us, It's only a dream until you write it down, and then it becomes a goal. By the time I was 20, I wrote, I want to play in the Super Bowl, be the MVP, become the all-time leading rusher, and finish college, because I promised my mother I would.
Over the course of my career, all of those things came to pass, and I know that writing down my goals was an essential strategy.
Another critical principle is consistency. Consistency shows value. Consistency is necessary for trust, durability and longevity. You have to show up every week no matter how difficult the game or life might be.
I not only showed consistency, but I did everything in my power to be the best that I possibly could. Over time consistency will allow you to achieve your goals.
Next is balance. As I stated earlier, balance was the key to our success. We had all the balance you could possibly have. I exhibit balance in my personal life when I put my family in its proper place, and that is number one.
Standing before you today, I know this is real. I know it's not a dream. But it almost feels surreal. When I was told on February 6th that I was being inducted into the 2010 Hall of Fame, I was struck by a vision. I actually saw the clouds parting and a door opening. I saw all of these Hall of Famers here and the ones who have passed on before us standing with their arms open wide welcoming me into the hall. Perhaps all of you have been wondering why I have not yet spoken of my family. God has blessed me with an amazing family. And as I call out your names, would you please stand.
My father Emmitt James Smith, Jr., my mother, Mary Smith.My sisters Marsha and Connie.My brothers, Eric, Emory, and my late brother Emil. My brothers in-law Victor and Rick. My sister-in-law Pam.And to Mr. Henry Southall, my loving father-in-law. I will continue to do everything in my power to keep your daughter and my wife safe and happy. Thank you all for your love and your support. You may be seated.
To my beautiful wife Pat, would you please stand. Thank you for smoothing off some of the rough edges and showing me how to become a better man. You complete me, babe. You make everything that I have worth living for. I love you so much.
To my kids, Jasmine, Rheagan, EJ, Skylar, and my soon-to-be fifth child, I love all of you very, very much. I apologize if I cannot be there for everything, but please know this: Dad is doing the very best that he can. Thank you.
Before closing, I would like to share one final story with you. Some time ago I had an older person come up to me and he said, Do you know who is the greatest runningback out of Pensacola that nobody has ever seen?
Well, I played in the National Football League and I had accomplished quite a bit. I thought perhaps he was talking about me. However, he went on to explain, your father was a heck of a runningback. This was a revelation to me. Of course, I knew my father had played ball, but I never knew he was that good.
Now fast forward in time to February the 6th, the day before Super Bowl XXXXIV there we were, my father and I sitting together. When he turned to me and said, Son, I am so proud of you, I had dreams of doing what you're doing, but my mom got sick and I never did get a chance to go to college. He said, You're living my dreams, you're living my dream. And all I could think about was, I'm living your dream, I'm fulfilling my dream, and I'm fulfilling God's purpose for my life.
Now when I go into the hall today, I'm not going in alone. You see, I'm carrying my grandfather, I'm carrying my father, and I'm carrying my son along with me because I bear all of their names.
Now I can say to my dad and my son EJ, our name will be forever enshrined in the history of football. Thank you for being here today to share this experience with me and may God truly bless all of you.
August, 7, 2010
8/07/10
10:57
PM ET
By
Matt Mosley
| ESPN.com
I always enjoy the Hall of Fame induction ceremony, but this one seemed especially good. I didn't envy Emmitt Smith following Floyd Little's sermon, but the Cowboys' great nailed it.

I think the classiest thing you can do is recognize your high school coaches and Smith didn't take long to name his head coach and offensive coordinator.

Now this is just me, but I would've preferred Jerry Jones introducing Smith with a live speech. The video was well done, but Jones is far more entertaining in person.

The Triplets are all in the Hall now, and I thought it was a great touch to have Troy Aikman and Michael Irvin stand during that portion of the speech. Irvin's the one who taught Smith how to work in the weight room and that was cool to see him acknowledge that.

The Darryl Johnston moment was superb. Smith said Johnston protected him as if he were his "little brother." Smith was really torn between Jones and Johnston to serve as presenter.

"Without you, I know today would not have been possible," said Smith of Johnston.

It was also a great decision to name all those offensive linemen. I'm sure Baylor's Kelvin Garmon didn't expect a mention, but he'll take it anyway.

Smith's father, Emmitt James, Jr., was a huge influence and it was neat to hear the Cowboys running back mention his father's athletic career. Sharing the story about the two of them before a Super Bowl was a powerful moment.

This is one of those rare times when Redskins and Cowboys fans can rejoice together. Russ Grimm and Emmitt Smith are two of the greatest players from their respective decades. And they played for two of the greatest fan bases in sports.
August, 7, 2010
8/07/10
10:02
PM ET
By
Pro Football Hall of Fame
| ESPN.com
Thank you. Of all the guys I probably could have picked, I knew picking Joe would start me out being a little bit emotional, but with the humidity and some of the pollen, if I start to tear up a little bit, that's the reason why (smiling).
First off I'd like to thank the Hall of Fame committee. I want to congratulate my fellow members of the Class of 2010. I want to say congratulations to the members of the Pro Football Hall of Fame that are sitting up here. I want to say thank you for setting a standard for the rest of us. Thank you for protecting the integrity of the game. Thank you for all the great memories of this sport.
It's a privilege to play in the NFL. It's been a privilege to coach in the NFL. It's an honor to be selected here in Canton. Thank you.
[+] Enlarge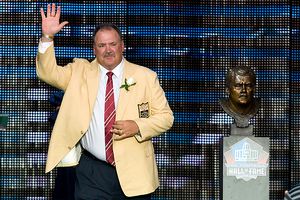 Jason Miller/US Presswire"Growing up," said Russ Grimm, "I dreamed of playing college football. In college, I dreamed of playing pro football. When I was in the NFL I dreamed of winning Super Bowls. But I never dreamed I would be standing here today."
I'd like to thank all the owners, especially the Cooke family, Dan Snyder, the Rooney family, and the Bidwill family. I'd like to thank the commissioner. I'd like to thank all the players, past and present, those I played with and those I played against, for making the NFL a special place.
Growing up, I dreamed of playing college football. In college, I dreamed of playing professional football. When I was in the NFL, I dreamed of winning Super Bowls. I dreamed of winning championships. But I never dreamed that I'd be standing here today. I want to make sure that I thank the people that made this possible.
First off, I want to thank my two best fans, my two best coaches, my two best friends, mom and dad. They made sure I had all the spikes that I needed. They got me to all the practices. They got me to all the games.
I'd come home from those games, and my mom would be up on that chair giving me her post-game speech on what I did right, on what I did wrong, and my dad would just sit there smoking that cigarette on telling me what I needed to do to get better. But they taught me family values, they taught me how to respect others, they taught me how to compete and how to be thankful for what I have. Thank you very much.
I want to say thanks to Karen and my kids, Chad, Cody, Devin, Dylan, for all the sacrifices they made. Proud of you.
I'd like to thank my brothers Dave and Donn, my sister Carol Sue for their interest they've showed throughout my career. I'd like to thank you Stacey for putting up with me, putting this weekend together. It's been special.
I'm proud to say that I'm from a small town in Western PA. That's right. It's a special part of the country, like here, where the knowledge and the support for the game of football is unmatched. They fill the stadiums on Friday night, Saturday afternoons and Sundays. You created an excitement that growing up as a young man I wanted to be a part of. Thank you very much.
Scottdale, PA, I will always call you home. Thank you for all your support.
Southmoreland High School, my coach John Bacha, the administration, the teachers, thank you for creating a strong, healthy, positive environment for myself and the students of Westmoreland County.
The class of '77, we graduated singing Free Bird. If I leave here tomorrow, would you still remember me? Not only did you remember me, you took a special interest, you stayed in touch, you supported and followed my career. For that, I will always remember you. Thank you.
University of Pittsburgh, I played quarterback and linebacker in high school, I went to the University of Pitt as a linebacker. After my sophomore year, Jackie Sherrill called me into his office and told me that we had a lot of seniors graduating on the offensive line and he thought it would be an opportunity for me to switch over and play center.
I told him I never had my hand in the dirt, that I'd just stay at linebacker.
He lifted his eyes up and looked at me and he said, son, I'm not asking.
So I moved over. I wasn't very happy about it. But I had a great offensive line coach named Joe Moore. He knew I wasn't happy. I didn't like the transition. But he called me in one day, sat me down, talked about it, told me that I was a football player and I should play whatever position that they thought I was best capable of playing. He told me that playing offensive line, there's no greater feeling than to be able to move a man from Point A to Point B against his will. I tried it; I liked it; and I was playing offensive line (smiling).
I was fortunate enough to play on a lot of great teams with a lot of great football players, built a lot of friendships. Thank you, Jackie Sherrill. Thank you, Joe Moore. Thank you to all the guys at the University of Pittsburgh.
I got drafted by the Redskins in '81. I'm a true believer that if you work hard and you have the talent necessary, good things are going to happen. But I'm also smart enough to realize you have to be a little bit lucky and get the right opportunity.
I was selected to a team that had a new head coach in Joe Gibbs, a staff that included Joe Bugel, and a lot of talented players selected by Bobby Beathard. We struggled early, started winning some games. We finished 8-8 the first year. The next year was the first of three Super Bowl wins. In my 11-year career, we won a lot of football games.
Through that time I was fortunate because I played with some great veterans, I played with some good young players, I played with some smart veterans. But I'm sitting there an offensive linemen, usually have no stats. Offensive linemen go unnoticed. I know I didn't get here by myself, all right?
Joe Gibbs, thank you very much. Joe Bugel, you're special. You always will be. Bobby Beathard, thank you.
Next I want to mention a few guys that made it possible for me to be here today, a group of guys that grew together, worked together, played together, raised families together, celebrated together, guys that I consider family, a group known as the Hogs. Joe Jacoby, Jeff Bostic, Mark May, Fred Dean, Donnie Warren, George Starke and Rick Walker. Your names are going to be embroidered on the inside of this jacket so I always remember the things we went through, the tough times we had and the good times we celebrated.
Mark Schlereth, Raleigh McKenzie, Jim Lachey, Jim Hanifan, all the guys I played with up front, thank you very much and thank you for the memories.
Last but not least, to burgundy and gold fans, there's many a time when I closed my eyes and I picture myself still putting on those pads at old RFK Stadium, and those stands are rocking up and down and 50 some thousand chanting, We want Dallas. I can hear the diesel horns blowing when 44 was carrying the football, and I remember standing there in the pouring rain when everyone was throwing the seat cushions down on the field in the playoff game versus Atlanta.
You provided a lot of memories for me and my teammates. You made playing for the Redskins special. You created an atmosphere on game day that was second to none. The support you showed, the enthusiasm you had, the love you displayed for those teams will always be remembered. Thank you very much.
To all football fans, no matter who you root for, no matter what level, you're the reason we play the game. Thank you very much.
August, 7, 2010
8/07/10
9:22
PM ET
By
Matt Mosley
| ESPN.com
I loved the way Russ Grimm closed out his speech Saturday night. He thanked the "Burgundy and Gold" for making RFK Stadium shake and shouted, "We want Dallas!" Nice shot of Emmitt Smith laughing when Grimm said those words.

Grimm also said he would embroider the names of the Hogs on the inside of his gold jacket, and I believe him. It was Grimm who inspired the famous nickname when offensive line coach Joe Bugel looked down at the guard's belly and said he looked like a "big hog." Grimm was the heart and soul of that line in the 80s.

It was neat to see a shot of Joe Gibbs as Grimm thanked him. Gibbs' hair has gotten a lot whiter the last couple years, but he still looks like he should be coaching.

Skins fans now have hope for the future. But it's nice to look back on their glorious past. Great night for Cowboys and Redskins.