January, 19, 2014
Jan 19
10:05
PM ET
IRVING, Texas -- With the
Denver Broncos
earning their way to Super Bowl XLVIII,
Dallas Cowboys
tight end
Jason Witten
has earned a trip to the Pro Bowl.
Witten
Witten will replace Broncos tight end
Julius Thomas
and become the fourth Cowboy to head to Hawaii, joining left tackle
Tyron Smith
, wide receiver
Dez Bryant
and defensive end
Jason Hatcher
, who was added as a replacement for
Baltimore Ravens
defensive tackle
Haloti Ngata
.
While it will be the first Pro Bowl trips for Smith, Bryant and Hatcher, it will be Witten's ninth in 11 seasons. The only years he did not make it to the Pro Bowl came as a rookie in 2003 and in 2011.
Witten ties Randy White for the fourth most Pro Bowl appearances in team history. Only Bob Lilly (11),
Larry Allen
and Mel Renfro, who appeared in 10 each, have been selected to more than Witten.
Witten caught 73 passes for 851 yards and had eight touchdown passes in 2013.
May, 1, 2013
5/01/13
4:15
PM ET
So in the upcoming issue of ESPN the Magazine, J.R. Moehringer writes a very long story that's
an open letter
to President Obama about
Washington Redskins
quarterback
Robert Griffin
III. The premise is that they're not so different, those two, in terms of the hope they represent and the manner in which people view them and the way in which they're required to carry themselves in a world in which their every word and action will be parsed for the deepest possible meaning. It's a worthwhile read, because it reveals some things about Griffin's personality, which is fascinating and atypical. But the part everyone's talking about is the part in which Griffin talks about the knee injuries he suffered late in his rookie season and what he learned from them:
But people don't understand the primal impulses of an athlete: "Your survivor instinct kicks in. You're like, 'I'm a warrior. I'm a beast. I do all these things, I can push through adversity.'"

He acknowledges that he needs to work on moderating that instinct. "If I had another incident like the Ngata hit, I'm out of the game. You pull yourself out at that point. You learn from your mistakes."

What about the Seahawks game? "I don't feel like playing against the Seahawks was a mistake. But I see the mistake in it."

Come again?

"With what happened and how everything was running -- you take me out. If that happened again next year, I'd come out of the game and sit until I was 100 percent healthy."
There's been a lot said this offseason, including by Griffin himself, about who was responsible for what happened in the playoff game and whether Mike Shanahan should have taken Griffin out against his will. (This writer is on record as saying he should have, and was saying so in the press box as the mess was unfolding.) But the idea of the experience as a lesson learned and to be applied to similar situations in the future is an encouraging one for Redskins fans. Legitimate questions remain as to whether Griffin and those responsible for his long-term health would be able to apply that lesson in the heat of a similar moment or whether those same instincts would take over again, but at least he's not still insisting that it was the right thing to do, as he did in the moments that followed that playoff game.
Griffin is only 23 years old, and ideally we'll all get the chance to continue watching and writing and talking about him for years to come. He's a lot of fun to watch, and a fascinating young man to follow. But I believe he understands that a large portion of his own hopes and dreams rest on his ability to take care of his own health. It seems as though that concept has been drilled into him by his parents. And it's entirely possible that his most recent devastating knee injury could be the thing that gets him to take it more seriously than he may have when he was younger.
September, 18, 2012
9/18/12
11:38
AM ET

The
Philadelphia Eagles
announced Tuesday morning that starting center
Jason Kelce
would be placed on injured reserve and miss the remainder of the season due to the knee injury he suffered in Sunday's game. This is not a huge surprise, as it was raised as a possibility following Kelce's MRI on Monday. That leaves
Dallas Reynolds
as the Eagles' center starting with this Sunday's game in Arizona, and so this is a good time to look at
Sheil Kapadia's offensive line review
from Sunday's victory over Baltimore. On Reynolds in particular:
I didn't notice any missed blocks that resulted in a sack or a hit on Vick. On the 13-yard third-down completion to Damaris Johnson, he started out with Danny Watkins, double-teaming Haloti Ngata, recognized a delayed blitzer and switched to help Evan Mathis. Really nice job for someone seeing his first NFL action. In the third, Reynolds had some trouble with nose tackle Maake Kemoeatu, but overall, he might have been the Eagles' unsung hero Sunday.
The Eagles also could be making a change at left tackle, as
Demetress Bell
took over for an injured
King Dunlap
during Sunday's game as well. Here's Sheil on Bell, who was supposed to be the starter after
Jason Peters
got hurt but didn't perform well enough in training camp to hold off Dunlap:
The question is: Has something clicked with Bell and Howard Mudd's techniques? Or did he just block the way he used to with the vertical steps in Buffalo, trying to do whatever he could to keep Michael Vick clean? From my perspective, there was definitely a little bit of that, which seems fine, given the circumstances. Bell was not perfect, but he held up much better than expected.
That thing where something clicks with the lineman and Mudd's techniques is a real thing, and the Eagles have seen it happen with other players since Mudd arrived last year. I wouldn't be surprised if Bell became the starter going forward, and as I wrote yesterday, as much as I like Kelce, I wouldn't be surprised if Reynolds is a very adequate fill-in.
April, 18, 2012
4/18/12
5:25
PM ET
Good and interesting insight in
this story from Albert Breer
on NFL.com about what, exactly, upset the other teams in the NFL about the way the
Dallas Cowboys
and the
Washington Redskins
spent their money in the uncapped 2010 season. The NFL stripped the Redskins of $36 million and the Cowboys of $10 million in salary cap space over the next two years, and those two teams have
filed a grievance
against the league and the NFLPA to dispute the punishment. But to this point, it has remained unclear what, exactly, the other teams felt they did wrong.
Albert writes that, by structuring the contracts of
Miles Austin
,
Albert Haynesworth
and
DeAngelo Hall
in such a way as to inflate 2010 base salaries and save money in future years, the Cowboys and Redskins inflated the franchise-player numbers for wide receivers, defensive tackles and cornerbacks. As a result, the Chargers had a hard time keeping
Vincent Jackson
, the Ravens were handcuffed by the contract they wanted to give
Haloti Ngata
and the Bengals were unable to keep
Johnathan Joseph
. For example:
[+] Enlarge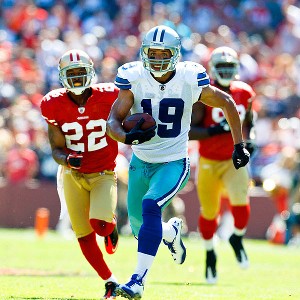 Jason O. Watson/US PresswireOne of the contracts owners were upset about was the one the Cowboys gave to Miles Austin in 2010, according to an NFL.com story.
Austin's contract was instrumental in pushing the receiver number from $9.5 million in 2010 to $11.3 million in 2011. San Diego franchised Vincent Jackson at the latter number in 2011. The leverage Jackson gained from having an $11.4 million tender made him difficult to sign to a long-term deal, and the resulting 2012 franchise figure -- by rule, 120 percent of the previous number, which came out to $13.7 million -- made it even harder to tag him again for the club.

So San Diego, which likely would've tagged Jackson again if the number had been more affordable, let Jackson walk. He signed a five-year, $55.6 million contract with the Buccaneers this offseason.
Many thanks to Albert for shining some light on what, exactly, the other owners found wrong with the way the Cowboys and the Redskins behaved in a year that was supposed to have no spending restrictions. The Cowboys and Redskins are arguing that there was no rule against what they did, and while that may be true, Giants owner and NFL management committee chairman John Mara said last month that all teams were warned that they could be punished if they did what these two teams did.
But for a couple of reasons, I continue to believe the teams that are complaining about this are full of it. First of all, commissioner Roger Goodell said at the owners' meetings last month that the reason for the penalties was that the teams in question had attempted to gain a competitive advantage in future years through their 2010 actions. But what Albert writes (on the league's own web site) is something quite different. Albert's reporting indicates that the reason the other teams got upset at the Cowboys and the Redskins was because their actions required them to spend more money than they wanted to spend to pay their own players. And if that's the case, then the artificial, unwritten guidelines the owners tried to put in place to control spending during the uncapped year were not an effort to maintain future competitive balance (as they have claimed publicly), but rather clearly an attempt to control player salaries.
Furthermore, it's important to remember that there never would have been an uncapped 2010 season -- or any reason to cut backroom deals to regulate spending therein -- if the owners hadn't decided to lock out the players in 2011 in an effort to restructure the CBA in a manner more favorable to themselves. Had they negotiated in good faith prior to 2010, they could have put a new CBA in place that would have imposed a salary cap and clear spending rules for that season. But because they had decided long before to impose a lockout strategy and not negotiate until they had the players backed up against the wall, the 2010 season arrived without a salary cap, as the prior CBA said it must if it were to be the final league year.
The entire concept of the uncapped 2010 season was an avoidable mess of the owners' own making. The lockout was an unnecessary act of pure greed, as evidenced by a new CBA that solved almost none of the competitive-balance issues raised by small-market owners. And the idea that the teams could whisper together behind closed doors about acting as though there was a cap when there wasn't and expect every owner to go along with the plan is (and always was) utterly foolish. The salary cap penalties against the Cowboys and Redskins are part of the fallout from the clumsy way in which the NFL's owners executed their negotiating strategy, and I continue to see no common-sense reason why those teams shouldn't expect to get some sort of restitution from the arbitrator.
September, 9, 2009
9/09/09
12:08
AM ET
By
Matt Mosley
| ESPN.com

Posted by ESPN.com's Matt Mosley
We've thrown a lot of information at you the last couple of days, so I wanted to make sure you haven't missed anything. Here are the team previews for the
Cowboys
,
Eagles
,
Giants
and
Redskins
. You'll be able to read our predictions for each team, features about the draft classes and some analysis from our pals at Scouts Inc.
Here's the link
to our experts' predictions for the '09 season.
Adam Schefter
, the newest member of the ESPN.com team, got off to a very controversial start with the following picks: He has the Texans and the Bengals grabbing the AFC wild cards. Schefter has the Cowboys winning the Beast and the 49ers taking the NFC West. And in one last shocking prediction, Schefter predicted that Packers quarterback
Aaron Rodgers
would win the MVP.
NFC North blogger
Kevin Seifert
went out on a limb and picked Texans defensive end
Mario Williams
to win the defensive player of the year. And yes, it's fun bolding bloggers' names instead of NFL players. AFC West blogger
Bill Williamson
upset many readers when he picked the Bills to be one of the AFC wild card teams. Really?
Both
Seth Wickersham
and
Pat Yasinskas
have the Cowboys headed to the Super Bowl. Seriously. That would require the Cowboys to win at least two playoff games. And you have to admire Wickersham and Williamson for their originality in picking
Rey Maualuga
and
Larry English
to win defensive rookie of the year honors.
I
was the only one to predict the Dolphins as an AFC wild-card representative. My hat's off to
Paul Kuharsky
for picking
Haloti Ngata
to be the defensive player of the year. Ngata's the key to the Ravens' defense. He'll never win the award because he doesn't put up big numbers, but he's a huge part of the Ravens' success. Kudos to Kuharsky for taking the time to
explain his vote
in the power rankings.
If you're having trouble finding something, leave word in the comments section. We'll get you taken care of.