February, 23, 2012
2/23/12
8:00
AM ET
Morning. Sorry things kind of tailed off yesterday afternoon, but it was 58 degrees here, and let's just say I felt like the clubs you see in the predictions videos needed to be temporarily relocated. Ironic, no, that this is brought up here? In the links?
New York Giants
Ohm's position-by-position review takes a look at
wide receivers
, which is a group that got a well-deserved "A" on Ohm's report card. He addresses the Mario Manningham free-agency situation and suggests that Ramses Barden would be first in line for the opportunity to replace Manningham should the latter leave.
I found it interesting to read that former Giant Harry Carson has decided
not to run for Congress
as a Democrat in the district in which I personally reside. It's a shame. I almost certainly would have voted for him. But Harry says he wouldn't be able to do it with the same passion with which he played football, which I guess is a good reason.
Philadelphia Eagles
Geoff Mosher writes that the people who run the Eagles' front office are under more pressure and
more scrutiny from fans
than they've ever been before as they head off to Indianapolis for the scouting combine.
The Steelers may end up losing wide receiver Mike Wallace due to their salary-cap situation. Wallace is a restricted free agent who'll be tendered, but teams would be able to get him for a first-round pick if they structure their offer sheet correctly.
Sheil Kapadia discusses
what this means for the DeSean Jackson situation -- namely, that it'd be tougher for the Eagles to trade him with another outstanding deep threat like Wallace on the market.
Dallas Cowboys
Stephen Jones says he views Jay Ratliff as a
nose tackle
. Not sure whether that means they're scrapping the idea of moving him to end or if Jones is just saying this because that's the way the roster is constructed right now. Jones also says he thinks the Cowboys have
plenty of leaders
in the locker room and that Ray Lewises don't grow on trees. That'd be one big tree.
Randy Galloway writes that the most important "
leadership" development
in the Cowboys' locker room would be an improvement in that area by head coach Jason Garrett. Fair point, especially as it works off of Garrett's bungling of the end of the Arizona game and the days that followed. Garrett is, as we've said here many times, a young head coach who's doing this for the first time. Improvement and growing pains are to be expected in many areas. By the way, Garrett's scheduled to address the media Thursday in Indy. Yeah, we'll have something off of that.
Washington Redskins
Redskins offensive lineman Kory Lichtensteiger recalls an NFL team official asking him, "When was the last time you smoked crack?" during a scouting combine interview. It's one of the neat details in
Rich Campbell's combine advance
.
Dan Steinberg is trying to track everything everyone in the world is saying about Peyton Manning and the Redskins. In
this latest entry
, we find that Lorenzo Alexander opposes the idea because he doesn't think Manning's neck is healthy enough (fair), that Torry Holt opposes the idea because he thinks Mike Shanahan's offense requires a mobile quarterback who can get out of the pocket (baloney, it worked 10 times better with Rex Grossman than with mobile John Beck in 2011, and Holt's is an unsupported, clichéd claim) and that Clinton Portis loves the idea as long as Manning's healthy. Yeah. That's me, on the same side of the debate as Clinton Portis.
June, 22, 2010
6/22/10
11:15
AM ET
By
Matt Mosley
| ESPN.com
Notable players
: RB Joe Morris, LB
Lawrence Taylor
, TE
Mark Bavaro
, T Brad Benson, DE
Leonard Marshall
, NT Jim Burt, LB Harry Carson, QB
Phil Simms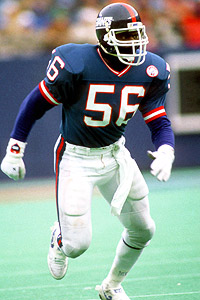 Malcolm Emmons/US PresswireLawrence Taylor was the leader of a dominant Giants defense.
Analysis
: Some longtime members of the organization tried to talk me into the '90 team based on the
Jeff Hostetler
theory, but I held strong. The Giants had the most dominant defensive player in the game with Taylor and Morris still had his legs at that point. Simms was the Super Bowl MVP after he completed a ridiculous 22 of 25 passes.
The '86 team was dominant enough to destroy teams in the playoffs. In the divisional game and the NFC title game, the Giants' defense gave up a combined three points. The '90 and '07 Super Bowl teams were special in their own rights, but I believe the '86 team was among the best in league history.
It was during the '86 season that the world took notice of Bill Parcells' Gatorade baths, which were started as a prank by Jim Burt. And after overhearing some of Burt's stories during a Cowboys training camp a few years ago, that's probably not the only prank he pulled.
I would've really enjoyed watching the Jimmy Johnson Cowboys teams of the '90s play against Parcells' Giants teams. They both had the same foundation: A group of relentless pass-rushers who made it almost impossible for opposing quarterbacks to find any rhythm. A lot of folks in the Giants' organization think the fact that Parcells won a Super Bowl with Hostetler playing a large role suggests how strong his supporting cast was. And while I appreciate that argument, I'd still take the '86 Giants.
Most impressive win:
This Giants team reeled off 12 consecutive wins, but the most impressive was against the Redskins in the playoffs. Joe Gibbs had an excellent team, but the Giants beat the Skins twice in the regular season and then shut them out 17 -0 in the playoffs. I loved watching Morris in the playoffs. He didn't have a lot of size, but he kept his legs churning at all times and was a vital part of the '86 Super Bowl team. I think Parcells still feels guilty that he later ran Morris into the ground.
Best player
: Lots of great players on this team, but Taylor, the Hall of Fame linebacker, wins in a rout. The MVP and Defensive Player of the Year had 20.5 sacks in 1986, the fifth-highest total of all time.
Honorable mention
1990
: Simms was injured, but the Giants weren't going to be denied in the playoffs. It was a remarkable season and at that point we thought Parcells would have several more Lombardi trophies in him.
2007
: The
David Tyree
catch never gets old. It was a case of a team catching fire at the right time. But unlike some pundits, I've never used that to take away from what that team accomplished. Now we know how special that pass rush was after watching things disintegrate last season.
2000
: Wait, did that team really play in the Super Bowl? Hey, it was an excellent team. But nowhere close to as dominant as the ones I ranked ahead of it.
February, 10, 2010
2/10/10
9:57
AM ET
By
Matt Mosley
| ESPN.com
With former Redskins guard Russ Grimm being voted into the Hall of Fame last Saturday, we've heard a lot of great stories about him. But Redskins blogger Matt Terl pulled back the curtain on the voting process Tuesday
by visiting with Grimm's presenter, David Elfin
.
[+] Enlarge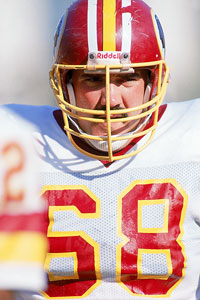 Bernstein Associates/Getty ImagesRuss Grimm received some lofty praise from former opponents.
The former Skins beat writer for the Washington Times (when it still had a sports section) was refreshingly honest about what led to Grimm finally making the final cut. And he talked about how difficult it is to quantify an offensive lineman's worth to a team. Elfin set out to talk to coaches and players who had faced Grimm over the years. And obviously the strategy paid off:
"What I chose to do this year was go to people who opposed Russ. I don't mean the voters, I mean the people who played and coached against him," said Elfin. "Because if they had good things to say, that would be more decisive than anything [Joe Bugel] or [Joe] Gibbs or anybody on the Redskins could say.
"And Randy White said that Russ Grimm was one of the best guards he ever faced. Bill Parcells said that Mike Munchak was the only one that he's ever seen in his time who was better than Russ -- and he was on the Patriots when they had John Hannah.
"Harry Carson said that Russ always gave him a headache and was the glue that held the Hogs together. And Matt Millen said basically that he was the smartest offensive lineman he had ever seen. So that was the basic gist. Those four people, I think, were pretty decisive."
Terl also asked Elfin to talk about who's next for the Redskins in the Hall of Fame:
"For me, if you wanted to name Redskins who are deserving, Chris Hanburger is number one," says Elfin. "Nine Pro Bowls, there's no question. I would say Len Hauss is second, with, like, seven Pro Bowls. And then you'd probably throw [Dave] Butz into the group with Jake and Pat Fischer and Larry Brown and ... off the top of my head, those'd be the lead guys."
The one name missing from that group in my mind is wide receiver Gary Clark. Who's next in your minds? As hard as this is to believe, defensive end Dexter Manley only went to one Pro Bowl. But he was named to the All-Pro team twice and had 103.5 sacks. That sack total is higher than Charles Haley's. Defensive end Charles Mann went to four Pro Bowls but he only finished with 83 career sacks, 82 with the Redskins. But he did play on three Super Bowl-winning teams.
February, 19, 2009
2/19/09
1:06
PM ET
By
Matt Mosley
| ESPN.com
Posted by ESPN.com's Matt Mosley
Many former Giants players and personnel will gather Sunday in Owosso, Mich., to say goodbye to former Pro Bowl linebacker Brad Van Pelt, who died Wednesday of an apparent heart attack at the age of 57. His teammates had some wonderful things to say about him in a press release sent out by the Giants.
February, 18, 2009
2/18/09
12:44
PM ET
By
Matt Mosley
| ESPN.com
Posted by ESPN.com's Matt Mosley
Former New York Giants linebacker Brad Van Pelt has died of an apparent heart attack at age 57, according to the New York Daily News. He joined Lawrence Taylor, Harry Carson and Brian Kelley to form the Crunch Bunch in the early '80s and went to five Pro Bowls.
According to Carson and Kelley, Van Pelt was found sitting in his chair at home in Owosso, Mich., by his fiancée Tuesday. The former teammates were stunned by Van Pelt's death. Kelley said he called Taylor on Tuesday night and all the Hall of Famer could say was, "No, no, no."
"[Van Pelt's fiancée] Deanna walked into the house," Kelley told the News on Wednesday. "He was sitting up in the chair smiling, but he wasn't moving. She called 911 but he'd been gone for a couple of hours. I called her this morning. She said he was smiling so obviously he went peacefully."
Van Pelt played football, baseball and basketball at Michigan State before becoming the Giants' first draft pick in 1973. He played 11 of his 14 seasons with the Giants and was voted player of the decade for the '70s.
Van Pelt's son, Bradlee, was a backup quarterback for both the Broncos and Texans.
January, 9, 2009
1/09/09
4:44
AM ET
By
Matt Mosley
| ESPN.com
Posted by ESPN.com's Matt Mosley
New York Giants wide receiver Domenik Hixon has made peace with the fact that one painful moment in his career will follow him forever. No matter how much he continues to blossom as a starting receiver for the reigning world champs, the afternoon of Sept. 9, 2007, will be etched in his memory.
| | |
| --- | --- |
| | |
| | Icon SMI |
| | Although they were already deep at receiver, the Giants saw enough in Domenik Hixon to claim him off waivers from Denver. |
After a remarkable senior season at Akron in 2005, Hixon was devastated when he wasn't invited to the NFL combine. He flew to Phoenix to enroll in a performance academy, and then ran a 4.34 in the 40-yard dash and recorded a vertical of 39.5 inches on pro day. Hixon felt something pinch in his left foot before he ran, but waited a couple of weeks to get it checked out. Turns out it was a broken foot, which didn't do wonders for his draft status, although a 4.34 with a broken foot seems impressive enough.
The Denver Broncos took Hixon in the fourth round and ended up putting him on the non-football injury list (didn't happen on their watch) for the 2006 season. Hixon won the kickoff return job coming out of training camp in 2007 and that's why he found himself racing up the field with the ball on Sept. 9. He remembers the collision that left Buffalo Bills tight end Kevin Everett motionless on the ground for what seemed like hours.
"It was a hard hit," the 24-year-old Hixon told me Thursday. "I got up real slow and my shoulder felt like it was on fire."
He retreated to the sideline, where his best friend on the team, Brian Clark, kept asking him if he was OK. Meanwhile, Everett was fighting for his life. We later learned that doctors on the scene used heroic measures so that Everett would have the opportunity to walk again. At that point, though, there was a real possibility that Everett would be paralyzed for the rest of his life.
Hixon's parents were in the stadium that day. Son looked at his father and told him that he'd heard Everett wasn't moving. When Hixon returned home that night, he turned on the TV and saw a replay of the collision. He promised himself that he'd never watch it again. And though his friends kept telling him it wasn't his fault, Hixon still had pangs of guilt.
"I prayed every day for him," Hixon said. "You don't want to be part of something negative like that. People were really supportive, but things didn't feel right."
The fearless player suddenly lost his stomach for contact. A few games later, he was racing toward an opening during a kickoff return when he spotted a defender bearing down on him.
| | |
| --- | --- |
| | |
| | NFL.com Video |
| | Domenik Hixon catches a 23-yard pass from David Carr for a touchdown. |
"I turned the hit down," said Hixon. "And then I coughed up the ball. For a second, I thought the guy just made a nice play. But when I looked back at it, I said, 'That's not me!'"
Unfortunately, fourth-round picks from Akron aren't afforded time off for mental healing. Hixon and Clark were out looking at motorcycles when Broncos coach Mike Shanahan summoned Hixon to his office to release him. Hixon wondered if his career was over, but a day later, the Giants claimed him off waivers.
"My agent called to tell me, so I immediately pulled up a Giants roster," said Hixon. "I saw Plaxico [Burress], Amani [Toomer], Steve [Smith] and Sinorice [Moss] and I said, 'Why in the world do they want me?' I decided right then to give it everything I had."
Hixon immediately joined the Giants' coverage units, and when Ahmad Bradshaw was injured, he took over his return duties in the regular-season finale against the Patriots. Hixon returned a kick 74 yards for a touchdown in the second quarter, which helped the Giants nearly pull off the upset against undefeated New England.
"One reporter told me that as Kevin kept getting better, he felt like I was getting better," said Hixon. "My dad kept updating me on [Everett's] progress, and hearing those positive reports seemed to make playing football a little easier."
Hixon had told members of the Giants' public relations staff that he wanted to visit with Everett, but he wanted the conversation to happen on Everett's terms. After the Giants clinched a playoff berth on the road against the Bills, Everett invited Hixon to visit the owner's suite where he'd been watching the game. Hixon said he was nervous as he walked through the stadium to see Everett. He wasn't sure what to say.
"We just had a casual conversation," Hixon said. "I'd heard from some of his teammates at [the University of] Miami that he was a great guy. I just kept thanking him for taking the time to see me, and we've continued to stay in touch."
Hixon showed up in Albany, N.Y., for the 2008 training camp with a new mindset. He wanted to prove that he was more than a return man, and Plaxico Burress' absence due to injury opened the door for a lot more repetitions. Hixon said he tried to "get a couple of wins" each day against top cornerbacks such as Corey Webster, Aaron Ross and Sam Madison. Fortunately, quarterback Eli Manning saw potential in Hixon from Day 1. Hixon remembers catching an in-route from Manning in his first practice with the team.

Domenik Hixon
#87 WR
New York Giants


2008 STATS
REC
YDS
TD
AVG
LNG
YAC
43
596
2
13.9
41
143
"He's sitting there coaching me up," said Hixon, "and I'm looking at him thinking, 'I'm the last guy you're going to throw to.'"
Turns out Manning was onto something. When Burress was suspended for a game against Seattle on Oct. 5, Hixon replaced him and had four catches for 102 yards and a touchdown before leaving the game at halftime with a concussion. He replaced Burress for good following Burress' infamous shooting incident, which led to his suspension by the Giants and placement on the non-football injury list. Hixon said that Burress was one of the first players to greet him in the training room following a 23-7 win over the Redskins on Nov. 30. Burress gave Hixon a list of things to work on. That was probably the last time Burress will ever be in the Giants' locker room.
What looked like a seamless transition, though, hit a snag a week later against the Eagles. Hixon dropped a sure touchdown on a perfectly thrown deep ball from Manning, and the Giants went on to lose a home game. Even though he's bounced back in recent weeks, Hixon knows that the dropped pass is still a popular topic.
"I completely took my eyes off the ball," he said of the drop. "It wasn't about putting too much pressure on myself, though. It was just me dropping the ball."
Hixon said veteran Amani Toomer was one of the first players to offer encouragement. He advised the young receiver to "see what you did wrong, but don't let it snowball."
Former linebacker Harry Carson saw Hixon at an event a few nights later and told him about a time in the Super Bowl when he allowed a touchdown. Running back Derrick Ward wasn't quite as sensitive. During a dinner, he repeatedly said, "Catch the ball, Hixon!"
Hixon's still trying to adjust to not being able to sneak up on teams. He used to come in for one play every other series or so and go deep. Now, he's lost the element of surprise. He thinks his time in Denver going against Champ Bailey and his daily sessions with Corey Webster and Aaron Ross have been invaluable. Hixon recognizes that he's involved in a pretty stressful audition right now.
"Absolutely it's an audition," he said. "You're putting your résumé together."
Something tells me that Hixon could find room on that résumé for "starting wide receiver in a Super Bowl."