July, 9, 2014
7/09/14
10:00
AM ET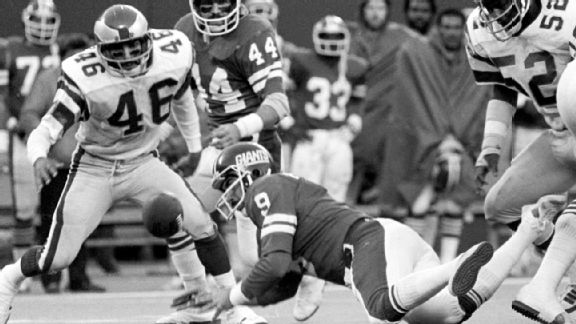 AP Photo/Burnett
»
VOTE HERE
»
NFC Plays:
East
|
West
|
North
|
South
»
AFC:
East
|
West
|
North
|
South
This is one of three nominations for the most memorable play in
New York Giants
history. On Monday we looked at David Tyree's "helmet catch" from the Super Bowl XLII victory over the
New England Patriots
, and on Tuesday we looked at the Lawrence Taylor sack that broke Joe Theismann's leg in 1985. Please vote for your choice as the Giants' most memorable play.
Score
: Eagles 19, Giants 17
Date
: Nov. 19, 1978
Site
: Giants Stadium

The fourth-place Giants had taken a 14-0 first-quarter lead on the third-place Eagles. And in spite of a comeback, the game appeared won when the Giants intercepted the ball inside the two-minute warning. Fans headed for the exits as Giants quarterback Joe Pisarcick knelt to the ground on first down in an attempt to run out the clock. But instead of giving up the game, the Eagles banged away at the middle of the Giants' offensive line in an attempt to force Pisarcick to fumble. Because of that, the Giants decided not to run the kneel-down play on second down, and instead had Pisarcik hand the ball off to running back Larry Csonka, who picked up 11 yards and set up a third-and-2. One more kneel-down would have won the game for the Giants.
Instead, on third down, offensive coordinator Bob Gibson called another handoff to Csonka. But the exchange between Pisarcick and Csonka wasn't clean, and the ball came loose. Eagles defensive back Herman Edwards, who was blitzing on the play, picked it up and ran it back 26 yards for a stunning touchdown and an Eagles victory.
It was the fourth straight loss in what would be a six-game losing streak in the second half of a 6-10 Giants season. Gibson was fired the next day. The Eagles would go on to finish 9-7 and reach the playoffs, and since the winners write the history books, "Miracle at the Meadowlands" became the name by which the play would forever be called by everyone but Giants fans. They refer to it, simply and grumpily, as "The Fumble."
August, 28, 2012
8/28/12
4:37
PM ET
So, our man Herm Edwards has released his
ranking of the NFL's head coaches

. He has them in tiers, with the coaches ranked by overall wins within each tier, and the first tier is "Hall of Fame Worthy" guys -- coaches who, in Herm's words, are "on the path to Canton when they retire." He has ranked six coaches in this tier, and three of them coach in the NFC East. They are Mike Shanahan of the
Washington Redskins
and Tom Coughlin of the
New York Giants
, each of whom has won two Super Bowl titles, and Andy Reid of the
Philadelphia Eagles
, who as we all know has yet to win one.
Now, Herm's a guy who's done this job and obviously has tremendous respect for the men who do it. He's also very enthusiastic and tends to think the best of people. I like that about him. Wish I had a little bit more of that, frankly. But there are only 21 coaches currently in the Pro Football Hall of Fame. That works out to about 2.5 per decade, and so six Hall of Famers currently holding the jobs would put us in something of a golden era of coaching. Possible, but statistically improbable. Of Herm's six, the only one about whom I'd feel extremely confident as a Canton candidate is New England's Bill Belichick.
As for our three guys:
Coughlin has a good case, based on the two Super Bowls he's won with the Giants and the work he did building the franchise in Jacksonville prior to his time in New York. Assuming he keeps winning, adding to his 153-121 career record and maybe makes another Super Bowl run, I'd think he's going to get a long look from the voters when the time comes.
Shanahan has the two Super Bowls from his time in Denver, and there are some innovation elements on his resume with regard to zone-blocking, etc. But his coaching success is very much tied to John Elway, and I think he needs to accomplish something in Washington if he's to burnish his credentials to the point where he's a sure thing for Canton. Winning a Super Bowl with the Redskins would surely do it. Building a consistent contender and winning team would help even without the title.
As for Reid, you know I have nothing but respect for the job he's done with the Eagles and his abilities as a coach and a personnel man. I think his record holds up against that of anyone currently coaching. He's 136-90 and has nine playoff appearances in 14 years. In the salary cap era, what he's done in Philly is remarkable. However -- and Reid himself knows this -- he's not getting a sniff in that Hall of Fame voting room if he doesn't end up with a Super Bowl title on his resume. May not be fair, but that's the way these things work.
Jason Garrett of the
Dallas Cowboys
, after a year and a half on the job, is in Herm's "Jury is still out" category, along with guys like Chan Gailey, Pete Carroll and
Mike Munchak
:
The big problem in Dallas in expectations. There are always expectations with that star on the side of the helmet. And Garrett didn't live up to them last season, missing the playoffs.

He'll realize that he needs to balance the offense, running the ball more, and coach the other side of the ball, as well. In only his second full season as a head coach, he'll protect the defense more this season.
So there you have it. Read through it all if you have Insider access. And if you don't... why not? Get it. There's lots of good stuff in there.
May, 23, 2012
5/23/12
8:00
AM ET
Remember the video mailbag? Well, we're upgrading it a bit. Or trying to, anyway. At 2 p.m. ET today on this blog, we will be doing a live video mailbag through something called Vokle. The
fantasy baseball guys
have been using it for live video chats, and we're going to try it here on the NFC East blog and see how it works. Ideally, you'll be able to join the chat (right from the blog, and I think you can sign in through your Facebook or Twitter account so you don't have to go to Vokle.com and set up a Vokle account if you don't want to) and ask me questions. You can type in the questions as you normally would during our Tuesday chats, and I'll read them and answer them aloud. Or, if you have a webcam and a headset (please, only if you have a headset, as without it the echo is really bad) you can ask a live video question and I'll answer it. It'll be just like when I talk to my mom and dad while they're in Florida, only it won't be 25 degrees here this time.
Anyway, swing by around 2 p.m. ET to try this out with us. Assuming it works, it could help us take the blog to unprecedented heights of technological glory. Also, should be fun. Links.
New York Giants
The Giants start their OTAs today, and it's a chance for guys like Matt McCants, a tackle the Giants
took in the sixth round
last month, to get at least some sense of what it's like to try to block some of the best pass-rushers in the league.
Paul Schwartz writes that Rutgers product Joe Martinek is hoping to
make a case for himself
as a fullback on the Giants' roster, kind of the way Henry Hynoski did last year when he was an undrafted free agent in camp with the Giants. I guess you never know.
Philadelphia Eagles
The Eagles continue to move Jamar Chaney all around their linebacker rotation. With Brian Rolle and rookie Mychal Kendricks apparently battling for the strongside linebacker spot, it appears Chaney is now the
favorite to start at the weak side
with DeMeco Ryans in the middle. Chaney, who played the middle in 2010 when Stewart Bradley got hurt and in 2011 when Casey Matthews proved ineffective, continues to roll with it.
And yeah, the offseason storyline has begun to focus on quarterback Michael Vick and
what he needs to change
about his game in order to help the Eagles achieve their very lofty goals for the 2012 season. As I've written before -- not about changing style of play but more about changing his sense of responsibility about how he plays the position. Decision-making, study habits, things like that. As he has for the past three years, Vick is saying all of the right things. So we'll see.
Washington Redskins
Redskins.com is breaking down
some position battles
as the Redskins engage in OTAs this week. I like the rundown of the wide receivers especially, but you know it's a team website when you read something like, "the Redskins have arguably the best tight end duo in the league." I mean, they played the Patriots last year, right? So they know about those guys?
Mike Shanahan was
back at work
a day after being run over on the sideline by two Redskins players. The players who saw it happen said it was a scary sight, but apparently Shanahan is showing no ill effects.
Dallas Cowboys
Jerry Jones says the
window may be closing
on the time the Cowboys have to win with their current veteran core, including Tony Romo, Jason Witten and DeMarcus Ware. Of course, lest anyone think this means trouble for the coaching staff, Jones is quick to assert that Jason Garrett feels the same way. Those two are BFFs, I'm telling ya.
Our man Herman Edwards says the Cowboys have "
a Super Bowl offense
," and I agree with him in terms of the talent at the skill positions. I think we still need to see Super Bowl-caliber performance out of positions like center and guard before we start talking that way, though. And of course, none of that matters if the defense doesn't improve. Which I'm pretty sure is part of Herm's point. You play. To win. The game.
June, 17, 2011
6/17/11
1:17
PM ET
We've maybe been a little heavy on
LeSean McCoy
content here lately, but (a) we like McCoy, (b) it's a lockout and (c) he hasn't been shy about helping us drum up content. His Thursday tweet about
Osi Umenyiora
, in which he called Osi "overrated n soft" and the third-best defensive lineman on the Giants has, justifiably, raised eyebrows around the league.
On "SportsCenter" this morning, Herm Edwards and Marcellus Wiley
shared their thoughts
.
Edwards: "Know your role, do your job. He's a running back, not a scout."
I think this is an underrated part of this whole thing. Regardless of McCoy's intent to needle, is his assessment accurate? I'm sure
Justin Tuck
is the best defensive lineman on the Giants, but I'm having a hard time coming up with another I think is better than Umenyiora. Does McCoy think that much of
Barry Cofield
?
Mathias Kiwanuka
?
Jason Pierre-Paul
? I'm taking Osi over any of them. Of course, I don't compete against them as McCoy does.
Which brings me to Wiley's take: "This is some nonsense, right there. He didn't think this one through."
Wiley, a former defensive lineman, smiled as he imagined himself in Umenyiora's cleats the next time he had to get up after helping tackle McCoy. He said, instead of pushing himself up from the ground, he might find "a couple of body parts" of McCoy's to us to help himself up.
I expect this to be brought up again in the future. Maybe even on this blog. I don't feel as if I'm going way out on a limb with that prediction, either.