June, 7, 2013
Jun 7
9:58
AM ET
PHILADELPHIA -- I don't blame
Michael Vick
for his frustration. This is no way to prepare for a season, all of this shuttling in and out from series to series, switching off the
Philadelphia Eagles
' starting quarterback reps with
Nick Foles
. Vick said after practice Thursday that it was tough and that
he'd prefer
to have coach Chip Kelly name a starter soon. Foles played the good soldier, saying it was fine and that, "I think each quarterback respects each other guy on this team that we can be men about it." But you watch the constant in-and-out and you can tell, it's no way to prepare for a season.
[+] Enlarge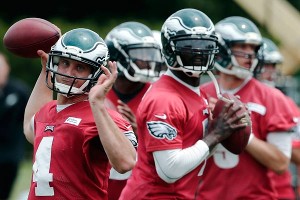 Matt Rourke/AP PhotoMichael Vick, as well as all the other Eagles QBs, are adjusting to coach Chip Kelly's new offense.
Thing is, though, that's not what they were doing this week. This was June minicamp, not August training camp. The point of this week's practices and the organized team activities that preceded them was less about preparing for a season than it was about learning and practicing new concepts while putting things on tape for the new coaching staff to evaluate over the coming months. So while, as I said, I can understand Vick's impatience and frustration, I think this down time between minicamp and training camp should help him cool down a bit and realize he doesn't have much to fear.
Could he still lose the starting quarterback job to Foles? Of course. But after spending three days around the team these past couple of weeks, I maintain my belief that this summer would have to be a colossal failure by Vick in order for anyone else to get the job. There's just no one else in that red-shirted quintet who offers what Vick offers in terms of experience and 2013 upside. Foles remains, for me at least, remarkably uninspiring.
Matt Barkley
looks like a rookie who's well behind the rest of the pack.
Dennis Dixon
and
G.J. Kinne
look like backups, which is what they are.
Was it a frustrating day on the field for Vick? Sure. He threw a pass right into one of those black "flyswatter" things those guys wear on their backs to simulate the pass rush in 7-on-7 drills. His efforts in team drills stalled while Foles completed a 60-yard touchdown bomb to
DeSean Jackson
. I could see why Vick was frustrated Thursday, sure. But there's a long way to go in this yet, and I think he's going to have to really show he can't handle the type of offense Kelly wants to run if Kelly's going to give control of that offense to someone else in Week 1.
Other stuff I noticed this week at Eagles minicamp:
There was a play in team drills on which Vick took off running to the left and picked up about 15 yards after the play broke down. "Same old Vick," is what everyone was thinking, but it was the kind of play that made you also think, "Yeah, if I could run like that, I'd want to run all the time, too." On the very next play, Vick rolled left, saw the rush coming and immediately spiked the ball into the ground. So that's progress, I guess.

You can't judge the secondary in these non-contact drills because the safeties aren't allowed to hit and the cornerbacks aren't allowed to play press coverage. But Brandon Boykin made a nifty play to break up and nearly pick off a Foles pass intended for Jason Avant, and what I liked about it was that Boykin seemed to spot the ball in the air before the receiver did -- a helpful trait for a nickel corner, or any corner for that matter.

A cornerback named Eddie Whitley also had a nice breakup of a play on which he was able to hide behind wide receiver Ifeanyi Momah and then jump out and swat the ball away. Hiding behind Momah, who's 6-foot-7, 234 pounds, is no tough trick. He looks like a mountain and, I'm sorry to say, kind of moves like one.

More than a few times Thursday, I caught the funny sight of Momah talking one-on-one with 5-8, 170-pound receiver Damaris Johnson, who doesn't even look as though he and Momah should be playing the same sport, let alone position. But I think there's a chance Johnson can be a big part of this offense this year. If Kelly wants to rely on quick-developing, short-range plays, Johnson is the kind of player who can quickly find space in which to work and turn a play into something special once the ball is in his hands.

The Foles-to-Jackson completion was one of maybe eight passes I saw Thursday that was thrown more than five yards beyond the line of scrimmage. Lots of dump-offs, and lots of handoffs, with Bryce Brown very much involved in the action as well as LeSean McCoy.

At one point, there was a special teams drill in which the punt coverage units were practicing keeping the ball out of the end zone. Only the coaches were using volleyballs instead of footballs. I guess they bounce higher and truer, and if the football's going to land on its tip and skitter into the end zone, there's nothing the coverage team can do about that anyway.
April, 1, 2013
Apr 1
8:00
AM ET
Good morning and welcome to April. This means that we can now say "this month's NFL draft" instead of "next month's NFL draft." In the midst of the NFL offseason, we take any progress we can get. And we'll always take some links.
Dallas Cowboys
In the wake of the week-ending news of Tony Romo's contract extension, Brandon George asks whether the Cowboys are gambling their money on
a quarterback who has peaked
. Personally, I think Romo's 2013 performance was that of a quarterback squarely in his very productive prime. The issue with Romo going forward will be performance in those playoff games (and playoff-like games) that have been his bugaboo.
The Romo contract extension cleared about $5 million in fresh salary-cap room for the Cowboys. If they go out on the market to spend it, will they target a
veteran running back
? They definitely need to add depth at the position, and it wouldn't be a bad idea to prioritize durability (to the extent that they can), considering the issue with starter DeMarco Murray is his difficulty staying healthy enough to play.
New York Giants
Gary Myers thinks Victor Cruz needs to heed the lesson of Steve Smith and
take the money
the Giants are already offering him. Certainly, this point of view would seem to encapsulate the team's hope and, likely, its side of the negotiations. Cruz is asking to be paid as a No. 1 wide receiver based on numbers the past two years that say he is one. The Giants want to make him the league's highest-paid slot receiver, since they don't think they can use him regularly on the outside. And round and round it goes.
For some reason, the Giants are
taking a look
at former West Virginia quarterback Pat White. Ohm seems to think it's an effort to see if it makes sense to incorporate some read-option into the offense, since that's all the rage these days. I'd be surprised, given Tom Coughlin's comments about the read-option at the owners' meetings in Phoenix and the senselessness of having someone besides Eli Manning take snaps as long as he's healthy.
Philadelphia Eagles
The Eagles signed
a gigantic wide receiver
named Ifeanyi Momah to a three-year contract. This is a guy who looked pretty good playing for Boston College in September of 2011 but hasn't played since. So it's a flyer on a guy who's 6-foot-7 and once showed promise. Remember, big people can beat up little people.
Jeff McLane is skeptical
about the idea that the Eagles will pick West Virginia quarterback Geno Smith with the No. 4 pick in this month's(!) draft. I think this is the first time we've mentioned two West Virginia quarterbacks in the breakfast links. I also share Jeff's skepticism. I think Chip Kelly is expecting to try and find his franchise quarterback next year.
Washington Redskins
Mike Jones has
some names
, in case you've been looking for names of defensive backs who might be available and of interest once the Redskins start drafting in the second round later this month(!). The consensus is that this is a deep draft for defensive backs, which is fortunate for the Redskins, because that's what they need.
Robert Griffin III had a chance to chat with President Obama last week at a sporting event to which I have personally not been paying any attention whatsoever. The leader of the free world spoke with the Redskins' quarterback about
protecting himself.
Wonder if it sounded different than it did when Mike Shanahan said it to reporters in Phoenix. Guessing so.