NFC East:

Indianapolis Colts
August, 18, 2013
8/18/13
2:45
PM ET
Yeah, I'm gonna slip on down to MetLife Stadium and check out the
New York Giants
in tonight's preseason game against
Andrew Luck
and the
Indianapolis Colts
because why not? Beats working. Wait. Actually, in my case, it
is
working. So strike that. I'm gonna slip on down to the Giants' game and do some work, reporting back to you, dear reader, on what I see and learn in case you have something better to do tonight than watch preseason football. Which... well, we'll leave it at that.
Here's what I'll be watching extra closely about the Giants tonight:
The running backs. Mixed reviews in the first game from the coaching staff on David Wilson's pass-blocking, which as we've discussed at length here is the real key to his seizing the starting running back job. Wilson's incredible to watch run -- effortless speed, more power than he gets credit for. And I think he's a willing and sufficiently physical pass-blocker. But in his second pro preseason, he admits he's still getting up to speed with the Giants' blocking schemes. And Tom Coughlin said last week he'd like to see him diversify his blocking repertoire a bit. I'm also taking a look at rookie Michael Cox, who's had a strong camp and is in the mix for kick-return duties if they take those away from Wilson. Cox could also get in the running back mix as a No. 3 behind Wilson and Andre Brown, and the Giants won't be shy about finding ways to get him the ball if they feel he can help them.
Can Rueben Randle get open consistently? Randle's great with the ball his hands -- a long-striding downfield threat who could fill the Mario Manningham role the Giants couldn't fill in their wide receiving corps last season. The key for Randle is his ability to stay in sync with quarterback Eli Manning on the pre-snap read, so that he's (a) open and (b) in the right spot when Manning finds him in his progression. That's where the Giants say they've seen improvement with Randle this summer, and if he keeps it up, the passing game becomes much more diversified. No. 1 receiver Hakeem Nicks is also making his preseason debut tonight, so we'll see how the offense looks with him, Randle and Victor Cruz all on the field at the same time.
The linebackers. We've joked a lot about how nondescript this crew is, and the thinking now seems to be that defensive coordinator Perry Fewell is going to use them in different packages and combinations depending on the game situation. Jacquian Williams, for example, may play more on passing downs because of his ability to cover tight ends. The Giants believe each of their linebackers has something at which he's good, and the challenge will be finding ways to maximize the positives in the group by running them on and off the field at the appropriate times.
Justin Tuck. Also making his 2013 preseason debut tonight is Tuck, who's entering the final year of his contract and says he's eager to make up for two down seasons. Tuck was looking good in practice before his recent back problems, and it'll be worth watching tonight to see whether he gets handled by the Colts' offensive line or whether he looks as rejuvenated as the Giants need him to be in order for their pass rush to return to Super Bowl glory.
Angry fans at the gates. Yeah, if you are going tonight, you really should read this on the NFL's new bag policy for games. The best advice is: Don't bring a bag at all. Seriously, not even a pocketbook. Especially not a pocketbook, actually, unless it's made of clear plastic. Because they're only going to let you bring in a bag if it's "clear plastic, vinyl or PVC, and does not exceed 12 inches by 6 inches by 12 inches." Or if it's it's a "small clutch bag, roughly the size of a hand, with or without a handle or strap." So like I said, best not to bring a bag at all if you can get away with that. But if you try and bring your backpack or pocketbook in and they won't let you, don't come crying to me. Cause I warned you.
I'm sure there's more, but that's what I've got for now. Say hi if you see me.
November, 15, 2012
11/15/12
4:00
PM ET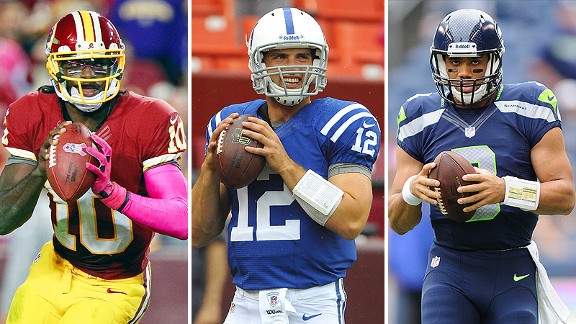 US PresswireHow does the QB class of 2012 stack up against 1983 and 2004?
So I got to talking Wednesday with
AFC South blogger Paul Kuharsky
and
NFC West blogger Mike Sando
about rookie quarterbacks and how they're judged. It started with Paul and Mike talking about the proper statistical perspective in which to view the Colts'
Andrew Luck
and the Seahawks'
Russell Wilson
, and they were kind enough to rope me into the discussion to include the
Washington Redskins
'
Robert Griffin III
. Not sure we were trying to reach any real conclusion here, just discuss the ways in which these guys are being evaluated against each other in terms of who's the best this year and who might be the best in years to come. Here's a transcript of our discussion. Hope you enjoy:
SANDO:
Wilson has gotten less attention as he's played better, it seems to me. There was quite a bit of buzz around him heading into the season simply because people following along from afar expected
Matt Flynn
to win the job. The idea that a head coach would willingly go with a 5-foot-10 rookie third-round draft choice over a $19 million free agent made waves. Wilson didn't play all that well early in the season, however. Part of that was because Pete Carroll pulled back the reins on the offense in an attempt to bring along Wilson slowly. That wasn't really anticipated given how effusive Carroll had been in his praise for Wilson's readiness to perform right now, not just in the future. Meanwhile, RG3 was sensational out of the gates. The Wilson buzz went away. I think that's going to change as Seattle continues to make a playoff push and Wilson continues to become a bigger part of the reason why.
KUHARSKY:
Critics who want to say Luck is over-hyped are, in my opinion, off their rocker. You look at his completion percentage, you look at his passer rating. I'll watch him play. He's remarkable for a rookie. Heck, he's remarkable for a third-year guy. He's got characteristics of both
Peyton Manning
(anticipation, smarts, understanding) and
Ben Roethlisberger
(ability to extend plays or to stand in and make throws while getting hit) as well as enough speed to be a constant threat to pull it down and run for a first down. I understand RG3 is more explosive. But I'm a pocket passer guy. And if I am choosing a young pocket passer to build a team around, I have no question about who it would be right now. It would be Luck. His team isn't very good, and he's got it positioned as a front-runner for a playoff berth. Don't just look at his stats, look at his play. He's worthy of all the talk/ hype/ praise/ applause/ etc.
GRAZIANO:
Nobody got attention like Griffin got it in September, when he was being talked about as an MVP candidate and not just Rookie of the Year. In truth, he's been dazzling, and has handled every situation, in-game and off-field, as well as you could ask a rookie to handle it. But if the bloom is coming off, it's understandable. The Redskins have lost three games in a row, and Griffin's two most recent games are the only ones this year in which his completion percentage has been under 60. I think the problem is more about the group around him than it is about the league figuring him out. The Redskins' offense simply may have reached the limit of what it can do in this particular season, given the injuries to top passing-game playmakers
Pierre Garcon
and
Fred Davis
. The plan for Griffin is not to run college-style option stuff his whole career, but at this point the Redskins' offense is reaching a point from which it can't evolve much further until it has its top receiving threats back. In the meantime, Griffin is stuck throwing to secondary receivers who drop too many passes, or scrambling so much that it puts his health at risk. We may have seen the best of Griffin for 2012, but things are likely to get better in 2013 and beyond once they improve the team around him.
KUHARSKY:
They are all great stories. And heck,
Ryan Tannehill
and even
Brandon Weeden
have done some good things, too. If we're not entering an era of quick impact quarterbacking from newcomers, then a lot of teams with high draft picks in the near future are going to be disappointed. I know Cold, Hard, Football Facts took me apart for my praise of Luck. But nowhere in that have I suggested anyone else unworthy of his fair share of respect. Luck's in a unique situation. The Colts were horrific last year, it's a new regime that cut a bunch of people and is eating a lot of dead money. It's a thin roster. It found a purpose in rallying to win for Chuck Pagano after his leukemia diagnosis, and while the Seahawks are a maybe and the Redskins are a no, the Colts are very much a probably for the playoffs. I'm far more interested in that than nitpicking completion percentage for a guy who hardly ever throws a checkdown pass.
GRAZIANO:
That's the thing, Paul. Are we analyzing what these guys are right now, as compared to the top QBs in the league? Or are we talking about what they've shown in terms of what they can be? All of these rookies have obvious areas in which they can improve, but at least in the case of the guys who were picked 1 and 2 in the draft, I think we're talking about rare talents with incredibly high ceilings. Whether Griffin has been asked/required to throw downfield as much this year as he'd eventually like to seems immaterial to me, especially with the Redskins not yet ready to contend. He's shown presence in the huddle. He's shown an ability to lead a game-winning drive. He's made good decisions. Much of what he's accomplished is tied to his remarkable all-around athleticism and speed, sure, but he hasn't relied exclusively on that the way, say, a young
Michael Vick
or
Jeff George
might have. Griffin's shown a desire and an ability to treat the quarterback position as a craft to be honed, and a willingness to work on the minuscule detail aspects of it. That speaks to where he's headed as much as anything he's done on the field does.
SANDO:
I'm with Paul in looking beyond passer rating with Luck in particular. He ranks among the NFL leaders in attempted passes. He's carrying that offense. The Colts are also asking him to make more difficult throws. His passes travel 10.3 yards past the line of scrimmage on average. That leads the league and it's not even close. We're not talking about a team dinking and dunking to protect its rookie passer. Luck is doing so much more than that. I think this is a perfect test case for
our Total QBR metric
. It's got Luck trailing only Peyton Manning,
Tom Brady
and
Matt Ryan
when it comes to doing the things quarterbacks must do to help their teams win. Those five rushing touchdowns he has aren't showing up in the passer rating stat, to cite just one example. It's why I've listed Luck in the last couple MVP Watch items. The Seahawks did not ask Wilson to do nearly as much early in the season. They've asked him to do more in recent weeks and Wilson has responded. He's improving quickly and ranks among the NFL's top seven in QBR and top five in passer rating since Week 6. Wilson has a real chance to finish this season as the best rookie quarterback in the league.
KUHARSKY:
And there we have the crux of the question, I believe -- what would make him the best? Passer rating? QBR? Team success? I love Wilson and his story. I hope he opens doors for others who don't look the part. But Luck looks the part and fits it too, and I'm not downgrading him for it. For what's left of this season, of the rookie quarterbacks, he's the one I'd take, without question. For what's left of their careers, he's the one I'd take, without question. And my picking him is all about what he has, not about anything the other guys don't. And he should be the choice. He was the top pick for a reason.
GRAZIANO:
I think you're right, Paul. I spoke with Mike Shanahan last week, and as much as he raves about his guy, he still insists he'd have been thrilled with Luck and that the whole point this year was to get one of the first two picks because you were looking at two transcendent talents. Stats? RG3 is ninth in passer rating, 10th in QBR, sixth in Pro Football Focus' rankings (eighth as a passer and second, behind only Luck, as a running QB). There's not a rating system that doesn't love him, and again, he's done this without the wide receiver they signed to be his top target and big-play guy. If Griffin has to "draft" Luck his whole career and be a close No. 2, I imagine he could do worse. But it appears he's got the stuff he needs to keep it a good debate for years to come. And while it may be a matter of taste, when this year ends, you're going to be able to make the case for Griffin as the top rookie quarterback.
SANDO
: Most never expected Wilson to be part of this discussion. Even the Seahawks weren't sure how much his lack of height would limit him. Wilson has demonstrated an ability to find and create throwing lanes.
Jared Allen
alluded to this before his
Minnesota Vikings
watched Wilson toss three first-half touchdown passes against them. If the height isn't going to be a negative, then Wilson can absolutely become an elite quarterback. He has the arm and the professional baseball pedigree to prove it. He has big hands, not just for his size, but overall (10 1/4 inches, fourth-biggest at the 2012 combine and bigger than Luck's or Griffin's hands). His work ethic led Carroll to joke about how Wilson decided to take some time off -- maybe three hours, he said -- during the bye week. The results have certainly been positive on the field. From everything I've seen, Wilson will be part of this conversation in the future.
August, 25, 2012
8/25/12
7:20
PM ET
The story of the day in the NFL preseason was the game between the
Washington Redskins
and the
Indianapolis Colts
. The Redskins won the exhibition game
30-17
, but that obviously wasn't what made it a story. This was the showdown between the top two picks in this year's draft -- quarterbacks
Andrew Luck
of the Colts and
Robert Griffin
of the Redskins. And the pair put on a fun show.


Griffin was 11-for-17 for 74 yards and a touchdown. He missed on three deep throws down the field, but at least one appeared to be the fault of his wide receiver, and he showed quite a bit otherwise. On the four-yard touchdown pass to
Santana Moss
, Griffin moved out to the right side extremely quickly, showing his speed and preventing the Indianapolis defense from reacting in time to do anything about it. Griffin continues to show poise and confidence and doesn't get rattled when things don't go exactly as planned. Those are key qualities that, along with his talent and athleticism, bode well for his ability to handle NFL life in his rookie season and beyond.
Luck was 14-for-23 for 151 yards and a beautiful 31-yard touchdown pass to
T.Y. Hilton
. His test was tougher, since the Redskins' defense played better in this game than the Colts' defense did and he faced intense pressure on nearly every play, but he looked very good. Neither rookie quarterback showed anything to make his team feel any less excited about its future.
Here's what else I saw from the Redskins in this game:
July, 20, 2012
7/20/12
3:42
PM ET
One of the debates on "First Take" this morning was over which of the two quarterbacks taken at the top of this year's draft would have the better rookie year -- the
Washington Redskins
'
Robert Griffin
III or the
Indianapolis Colts
'
Andrew Luck
? Skip Bayless takes the Griffin side, in part because he recalls
Jay Cutler
's rookie season with the
Denver Broncos
under Mike Shanahan and thinks Griffin and Shanahan are a similar match in Washington. "Jay Cutler as a rookie lit it up under Shanahan, and I think you're going to see the same thing," Skip says.
Just for accuracy's sake, Cutler played only five games as a rookie in Denver in 2006, and Skip is likely thinking of the 2007 season in which Cutler completed 63.6 percent of his passes and threw for 3,497 yards and 20 touchdowns while rushing for 205 yards and another touchdown. (He also threw 14 interceptions that year and had 11 fumbles, four of which were lost.) But the Cutler comparison is a good one, especially given the coach, and likely a better gague of reasonable expectations for rookie Griffin than
Cam Newton
's 2011 season is.
Stephen A. picks Luck in this debate, but at the end he admits he doesn't really know much about it and his pick is based on what he hears from NFL experts. Then Skip says (with a smile) that he's smarter than the NFL experts, so he's unmoved by the counter-argument. But in the meantime, something for you guys to all have some fun with. Enjoy.
May, 25, 2012
5/25/12
4:52
PM ET
Well, you know what they say about the best-laid plans of would-be holiday weekend slackers...

Just as I thought we were done for the day,
Adam Schefter reports
that the
Indianapolis Colts
are working hard to try and acquire disgruntled cornerback
Mike Jenkins
from the
Dallas Cowboys
:
Cowboys coach Jason Garrett said this week that Dallas would not trade Jenkins. But another NFL source familiar with the situation said he believed a trade could be worked out for the right price.

...

A Colts official declined comment, yet a person connected to the team said Indianapolis has been trying to pry loose Jenkins with an offer that one source said "many teams would think is compelling."
Of course, what many teams would think doesn't matter much here, does it? The Cowboys must find it compelling, or they will not be compelled to do it.
As I've
written at length
, I don't see what the Cowboys' incentive is to trade Jenkins. Teams need to be deep at cornerback these days. Jenkins has proven to be a very good cornerback when healthy. One of the Cowboys' projected starters is a rookie, first-round pick
Morris Claiborne
. Unless they really get blown away by an offer, I would be very surprised to see the Cowboys deal Jenkins just because he doesn't want to be there anymore. Just because the Colts want him doesn't mean the Colts can get him.
But of course, I have been wrong before. My wife just brought a pineapple home from the grocery store, and this reminds me of one of the more egregious such instances from this past NFL season. So we'll keep our eyes peeled, ears to the ground, etc., and if there's movement on this over the weekend I promise I will hop on the blog and let you know what I think. Meantime, carry on with your long weekends.
March, 26, 2012
3/26/12
1:35
PM ET
PALM BEACH, Fla. --
Indianapolis Colts
owner Jim Irsay says his team likes
Andrew Luck
and
Robert Griffin III
and hasn't decided which of the two star quarterbacks it will take with the No. 1 pick in next month's draft.
"I think they're both outstanding young men," Irsay said during a break in the owners meetings here Monday. "I don't think it's either-or, where only one of them is going to succeed. I think they're both going to be great."
Luck

Griffin
It's long been assumed the Colts would take Luck with the first pick, and after the
Washington Redskins
traded up to get the No. 2 pick in the draft, it's been assumed that they'd take Griffin. In truth, the Redskins are expecting the Colts to take Luck and excited to have Griffin. But if the Colts did take Griffin instead, the Redskins would be thrilled to have Luck fall to their spot.
Since they have the No. 1 pick, the Colts could, if they so choose, do a contract with Luck (or Griffin, or any player they want, actually) in advance of the draft.
"If we decided to do a deal early with one of them, that's something we could definitely look into," Irsay said. "But we're still in the evaluation process right now."
It's possible the Colts have always been and remain set on taking Luck, and that the public interest in Griffin is a negotiating tactic Irsay is attempting to use with Luck. The Colts have been enamored with Luck for a long time. ESPN analyst Bill Polian, who was the Colts' GM until a couple of months ago, has said last week on NFL Live that he believes Irsay is set on Luck as
Peyton Manning
's successor in Indianapolis.
The key thing to remember, though, if you're a Redskins fan, is the team believes (as Irsay says his team does) that there are two can't-miss quarterback prospects in this year's draft, and the trade the Redskins made with St. Louis ensured they will get one of them. Which one it is doesn't matter as much as the fact that the Redskins believe that No. 2 pick sets them up at quarterback for years to come.
December, 3, 2010
12/03/10
7:19
PM ET
By
Matt Mosley
| ESPN.com
We do it every week at this time. Let's take a look at
the ESPN experts' predictions
and then make a few of our own. By the way, all eight esteemed panelists were correct in picking the Eagles to beat the
Houston Texans
on Thursday:
Washington Redskins at New York Giants:
All eight panelists picked the Giants to take care of business at home. And they'll once again be playing without starting wide receivers
Hakeem Nicks
and
Steve Smith
.
Mosley's pick:
Giants 28, Redskins 13. I just don't think the Skins will be able to run on the Giants at all and that will make
Donovan McNabb
vulnerable to the pass rush. He's had a lot of success against the Giants over the years, but he doesn't have enough weapons this time around.
Dallas Cowboys at Indianapolis Colts:
Only three experts picked the Colts to win at home against the 3-8 Cowboys. Seth Wickersham, Adam Schefter and Ron Jaworski were the only ones to go with the Colts.
Mosley's pick:
Colts 31, Cowboys 27: I think it will be a great game, but I can't see
Peyton Manning
having two straight poor performances. I think he'll take advantage of the Cowboys safeties and have a big game. For the Cowboys,
Miles Austin
will go off in this game and
Tashard Choice
will finish with 75 rushing yards.
August, 27, 2008
8/27/08
5:43
PM ET
By
Matt Mosley
| ESPN.com
Posted by ESPN.com's Matt Mosley
Am I the only one surprised by the fact that the Patriots didn't dominate our Super Bowl predictions? We had 16 writers participate.
By my count, five people picked the Cowboys to win the Super Bowl, five San Diego, three New England, two Indianapolis and one Jacksonville.
As I talk to people across the league, there's a feeling that the Chargers have figured out a game plan for slowing down the Patriots. I have no clue, though, why we're lining up to declare the Cowboys Super Bowl champions.
I had a tough time convincing myself to put them in the game. The Cowboys have not won a playoff game since 1996. Yes, I know they're loaded, but I've always thought you might want to win one playoff game before you start talking about winning Super Bowls.
But with what happened to Osi Umenyiora and the "retirement" of Brett Favre, I'm just not sure who will challenge the Cowboys in the NFC. Donovan McNabb looks great, but who's he throwing it to? Does Hank Baskett do anything for you?
In the AFC, my gut's telling me the Jaguars are going to unseat the Colts, but I didn't trust it this time. So much more to come.
August, 4, 2008
8/04/08
12:41
AM ET
By
Matt Mosley
| ESPN.com
Posted by ESPN.com's Paul Kuharsky
| | |
| --- | --- |
| | |
| | Al Messerschmidt/Getty Images |
| | Owner Daniel Snyder of the Washington Redskins talks with coach Tony Dungy of the Indianapolis Colts before the Pro Football Hall of Fame Game at Fawcett Stadium. |
CANTON, Ohio -- Is the reorganization of the Colts' running back depth underway?
A couple carries in the preseason opener aren't going to scramble the depth chart. But sixth-round draft pick Mike Hart out of Michigan started to make his case with four carries for 53 yards and three catches for 24 more in tonight's 30-16 loss to Washington in the Hall of Fame Game.
The depth chart says after Joseph Addai and Dominic Rhodes it's Kenton Keith, Clifton Dawson, Hart and Chad Simpson. Odds are the team keeps four and that beyond the top two it'll be a fluid situation to the final cuts.
"It's going to be very competitive, it has been that way in camp and they followed it up with a good performance today," coach Tony Dungy said. "We've seen that from Mike four years in college and we've seen it every day in practice, he just continues to run hard and block well and catch the ball and does the things you need to get done."
Hart was smiling after the game as he talked about getting booed, saying it reassures him that he did OK in college at Michigan if he's reviled when he arrives in Ohio. While he felt good about his game he also found some fault.
"My pass-blocking wasn't great today and I can do a lot of little things better," he said. "But running the ball I think I did pretty well. We didn't run too many plays, so the script was kind of easy. I was comfortable out there... It's hard. Everyone's real talented. We're all talented. Everyone has to come out every day and play their best."
How to decide about the backs over the remainder of training camp and four more preseason games?
"You'll have to ask Mr. Polian that question," Hart said, referring to team president Bill Polian. "I have no clue."
August, 4, 2008
8/04/08
12:15
AM ET
By
Matt Mosley
| ESPN.com
Posted by ESPN.com's Paul Kuharsky
| | |
| --- | --- |
| | |
| | Al Messerschmidt/Getty Images |
| | Redskins rookie Colt Brennan was nine-for-10 for 123 yards and two touchdowns in his Washington debut. |
CANTON, Ohio -- Jim Zorn never saw 12 men on the field, he never saw 10.
In some coaching debuts, that alone would have been a small victory. But Zorn got a bigger one than that tonight.
It doesn't count, no, but a preseason 30-16 win over Indianapolis in the Hall of Fame Game came with calm coaches in control, not the sort of chaos some staffs have to work through at the start. Zorn, a former quarterback hired largely to mold a quarterback got strong play from his signal callers, who posted a collective 147.2 rating thanks to three touchdowns paired with three incompletions.
"I felt like it was a big win for me because it was my first time out, what we accomplished was pretty special," Zorn said. "I thought it was very smooth."
Zorn's lead quarterback, Jason Campbell, didn't play long, but didn't miss while he was in, hitting on all five of his passes.
"He wasn't just looking at it, 'Oh, just give me 10 plays and I'll get out,'" Zorn said. "He was really looking at finishing drives. So he gave me what I wanted and I think he gave the team what they needed as far as his leadership, his accuracy. He was very disciplined by staying with reads and not deviating from what we had planned."
The Colts may have helped the Redskins out with a failed onside kick at the start of the game that left Washington with great field position to go get a quick touchdown. But the Redskins also had a 15-play, 88-yard drive that ate 7:46 off the fourth quarter clock and put them up for good.
Zorn was also pleased that rookie quarterback Colt Brennan, who put in extra study time the last three days, handled his time in the huddle so well -- nine-for-10 for 123 yards and two touchdowns.
"He kind of stepped it up for himself in the last few days," Zorn said. "He had some really slick throws, a few of them were really dangerous throws. But he was looking and going to the right guy when we were dropping back. He even took a couple of checkdowns and scrambled and threw a touchdown pass."
Said Brennan: "He has a thing where we are responsible for knowing the formations, he doesn't call it, we have to know it -- and it being my first game, that's a lot of formations to remember and a lot of different situations. What it did was really made me grind out the study hours, kind of lock in the offense and it helped me be a lot more confident with what we were doing."
August, 3, 2008
8/03/08
11:08
PM ET
By
Matt Mosley
| ESPN.com
Posted by ESPN.com's Paul Kuharsky
CANON, Ohio -- Right to second-half observations...
Wow, a timeout for Indianapolis before its first play from scrimmage in the second half. To be clear, that's a touchback and a timeout before a snap. Just in case you were mistaking this for Peyton Manning's September-October Colts.
Newly minted Hall of Famers Darrell Green and Emmitt Thomas did their interviews with the NBC crew in the booth, not from the sideline. No elevator here. They may be immortalized in bronze, but they'll still walk up 40 stairs to chat with Al Michaels and John Madden.
Clinton Portis, who didn't play and Shawn Springs, who did, spent much of the third quarter wide of the bench area, chatting and seeming to enjoy life. Bob Sanders, who's not even dressed, was across the field from them. We've got coach-to-quarterback and coach-to-defender communication devices. How about stars-to-stars after halftime of the first of five preseason games? I guess those are called cell phones and we'd frown upon their use. Be fun to listen in, though.
The second completion of Colt Brennan's NFL life was a beautiful 34-yarder that Billy McMullen did well to corral as it dropped right in front of him as he angled to the left side. Brennan may never make it at this level, but with that throw you can see the sort of thing that makes him intriguing. A few plays later he held it forever, took a sack and you could see what makes him very iffy. Then he immediately threw a 20-yard TD pass to Maurice Mann and you could what makes him intriguing. He surely earned more of a look -- finishing nine-for-10 for 123 yards and two touchdowns before he was replaced by Derek Devine.
Jared Lorenzen dropped back, stepped up, took off, ran to the right sideline for a 9-yard first down and went out of bounds. Who, exactly, would rather step up and take him on than get an earful at a film review session? A few plays later, Chris Horton got both arms around the massive QB in the backfield, but it took a while to actually tip the 6-foot-4, 285-pound Lorenzen over. Some teammates could have taken a knee to catch their breath while they waited. You have to guess none of them have had practice at toppling a guy that size in the pocket, or have ever seen it done.
Back in a bit after we see what they're saying downstairs.
August, 3, 2008
8/03/08
10:06
PM ET
By
Matt Mosley
| ESPN.com
Posted by ESPN.com's Paul Kuharsky
CANTON, Ohio -- In-game thoughts from the dark front row of the press box at Fawcett Stadium:
You're welcome, Jason Campbell. The Colts started the game with an onside kick, and failed to recover. Washington and its new offense began the game on the Colts' 45-yard line. Three plays and Campbell had a 20-yard TD pass to Antwaan Randle El. Indy was happy to oblige as the Skins try to get their new stuff off the ground.
Joseph Addai went out in the first series out with what officials deemed a "head injury." No way were we going to see him again. In the middle of the second quarter he was hanging with the running backs on the sideline.
The Colts front-line offense did well to get from third-and-long to second-and-manageable twice in its first (only?) drive. Skins corner Fred Smoot should have ended it when a bad pass for Reggie Wayne hit him at the goal line, but he dropped it. Jim Sorgi found a lot of the Colts basic passes, then they got to the red zone and he couldn't finish things. And yup, that was it for Sorgi.

Colts center Jamey Richard created a mini-stat team controversy when he snapped a ball through the end zone for a second-quarter safety. However, as it's officially written up in the press box, Richard's snap looked like a field goal attempt as it sailed over Quinn Gray's head and then skittered out the back of the end zone. Write that on the stat sheet, everyone will understand. Jeff Saturday won't do that when it matters.
Late second quarter, I focused for a series on Indy defensive tackle Eric Foster, the undrafted rookie out of Rutgers who's had some encouraging things said about him. He's flipped between left and right tackle, working pretty hard. A couple times he helped steer a back towards a tackler. He goes a lot against right guard Jason Fabini, an 11-year veteran who Washington is hoping is a second-stringer. Foster looked tired in the long series. He was away from the conclusion of a couple plays in a row and wasn't running hard to get involved. I suspect he was pleased when the series ended with a 39-yard field goal attempt by Shaun Suisham -- which was missed.
Forgot to mention this earlier: Chris Cooley had some interesting thoughts when he was asked about the Steve Smith-Ken Lucas fight in Carolina. It left Lucas with a broken nose and Smith with a two-game suspension for the start of the regular season.
"I don't think it causes a chemistry problem. I think it hurts the Panthers because Steve Smith is going to be missing the first two games. I think that's your biggest problem. But at the same time you've got to set down a rule that you can't just break someone's nose on the sideline. And if you know you're going to miss two games you maybe think about it a little more. I don't think it causes a chemistry problem, I assume that they get over it. It's not like we're a women's basketball team."

And how would women's basketball team be? "Just more drama."

Believe it or not, Chris got married this offseason.
August, 3, 2008
8/03/08
8:06
PM ET
By
Matt Mosley
| ESPN.com
Posted by ESPN.com's Paul Kuharsky
CANTON, Ohio -- Redskins 17, Colts 13.
No, not my score prediction for the Hall of Fame Game.
That's how many players each team has scratched.
The resulting starters include Colts left guard Dan Federkeil and strongside linebacker Ramon Guzman. For Washington we'll see the likes of running back Rock Cartwright, weakside linebacker Matt Sinclair and defensive end Demetric Evans.
One storyline that might have played out beyond the first quarter pertained to Washington's rookie receivers. But Devin Thomas didn't make the trip because of a hamstring problem, and now Devin Thomas won't play either because of a sore knee.