January, 28, 2014
Jan 28
9:00
AM ET
IRVING, Texas -- With
sources saying
Scott Linehan will take over as the
Dallas Cowboys
' playcaller, his track record suggests the offense will be
Tony Romo
friendly.
[+] Enlarge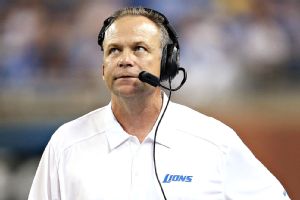 Leon Halip/Getty ImagesScott Linehan has been the Lions' offensive coordinator for the past five years, but can he get the Dallas run game going?
For the past five years Linehan was the
Detroit Lions
offensive coordinator. In the last three seasons, Lions quarterback
Matthew Stafford
has thrown for 14,655 yards and 90 touchdowns with 52 interceptions.
From 2011-13,
Calvin Johnson
caught 302 passes for 5,137 yards and 33 touchdowns. So that would appear to be good news for
Dez Bryant
.
But what about the running game?
Linehan has been an offensive coordinator/head coach from 2002-2013, except for the final 12 games of the 2008 season when he was fired as head coach of the
St. Louis Rams
.
Using the 11 seasons as a backdrop, Linehan has had a top-10 ranked rush offense just twice and those were in his first two years with the
Minnesota Vikings
in 2002 and 2003. A Linehan-led running game has not finished better than 12th in the NFL since. With the Lions he had running games ranked Nos. 24, 23, 29, 23 and 17.
The Cowboys have been at their best offensively when
DeMarco Murray
has been involved.
Linehan is not averse to the run.
In 2002,
Michael Bennett
ran for 1,296 yards for the Vikings. A year later Minnesota had four different players with at least 400 yards rushing. In 2005 with the
Miami Dolphins
, where he worked with Jason Garrett for the first time,
Ronnie Brown
ran for 907 yards and
Ricky Williams
had 743 yards.
In his first year with the Rams,
Steven Jackson
, the runner so many Cowboys fans wanted them to take in 2004, ran for 1,528 yards. He had 1,002 yards in 2007.
With the Lions, he had to make due with
Kevin Smith
,
Jahvid Best
, whose career was cut short by injuries and
Mikel Leshoure
. Last season,
Reggie Bush
ran for 1,006 yards.
Joique Bell
ran for 650 yards.
In Murray, Linehan will inherit a back coming off the best year of his career and an offensive line that finished the year on a high note.
It's up to him to use the running game.
September, 29, 2011
9/29/11
11:54
AM ET
I like reading the
Dallas Cowboys
blog on ESPNDallas.com. We have so many people covering that team for that site that it's a constant cacophony of voices and insight and information. I'm on there 12 times a day if I'm on there once.
One thing they do every week that I enjoy is their "Five Star Question," where they pose a question about the upcoming game and five different writers post their answer to it. It's
on there now
, though you may have to scroll down a bit to find the posts. This week's question is, "
Will the Cowboys hold Detroit quarterback Matthew Stafford under his average of 325.6 yards passing per game?"
Four of the five panelists said no. Only one -- Todd Archer -- said yes:
If we learned anything from 2010, it is that pressure makes a secondary better. The Cowboys will pressure Stafford, who has been sacked five times this season, into quicker throws. Left tackle Jeff Backus struggled last week vs. Minnesota's Jared Allen, and the Lions have not seen such a diverse pass rush yet.

Stafford might throw for big yards with Calvin Johnson having an advantage on the Cowboys' cornerbacks, but he will not reach his average.
I think it's fair to make both points Todd makes in his post -- that the Cowboys will be the best defense the Lions have faced thus far and that the Lions' offense will be the stiffest test yet for the Cowboys' surprisingly strong starting defense. But it's the latter point on which I'd like to focus, since this is the NFC East blog and
Kevin Seifert
is better qualified to evaluate whether the Lions are for real.
Pressure is one thing, and it's something at which the Cowboys are very good. But the Lions' offense isn't just about Stafford-to-Johnson. They use the screen game well. They like to get running back
Jahvid Best
out on the edge and throw it to him. Stafford has games where he throws like crazy to tight end
Brandon Pettigrew
. They throw and throw and throw in a million different ways, and their goal is to find the one that works. If the pressure is too intense to give Johnson time to get open downfield, Stafford has other, closer options and the wherewithal to find them.
That means Cowboys outside linebackers
DeMarcus Ware
and
Anthony Spencer
, so outstanding at getting into the backfield, are going to have to showcase their underrated run-stopping abilities Sunday. It means more reliance on NFC Defensive Player of the Month
Sean Lee
and his ballhawking ability. If the Cowboys' defense stops the Lions Sunday, it will have been because of those one-on-one battles at the second level, where Stafford's safety valves operate. Those are the matchups I'm watching in this game. I know they can't stop Calvin Johnson, because no one can. And I know they can get pressure on Stafford, because other teams have. What I don't know is what will happen once Stafford sees the pressure and reacts to it. That's where the Cowboys need to be focused Sunday, if they want to stop the 3-0 Lions.
November, 2, 2010
11/02/10
1:00
PM ET
By
Matt Mosley
| ESPN.com
»
NFC Decisive Moments
:
East
|
West
|
North
|
South
»
AFC
:
East
|
West
|
North
|
South
We've devoted at least 3,000 words to Mike Shanahan's benching of quarterback
Donovan McNabb
for "cardiovascular endurance" reasons, so let's look at another defining moment in the Redskins' 37-25 loss to the
Detroit Lions
on Sunday. With 8:50 left in the third quarter, the Skins stopped Lions running back
Jahvid Best
for no gain on third-and-1 from their 7-yard line.

The Lions set up for a short field goal attempt that would have cut the Skins' lead to 13-10. Instead,
Phillip Daniels
was called for jumping offside against the field goal unit. Daniels wasn't the only Redskins player who jumped early, as
documented in the Washington Post
. I've watched the replay several times and you can see Lions deep snapper
Don Muhlbach
flinch his left hip, which appeared to draw the Skins offside. But the officials didn't detect Muhlbach's flinch and penalized the Redskins. The Lions scored a touchdown two plays later and took a 14-13 lead.
It was a defining moment in Sunday's game that was overshadowed by what happened late in the fourth quarter. In case you missed it, Daniels
addressed this call via Twitter
following Sunday's loss. If the Skins had held the Lions to a field goal, it would've been a confidence booster for the team. Alas, the Muhlbach flinch will get you every time.
October, 29, 2010
10/29/10
4:00
PM ET
By
Matt Mosley
| ESPN.com
»
NFC Final Word
:
East
|
West
|
North
|
South
»
AFC
:
East
|
West
|
North
|
South
Five nuggets of knowledge about the Week 8 games.
[+] Enlarge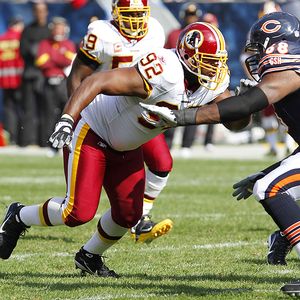 Icon SMIAlbert Haynesworth will face his former defensive coordinator, Jim Schwartz.
Can the Washington Redskins avenge last season's embarrassing 19-14 loss to the Detroit Lions?
Redskins Pro Bowl outside linebacker
Brian Orakpo
told the NFC East blog on Thursday that Washington's loss to the Lions, which ended a 19-game losing streak, has been on his mind every day since. There's no way Mike Shanahan will let his team take the Lions lightly. Early in this game, the Skins' front seven must do a good job on Lions rookie running back
Jahvid Best
, who is capable of home run plays on the ground and in the passing game. Linebacker
Rocky McIntosh
is playing at a high level and that must continue. I'm eager to see if defensive tackle
Albert Haynesworth
is able to put back-to-back solid performances together. He's facing his old defensive coordinator from Tennessee in Jim Schwartz, so you may see him bring a little something extra.
The Redskins will attempt to hold down Megatron on this game.
Calvin Johnson
is one of the best two or three receivers in the league, and we all remember what
Andre Johnson
did to the Skins. But this is
DeAngelo Hall
's defense, as he has pointed out, and he should be able to pad his interception count against the Lions. I'm ready to see if Jim Haslett does anything special against Johnson. My gut tells me that he won't.
It's time to unleash Jon Kitna on the NFL again.
I really think Kitna will play well against the Jaguars.
Aaron Kampman
's really the only Jags pass-rusher who can get home against the Cowboys, so Kitna should have plenty of time. He told me recently that he fought through elbow tendinitis in his throwing arm for a five-year stretch (2003-08), so I'm eager to see how he holds up with a lot more attempts than he's used to. The Jags' best cover man is
Rashean Mathis
, so look for
Jason Garrett
to stay away from his side when possible.
Let's see if Wade Phillips' defense can actually contribute to a win.
With the Cowboys leading the Giants 20-7, the defense pulled a disappearing act. Phillips had the gall to blame it on Kitna's three-and-out-based offense, but we all know the score. The Jaguars allegedly have inferior talent to the Cowboys, so this is a game
DeMarcus Ware
and
Anthony Spencer
should resemble Pro Bowlers again. If
David Garrard
's not under siege in this game, something's gone horribly wrong.
It's time to show the world that Dez Bryant will someday be an elite wide receiver in this league.
And that day is coming soon. I don't think the Jags have enough firepower to keep up with
Miles Austin
,
Roy Williams
and Bryant. It will be interesting to see if Bryant's given a bigger role in the offense this week. If he is, it will be a sign that he's showing more dedication in the classroom at Valley Ranch. Have a wonderful bye weekend, Eagles and Giants fans. I'm sure you'll be backing your NFC East cohorts. Oh wait ...
October, 17, 2010
10/17/10
4:14
PM ET
EAST RUTHERFORD, N.J. -- Quick thoughts on the
Giants' 28-20 victory
over the Lions.
What It Means
: The Giants are starting to take care of business. In a game that they were supposed to win, the Giants
got the job done
. It wasn't anything spectacular, but the Giants didn't have a letdown with what lies ahead of them next week. They handled a decent
Detroit Lions
team and showed better composure as the Lions were plagued by penalties. At 4-2, this is exactly where the Giants should be as their schedule gets tougher with NFC East play about to begin.


What's Next
: As if we had to remind you, it's Dallas week. The Giants finally play an NFC East game and it's against the Cowboys. The Giants make the trip to Jerry World for a Monday night showdown that should be electric no matter what the Cowboys' record is. Dallas will be playing to try to climb out of an early hole and the Giants will be looking to show the NFL that they are legit contenders. A win in Dallas always goes a long way.
Knockout Artists
: The Giants' defense knocked out its third quarterback of the season when
Shaun Hill
had to leave before halftime with an arm injury. Hill had been playing well and he had a touchdown before falling on his left arm. The Lions were forced to go with
Drew Stanton
, and
Osi Umenyiora
was able to strip Stanton for a fumble, which
Justin Tuck
recovered. Stanton later connected on an 87-yard touchdown pass to Megatron,
Calvin Johnson
. Hill joins the Bears'
Jay Cutler
and
Todd Collins
as quarterbacks the Giants have knocked out of games this season.
Shut 'em Down
: The Giants' run defense continues to be lights out. Perry Fewell's unit held the Lions to 64 yards rushing. Rookie
Jahvid Best
had nowhere to run, much like Houston's
Arian Foster
the week before and Chicago's
Matt Forte
the week before that. The Giants came into the game having held the Texans and Bears to a combined 83 yards rushing.
Protect The Ball
: The Giants did a good job of not turning the ball over. Their only turnover was a fumble by rookie punter
Matt Dodge
, who lost the ball on his drop on the first punt attempt of the game. The Lions recovered but the Giants were able to keep the ball otherwise against a team that came into the game tied for first in takeaways.
Eli Manning
threw a few balls away instead of forcing passes. The Giants' defense also came up with a huge fumble recovery when the Lions were driving down 21-17 midway through the fourth.
Just Enough
: The Giants weren't spectacular on offense but they did just enough. Manning's numbers aren't overwhelming but he did throw two touchdowns. He wasn't sharp, and his best receiver was pretty much bottled up as
Hakeem Nicks
finished with just three catches for 8 yards. But Manning also re-connected with his favorite target,
Steve Smith
, on several short passes. He also hit
Mario Manningham
and
Travis Beckum
for touchdowns.
Run It To The Right
:
Ahmad Bradshaw
had a nice day, gaining 133 yards, with many of them coming while he ran on the right side. The offensive line opened up some huge holes for Bradshaw on that right side.
Brandon Jacobs
scored two touchdowns and now has a touchdown in three straight games.
Special Teams
: Dodge dropped the ball on his first punt of the game for the second time this season, but this time he lost it. After another shaky start, Dodge calmed down and punted better as the game progressed. He even unleashed a 59-yard punt in the fourth quarter and pumped his fist walking off the field. The Giants also had a new kicker on the field as they went with
Shayne Graham
after
Lawrence Tynes
was out due to an ankle injury. Graham had four extra points.
October, 16, 2010
10/16/10
2:15
PM ET
By
Matt Mosley
| ESPN.com
This is a weekly staple that allows readers to lash out against the author of the Beast blog. We recently topped the 10,000-letter mark, which is apparently a blog network record at ESPN.com and one that is being celebrated in Bristol, Conn., as we speak. You guys have been prolific this week, so let's get right to it:
Stephen from Philadelphia is concerned with something I wrote about in Friday's Final Word column:
Yeah,
Jared Allen
wore out
Doug Free
to the tune of ... one tackle over almost three quarters. I'm not pretending Free won't have problems -- I don't think Dallas can protect
Tony Romo
-- but the problem Dallas had in that game was
Ray Edwards
around the edge and both Minny's DTs DESTROYED the interior of the the Dallas OL (which I think they will do again), meaning Romo had no pocket to step up into. That was the problem, not Allen's one tackle, which actually came when
Jason Witten
was left one-on-one with Allen.
Mosley:
The NFC East blog has taken a blood oath not to blame any sacks on Witten or Eagles tight end
Brent Celek
, Stephen. But seriously, Free did struggle in that game against Allen, and that's been confirmed by his offensive line coach, Hudson Houck. He was thrown into a tough situation, so I don't think we should hold that against him. And, yes, I agree that Ray Edwards was the bigger problem because he was racing around a gimpy
Marc Colombo
. The Cowboys must try to establish a running game early to neutralize the noise factor in the Metrodome. This may be one of the best home-field advantages in the league. I'd put Arrowhead No. 1 -- even with all the fancy new additions. (Shoutout to Chiefs coach Todd Haley, who reads this column religiously despite his frustration that I never mention the playoff-bound Chiefs.)
---
Jakeem from Atlanta wants to talk NFL trivia:
Tony Dungy may be the only person in NFL history to make an interception and throw one in the same game. Do you know if this happened in the 1977 game against the Houston Oilers that you mentioned?
Mosley:
That's exactly when it happened, Jakeem. Dungy, a former college quarterback, was forced into the game against the Oilers when Terry Bradshaw and his backup were both injured.
Dungy was 3-of-8 for 43 yards
and two interceptions. And, yes, he also picked off the Oilers in that game. That's a point that Wade Phillips forgot to make when he was belittling Dungy's playing career Friday. I like Wade, but that was not a good moment for him. Dungy's paid to analyze teams and players for NBC. If he questions Tony Romo's leadership, it's not that big of a deal. And honestly, I have no problem with Phillips defending Romo. He just crossed the line with his petty commentary about Dungy's game against the Oilers in 1977.
---
Andrew from Dallas has a Cowboys-Redskins related question:
Why is it that when Dallas switched to the 3-4, Roy Williams (SS) was moved horribly out of position and never recovered, but Washington switches to the 3-4 and
LaRon Landry
, a very similar player, has a breakout year? I understand schemes are different, but shouldn't coaches adjust to the abilities of their better players?
Mosley:
I think we all waited for Williams to develop into a
John Lynch
/
Troy Polamalu
type player, but he just didn't have the awareness to be that type guy. Williams really benefited from playing with
Darren Woodson
in 2002 and 2003. When Woodson was forced into retirement because of a back injury, Williams' game immediately leveled off. He certainly had his moments in Dallas, but his limitations in coverage were too much to overcome. And I'm not sure how much passion he had for the game when you really get down to it. Landry's always had the talent, but it looks like Jim Haslett has finally tapped into it on a week-to-week basis. Playing Landry close to the line of scrimmage allows him to be more physical. The guy is an absolute beast to deal with near the line and he seems a lot more engaged than ever. I'll never understand why former defensive coordinator Greg Blache had him playing so far off the ball. But the arrival of Haslett could turn Landry into a perennial Pro Bowl player. He's playing that way right now.
---
Greg B from Philly is trying to settle a dispute with friends:
In regards to
your post
about [Eagles safety]
Nate Allen
, you referred to a Suplex tackle made by
Brian Dawkins
. I find it interesting because my friends and I were attempting to find out just last week who was on the receiving end of the tackle. We have two suspects, neither of which is
James Thrash
, who was on the Eagles at the time. But it is either 83
Cliff Russell
or 87
Rod Gardner
. If you could out who it was, that would help settle a large dispute we are having.
Mosley:
Greg, I recently watched video of Dawkins using the Suplex on then-Redskins receiver James Thrash in an '08 game. But he's had several such tackles during his career, so I wouldn't rule out any "suspects' at this time. Based on my exhaustive Google research Thursday while preparing a column on Allen, I ran across at least five Suplexes/body slams. I believe that Dawkins uses the version popularized by the Texas-based Von Erich family in the 1980s. Fritz Von Erich's "Iron Claw" is still used to settle disputes in remote parts of Kaufman County, Texas.
---
Devin from Sydney, Australia, wants to know what's up with John Clayton and his Power Rankings staff:
Matt, I've loved your analysis on the
Power Rankings
this year. Can you explain the rationale behind Houston -- on a two-game losing streak and looking worse in each -- having a higher ranking than the G-Men who are on a two- game winning streak, looking better each week and befuddled the Texans? It's time we get you on the panel.
Mosley:
Devin, ESPN.com removed me from the voting process two years ago, in part, because I begged for two years to be taken off the panel. It's much more fun to write a post each Tuesday poking holes in John Clayton's voting habits. If the Skins beat the Colts on Sunday, I fully expect The Professor to move them into the top five. But thanks for your support. ESPN.com has looked into having my blog syndicated in Sydney. If it makes you feel any better, the Giants would likely rank No. 1 in my NFC East power rankings, which don't currently exist. I want to see how the Giants' linebackers play against Lions running back
Jahvid Best
tomorrow. I know Best has been banged up, but I think he'll still pose a serious threat. If this game's close, watch out for this
Shayne Graham
situation at kicker. He wasn't on his game last season for the Bengals (by his standards).
Thanks again for your wonderful e-mails and threats. I'm headed out to the Ballpark in Arlington to see if the Rangers can recover from last night's heartbreak. Then it's on to Minneapolis, where that Viking horn sound goes off every 15 seconds -- especially when the Vikes are playing the Cowboys.
October, 15, 2010
10/15/10
4:00
PM ET
By
Matt Mosley
| ESPN.com
»
NFC Final Word
:
East
|
West
|
North
|
South
»
AFC
:
East
|
West
|
North
|
South
Five nuggets of knowledge about the Week 6 games:
[+] Enlarge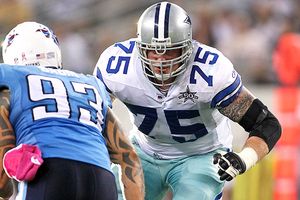 Matthew Emmons/US PresswireDallas tackle Marc Colombo has a difficult matchup this week against Minnesota's Ray Edwards.
Can the Cowboys' offensive line hold up against the Vikings?
We all know what happened the last time the Cowboys were in the Metrodome. Vikings defensive end
Ray Edwards
abused right tackle
Marc Colombo
and All-Pro
Jared Allen
wore out left tackle
Doug Free
in a divisional round playoff game in January. You'll recall that Free was forced into that game when
Flozell Adams
went down with an injury. I think Free will bounce back from a poor game against the Titans and play well against Allen. But the problem with Colombo last season was that he wasn't getting off the snap quickly enough because of the crowd noise in the Metrodome. The Cowboys have worked on their silent counts this week and feel like they're better prepared this time around. Starting center
Andre Gurode
has a degenerative condition in his knee and will likely be a game-time decision. I think he'll be ready to go, but if not, left guard
Kyle Kosier
would be his replacement.
Montrae Holland
would take over at left guard.
The Redskins must diversify their passing game against Colts.
Washington tight end
Chris Cooley
and wide receiver
Santana Moss
are on pace to have career seasons. That's good news for fans, but at some point, there must be more diversity in this offense.
Anthony Armstrong
made a huge play in the fourth quarter against the Packers, so perhaps he's a candidate to be targeted. But right now, I think the Redskins are too easy to defend. The Colts have unbelievable pass-rushers in
Dwight Freeney
and
Robert Mathis
, but the Skins could counter some of their speed by running right at them. With
Trent Williams
back at left tackle, I think this is a game where the Skins needed to pound the running game like they did against the Eagles. But when they must pass, someone other than Moss and Cooley must step forward. Does anyone know what's happened to
Fred Davis
? This was supposed to be one of the best tight end tandems in the league, but Davis' season hasn't gotten off the ground.
Giants need to put the Lions away early.
The
New York Giants
must assert their dominance early in Sunday's game against the
Detroit Lions
. Tom Coughlin has made the Lions out to be world beaters, but we know the score. Rookie running back
Jahvid Best
can burn a defense if he's allowed to have any cutback lanes. I think middle linebacker
Jonathan Goff
, who has been impressive so far this season, will have some one-on-one situations against Best. Lions wide receiver
Calvin Johnson
is one of the toughest covers in the league. I think you'll see
Corey Webster
on him initially with some help over the top from
Kenny Phillips
. The Giants will try to make the Lions one dimensional from the start. Same thing they did against the Texans last week.
The Eagles have a huge opportunity against the Atlanta Falcons.
It sort of feels like Atlanta's the best team in the NFC almost by default. Quarterback
Matt Ryan
's playing really well and the Falcons also have an excellent running game. The Eagles were gashed in the running game by the
Washington Redskins
, and I assure you that Falcons coach Mike Smith will try to do the same thing. With
Brodrick Bunkley
(elbow) out for this game, the Eagles must do a good job of gang tackling. We saw what happened to
Quintin Mikell
when he tried to challenge Washington's
Ryan Torain
in the open field. Atlanta's
Michael Turner
can't be allowed to get in a lot of those one-on-one situations. On offense,
Kevin Kolb
must be smart with the football while playing behind a patchwork offensive line. Andy Reid thinks left tackle
King Dunlap
will play better with a week of practice under his belt, but I have my doubts. Reid better make sure Dunlap has a lot of help.
Can Randy Moss make the Cowboys pay -- again?
No one loves lighting up the Cowboys more than Randy Moss, whom Jerry Jones passed on in the 1998 draft (along with several other teams). With a full week of practice under his belt, Moss could be very dangerous against the Cowboys. Look for him to try to beat the Cowboys on a vertical route early in this game. The Cowboys have struggled against the vertical routes, as evidenced by losses to the Bears and Titans. This is not a smart defense right now, and
Brett Favre
and Moss will look to make them pay. And I don't believe for a second all this nonsense about Favre not playing because of tendinitis. This is panic time for both teams, and Favre's come too far and had too many unretirements to sit this one out.
September, 20, 2010
9/20/10
12:27
AM ET
By
ESPN.com staff
| ESPN.com
September, 19, 2010
9/19/10
8:07
PM ET
By
Matt Mosley
| ESPN.com


What it means:
The
Philadelphia Eagles
overcame a 17-7 deficit to
beat the Lions 35-32
on the road. We still don't know what to make of this team, but it was good to see them overcome some adversity to get to 1-1. This offensive line is an absolute mess, so it's not like
Kevin Kolb
will return to a calm situation. And his backup's solid performance isn't going to make it any easier.
Tomorrow's talker:
Kolb remains the starter, but everyone will be talking about
Michael Vick
's performance. He won this game for the Eagles. Even though the Lions sacked him several times, he extended a lot of plays with his legs and delivered excellent passes. Vick never lost his poise and tried to press things when the Eagles fell behind. He played like the veteran quarterback he is and that's why he'll be a starter somewhere in the NFL next season. Should he remain the starter for the Eagles? I don't think so.
Goat:
Once left tackle
Jason Peters
suffered an ankle injury, the Eagles were in a world of hurt up front. Kolb can move around but he obviously won't be able to race around as much as Vick. I think everyone on defense deserves some blame for Lions rookie
Jahvid Best
having such a huge day. I noticed
Brodrick Bunkley
getting stopped at the line of scrimmage a time or two and it looked like
Omar Gaither
had a tough time shedding blockers on some of those Best runs and catches.
What I didn't like:
The Eagles fell asleep at the wheel with a big lead. Good teams don't let that happen. The Lions have enough talent at the skill positions to make some big plays and the Eagles should have shut the door.
What's next:
If you can beat the Jaguars on the road to get to 2-1, then you have the huge
Donovan McNabb
homecoming the following weekend. All eyes will be on Kevin Kolb this week as he prepares to relaunch his season. Hopefully he has put that first half out of his mind.
August, 27, 2010
8/27/10
1:00
PM ET
By
Matt Mosley
| ESPN.com


The Detroit Lions' Jahvid Best and the Dallas Cowboys' Felix Jones are young and talented but injury prone running backs. Which potential sleeper is poised to make a bigger impression in the league and take a leap toward fantasy stardom: the rookie Best or Jones, who enters his third season as a pro? Matthew Berry and Christopher Harris discuss.
February, 23, 2010
2/23/10
3:22
PM ET
By
Matt Mosley
| ESPN.com
In a perfect world for the
Philadelphia Eagles
, running back
LeSean McCoy
would have spent at least two seasons serving as
Brian Westbrook
's understudy. Westbrook, the ultimate professional, wasn't able to participate in the 2009 training camp at Lehigh but he made sure his roommate, McCoy, knew exactly what was expected of him.
[+] Enlarge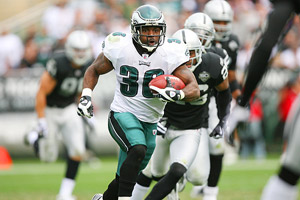 Hunter Martin/Getty ImagesThe Eagles lost another veteran leader when they released Westbrook.
That tutorial program came to an abrupt halt Tuesday when the Eagles announced the release of Westbrook after eight seasons. McCoy will have to take it from here. And honestly, no one should be shocked at the news of Westbrook's release at age 30. He only played in eight games last season because of two concussions, and his production dipped remarkably when he was on the field. The Eagles owed Westbrook more than $7 million in 2010, and there's simply no way to justify paying that type of money to a player with so many injury risks.
Westbrook's career in Philly may have ended abruptly, but he gave the Eagles some brilliant seasons. He doesn't have a long list of Pro Bowls (two) next to his name but his stamp on the organization is undeniable. For a long stretch, he was the Eagles' most dangerous weapon. His ability to hurt you as a ball carrier or a receiver made him a rare player in the league. His destruction of the Giants late in the 2008 season -- namely
Antonio Pierce
-- caused general manager
Jerry Reese
to sign free-agent linebacker
Michael Boley
. Westbrook's presence alone affected defensive coordinators because they always had to account for him.
Westbrook will think long and hard before putting on his helmet again for another team. He expressed his fear of being affected by head injuries on a long-term basis. That may end up overriding his desire to continue in the NFL. This is a very prideful man, so he's not going to be happy getting seven or eight touches per game as a third-down back. And it's hard to imagine a team seeing him as anything more than that given his injury history. The Redskins could give him a spin, but I'm not sure pairing
Clinton Portis
with Westbrook is a good idea. OK, I
know
it's not a good idea.
The Eagles have lost another excellent leader in the locker room. It's one thing to replace
Brian Dawkins
and Westbrook on the field, but it's another to account for their veteran leadership. McCoy showed signs of being a dangerous runner last season -- especially when Andy Reid planned for him to be in the lineup. This is, above all, a financial decision but it's also a statement that McCoy needs to become the focal point of the running game -- or what passes for one in Philly.
The Eagles will likely select another running back in April's draft. And there's also some veteran options with
Chester Taylor
and
LaDainian Tomlinson
. Taylor probably has more in the tank because he hasn't taken the same type of pounding as Tomlinson. But my best guess is the Eagles will try to find a complementary back to McCoy in the draft. Keep
DeSean Jackson
's former teammate
Jahvid Best
in mind. Best will have
to undergo rigorous medical testing
at the combine because of a scary injury that took place last November.
Leonard Weaver
's ability as a runner and receiver gives the Eagles some flexibility that other teams don't have. This is a sad day for Eagles fans, but it's something they had to see coming. The NFL is a young man's game and we're hit in the face with that fact every now and then.
Tuesday was one of those days.
NFC EAST SCOREBOARD
Sunday, 10/26
Monday, 10/27