September, 29, 2013
Sep 29
10:48
PM ET
NASHVILLE --
Muhammad Wilkerson
knocked
Tennessee Titans
quarterback
Jake Locker
out of the game in the third quarter with a potentially serious hip injury, but the
New York Jets
' defensive end insisted it was a clean hit. He said one of the officials told him so.
Wilkerson
"If it was late, they would've thrown a flag," Wilkerson said after the Jets' 38-13 loss at LP Field. "They didn't throw a flag. The ref told me it was a clean hit. I took my one step and that was that."
On the CBS telecast, analyst Dan Dierdorf said Wilkerson struck Locker in the chest with the crown of his helmet. If the league sees it that way, Wilkerson likely would be fined.
Locker absorbed the blow and fell awkwardly, immediately clutching his right hip. He was motionless on the ground, silent, on his back. Nearby, defensive end
Sheldon Richardson
dropped to one knee.
"I always say a prayer when guys go down like that," Richardson said.
The Titans didn't waste any time, immediately summoning for medical help. He was carted off the field, giving a thumb's up as he left. The Titans gave no immediate update, except to say X-rays were negative.
In two-plus quarters, Locker (18-for-24, 149 yards) torched the Jets, throwing three touchdown passes -- a career high.
August, 8, 2013
Aug 8
3:00
PM ET
Three things to look for in the Titans game against the Redskins tonight at LP Field:


Jake Locker's command:
The third-year quarterback's practice work has improved recently, but I've noticed some slow starts. I imagine offensive coordinator Dowell Loggains will make an effort to get Locker started off with some easy completions that get the offense into a rhythm. Another thing we should watch is how he fares throwing to his left, where he's looked more comfortable, as compared to throwing to his right. Expect some deep shots in this game. See the third entry below.
How does Akeem Ayers line up?
The strongside linebacker is going to be used on the line of scrimmage a lot. Sometimes he'll even be a defensive end with his hand in the ground. Is he equally good out of both stances? Does he stay out in space much, if at all? Ayers is a key piece to the Titans' defense this season. Here is the first glimpse in a game setting at how they will deploy him, how an offense will react to him, and how he will produce.
Justin Hunter:
Hunter was part of the University of Tennessee receiving corps that shredded NC State last year in the opening week of the college football season, victimizing cornerback
David Amerson
, among others. Amerson is now a rookie member of the Redskins' secondary. Hunter has gotten an earful from Titans defenders and his position coach, Shawn Jefferson, throughout camp but has shown a great ability to go up and get the ball in practices. The Titans hope he'll be on the end of a big play from Locker or
Ryan Fitzpatrick
tonight.
April, 22, 2013
Apr 22
9:52
AM ET
Our man Todd McShay has
re-worked his latest mock draft

to reflect Sunday's
Darrelle Revis
trade, and there are changes throughout. This is a first-round-only update, so sorry, Redskins fans. We'll catch up with you a little bit later in the day. As for the fans of the other three NFC East teams, here are Todd's latest picks and my thoughts. Which I know is why you're here, after all. Right? Right????

4. Philadelphia Eagles
:
Lane Johnson
, OT, Oklahoma.
In this mock, the top two tackles (
Luke Joeckel
and
Eric Fisher
) go to Kansas City and Jacksonville with the first two picks and the Raiders take defensive tackle
Sharrif Floyd
at No. 4. So Todd gives the Eagles Johnson, who seems to be a fast riser and has been identified by draft analysts as a good fit with Chip Kelly's offense due to his athleticism. (Never gets old, right?) And while I have no issue with the Eagles going offensive tackle at No. 4, this feels high for Johnson with defensive guys like
Dion Jordan
and
Star Lotulelei
still on the board. If Fisher or Joeckel is there, I think they'll bite. But if those guys are gone, I'm thinking defense for the Eagles at No. 4.

18. Dallas Cowboys:
Sheldon Richardson
, DT, Missouri.
Look. Basically, I've decided I'm not going to believe in this historic first-round run on offensive linemen until I see it. Todd has six offensive linemen being taken in the top 15, which has not happened since 1966. And while I acknowledge that this is a somewhat unique draft devoid of
Andrew Luck
/Robert Griffin III/
Trent Richardson
-type skill position talent at the top, I still feel like somebody's going to draft a quarterback or two earlier than we think they should. Three days before the 2011 NFL draft, you couldn't find a mock that had
Jake Locker
,
Blaine Gabbert
and
Christian Ponder
all going in the top 12, and yet there they all went.
Some of the teams drafting in the first half of the first round are doing so every year, and you don't become one of those teams by making good decisions on draft day. The Cowboys need an offensive lineman badly in the first round, and while I respect the heck out of Todd's work and Mel Kiper's work, I'm leaning on history for my belief that one of the top six offensive linemen will be there for Dallas to take at 18. If not, absolutely a three-technique defensive lineman is a great pick here as long as they're going to grab a guard in Round 2. I just don't think it comes to that.

19. New York Giants:
D.J. Hayden
, CB, Houston.
Well, here's a new name for the Giants. I like what Todd's doing here, applying a big pile of history that tells us the Giants don't like to take linebackers and offensive linemen in the first round and identifying a position they
do
, historically, consider worthy of a first-round pick. In this mock, Hayden is the third defensive back off the board, following Alabama corner
Dee Milliner
(to Tennessee at 10) and Texas safety
Kenny Vaccaro
(to St. Louis at 16). I don't know how the Giants have him rated vis-a-vis guys like
Desmond Trufant
and
Xavier Rhodes
, but in no way should anyone be surprised if they take a cornerback here.
July, 6, 2012
7/06/12
11:38
AM ET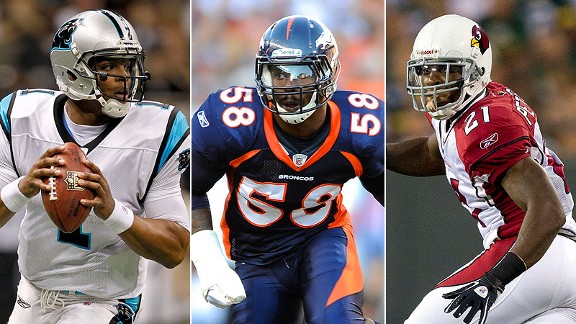 US PresswireCam Newton, Von Miller and Patrick Peterson all contributed right away during their rookie seasons.
There were doubts, this time last year, about
Cam Newton
as the No. 1 pick, about Newton as an NFL-ready starting quarterback, but they were all external. In the offices of the
Carolina Panthers
, who had taken Newton with the first pick in the draft, any and all doubts were outlawed. Newton was their guy, and they were all-in on him. After a rookie season in which he threw for 4,051 yards, ran for 706 and totaled 35 touchdowns, they have no regrets.
"He brings so much to you -- his accurate passing, his mobility, his leadership, his desire to win, his approach to the game, his enthusiasm for the game and his desire to be the best," Carolina general manager Marty Hurney said in March at the NFL owners meetings. "That all combines into an excellent young quarterback with a future that has tremendous upside."
Upside is one thing, but Newton is pretty good right now. If you don't think that's important in today's NFL, look around. We asked 20 coaches and general managers at the owners meetings which player 25 years old or younger they'd like to have on their team, and we got 13 different answers.
Newton got the most votes in this incredibly informal and unscientific poll, with four. Denver linebacker
Von Miller
, who went second in last year's draft, got three. 2011 rookies
Patrick Peterson
of Arizona and
Torrey Smith
of Baltimore were each named twice.
But the more interesting names are those of the players whose draft slot isn't fresh in everyone's mind. One general manager named
New York Giants
wide receiver
Hakeem Nicks
, who is only 24 yet has established himself as one of the best and most reliable receivers in the league.
Philadelphia Eagles
running back
LeSean McCoy
, named by one coach, turns 24 next week. Lions quarterback
Matthew Stafford
, who surpassed 5,000 yards passing in 2011, is only 24. And when one coach picked
Baltimore Ravens
running back
Ray Rice
, it was startling to realize he is only 25. Some of these guys seem as though they've been dominating the league for years, and it's no accident.
"I think the game is getting younger," said Texans coach Gary Kubiak, who picked his 2011 first-rounder,
J.J. Watt
. "These kids that are drafted nowadays, they're playing right away and contributing right away. They just seem to be a little more mature and caught up and ready to go now than maybe back a few years ago. Nowadays, with the cap and the way teams change, when you get a guy in the first round or early in the second round, he's going straight on the field."
The 32 players picked in the first round of the 2011 draft played an average of 13 games in the 2011 season. That counts those who missed time because of injury, such as
Prince Amukamara
, and project quarterback
Jake Locker
, who played sparingly in only five games. Half of those 32 players started at least 14 games as rookies, and 10 started all 16.
What this tells you is that when you evaluate a player you're considering taking in the first round, you're asking yourself all of the normal questions about whether he can play, learn, behave and lead, and you're also asking whether he can do it
right away
.
"I think the way the system is, or the way the system has been, you have to play your young players," Chiefs coach Romeo Crennel said. "We have the salary cap, and with the rookie contracts, if you don't play a guy, then you end up losing a guy when he becomes a free agent. And then you just trained him for somebody else. So you might as well get some value for him while you've got him, and that's why I think a lot of the young guys have been put into the fire sooner."
What it has done is put a premium on figuring out if that young, talented college stud you're considering has what it takes, mentally and physically, to handle what the NFL throws at him while he is still young. That's why pre-draft interviews have become such a major part of the process. No longer are teams willing to use those first-round picks on raw talent they think they can develop. There's no time to develop them. A first-round pick has to be the whole package. Like Newton in Carolina. Or Miller in Denver, who was (no surprise) the pick of Broncos coach John Fox.
"First of all, he's got a lot of God-given ability," Fox said of Miller. "He's very explosive, strong for his size, got good flexibility. That combination of explosiveness and flexibility makes him pretty dynamic as a pass-rusher. And the fact that he's a good young man and he's not afraid to work hard. He wants to do it."
So in other words, NFL teams don't want much out of their young players these days -- just everything.
"It's a young man's game," Fox said. "There's no question that you need any influx of young players. You see it with every team, and the teams that are doing well are the teams that are getting production from that 25-and-under group -- young guys, but already kind of established. And I don't think that's going to change any time soon."
April, 21, 2011
4/21/11
10:22
AM ET
By
ESPN.com staff
| ESPN.com
Dallas Cowboys
The
Dallas Morning News' Rick Gosselin
on the Cowboys in the draft: "You can always bank on Jerry Jones looking to trade out. That's his history; he doesn't want to draft; he doesn't want that pick; he'd rather have quantity than quality."
SI.com's Don Banks isn't pleased with what he calls the NFL's "
love affair
" with the Cowboys.
New York Giants
NFL commissioner Roger Goodell
spoke for 30 minutes on Wednesday
with Giants season-ticket holders.
Philadelphia Eagles
Eagles general manager Howie Roseman
discusses his approach
in working a draft that precedes free agency.
The Eagles are following the lead of the Giants in allowing season-ticket holders the chance to
defer the second half of their ticket payment
until the league announces there will be a season in 2011.
Washington Redskins
The
Washington Post's Mike Jones
on some of the quirks that go along with holding a minicamp with only 30 players: "The circumstances weren't perfect. At times defensive lineman Kedric Golston lined up at free safety to help out free safety Macho Harris, and at one point, nose tackle Ma'ake Kemoeatu went on a pass route so linebacker Rob Jackson had someone to cover."
Is Jake Locker a good fit for the Redskins?
Two NFL analysts
seem to think so.
April, 14, 2011
4/14/11
10:22
AM ET
By
ESPN.com staff
| ESPN.com
April, 3, 2011
4/03/11
1:30
PM ET
The push is on for
Michael Huff
to sign with the
Dallas Cowboys
when the lockout ends.
There is a lot of dot connecting that could make Dallas a prime contender to sign Oakland's free-agent safety. Huff is from the Dallas area and he played at the University of Texas. The Cowboys need a safety and Huff played for new Dallas defensive coordinator Rob Ryan early in his career with the Raiders.
Huff recently acknowledged the thought of going to Dallas to the
Fort Worth Star-Telegram
while he attended Texas' pro day.
"That's home, but you never know what's going to happen," Huff said. "I've got to want to go there, but they've got to want me. There are a bunch of things that go into the process."
Huff, who made some strides in 2010, said that he wanted to play for a winner. The Raiders look to be headed in the right direction after going 8-8 in 2010.
"[Winning is] the only thing," Huff said. "Being here [at Texas], you get spoiled. You win all the time here and then you go there and have some tough years. Getting that Super Bowl ring is something they can never take away from you, like they can't take away the national championship ring. That's the next step, and I look forward to it."
Huff could always return to the Raiders, but it sounds like he's, at least, interested in testing the market.
Meanwhile,
Pat Kirwan of NFL.com believes
the Raiders could be a good fit for Washington quarterback Jake Locker. Oakland would likely have to trade up from No. 48 to grab Locker.
March, 18, 2011
3/18/11
12:00
PM ET
By
Matt Williamson, Scouts Inc.
| ESPN.com
Scouts Inc.'s Matt Williamson examines the biggest weakness of each NFC East team and offers some potential solutions.
[+] Enlarge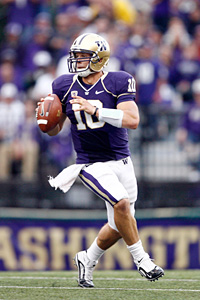 Joe Nicholson/US PresswireJake Locker has the athleticism that Redskins coach Mike Shanahan covets in a quarterback.
The Redskins' quarterback situation is a nightmare. I am assuming that
Donovan McNabb
will be elsewhere in 2011.
Rex Grossman
has a place in this league, but his erratic nature makes him too difficult to count on as a week-to-week starter at such an important position. Grossman is also a pending free agent, although returning to Washington seems like a natural fit. It isn't a re-signing that I would object to.
But the Redskins have to look elsewhere for their long-term quarterback. That takes us to the draft. Maybe the aggressive Redskins front office would put a package together to move up several spots from their 10th position to land Missouri's
Blaine Gabbert
or more likely, Auburn's
Cam Newton
. But with a wealth of needs (I could have picked many different positions for this post), I just can't see putting the resources into moving up.
It isn't Washington's style, but moving backward on draft day would be the prudent move. The Redskins are supposedly very interested in Washington's
Jake Locker
, who has a skill set very similar to what Mike Shanahan looks for in a quarterback.
I could certainly see Shanahan and company being smitten with Locker. In a way, he is a combination of
Jake Plummer
and
Jay Cutler
. Locker moves very well. He is the strong, athletic type of passer who is needed for Shanahan's offense, both with designed quarterback movement and with his ability to get the ball deep downfield. If Washington could move down maybe ten spots in the draft, accumulate picks for other needs and land Locker if they so desire, I would be fine with that. But I wouldn't condone using the 10th overall selection on Locker. It might be better to take a top prospect at No. 10 and then put a package together to move back into the late first round for Locker.
The Redskins could wait even longer and draft a physically impressive prospect like Nevada's
Colin Kaepernick
while really working on other areas of the team. Then they would let Grossman steer the ship for a season while Kaepernick learns. Of the veteran quarterbacks available, there isn't a guy I see as a good fit in terms of upside and what Shanahan wants from the position. The Redskins roster is such a mess that going young might be the right decision as part of a total rebuilding project.
Scouts Inc. watches games, breaks down film and studies football from all angles for ESPN.com.
January, 27, 2011
1/27/11
11:00
AM ET
By
Matt Mosley
| ESPN.com
University of Washington quarterback
Jake Locker
would have likely been a top-10 pick in the NFL draft had he left school following his '09 season. It was a costly decision from a financial standpoint because he appeared to regress this past season. But Locker
insists that he doesn't have any regrets
.
"Oh, I had guys who've been life-long friends of mine tell me, how could I ever. . . advise him to make a terrible decision like that?" said Locker's father, Scott Locker to the Washington Post. "People just have their own opinions about what's important in life."
By all accounts, Locker has been pretty inconsistent this week during Senior Bowl practices in Mobile, Ala. I've read quite a few reports, but the harshest came from
former Cleveland Browns
college scout Russ Lande, who now writes for Sporting News.
"I think Jake Locker hurt himself, I really do," writes Lande. "There's no question physically that he's got all the tools. He's got good mechanics, but his accuracy is terrible. I know I spoke to a coach today to get his opinion and he said if a guy's mechanics are good and he's smart enough, but his accuracy stinks then there's not a lot you can do. You're pretty much saying that you're always going to have an inaccurate thrower. And if you can't be accurate, you cannot be a quarterback in the N.F.L. I think Locker hurt himself a lot this week."
Good talk, Russ.
I think Locker still has time to turn this thing around, but he certainly needs to have a better showing at the combine. It's never good when scouts are saying your mechanics are fine, but you're not hitting moving targets. I'm pretty sure Mike Shanahan was a Locker fan at this time last year, but that may have changed.
Cam Newton
's still more of a project than Locker, but he does seem to have a much higher ceiling.
January, 24, 2011
1/24/11
7:17
PM ET
By
Matt Mosley
| ESPN.com
Washington Redskins
coach
Mike Shanahan
and his coaching staff won't be stopping by the Senior Bowl practices in Mobile, Ala.,
according to The Washington Post
. You would think Shanahan might want to take a look at the quarterbacks in this draft up close, but he'll apparently leave that up to his scouts.
Rick Maese of The Post thinks the Skins will be focused on Washington quarterback
Jake Locker
, but he also brought up Baylor defensive tackle Phil Taylor. I had a chance to see Taylor in person at least six times this season and he was one of the most improved players in the Big 12.
He was a disappointment his junior season after transferring from Penn State, but he was dominant at times during his senior year and helped lead Baylor to its first bowl game in 16 years. I also know the Eagles and Giants have watched a lot of film on Taylor.
We'll be talking to scouts in Mobile throughout the week, so let me know if there are certain players you'd like to read about. Here are the
2011 Senior Bowl rosters.