March, 25, 2013
3/25/13
10:14
AM ET

Over the weekend, the news broke that free-agent tackle
Sebastian Vollmer
had agreed
to re-sign with
the
New England Patriots
. Not a huge surprise, but Vollmer's was a name we heard connected with the
Philadelphia Eagles
early in the free-agent period, and I know some Eagles fans were excited about the possibility of signing Vollmer for right tackle and moving
Todd Herremans
inside to guard. With Vollmer and
Jake Long
off the market,
the top available tackle
is
Andre Smith
, and the popular belief seems to be that he's headed back to Cincinnati.
Now, the Eagles have the cap room to sign anyone they want to sign, so if they wanted Vollmer or Smith it's likely they'd have them. Or at least that there would have been some drama around their ultimate decisions. It could still happen with Smith, I guess, but the lack of noise in this case likely indicates a lack of serious interest. And as for free-agent guards, the top one available is the Jets'
Brandon Moore
, and after that
our free-agent tracker
drops all the way down to
Jake Scott
, who was most recently an Eagle himself.
So the upshot is that the Eagles don't seem to be pursuing free-agent offensive line help too intensely, possibly in the belief that a full return to health by all of last year's injured starters will be enough or possibly because they plan to draft a new starter with the fourth overall pick in the draft (or the 35th, which isn't a ridiculous idea, either). Most of their free-agent efforts so far have focused on the defensive side of the ball, where their needs were most glaring. But one of last year's many painful lessons in Philadelphia was about the importance of offensive line depth, and so Eagles fans are justified in hoping that there is some sort of plan to fortify that right side. There is time, and there may be a surprise or two still to come. But at this point, things appear to be quiet with the Eagles and the offensive line.
March, 19, 2013
3/19/13
5:38
PM ET
PHOENIX -- The reason the
Philadelphia Eagles
were active in the early days of free agency wasn't that they set out to be aggressive but rather that they found prices that pleasantly surprised them. So said GM Howie Roseman on Tuesday at the owners' meetings. Roseman cited cornerback
Cary Williams
and pass-rushing linebacker
Connor Barwin
as two of the players whose deals he felt were low-risk for the team, and he indicated that the approach would continue.
Per Geoff Mosher
:
The Eagles can still afford to upgrade their offensive line and find another five-technique defensive end for their 3-4 defensive scheme, but Roseman on Tuesday indicated that he's not looking to spend on patchwork talent.

"Most importantly, I don't see a circumstance where we get someone that we think is just a one-year guy," he said from the Arizona Biltmore lobby at the NFL's annual owners meetings. "Anything we do at this point would be someone who we think has a future as we build this program, because that's where we are now."
If they sign another big name, it likely would be one of the free-agent offensive tackles near the top of the market -- Cincinnati's
Andre Smith
or New England's
Sebastian Vollmer
. But since the top tackle,
Jake Long
, didn't sign until just a couple of days ago, that market has been slow to develop. If it develops in the Eagles' favor, Smith or Vollmer would fit the description of a longer-term solution (as opposed to
Eric Winston
, who likely would not). But the point Roseman seemed to be trying to make was that the Eagles aren't looking to spend simply because they have cap room.
I think they ought to be players for the tackles as acquiring one would allow them to move
Todd Herremans
inside to guard and strengthen and deepen their offensive line overall. After last year, when they lost four starting linemen to injury, the Eagles have to be conscious of the importance of quality depth there. Of course, there's also the chance they could take a tackle with the No. 4 pick in next year's draft.
March, 13, 2013
3/13/13
11:02
AM ET
Four of the five signings the
Philadelphia Eagles
announced Tuesday were on the defensive side of the ball, where they need the most help. But they have an issue on the offensive line as well, and they appear interested in doing some big-name shopping for an offensive tackle. Sources say the Eagles are looking at the tackle market, that they had some interest in
Jake Long
but appear unlikely to sign him, and that they will take a look at former Bengals tackle
Andre Smith
and former Patriots tackle
Sebastian Vollmer
.

Smith and Vollmer were right tackles in their previous stops, and the right side of the line is where the Eagles have a need. Assuming left tackle
Jason Peters
recovers from last summer's Achilles injuries as they expect him to, they could sign a free-agent right tackle and move
Todd Herremans
inside to guard to replace the disappointing
Danny Watkins
.
Pro Football Focus ranked Smith as the top right tackle and the No. 4 overall tackle in the league last year. Vollmer ranked as the fourth-best right tackle and 13th-best overall. If they're both hitting the market with expectations for right-tackle money, as opposed to the left-tackle money Long is likely to get, they'd jive with the Eagles' apparent desire to play on the second tier of the market at key positions. Though it is worth mentioning that the Eagles' most likely starting quarterback in 2013 is left-handed
Michael Vick
, so the right side of the offensive line is his "blind side."
Adding a tackle in free agency would help the Eagles' depth and versatility on the offensive line, which crumbled last year as it lost four starters to injury. And if they're worried about Peters being able to come back, they might have the ability to draft a franchise-caliber tackle with the No. 4 pick in next month's draft. Whoever the Eagles' quarterback is in 2013 and in years beyond will need a quality offensive line in front of him, and there's no team in the league that learned that lesson in more difficult fashion than the Eagles did in 2012.
If you look at
the tackle page

of our ESPN.com free-agent tracker, you can pick through and find some other names in which you would like the Eagles to have interest.
Eric Winston
, recently cut by the Chiefs, is another possibility for right tackle. But Smith and Vollmer are the cream of the still-available crop, and if the Eagles are checking them out, that means they're serious about addressing their offensive line.
November, 23, 2011
11/23/11
4:00
PM ET
The
Dallas Cowboys
will host the
Miami Dolphins
in their annual Thanksgiving Day game on Thursday afternoon. Each team comes in having won three games in a row. The Cowboys edged the division-rival Redskins in overtime on Sunday to claim a share of first place in the NFC East. And the Dolphins have really turned it on after their 0-7 start, outscoring their last three opponents by a combined score of 86-20. Here's a look at some of the things to watch for as the Cowboys try to make it four in a row against one of the hottest teams in the league:
Air it out
: The Dolphins' defense is allowing 251.1 passing yards per game this year, which is the eighth-highest average in the league. Now, during their current three-game winning streak, they're only allowing 206 passing yards per game. Their defense is playing better, especially up front. But they can still be exploited in the secondary, and none of the teams they've beaten -- Kansas City, Washington or Buffalo -- came equipped with the kind of downfield weapons the Cowboys and
Tony Romo
have at their disposal. While the Cowboys have shown, since rookie
DeMarco Murray
took over as the starting running back, a commitment to the run, I'd look for them to take some deep shots against a weak part of this Miami defense and see if they can build an early lead.
[+] Enlarge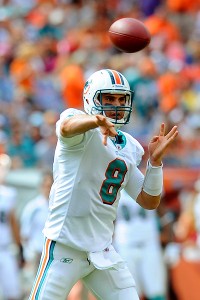 Steve Mitchell/US PresswireDuring the Dolphins' three-game winning streak, Matt Moore has thrown six touchdown passes and just one interception.
Make Matt Moore uncomfortable:
The Dolphins' quarterback has played very well in recent weeks, throwing six touchdown passes and one interception during the win streak. Miami has managed to get big production out of running back
Reggie Bush
to take some pressure off of Moore, and he's worked tight end
Anthony Fasano
into the receiving mix to complement the big, physical downfield presence of wide receiver
Brandon Marshall
. But Moore isn't likely to find the going so smooth if the Cowboys can get into the backfield and disrupt his timing.
DeMarcus Ware
should be moved around some in this game so he gets to attack the
Marc Colombo
side of the Dolphins' offensive line as well as the
Jake Long
side. It's on the Colombo side, Cowboys fans will not be surprised to learn, that they're most vulnerable.
The Fiammetta factor
: With fullback
Tony Fiammetta
sidelined due to illness last week, Murray and the run game weren't as effective as they had been in the previous four games. That's not to say Murray wasn't good. His prior four games were a lot to live up to. But with Fiammetta out, there was a clear difference in Murray's effectiveness when running between the tackles. It looks as though Fiammetta will sit out again, so watch the Dolphins stack up eight-man fronts to try and take away Murray or at least dare him to try and run inside.
Is Sean Lee all the way back?
: The Cowboys were the best defense in the league against the run in the early part of this season. Then, starting with the injury to middle linebacker Lee in the loss to the Eagles, they struggled against the run for a few weeks. Was their improvement in this department Sunday because the Redskins' run game is so poor, or because Lee is getting more comfortable playing in spite of his injured wrist? The Dolphins, with Bush and rookie
Daniel Thomas
leading their run game, will offer a more reliable test.
Home for the holiday
: Romo is 4-0 in his career on Thanksgiving Day. He missed last year's game due to injury, but he and the Cowboys are thought to have an advantage here because they play a Thanksgiving game every year and are experienced in how to handle the short week. They're also at home, and playing with extreme confidence. While they can't take the suddenly red-hot Dolphins lightly, they have what they need to establish themselves as the better team early and control the game.
June, 14, 2011
6/14/11
2:04
PM ET
Latest Power Rankings are up, and keeping with what seems to have been the theme of the past week, it's the league's
top 10 left tackles
. Nice close race at the top between
Jake Long
of the Dolphins and
Joe Thomas
of the Browns, but that means little here in the NFC East until those guys become free agents, doesn't it?
Peters
The only NFC East tackle who made the top 10 was the
Philadelphia Eagles
'
Jason Peters
. I ranked him sixth on my list and he finished seventh overall, named on seven of the eight ballots sent in by our crack team of division bloggers. Peters was a huge disappointment in his first season in Philly in 2009, but he got himself in shape and returned to his old Pro Bowl-level ways in 2010. Some suggest he wasn't
really
playing left tackle, since the Eagles were using a left-handed quarterback and Peters therefore wasn't protecting his blind side. I say show me the film breakdown that proves that holds up. Regardless of which way his ever-scrambling quarterback was looking, Peters played at an elite level in 2010 and, given his body of work, belongs on the list.
The only other NFC East tackle who got votes was the Cowboys'
Doug Free
, who impressed a lot of people in his first year on the left side but isn't yet thought of by most as an elite guy. Free was named on two of the eight ballots, by Tim Graham of the AFC East and Kevin Seifert of the NFC North, and finished 13th in the voting. If he has another year like the one he just had, and we're doing this list again next year, I predict he'll fare much better.
Washington rookie
Trent Williams
and declining Giants veteran
David Diehl
were shut out in the voting, as you might expect. But I predict big things for Williams on these kinds of lists in the future. Every scout and coach I talk to say he has all the makings.
June, 14, 2011
6/14/11
8:00
AM ET
Happy Flag Day
, everyone. No matter what we do these days, we have offensive lines on the brain. Fired-up Friday was about left tackles. Last Thursday's column was about offensive lines. Power Rankings, which come out today, rank the best left tackles in the league. And lo and behold, this morning we find a Pro Football Focus ranking of left and right tackles based on a stat it has called "
pass-blocking efficiency
." The stat purports to measure the amount of pressure each lineman gives up and is calculated by "Sacks added to three quarters of Hits and Hurries, divided by the amount of snaps in pass protection multiplied by a 100, or:
((Sacks + (0.75 * Hits) + (0.75 * Hurries)) / Pass Pro Snaps) * 100
"
You know, for those of you who like a little complex math first thing in the morning.
Anyway, the left tackle at the top of the list is Miami's Jake Long, which makes me feel better because I ranked him first in the league in the left tackle Power Rankings. The NFC East representation on the list doesn't make me look
as
good. Dallas' Doug Free ranked as the fifth-best left tackle in the league in pass-blocking efficiency last season according to the formula, two spots ahead of Philadelphia's Jason Peters. And Washington's Trent Williams, whom I ranked ahead of Free in
Friday's debate post
, ranked as the ninth
worst
. The Giants' David Diehl ranked third worst, incidentally, which I think helps explain Eli Manning's interception numbers a bit.
They also do right tackles here, with New York's Kareem McKenzie faring quite well and Dallas' Marc Colombo ... not so much. It's an interesting breakdown of one critical aspect of tackle play and provides a little data for our ongoing debate. As you chew on that, I'm hitting the links:
Dallas Cowboys
Because I know how you Cowboys fans love your Tony Romo golf updates, here he is qualifying for the
Wisconsin State Golf Association Match Play Championship
. Hey, gotta do something, right? I salute him. I remember guilt-free golf as a newly married guy before the kids came. Enjoy it now, Tony!
Oh, and in case you missed it, Jason Witten came in at No. 36 on this much-discussed
NFL Network list of top 100 players
as voted on by other players. One more Cowboy to go on this list, and it's DeMarcus Ware, who's ranked ... somewhere up higher. They're only telling us a little bit at a time, you know. And you say
we're
stretching for content during the lockout.
New York Giants
Tom Coughlin and Jerry Reese said they
wouldn't rule out a return
of Plaxico Burress to the Giants. This was, presumably, before they read
this
.
Ralph Vacchiano says Eli Manning expressed "
tempered enthusiasm
" for the player workouts he and the other Giants had last week at Bergen Catholic High School. Personally, I've never known Eli Manning to express any other kind of enthusiasm.
Philadelphia Eagles
Jonathan Tamari wonders if Andy Reid has a Dirk Nowitzki-like,
career-capping moment in his future
-- a title celebration that would erase the only remaining criticism of his coaching career in Philadelphia. I mean, it'd be nice. The whole "He hasn't won a Super Bowl. Enough said" argument sure does seem to be getting old and overused.
Tony Dungy directly addressed a question about Burress
potentially landing in Philadelphia
along with Michael Vick, another player with whom Dungy worked as a mentor during and after his stay in prison. "I don't know that that would be the case," Dungy said.
Washington Redskins
Looks as if the Redskins are at least considering the possibility of
moving their team headquarters
from Virginia to Maryland. The current facility in Ashburn, Va., is not up to current NFL standards and needs an upgrade. Surely, if Daniel Snyder can get Prince George's County to help him pay for a new one, that would pique his interest.
The 2010 Redskins may not have won a lot of games, but they sure did make a lot of people mad. Santana Moss is the latest from the team to be sued, as he now stands
accused of defaulting on a lease
for a dry-cleaning business his family ran in Miami. Reason No. 8,437 the lockout needs to end soon.
Hey, make sure you have a good breakfast. Big day today. We're
chatting
at noon.
March, 16, 2010
3/16/10
1:00
PM ET
By
Matt Mosley
| ESPN.com
»
NFC Big Question
:
East
|
West
|
North
|
South
»
AFC
:
East
|
West
|
North
|
South
Should the Redskins select a quarterback at No. 4 overall?
[+] Enlarge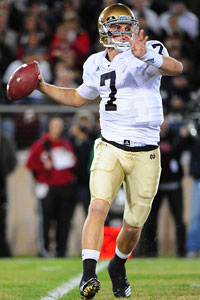 Kyle Terada/US PresswireJimmy Clausen will likely be available when the Redskins pick at No. 4.
Now that conventional wisdom (and mock draft specialists) point to the
St. Louis Rams
selecting Oklahoma's
Sam Bradford
No. 1 overall, the Redskins are in an interesting position. With Oklahoma State left tackle
Russell Okung
likely available, the Redskins could go a long way in replacing Pro Bowler
Chris Samuels
, who recently retired because of a neck injury.
Okung's probably the safest pick at No. 4 overall -- and I think it would be the wisest selection. But Mike Shanahan knows more than anyone the importance of the quarterback position, and it's hard to tell if he's sold on
Jason Campbell
. He's reportedly watched hours of film on
Jimmy Clausen
, so I'm sure he's formed a pretty strong opinion of the former Notre Dame quarterback. We keep reading that Clausen's alleged cockiness put off some teams at the combine, but I haven't heard that complaint from anyone in the Redskins organization.
ESPN draft gurus Mel Kiper and Todd McShay are split on Clausen. Kiper has the Redskins selecting Clausen at No. 4, but McShay's never been sold on him. The big thing Clausen has going for him is that he's played in Charlie Weis' pro-style offense and he's comfortable taking snaps from center. Players such as Bradford,
Tim Tebow
and
Colt McCoy
are having to make some major adjustments in terms of their drops, but Clausen's been doing it for years.
Redskins general manager Bruce Allen and Shanahan haven't made any knee-jerk moves in trying to change the culture of the organization. If you look at what Bill Parcells and the Dolphins did when they first got to South Florida, they took the best left tackle in the draft in
Jake Long
. He'll likely start at that position for the next eight or nine seasons. They eventually selected
Chad Henne
, but the Dolphins didn't rush the process. It was
Chad Pennington
who led the team to the playoffs in '08.
Taking Clausen in the first round might be the most exciting move the Redskins could make, but acquiring a cornerstone of the offensive line will provide a better foundation. You guys on board with Okung at No. 4 or do you want Clausen? Use the "comments" section to answer The Big Question.
April, 17, 2009
4/17/09
1:54
PM ET
By
Matt Mosley
| ESPN.com
Posted by ESPN.com's Tim Graham
The Buffalo Bills are raising the white flag on Jason Peters.
Three days after Buffalo Bills chief operating officer Russ Brandon said he expected Peters to remain on the team, the Bills are close to trading him to the Philadelphia Eagles.
ESPN's Sal Paolantonio and John Clayton report Peters has been summoned to Philadelphia to meet with the Eagles front office. The Eagles have 12 picks, including two first-rounders, in next weekend's draft.
January, 1, 2009
1/01/09
5:20
PM ET
By
Matt Mosley
| ESPN.com
Posted by ESPN.com's Matt Mosley
As you're sitting around tonight watching an Orange Bowl that features two suspect teams, ask your buddies the following trivia question: Can you name the four players in NFL history who started a playoff game in the same season that were drafted No. 1 overall?
Hint: One of them played in the NFC East, which makes this blog entry semi-relevant.
Answer:
Source: ESPN Stats & Analysis