March, 25, 2013
3/25/13
10:14
AM ET

Over the weekend, the news broke that free-agent tackle
Sebastian Vollmer
had agreed
to re-sign with
the
New England Patriots
. Not a huge surprise, but Vollmer's was a name we heard connected with the
Philadelphia Eagles
early in the free-agent period, and I know some Eagles fans were excited about the possibility of signing Vollmer for right tackle and moving
Todd Herremans
inside to guard. With Vollmer and
Jake Long
off the market,
the top available tackle
is
Andre Smith
, and the popular belief seems to be that he's headed back to Cincinnati.
Now, the Eagles have the cap room to sign anyone they want to sign, so if they wanted Vollmer or Smith it's likely they'd have them. Or at least that there would have been some drama around their ultimate decisions. It could still happen with Smith, I guess, but the lack of noise in this case likely indicates a lack of serious interest. And as for free-agent guards, the top one available is the Jets'
Brandon Moore
, and after that
our free-agent tracker
drops all the way down to
Jake Scott
, who was most recently an Eagle himself.
So the upshot is that the Eagles don't seem to be pursuing free-agent offensive line help too intensely, possibly in the belief that a full return to health by all of last year's injured starters will be enough or possibly because they plan to draft a new starter with the fourth overall pick in the draft (or the 35th, which isn't a ridiculous idea, either). Most of their free-agent efforts so far have focused on the defensive side of the ball, where their needs were most glaring. But one of last year's many painful lessons in Philadelphia was about the importance of offensive line depth, and so Eagles fans are justified in hoping that there is some sort of plan to fortify that right side. There is time, and there may be a surprise or two still to come. But at this point, things appear to be quiet with the Eagles and the offensive line.
December, 8, 2012
12/08/12
10:42
AM ET
Back for more from the Twitter mailbag, which I think is proving a much more efficient way of taking and answering your questions than the old mailbag was. (I haven't even checked that thing in weeks. Don't miss it.) I've solicited questions on my @ESPN_NFCEast account a couple of times, but if you have a question you don't need to wait to be asked. Just use the hashtag #NFCEastMail, anytime during the week, and I'll see it. I promise.
@sjaramillov:
what changes were made @halftime so the skins' D looked halfway decent against the Gmen? And do they keep it up?
@ESPN_NFCEast:
The
Washington Redskins
made two key defensive adjustments at halftime of Monday Night's comeback victory against the
New York Giants
. First, they switched to more man-to-man coverage in the secondary. This was risky due to the mismatches the Giants' receivers have against their defensive backs physically, but the zone they were playing was allowing
Eli Manning
too many options, especially since they weren't generating pressure against him. This leads to the second adjustment, which was apparently to let outside linebacker
Rob Jackson
loose in the pass rush at Jackson's request. Jackson has enough speed to rush from the outside, but hasn't been deployed in exactly this way since the
Brian Orakpo
injury. The success he had getting pressure on Manning in the second half Monday could lead to more opportunities for him to rush the passer in the coming weeks.
---
@ChrisSca:
Due to the bad defenses the NYG will see, (NO, BAL, and PHI) do you think Eli will get back on track?
@ESPN_NFCEast:
You list three of the Giants' remaining four opponents. The
New Orleans Saints
have the league's No. 32-ranked defense. The
Baltimore Ravens
are No. 25, and the
Philadelphia Eagles
are No. 17, though their numbers have been almost incomprehensibly horrendous since Todd Bowles took over as defensive coordinator in Week 7. The other opponent, the
Atlanta Falcons
, rank No. 18 in total defense, so it's not as though they're going to see the '85 Bears in that game either. I do think Manning will improve as the season wraps up. I think he showed a lot in the Green Bay game, and I think we have four games' worth of evidence over the past two years to show us that the Redskins just befuddle him, so we might be able to call Monday Night's game a blip. One thing to watch, though, is the health of wide receiver
Hakeem Nicks
, who showed up on the injury report late this week with a knee injury. If Nicks can't play at something close to full health, that will limit what Manning can do.
---
@jbeansy217
: should Ratliff move to DE? Or should switch to 4-3?
@ESPN_NFCEast:
The
Dallas Cowboys
consistently resist the idea of moving nose tackle
Jay Ratliff
to defensive end, where the theory is that he might hold up better physically once relieved from the punishment he takes playing on the inside. They think the interior pass rush they're able to generate when Ratliff plays is too big a part of what they want to do on defense, and the fact is, when Ratliff does play, you see the difference. But the larger fact is that Ratliff is missing too much time, and that's hurting more than his presence inside is helping when he's actually in the game. I think he needs to move outside, and the way
Josh Brent
has played this year should convince the Cowboys that they have an adequate replacement for Ratliff if they make that move. As for Dallas moving to a 4-3, I can't see it happening as long as Rob Ryan is the coordinator. Or really as long as
DeMarcus Ware
is there. I'm sure Ware could succeed as a 4-3 defensive end with his hand in the dirt, but he's so brilliant and successful as a standup outside linebacker in the 3-4 that it's worth building a defense around him in that role. He's that caliber of player, that everything should work off of him.
---
@times_yours:
Dan, watched any tape on
Dennis Kelly
? If he impresses the rest of the way, does Herreman's move back inside next year?
@ESPN_NFCEast:
Kelly has performed very well since moving to right tackle for the Eagles once
Todd Herremans
got hurt. Kelly has helped the protection, augmented an already strong run-blocking unit and, I think, benefited from the presence of veteran guard
Jake Scott
in the lineup next to him. And there's already some chatter in Philadelphia about the possibility of Herremans moving back inside next year and leaving Kelly at tackle. My guess is that they'll assess their needs and fit Herremans in accordingly. He got the contract extension, in part, because they believed he could play any line position for them. And if they like Kelly at tackle going into next year, I'm sure neither the team nor Herremans will blink at the idea of playing Herremans at guard.
---
Some quick-hitters:
@mcontrerasjr:
Do you see the Giants losing 3 out of their last 4?
@ESPN_NFCEast:
No. I think they win at least two.
---
@In__Vader:
how long can RGIII survive running the pistol offense?
@ESPN_NFCEast:
I think at lot of that's overblown, and I think the plan is for the offense to evolve.
---
@BigHeadMex:
If you are drafting for one game - which NFC east QB do you pick first?
@ESPN_NFCEast:
The one with the two Super Bowl MVP awards.
---
@lanelewis12:
what do you attribute the most to disappointing cowboys season? Injuries? Coaching? Talent? Or just a bad team?
@ESPN_NFCEast:
I think the Cowboys are having exactly the season any reasonable preseason expectation should have had for them -- .500. Not a bad team, not a great one either.
Enjoyed it, folks. Keep em coming.
November, 26, 2012
11/26/12
7:35
PM ET
PHILADELPHIA -- No surprises on the list of inactive players for the
Philadelphia Eagles
for tonight's "Monday Night Football" game against the
Carolina Panthers
. Starting quarterback
Michael Vick
and running back
LeSean McCoy
are inactive with their concussions. Rookie
Nick Foles
makes his second straight start at quarterback, and rookie
Bryce Brown
starts at running back for McCoy.
Veteran guard
Jake Scott
, who started last week's game against the Redskins after signing a few days earlier, gets his second straight start at right guard in place of 2011 first-round pick
Danny Watkins
, who is active but not starting. Once again, left guard
Evan Mathis
is the only preseason-projected starting offensive lineman still starting for the Eagles.
Active for the first time this year is rookie defensive end
Vinny Curry
, a second-round pick for whom Eagles fans have been clamoring as the Eagles' pass rush as slumped through the season. Curry gives the Eagles five active defensive ends for the game, so the issue of which guys will actually play (and how much) remains a mystery.
I'll be here all night at Lincoln Financial Field, and as you watch the game on ESPN please join our Countdown Live chat on ESPN.com.
The full list of inactive players for the game, which pits the league's No. 28 scoring offense (Carolina) against the league's No. 31 scoring offense (Philadelphia).
EAGLES
QB Michael Vick
WR
Greg Salas
RB LeSean McCoy
RB
Chris Polk
OL
Nate Menkin
DE
Phillip Hunt
WR
Jason Avant
PANTHERS
QB
Jimmy Clausen
WR
David Gettis
S
D.J. Campbell
CB
James Dockery
LB
Jason Williams
T
Bruce Campbell
DE
Antwan Applewhite
November, 20, 2012
11/20/12
8:00
AM ET
Happy Tuesday. I know you're eagerly awaiting the Power Rankings, but for now you're just going to have to be content with links.
New York Giants
David Wilson really wants to play more, and he's not shy about
expressing this
. The latest is that he's defending his pass-protection abilities, which supposedly have been the main reason the Giants have been reluctant to use him more. I think it's less about whether Wilson can pass protect than it is about the very high standard the Giants have for that and an organizational philosophy that says rookies have to wait their turn.
Justin Tuck says the Giants can be the best team in the league if they play
their style of football
. I guess, but it just kind of seems their style of football is to play well for stretches and badly for stretches and hope it works out in the end and they get into the playoffs.
Dallas Cowboys
The Cowboys' offense is likely to be
shorthanded
in two key spots for the Thanksgiving Day game against the Redskins the day after tomorrow. Running back DeMarco Murray looks as though he'll miss his sixth straight game with a foot injury, and left tackle Tyron Smith has a sprained ankle.
Even Bruce Carter is surprised by how well he's played since Sean Lee went out for the year with his injury. Carter says the big leap he's made this year is all about
learning the playbook
.
Washington Redskins
Wide receiver Pierre Garcon played fewer than half of the Redskins' offensive snaps Sunday and says he's not even close to where he needs to be physically due to his foot injury. But he's
hoping to do more and more
as the weeks go along, and that includes a quick turnaround this week in Dallas.
It has been a trying year, physically, for 37-year-old linebacker London Fletcher. The latest threat to his streak of 234 consecutive games played is the combination of that short week and
an ankle sprain
.
Philadelphia Eagles
Paul Domowitch's "What Andy Said, What Andy Meant" feature is a bit more entertaining than the transcript of Andy Reid's day-after news conference would be on its own, so
here you go
.
The review of Jake Scott's first game with the Eagles' offensive line is
pretty good overall
, in spite of all of the penalties. Have to think he'll be better following a full week of practice with the team.
November, 18, 2012
11/18/12
2:38
PM ET
LANDOVER, Md. -- I just don't know how else to put it. This is nothing against the
Washington Redskins
, who just took a 17-3 halftime lead over the
Philadelphia Eagles
thanks to
LeSean McCoy
's last-minute fumble in his own red zone. But the Eagles are simply one of the worst teams in the NFL right now. They do absolutely nothing well. They don't block, tackle, cover, run, pass or catch. They are not creative, on offense or defense. They are not disciplined, as their six first-half penalties for 45 yards attest. They came in here today on a five-game losing streak, with a rookie quarterback making his first start, and they've shown nothing to indicate an ability to avoid losing a sixth straight.


The number of breakdowns so far is too high to cram into one halftime post, so we'll take a look specifically at the 49-yard touchdown pass from Robert Griffin III to
Aldrick Robinson
in the second quarter. Robinson was so open you'd have thought he had the measles. Good for Griffin for spotting him and heaving the throw into the end zone on a fake-reverse play action play, but this was a screw-up on the part of the Eagles. Safety
Nate Allen
came up to play the tight end when it's obvious that cornerback
Nnamdi Asomugha
was expecting him to cover deep, but that still doesn't excuse Asomugha from not going with the receiver, since he appeared to have nothing else to do on the play.
Let's give Griffin credit for a sharp first half in which he completed 8-of-9 passes for 99 yards and two touchdowns and rushed for 20 yards on four carries. But this has not been a challenge for a rested Redskins team coming off its bye and playing at home. They have had a couple of third-down breakdowns on defense, as the Eagles are 4-for-9 on third downs. But that's about all that's gone wrong. They picked off Eagles rookie quarterback
Nick Foles
twice in the first quarter, and they seem to be benefiting from the Redskins debut of safety
Brandon Meriweather
, who missed the first nine games of this season with knee injuries and has one of the two interceptions.
Foles is 12-for-22 for 120 yards and those two interceptions. Frankly, he looks as lost as you'd expect a third-round rookie making his first start 0f the season in Week 11 to look. The first interception went off the hands of tight end
Brent Celek
, but the throw wasn't very good to begin with, and Foles has shown nothing to indicate that he's in any kind of rhythm with his offense or receivers. The Eagles have had the ball for 19:11 of the game's 30 minutes so far, and yet they have outgained the Redskins only 169 yards to 138.
The Eagles' offensive line, which was a big part of the problem all year when
Michael Vick
was playing quarterback, still looks shaky. Newly signed
Jake Scott
started at right guard in place of
Danny Watkins
, and he's been flagged for two false start penalties. Right tackle
Dennis Kelly
has been called for holding twice (though one was declined), and left tackle
King Dunlap
got called for a hold as well. Foles isn't picking up the corner blitz any better than Vick did, and in short the Eagles' offense looks as ugly and disjointed as it has all year.
On the Redskins' side, wide receiver
Pierre Garcon
is starting his fourth game of the season, but it's clear they're limiting his snaps as he plays with the foot injury that has bothered him since the season opener. Garcon has two catches for a total of six yards.
November, 16, 2012
11/16/12
1:30
PM ET
»
NFC Final Word
:
East
|
West
|
North
|
South
»
AFC
:
East
|
West
|
North
|
South
Five nuggets of knowledge about Week 11:
Rookie talk.
Philadelphia Eagles
quarterback
Nick Foles
appears likely to make his first career NFL start against the
Washington Redskins
on Sunday at FedEx Field. According to the Elias Sports Bureau, the Redskins have lost their past eight games against rookie starting quarterbacks. The last one they beat was
Ryan Fitzpatrick
of the Rams in Week 13 of 2005. Elias also reports that this game between Foles and Redskins rookie
Robert Griffin
III would be the eighth game since the start of the 2011 season that featured two rookie starting quarterbacks. There were a total of seven such games from 2003 to '10.
[+] Enlarge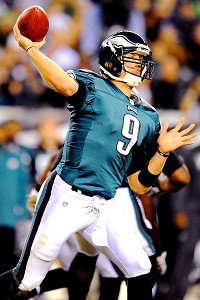 Dale Zanine/US PRESSWIRERookies Nick Foles, above, and Robert Griffin III will meet as starters on Sunday.
Last man standing.
According to ESPN Stats & Information, left guard
Evan Mathis
is the only offensive lineman to start every game for the Eagles so far this year. Every other team in the league has had at least two offensive linemen start every game. The eight different starters the Eagles have used on the offensive line is tied for second most in the league. If newly signed
Jake Scott
were to get a start Sunday (unlikely, but possible), that would obviously make nine.
Just send four.
The Eagles tend to rely on their front four defensive linemen to rush the passer, and that might be a good idea against Griffin. ESPN Stats & Information's Next Level stats tell us that Griffin has a Total QBR of 97.7 when facing five or more pass-rushers. That's the highest such mark in the league. (Remember, 100 is as high as that scale goes.) But when facing four or fewer, Griffin's total QBR drops to 71.6. Teams have picked up on this. Griffin is facing four or fewer pass-rushers on 79 percent of his dropbacks. Only two quarterbacks in the league see four or fewer on a higher percentage of their dropbacks. Carolina may have shown the blueprint for containing Griffin in the game two weeks ago, when the Panthers were able to create a narrow pocket that limited his options.
Clean up the house.
The
Dallas Cowboys
have seven games remaining this season, and five of them are at home. The only reason that doesn't sound encouraging is that the Cowboys are just 1-2 at home this year. And a big reason for that is their turnover differential of minus-9 in those three home games. Only the
Kansas City Chiefs
(minus-13) have a worse turnover differential in home games this season. No one else is worse than minus-6. Of
Tony Romo
's 13 interceptions this year, 10 have come in those three home games. The good news? The
Cleveland Browns
, this week's opponent at Cowboys Stadium, have lost 11 straight road games and haven't won anywhere but Cleveland since Week 2 of last season.
Going deep, or not.
Browns rookie quarterback
Brandon Weeden
has a completion percentage of 19.4 percent on throws 20 or more yards downfield this season. Through Week 10, only Buffalo's Fitzpatrick had a worse completion percentage on such throws. (That's right. We started and finished with a note that included Ryan Fitzpatrick. We dig symmetry here.) Romo's completion percentage on such throws this season is just 32.4, but over his past two games he's 5-for-7 for two touchdowns when throwing the ball 20 or more yards downfield. Better choices may be leading to more success for Dallas in the deep passing game.
NFC EAST SCOREBOARD
Saturday, 12/20
Sunday, 12/21