January, 8, 2013
1/08/13
6:04
PM ET
John Clayton has projected salary cap numbers in
his weekly mailbag
, and here's the way it breaks down for the NFC East's teams:
Dallas Cowboys
: $18.2 million over cap
New York Giants
: $4.7 million over cap
Philadelphia Eagles
: $5.2 million under cap
Washington Redskins
: $4 million over cap
So the Eagles are the only ones projecting under, which is the way it always seems to be with the Eagles. Puts them in position to rebuild that secondary and pursue an answer at quarterback.
The Cowboys would seem to have the biggest problem, which is why guys like
Doug Free
,
Jay Ratliff
and
Marcus Spears
aren't sure bets to stick on the 2013 roster and a guy like
Miles Austin
is likely to be asked to restructure his deal.
Jammal Brown
and
DeAngelo Hall
are the most likely cap casualties in Washington, and
Santana Moss
could be on the bubble as well.
The Giants are used to this, but long-timers like
David Diehl
and maybe
Ahmad Bradshaw
could have to make adjustments to their deals or face the chopping block.
July, 25, 2011
7/25/11
2:13
PM ET
»
NFC
:
East
|
West
|
North
|
South
»
AFC
:
East
|
West
|
North
|
South
»
Unrestricted FAs
Readiness factor
: The Redskins held a ton of player-organized workouts, and they seemed to go very well. Organized by defensive leaders
London Fletcher
and
Lorenzo Alexander
and inspired by the camps the Redskins teams of the past ran to great effect during labor stoppages, the Redskins' workouts were well-attended and well-directed. There were days when Fletcher would call plays from a piece of paper he kept in his pocket, trying to help the defense run some of the 3-4 looks that were installed (but not quite mastered) last year. They brought fans out of the stands to run drills with them and generally just had a good old time. It'll be interesting to see if all of that lockout-time bonding pays dividends once the games start to count.

Biggest challenge
: Figuring out the quarterback situation.
Donovan McNabb
is surely gone as soon as they can move him. They didn't draft a quarterback in April, and shortly after the draft head coach Mike Shanahan said he liked the idea of
John Beck
as his starter. Whether it's Beck or
Rex Grossman
, who ran the offense late last year when the McNabb plan blew up, the Redskins will be going with an imperfect solution at the most important position on the field. Will it be a season-long nightmare that forces them to draft a quarterback high in next year's draft? Will it be a revolving door with one guy starting one game and the other the next? Will the defense play well enough to overcome it? Will Beck surprise and play better than everyone (except, apparently, Shanahan) thinks he can? Many questions, still no answers yet. At least soon they can start running drills and see what they actually have back there.
Haslett's second season
: Defensive coordinator Jim Haslett came to town with Shanahan last year and converted the Redskins from a 4-3 defensive team to a 3-4. It was not an easy transition, and many of the pieces that were in place didn't fit well into the new scheme. Now, every coach who knows about it says it takes two years, not one, to fully transition to the 3-4. So we should see improvement in the way the Redskins play defense in 2011. They still need to add some pieces on the line, find a cornerback or two, and they may need a linebacker if
Rocky McIntosh
leaves and Alexander can't be a full-time starter on the inside. But the pre-lockout addition of
O.J. Atogwe
at safety and the drafting of outside linebacker
Ryan Kerrigan
in the first round were good moves. Along with the year of experience the returning guys got last year, they could help the Redskins put together a respectable defense sooner than you might expect.
Key players without contracts for 2011
: OT
Jammal Brown
, CB
Phillip Buchanon
, DE
Kedric Golston
, QB Rex Grossman, LB Rocky McIntosh, WR
Santana Moss
, C
Casey Rabach
, CB
Carlos Rogers
July, 21, 2011
7/21/11
9:38
AM ET
Rich Campbell of the Washington Times says Mike Shanahan's top free-agency priority should be
fixing the Redskins' offensive line
. Rich even offers a suggestion in the form of
Ryan Harris
, an oft-injured former Shanahan Bronco who looks as if he'll be free to pursue starting right tackle jobs outside of Denver and said on the radio recently that he'd enjoy playing for Shanahan again.
Fine. The Redskins do need to figure out who's playing right tackle. I think the most likely solution is to re-sign
Jammal Brown
, who (as Rich points out) improved in the second half of last season once his hip felt better and should be even better this year. But if they don't, Harris is a fine solution and they have some other options out there on the market for right tackle.
But I'm not sure I agree with the idea that offensive line has to be Shanahan's priority once free agency opens. I'd argue that the defensive line, which needs a nose tackle and probably at least one end, is the more important line to address. Further, I'm not sure (other than finding a right tackle) there's all that much work the Redskins
can
do on their offensive line.
Trent Williams
may have posted some disappointing sack numbers in 2010, but he was a rookie and the fourth overall pick in the 2010 draft. They're not about to give up on him after one season. They believe he's their future at the most critical line position, and he's going to be allowed to develop there.
Similarly, they like a lot of what they saw from
Will Montgomery
and
Kory Lichtensteiger
last year and plan to give them some more time to develop in the interior, either at the guard spots or if one takes over at center for
Casey Rabach
. Should that happen, they may need to go out and find a free-agent guard with zone-blocking experience, but I don't think it'd be ultra-wise to spend big dollars for a
Harvey Dahl
or
Marshal Yanda
when good guard options can likely be had for less and there aren't as many top nose tackles on the market.
The Redskins have a ton of holes, so it's easy to make the case either way. But while the offensive line underperformed last year, it's a work in progress, and Washington has reason to believe the pieces already in place can and will make some more progress in 2011. If it were me, I'd fix the defensive line before the offensive one.
July, 18, 2011
7/18/11
4:55
PM ET
Our man Matt Williamson of Scouts, Inc. has done a list of "
team needs
" now that we stand on the apparent precipice of free agency. Matt's list is simply a list, of all 32 NFL teams and what he considers their top three needs once the free-agent period opens. He offers no analysis with his list, so I'm going to go ahead and do that here for the NFC East teams.
Matt also did his list quite literally, treating the teams' own free agents as free agents. So, for instance, running back is listed as the Giants' No. 1 need even though they're expected to re-sign
Ahmad Bradshaw
. Tackle is listed as the Cowboys' No. 2 need even though they'll almost certainly bring back
Doug Free
. Matt is of course right to do it this way, since those aren't sure things. Just didn't want anybody confused.
Anyway, here we go. Alphabetically, as ever:
Dallas Cowboys

1. Safety
2. Offensive tackle
3. Defensive line
My take: Yeah, though I'll say cornerback is probably a close fourth if they're ready to move on from
Terence Newman
and have to cut him for cap reasons. And I might have gone with "offensive line" rather than simply "offensive tackle," because I think guard
Kyle Kosier
is a high-priority re-sign for them. Free is getting a lot of well-deserved praise for his work in his first year at left tackle, but people around that team will tell you that Kosier was a big help to Free in making the transition, and that Kosier has a lot of responsibility for line calls. If they lose him, they'll need offensive line help even if Free is back.
New York Giants

1. Running back
2. Linebacker
3. Tight end
My take: This gets to the heart of the fact that the Giants' first task once the league year begins will be to prioritize and re-sign their own free agents. They will only need a running back and a tight end if they can't re-sign Bradshaw and
Kevin Boss
, but they hope to be able to bring back both. I believe both will draw interest elsewhere, and that it's possible Boss could draw more than the Giants expect. But of these three needs, linebacker is the only one for which they should have to play on the open market without getting a head-start with one of their own players.
Philadelphia Eagles

1. Cornerback
2. Linebacker
3. Defensive end
My take: All defense here, what with that right guard spot addressed in the draft. Could they do something at right tackle? Sure, but the focus is going to be on improving the defense that failed them at the end of the past two seasons. They'll play in the
Nnamdi Asomugha
market and should be on the hunt for a pass-rushing end to play opposite
Trent Cole
. And they'll have to figure out linebacker if they don't or can't bring back
Stewart Bradley
. More and more, it seems as if they won't seek a veteran safety to replace
Quintin Mikell
, but I wonder if they should, since a
Nate Allen
/
Jaiquawn Jarrett
combination would give them a pretty young set of starters at that position.
Washington Redskins

1. Quarterback
2. Nose tackle
3. Cornerback
My take: I agree that they could upgrade at quarterback, but I don't think they will. Unless Mike Shanahan's been snowing everybody (which of course is possible), he's prepared to go with
John Beck
and fill other needs while he finds out if Beck can be his long-term answer or if he needs to draft one of the very good quarterback prospects in next year's draft. I'm a little surprised that Matt listed neither "wide receiver" or "offensive line," since those are positions of need whether they re-sign
Santana Moss
and
Jammal Brown
or not. But the Redskins' list of needs is a lot longer than three spots, and Matt was only doing three per team, so here we are.
July, 16, 2011
7/16/11
10:05
AM ET
I'm calling it. You heard it here. This is the last mailbag of the lockout. Next time we do this, I expect A LOT more questions to sift through. You're on the clock, NFC East blog readers. I'm looking at you.
Evan from Washington, D.C.
thinks the offensive line ranks among the Redskins' biggest problems and most important to solve. He likes
Davin Joseph
, the potential free-agent guard from Tampa Bay, and wants to know what the chances are of Washington signing him to shore things up.
Dan Graziano
: Evan, right tackle would seem to be the more pressing concern, especially if they can't re-sign
Jammal Brown
and they have to go out on the open market and spend more to fill that position. The Redskins liked a lot of what they saw out of
Will Montgomery
and
Kory Lichtensteiger
at guard last season, and while there's a chance one of them moves to center to replace
Casey Rabach
, I find it hard to see them spending big to get a guard
and
a tackle
and
do all the work they need to do on the defensive line
and
get a cornerback. They're going to have to prioritize, and if they go get Joseph, they might end up skimping at bit at right tackle.
---
Bobby from Hershey, Pa.
thinks the Eagles have enough depth on the roster at defensive line that they shouldn't need to go out on the market and sign a
Jason Babin
/
Ray Edwards
/
Charles Johnson
type of pass rusher.
DG
: Ah, Bobby, but the defensive line is under new management in Philadelphia, and I'm sure they didn't bring in as accomplished and respected a line coach as Jim Washburn without planning to give him some say in his personnel. There's a thought in Philadelphia that the new defense will be more reliant on pressure from the front four, and if Washburn doesn't think the current group is good enough to generate the kind of pressure he feels they'll need to make it all work behind them, you'll see the Eagles going after a defensive lineman or two that fits what he's trying to accomplish. So I think that's why you're hearing that kind of talk -- a new coach tends to want to bring in his own guys, if possible.
---
Mark from Morristown, N.J.
tells me I "forgot" to mention
Jason Pierre-Paul
when I was listing names on the "Dream Team of Tomorrow" ballot, and points out that Pierre-Paul is doing very well in the fan voting (fourth as of Saturday morning) at defensive end.
DG
: Yeah. I "forgot." Or else I just didn't really have time/space to list the name of every single player from the division who's on the ballots. It's one of those two things. Which is more likely? On Pierre-Paul, he has all the talent in the world to be a dominant force from the defensive end position, perhaps as soon as this season. But even the Giants admit he's still a prospect from whom we haven't yet seen consistent, reliable production. We're speculating on Pierre-Paul because of his athletic ability, and there's lots of reasons to hope he'll be great. But there are people on the ballot who had already offered more evidence that they'll have future success than Pierre-Paul has. Now, go ahead. Write that I hate the Giants because of this.
---
Dave from Wayne
asks, if the Hall of Fame Game is canceled, won't they have to cancel one preseason game for every team?
DG
: No, Dave. The Hall of Fame Game is an extra preseason game. The teams that participate in it play five preseason games to everyone else's four. So if they cancel it, everybody just plays four.
---
John Murray from El Paso, Texas
says he'd love to see a trade of
Tony Romo
for
Carson Palmer
. Says both guys "would benefit from a change of venue" and such a deal would "shake up the league."
DG
: Wow, is it time for the lockout to end. If you think 2011 Carson Palmer is fair value for 2011 Tony Romo, John, then there are 31 NFL GMs who wish you were running the Cowboys. Romo doesn't need a change of venue. He needs to stay healthy and play the way he played in late 2009 and early 2010. As I've written many, many times, he's the least of the Cowboys' problems.
Good weekend to all. See you on the other side.
July, 14, 2011
7/14/11
10:11
AM ET
Some time this season, I hope, I will encounter the guys from Pro Football Focus, and when I do I plan to shake their hands and thank them for helping provide content to link to during these extremely slow lockout days. One of their recent efforts was a ranking of all 32 offensive lines based on 2010 performance, and yeah. We're going to take a look at it here.
They broke it into two parts, and two NFC East teams landed in each half. The reviews on the Cowboys, at No. 9, and the Giants, at No. 13, are found in
this portion of the breakdown
. The reviews on the Eagles (No. 17) and the Redskins (No. 28) can be found
here
. Each team review includes a "Best Player" and a "Biggest Concern." Let's check them out, team-by-team, in the order in which they finished in the rankings.

The
Cowboys
' best offensive lineman, PFF says, was left tackle
Doug Free
, who graded out as their best run-blocking tackle in the league and "more than held his own against tough pass-rushers" in his first year as the starter on the left side. As for concerns, PFF doesn't have many, even with the expected departure of
Marc Colombo
. "So the biggest concern has to be age and injuries catching up with both guards, and
Tyron Smith
not panning out. Good situation."

The
Giants
came in 13th in the league in a year that saw age and injury impact several starters. PFF's best Giants offensive lineman was right tackle
Kareem McKenzie
, whom they love. And the biggest concern is left tackle
David Diehl
, who the site points out was initially a guard and isn't equipped to deal with the likes of
DeMarcus Ware
. I think the Giants are hoping they can start
Will Beatty
at that left tackle spot soon. But if he's not ready, it could be rough in the early going.

The
Eagles
just missed the top half of the rankings, coming in 17th. And PFF seems to give them a bit of a pass because of how difficult it must be to block for
Michael Vick
when you're never sure where he's going to go on a given play. Best player: left tackle
Jason Peters
, though PFF says it thinks he should be protecting someone's blind side instead of playing on the left side in front of the left-handed Vick. And the biggest concern is whether first-round draft pick
Danny Watkins
can be an effective starter at right guard right away. But overall, "if they can keep most of their guys healthier than they have, the talent is there."

As for the
Redskins
, we've discussed their line as a work-in-progress. PFF says tackles
Trent Williams
and
Jammal Brown
both played poorly, that
Kory Lichtensteiger
was the only Redskins lineman to grade out positively in run blocking and that only
Will Montgomery
earned a positive pass-protection grade. PFF gives Montgomery the Best Player designation, though it makes it clear it's by default. And the biggest concern is Williams and the 11 sacks he gave up. Surely, the Redskins (and others) believe Williams has the talent to do better than that. But PFF is right that he's got to show it for the Redskins to have any hope of improvement here.
July, 13, 2011
7/13/11
11:52
AM ET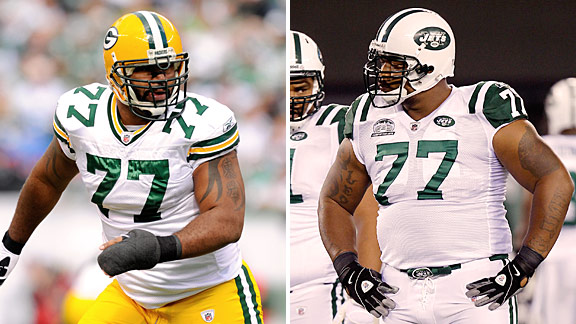 Icon SMICullen Jenkins, left, and Kris Jenkins both could draw interest from the Washington Redskins.
Jason La Canfora's report
on the Redskins' free-agency plans came up in the comments on the breakfast links, and given the level of Redskins interest I get on a daily basis, I thought it was worth its own post. Things are getting interesting around the league, and my own phone-call efforts are finding that more people have been willing to discuss potential free-agent scenarios this week. There's a sense that we're not far away from some of these moves actually happening. So in light of Jason's report that the Redskins are targeting
Santonio Holmes
,
Marshal Yanda
,
Cullen Jenkins
,
Kris Jenkins
and
Barry Cofield
, as well as planning to re-sign
Santana Moss
and
Jammal Brown
, I thought I'd fill you in a little bit on what I've been hearing.
First, I don't believe the Redskins will get a shot at either Holmes or Yanda. The Jets are planning to make Holmes, who was a savior for young quarterback
Mark Sanchez
last year, a top priority once they're allowed to talk to him again. I think they would sign him at the expense of signing other players they value, such as
Braylon Edwards
and maybe even
Antonio Cromartie
. Rex Ryan loves Holmes, thinks he's a difference-maker in the passing game and would like to make sure he's in the Jets' plans for 2011.
Yanda likes it in Baltimore and, from what I am told, isn't the sort of guy who's going to be out looking for every possible free-agent dollar. If the Ravens come with a good deal, I would expect him to take it and stay put. And while he played right tackle last year, teams will look at him as a guard, which is where he's played the most, and pay him as such. If he can get tackle money on the open market and the Ravens jerk him around, maybe he leaves Baltimore. But my sense is that he has value to the Ravens and they will make sure he knows that.
The Jenkinses make some sense. Cullen will be sought-after, and the Cowboys also have him on their wish list. But the Redskins will have money, and if the Packers are going to let Cullen hit the market as most expect them to, there's no reason to think the Redskins can't just outbid everybody to get him. There will be questions, of course, about whether he'll want to play for a non-contender, but he did just win the Super Bowl, so maybe he feels like that's already checked off his bucket list. As for Kris Jenkins, he makes a lot of sense for Washington as a l0w-risk, high-reward guy. He's a game-changer at nose tackle when healthy, but his injury history over the past three years will severely limit his earning potential if he finds himself on the open market. It would make a lot of sense for the Redskins to take a chance on him if the cost is low, and I expect you will hear a lot of chatter about the Redskins and both Jenkinses. Jason's report is the first mention I've heard of Redskins interest in Cofield.
As for the two veterans the Redskins need to unload once they're allowed to, I think the
Donovan McNabb
situation and the
Albert Haynesworth
situation are very different from each other. There will be more of a market for Haynesworth than there will be for McNabb, and people I've talked to say the feelings between Haynesworth and Redskins management are much harder than those between McNabb and management. The Redskins would like to try to get something for McNabb in a trade, but there aren't too many starting-quarterback opportunities for him right now, and it's hard to imagine them getting much. I don't think they'll make McNabb twist in the wind. They'll try to get something, and if they can't, I believe they will cut him and let him find his next team on his own. There's no real animosity there, from what I can tell -- just a mutual wish that things had worked out better.
Big Al, on the other hand ... different story. Not only do the Redskins think there will be a market for him, but they don't intend to cut him loose if they fail to find one they like. When he was actually on the field, Haynesworth played very well for Washington in 2009. Last year was a disaster, of course, but he's not far removed from his time as a very productive and even great 4-3 defensive tackle. There are teams out there that could use him -- Denver, Chicago, St. Louis, to name a few -- and coaches out there who undoubtedly believe they can motivate him and make him happy. Mike Shanahan will ask a lot for Haynesworth, as he should, but if he doesn't get what he wants, I do not think he intends to cut him and let him just go sign with the Eagles. From what I have been told, Shanahan doesn't fear the lingering presence of Haynesworth as a distraction and would have no problem just leaving him inactive for all 16 games if that's what it came down to.
Anyway, that's what I've got for you on Redskins. I'll do my best to keep you posted on what I and others keep hearing.
July, 1, 2011
7/01/11
9:30
AM ET
Nearly done now with our position-by-position look at potential four-year unrestricted free agency and the NFC East. I asked yesterday if you guys wanted me to do kickers and punters, and you seemed to say yes, so those will roll out this afternoon to wrap the series. For now, though, we go with the big fellas -- the offensive tackles.
NFC East teams in need

Redskins
: With 2010 first-rounder
Trent Williams
on the left side, they feel like they're okay there now and for the long-term. Not so much on the right side, where
Jammal Brown
is a free agent and
Stephon Heyer
not likely a sufficient replacement. A veteran who could help develop Williams and the other young players on Washington's rebuilding line might be a good move.

Cowboys
: They drafted
Tyron Smith
with the ninth pick in April, and their hope was to play him on the right side and emerging star
Doug Free
on the left. But if the new rules allow free agency after four years of service, Free becomes a free agent and a top priority for Dallas to re-sign. Should he go elsewhere, the Cowboys will need a tackle, be it right or left, since they're likely to part ways with
Marc Colombo
.

Eagles
:
Jason Peters
is a star on the left, but
Michael Vick
's "blind side" is the right side, where
Winston Justice
and
King Dunlap
remain big question marks. Having addressed the line in the draft, the Eagles could be planning to roll the dice with those guys and fill defensive needs in free agency, but it wouldn't be crazy for them to look for a tackle.

Giants
: This is a well-traveled topic and a matter of opinion. Mine is that the Giants' offensive line is a ticking injury time bomb, and that
David Diehl
has lost a few steps. The Giants and their fans would say the injuries on the line didn't hurt them last year, and that they actually showed the depth the team has at various line positions. I still think it's worth staying ahead of the curve, and while I know the Giants have a lot of needs, I think they need to at least look and see if they can add a tackle for depth, even if it means moving Diehl inside or into a backup role.
Top five potential unrestricted free-agent tackles
1. Free.
Still young and still developing, but his first year as a starter on the left side was a rousing success, and the Cowboys are hoping he can last there for a while -- as long as he stays in town. It'll be interesting to see what kind of market he draws, since it was just the one year on the left and he'd surely prefer to stay on that side than go somewhere else and play on the right. He might be more valuable to the Cowboys than he would to anyone else.
2. Willie Colon
. He missed the 2010 season with an injury, but his track record as a premier right tackle won't be lost on teams that need line help. His agent recently said he didn't think the Steelers were interested in retaining Colon.
3. Tyson Clabo.
A perfect fit at right tackle for the Falcons, Clabo is coming off a Pro Bowl appearance and could draw interest from run-heavy teams looking for someone to seal off that right side.
4. Matt Light.
A great veteran who may be past his prime but likely still has something to offer on the field and in the locker room. Might have to settle for a shorter-term deal, given his age relative to the rest of this field.
5. Brown
. The Redskins' best plan may be to bring back Brown, who performed better at right tackle for them as the season went along and his hip got healthier. It'll be interesting to see if he draws interest as a left tackle from teams in need of help on that side.
Predictions that mean nothing:
Cowboys re-sign Free. Redskins re-sign Brown. Eagles look a little further down the list, maybe at a guy like
Marshal Yanda
, who can play tackle or guard and really shore up their situation on the right side. Giants do nothing.
June, 24, 2011
6/24/11
8:00
AM ET
Morning. Let's make this quick. I have a lot of posting to do before the 1:40 pm showing of "Cars 2." We'll start, as we always do, with the links:
Dallas Cowboys
Matt Mosley throws cold water
on the idea of Nnamdi Asomugha to the Cowboys. Doesn't think they'll sign him, doesn't think they should. Regardless, I'm certain Matt is super-excited to be linked from here. I hope he likes the job I'm doing with the blog he built. Hi, Matt!
Jerry Jones' attorney went hunting and
bagged a 14-foot, 880-pound alligator
. This has nothing to do with the Cowboys but (a) it's Friday, (b) links are scarce and (c) come on! 880 pounds? If I even saw an alligator like that, I might not sleep for a month.
New York Giants
Giants.com offers a review of the performance of
the Giants' special-teams units
from 2010. It's pretty Lawrence Tynes-heavy, which you'd expect if you assume Giants.com wants to focus on the positives. Giants special teams were an embarrassment last year, particularly the punting game (as Michael Eisen mentions). Knowing the little bit I know about Tom Coughlin, I'm anticipating that being a point of emphasis during training camp.
And I got a kick out of this item about an "
anonymous opponent
" sticking up for Eli Manning in a magazine's NFL preview issue. It's as if you're not allowed to say anything nice about Manning if you put your name to it. What's a
football cop
gotta do to get a little respect up in here?
Philadelphia Eagles
Nate Allen tells the Asbury Park Press that his knee is "
about 85 percent
" as he continues to recover from surgery. Getting that percentage up will be critical as it pertains to the Eagles' place in
this situation right here
.
Our man Sal Paolantonio went on the radio and said he thinks
the Eagles want players, not draft picks
, in return for Kevin Kolb. This lends credence to the idea that they could get someone like Dominique Rodgers-Cromartie from the Cardinals in a Kolb deal -- something that's been speculated since the Cardinals (who needed a quarterback, not a cornerback) selected Patrick Peterson in the draft. The good thing is, Eagles fans, you can wait a few more weeks to see how this plays out, right? Hahahahahaha.
Washington Redskins
The Redskins' team site takes a look at
the right tackle situation
, where Jamaal Brown could leave and would need to be replaced by someone from the outside. Makes me think we should do free-agent tackles at some point soon. ("
Yeah, Dan, we've been saying that!
" "OK, OK, settle down, there's plenty of time to get to every position...")
Seems like the lockout is getting rookie receiver Niles Paul down. In
a column he's writing for the Washington Post
, Paul makes this revelation: "I currently sleep on my parents' couch in the basement because I didn't re-sign the lease on my apartment. I was optimistic that things were going to get figured out sooner than later, but I guess I was wrong. I love spending time with my family, but I don't know how much longer I'm going to be able to do this. No bed, no room and chores doesn't sound like the life of an NFL player to me." Hey, it's better than living in a van down by the river. (Sigh. Paul's probably way too young to get that reference.)
Lots of fun Friday stuff planned before the movie starts. Hope you all enjoy!
June, 22, 2011
6/22/11
8:00
AM ET
Morning. Tuesday sure was an optimistic day on the NFL labor front. Personally, I don't think there's any chance
this many details of the proposed deal would be emerging
if the proposal weren't pretty close to a sure thing. So the time could be drawing near when we can start talking about free agency and the start of training camps.
Adam Schefter reported that the new deal would shift the threshold for unrestricted free agency back to four years' service time, and if that happens, every team's offseason plan would be affected. Today's breakfast links will address some of the key players on whom the NFC East teams might have to make key decisions.
Dallas Cowboys
The news alters Doug Free's situation quite a bit, and could conceivably impact the Cowboys' ability to pursue other big-money free agents depending on the amount of outside interest Free draws as an unrestricted free agent. As the Cowboys have made clear,
Free is a must-sign
. But Jason Hatcher and Stephen Bowen
would become issues
under those guidelines as well.
DeMarcus Ware spoke to
NFL.com's Steve Wyche
and had lots of good things to say about Tony Romo, Dez Bryant, the Cowboys' offseason workouts and the change the team made at head coach midway through the 2010 season: "You go from Wade Phillips, which is a guy, he's more tailored to the older guys and developing younger guys," Ware said. "Then you have a younger coach come in, which is Jason Garrett, he's more of the Bill Parcells-type guy. He likes putting the pads on. He likes doing a whole bunch of the fundamental stuff and just focusing on that, doing the right things and just little things like that." Garrett's players clearly bought in last year, and if that continues and the defense gets solidified, Ware's and others' prediction of a Cowboys rebound are totally reasonable.
New York Giants
The Giants
could potentially be the hardest-hit team in the division
by a rule that makes 4+ guys into UFAs. Ahmad Bradshaw, Kevin Boss, Barry Cofield, Steve Smith and Mathias Kiwanuka are among the players on the New York roster in line to make bigger money than they would have under last year's rules. Of those, Bradshaw and Kiwanuka are likely the highest-priority guys, along with Smith, though Smith's knee injury hurts his potential market value and should help the Giants keep him. Boss and Cofield are key contributors but could have to be sacrificed to the open market if Bradshaw's price goes through the roof.
Jemele Hill writes that David Tyree has the right to
his surprisingly strong stance against gay marriage
. (He says he'd trade his Super Bowl helmet catch and title to prevent it.) Technically, she's right, of course. But just because he has the right to spout intolerance doesn't necessarily mean he should.
Philadelphia Eagles
Middle linebacker Stewart Bradley is probably the
most significant Eagles name
that would be affected by the four-year UFA threshold. My guess is, if Bradley's price were to spike, the Eagles would move on with other free-agent plans and just keep Jamar Chaney at middle linebacker. But I wonder if Bradley, who's had injury problems, will generate much open-market interest on a market this crowded.
He's about to be an Eagles rookie, but Jaiquawn Jarrett is still a New York City kid at heart, and he
showed support for the community
from which he came.
Washington Redskins
Have to think inside linebacker Rocky McIntosh and right tackle Stephon Heyer are the two most significant Redskins in the UFA zone, but the potential move of Lorenzo Alexander to the inside to make room for first-round pick Ryan Kerrigan could help the team's leverage
if McIntosh wants more than they want to pay him
. And whether Heyer comes back or not, the Redskins will still need to find a starting right tackle. Jamaal Brown is a six-year guy who was going to be a UFA no matter what.
Because of the Redskins' ties to the state of Maryland (not to mention those of the Baltimore Ravens), the state is saying it
could lose more than $40 million
in tax revenue during an NFL lockout. This was a key part of the NFLPA's argument against the lockout in court -- the idea that people far beyond the playing field would be affected. Fortunately, it now seems as if there's little about which to worry.
Happy to talk more free agency as the day unfolds. Let me know what you think.
June, 9, 2011
6/09/11
11:30
AM ET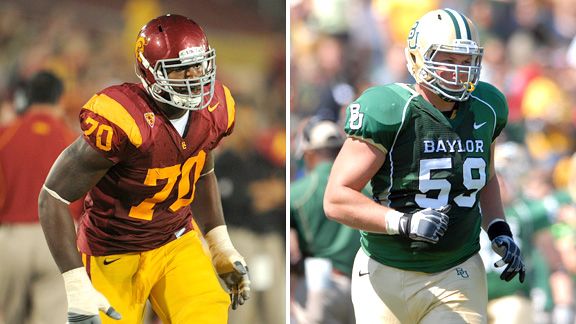 Icon SMIThe Cowboys (with Tyron Smith) and the Eagles (with Danny Watkins) used the draft to address a need along the offensive line.
Our readers like to call this division "The Beast," but I'm not so sure. I mean, I
get
it -- it rhymes with "East," and it reflects the kind of toughness and meanness that fans like to attribute to their favorite teams. And not long ago, it fit nicely. The NFC East was the NFL's toughest division. Sent three teams to the playoffs in 2006 and 2007. Took out the undefeated Patriots in the Super Bowl. Very Beast-like stuff, no question.
But things change quickly in the NFL, and 2010 wasn't this division's most Beastly year. For the first time in six seasons, the NFC East last year came up with just one playoff team. The division had as many 10-loss teams as 10-win teams, and the only playoff game it has won in the past two seasons was Dallas' January 2010 intradivision victory over Philadelphia.
A fluke? Sure, it's possible. Most people expect the Cowboys to bounce back in 2011 (assuming there is a 2011). And John Clayton pointed out last week that a slate of 2011 games against NFC West opponents could help inflate NFC East teams' records the way that delicious bit of scheduling helped out NFC South teams in 2010. But if the teams in this division want to make sure this little downturn is nothing more than a blip on history's radar, they would all do well to take a look at their offensive lines.
All four teams in the NFC East had offensive line issues last year. The Giants couldn't keep theirs healthy. The Cowboys couldn't seal off the right side. The Eagles couldn't keep
Michael Vick
's uniform clean. The Redskins were rebuilding. Although most, if not all, of those issues are resolvable, the teams need to work to make sure they're resolved. If there's one area whose erosion can really affect the toughness, meanness and other Beast-like qualities of a team or group of teams, it's the offensive line.
To their credit, the Cowboys and Eagles at least seem to understand they need to do something. Dallas took USC tackle
Tyron Smith
in the first round in April and spent three of their eight total draft picks on offensive linemen -- snagging guard
David Arkin
in the fourth round and guard/center
Bill Nagy
in the seventh. Smith is the only one of the three expected to start in 2011, as he's slated to be the right tackle, but depth on the O-line is never a negative.
Philadelphia needed a right guard so badly that it drafted 26-year-old former hockey player and firefighter
Danny Watkins
in the first round. He'll surely start at right guard, and Philadelphia picked up two more interior offensive linemen later in the draft. The Eagles still need to figure out what's going on there on the right side with
Winston Justice
and
King Dunlap
, and that tackle spot might potentially be something they address in free agency. With a left-handed quarterback, right tackle is to the Eagles what left tackle is to most other teams -- the protector of the "blind side."
Washington used only one pick this year on an offensive lineman, and it was a seventh-rounder. But the Redskins spent the fourth overall pick in the 2010 draft on left tackle
Trent Williams
, who looks as if he'll be a star at that spot, and they're piecing things together across the middle. They will need to address right tackle if they lose both
Jammal Brown
and
Stephon Heyer
in free agency, but the Redskins are in rebuilding mode. At least they have the franchise left tackle in place.
The Giants ... sigh. The Giants could have used offensive line help in the draft. But these are stubborn people who don't believe in drafting for need. They used their first-rounder on a cornerback, even though they already had plenty of those. The "value" of
Prince Amukamara
that late in the round was too much for the Giants to pass up, so they didn't end up taking a lineman until the fourth round, and they didn't bother taking another one after that. Now, if healthy, the Giants' offensive line is the best one in the division. But the five projected starters have an average age of 31.6.
Shaun O'Hara
missed 10 games and
David Diehl
missed four last year as the fates practically screamed at the Giants about the value of depth on the O-line. Injury and age on the line didn't sink the Giants' season per se, but they reared their heads and offered a warning. So far the Giants have yet to show they heard it.
The success of the teams in the NFC East -- this year and in the years to come -- will depend largely on the ways in which the four teams address the issues bubbling up across their offensive lines. I believe the division could have three playoff-caliber teams in 2011. The Redskins are doing some nice things but still have a long way to go and, currently, no quarterback to take them there. The other three teams have skill-position talent spilling out of their ears, but holes along the line can keep even the most skilled players from making the highlight-reel plays for which they're paid. Offensive line play was one reason the NFC East looked a little meeker than usual in 2010. It may be the key to "The Beast" regaining its teeth.
September, 18, 2009
9/18/09
12:28
PM ET
By
Matt Mosley
| ESPN.com

Posted by ESPN.com's Matt Mosley
We interrupt Cowboys-Giants week to discuss what should be another compelling matchup. It seems like most of the national media is picking the Saints to walk into Lincoln Financial Field and have their way with the Eagles. I don't see it. I think the Eagles are capable of forcing some turnovers from
Drew Brees
-- especially if they shut down the running game early.


Paul Domowitch of the Daily News
has issued his weekly scouting report
, which is always helpful to the blogging community. Did you realize that Eagles tight end
Brent Celek
has 25 receptions in his last four games and five touchdowns in his last five games? Celek's has quietly become a major threat in this offense. I think it really benefits him to have so much exposure to players such as
Jason Witten
and
Chris Cooley
in the Beast. He's watched film of both players -- and he picked up on the way Witten sets up safeties and linebackers at the top of his routes. I think
Kevin Kolb
needs to lean on Celek on Sunday.
Isn't it amazing to see Domowitch saying the two offensive lines are even? Coming into training camp, you would have given the Eagles a big edge in that category. The Saints are playing without left tackle
Jammal Brown
, who is out for six to eight weeks with a hip injury. His replacement,
Jermon Bushrod
, doesn't have much experience. And that's why
Trent Cole
could have another big game this week.
In his key matchups, Domowitch thought Eagles wide receiver
DeSean Jackson
and Saints cornerback
Jabari Greer
were even. I happen to think that Jackson will have the upper hand in this matchup. In fact, I think he'll bounce back from a quiet day last Sunday (at wide receiver) and put up eight catches for 100 yards. Remember where you heard it first.