July, 25, 2011
7/25/11
10:04
AM ET
I know you're impatient. It's one of the things I like best about you. Because it's one of the things that keeps you coming back for more.
Free agency is nearly upon us, after months of waiting, and you want to know (among other things) what your team is going to do first. Well, if you have an ESPN Insider subscription, you can check out what the Football Outsiders think. They've done a list of
the first thing each team should do
once free agency opens. And while I can't give it all away (because we want you to buy the Insider access), I can offer a little glimpse into what they had to say about the NFC East teams.

Dallas Cowboys
: "Sign S
Michael Huff
." As we have discussed here
ad nauseum
, the Cowboys will need at least one safety and maybe two, depending on what happens with
Gerald Sensabaugh
. The Outsiders point out that they didn't act in February, when guys like
O.J. Atogwe
were available, and they didn't draft one. So they'll have to hit the market.
Eric Weddle
is the best option, but everyone thinks he'll stay in San Diego. Huff is a fine consolation prize, especially given the fact that he's worked with new defensive coordinator Rob Ryan before and might be able to help other players with the transition to a Ryan-coached defense.

New York Giants
: "Sign LB
James Anderson
." You know where I stand on the Giants and linebackers -- i.e., that they've consistently ignored the position to their detriment over the past couple of years. Anderson is a fine strongside solution and there are many others out there. The trick for the Giants will be how quickly they can get their in-house free-agent situations settled. I might have put "Re-sign RB
Ahmad Bradshaw
" here if I were the Outsiders, and again ... you know how I feel about the Giants and linebackers.

Philadelphia Eagles
: "Sign CB
Nnamdi Asomugha
." On this, the Outsiders and I heartily agree. The drop-off from Asomugha to the second-best cornerback available (
Johnathan Joseph
?
Antonio Cromartie
?
Ike Taylor
?) is significant, and the Eagles, armed with enough money to make it happen, should jump at the opportunity to fill their biggest need with the best player on the market. (Note: "Trade QB
Kevin Kolb
" could have been the answer here, but Brian McIntyre, who wrote this piece, already used "Trade for QB Kevin Kolb" in the
Arizona Cardinals
' blurb, so that was taken care of.)

Washington Redskins
: "Sign DE
Cullen Jenkins
." There was some thought a couple of weeks back about pairing brothers Cullen and
Kris Jenkins
on the offensive line in Washington. Kris has since retired, and nose tackle remains a huge need for the Redskins. But adding a pass-rushing end the caliber of Cullen might help, since it might be easier to find a space-eating nose tackle on this market than a pass-rushing one.
Anyway, those are the Outsiders' thoughts. As always, I welcome yours.
June, 23, 2011
6/23/11
9:47
AM ET
We continue to take a position-by-position look at potential four-year unrestricted free agency and the way it could impact the offseason plans of the teams in the NFC East. We did cornerbacks and running backs Wednesday, and today we're taking a look at outside linebackers. The division's 3-4 defenses appear set at those spots with
DeMarcus Ware
and
Anthony Spencer
in Dallas and
Brian Orakpo
and
Ryan Kerrigan
in Washington, so we'll focus on the 4-3 teams along the I-95 corridor. The pool has been diminished as teams have placed franchise designations on top players such as
LaMarr Woodley
,
Chad Greenway
and
Kamerion Wimbley
, but there are still options available for the Eagles and Giants to bolster weak spots.
NFC East teams in need
Giants
: Linebacker is a muddy situation for the Giants. If they sign a middle linebacker, they could move
Jonathan Goff
to the outside and lessen their need there. And assuming they bring back
Mathias Kiwanuka
, who's been something of a Swiss army knife on the defense, they might be able to get by with
Clint Sintim
and
Michael Boley
at the starting outside linebacker spots. But neither Sintim nor Boley is a sure thing, and while the Giants have ignored this position over the past couple of years, they would do well to keep their minds open to the possibility of an upgrade.
Eagles
: Either
Jamar Chaney
or
Stewart Bradley
will man the middle, with the other (assuming Bradley re-signs) taking one of the outside spots. But that doesn't mean the Eagles couldn't use more depth at this spot. They'll have a chance to get creative, perhaps signing a guy for the middle and using Chaney on the outside. But Chaney showed a lot in that middle linebacker spot last year and they'd do well to think about adding outside pieces around him.
Top five potential unrestricted free-agent outside linebackers:
[+] Enlarge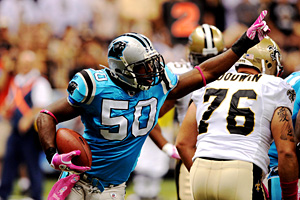 Chuck Cook/US PresswireCarolina's James Anderson is the top free-agent target among outside linebackers.
1. James Anderson
. Had a very good year on the strong side for Carolina, which isn't likely to offer him much to stay. If the Giants were to get serious about the position (and if they didn't have so many other free agency issues at other positions), Anderson would be a great fix for their strong side linebacker void. Carolina teammate
Thomas Davis
is another name who could attract interest, but Davis is coming off an injury and might be more affordable for the Panthers to retain.
2. Manny Lawson
. The 49ers could let him walk, and Lawson is a hyper-athletic, multi-purpose linebacker who can play the run and pressure the passer. His sack numbers haven't been great, but he grades out well as a disruptive force in backfields. Could be a great answer for the Eagles on the weak side.
3. Rocky McIntosh.
He didn't like or fit into the Redskins' new 3-4 scheme last year, and he's likely better off playing the pass from the weak side in a 4-3. Also would be a helpful guy in Philadelphia, and he might could be had relatively cheap.
4. Stephen Nicholas.
The Falcons would like to keep him, but he might have a hard time cracking the starting lineup in Atlanta, so if there's a team out there that could park him on the strong side and use him to solidify their run defense (i.e., the Giants), he could bolt for greener pastures and/or more green.
5. Clint Session.
Played only five games for the Colts last year because of injury. Session is quick and small but replaceable in Indianapolis, so he's likely to be on the market for teams looking for depth and versatility in the linebacking corps.
Predictions that mean nothing
: Eagles sign McIntosh. Giants continue to overlook the position, maybe pursue a middle linebacker such as
Paul Posluszny
so they can move either him or Jonathan Goff to the outside, depending on how things look in training camp.
May, 28, 2011
5/28/11
9:57
AM ET
Everybody wants to know what their team will do once free agency starts. No one knows when or if free agency will start. We're all in limbo, so there's nothing to be done here but speculate. So with that disclaimer out of the way ... your questions.
Bill P from New Jersey
(woo-hoo) wonders: "What do you think the options are for the Giants at linebacker, in-house and around the league?
Dan Graziano:
Odd. I'm going to a barbecue this afternoon at the house of a 'Bill P,' right here in New Jersey. Wonder if it's the same guy. Guess I'll ask when I get there. Anyway, the free-agent names that get thrown around for linebacker are
Barrett Ruud
from Tampa Bay,
Stephen Tulloch
from Tennessee and
Paul Posluszny
from Buffalo. The questions are (a) how available any of those guys will be and (b) whether the Giants will want to spend their free-agent dollars on a linebacker for a change. Needing one last year, they elected to spend on a safety (
Antrel Rolle
) instead and draft defensive linemen. So my answer is this: If one of those guys listed above (or someone else, like Carolina's
James Anderson
if he becomes available) is a guy Jerry Reese and Tom Coughlin
really
like, better than any other defensive free-agent option out there, they make a play for him. But if not, and if they think a guy like Ruud is going to be asking for so much that there's no value there, they'll pass and stick with
Jonathan Goff
and whatever else they already have. They're not going to force it for a guy they don't like, just to fill a position need. I don't necessarily agree with that philosophy, but it's obviously the one they use.
---
Chris in Washington, D.C. writes:
"Your posts are well written and interesting (especially given the lockout) but they are all TOO LONG. Each one seems like its 130% longer than it needs to be. For those of us at a desk at work its hard to read through the blog when each post is so long. PLEASE cut down the posts a little bit!"
Dan Graziano:
Thanks, Chris. Got it -- you want
less
of the interesting, well-written stuff. I'll try and do better from now on at keeping things shor
---
Mr. W from Dallas
wonders whether the Eagles would do better if they switched from a 4-3 defense to a 3-4: "Personnel-wise they don't seem built for the 3-4 everyone is switching to, but I can't think of any highly successful 4-3 teams right of the top of my head ... any thoughts?"
Dan Graziano:
The Colts and Saints faced off two Super Bowls ago with 4-3 fronts. The Vikings had a lot of success with it that same year, and the Bears this year. Tennessee has done well with it for years. Personally, I think it's better to tailor the scheme to the personnel than to try to shoehorn personnel into the wrong scheme. I think the Redskins tried last season to make the switch without having enough good 3-4 pieces (though part of their thinking was that
Brian Orakpo
was a perfect one). If the Eagles all of a sudden looked up and had a couple of brilliant pass-rush outside linebackers and a monster defensive tackle who could play the nose, I could see switching. But with the personnel they have right now, I'm not sure how much sense it makes.
---
Ed in Queens Village, NY
asks, with the Rangers and the Mavericks each having played in a championship series over the past eight months: "How much pressure is on the Cowboys to reach the Super Bowl?"
Dan Graziano:
Ed, no more than usual, I wouldn't think. Expectations are always high for the Cowboys, and I don't imagine the success of the Rangers or Mavericks puts the Cowboys at risk of losing relevance to the fan base. I was in Arlington and Fort Worth during the World Series last year, and it seemed as if a lot more people were upset about the Cowboys than excited about the Rangers. The Cowboys will always been under as intense a spotlight as this sport offers, will always play under pressure and have no worries about losing fans to other teams in the market.
---
Mike Jones in Washington, DC
calls himself "conflicted" and wonders whether it's worth it for the Redskins to pursue
Nnamdi Asomugha
: "The Redskins had a refreshingly quiet free agent period a year ago and collected draft picks in this draft and seem to finally be building a team the right way. But, if we dont sign him, we will likely face him 2x a year in either Dallas or Philly. And with our WRs, we wouldnt have a prayer."
Dan Graziano:
Fair point on the receivers, and a nod to
Friday's discussion
. As for Nnamdi, whose name must appear at least once a day in this blog per a contractual agreement, I believe he's an elite-game-changing player. I believe he will dramatically alter whichever defense he joins for the better. I believe that, if the Redskins got him and no one else, their defense would improve as a result. They could use him the way the Jets use
Darrelle Revis
, to effectively take one receiver out of the game, and that would help their pass rush by eliminating a downfield option and forcing the quarterback to wait longer to throw. I get your point about how big-splash free agents haven't worked out for the Skins, but Nnamdi is no Haynesworth. If they can get him without blowing up the rest of their plans to do it, they should make every effort.
I'll cut it here so Chris doesn't get mad. Enjoy the rest of your weekend, folks, and please don't forget what Monday's all about. I was serious about that yesterday.