March, 11, 2013
3/11/13
11:30
AM ET
Harrison
The
Philadelphia Eagles
have not yet reached out to veteran linebacker
James Harrison
, who was cut last week by the
Pittsburgh Steelers
. And they may not. But it appears clear that Harrison would take the call if they did. This is from Tim MacManus at
Birds 24/7
:
"They are one of the teams that we have talked about," said Harrison's agent, Bill Parise. "I think the Eagles would be a good fit with his skill set and what they want to do there."

"With the coaching staff and personnel there, rebuilding won't last long," said Parise. "Philadelphia is a great, supportive town and the coaching staff is outstanding. It won't scare us that they were not a playoff team last year. I think, frankly, it might be a really good place to go."
Which is exciting, if you're an Eagles fan and you think Harrison's well-established brand of on-field meanness looks like something your defense has been missing in recent years. Unquestionably, as the Eagles appear to be making the switch to some form of 3-4 defensive alignment, someone who plays the way Harrison did in his prime would be a great get -- a player who could help in myriad ways. On the field and off, he's a guy who commands respect and sets an example the coaches could be certain the other players would follow.
However, Harrison is going to turn 35 years old in May and obviously isn't the player he was during the Steelers' Super Bowl runs. The Eagles are looking for younger, very fast players to help transition their defense and their team into the future under new coach Chip Kelly. It's hard to see how a 35-year-old linebacker whose success was built at least in part by his fearsome demeanor fits that plan if he's not the same player he used to be physically. I'd be surprised if the interest was mutual. It wouldn't be the first time in sports history that a GM or coach was a longtime admirer of a player, got star-struck and signed him. But at this moment in franchise history, I don't think Harrison offers what the Eagles are looking for in their defensive rebuild.
October, 7, 2012
10/07/12
10:00
AM ET
PITTSBURGH -- As the
Philadelphia Eagles
prepare to face the Steelers here at 1 pm ET on Sunday afternoon, here is one reason for Eagles fans to be feeling good and one reason for concern.
Feeling good:
The Eagles have shown a great deal of toughness and resolve so far this year -- characteristics they appeared to lack during last season's disappointing start. So while Heinz Field is one of the least welcoming venues in the league, there's little reason to think this Philadelphia team can't handle the difficulties it and the Steelers present. So far this season, the Steelers' defense has just one interception and one forced fumble, which means they don't (so far, at least) appear to be a team poised to take advantage of the Eagles' biggest weakness. They aren't an easy team against which to move the ball this year, averaging 190 pass yards and 101 rushing yards allowed per game, but the Eagles have shown an ability to win tough, low-scoring games and should feel good about their chances to hang in as long as they can hold onto the ball.
Cause for concern:
Any team stats the Steelers have put up this season have come shorthanded, as they've been without linebacker
James Harrison
and running back
Rashard Mendenhall
for their first three games and without star safety
Troy Polamalu
for the past two. All three of those players are expected back this week, which means the Steelers are getting healthy and should be well-rested coming off their bye week. The Eagles are still banged up on the offensive line, so if Harrison is going to boost the Pittsburgh pass rush, it could make life difficult for Eagles quarterback
Michael Vick
.
October, 3, 2012
10/03/12
2:44
PM ET
The
Philadelphia Eagles
on Sunday will be in Pittsburgh to face a Steelers team that's coming off its bye week and, it appears, getting several key players back from injury. Linebacker
James Harrison
, who has yet to play this year due to a knee injury, and safety
Troy Polamalu
, who has missed the past two games with a calf injury, are
expected to play
. The Steelers also believe they could have running back
Rashard Mendenhall
for the first time this season.
Without Harrison this year, as AFC North blogger Jamison Hensley points out in that there link, the Steelers have just five sacks. Only two teams -- Jacksonville and Oakland -- have fewer. Without Polamalu, the Steelers have forced only two turnovers in their last two games. Getting the two of them back could be a major boost against an Eagles team that is banged-up on the offensive line and turned the ball over 12 times in its first three games before going turnover-free in Sunday's victory over the Giants.
Without Mendenhall, the Steelers rank 31st in the league this year with 65 rushing yards per game. It remains to be seen how healthy Mendenhall will be or how much work they'll give him in his first game back after offseason knee surgery. But if he's able to run, it's a fair bet the Steelers will be happy to use him over the crew that's been rolling up 65 a game in his absence.
The Eagles go into Pittsburgh 3-1 and on a high after their big divisional win, but the 1-2 team they're going there to face might be a little stronger than it's looked in the early going.
January, 25, 2012
1/25/12
1:30
PM ET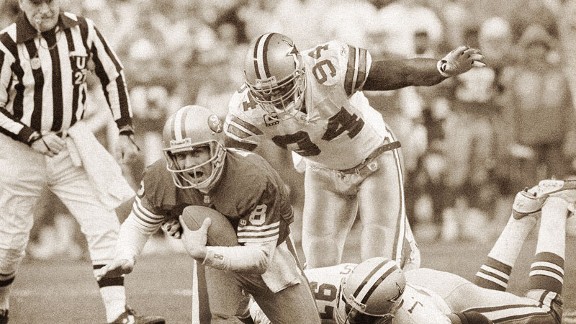 ESPN.com IllustrationEven a QB as elusive as Hall of Famer Steve Young may have a hard time avoiding DeMarcus Ware.
Day 3 of the
NFL Any Era Team
project brings us to our first NFC East player,
Dallas Cowboys
linebacker
DeMarcus Ware
. In case you haven't been paying attention, the NFL Any Era Team is a list of the top current 20 players, as determined by a panel of 20 Hall of Fame players and Hall of Fame writer John Clayton, who could have played in any NFL era. We are revealing four per day, and Nos. 9-12 were revealed today. Ware, often regarded as the league's best pass-rusher, came in at No. 12. That's why you see here a cool, old-looking photo illustration of him sacking
Steve Young
, which never actually happened but, according to our panel, certainly could have.
"When you say tough guy I'm thinking DeMarcus Ware," Hall of Fame former
Washington Redskins
cornerback
Darrell Green
said. "I'm talking about a guy who has to go against double-teams all game long, with the line trying to kill him on every play and with backs chipping on him -- that stuff hurts. There's toughness there in terms of your mind being able to overcome and take on a double team all day long, or you fight through everything and almost getting the sack or you would have had it had the back not chipped you.
"I give the D ends a lot of credit for being tough, for being able to take on double and triple teams all day long, and for the frustration of being a big guy and then having a little bit guy try and chip you. That's why I like Ware. He exemplifies how I feel about the great defensive ends and all they have to face."
Ware is playing in an era in which getting to the quarterback has become the most important aspect of playing defense, and he's as good at doing it as any player in the league. Our panel ranked him ahead of fellow pass-rushers
Jared Allen
and
Dwight Freeney
, who came in 16th and 17th, but behind Steelers linebacker
James Harrison
, who came in 10th. We'll see over the next two days how many current pass-rushers are in the top eight. But Ware got his share of respect from the panel.
"I love DeMarcus Ware's style of play," Hall of Fame former Cowboys tackle Rayfield Wright said. "He is very active and aggressive. He seems to understand his role as far as the team is concerned and he plays it very well."
July, 13, 2011
7/13/11
3:14
PM ET
James Harrison
is a fool, obviously, with an unjustified persecution complex and a seemingly insatiable need to convince himself and everyone else that the world is out to get him. I have no patience for this kind of person, especially not when the legal level of violence in the game of football serves as insufficient outlet for his inner anger. Nobody made any new rules last year to try and bring down Harrison. The NFL simply told Harrison and the rest of the league that they needed to start playing by the rules that were in place (i.e., you can't leave your feet and launch yourself, helmet-first, at another player because it's so incredibly stupid and you're putting yourself at serious risk as well) or else the punishments would grow more severe. Harrison defiantly refused to obey, then threatened to quit the game when the punishments for his continued rulebreaking, as promised, grew more severe.
[+] Enlarge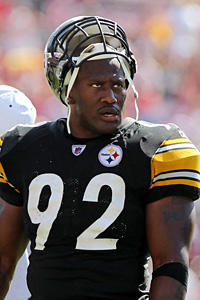 Kim Klement/US PresswireSteelers linebacker James Harrison didn't improve his image with his recent interview in Men's Journal.
As you've surely heard, Harrison is still trying to push this insanity on the football-inclined public, ripping commissioner Roger Goodell in an
upcoming issue of Men's Journal
. Harrison calls Goodell a "crook" and a "devil" and says he wouldn't urinate on the man if he found him on fire. Good job, James. Don't be afraid to use a wrecking ball when a tack hammer will do.
Anyway, I could obviously go on, but the point I really wanted to raise here was about the photo you see if you click that link -- that of a shirtless Harrison posing with one of his precious handguns in each hand. Now
there's
a message worth sending. A perpetually furious man, who could kill other men with his bare hands, brandishing firearms in a photo next to a story about how angry he is about everybody in the world. Thanks, Men's Journal, for helping us all sleep peacefully at night.
When
Plaxico Burress
went to jail for idiotically shooting himself with an unlicensed handgun in a crowded nightclub, I remember thinking (and writing) that something good had a chance to come out of it. I thought that, if the next time one of these guys was thinking about leaving the house with a handgun for no good reason, he might think about Burress and decide not to do it because the risk of having to go to jail for two years and maybe lose your career didn't justify it. I thought the gun culture among pro athletes might take a hit -- that some of these guys might have wised up and decided owning and carrying guns was more dangerous than it was worth.
Maybe that did happen, and maybe Harrison's the exception. But I fear not. I don't think Harrison strikes this particular gun-glorifying pose if he's living in a post-Burress world that actually discourages guns among NFL players. I fear that nobody learned anything from the Burress matter, and all of these guys are still carrying guns around to make themselves feel like tough guys, or because of some ludicrous and baseless notion that people are out to hurt them (and that the gun would really help if that were the case). And if that's true, then it's too bad. Because now I feel like the idiot for thinking something about the way these overgrown children think might actually change.
October, 19, 2010
10/19/10
4:15
PM ET
By
Matt Mosley
| ESPN.com
New York Giants
coach Tom Coughlin is well aware of the league's efforts to reduce head-to-head collisions and it doesn't sound like he'd be opposed to suspensions for illegal hits. Coughlin said Monday that
he's benched players before for putting their heads down
instead of using proper form on special teams.
"We may back them off for a week -– maybe they're the second guy now –- but you do have to continue to coach and to tell them that a lot of these things happen when a guy gets hit on the side of the helmet or he ducks his head down rather than keeping his head where it should be," Coughlin told reporters.
He agrees that fining players for illegal hits isn't really driving home the point.
"I know that one of the recommendations or the strongest one has been that since the money does not seem to be a deterrent, then it has to be more than that," said Coughlin on Monday. "Always, it is quite frustrating, to be honest with you, if a player is forced to leave a game because of an illegal hit and the other player continues… that doesn't really seem right. I'm sure there will be stronger measures taken."
It's too bad that it takes players getting carted off the field to force the league's hand. There are vicious hits on a weekly basis, and I don't think $10,000 fines get most players' attention. Someone will be made an example pretty soon. I'm wondering if
James Harrison
and
Dunta Robinson
will pay the price. After watching collisions involving both those players, I think Harrison's hits on the Browns were more egregious than what Robinson did to Jackson. What do you guys think?
June, 11, 2009
6/11/09
12:10
PM ET
By
Matt Mosley
| ESPN.com
| | |
| --- | --- |
| | |
| | G. Newman Lowrance/Getty Images |
| | Will Cowboys outside linebacker DeMarcus Ware's talent be reflected in his contract? |
Posted by ESPN.com's Matt Mosley
CARROLLTON, Texas -- When a report came out last month that Cowboys outside linebacker DeMarcus Ware had used Twitter to criticize the Cowboys over his contract situation, something seemed fishy. First off, Ware's not exactly on the cutting edge when it comes to technology. Secondly, he's one of the few low-maintenance superstars in the league.
And sure enough, Ware's Twitter page turned out to be a hoax. After organized team activities Tuesday, Ware said his wife brought the alleged Tweet to his attention. His response: "What is Twitter?"
Ware, who may be the best defensive player in the game, has somehow remained in the shadows off the field. He claims to have zero interest in Twitter and Facebook, which is sort of refreshing at a time when bottom-of-the-roster types have their own Web sites.
Ware -- No. 2 in my ranking of the NFC East's Ultimate Building Blocks -- doesn't carry himself like a guy who's poised to sign the richest contract in club history. He hears about disgruntled players such as the Eagles' Sheldon Brown and the Cardinals' Anquan Boldin and just shakes his head. The thought of skipping a voluntary workout or two has apparently never crossed his mind, in part, because he thinks it would be a poor example to his teammates.
"I know what it feels like to be poor," he told me last week. "I've saved everything I've made so far, so I don't sit around worrying about my new contract. What good does that do?"
You would think that an experienced negotiator like Jerry Jones might see the laid-back Ware as an easy mark, but that's not how he's approaching things. If Jones wanted to play hardball with Ware and agent Pat Dye, he could use the prospect of an uncapped 2010 season to his advantage. If the owners don't agree to a new collective bargaining agreement, Ware would not become an unrestricted free agent following the '09 season -- as he is scheduled to be. Instead, he'd become a restricted free agent for the next two years, thus giving the Cowboys the right to match any offer sheet Ware signs with another team -- or receive a first- and a third round pick as compensation if they choose not to match. No matter what happens with the CBA, the Cowboys could also use their exclusive rights franchise tag on Ware.
But Jones said last week that he was operating under the belief that a new CBA will be in place. He has released players such as Terrell Owens and Greg Ellis, in part, because he knows how valuable Ware is to the team. And Ware told me last week that the Cowboys haven't brought up the potential of an uncapped season -- yet.
"That's a bad thing on their part if they do that," Ware said. "I don't think anything about the CBA, everybody is going on the regular schedule and thinking we'll get a deal done and keep moving."
At this point, though, the two sides aren't in the same ballpark. The Cowboys used James Harrison's contract as a jumping-off point (six years, $51.1 million with $20 million guaranteed), according to a source. And I wouldn't blame Ware if he laughed at that number. Ware will turn 27 at the end of July and Harrison just turned 31. Harrison was named the NFL's Defensive Player of the Year in '08, but the award could've easily gone to Ware. He tied the NFL record for most consecutive games (10) with a sack. He finished with 20 sacks and six forced fumbles. And he did all that while constantly facing double teams and being chipped by tight ends.
"I don't even think about double teams anymore," Ware said. "I just expect that to happen all the time."
Ware doesn't want to make contract demands through the media (or this blog), but he's very aware of Albert Haynesworth's contract in Washington. The Cowboys' chief negotiator, Stephen Jones, admitted that his "heart skipped a beat" when he heard about the $41 million in guaranteed money that Haynesworth will make with the Redskins.
Haynesworth is the most dominant defensive tackle in the game, but it's hard to say that he has more of an impact on games than Ware. Of Ware's 20 sacks, a league-leading seven came in the final two minutes of games. And unlike many of the top pass-rushers in the league, Ware is also an excellent run defender. On Tuesday, I asked him how he was supposed to improve on a 20-sack season.
"It's all about being more consistent," Ware said. "It's about getting pressure. I like the aggressiveness [Wade Phillips] has brought to the game."
In a shocking moment, Ware even referred to the normally docile Phillips as a "dictator." Ware thinks the next step for him is making everyone around him better. He said that he could live with a 13-sack season -- as long as the rest of the defense improves.
I haven't heard this from anyone at Valley Ranch, but I think Ware will end up making somewhere in the $35 million-$40 million guaranteed range. That will put him a little bit north of the contract Tony Romo signed in '07.
Ware is the best pass-rusher in the history of this franchise and that's saying something when you're following players such as Harvey Martin, Ed "Too Tall" Jones and Charles Haley. That also means he comes with an expensive price tag.
Ware is normally one of the most humble guys you'll come across. But when I asked him to name a defensive player who's better than him right now, he didn't miss a beat.
"Nobody!"
February, 2, 2009
2/02/09
11:52
AM ET
By
Matt Mosley
| ESPN.com
Posted by ESPN.com's Matt Mosley
Mike Silver stayed up all night to bring you this column. He also made an extended appearance on NBC's Brenda Warner cam. With all due respect, does anyone really care to see Mrs. Warner's reaction to every forward pass by the Cardinals?
Could we perhaps reserve those images for completions of 10 yards or more -- or when her husband is eaten alive by James Harrison?
Just a thought.
December, 7, 2008
12/07/08
6:44
PM ET
By
Matt Mosley
| ESPN.com
Posted by ESPN.com's Matt Mosley
PITTSBURGH -- Marion who? Cowboys rookie Tashard Choice is putting on a show in the second half. His 50-yard catch put the Cowboys in position to make it 13-3 late in the third quarter. Romo dumped the ball off to Choice, who made Steelers safety Troy Polamalu miss before getting free down the right sideline.
The Cowboys' biggest concern with Choice was whether he'd be able to pick up the blitz. But as long as he has the ball in his hands, it's not much of an issue. I did see him do a great job in the first half when Steelers linebacker James Harrison tried to leap over him. Choice waited patiently and then delivered a blow to Harrison as he came down.
By the way, no one loves a challenge like Wade Phillips. He just won another one that changed an incomplete pass to an 8-yard sack by Jason Hatcher. End of the third quarter.
November, 4, 2008
11/04/08
10:17
AM ET
By
Matt Mosley
| ESPN.com
Posted by ESPN.com's Matt Mosley
For the first time in 22 years, the Redskins failed to score a touchdown and gave up seven sacks in a game. According to Elias Sports Bureau, it last happened in October 1985, when the Giants beat the Redskins, 17-3, and sacked Joe Theismann seven times.
Quarterback Jason Campbell stood outside the locker room at about 12:45 this morning just shaking his head. He was amazed that the Steelers were able to take away so many of his options in the passing game and still get pressure.
Without a running game, Campbell didn't have the benefit of the play-action pass. By the fourth quarter, the Steelers didn't concern themselves with Clinton Portis.
No one would admit it, but I think the knee injury to left tackle Chris Samuels is the reason the Redskins abandoned their left-handed running game. That's where Portis has had a lot of his success this season, but the Redskins ran to the right side when the game was still close.
Samuels had one of the worst games of his career with three holding penalties. He was no match for outside linebacker James Harrison in space.
November, 3, 2008
11/03/08
10:21
PM ET
By
Matt Mosley
| ESPN.com
Posted by ESPN.com's Matt Mosley
LANDOVER, Md. -- The Redskins scored their six points off a failed onsides kick attempt and a Ben Roethlisberger interception. It certainly wasn't anything the offense accomplished. The Redskins are 0-for-8 on third downs. They've moved the ball with Clinton Portis at times, but they can't sustain anything. Jason Campbell hasn't been as efficient as usual. From my vantage point, he seems to be guiding the ball a little instead of cutting loose.
I think it's important for the Redskins to stick with the running game, but Portis' right knee appears to be banged up. Veteran Shaun Alexander is the backup, but he doesn't pose much of a threat against this Steelers defense. I'm not sure why the Redskins aren't running the ball to the left side. Maybe it's out of respect for linebacker James Harrison, who lines up on the right side.
NFC EAST SCOREBOARD
Saturday, 12/20
Sunday, 12/21