August, 7, 2013
8/07/13
4:59
PM ET
Three
Philadelphia Eagles
players have torn anterior cruciate ligaments on non-contact injuries so far in training camp. All three -- wide receivers
Jeremy Maclin
and
Arrelious Benn
and linebacker
Jason Phillips
-- suffered their injury on the same middle practice field at the team's NovaCare complex.
Per Geoff Mosher
, Eagles coach Chip Kelly isn't writing it off as coincidence:
"We're looking into everything," he said. "Obviously, when you have the same injury and it happens in a twoweek span or whatever it is, we're going to look at it and try to figure out, obviously, is it preventable? Is it something that we can make sure doesn't happen?

"But I don't have any information. I know we're looking at it. But a lot happens any time we have injuries. Our doctors and trainers are trying to figure that part out how the overall scope of everything we do. But it's something that we certainly are looking at right now."
The irony is that the reason Kelly moved training camp to the team's regular-season practice complex and away from Lehigh University was the quality of the facilities (weight room, cafeteria, etc.) at home in Philadelphia. If it turns out that the condition of the fields is at all responsible for major knee injuries to Eagles players, that would obviously be something to get corrected right away. Though you also have to believe it would have come up before now, since the Eagles have been practicing on those fields during the regular season for years now.
The fields were very muddy the day I saw the Eagles practice at NovaCare, as the city had endured a record rainfall the previous afternoon and evening. That was the day Phillips got hurt, but it was two days after Maclin got hurt, so it's hard to see a connection there. The whole thing could end up being coincidence -- players get hurt all the time, and the Eagles aren't the only NFL team dealing with hearbreaking season-ending injuries the past couple of weeks. But I'm certain Kelly & Co. will do what they can to rule out any possibility that the field is dangerous to players' knees, or to fix it if it is.
July, 30, 2013
7/30/13
12:00
PM ET
PHILADELPHIA -- Chip Kelly sometimes sounds as though he's speaking in fortune cookies. The
Philadelphia Eagles
' new coach has an array of easily digestible sayings he employs to illustrate his points, whether he's speaking to the media in a news conference, addressing his players in a meeting or just passing them in the hallways. Last week, he trotted out "touchdown, first down, get down" as the progression of possibilities he wants his quarterbacks to go through in their minds on each play and then said "durability is the most important ability" when discussing players' health. He's got a million of them, and they're all designed with a teaching purpose in mind.

"We spend a lot of time as a staff talking about that: 'What's the best way to teach our guys?'" Kelly said after the Eagles' practice Monday. "Because the bottom line is, it means absolutely nothing what we know, because we're not the ones playing. So our job, very simply, is that we need to create an environment where our players have a chance to be successful and then get out of the way and let them go play. And if we can arm them with information so that they can not have to think on the field but react, then we're doing what we're supposed to do."
I asked some Eagles players for their favorite Kelly-isms.
"He always says, 'Take 15,'" left tackle
Jason Peters
said. "And that means take 15 minutes out of your day to do something positive, whether it's studying your plays, go call a loved one, just take 15 minutes out of your day to do something positive. Whatever you do in that 15 minutes is going to help the teammate across from you or beside you."
"He'll just say, 'The little things,'" guard
Evan Mathis
said. "It just means doing everything like a professional. Just carry yourself on the field, off the field the same way. Clean up after yourself after you eat. Parking in the right place. Being here on time. The little things. It helps you focus things the right way. How you carry yourself off the field translates to the way you carry yourself on the field. Just get used to forming good habits."
"'Let the world see what you want them to see,'" running back
LeSean McCoy
said. "Good plays, bad plays, you let the world see that. Same thing off the field. Whatever you may tweet, however you may act in public, that's what the world will see. So always be thinking about what you want the world to see."
The fact that everybody seems to have his favorite speaks to the number of these mini-mantras Kelly employs, but also to one of the central teaching tenets he learned from former NFL coach Tony Dungy when he approached him, before taking this job, about the challenges of coaching professional players as opposed to collegiate ones.
"The one thing Tony told me is that if you can make individual players better, then they're going to listen," Kelly said. "So I think when you're dealing with anybody, no matter what business it is, if people understand that you care about them and you want to help them, then I think they're going to take to it. And these guys understand us and I think we've got a pretty good understanding of them as a staff."
If Kelly's first mission was to get his players to buy in, then he's done well. He's connected with them on a personal level, impressed them with his preparedness and his ideas and installed an atmosphere that appears conducive to the teaching he wants and needs to do.
"I just like his attitude, man," McCoy said. "He's always positive. Good days, bad days, always positive."
Long way to go, obviously, and many more good and bad days ahead once the Eagles get into the grind of the NFL season and try to improve on last year's 4-12 record. But this is training camp, a time of excitement, hope and teaching. And Kelly's got all of that humming so far.
THREE HOT ISSUES
[+] Enlarge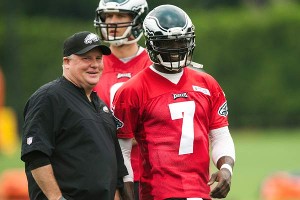 Howard Smith/USA TODAY SportsMichael Vick's experience gives him front-runner status to start at QB for Chip Kelly.
1. Who will be the starting quarterback?
It appears to be a two-way race between veteran
Michael Vick
and second-year man
Nick Foles
with rookie
Matt Barkley
a long-shot possibility to start at some point if not right away. But it's very wide open, and Kelly isn't planning to make any final evaluations until he sees his candidates play in some preseason games. "A quarterback is like a teabag," he has said more than once, the meaning being that you don't know what's in a teabag until you steep it in water. Since the quarterbacks haven't yet been in an environment that lends itself to reliable conclusions about the way they'll function in game situations, there's no way to know yet who's the best choice.
Vick is the obvious front-runner, based both on experience and 2013 upside. But the fact that he has foot speed and Foles doesn't won't win him the job. He's got to show he can handle the quick decision-making Kelly wants from his quarterback, and that he's willing to give up on a play for the sake of protecting the ball and making it to the next play. Throughout his career, Vick has been a guy who's preferred to extend plays in the hopes of making big ones. If he doesn't show a willingness or ability to change that, he could lose the job to Foles or even Barkley. Don't be surprised if each of those guys starts games for the Eagles this year. They don't appear to have a great solution on the current roster.
2. Replacing Jeremy Maclin.
The Eagles' leading receiver in 2012, Maclin went down with a torn ACL in practice Saturday and is almost certain to miss the entire season. The fact that this happened so early in camp gives Kelly time to adjust his offense around Maclin's absence. And although speedy wideout
DeSean Jackson
should be heavily featured and guys like
Jason Avant
,
Arrelious Benn
and
Riley Cooper
have a chance to contribute more, it's probably better to look to the tight end group and the running back group for solutions here. The Eagles have depth at both of those positions, with players who can contribute as receivers and make the kinds of short-range and medium-range plays that will help speed Kelly's offense along. None of them offers the playmaking versatility or the speed of Maclin, but there are plenty of options here for Kelly, and if Plan B doesn't work out there are lots of potential Plans C, D, E, etc.
3. What will the defense look like?
"We're going from a wide nine 4-3 defense to a 3-4," Kelly said. "When do we get to a 3-4? I don't know."
What Kelly means is that, while the ultimate goal is to play a base 3-4, two-gap system on defense, he's not going to force square pegs into round holes right away just because that's what he wants. If the players he has on defense aren't ready to swing all the way to that 3-4, two-gap system, then he's going to stop the transition at some yet-undetermined midpoint and fashion his 2013 defense around their capabilities. And if it doesn't work, then they go out next offseason and find personnel who can better handle what he wants to do.
The question is whether a defense can succeed in the short term while it endures such a transition. Change is worth making for the Eagles on defense, but how quickly the players master the changes required of them will go a long way toward determining whether they're a 2013 contender.
REASON FOR OPTIMISM
The energy and the enthusiasm in camp are very high, and the players do seem to be buying what Kelly and his staff are selling. That's always going to be a question mark with a new coach, and it could continue to be one if the team starts losing and the attitudes turn sour, but for now everybody seems to be enjoying the novelty.
"Every single thing has been very well thought out, very well researched, and there's a rhyme and reason to everything," Mathis said. "And it definitely matters. It helps you understand and just give it your all. When you can trust the game plan, the road map that you've been given, you can just focus on applying yourself and doing it."
REASON FOR PESSIMISM
[+] Enlarge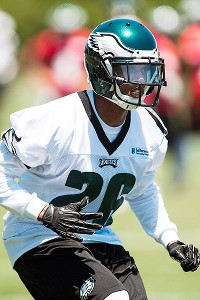 Howard Smith/USA TODAY SportsCary Williams will be one of the players trying to improve the Eagles' defense.
On the flip side, there are plenty of these. This is a team that won four games last season, doesn't have a great option at quarterback and is having to learn a dramatically different defense that's asking some players to play new positions. The secondary is different, but there's no way to say for sure that it's better until we see what guys such as
Cary Williams
,
Patrick Chung
and
Kenny Phillips
bring to the party. There's a lot of change, and probably more is still necessary before this team is where it wants to be.
"The way we're looking at it is that we're trying to develop into a team like we've had in the past, that can consistently compete," GM Howie Roseman said. "We want to win now, obviously, because in this league you can never say you're going to have a redshirt year. But at the same time we want to build it the right way. We don't want to take shortcuts. In the past we were in a situation where we felt like we were close, so we did some things that you do when you're a team that you think is right on the verge. For us, if we build it the right way, good things will happen."
As is the case with any team that bottoms out at 4-12 and changes coaches, the Eagles have a great deal of work to do. Kelly and his staff are wisely operating according to a long-term plan, and it's entirely possible that this season is a transition or rebuilding year just out of necessity.
OBSERVATION DECK
Andy Reid's Eagles training camps were well known as some of the hardest-hitting camps in the league. Although the Eagles practiced in pads Sunday and Monday, there was no tackling to the ground and there won't be. Kelly said, "We have four preseason games for that." He doesn't like the risk of his own players injuring their teammates, and he thinks keeping everyone on their feet encourages proper tackling technique. It's new in Philly, but not unheard of. Some teams, like the Pittsburgh Steelers, never do any hitting at all in training camp.

One of the defensive keys will be the ability of pass-rushers Trent Cole and Brandon Graham, who had been 4-3 defensive ends, to transition to standup 3-4 outside linebacker roles. Cole says he enjoys the extra room he has to rush the passer, and Graham says that pass coverage is "a weakness of mine" and that he has to improve in that area.

For a few moments Monday, it appeared Kelly had his running backs on leashes. Turns out, this was a new drill in which one back carries a ball with a string attached to it while another runs behind him holding the other end of the string and trying to pull the ball loose. Obviously, it's a drill designed to improve ball security.

The standout player in the secondary, to me, was second-year cornerback Brandon Boykin, who works mainly as the nickel corner but could get more work on the outside if he continues to show well.

As much as the Eagles would like former Giants safety Phillips to help, he looks to me like a guy whose knee isn't fully healthy, and of course it may never be.

The loss of reserve linebacker Jason Phillips, who tore his ACL during Monday's practice and was placed on injured reserve, could show up more than you'd think. The Eagles signed Phillips because he was a special teams star in Carolina, and his loss is a blow to their coverage units.
April, 5, 2013
4/05/13
12:00
PM ET
»
NFC Eight in the Box
:
East
|
West
|
North
|
South
»
AFC
:
East
|
West
|
North
|
South
A look at the top under-the-radar move made by each NFC East team thus far this offseason:
Dallas Cowboys:
Cutting safety
Gerald Sensabaugh
.

This move was significant in a couple of ways. Its most immediate impact was that it created enough salary-cap room to allow the Cowboys, later that same day, to designate defensive end
Anthony Spencer
as their franchise player for the second year in a row. Spencer still stands as the team's most significant "free-agent acquisition," and franchising him left the Cowboys with very little room under the cap for the ensuing few weeks. Although it helped the Cowboys cross starting defensive end off of their offseason shopping list, it left safety as a position of some concern. The projected starters right now are
Barry Church
, who's coming off injury, and
Matt Johnson
, a second-year man who didn't play at all as a rookie. They signed veteran
Will Allen
for depth, but it's a position they might have to address early in the draft as well.
New York Giants:
Signing defensive tackle
Cullen Jenkins
.

Jenkins was part of the colossal disappointment that was the past two seasons in Philadelphia, but he's a veteran with something left who should make a contribution in New York in a few ways. He has experience at defensive end as well as tackle, so he'll fit in when the Giants decide to use those packages that load up the line with pass-rushers. The Giants like to lean on high-character veterans to help develop young players, and Jenkins can fill that role for someone like
Marvin Austin
. And with the way the Giants rotate linemen, they should be able to keep Jenkins fresh. After cutting
Chris Canty
, the Giants needed to add depth on the defensive line, and Jenkins was a smart pickup after the Eagles cut him just before free agency opened.
Philadelphia Eagles:
Trading for wide receiver
Arrelious Benn
.

I have no idea whether Benn will make an impact for the Eagles as a wide receiver. Injury problems his first three years in the league led Tampa Bay to give up on him and deal him to the Eagles for basically nothing. And he's behind starters
DeSean Jackson
and
Jeremy Maclin
, among others, on the depth chart. But he's also just 24 years old and was a second-round draft pick only three years ago, so there is some untapped potential there. If he can get on the field in the offense, he's got enough size to offer something the Eagles' starting wideouts don't. Regardless, the move was significant as part of a clear mission by new coach Chip Kelly and GM Howie Roseman to improve the Eagles' disappointing special-teams units. Benn has experience as a return man and in kick coverage, and should help there right away. Along with the signing of linebacker
Jason Phillips
and punter
Donnie Jones
, and the re-signing of
Colt Anderson
, Benn is part of a special-teams overhaul.
Washington Redskins:
Re-signing fullback
Darrel Young

Except on the rare occasions when he catches a pass or powers into the end zone for a short touchdown, Young doesn't get noticed much, but he's a critical part of a Redskins running game that ranked No. 1 in the league in 2012. That run game is likely to be even more important than it was last season while starting quarterback
Robert Griffin III
recovers from offseason knee surgery, and the Redskins' ability to retain Young and keep their offensive line intact will benefit tailback
Alfred Morris
greatly in his second season.
March, 13, 2013
3/13/13
3:20
PM ET
The key to the NFL's success is not fan interest but rather excessive enthusiasm. The product has its merits, to be sure. But what has elevated the NFL from "very popular sports league" to "worldwide marketing monster" is not the quality of that product or its number of fans. It's the frothing excitement the NFL manages to instill in its fans over every single year-round aspect of football, no matter how minute. The draft. The schedule release. The start of preseason games. And of course, free agency, which began Tuesday at 4 p.m. ET.
This is one of those weeks that proves the excessive-enthusiasm theory. Nothing anyone has written or said in prior weeks, months or years about how free agency isn't a franchise panacea matters anymore. Fans are monumentally worked up over the idea that their team might succeed at something, even in the middle of March, as temporally far from the start of the season as the calendar allows us to get.
The result is that fans whose teams are signing big-game players are more excited than they ought to be and fans whose teams aren't signing anyone are frustrated at the lack of action. Here in the NFC East, the past 24 hours have been about the latter. The
Dallas Cowboys
,
Washington Redskins
and
New York Giants
are all cap-strapped. The
Philadelphia Eagles
are judiciously signing unexciting players of whom fans have not been fantasizing.
Do not fret. Instead, read
this from Grantland's Bill Barnwell
, who throws cold water on the whole idea of the first day of the league year as anything more than an overhyped, irresponsible spending spree by teams that just don't ever seem to learn. Bill writes that it's all too much, and that the rush to sign players on the first day leads, historically, to bad deals. "Players who would have gotten a couple million dollars if they had signed next week got three or four times that figure in guaranteed money Tuesday," Bill writes. "Good for them and great work by their agents, but that sort of behavior in this marketplace simply beggars belief."
If you're wishing your team were more active, Bill's column will set your mind at ease. And if you're an Eagles fan, you'll particularly enjoy the ending, which seems to sum up the Eagles' Tuesday as intelligently dull. They signed five players -- tight end
James Casey
, cornerback
Bradley Fletcher
, safety
Patrick Chung
, defensive lineman
Isaac Sopoaga
and linebacker
Jason Phillips
. All to sensible deals. In spite of their excess of cap room:
The sort of logic that went into those moves — buying low on a low-risk, medium-reward player — seemed absurdly out of place on the dumbest day of the NFL year. Some of the teams that made headlines Tuesday by following a now-infamous Eagles plan that didn't work might have done well to follow the new Philadelphia brain trust's lead.
There is, of course, irony in the fact that Andy Reid and the Chiefs had one of the most active Tuesdays. But if you're an Eagles fan, that's not your problem. Take a deep breath and enjoy the idea that your team has a plan and is going to try to execute it with intelligence and sobriety. That may not make for a very fun March, but it could make December and January a lot more fun down the road.
March, 12, 2013
3/12/13
9:44
PM ET
The four defensive players whose signings the
Philadelphia Eagles
announced Tuesday night are not the big names of which Eagles fans may have been dreaming. But the Eagles need bodies on defense, and they sure did get them. They announced a two-year deal with former Rams cornerback
Bradley Fletcher
, a three-year deal with former Patriots safety
Patrick Chung
, a two-year deal for former Ravens and Panthers linebacker
Jason Phillips
and a three-year deal for former 49ers nose tackle
Isaac Sopoaga
.

Sopoaga likely projects as the nose tackle the Eagles will need when they line up in a 3-4 alignment on defense. The Eagles appear to be planning some sort of hybrid defense, which might mean they won't need him on the field every down. But when they do line up as a 3-4, they will need a big nose tackle to occupy blockers in the middle of the line. Sopoaga did that for the NFC champions and was one of few true experienced nose tackles on the free-agent market. The Eagles also are planning a visit for Sopoaga's former 49ers teammate,
Ricky Jean-Francois
, who would play defensive end in those 3-4 sets.
Fletcher is an experienced cornerback who turns 26 in June and should at least compete for a starting job in the Eagles' secondary. He's the kind of free agent smart teams like to sign -- still young, with some experience, possibly ascending -- and the Eagles' coaching staff is likely trying to create as much competition as possible at several positions on defense.
Chung and Phillips likely were signed with the idea that they'll help on special teams, but in Chung's case, especially, there's a chance of competing for a starting job as well, depending on what else the Eagles do from here at safety.
The Eagles are a team with more than $40 million in cap room, so there's no reason to think this is anything but the beginning of what they'll do in free agency. None of it is eye-popping, but you're starting to get a sense of what the new regime is looking for and what their priorities are. It's entirely possible all of these guys will make an impact on the Eagles' defense in 2013. Possible that only one of them will. But this Eagles defense is something that's going to take a while to take shape. It's only now beginning.