December, 10, 2013
12/10/13
6:35
PM ET
It's not a move that's going to change the
Washington Redskins
' fortunes, but it is one that could give another young player a chance. Regardless, it's a nice holiday boost for rookie running back
Jawan Jamison
, who was signed to the active roster Tuesday.

Jamison is the sixth rookie to be on the roster this season. The only player in the seven-member draft class who will not have been on the active roster this season is fourth-round safety
Phillip Thomas
; he was placed on injured reserve before the season. But the class has a ways to go before it can be considered a good one. For now it looks like one that will yield one standout (tight end
Jordan Reed
), one contributor and potential starter (corner
David Amerson
) and a lot of question marks.
Jamison takes the roster spot vacated when
Evan Royster
was placed on injured reserve after suffering a high ankle sprain in Sunday's 45-10 loss to the
Kansas City Chiefs
. Jamison, a seventh-round pick, spent the first 13 games on the practice squad. He did not stand out this summer, and barring injuries it's hard to see him doing much, if he's even active. Jamison was known at Rutgers for his ability to make defenders miss once past the line of scrimmage. He also did a nice job in pass protection, though he had a tougher time of that this summer when facing players bigger than those he competed against in college.
December, 5, 2013
12/05/13
10:35
AM ET
ASHBURN, Va. -- It's tough to judge a draft in less than a year, let alone with four games remaining. But you can measure player' progress and try to gauge where they might be headed. Then you need to wait a couple years.
Thus far, when it comes to the 2013 draft, the Redskins have found one player capable of being outstanding (
Jordan Reed
) and another who has contributed all season (
David Amerson
). After that, there are a lot of question marks (as there should be after less than a full season) and potential role players. If you can get two quality starters and a couple key contributors from a seven-player draft, then you've done rather well. This class has a ways to go.
Amerson
Cornerback David Amerson (second round):
He's tackled better than I anticipated, especially after watching him in college. You see a lot of the same things from his N.C. State days -- an ability to make plays, but also getting sloppy with his technique at times. He still has all the skills you want and looks the part. He made a game-changing play against Oakland and had a big interception against San Diego. But in the latter game he also was beaten a few times, partly because his eyes were in the wrong place in certain coverages. Which is what happened in college. He can clearly play in the NFL, but can he be a solid starter -- not just start, but play at a higher level? Needs to show a lot more to go that far.
Reed
Tight end Jordan Reed (third round):
Have liked him since early in camp because of his athleticism and ability to get open, and his work ethic. Can he stay healthy? That was a knock on him coming out of college, and he's had to deal with a couple issues thus far, including his recent concussion. He's a better blocker than I thought he'd be as a rookie. When he was drafted, I didn't think he'd be a viable replacement right away for
Fred Davis
because of this. It took Davis a few years to learn to block. But a key point: Reed has worked much harder. It matters.
Strong safety Phillip Thomas (fourth round):
On injured reserve. Impossible to say what he might have done; we didn't see enough, nor did he get a chance to really work on his game once the preseason started because of his injury. I know the coaches liked his progress this summer. It's a start.
Running back Chris Thompson (fifth round):
Also on injured reserve. Made no impact when healthy. In the preseason he looked fast, but that wasn't the case in the regular season as he misjudged the speed of those trying to tackle him on returns. Because of his size and past injuries, durability always will be an issue. That will limit his role even if he does come through. He has the speed (and quick acceleration) you want, but needs plenty of work. Speed alone won't cut it.
Linebacker Brandon Jenkins (fifth round):
I don't buy the idea that he would have been a first-round pick had he stayed healthy. He looked like a raw pass-rusher this summer, albeit one who was worth developing. He hasn't had a lot of opportunities, which is understandable given who's ahead of him at linebacker. For now he looks like a role player who, because of his size and ability to run, needs to develop on special teams as well. But I'm intrigued to see how he develops. He showed flashes last summer, but a lot of guys do. Year 2 will tell a lot.
Safety Bacarri Rambo (sixth round):
Opened as the starter, but more so because of who the Redskins didn't have than for his own performance. He tackled poorly, wasn't a good special teamer and deserved to be pulled. He had the reputation as a ballhawk in college, yet he doesn't make plays (didn't see it in practice or games). I love how he's responded -- he's tackled much better since his return. The next four games will help him. Regardless, safety will remain an offseason priority. They need a quality starter at this position. If Rambo can develop into a quality backup and special-teamer, then he's a good sixth-round pick.
Running back Jawan Jamison (seventh round):
Still on the practice squad. Wasn't wowed by him this summer, though there were things to like (ability to make defenders miss with a little second-level wiggle).
August, 26, 2013
8/26/13
8:38
PM ET
With final cuts being made this week, here's my handicap of the Redskins' running back situation:

How many will they keep:
With issues elsewhere, I thought the Redskins would only keep four running backs, including a fullback. But I can see them keeping five; it would mean keeping only eight offensive linemen or five receivers (you could not keep five running backs, nine linemen and six receivers and also keep four tight ends and three quarterbacks).
Locks:
Alfred Morris
,
Roy Helu
and
Darrel Young
. These three are obvious; Morris looks sharp and is a better runner than a year ago. What that translates into remains to be seen because other factors will affect his performance. Helu will help on third downs and can start games if necessary. I wouldn't want him starting more than a few games in a row just because of durability issues so it would be wise to have another potential every-down back. Young is a solid fullback.
Looking good:
Chris Thompson
. I know the rookie fumbled the other night, his second of the preseason and I know he has durability issues. But he offers them something they don't have in terms of his speed and quickness. I love his ability to set up defenders and make quick cuts; and he's not afraid to turn it upfield. So I came into Monday thinking they'll find a way to keep him. You can't make him bigger, but you can work on ball security issues -- there are other small backs in the NFL. What you can't work on a whole lot with a player is speed. When a guy has it, you find ways to keep them around. That was my thought this morning. And then coach Mike Shanahan said this about him, "I like what I see, especially after not playing all last year coming off the ACL, and I think he'll just keep on getting better as time goes on." Quotes like that are quite meaningful this time of the year.
Fighting for a spot:
Keiland Williams
and
Evan Royster
. Williams is a better special teams player so if he's not starting or serving as a third-down back, he can still help. Royster is best used as a move-the-chains runner. Yes, he can play special teams, returning kickoffs for example, and he can back up Helu as a third-down back (so can Williams). Neither one is a dynamic runner. I think Royster, against starting defenses, does a better job than Williams in this area. This is a close call.
Practice squader:
Jawan Jamison
. He hasn't done a whole lot this summer and, unlike Thompson, he does not have game-changing speed. I like some of what I've seen from him, but not enough to say he deserves a roster spot.
August, 23, 2013
8/23/13
7:30
PM ET
Here's what I'll be watching when the Redskins host the Bills at 4:30 p.m. ET Saturday in the third preseason game for both teams:
The pace of Buffalo's offense. I wrote about this Friday morning, but Buffalo likes to use a fast-paced attack, something the Redskins' season-opening opponent, Philadelphia, does as well. How will the Redskins handle this? What will the Redskins do if caught in a personnel grouping that isn't the best for what Buffalo's offense has on the field? Because the starters will play only 15-20 snaps, it will provide only a small test -- the pace can take its toll over the course of a game -- but it will be a help nonetheless.

Safety Bacarri Rambo's progression. I'd play him more than the other starters, or at least in the final preseason game, just to give him more chances to tackle in the open field. He clearly needs the work. He might end up starting, but he still has yet to truly win the position. At this point he's in there by default. He has a lot of skills to offer, but if this area doesn't improve it'll cause big problems.

Corner Josh Wilson. He'll make his preseason debut after sitting out the first two games while his surgically repaired shoulder continued to heal. Wilson remains the starter, ahead of rookie David Amerson. But Wilson is not coming off his best season and was asked to take a pay cut in the offseason -- so it's not as if he's firmly entrenched at this position. He's much more knowledgeable about the defense than Amerson and, with a rookie safety, that matters. The Redskins can't afford a lot of defensive backs learning on the go, though Amerson has looked good at times. But Wilson still needs to play well.

[+] Enlarge

AP Photo/Wade PayneRookie safety Bacarri Rambo (29) needs more work on his open-field tackling to avoid headaches later.

Backup running backs. There's no doubt who the top two players are at this position (Alfred Morris and Roy Helu -- but you really didn't need me to tell you that, did you?). Is Evan Royster in any danger? The problem is, the rookies have yet to show that they deserve a roster spot. Chris Thompson has flash, but he's barely done anything in practice, let alone a game, in part because of injuries. Coaches are big on players being available; can they rely on Thompson in this area? His speed is intriguing (and speed is why Mike Shanahan, among others, initially fell in love with Brandon Banks in 2010). So it matters. But based on performance Thompson still needs to prove he belongs. I like Jawan Jamison's running style, but the same applies to him. Royster is an average runner, so he's no lock. Keiland Williams is a good special-teams player, but not much help from scrimmage.

Veteran backups. Specifically linebacker Nick Barnett and receiver Donte' Stallworth. Barnett, the ex-Bill, isn't worried about any sort of revenge; rather, he needs to show that he can still play at a certain level. This will be his first chance to do so. The Redskins have a pressing need for inside linebacker depth, and having a former starter who is familiar with this defense would help. As for Stallworth, he'll make it only if the Redskins keep six wideouts. He's played special teams sparingly in his career, but will have to show he can help there to stick around. And stay healthy. Lingering injuries never help aging vets.

Right tackle. If Bills defensive end Mario Williams plays -- he went two series in the opener and did not see time last week -- then Redskins right tackle Tyler Polumbus will have a good game to measure any progress. Polumbus did not have a strong game last week. Nobody else has taken first-team reps at right tackle. But along with watching Polumbus, I want to keep an eye on veteran Tony Pashos. He's Washington's most aggressive right tackle when it comes to using his hands, but what does he have left? The Redskins likely would need to keep nine linemen for him to make the roster. And Tom Compton is still working on the left side, but he's coming off a strong game.

Nose tackle Chris Neild. With Barry Cofield sidelined by a fractured bone in his right hand, Neild will get a chance to work against the Bills' starting line. He's not in danger of being cut, but this is a good opportunity to face quality blockers.

Rookie tight end Jordan Reed. He struggled as a blocker last week, mostly, it appeared, because of inconsistent technique. He was not overpowered, which is a good sign for him. But he does need to help in this area. Reed also dropped a ball last week; I'd like to see him get a chance to display his athleticism.
August, 22, 2013
8/22/13
9:30
AM ET
His game film provided highlights of electric runs and flashy plays. The Redskins want a little more of both in their offense so they selected Florida State running back Chris Thompson in the fifth round. But Thompson can only help if healthy. Can he do so in the NFL?
What he's learning:
How to run at an NFL level as well as how to pass protect. Thompson has the speed; just take a look at his college film. He had mixed reviews against the Steelers, with a good first run and then fumbling on his second. He could have helped himself on the fumble by pressing the hole just a little longer, but because he cut back early the safety was in good position to fill the hole and hit him hard. That can be corrected by staying patient (which running backs coach Bobby Turner preaches; it's an absolute must in this offense). Like fellow rookie
Jawan Jamison
, he can duck behind his blockers at times to sort of get lost in the crowd, making it hard for defenders to see -- and use his short stature to his advantage. Thompson said he's not struggling with the track he must take on runs, something
Alfred Morris
needed to work on early last year, because it's similar to what he ran at Florida State. It's more about the tempo.
"Too fast or the [the hole] is closing up or just missing reads here and there," Thompson said of what he's learning. "I go back and look at film and try to correct it every day."
"He shows signs of what we're expecting," Turner said.
Thompson also is learning how to pass protect at an NFL level. Check the next topic for the physical demands of that role, but for now it's about learning how to read blitzes. In college, Thompson was only responsible for half the field. Here, he'd be responsible for the entire field.
Finally, Thompson has to learn how to be a returner. He said he was going to get a chance to return kickoffs against Pittsburgh, but did not. He did return kicks at Florida State early in his career. He also has been fielding punts in practice, though he never did it in college (except in practice) and, based on how he was catching the ball, has a long ways to go.
[+] Enlarge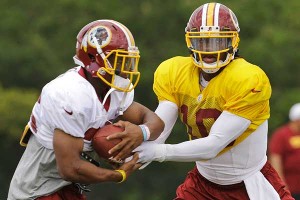 Steve Helber/AP PhotoChris Thompson's big-play ability is something that could help land him a spot on the Redskins' roster.
"The punters, their hang time is ridiculous at this level," he said. "Kickoffs are a whoooole lot easier."
What needs to be seen:
Durability. Thompson missed much of training camp while recovering from knee surgery last fall. He then hurt his shoulder against Pittsburgh on his second carry. He's listed at 5-foot-7 and 192 pounds, so his size always will draw concerns. But two years ago he broke his back and last year tore his ACL. Those can be considered freak injuries and not the nagging sort that derail some players. But even Thompson admitted he has to show he won't be affected by his knee injury. The Redskins just ended a three-year run with pint-sized
Brandon Banks
, who struggled to maintain his explosiveness because of injury issues. I like Thompson's character a whole lot more, and if the Redskins truly were worried about his size they wouldn't have drafted him. But if you can't stay healthy, that' s an issue. The one benefit for Thompson is that he won't be an every-down back in Washington; the Redskins need him to be a change-of-pace back. Still, if he plays on third downs he'll have to prove he can handle blitz pickups. The physics of the job -- small running back meets bigger hard-charging linebacker -- can be difficult. In college, Thompson was not asked to handle much of the protection duties, especially as a senior. He did block a linebacker on one rush, hitting him low.
"I have confidence I can block anybody," Thompson said. "I can do whatever a coach needs me to do. If he wants me to carry it 20, 30 times I can do it. Size doesn't mean a thing.
DeSean Jackson
is like 160 pounds and he's been doing great. It's confidence. If you listen so much about people saying you're too small and you just need to be a third-down back or catching balls out of the backfield, that's what you're gonna believe. I don't believe that. I believe I can do anything."
What stands out:
His speed and quickness. That was true watching his games at Florida State in particular and at times during training camp workouts. The tough part is we only saw it in snippets because he missed all that time and was admittedly not quite yet himself. But that speed is evident, as is his ability to quickly cut. It was shown on his 8-yard run in the fourth quarter versus Pittsburgh. He ran an outside zone and was able to string the outside linebacker wider than desired. The impressive part? Thompson's cut. He stuck his right foot in the ground and cut upfield. In about three steps Thompson executed his cut and got about 3 or 4 yards upfield. Some backs shuffle a little when they cut; he did not on this play. His size did not hurt him here either because the defense was flowing, no one was in the hole and nobody had a good angle on him so there was no clean shot. Instead, he could burrow into the opening and gain another 5 or 6 yards after contact.
"He has outstanding speed, cutting ability, ability to make the big plays and that's what we're looking for, to make the big plays," Turner said.
Projection:
Practice squad, assuming they keep only three running backs and a fullback. Thompson is a tough call because I know the coaches really like what he has to offer. Right now I'd take three other backs -- Morris,
Roy Helu
,
Evan Royster
-- ahead of him because I don't see Thompson helping in any sort of big role at this point and his durability is a major issue. He'd be a Banks-type player if he makes the team, a threat in their triple-option game, etc. But Banks made the roster by making big plays; Thompson needs to do the same. However, if they keep four running backs (plus a fullback) then he has a shot because of his explosiveness. I also think Thompson's status could change dramatically with one or two runs Saturday. But you can't fumble after the first time you get popped -- and also hurt your shoulder (though he did return).
August, 20, 2013
8/20/13
5:35
PM ET
After watching the Redskins' 24-13 win over Pittsburgh, here's what stood out:
It's too bad the Redskins' offense didn't play more than one quarter against Pittsburgh's starters. It's not like it would have provided a better picture -- the Redskins were explosive last year and didn't do a whole lot versus that defense, except drop passes. But the Steelers force you to execute well because of their discipline. They move fast and at times it was difficult for the Redskins' linemen to stay on their men or to even get to them. The Redskins managed a combined 23 yards and one first down against Pittsburgh's starters. Quarterback Kirk Cousins completed 2 of 3 passes for 19 yards. Left tackle Trent Williams managed well with his sprained left wrist and never really was in trouble in pass protection, though he did not get to a couple blocks in the run game.

The offensive lineman who really stood out, at least with the second unit, was left tackle Tom Compton. That's the best I've seen him play (granted, the sample size isn't huge, but I'll include practices as well). I liked that he was facing rookie Jarvis Jones, who has a thing or two to learn but who is a talented first-round draft pick. The sort of guy Compton needs to do well against. Compton showed excellent balance and technique. On one rush, he was aggressive with his punch but Jones got into him a little. However, Compton was able to reset and anchor. That happened on another occasion as well. Later, Jones beat him off the snap another time, but Compton recovered to shove him off his path. His run-blocking was fine, too. All in all, a solid night.

[+] Enlarge

Brad Mills/USA TODAY SportsReceiver Leonard Hankerson was a bright spot for Washington on Monday night, recording a TD catch.

Rookie tight end Jordan Reed had some mistakes that were evident Monday night and therefore didn't seem to have a good game. It didn't get better watching the game again. I think you know I like Reed's athleticism and potential, but his preseason debut was a tough one. Reed didn't finish his route on a Rex Grossman pass, leading to an interception. He also had a drop. Reed's blocking was uneven. In some cases it was technique -- his arms were a bit too extended on one block and he lost his man. Next play, he whiffed on his block. He did show good technique on a block on one run and also moved his man out on another. Reed was able to get outside in a pulling action (though he failed to hold his block). The good part for Reed is that he moves well. He just needs to improve.

This is where not having the All-22 available yet hurts because on the first-quarter sack of Cousins, I'd love to see what he was looking at on the right side. Cousins had time to look off and could have dumped the ball over the middle for a first down. But it's tough to ping him for that without knowing what he saw. I do know he was sacked in 2.8 seconds so there was enough time to find another option (if that was even an issue).

There were a couple runs by running back Alfred Morris, and others, in which one more block would have resulted in a gain of 10 or more yards. That's football, of course, but it was evident on a handful of plays. Fred Davis was the culprit on one such play, leading to a 4-yard Morris run. The path should have been more outside, but Davis lost his block, forcing a quicker than anticipated cut upfield. He cut just as the hole closed. Morris' best run, an 11-yard dash, was negated by a Tyler Polumbus hold. But Morris showed some of what was visible at camp: his quick cuts (don't remember them being this fast last year). On this play, Morris should have been tackled for a short gain at best yet managed a good gain because he cut so sharply in a tight area.

Polumbus worked against a starting defensive player for one quarter and allowed a sack and was called for holding. Not every play was bad; early on he handled LaMarr Woodley; Polumbus' shoulders were square as he rode out the linebacker to the outside. But Polumbus was beaten for the sack, a result of Woodley's quick and powerful hands. Later, Polumbus' hands were wider than desired as he was driven back by Woodley. Next play: hold. Polumbus' run blocking was fine and he did a good job shoving blitzing safety Ryan Clark out wide. He was OK against the Steelers' second string, but needs to become more consistent.

Receiver Leonard Hankerson did a good job against man coverage. Got open on the touchdown with a hard stem to the outside, selling the corner route, then cutting inside. He got free against the linebacker on the first play from scrimmage with a similar step, selling an out cut. That's what you call a mismatch. Hankerson could have caught a pass down the right hash -- it was a tougher, but far from impossible catch. The sort a guy makes if he wants to become more than just a fourth receiver with occasional flashes. Like he did on the touchdown, with the one-handed grab. Now, let's see it again next week.

Saw some good and bad with Josh LeRibeus, getting driven back on a couple occasions where he seemed slow with his hands. But after the past week I anticipated worse. LeRibeus really did himself no favors with his offseason work. At the end of last season he seemed close; that's not the case right now. Right guard Adam Gettis was fine; there's definitely something to build on there.

Running back Chris Thompson showed some of his burst on his first carry, a quick cut on an outside zone to the right. He was able to burrow through the opening for seven yards. Obviously his big issue was the fumble, but he also needed to show a little more patience on his next carry. He got within maybe two yards of his linemen before cutting back and never sold the linebackers that he might stay on his original path. So when he cut, there was no room. When the offense works right, and he's patient, the defense's movement will be used against them -- and that prevents many clean shots on the petite running back.

Did like Jawan Jamison's patience. He's a good fit in this sort of system, though it would be nice if he were a couple inches and 15 pounds heavier. He gained 20 yards on five runs; I liked a 6-yard run in the fourth quarter where he exhibited patience and cutting ability. Jamison looked like he was headed wide and the linebacker flowed that way, creating a cutback lane for a 6-yard gain. It wasn't some highlight run, but it was an example of a good one. Thompson's explosiveness still bears watching, but Jamison knows how to run. If only…

Receiver Aldrick Robinson didn't take a vicious hit after his deep catch near the end of the first half. But it was a tough grab. One thing I've been impressed by him this summer is his ability to hold onto the ball after a big hit.
May, 24, 2013
5/24/13
12:00
PM ET
»
NFC Eight in the Box
:
East
|
West
|
North
|
South
»
AFC
:
East
|
West
|
North
|
South
How does each NFC East team look at running back, and what still needs to be done?
Dallas Cowboys

After a season in which they ranked third in the league in passing yards and 31st in rushing yards, the Cowboys seek greater balance in their offense. Any balance, actually. The starting running back remains
DeMarco Murray
, whose toughness and physical style give the Cowboys an extra dimension when he's on the field. Murray's problem is staying on the field, as he's had to miss nine games over his first two NFL seasons due to injury. The team let
Felix Jones
leave as a free agent and drafted Oklahoma State's
Joseph Randle
in the fifth round. It's no coincidence that Randle is a back who didn't miss a single game in his college career. The Cowboys needed someone durable and reliable to back up Murray, who's already struggling with hamstring problems this offseason, and neither
Lance Dunbar
nor
Phillip Tanner
showed enough in limited work last year to prove he was the backup they needed. What the Cowboys need at running back is to get and keep Murray as healthy as possible and to get Randle up to speed so he's ready to step in when he's inevitably needed as the fill-in starter.
New York Giants

The Giants let starting running back
Ahmad Bradshaw
depart via free agency, a difficult choice necessitated by salary and health concerns. That likely leaves the running game in the hands of 2012 first-round draft pick
David Wilson
, who opened eyes as a big-play threat and a kick returner in his rookie season, and
Andre Brown
, who functioned as a reliable goal-line back before an injury ended his season. Either should be able to handle full-time starter duties, and it's likely the team will split carries somewhat between them anyway. What the Giants need to do is establish whether Wilson and/or Brown can handle the pass-blocking duties at which Bradshaw excelled for so long. If one of them demonstrates superior performance in blitz pickup, that's likely to give him the edge for playing time over the other. With fullback
Henry Hynoski
out now with a knee injury, and with excellent run-blocking tight end
Martellus Bennett
now a Chicago Bear, the Giants remain on the lookout for reliable blocking backs. The recent injury to
Tim Hightower
shows that, and it remains to be seen whether
Ryan Torain
,
Da'Rel Scott
or seventh-round draft pick
Michael Cox
can be part of the solution.
Philadelphia Eagles

Every prediction about Chip Kelly's offense claims certainty that the Eagles will use the run game and the screen game more this year than they did in the past.
LeSean McCoy
remains the starter, and one of the best running backs in the league when healthy.
Bryce Brown
showed when McCoy got injured last year that he could handle starter's responsibilities brilliantly, but his fumble problems obviously must be overcome if he's to be trusted with significant carries. The Eagles signed Cowboys castoff Felix Jones for depth, and they still have
Chris Polk
, so the candidates for carries are plentiful this offseason. What remains for the Eagles is to establish the manner in which they'll distribute those carries (and catches) among their backs in an offense that will try to run as many plays as possible every game.
Washington Redskins

Sixth-round pick
Alfred Morris
came from the back of the depth chart last offseason to overtake Hightower,
Roy Helu
and
Evan Royster
to claim the starting running back job, and he quite literally ran with it. A perfect fit in Mike Shanahan's one-cut zone-blocking run schemes, Morris finished second in the NFL with 1,613 rushing yards as a rookie and delivered a 200-yard, three-touchdown masterpiece in the regular-season finale/division-title game against the Cowboys. Shanahan does love to play the volume game at running back, and he still has Helu and Royster as well as late-round 2013 draft picks
Chris Thompson
and
Jawan Jamison
. What remains for the Redskins is to figure out the pecking order behind Morris and work to find ways to use the talent they have at running back to ease some of the physical pressure on quarterback
Robert Griffin III
. It's also important to note that Washington was able to re-sign fullback
Darrel Young
, a key figure in a run game that led the league with 169.3 yards per game in 2012.
April, 29, 2013
4/29/13
10:05
AM ET
There are two things to keep in mind when assessing the
Washington Redskins
' 2013 draft. First, their first-round pick was spent as part of last year's
Robert Griffin
III deal about which they have no regrets. And second, the work they did in free agency to bring their 2012 roster back almost completely intact meant that they didn't feel compelled to use the draft to address immediate needs. They returned their entire starting offensive line intact, they retained their starting cornerbacks at reduced salaries, and linebacker
London Fletcher
put off retirement for a year. The only position at which they may have felt the need to find a Week 1 starter was free safety.
That's not to say positions like right tackle or cornerback couldn't use an upgrade. But given the constraints imposed by the second year of the salary-cap penalties, the Redskins did enter this year's draft with relatively few obvious holes to fill. So instead, they took players with upside -- guys they think have a chance to be great in the long term as opposed to adequate in the short.
[+] Enlarge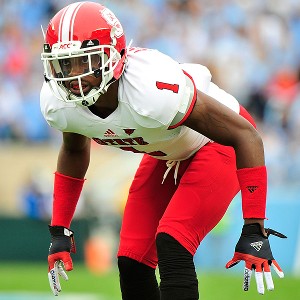 Grant Halverson/Getty ImagesCornerback David Amerson was drafted with the future of the Redskins' secondary in mind.
Cornerback
David Amerson
, selected in the second round with the Redskins' first pick of this year's draft, needs help staying disciplined in coverage and must work on his tackling. But he knows how to make a play on the ball, and Mike Shanahan believes that's a lot harder to coach into someone than those first two things are. Amerson doesn't need to play much this year, with
Josh Wilson
and
DeAngelo Hall
starting and
E.J. Biggers
as the No. 3 corner. Get him with secondary coach Raheem Morris and see if he can shore up the trouble areas and make him into something special.
Tight end
Jordan Reed
, the third-rounder, is basically a great big wide receiver who can line up as a "move" tight end the likes of which more teams are using these days. It's odd that Shanahan took such a poor blocking tight end, since he prioritizes blocking even among his wide receivers, but Reed is another guy who's shown an ability to make big plays and create mismatches in opposing secondaries. Deployed correctly, he could help make the offense more explosive.
Safeties
Phillip Thomas
and
Bacarri Rambo
were fourth-round and sixth-round selections, respectively. Because the position is vacant, it's not crazy to think either or both could compete for the starting free safety spot this year. But that's not the main reason they were picked. Shanahan took these players because they represented good value at their slots and played a position at which his roster is thin. He's playing the percentages with guys who were playmakers in college, and if one of these two ends up being a starter, that'll help this look like a good draft in retrospect. If both do, he's struck gold.
Running back
Chris Thompson
and pass-rushing outside linebacker
Brandon Jenkins
, both taken in the fifth round, were good college players whose value dropped due to injury. Seventh-round running back
Jawan Jamison
played through an ankle injury last year at Rutgers and left school early to try to help pay the medical bills for his mother, who was diagnosed with breast cancer last year. These three represent depth (with upside potential) at positions where there's no such thing, in Shanahan's eyes, as too much depth.
This Redskins draft is a perfect example for those who say you can't grade a draft until three years down the road. It's possible that literally none of these picks pan out. But most of them were picked because they carry at least a chance of becoming stars, and when you can find potential stars in the middle and late rounds (and you already feel you have a deep roster), that's what your draft goal becomes.
Redskins fans might feel better if they'd grabbed an immediate starter at safety in the second or third round.
D.J. Swearinger
may have fit that description and was still on the board when they took Amerson. The fact that no offensive linemen were taken has stirred some concern, but the Redskins drafted mid-round offensive linemen last year and are still developing guys like
Tom Compton
and
Josh LeRibeus
. No crying need to add to that depth just yet. The Redskins approached this draft like a confident division champion that likes its roster and was looking for high-end talent it felt was being drafted too late. That's what they took, and now it's on their coaching staff to make this 2013 draft look good.