February, 21, 2014
2/21/14
8:00
AM ET
PHILADELPHIA -- In his combine press briefing Thursday, Eagles general manager Howie Roseman sounded very much like a man willing to shuffle the team's deck at wide receiver.
Of course, that's exactly how you would want to sound if you were a GM with two receivers about to test the free-agent market.
Cooper
Maclin
"We're trying to figure out the whole dynamics of it," Roseman said Thursday. "You can only put a limited amount of resources at a particular position before it starts taking out from other places. And then you've got to factor in the quality and the depth in the draft. ... We set prices for guys and try to stick to those and have walkaways numbers. The market is going to determine a lot of those things. It's hard to figure out the market until you're in it."
Because it's the most interesting situation for the Eagles this offseason, we saved our look at the wide receiver situation for last.
Jeremy Maclin
, a former first-round draft pick who missed 2013 with a torn ACL, and
Riley Cooper
, who started all season in Maclin's place, are about to become unrestricted free agents.
This isn't like the safety situation, where the Eagles simply need to upgrade from the guys who are about to become free agents. Maclin was a good player who hadn't gotten close to his ceiling before the injury. Cooper was a spare part who became a favorite target of
Nick Foles
, catching 47 passes for 835 yards and eight touchdowns.
It really seems as simple as this: If the market provides Maclin and Cooper opportunities that pay more than the Eagles think they are worth, they will be gone. If they like what the Eagles offer, in money and familiarity and the chance to win, either or both could be back.
And then there's the X factor that will help determine what Roseman called the "walkaway number" for each player. Does Kelly believe his offense would work as well or better with other wide receivers? He spoke highly of Cooper, both as a blocker and a pass-catcher. But if Kelly thinks a faster or more athletic receiver would put up even better numbers, Roseman will negotiate accordingly.
The only certainty at the position is that
DeSean Jackson
will be back. He is still a game-breaking deep threat who dictates the way defenses approach the Eagles offense. Jackson caught 82 passes for 1,332 yards and nine touchdowns.
Jason Avant
, the eight-year veteran who won Kelly over with his unselfish attitude, could be a victim of his $2 million salary. Avant was a starter who saw his playing time decrease as the season went on.
The rest of the wide receiver corps was unremarkable.
Damaris Johnson
vanished when he failed to spark the return game.
Brad Smith
took over kickoff returns and was the focus of some of Kelly's more unfortunate trickery.
Jeff Maehl
played special teams and saw scant playing time on offense.
Arrelious Benn
, who also missed the season with a torn ACL, has another year on his contract.
Compared to the imposing collections of receivers the Eagles defense faced almost weekly, this was not exactly a fearsome group. And yet the Eagles receivers were good enough for Foles to have a breakout season.
Did that say more about Cooper and Jackson and Avant or about Kelly's imaginative offense? How the Eagles answer that question internally will go a long way toward determining their strategy.
There are some free agents who could add different dimensions to the passing game --
Eric Decker
of Denver,
Emmanuel Sanders
of Pittsburgh,
Golden Tate
of Seattle -- but mostly there is the draft. We'll be taking a look at some of the wide receivers available in a post later.
February, 7, 2014
2/07/14
4:40
PM ET
PHILADELPHIA -- Those looking for a clue on the Philadelphia Eagles' plans for
Jeremy Maclin
and
Riley Cooper
can probably disregard Friday's transaction.
The Eagles signed wide receiver
Joe Anderson
, who finished the season on injured reserve for the
Chicago Bears
. The 6-foot-1, 196-pound Anderson has played in nine NFL games without catching a pass.
So Anderson was added for his special teams experience first, and his potential to develop into a wide receiver option second. His signing probably will have more impact on
Brad Smith
and
Jeff Maehl
than on free agents-to-be Maclin and Cooper.
Anderson, who was undrafted out of Texas Southern in 2012, spent most of that season on the practice squad. He made the Bears' roster in 2013, but was unable to supplant
Earl Bennett
as Chicago's No. 3 receiver. With
Brandon Marshall
and
Alshon Jeffery
having monster seasons, there wasn't much room for Anderson to make progress in Chicago.
Anderson played in six games in 2013. He was placed on injured reserve with an abdominal/groin injury.
December, 6, 2013
12/06/13
3:00
PM ET
PHILADELPHIA -- The
Philadelphia Eagles
will be without safety
Earl Wolff
again for Sunday's game against the
Detroit Lions
. Wolff (knee) and linebacker/special-teamer
Najee Goode
(hamstring) were both officially listed as out on the team's Friday injury report.
Defensive end
Clifton Geathers
' status is unknown. Geathers missed the past three days' worth of practices for unspecified personal reasons. The 6-foot-8, 340-pound Geathers has been on the field for 21 percent of the team's defensive plays this season.
Wolff will miss his third game after injuring his right knee in Green Bay last month. Veteran
Patrick Chung
, who has made as much impact crashing into teammates as opponents, will start in Wolff's place.
With Goode out, linebacker
Emmanuel Acho
has a chance to be active.
Wide receiver
Jeff Maehl
cleared the concussion protocol and was listed as probable. Tight end
Zach Ertz
(shoulder), defensive tackle
Bennie Logan
(neck) and defensive end
Damion Square
(back) were also listed as probable.
The Eagles have enjoyed good health all season. Coach Chip Kelly said the other day that it might be attributable to a combination of luck and the team's devotion to sports science.
"You break a bone, you break a bone," Kelly said. "I don't know if there is a science behind breaking a bone. There are certain injuries that it doesn't matter how fit you are, how trained you are, that if that happens, that happens. But I also think there are some little things we do on a weekly basis here from a training standpoint that I think has benefited us. So we'll continue. But it's not something that we can say if all of a sudden two or three guys get hurt next week you're like, 'You guys are wrong.' It's not. I think we're doing the right thing."
October, 29, 2013
10/29/13
7:00
AM ET
PHILADELPHIA -- The pivotal play in the
Philadelphia Eagles
' 15-7 loss to the
New York Giants
Sunday was probably doomed the moment Chip Kelly called it. But a closer look at the video revealed there were many more problems than
Matt Barkley
holding the ball too long.
Taking a step back, the Eagles got to the Giants' 2-yard line thanks to a terrific pass by Barkley. Right tackle
Lane Johnson
got beat badly by Giants defensive end
Justin Tuck
, who beelined toward Barkley. The quarterback threw a strike to
Jason Avant
. It took a great tackle by cornerback
Terrell Thomas
-- more from him in a moment -- to prevent a touchdown on that play.
[+] Enlarge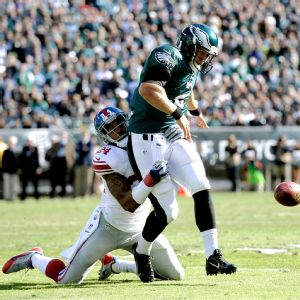 AP Photo/Michael PerezThe Giants' Terrell Thomas forces a Matt Barkley fumble near the goal line.
Kelly called a timeout before first-and-goal at the 2.
"I just wanted everybody settled down," Kelly said Monday. "We had a great drive going. We got the ball down there. We had three timeouts. There's no reason to rush, get up to the line of scrimmage and put ourselves in a situation. Let's go over what we're going to get, here is our low red zone play."
The best argument for not running the ball is that the Giants had nine defenders in the box. But the Giants did that because the Eagles lined up with two tight ends, one back, Barkley in the shotgun and two receivers split wide left. If Kelly had spread the Giants with his formation, they couldn't have loaded up in anticipation of the run.
One of the wideouts,
DeSean Jackson
, was the first read. The other,
Riley Cooper
, started in motion to the right. The ball was snapped and Barkley faked a handoff to Cooper, who kept running right with
LeSean McCoy
leading the way. Barkley started left on a naked bootleg.
Thomas, the cornerback in the slot, was not fooled. He ignored the play fake, was never blocked and ran directly toward Barkley. The quarterback pump faked, getting Thomas off his feet for a beat, and narrowly avoided the sack. Instead of throwing the ball away immediately, Barkley ran to his left, looking for Jackson or tight end
Zach Ertz
.
Barkley raised his arm -- he said he was about to throw the ball away -- but Thomas had caught up and slapped the ball loose.
Kelly said it was a fundamental play for the Eagles. But the design concentrates the defense in the center of the field, leaves at least one defender unblocked and takes McCoy and Cooper out of the play entirely. So it's not shocking it backfired with a rookie quarterback executing it.
Some other observations about the offensive futility after watching the game again:
Kelly tried a twist on his unbalanced line look. Jason Peters lined up at right tackle with Johnson on the outside in the tight end spot. As always, the Eagles ran out of the unbalanced look. As is becoming more common, they gained just 1 yard.

Johnson lined up split wide left on Vick's only really positive play. Vick threw to tight end James Casey and Johnson was out there to block Rolle. The play went for 11 yards. We'll be nice and not suggest that Johnson's play at right tackle supports moving him to wideout full-time. The rookie is, shall we say, a work in progress.

It was Johnson who whiffed on a block that allowed Tuck to blow up a second-quarter run play. McCoy took the handoff from Vick, started to his right and was immediately tripped up for a 3-yard loss.

On the very next play, the Eagles could have used Johnson split wide again. Vick turned and fired a quick pass to DeSean Jackson with Jason Avant and Jeff Maehl in front of him. The bubble screen went for just 3 yards because Maehl got tossed aside by Prince Amukamara, who made the tackle.

The drive that set up the first-and-goal play was given an enormous boost by a roughing-the-passer penalty on Mathias Kiwanuka. It was a ridiculous call. After Barkley released a pass that sailed over Jackson's head, Kiwanuka bumped into him with both hands up -- almost like a two-hand touch play. Barkley didn't fall or appear inconvenienced in any way.
October, 22, 2013
10/22/13
7:00
AM ET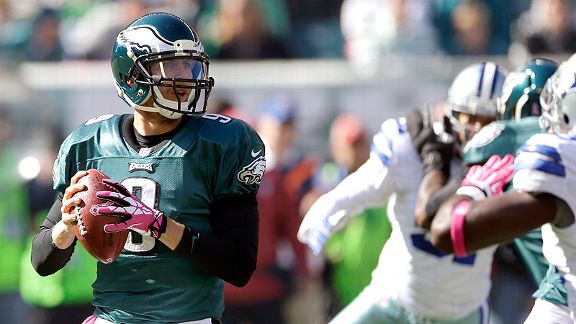 AP Photo/Matt RourkeNick Foles could not get into a rhythm or hit his receivers against Dallas.
PHILADELPHIA -- While watching the
Philadelphia Eagles
' 17-3 loss to
Dallas Cowboys
in real time, it was hard to believe quarterback
Nick Foles
was that awful or that head coach Chip Kelly's scheme was as bad as it appeared. After watching the game again, the answers are sobering.
Foles was, and so was Kelly's scheme. Here are some observations:
• Right off the bat, Kelly wanted to throw running back
Bryce Brown
at the Cowboys as a wrinkle. It did not work. Brown and
LeSean McCoy
opened in a two-back set I don't recall seeing before Sunday.
The novelty produced literally nothing. Foles missed both backs on the same play, a wheel route designed to exploit the perceived vulnerability of Dallas linebacker
Bruce Carter
. But Carter's coverage was fine and Foles could not make the perfect throws necessary to execute the play.
"It's the matchup," Kelly said Monday. "The ball wasn't like it hit his hands and he dropped it. I think we could have been a little more accurate on a couple of those throws."
Or it was a poor guess in preparation by the coaches.
• Foles was effectively sacked twice (one sack, one intentional grounding penalty) on the Eagles' first possession. Rookie right tackle
Lane Johnson
was involved in the protection breakdown both times, with help from guard
Todd Herremans
once.
Getting pounded twice in three plays is never a good way for a quarterback to start, and Foles never really seemed comfortable in the pocket all day. Even when protection was solid, he had happy feet and appeared to be anticipating pressure in his face.
On both the plays in question,
DeSean Jackson
lined up in the slot and was covered by cornerback
Orlando Scandrick
. Jackson had no success against Scandrick all game.
• Kelly got a lot of backslaps for using that unbalanced line look effectively last week against Tampa Bay. He used it again against the Cowboys and guess what? It isn't fooling anyone anymore.
The alignment has left tackle
Jason Peters
lined up as a tight end, outside tackle Lane Johnson, on the right side.
Brent Celek
, the tight end, lines up at left tackle. Every time I saw this alignment, the Eagles ran the ball from it. Every time. NFL coordinators tend to notice things like this.
Maybe if the blocks had been executed better, or the Eagles had been better prepared for the way the Cowboys line slanted and attacked different gaps, the ruse would have worked. But that didn't happen, and McCoy continually ran into unblocked linebackers (
Sean Lee
, usually) and safeties.
On one play, the first time I saw the unbalanced line, McCoy ran to the left and probably could have gotten outside. He cut inside Celek's block and was easily tackled by
J.J. Wilcox
.
"You've got to finish the blocks up front," Kelly said. "There are a lot of times where the numbers were right for us and we do have hat for a hat. We've got to finish it. There are other times when maybe the ball should have gone outside because of how we're blocking it and what the landmarks are, but the back cuts it inside. We've just got to get everybody on the same page.
"But again, schematically it wasn't like we're trying to run the ball and they've got an extra guy and we just keep running them into the unblocked guy. We've got to finish blocks up front. We have to finish runs when we have the ball in our hands."
Actually, there were a number of plays where the scheme left McCoy running right into unblocked Cowboys. That's on the coach.
• Bad blocking wasn't limited to the offensive line. The Eagles opened their fourth possession with Foles throwing a quick bubble screen out to Jackson.
Riley Cooper
whiffed on his block of Scandrick, and the corner blew up the play.
• Meanwhile, Foles was just terrible. I wondered if having the sun in his eyes was an issue until I realized that didn't happen until the second quarter. He was off target and out of rhythm long before that.
Foles almost got
Jason Avant
decapitated, lobbing an ill-considered pass that exposed Avant to a forearm in the throat from
Brandon Carr
. He kept missing open receivers, most notably Celek on what would have been a drive-launching first down in the second quarter, Avant on a likely first-down throw and
Jeff Maehl
on a couple throws that a truly gifted receiver might have caught.
Foles had Jackson running down the right sideline and threw it two yards out of bounds. Just a bad toss.
Foles' best throw of the day was an incompletion. He had Jackson streaking through the end zone and put the ball in the right place. Wilcox sprinted across and poked the ball away from Jackson. Just a great defensive play in that case.
• Kelly's explanation of his decision to go for a 60-yard field goal on fourth-and-a-foot at the end of the first half made sense – on the surface.
"If we run a play with 14 seconds left on the clock, I've got to call a timeout," Kelly said. "And we have to kick a 59-yard field goal. If the field goal was one-yard short, I'd be kicking myself in the tail right now because we need to be a little bit closer because he wasn't one yard short. … I don't think we were going to dial up a play that was going to get us 15 yards on 4th and 1 to put us in a situation for a closer field goal."
Kelly said the wind was at
Alex Henery
's back, which also meant it would be in the face of the Cowboys if Henery missed, which he did.
The problem was the play calling that put the Eagles in that situation. With Foles finding a faint pulse in the two-minute offense, he threw a quick hitch to Cooper for a nine-yard gain. Naturally, Kelly called the same play out of the same formation on second-and-one. This time, with cornerback
Morris Claiborne
unfooled, Cooper dropped the pass.
On third-and-inches, Foles threw that deep ball out of bounds for Jackson.
So the fourth-and-inches didn't happen by itself. It started as a second-and-inches and Kelly play-called his way into a 60-yard field goal.
• Finally, a look at the play on which Foles was injured. Again, it starts on first down at the Dallas 9-yard line, with that unbalanced line look. The Cowboys knew McCoy would run and McCoy ran into three -- repeat: three -- unblocked defenders for no gain.
On second down, Foles had time as the Cowboys rushed only four men. But he couldn't find anyone, ran left at the first hint of pressure and was forced to throw the ball away before he was brought down from behind. The folks at Pro Football Focus timed Foles at 6.3 seconds from taking the snap to throwing away.
That brought up third down. Foles had time again. He slid to his left and had Cooper open at about the 4-yard line. Foles waited long enough for a defensive back to slip up behind Cooper. About then, the blockers lost their men and Foles was forced to start running to his right.
David Carter
and
George Selvie
-- raise your hand if you'd heard of them before -- followed him. Foles held on to the ball for a ridiculous 9.5 seconds, according to Pro Football Focus, before Selvie wrapped him up. Their helmets bumped, but it appeared the back of Foles' head bounced off the ground on the sack, too. As soon as he got up, referee John Parry looked for Eagles medical staffers and pointed to his head.
October, 13, 2013
10/13/13
4:07
PM ET
TAMPA, Fla. -- Observations on the
Philadelphia Eagles
'
31-20 victory
against the
Tampa Bay Buccaneers
on Sunday.

What it means:
The Eagles are capable of winning ugly. Chip Kelly has his first two-game winning streak, both at the expense of winless opponents. The victory gives the Eagles a 3-3 record going into next week's home game against the
Dallas Cowboys
. Quarterback
Nick Foles
started his first game of the season in place of the injured
Michael Vick
. Foles was good enough, completing 22 of 31 passes for 296 yards and three touchdowns. Foles also ran for a touchdown. The theory that Foles' presence would hamper
LeSean McCoy
proved false: McCoy rushed for 116 yards.
Off the hook:
The Eagles' defense, facing rookie quarterback
Mike Glennon
, was looking to build some momentum, a week after intercepting three fourth-quarter passes by
Eli Manning
. It didn't really turn out that way. Glennon had way too much time to operate and found
Vincent Jackson
for two touchdowns. The low point was a drive that started at the Tampa Bay 1-yard line and lasted nearly eight minutes. Glennon converted three third downs on the drive, which ended with a field goal. Eagles rookie safety
Earl Wolff
, Glennon's teammate at NC State, broke up what would have been a go-ahead touchdown pass to tight end Tim Wright.
Stock Watch:
Rising --
Riley Cooper
. Kelly answers several questions a week about whether Cooper is an adequate No. 2 receiver. Last week,
Jeff Maehl
got a handful of Cooper's snaps, and it looked as if Cooper might be losing his job. Playing across the causeway from his hometown of Clearwater, Cooper caught a 47-yard touchdown pass and turned a quick out into a 44-yard gain to set up Foles' 36-yard touchdown throw to
DeSean Jackson
. Cooper finished the game with four catches for a career-high 120 yards.
What's next.
The Eagles can take early control of an admittedly weak NFC East with back-to-back home games against the Dallas Cowboys and
New York Giants
. The Eagles are 2-0 within the division. Vick was listed as questionable for Sunday's game against the Bucs. He said Thursday that if he couldn't go this week, he felt sure he'd be ready for Dallas. That means another week of discussion of whether Kelly should stick with Foles or go back to the veteran Vick.
October, 2, 2013
10/02/13
9:00
AM ET
A weekly analysis of the Eagles' quarterback play:
Rewind:
It isn't easy for a quarterback to look good when
Peyton Manning
is conducting his master class in the position on the same field. And
Michael Vick
didn't look all that good Sunday against the
Denver Broncos
. He was not the reason for the Eagles' 52-20 loss -- not by a long shot. But he wasn't able to put the necessary points on the board to compete with Manning. Vick's numbers: 14-of-27 for 248 yards, zero touchdowns and zero interceptions. Four of Vick's passes were dropped.
With the game out of hand,
Nick Foles
played in the fourth quarter. He looked good, completing three of four passes for 49 yards, including a 6-yard touchdown to
Jeff Maehl
.
Vick
Fast-forward:
Vick and the Eagles return to the familiar territory of the NFC East for Sunday's game against the winless
New York Giants
. The Giants have the 19th-ranked pass defense in the NFL, and they have not been able to get steady pressure on opposing quarterbacks. That should give Vick a perfect opportunity to lead his team back toward the winning path. Coach Chip Kelly has blamed the Eagles' offensive trouble mostly on the lack of pass protection. The Giants' inability to generate pressure should allow Vick time to operate.
All or nothing:
Vick had a career game against San Diego, as speedy
DeSean Jackson
was allowed to run freely through the secondary. Since then, Kansas City and Denver locked up Jackson with physical play and safety help. Vick has not been able to work the short passing game that was a hallmark of Kelly's Oregon offenses. According to ESPN Stats & Info, Vick was just 5-for-11 on throws traveling 5 or fewer yards. He was 9-for-10 on such throws in the opener at Washington.
Prediction:
Vick has said he will take the lead in making sure his teammates don't let the embarrassment of Sunday's loss linger. He will have to follow up with a good performance on the field. The guess here is that he will take advantage of the Giants' puzzling lack of a pass rush to deliver his best performance since the San Diego game.
September, 4, 2013
9/04/13
1:30
PM ET
PHILADELPHIA -- Chip Kelly emerged, blinking at the late-morning sun, for the first game-week practice of his NFL career. He also addressed the media for the first time since the roster cutdown from 75 to 53.
Some headlines:
Nate Allen won the starting strong safety job, but rookie Earl Wolff is going to see some action. "Earl's pushing," Kelly said. "Right now, Nate's a little bit ahead of him. He'll play at safety, too. We've just got to get him in the game."
Kelly addressed the perception that it helped players to have "Oregon" on their résumés. He has five former Ducks, three on the 53-man roster and two on the practice squad: safety Patrick Chung, linebacker Casey Matthews, wide receiver Jeff Maehl and practice squad players Isaac Remington (OL) and Brandon Bair (DE). "If we're going to sing the Oregon fight song, it would (help)," Kelly said. "Aside from that …"
Chung, the free safety, is the only starter from Oregon. The other two roster spots, Kelly said, went to Matthews and Maehl because of their special teams capabilities. "For backup players, there were three ways to make this team," Kelly said. "Special teams, special teams, special teams. The special teams consideration, at times, outweighs their production as a backup linebacker or a backup wide receiver. How are they contributing during a game? They're contributing as a special teams player."
Kelly had a possibly revealing answer to a question about whether Michael Vick is still a franchise quarterback. "I don't know what the term `franchise' is," Kelly said. "I know he's the Philadelphia Eagles' quarterback. And if that's a franchise, then the answer is yes." According to league sources, the Eagles are indeed a franchise. Kelly was just being a smart-alec, but the guess here is he might have had a different answer about, oh, let's say Tom Brady.
Trenton Robinsonand Keelan Johnson, wide receiver Greg Salas, linebacker Travis Long, offensive tackle Michael Bamiro and running back Matthew Tucker.
August, 31, 2013
8/31/13
6:07
PM ET
Most significant move.
It's always eye-catching when a team gives up on a first-round draft pick after just two seasons, but guard
Danny Watkins
had become irrelevant long before being released Saturday. So the departure of the former firefighter means less on the field than it means symbolically.

It was decisions like drafting Watkins, who was already 26 and had been playing football for just four years, that led to the Eagles' sharp decline in Andy Reid's final two seasons. Reid crowed that he had a stud who could step right in and dominate at right guard. After 30 months and 18 starts, Watkins is gone.
Versatility is the key.
Head coach Chip Kelly and GM Howie Roseman placed a heavy emphasis on versatility in making decisions, especially at the back end of the roster.
Linebacker
Casey Matthews
, who plays on all four special-teams units, stayed instead of
Chris McCoy
, who had a good preseason. Tight end
Emil Igwenagu
, a strong point-of-attack blocker, beat out
Clay Harbor
, whose skills were similar to the other tight ends. Wide receiver
Jeff Maehl
, a high school safety, beat out
Greg Salas
and
Russell Shepard
because he's a tougher special-teams guy.
"We were looking for different skill sets, especially at the back of the roster," Roseman said. "We felt there was room for some role players on our team."
What's next.
The Eagles have the No. 4 spot when it comes to being awarded waiver claims. Roseman plans to take advantage of that in order to fill some holes that remain on the roster.
"Sometimes that's hard to do at this time of year," Roseman said. "[Jaguars GM] Dave Caldwell's probably thinking the same thing two spots ahead of us on the wire. We have a draft board set up. We spent an inordinate amount of time on guys we thought would be on the bubble."
The most pressing needs are in the defensive secondary, where the Eagles are thin at cornerback and simply unimpressive at safety, and at linebacker. There were only three outside linebackers on the roster as of the 6 p.m. deadline.
The cuts:
QB:
Dennis Dixon
, G.J. Kinne. RB:
Matthew Tucker
. WR: Greg Salas, Russell Shepard,
Ifeanyi Momah
, Will Kelly. TE: Clay Harbor. OL: Danny Watkins,
Dallas Reynolds
,
Matt Tennant
, Matt Kopa. DL:
Antonio Dixon
, David King. LB: Chris McCoy,
Travis Long
,
Everette Brown
,
Adrian Robinson
. DB:
Trevard Lindley
(injured),
David Sims
. Placed DE
Joe Kruger
(shoulder) on IR.
August, 31, 2013
8/31/13
4:41
PM ET
The
Philadelphia Eagles
got their roster down to 53 with nine more cuts Saturday. The most notable, of course, was former first-round pick
Danny Watkins
. A few others were more surprising.
Wide receivers
Greg Salas
and
Russell Shepard
both had very good training camps. With so many injuries at the position, including projected starter
Jeremy Maclin
, they looked like candidates to make the team. Both were released. That means
Jeff Maehl
, who played for coach Chip Kelly at Oregon, made the 53-man roster.
Clay Harbor
, the tight end who attempted a midsummer conversion to wideout, was also released.
Outside linebacker
Chris McCoy
, who stood out in Thursday's preseason finale against the Jets, was cut.
Emmanuel Acho
made the team, as did reserve inside linebacker
Casey Matthews
. Another linebacker,
Travis Long
, was cut.
While running back
Matthew Tucker
looked very good all summer, the Eagles kept just three backs. Tucker, Shepard and tackle
Michael Bamiro
, a 6-foot-8 behemoth, could all wind up on the practice squad.
The 53-man roster looks like this, pending late additions via trade or the waiver wire:
Quarterbacks (3):
Matt Barkley
,
Nick Foles
,
Michael Vick
Running backs (3):
Bryce Brown
,
LeSean McCoy
,
Chris Polk
Wide receivers (5):
Jason Avant
,
Riley Cooper
,
DeSean Jackson
,
Damaris Johnson
, Jeff Maehl
Tight ends (4):
James Casey
,
Brent Celek
,
Zach Ertz
,
Emil Igwenagu
Offensive Line (9):
Allen Barbre
,
Todd Herremans
,
Lane Johnson
,
Jason Kelce
,
Dennis Kelly
,
Evan Mathis
,
Jason Peters
,
Matt Tobin
,
Julian Vandervelde
Defensive line (7):
Fletcher Cox
,
Vinny Curry
,
Clifton Geathers
,
Bennie Logan
,
Isaac Sopoaga
,
Damion Square
,
Cedric Thornton
Linebackers (8): Emmanuel Acho,
Connor Barwin
,
Trent Cole
,
Brandon Graham
,
Mychal Kendricks
,
Jake Knott
, Casey Matthews,
DeMeco Ryans
Defensive Backs (11):
Nate Allen
,
Colt Anderson
,
Brandon Boykin
,
Patrick Chung
,
Kurt Coleman
,
Bradley Fletcher
,
Brandon Hughes
,
Curtis Marsh
,
Jordan Poyer
,
Cary Williams
,
Earl Wolff
Specialists (3):
Jon Dorenbos
,
Alex Henery
,
Donnie Jones